March 10, 2019 at 10:36 am PDT | by Karen Ocamb
Jim Chud, longtime AIDS survivor, dies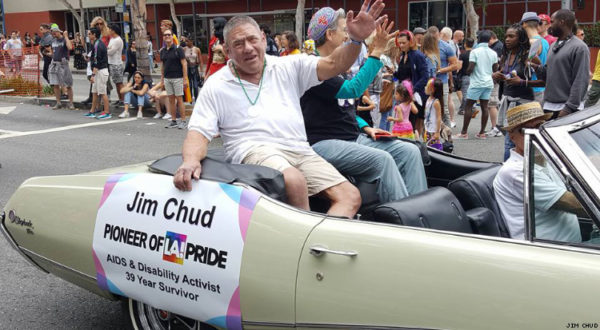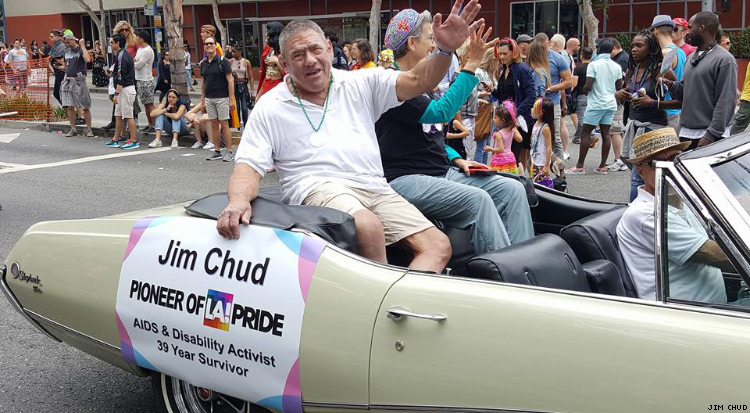 UPDATE: At Plummer Park on Sunday from 5:00 PM to 7:00 PM, friends and family of Jim Chud will gather for a memorial service to remember his life and contributions to the LGBT and HIV community.  RSVP is requested.
Jim Chud, who may have been one of the first people to exhibit symptoms of HIV/AIDS, has died, according to AIDS expert Dr. Michael Gottlieb, who notified the Los Angeles Blade that Chud died last week. Chud, who was 62, died of sepsis, most likely after a bacterial (not PCP) pneumonia.
Chud was a longtime resident of West Hollywood, a member of the Disabilities Advisory Board who worked as an HIV care analyst at the LA County Department of Human Services. He also served on the board of the National AIDS Housing Coalition, according to a notice from the city when he was nominated for a Rainbow Key Award. Chud was "a resident of the West Hollywood Community Housing Corp.'s Sierra Bonita building on Santa Monica Boulevard," Wehoville reported.
Chud was a prolific writer, including serving as a contributor to the Huffington Post. His short bio for that mainstream site succinctly notes the highlights of his life:
"Long term HIV Survivor with a lot on My mind. I am in my 40th year with HIV. After College, and a rather amazing 'coming out' in San Francisco, I travelled the world landing in Boston, on Wall St for a year where I realized that I didn't want to be that rich that badly, in DC for many years, first on USA Today's start-up team, next in the first years of my chosen profession of Software. After 2 years in the UK as Principal Technical Consultant for Thorn/EMI and bodybuilding a lot, I returned to California and began working in A.I. – the field I worked in for many years. My years as an avid athlete came to a screeching halt when I became disabled. I have focused these last 20 years on helping people with HIV and all disabilities navigate this world of ours, and I will be launching a non-profit whose aim is to change the lives of disabled seniors in ways previously thought impossible. I have survived 80+ operations and 2 comas – so nothing is impossible."
That 40th anniversary of living with HIV was in 2016. It was in Nov. 1977, when Chud was a sophomore at Yale, that he went to the student infirmary with what he described as "a gang of symptoms – night sweats, swollen lymph nodes, a low-grade fever, rash, thrush, and feeling like I had the flu," all symptoms subsequently associated with HIV/AIDS.
To put this in historical context, when the CDC's Task Force on Kaposi's Sarcoma and Opportunistic Infections first started investigating epidemiologic of outbreaks of the new disease that became known as HIV/AIDS, they determined in hindsight that the first cases were reported in 1978, though no dots were connected.
Then, in Nov. 1979, Hugh Rice, director of the STD clinic at the LA Gay & Lesbian Community Services Center, sees a young man covered in purple lesions come in for a shot. Six weeks later, the young man died in isolation at USC/County Hospital, Rice told me. Others are seeing strange illnesses and sudden deaths, too. "I became aware around 1979 that something very unusual was affecting so many of my [gay] patients, and realized that there was a developing problem with potentially immense implications," says New York Dr. Joseph Sonnabend.
In Dec. 1980, Michael Gottlieb, then a 33-year-old immunologist and new assistant professor at UCLA, meet his gay patient with thrush and virtually no T-cells. He later teams up with gay Dr. Joel Weisman to write the famous June 5, 1981 CDC report that official marks the "beginning" of the AIDS pandemic.
Chud was very cognizant of his place in AIDS history and felt a responsibility to share with younger generations, as he wrote in the Huffington Post.
"While the trajectory of AIDS has changed immensely, I think that knowing my tendency for feeling invincible until something happens to me, there is great peril that the current generation will never know how terrible the AIDS epidemic has been in gay America, let alone the world," he wrote.
He tried to share the horror of what became routine dying – though his first encounter with a friend dying resulted in ongoing PTSD. He recounted:
"When I was 23, I walked into my friend Jerry's hospital room to find the guy I had been with on a backpacking trip on the Appalachian Trail a month earlier in a steamed-up oxygen tent, struggling for each painful breath. He had pneumocystis pneumonia. He motioned me to come into the tent so that we could hear each other, and scared, I looked around the room for reassurance that I wasn't going to hurt him if I did so. A nod from his lover, and I was in the steam, touching his skeletal sticky "old person" hand and bawling my eyes out. After what seemed like way too little time holding each other, he gasped to me, "Don't let this thing get you, Jimbo," and he dozed off. Can you imagine – this man was on his death bed, and he was worried about me. The humanity of that moment has never left me. That was the day that AIDS got real for me."
While KS liaisons ignobly marred and challenged the gay male concept of beauty, the uncontrollable "wasting syndrome" turned stalwart men into walking skeletons. Some gobbled up as much food as possible so the disease would peal off the fat first. Others, like Chud, put on muscle, as he writes in HuffPo:
"After seeing AIDS boil the muscle off every other man I knew before they died, I decided to get as much muscle on my frame as humanly possible. I got big – really big, and went to great lengths to get the steroids necessary to facilitate this. I crested at a lean but puffy 280 pounds. I must admit that in gay society being the big muscle guy in the crowd came with certain perks. The gym and the drugs – steroids are mood altering addictive drugs – became my refuge as more and more of my friends were getting sick and dying."
AIDS activists Michael Callen and Richard Berkowitz, with the help of their doctor Dr. Joseph Sonnabend, developed the concept of safer sex,  in 1983 and when the government failed to act fast enough, Larry Kramer created ACT UP to spur them on.
Chud chartered his own more moderate, science-based response, as he wrote in 2016:
"In 1987, I went out to the NIH and volunteered for the clinical trials that were just starting. With the trials, I figured that if, as was most likely to happen, the drug in my study was a clunker, then at least I had helped to eliminate something that was a waste of time. If it was "the cure," or at least something that slowed the infection, then I had hit the jackpot. I never thought that what happened was a possibility.

Funding for AIDS research was not yet coming from the government, it was coming from the pharmaceutical companies and, in their desperation to be the first to find the magic bullet, they were putting chemicals into human trials that had no business being given to us. It was the old case of "will the drug kill the virus and spare the host or vice versa?" In those days, many viewed people with AIDS, especially if they were gay, as disposable.

When I walked into the waiting room of the 10th floor clinic and looked around the room, I was shocked at what I saw. Every seat in the room was occupied by people who looked like they were at death's door. I didn't realize how close I would grow to many of them in a short while. After suffering the same side effects as the other participants which I can only describe as gross, I found myself in the NIH hospital, all my joints were bright red, swollen and frozen. I spent about 4-5 days completely paralyzed, and after examining me, the director of the National Cancer Institute at NIH still said "now Jim, if you can just get past this side effect, the virus just hates this drug." I reminded him of how this wasn't the quality of life promised at the beginning of the study, and he reluctantly took me off the study.

Today, I am the sole survivor of that study. When I found that out, I had a profound feeling of loneliness and responsibility. I am a very lucky man. I am sure that there are many things that have contributed to my longevity, and I think that my God-given purpose to help and educate others is principal among them.

There have been consequences. I was told that the early treatment DDC had caused my immune system to attack my cartilage. Sadly, this process, and my drive to exercise and play the sports that I enjoyed, resulted in the destruction of all my cartilage. I am 7 inches shorter than I was when I entered that NIH study, as I have no disks, and after over 80 operations dealing with my condition over the last 13 years, I depend on a four-wheeled walker to get around."
As the sole survivor of an NIH drug trial with 80 participants, Chud wrote that "pharmaceutical companies like Roche, whose study drugs changed people's lives in horrible ways," be held responsible "for what they did in the interest of making the billions of dollars that AIDS medications bring to these companies."
In the documentary "How to Survive a Plague," there is a brief acknowledgement of the pressure AIDS activists put on the NIH and FDA to release experimental drugs for dying patients before efficacy and safety testing had been completed. But since the beginning of AIDS, the government appears to have stepped back and essentially let Big Pharma have its way, especially in the realm of drug pricing.
Chud hoped that his story – including his addiction to opioids – would help others. He was still fuming in 2017 over the power of Big Pharma:
"Roche was responsible for the premature deaths of many study volunteers, and for my disability. Why would we think that they or any pharmaceutical company would take responsibility for these deaths any more than they do for the opiate deaths. It's simply not part of their business plan. Until these companies are forced to be responsible for what they put in our bodies, nothing will change. In fact, they go to great lengths as they feel justified in recouping their research costs – even for drugs that cause harm and don't work."
Chud's hope was that in reading his story, "our next generation learns about the horrors that await them if they lower their guard. I also hope that we all learn to be kinder to each other. Sadly, the sense of community we found in those days has gone, and it is sorely missed by those of us that remember."
Photo of Jim Chud courtesy LA Pride.