March 18, 2019 at 9:16 pm PDT | by Karen Ocamb
Human Rights Campaign and UCLA to host 2020 Democratic presidential forum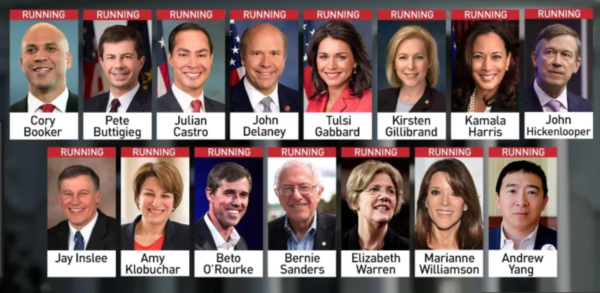 The Human Rights Campaign Foundation will co-host a presidential forum for 2020 Democratic candidates in conjunction with the UCLA Luskin School of Public Affairs this October. The forum will be dedicated to LGBTQ rights and issues of equality.
The forum will feature a succession of candidates sharing and being questioned about their agendas and policy positions before a live audience on Thursday, October 10, 2019 in UCLA's historic Royce Hall, which can seat approximately 1,800 people. The event will take place the night before National Coming Out Day, which HRC now oversees. Last year, HRC commemorated the 30th anniversary of NCOD, founded in LA in 1988 by Jean O'Leary and Rob Eichberg (see 1988 video of Jean and Rob announcing NCOD here).
The forum is part of UCLA's Luskin Lecture Series, which "enhances public discourse on topics relevant to the betterment of society," according to a press release. The Luskin series has previously worked with the UCLA LGBTQ Center  on other events. UCLA has a long history of associating with LGBTQ people—the late judge Rand Schrader was openly gay in the early 1970s as a law student; now the law school is well known for the Williams Institute.
The criteria for candidate participation is akin to other presidential candidate forums and debates for Democratic candidates: at least a one percent showing in three separate national polls or having received contributions from 65,000 different people in 20 different states.
HRC Foundation has hosted two other forums—one in 2004 that included Sen. John Kerry (who became the Democratic presidential nominee); Rep. Dennis Kucinich; Sen. Carol Moseley Braun (America's first African American US Senator); Vermont Gov. Howard Dean (who signed the historic civil unions bill); Sen. Joe Lieberman (Al Gore's Vice Presidential nominee in 2000); Rev. Al Sharpton; and former House Speaker Richard Gephardt.
The Visible Vote '08 forum on August 9, 2007, was broadcast on cable by forum co-host LOGO. This one made national news. Moderated by Margaret Carlson, the panelists were HRC'S Joe Solmonese; New York Daily News editorial page writer and In The Life reporter Jonathan Capehart; and singer Melissa Etheridge. The candidates were New York Sen. Hillary Clinton; Illinois Sen. Barack Obama; Sen. Mike Gravel; Rep. Dennis Kucinich; former Sen. John Edwards (before his affair was exposed); and New Mexico Gov. Bill Richardson.
Etheridge asked Clinton why her husband threw gays under the bus; Capehart asked Obama if he's stand up to the homophobia in the black church; and Richardson, already having raised eyebrows for having used a gay slur in Spanish on a radio show, draws audible gasps when Etheridge asks: "Do you think homosexuality is a choice, or is it biological?" Richardson doesn't hesitate: "It's a choice." His campaign immediately tried to clean it up with blogger Pam Spaulding—to no avail. His candidacy was essentially doomed after that. (Read the entire transcript here.)
There is no information yet if the same format will be followed or who the moderator or panelists might be. But it's the real deal – and it's happening at an important time when STILL in America, LGBTQ individuals are second class citizens. In 30 states, LGBTQ people can STILL be not refused employment, not promoted, or fired simply because of their sexual orientation or gender identity. LGBTQ people can also be refused housing or evicted or denied public accommodations and services simply for living an authentic life. Additionally, 35 states still permit the junk science practice called "conversion therapy," which California has officially deemed psychological child abuse.
And, despite the heartwarming videos produced as a result of the "It Gets Better" project following a rash of gay teen suicides, LGBTQ youth STILL face incredibly bullying and rejection. Additionally, according to FBI hate crimes statistics from 2017, there's been a surge in hate crimes disproportionately affecting LGBTQ people, black people and religious minorities such as Jews and Muslims. And there's what some have called an epidemic of murders of transgender people—at least 100, most of whom are trans women of color —since the beginning of 2015.
"If any LGBTQ person were to take a cross-country drive from HRC headquarters in Washington, D.C., to UCLA's campus, their rights and protections under the law would change dozens of times at every city line and state border," HRC President Chad Griffin says in a press release. "Millions of LGBTQ people will have their rights on the ballot in 2020 — but today we are also a powerful voting bloc that will help determine the outcome. We're excited to partner with UCLA and create an opportunity to hear candidates' agendas for moving equality forward."
"The Luskin School of Public Affairs is dedicated to enhancing the well-being of all Americans through an informed electorate and educated social leaders," said Gary Segura, dean of UCLA Luskin. "We are beyond excited to partner with the Human Rights Campaign in raising LGBTQ issues and the policy stances of candidates to greater public attention in this cycle. UCLA is the perfect host for this conversation."
HRC reports that: "on Election Day 2018, exit polling showed that more than seven million LGBTQ voters — six percent of total turnout — cast ballots, making the difference in key races from coast to coast. The new pro-equality majority in the U.S. House of Representatives has already taken action; Speaker Nancy Pelosi has made it a top priority to pass the Equality Act, a federal LGBTQ civil rights bill that will provide consistent and explicit non-discrimination protections for LGBTQ people from coast to coast. This legislation was introduced with unprecedented support from members of Congress, national advocacy organizations and leading U.S. companies."