HRC's Chad Griffin ready to step aside
Looking back on seven history-making years atop LGBTQ movement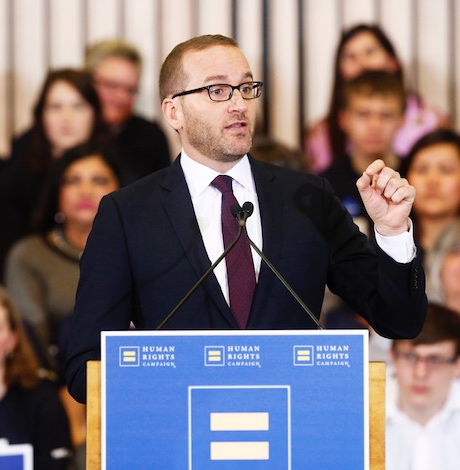 Donald Trump's shocking election in 2016 jolted the LGBT community out of its sleepwalking trek toward full equality and first-class citizenship. Like most voters—including apparently Trump himself—LGBT people expected Secretary of State Hillary Clinton to win and progress to continue, building on the freedom to marry and to serve openly in the U.S. armed forces.
Chad Griffin wasted no time pivoting, leading the Human Rights Campaign, the nation's largest LGBT civil rights lobbying organization, into an historic national partnership with women and other minority groups in the exploding Resistance movement and building political power. HRC spent $26 million targeting specific races and buffeting local organizations, helping generate and galvanize equality voters to flip the House in 2018 and elect LGBT and pro-equality officials.
Griffin was ubiquitous, traveling to 23 states, campaigning for 50 candidates in 47 cities and building a locally based LGBTQ voting bloc unlike anything seen since Los Angeles-based David Mixner and ANGLE backed dark-horse Arkansas Gov. Bill Clinton for president in 1991, during the Second Wave of AIDS. Ironically, like Bill Clinton, Griffin hales from Hope, Ark., and wound up serving in the Clinton White House press office as the youngest staffer ever at age 19.
When Griffin announced he was leaving HRC in 2019 after seven years of service, Hillary Clinton was one of the first to respond.
"Even in 1992, when I first met him, it was clear Chad Griffin would do a lot of good in the world. Little did I know! Grateful for his leadership at @HRC in fighting against discrimination and for marriage equality, and mobilizing millions to build a more just, equal America," Clinton tweeted on Nov. 15, 2018.
During this critical time, Griffin has helped build HRC into a political powerhouse, doubling membership from 1.5 million to more than 3 million. The 2018 CNN exit poll pegged the self-identified LGBT voter turnout to be 6 percent, meaning more than 7 million LGBT people voted, making the difference in numerous narrow races around the country. HRC also created an energized infrastructure in such key electoral states as Wisconsin, Arizona, Nevada, Ohio, Pennsylvania and Michigan with an eye to the 2020 elections.
Driven by his personal experience as a young, frightened closeted gay boy lying awake at night in Hope, Ark., Griffin proudly launched an HRC campaign in the Deep South, including Arkansas, Mississippi, and Alabama, no longer abandoning the region as too inhospitable to fight for LGBT rights.  Griffin embraced the intersectionality of LGBT people, creating coalitions with other social and racial justice movements. He also focused on justice and programming for the transgender community and youth of color.
Griffin's latest focus has been on passing the federal Equality Act, which would amend existing civil rights law to provide protections based on sexual orientation and gender identity. The bill was introduced on March 13 with bipartisan support from 241 original co-sponsors, as well as backing from more than 105 major businesses operating in all 50 states. HRC organized several intense lobbying days with more than 600 board members and grassroots supporters flying to Washington for their annual Equality Convention. Minnesota Sen. Amy Klobuchar, a Democratic presidential candidate, gave a rousing speech and got a standing ovation.
"These days it is challenging to break through" the cacophony of the day, Griffin tells the Blade in a March 18 phone interview. "I think the House leadership has said they intend to have the vote by June, or in early June."
On the larger stage, Griffin says the 2020 elections have become "the most important elections of our lives" given the rollbacks and what's at stake under this administration.
"We need to protect the House, protect the victories we've had; we need to make progress in the Senate; and we need to take back the White House – and all three of those are possible, but is going to take a lot of work between now and Election Day, 2020," he says. "But I do believe that when all the dust settles, come January of 2021, that a new pro-equality president and vice-president will be sworn in. But there is a hell of a lot of work to do between now and then to insure that that happens."
Griffin is excited by the Democratic primary, including out South Bend, Indiana Mayor Pete Buttigieg making the Democratic primary debate stage. "I think it's historic. I think he is running a very smart campaign that is engaging both LGBTQ people and straight folks alike all across this country," he says.
HRC is teaming up with UCLA to host its own LGBT-focused forum on Oct. 10, an idea he formulated with Gary M. Segura, Dean of the Luskin School of Public Affairs at UCLA. Segura had been an expert witness for Griffin's American Foundation for Equal Rights when they successfully fought Prop 8 in federal court.
During the forum and the primary battles, each candidate will have to "make the case to our community—how they will move the Equality Act forward, how they will protect transgender troops, how they will lead and bring back many of the protections through regulations that we have lost under Donald Trump and Mike Pence."
Meanwhile, Griffin says HRC is holding itself to high standards: transgender employees are 7 percent of the staff; Griffin is the only white gay man at the senior table, with one trans man and the rest women, two of whom are women of color. He also elevated the head of Diversity, Equity, and Inclusion to that senior table.
"I understand, like a lot of legacy organizations, we are too slow to move and to catch up with where this country is and we cannot do our jobs unless our staff, volunteers, volunteer leaders, and our programs reflect the broad, diverse community that we are," Griffin says. "We have prioritized that, not just from a staff perspective but from a volunteer perspective and in our programs – really using a racial equity and justice lens across all of our programs at HRC to ensure that we are truly reaching everyone in our community. And we are consistently checking ourselves, asking 'where are we falling short, and what more can we do?' And that is not something that you reach a finish line on. That is something that will always be ongoing for us here, and for other organizations." 
While proud of the progress, "we still have a long way to go," Griffin says.
HRC has worked hard in the area of trans justice and wants leaders to do the same. "Anyone who wants to be president needs to make the case on how they are going to extend protections to transgender people, how they are going to address the epidemic of violence that plagues this country – and quite frankly, the world –and also to be very specific about how they're going to bring back protections that folks like Betsy DeVos staked their career on undermining," Griffin says.
He points to what happened in North Carolina when Gov. Pat McCrory attacked the rights of trans North Carolinians and visitors – thinking it would excite his base and ensure his re-election. 
"Instead it did just the opposite," Griffin notes. "It ensured his defeat. In a year where Donald Trump won the state of North Carolina, the Republican incumbent governor lost because he attacked transgender North Carolinians, and I think that says a lot about the political power of LGBTQ people. And that is something that we all need to continue to invest in and continue to build the political power of LGBTQ people – that's how we stop these rollbacks, that's how we defeat those who choose to come after us. In politics, there have to be consequences and Pat McCrory is an important consequence."
McCrory's loss is a message. "Democrats running for president or House or Senate need to understand the significance and importance of our voting bloc in order to win elections. We went from 5 percent of the electorate in 2016, to 6 percent in the midterms – one of the only demographic groups that increased our support from the presidential to the midterms – and that's 7 million voters in this country," Griffin says.  "And that's just the number of people that answer the question to a stranger, that they're LGBTQ.  There are lots of surveys that show upwards and near 20 percent of millennials that identify as LGBTQ." 
Politicians should fear this powerful voting bloc. "If you attack us, we are going to organize, mobilize, and oust you on Election Day," he says. "But more proactively, it is a voting bloc to be taken seriously, and it's a voting bloc that you have to talk to, and you have to vocalize your agenda to, if you want to get their votes."
Griffin says he's proud of HRC's expansion "across the country and around the world" and building and harnessing the power of LGBTQ and allied voters. But the importance of coalition work has never been more important.
"LGBTQ people are as diverse as the fabric of this nation and an attack on one of us is an attack on all of us," Griffin says. "Today, HRC, in so many places, stands united in coalition across social justice movements  — standing up with immigrants and women, and people of color – and the same is true for many of those organizations. That is something that's going to need to continue and strengthen over the next months and years."
Griffin says he's coming home to LA but has not yet decided what is next for him professionally.
"But I'm serious when I say that I am not leaving the fight," Griffin says. "All of us need to find ways that we can engage and do everything in our power to ensure that we have a pro-equality president in January of 2021, and that will certainly be a priority for me."
The HRC/LA gala is on Sat. March 30 at the Ritz-Carlton/JW Marriott LA Live. For tickets, go to hrcladinner.com.
House passes resolution demanding Brittney Griner's immediate release
Detained WNBA star's trial to begin on July 1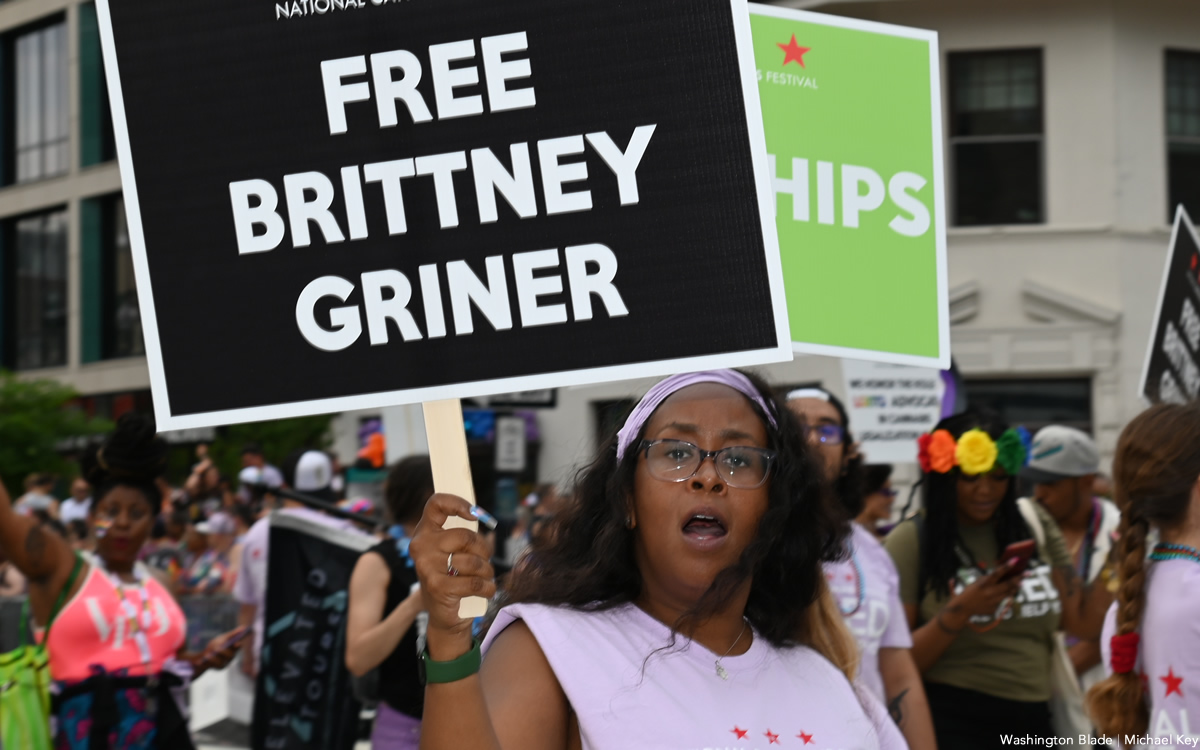 WASHINGTON — In a resolution passed on June 24 by the U.S. House of Representatives, lawmakers called on Russia to immediately release detained WNBA star Brittney Griner. 
Griner was first arrested in Russia in the days leading up to its invasion in Ukraine. Authorities have charged her with drug trafficking after claiming that she attempted to pass through Moscow's Sheremetyevo Airport while in possession of cannabis oil.
The House's resolution, introduced in May by U.S. Reps. Greg Stanton (D-Ariz.), Sheila Jackson Lee (D-Tex.) and Colin Allred (D-Texas), made multiple demands of Russia, including that the country "immediately release Brittney Griner," provide her with consular access and humane treatment and that the U.S. "raise the case of Brittney Griner and to press for her release" in all its dealings with the Russian government.
"This legislation insists on our embassy personnel having access to Ms. Griner and restates our commitment to freeing her now," Lee said in a statement after introducing the resolution. "We continue to pray for her family and we will continue to work together as three members of Congress, along with others, to spread the message that she is held wrongfully and must be freed now."
The resolution also expressed support for both Griner's family and for "all prisoners unjustly imprisoned in the Russian Federation."
Allred, a member of the House Foreign Affairs Committee, took to Twitter following the passage of the resolution.
"I'm proud the House has spoken in passing our resolution and calling for Brittney Griner's swift release," Allred wrote. "Every day an American is held abroad is a lifetime, and I will keep working with @POTUS to do all we can to bring home every American detained abroad."
Griner's WNBA team, the Phoenix Mercury, welcomed the House's passage of the resolution this past weekend.
"[Rep.] Stanton and many others are continuing to work with the White House, State Department and Brittney's family to secure her safe return home," the team wrote on Twitter.
The resolution comes after reporting revealed missteps on the part of the U.S. government in handling communication related to Griner's detention.
According to past reporting, the U.S. Embassy in Moscow failed to connect Griner with outside phone calls permitted by the Russian government when Griner's wife, Cherelle Griner, attempted to call her. Cherelle Griner reportedly called 11 times on June 18 on the couple's fourth anniversary but was unable to reach her wife due to what the State Department claimed to be a "logistical error."
While the resolution is being heralded by its supporters, it contains no provisions intended to enforce the House's demands for the release and humane treatment of Griner and others held by Russia. With less than one percent of criminal defendants in Russia being acquitted, it is unclear whether the resolution will do anything to persuade the country's courts to permit Griner's release.
Griner appeared in Russian court on Monday for a preliminary hearing prior to her trial that has now been scheduled to begin on July 1. It was also confirmed by Griner's attorney on Monday that her detention had been extended for six months pending her trial.
If convicted, she could face up to 10 years in prison.
"We must keep Brittney's case on the forefront and make clear to the White House that her release should be one of the highest priorities for our government," Cherelle Griner said in May.
Sparks, Nevada drag queen story hour disrupted by armed Proud Boy
A Proud Boy approached the library while carrying a gun, causing everyone, including children, to run into the library for safety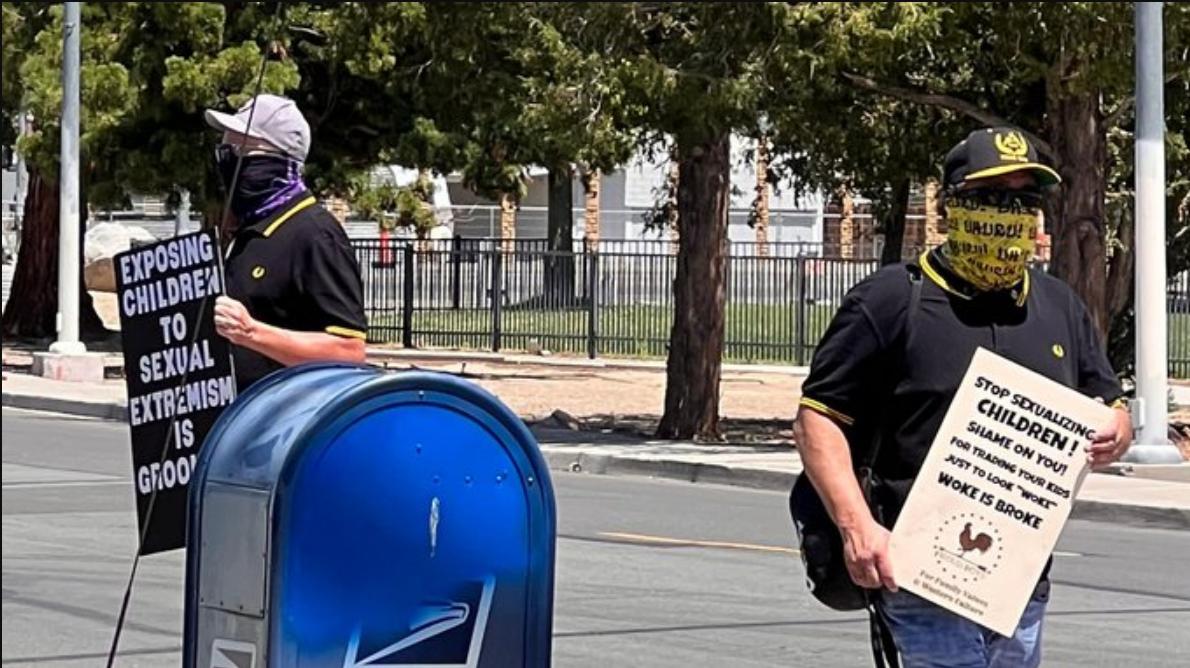 SPARKS, Nv. – An armed man later identified as part of a group of Proud Boys disrupted a drag queen story hour at the Sparks Library Sunday afternoon Reno media outlet KRNV (NBC News 4 and Fox 11) reported.
According to KRNV's account during the event, a group of Proud Boys protested against LGBTQ+ rights outside of the Sparks Library.
The KRNV crew covering the reading event said when the protest came to an end, a man wearing Proud Boys clothing approached the library while carrying a gun, causing everyone, including children, to run into the library for safety.
The Sparks Police Department monitored the protest from a distance, but left soon after. There were no police present when the man approached the building.
Nevada is an open-carry state and according to the Nevada State Police unless a sign is posted or the person is accused of brandishing a weapon, technically for appearances sake, no law was broken or regulation violated Sunday.
Felony arrest in vandalism of Pride Merch at Knoxville Target store
Jonathan Burns was arrested after he was identified by investigators as the suspect in spray-painting a section of LGBTQ+ Pride merchandise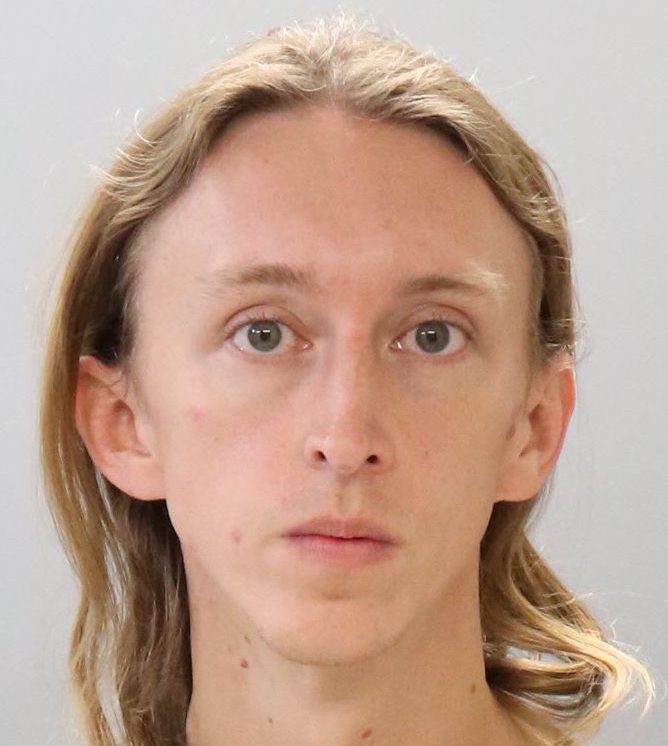 KNOXVILLE – A thirty-one-year-old West Knox resident was arrested last week by the Knoxville Police Department, with the help of the Knox County Sheriff's Office, and charged with felony vandalism at a local Target store.
Jonathan Burns was arrested after he was identified by investigators as the suspect in spray-painting a section of LGBTQ+ Pride clothing & merchandise.
Knoxville NBC News affiliate WBIR-TV, Channel 10 reported:
On June 13 at 2:49 p.m., Burns entered the Target on Parkside Drive and spray-painted an entire section of merchandise placed out for Pride Month, KPD said.
Burns damaged $3,884 worth of clothing, according to KPD. They also said he used red spray paint to destroy the entire section of items as well as a sign in the section, and it was the only section that was vandalized. The sign cost an additional $16 in damages.
An employee had approached Burns and asked him to leave, according to a KPD report.
When Burns left the Target, he dropped the spray paint can on the ground. Fingerprints on the can confirmed Burns' identity. Evidence of him purchasing the spray paint and a bucket hat from local retail prior to the incident was secured. Video from Target and the retailer where the paint and hat were purchased depicted Burns wearing the same clothing, the report said.
With @knoxsheriff's help, Jonathan Burns, 31, was arrested on a felony vandalism charge last night at his West Knox home after he was identified by investigators as the suspect from this incident. He is accused of spray-painting a section of LGBTQ+ Pride clothing & merchandise. https://t.co/tjc507iSaQ pic.twitter.com/jZaBvGKCU4

— Knoxville Police TN (@Knoxville_PD) June 23, 2022