Chick-fil-A donated $1.8 million to anti-LGBTQ groups in 2017
The fast-food chain denies the donations were aimed against the LGBTQ community
Chick-fil-A, the fast-food chain specializing in chicken, donated $1.8 million to groups with a history of anti-LGBTQ discrimination in 2017.
In tax filings obtained by Think Progress, Chick-fil-A reportedly donated $1,653,416 to the Fellowship of Christian Athletes, which requires its employees to sign a policy that they will maintain "sexual purity" and not engage in "homosexual acts." The fast-food chain also donated $6,000 to the Paul Anderson Youth Home, a Christian residential home for troubled youth that teaches that same-sex marriage is "rage against Jesus Christ and His values;" and $150,000 to the Salvation Army which is notoriously anti-LGBTQ.
The donations were also listed on the company's website with a notice that it would no longer be donating to Paul Anderson Youth Home.
"In 2017, a decision was made by the Chick-fil-A Foundation to no longer donate to the group after a blog post from 2010 surfaced that does not meet Chick-fil-A's commitment to creating a welcoming environment to all," Chick-fil-A said in a statement at the time.
In 2012 Chick-fil-A CEO Dan Cathy controversially deemed same-sex marriage as "inviting God's judgment on our nation when we shake our fist at him and say we know better than you as to what constitutes a marriage."
Chick-fil-A has denied discrimination towards any group in the past. The company released a statement saying that its donations weren't made with an anti-LGBTQ agenda in mind.
"To suggest our giving was done to support a political or non-inclusive agenda is inaccurate and misleading," Chick-fil-A said in a statement to CBS News.
Michigan AG Nessel joins coalition opposing Florida's 'Don't Say Gay' law
"Non-inclusive educational environments have severe negative health impacts on LGBTQ+ students, resulting in increased mental health issues"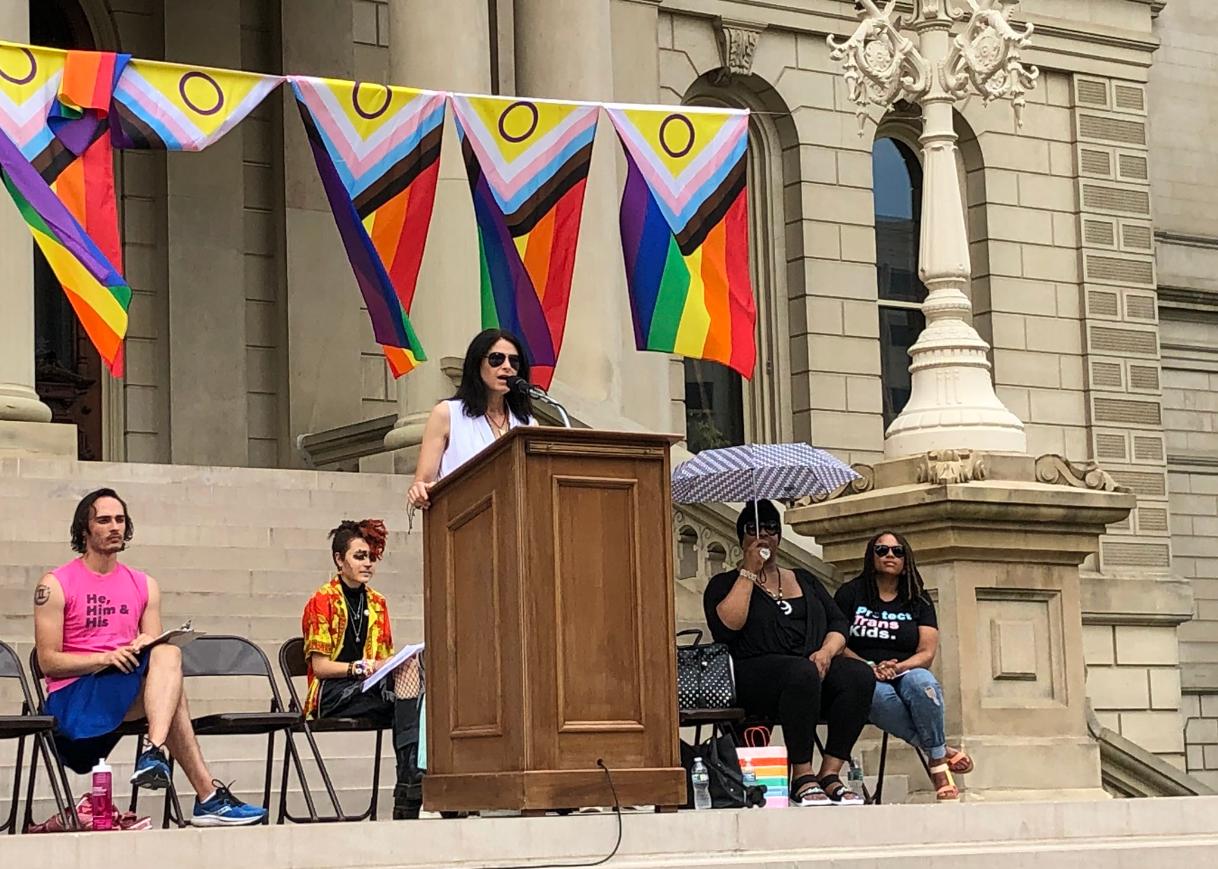 By Jon King | LANSING – Michigan Attorney General Dana Nessel has joined a coalition of 16 attorneys general from across the country in filing an amicus brief opposing Florida's "Parental Rights in Education Act," otherwise known as the "Don't Say Gay" law.
Nessel, a Democrat who is Michigan's first openly gay top statewide official, says that the law, which prevents classroom discussion of sexual orientation or gender identity, poses a serious threat to LGBTQ+ students who she says are particularly vulnerable to discrimination.
"This bill is an affront not just to educators, but also to LGBTQ+ students, especially those who may already be experiencing the stigmatizing effect of their identity at school," Nessel said. "This bill is not motivated by the desire to limit inappropriate content in classrooms. It is meant to have a chilling effect on how educators do their jobs and may also violate the First Amendment rights of students and teachers alike. I gladly join my colleagues on this brief and hope it discourages other states, including Michigan, from considering similar legislation."
The law is being challenged in federal district court by a group of students, parents, teachers and organizations seeking to prevent its enforcement by alleging that it violates, among other things, the Equal Protection Clause and the First Amendment.
The law entirely bans "classroom instruction" on sexual orientation or gender identity in kindergarten through Grade 3 while also requiring the state education agency write new classroom instructions for standards that must be followed by grades four through 12.
Opponents say that because the law does not define many of its key terms, like "classroom instruction," it is forcing Florida teachers to censor themselves out of fear of prosecution. That fear is further compounded by the fact that the law also allows a parent to bring a civil claim against a school district to enforce its prohibitions.
There are two main points in the brief.
"Florida's law is extreme," it states. "Although Florida claims the Act is intended to protect children and preserve parental choice, the attorneys general have curricula in place that allow for age-appropriate discussion of LGBTQ+ issues while respecting parental views on the topic."
"The law is causing significant harms to students, parents, teachers, and other states," claims the brief. "Non-inclusive educational environments have severe negative health impacts on LGBTQ+ students, resulting in increased rates of mental health disorders and suicide attempts. These harms extend to youth not just in Florida, but throughout the country."
Nessel is joining the amicus brief alongside Attorneys General from New Jersey, California, Colorado, Connecticut, Delaware, the District of Columbia, Hawaii, Illinois, Maine, Maryland, Massachusetts, Minnesota, Nevada, New York and Oregon.
*********************
The preceding article was previously published by the Michigan Advance and is republished with permission.
*********************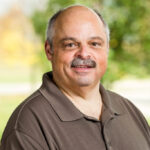 Jon King has been a journalist for more than 35 years. He is the Past President of the Michigan Associated Press Media Editors Association and has been recognized for excellence numerous times, most recently in 2021 with the Best Investigative Story by the Michigan Association of Broadcasters. He is also an adjunct faculty member at Cleary University. Jon and his family live in Howell, where he also serves on the Board of Directors for the Livingston Diversity Council.
*********************
The Michigan Advance is a hard-hitting, nonprofit news site covering politics and policy across the state. We feature in-depth stories, briefs and social media updates, as well as top-notch progressive commentary. The Advance is free of advertising and free to our readers. We wholeheartedly believe that journalists have the biggest impact by reporting close to home, explaining what's happening in our state and communities — and why. Michigan has hundreds fewer reporters than just a couple decades ago. The result is too many stories falling through the cracks.
The Advance is part of States Newsroom, a national 501(c)(3) nonprofit supported by grants and a coalition of donors and readers. The Advance retains editorial independence.
Florida prohibits Medicaid reimbursement for trans healthcare
Lambda Legal tells the LA Blade its "exploring all possible avenues for challenging this discriminatory rulemaking"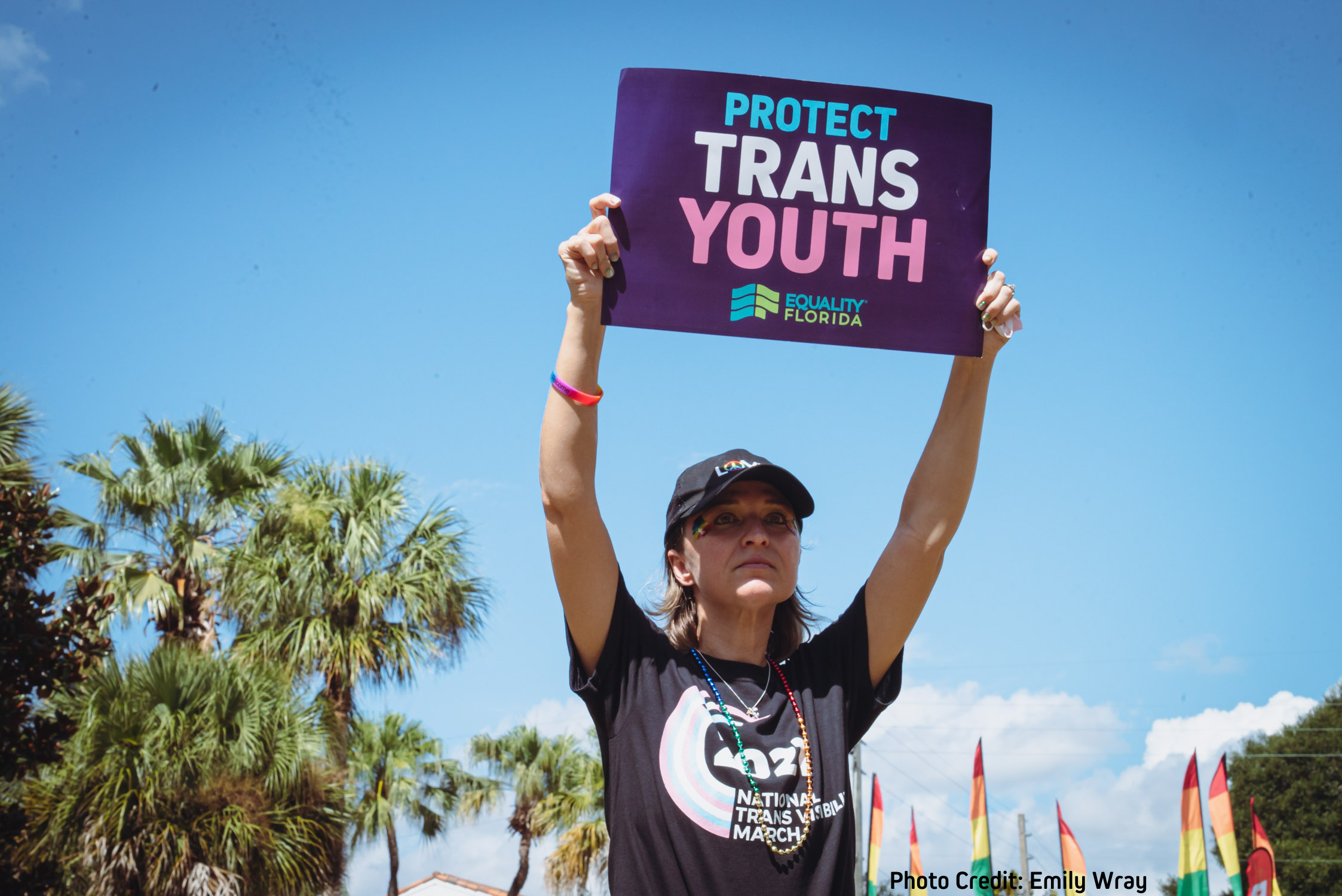 TALLAHASSEE – On Thursday, Florida officially joined the roster of conservative states whose Medicaid programs carve out coverage exemptions for transgender related healthcare, including gender-affirming therapies for young people.
Against the guidance of mainstream medical opinion, the state's Agency for Health Care Administration (AHCA) ratified new rules prohibiting taxpayer reimbursement for puberty blockers, hormone therapies, or surgical procedures to treat gender dysphoria.
"We are exploring all possible avenues for challenging this discriminatory rulemaking," wrote Carl Charles, senior attorney at Lambda Legal, in an emailed statement to The Los Angeles Blade. "Lambda Legal has secured victories on this issue in other states such as Alaska (Being v. Crum), and just this month in our case, Fain v. Crouch, in West Virginia."
The American Academy of Pediatrics (AAP) and its Florida Chapter (FCAAP) wrote in an emailed statement to The Blade that they were "disheartened" by AHCA's finalization of rules blocking Medicaid coverage for gender affirming care:
"The state's interference with the physician-patient relationship and its prohibition of this vital care will negatively impact Floridians who are trying to live their lives as their true, healthiest selves. As pediatricians, our only goal is to work with families and provide our patients with the best evidence-based care possible. When necessary and appropriate, that includes gender-affirming care. The AAP and FCAAP will continue to stand up in support of all young people, including those who are transgender."
The U.S. Centers for Medicare and Medicaid Services did not return a request for comment in time for publication. The U.S. Department of Health and Human Services did not immediately respond to a request for comment.
Also on Thursday, Florida's AHCA inaccurately accused HHS and the AAP of misleading the public about the safety of transgender related healthcare, though it was not the first time the state's health agency has butted up against its federal counterparts and associations of medical practitioners.
AHCA previously issued a bulletin in April that prompted rebukes from groups including the Endocrine Society, which accused AHCA of spreading misinformation about healthcare treatments for transgender people, including youth. The bulletin's contents also conflicted with official positions on these matters held by HHS.
A coalition of legal advocacy organizations including Lambda Legal immediately condemned the AHCA's latest move in a joint statement Thursday, writing: "Ignoring thousands of public comments and expert testimony, Florida's AHCA has finalized a rule that will deny Medicaid coverage for all medically necessary gender-affirming care for both youth and adults. This discriminatory and medically unsound rule will take effect on August 21, 2022, putting transgender people in jeopardy of losing access to critical gender-affirming health care services."
The statement also took aim at Florida Gov. Ron DeSantis: "AHCA's actions, at the behest of Governor DeSantis and his political appointees, are morally and legally wrong as well as medically and scientifically unsound. This rule represents a dangerous escalation in Governor DeSantis's political zeal to persecute LGBTQ+ people in Florida, and particularly transgender youth."
The Movement Advancement Project publishes a chart tracking state-by-state Medicaid coverage for transgender-related care, which is a patchwork of different exemptions and carveouts that generally maps onto the extent to which each leans conservative.
Much like with other public health insurance programs like state employee health plans, discriminatory state Medicaid programs have often been the subject of litigation challenging them, in lawsuits that are often successful.
Nikole Parker, Equality Florida's Director of Transgender Equality in an emailed statement said:
"Just over one week from today, Florida's Agency for Health Care Administration, at the behest of Governor DeSantis, plans to strip thousands of vulnerable Floridians of their health care. Transgender people have been accessing gender-affirming care through Medicaid for years. That care is now being shut off by a state agency that has been corrupted, weaponized, and stacked with extremists by a governor desperate to fuel his own political ambitions.
Today, more than 9,000 transgender Floridians access care through Medicaid. On August 21, the state government will put  that care on the chopping block. As further evidence for his complete disregard for the health and well being of transgender Floridians, the DeSantis Administration has done nothing to quantify or assess the terrible impact this rule would have on the thousands of transgender people who rely on Medicaid for their care. The transgender community, like all people, shouldn't have necessary, life-saving care stripped away by extremist politicians working overtime to stoke right-wing fervor. This brazen, politically-motivated attack is cruel, dangerous and puts the health of thousands at risk."
Virginia's Gov. Youngkin will force teachers to out their LGBTQ+ students
"I firmly believe that teachers and schools have an obligation to make sure that parents are well informed"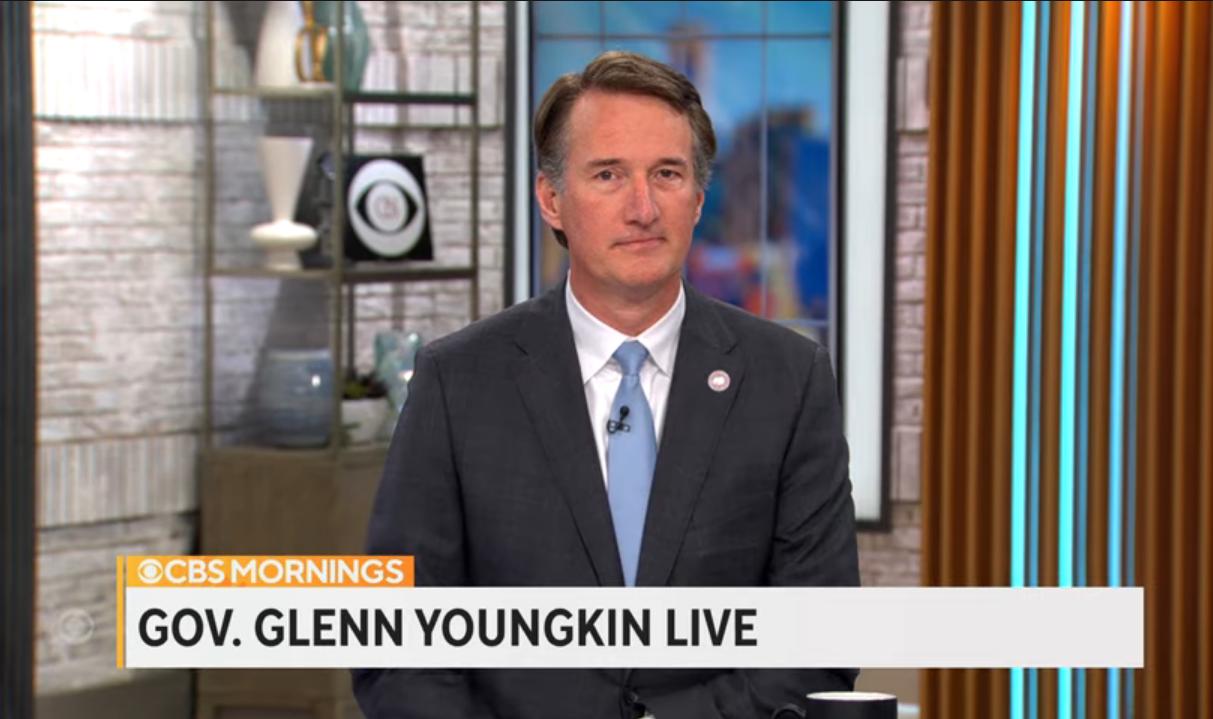 RICHMOND – Virginia Republican Governor Glenn Youngkin affirmed his support on Tuesday for measures that would require teachers to notify parents of their children's sexual orientation or gender identity, regardless of the students' consent. 
The move was justified under the pretext of protecting "parental rights," a specious argument that has given cover to policies enacted by conservative legislatures across the country that target LGBTQ+ people, including students, in public schools.
"With regards to informing parents with most important decisions about their children…Parents should be at the forefront of all of these discussions," Youngkin told WJLA News. "And I firmly believe that teachers and schools have an obligation to make sure that parents are well informed about what's happening in their kids' lives."
Critics, however, charge that coming out is an intensely personal act, that taking away a student's ability to do so on their own terms can be psychologically damaging, intrusive, and hurtful. In some cases, for students whose parents or guardians might harbor anti-LGBTQ+ views, it can be dangerous.
Lambda Legal reports between 20 and 40% of homeless youth identify as LGBTQ+ and are "frequently rejected by their families or fleeing abusive long-term placements." Forcibly outing young LGBTQ+ people can mean they will be forced to live on the streets.
Notwithstanding Youngkin's efforts to portray himself as a moderate when campaigning for governor, Tuesday's statement follows a series of extreme rightward moves he has made with respect to education policies in the state that concern LGBTQ+ youth and subject matter.
Florida's controversial "Parental Rights in Education" bill, which critics termed the "Don't Say Gay" bill, was similarly premised on the right of parents to control the material to which their children will have access in school.
In reality, the overbroad legislation prohibits any classroom discussion of sexual orientation or gender identity for students in certain grades, which could potentially lead to disciplinary action against a teacher who mentions their same-sex spouse.
Youngkin has similarly taken aim at educational materials in public schools, such as by signing into law SB656, which requires parental notification of nebulously defined "sexually explicit content."
Just after taking office in January, he set up a "tip line" to solicit comments from Virginia parents on "divisive practices" or the inclusion of curricula and materials they may consider objectionable.
Plaintiffs in multiple lawsuits, the most recent of which was filed on Monday, accuse Youngkin of violating public records laws by his refusal to share "tip line" emails with news media organizations.