Transgender Californian denied healthcare based on hospital's religious views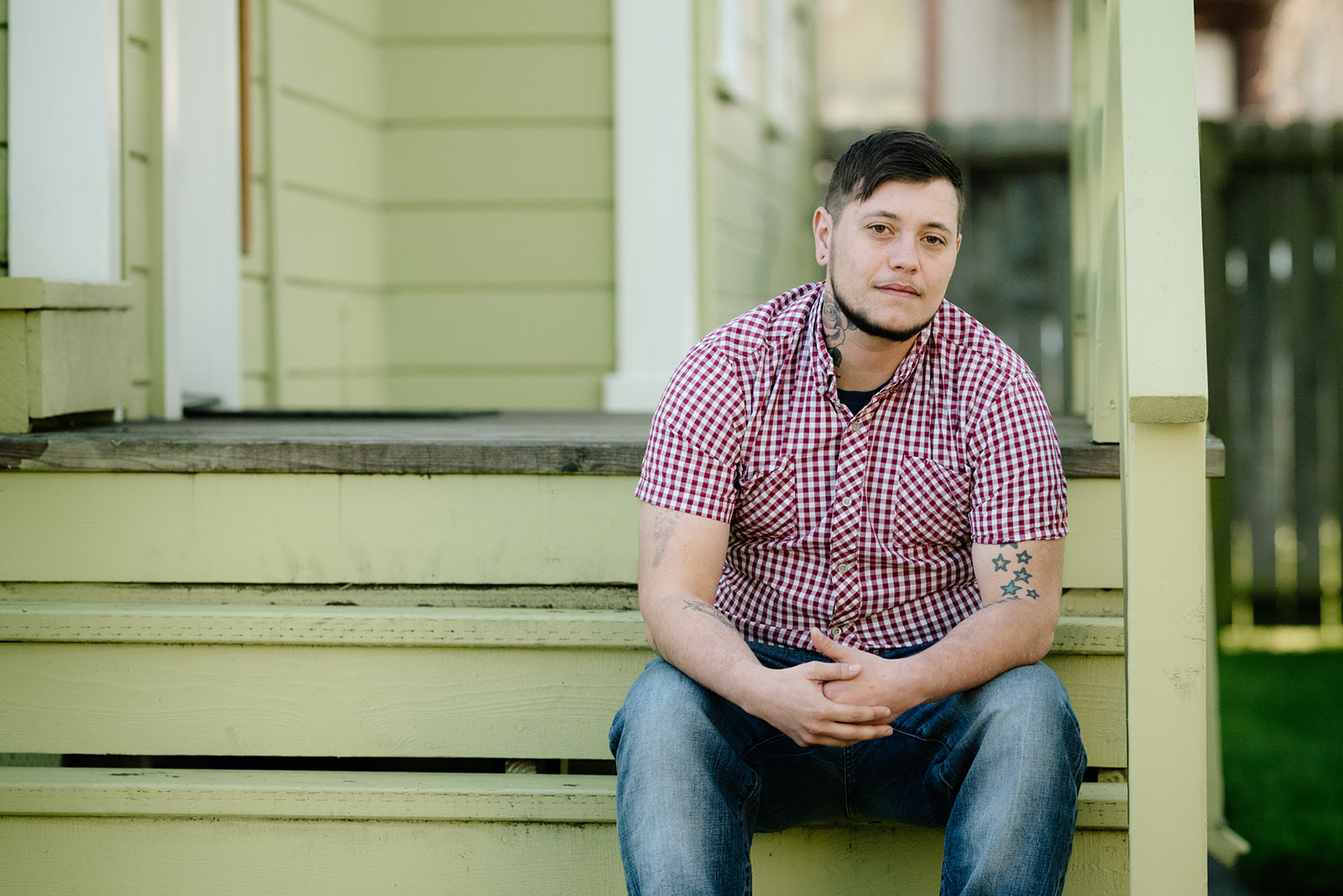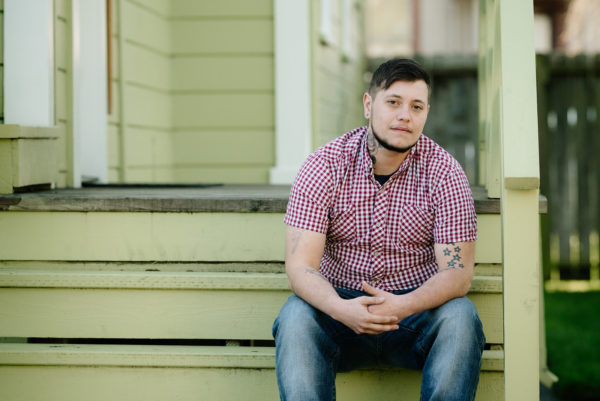 ACLU client Oliver Knight (Photo for ACLU of Northern California by Kate Donaldson)
Twenty-seven year old Oliver Knight was lying on a gurney in a pre-surgical holding area on Aug. 30, 2017, an IV drip hooked up waiting for the general anesthetic to be administered. He was completely prepped for his life-changing hysterectomy procedure when his surgeon informed him that the hospital's executive administrators had canceled his surgery.
The reason for the surgical cancellation is detailed in a 12-page civil lawsuit filed March 21 in Superior Court for Humboldt County, California, by Knight, a transman, against St. Joseph Hospital, located in Eureka.
In a phone call with the Los Angeles Blade Thursday, March 21, ACLU Foundation of Northern California's Elizabeth Gill, who is representing Knight, now 29, say the hospital claimed that because Knight is transgender, the surgery conflicted with the hospital's adherence to Catholic doctrine and beliefs.
St. Joseph Hospital is part of the Providence St. Joseph Health Network, a national, Catholic not-for-profit health system, one of the largest health systems in the country, operating 51 hospitals, with over 25,000 physicians. The network operates 18 hospitals in California.
Gill says that Knight being denied healthcare based on the hospital's religious views—which does not recognize gender-affirming care—is a violation of California's public accommodations laws governed by California's Unruh Civil Rights Act.
However, she points out, the hospital regularly allows hysterectomies for patients who are not trans. Additionally, Knight's physician said he and other physicians regularly perform the healthcare procedure, making it clear that that the denial was discriminatory based soley on Knight being trans.
Gill says the core issue is the serious opposition to transgender rights by the U. S. Catholic Conference of Bishops, which in turn is conveyed to hospital administrators within the Providence St. Joseph Health Network.
Gill also points out this denial of healthcare services is part of the ongoing organized opposition by the Bishop's Conference to the Equality Act, which was recently reintroduced in Congress. This is legislation that would add protections based on sexual orientation and gender identity to a myriad of existing federal civil rights laws.
The Catholic News Agency reported that in a letter to US Senators signed by Archbishop Joseph Kurtz of Louisville, chair of the U.S. bishops' religious liberty committee, Bishop James Conley of Lincoln, head of the Subcommittee for the Promotion and Defense of Marriage, and Bishop Frank Dewane of Venice, chair of the Committee on Domestic Justice and Human Development, the bishops said they "whole-heartedly support nondiscrimination to ensure that everyone's rights are protected" but warned that "[the] Equality Act purports to address issues of discrimination, it would actually create new problems and threaten fundamental freedoms."
"The Act's definitions alone would remove women and girls from protected legal existence. Furthermore, the Act also fails to recognize the difference between the person – who has dignity and is entitled to recognition of it – and the actions of a person, which have ethical and social ramifications. Conflating the two will introduce a plethora of further legal complications," the bishops wrote.
Additionally, the Equality Act – which does not contain a religious exemption – threatens freedom of speech and freedom of religion and conscience by making it illegal to hold and act upon an individual's religious beliefs.
The bishops also said the lack of criteria for "gender identity," which could open the door for abuses in restrooms and locker rooms, is dangerous.
"This risk arises not so much from those who experience gender incongruence, but from others who would take malicious advantage of open-door policies in these private spaces," the bishops said.
There is no indication Oliver Knight presented such a risk.
The hospital, which is the only healthcare facility serving the Eureka community in a 25-mile area, cannot act in such a discriminatory way under California law, Gill says.
"Gender-affirming care is lifesaving and medically necessary," Gill tells the Los Angeles Blade. "Transgender people are part of our community, our workplaces, and our neighborhoods and they, just like everyone else, deserve to get the healthcare they need."
In a blog post on the ACLU website, Oliver expressed his frustrations:
"On Aug. 30, I arrived at the hospital and they checked me in and did the surgery prep, which was extremely uncomfortable and triggering. I was given a pink gown. I asked the nurse if I could have a blue gown, but she told me I was having a "female surgery" and should wear the pink. I felt like a child all over again, sitting uncomfortably in a pink dress. But I forced myself to do it, I had been waiting so long for this.

They hooked me up to an IV to get ready to put me to sleep. About an hour after waiting, my surgeon finally came to get me. But when I saw the look on his face, I got a terrible feeling. He told me my surgery was canceled. It was denied by the Catholic Church for ethical reasons. I didn't understand how this could be happening. The Catholic bishops didn't approve of my surgery. It seemed unreal.

I had an anxiety attack and thought about all the pre-op and mental preparedness I had to go through just to get here. I freaked out and started crying. I was given medication to calm me down.

Fifteen minutes after that, the hospital staff asked me to leave. I still had booties on my feet as a nurse led me outside. I felt humiliated and queasy as I sat on the curb waiting for my roommate to pick me up.

It seems the hospital does not understand how it feels to be treated inhumanely just because your body parts do not match your soul. This surgery was important — it was meant to balance my hormones. The delay disrupted my life. I felt like the hospital's bigotry had set me back years."
Gill told the Los Angeles Blade that in addition to representing Knight in his suit, the ACLU Foundations of California and the National Health Law Program are launching the All Care Everywhere campaign to make sure all Californians get the healthcare they need. Catholic hospitals like the Providence St. Joseph Health Network are already the largest healthcare provider in the state and for many Californians, those Catholic hospitals are the only option within hundreds of miles.
She said that California's ACLU Foundations and the National Health Law Program's campaign will gather stories of people denied care and work to ensure Catholic hospitals do not harm more trans or LGBTQ people with their discriminatory practices.
Asked if she found Knight's case troubling, especially since it occurred in California, Gill answered simply, "very."
California voters give Newsom thumbs down on homelessness response
"I don't think homelessness can be solved – I know homelessness can be solved," said Newsom. "We are going all-in with innovative solutions"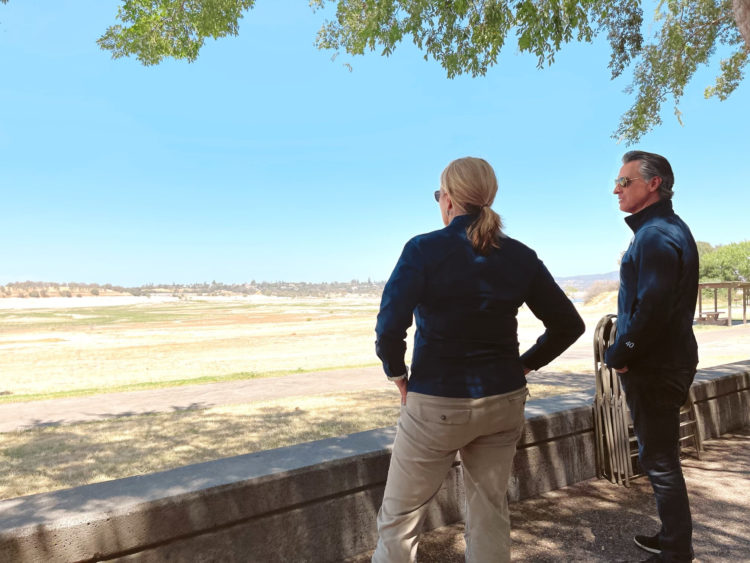 BOSTON – In a new poll released Friday conducted by Inside California Politics and Emerson College of more than 1,000 registered voters, half rated Governor Gavin Newsom's response to the homelessness crisis in California as 'poor.'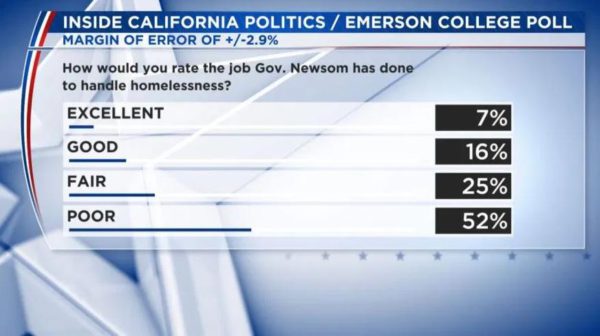 Newsom's low marks comes after an announcement earlier this week at a Project Homekey site located in Sebastopol, West of Santa Rosa, where he signed the largest funding and reform package for housing and homelessness in California history as part of the $100 billion California Comeback Plan. The package includes $10.3 billion for affordable housing and $12 billion over two years towards tackling the homelessness crisis head-on – helping tens of thousands of people off the streets while also demanding greater accountability and more urgency from local governments.
The new homelessness funding includes $5.8 billion to add 42,000 new housing units through Homekey – a national model for homeless housing. $3 billion of this investment is dedicated to housing for people with the most acute behavioral and physical health needs. This investment is the biggest expansion in decades in terms of clinically enhanced behavioral health housing in California.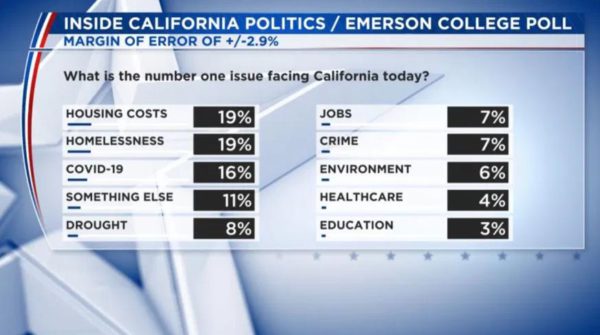 "I don't think homelessness can be solved – I know homelessness can be solved," said Newsom. "We are going all-in with innovative solutions that we know work – with a focus on creating housing to support people with severe mental health challenges, and with more money than ever to move people out of encampments and into safer situations."
California is home to more than a quarter of the nation's homeless people with an estimated 161,000 people are experiencing homelessness, according to federal government data, and it has reached crisis proportions in many cities, especially in Los Angeles.
Los Angeles Mayor Eric Garcetti announced in his annual State of the City address on April 19, 2021 that he will seek to spend nearly $1 billion on initiatives for addressing homelessness, as well as allocate $235 million for the city's Emergency Rental Assistance program, intended to help up to 100,000 households and other critical needs.
There are deep disagreements in how to solve a problem that goes beyond economics, advocates claim they can't house people quickly enough with a shortage of housing units and high rents. The issue is also further exacerbated by the complications of mental illness and addiction issues that require treatment and can make people resistant to accepting shelter.
Assembly race candidate amasses significant war chest 11 months out
Openly gay, Zbur has collected critical endorsements in the race, including125+ elected, community leaders & progressive organizations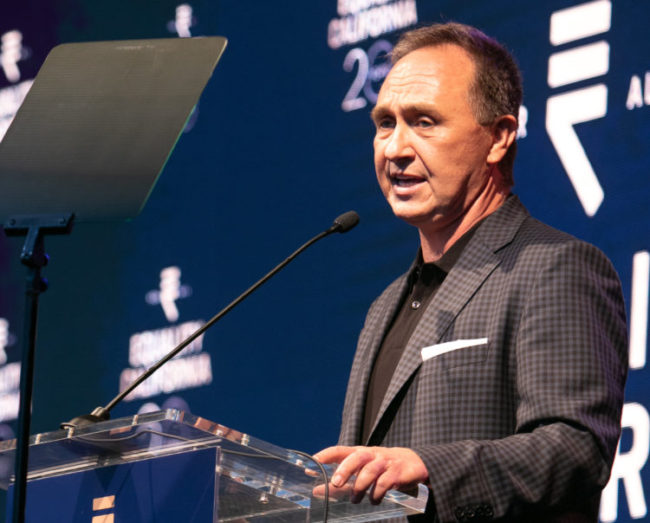 LOS ANGELES – The race for state Assembly District 50's seat by Rick Zbur, the outgoing head of the state-wide LGBTQ equality rights advocacy group Equality California, saw his campaign amass a significant campaign funds war chest total this past week.
A financial disclosure report from the campaign this week disclosed that Zbur had raised more than $615,000 through June 30, 2021, and will report $530,000 cash on hand approximately 11 months out from the 2022 primary.
In the race for the seat which is currently held by Assemblymember Richard Bloom (D-Santa Monica) who is running for the County of Los Angeles Board of Supervisors, Zbur's impressive fund raising could give him an edge over his fellow Democrat Sion Roy, a physician, who has not disclosed yet what his campaign has raised.
Openly gay, Zbur has been collecting critical endorsements in the race, including over 125 elected and community leaders, as well as influential progressive organizations. On Friday San Francisco Mayor London Breed added her endorsement of Zbur. [A complete list of Zbur's endorsements can be found here.]
There has not been an LGBTQ representative in Sacramento for the Western portion of Los Angeles County since 2008, when Sheila Kuehl left her Senate seat and later in 2014 ran a successful bid to become the Supervisor for the Third District on the County of Los Angeles Board of Supervisors.
"While it's still early and this is only the first of many key benchmarks that we plan to hit during this election, the depth and breadth of support we've received for this first fundraising report serves as a validation of our message of bold progressive leadership and the important work that we've already accomplished," Zbur said Wednesday.
Puerto Rico activists condemn police raid on LGBTQ-friendly bar
More than 20 officers descended on Loverbar near the University of Puerto Rico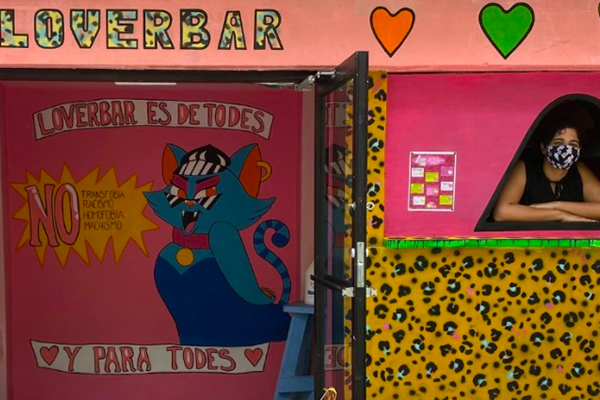 SAN JUAN, Puerto Rico — Activists in Puerto Rico have condemned a police raid on an LGBTQ-friendly bar that took place on Thursday night.
Local media reports indicate more than 20 officers with the San Juan Municipal Police Department entered Loverbar, which is near the campus of the University of Puerto Rico, at around 11 p.m.
A video posted to social media shows that some of the officers who entered the bar were armed with what appear to be shot guns.
Media reports cite local authorities who said Loverbar did not have the necessary permits to operate as a bar, and the officers arrived there to fine them. San Juan Mayor Miguel Romero in a statement said officers fined Loverbar and seven other businesses in the city on Thursday for either not having the necessary permits or excessive noise.
"The Municipal Police of San Juan led by Miguel Romero intervened last night with a queer bar," tweeted Pedro Julio Serrano, founder of Puerto Rico Para [email protected], a Puerto Rican LGBTQ advocacy group. "This reminds us of a time when LGBTQI+ people were prosecuted, criminalized and villified."
"We won't tolerate homophobia and transphobia in San Juan," added Serrano.

Comité Amplio Para la Búsqueda de Equidad (CABE), another Puerto Rican LGBTQ advocacy group, has called for an "exhaustive and independent investigation into the excessive use of force and intimidation by the Municipal Police of San Juan last night" at Loverbar.