Trans lives of color explored in new documentary series
Intersecting identities is just the beginning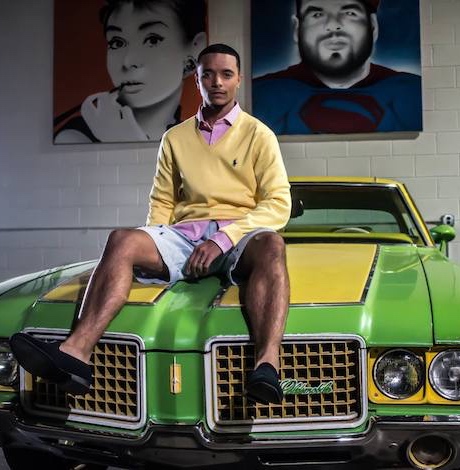 In honor of Trans Day of Visibility, which is observed internationally on March 31, the LGBTQ streaming service, Revry, will debut the award-winning, Sundance-backed documentary series "America In Transition," a four-part exploration of the community, family and social issues of trans people of color across the United States.

Created by Puerto Rican transgender filmmaker, educator and community organizer André Pérez, the show devotes each of its four episodes to exploring one person's story in depth – tackling intersectional issues such as HIV criminalization, living as trans in the south, family acceptance, trans exclusion from the military and immigrant detention.

Pérez, who founded the Transgender Oral History Project in 2008, was inspired by his own experiences coming of age in North Carolina and starting his transition as a youth in rural Vermont, where he had many questions and nobody – either role models or community support organizations – to turn to for answers. He has spent years traveling around the country, interviewing hundreds of trans people in an effort to help trans stories be told. 

In his show, he profiles four such subjects through character-driven storytelling which highlights issues of importance to trans people in marginalized communities.

One episode features Nina, who fell in love with another trans woman in the United States after growing up misunderstood in her native India; now facing the threat of deportation, Nina and her love continue to fight for space to live and flourish when no place feels safe. In another installment, we meet Dezjorn, a family man, model and advocate who drew national attention for bringing a trans presence into mainstream modeling while still hiding his gender identity from his mom; now they are trying to understand one another before it's too late. Yet another offers us a look at Tiommi Luckett, whose worst fears came true when she became the victim of a sexual assault within her own home; she struggles to reconnect with the bold, adventurous woman she's always been against a backdrop of self-imposed isolation. Lastly, there's Z, who became the marine he always wanted to be after his family and his church rejected him; now an unlikely activist whose life is being upended yet again by the proposed trans military ban, the show follows him in his search for love and belonging amidst rising political tensions.

Each of the four segments is handled with the kind of sensitivity and candor likely only possible when trans material is approached by a trans director. Pérez captures the dignity of his subjects, along with their resilience, humor, and – most of all – humanity, as he documents their efforts to overcome the political, personal and cultural obstacles that each of them face. What comes across strongest, perhaps, is the sense of community that seems to tie together not only the individuals within each story, but the stories themselves. 

Yet each story is as unique as the trans person at its center.

Pérez told Los Angeles Blade, "Part of what I'm interested in doing with 'America in Transition' is breaking down the notions of any one 'typical,' 'normal,' or 'general' experience of being trans. We come from every racial, cultural, and socio-economic group, and our experiences are shaped by those intersecting identities."

"Think of the series," he said, "as intimate portraits of trans people on journeys to heal, forge family and find love."

He went on to talk about the show "as a good example of the power of documentary to go more in-depth than the news typically can, by exploring issues over a longer period of time."

"Also," he continued, "my experiences as a trans person of color shaped my approach as to which stories to tell, how to tell them, and my goals for the series."

Though the show is debuting on a platform mostly viewed by LGBTQ+ audiences, Pérez is not interested in only reaching sympathetic viewers.

"I absolutely want to go beyond preaching to the choir," he told the Blade. "In order to accomplish this, 'America in Transition' offered over 50 screenings alongside workshops, lectures and discussions in community groups and colleges in over 13 states. We have gone out of our way to engage partners such as faith institutions in the south because we want to activate allies and support people challenging transphobia in spaces where our stories can make an impact."

"This work is hard and costly," he added.  "We're seeking funding to deepen it, but it's the only way we can shift the culture."

In addition to the Transgender Oral History Project, Pérez has created traveling multimedia historical exhibits about transgender activism, presented workshops about storytelling and the transgender community, and helped to launch El Rescate and co-found Project Fierce Chicago, both grassroots transitional housing programs for LGBTQ youth. He has served as director and senior producer for I Live for Trans Education, a grassroots multimedia curriculum where he worked with a team of 20 transgender community members at varying skill levels to create four documentary shorts and accompanying interactive activities. He has sat on the Board of Out at the Chicago History Museum and the Community Advisory Board of the Civil Rights Agenda; his work has been honored by the Trans 100, the Museum of Transgender History and Art, the Association of Independent Radio, and the International Independent Film Awards.

With "America In Transition," Pérez explores how our environments shape who we are. It's a show he believes "will complicate notions of social change in underrepresented communities," but that "this is a crucial moment to help people understand how trans realities differ based on identity, geography and social context."

"The world is changing for the white, upper-middle class people we see on mainstream television," he says, "but trans people of color, immigrants, and working-class families face a different world. 'America In Transition' focuses on relationships as it explores where, when, and how change happens in a complex individual, a diverse community, and a divided nation."

Asked if he had any additional message for the trans community, Pérez added this:

"For all of the trans folks out there, we love you and we need you to be everything that you are. For my LGB fam, I hope we can work together to make our community a place that honors and respects us all. Please watch the show on March 29th, share, and think about how you can support trans people in your workplace, organization or institution. If you want to bring a screening, speaker, or workshop, reach out to us at www.americaintransition.org."

Revry, recently featured on the front page of the LA Times, is the first queer global streaming network, led by an inclusive team of queer, multi-ethnic and allied partners who bring decades of experience in the fields of tech, digital media and LGBTQ+ advocacy. They will premiere "America In Transition" on March 29.  For more information, visit revry.tv on the web.
Turning pain into positive & using art as therapy – Carl Hopgood
He knew he wanted to embark on a path toward a "bold, exciting life" among other "creative people" while "doing amazing things and living"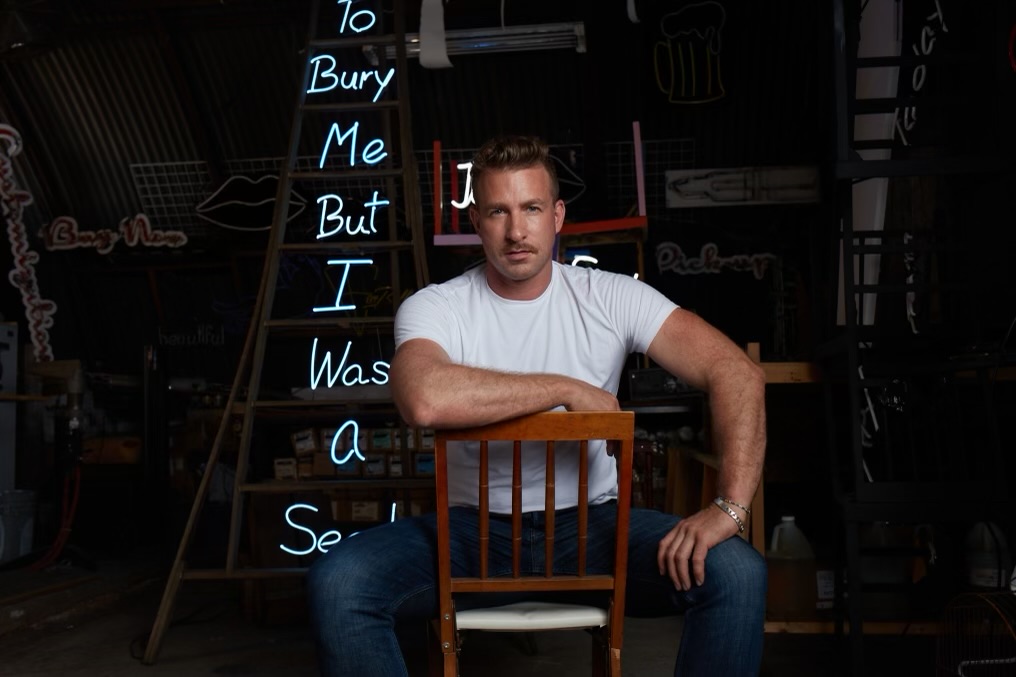 LOS ANGELES – Like many people born with an inclination toward creative expression, Carl Hopgood has known from a very young age that he wanted to be an artist.
Growing up on a small farm in rural Wales, the Cardiff-born Hopgood spent his childhood surrounded by animals and nature, letting his imagination run wild and creating worlds he envisioned with baskets, fruit boxes, flowers, stones, tabloid clippings, and other items that struck his fancy. Then, at 7, he was invited to spend an afternoon with his best friend, whose cousin was visiting; that cousin happened to be Richard Burton, and he happened to be accompanied by his even more famous wife, Elizabeth Taylor.
Hopgood was not just star-struck, he was inspired.
"My world was never the same after that day," he tells the Blade. "They told stories about Hollywood, London, glamorous parties, movies, photography… and Andy Warhol! Andy Warhol was my first artist crush. He was also born on a farm, so I felt an immediate connection."
After that experience, he knew he wanted to embark on a path toward a "bold, exciting life" among other "creative people" while "doing amazing things and living."

Four decades and one continental transplant later, it can safely be said that Hopgood has accomplished his goal.
A successfully established LA-based artist, he's created a unique body of work that includes pieces in Neon, Sculpture, Film / Video Installation, and canvas painting; his collectors include Morgan Freeman, Eugiono Lopez, The Vinik Family Foundation, The Groucho Club and Rupert Everett; and recent exhibitions of his work – like his neon art installations 'Looking For Love In All The Wrong Places', 'My Heart Is Open', and 'You Changed My Life' at the Maddox Gallery in West Hollywood, and 'Chair Therapy' at United Talent Agency's UTA Artspace LA – have garnered a flurry of enthusiasm and increasing national attention.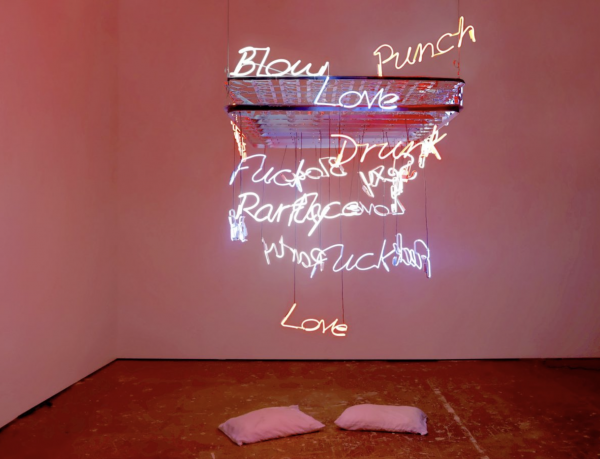 The latter installation created a particular stir with its inclusion of a controversial neon sculpture called "Just Say Gay", Hopgood's response to the draconian anti-LGBTQ legislation championed by Florida Governor Ron DeSantis; that work was acquired by prominent collector Beth Rudin DeWoody and will be on display from December 2023 at her Bunker Art Space in West Palm Beach, Florida.
When talking with the Blade, Hopgood is keen to focus the discussion on a new goal – the completion of a documentary about the creation of "Chair Therapy" – but he's certainly willing to start the conversation by talking about the sense of queer defiance behind "Just Say Gay" and many of his other works, because the two subjects go hand in hand.
"Being a gay man of Welsh and Greek heritage," he proudly proclaims, "the fight against bullying, repression, injustice and discrimination became central themes of my artistic expression."
As he explains, that fight is rooted in a traumatic childhood experience. "I was bullied by classmates," he remembers. "They would chase after me, push me to the ground and kick me in the groin. I managed to escape and found sanctuary under a stack of chairs in the school assembly hall. The school therapist helped me cope by using a technique called Empty Chair Therapy, where you would talk to an empty chair about your feelings.
"I decided turn this pain into something positive and use art as my therapy."

Much later, the young Hopgood would be inspired by the confrontational aesthetic of Damien Hirst – after reading a scathing criticism of one of his works in the paper – and follow in the controversial artist's footsteps to Goldsmiths College in London, eventually becoming part of a movement with fellow graduates like Steve McQueen, Jason Martin, Ceal Floyer, Angela De La Cruz and Alessandro Raho.
"It was an incredible moment to be a young artist in 1990s London."
Nevertheless, after 20 years in the London art scene, he decided it was time for a change.
"I had just watched a documentary featuring David Hockney," he explains. "The freedom and possibility of David's work was clearly inspired by Southern California with its beautiful palette and open, sunny skies. It was a stark contrast to the gloomy weather of the UK, and the anxiety and depression that accumulated over the years. I had heard about the growing LA art scene –LACMA, MOCA and The Broad were beginning to attract an international audience – and I decided that moving to Los Angeles would be good for both my mental health and creativity."
The choice was a fortuitous one for him – "It was the perfect time to go," he says, "and I was ready to work in new mediums and expand my repertoire." Then, like the rest of us, he had to put all his plans indefinitely up in the air.
"In early 2020, when the pandemic hit," he tells us, "I would see all the bars and restaurants shuttered in West Hollywood. It was like a ghost town. Looking through the store front windows, all I could see were chairs stacked on top of each other – and that image took me straight back to my unhappy childhood."
He decided to use it for inspiration and began work on the first sculpture in the "Chair Therapy" series ("My Heart is Open") – which as he describes, addresses "toxic masculinity, oppression and queer identity, themes I've always championed."
Those themes are doubtless also at least partly behind his desire to see the planned documentary – titled "Fragile World" – reach fruition. Filmed during the pandemic, it profiles Hopgood by charting his personal artistic journey, but centers on the development of "Chair Therapy", in which he combined found and vintage wooden chairs with neon lights shaped into positive words to provide hope, love and support for a community who were hardest hit by Covid and the shutdowns it necessitated.
"Seeing those stacked chairs and tables, in those empty establishments, I knew some would be forced to close for good. I felt so helpless, but I knew there was something I could do."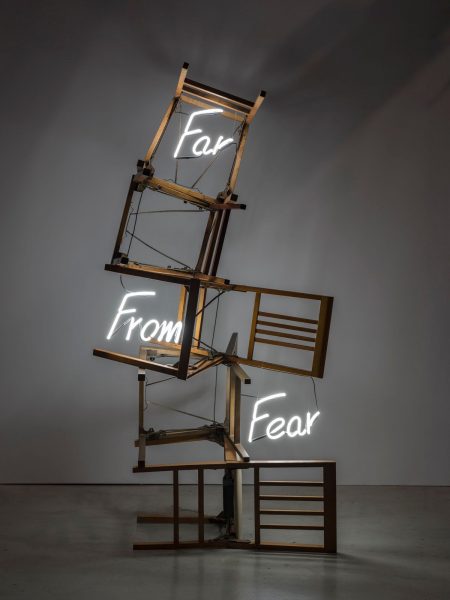 Now, with his own hard-hit community – alongside many others – facing aggressive legislative oppression from the extremist right, he's determined to see the film finished, so that the same empowering message of optimism embodied in his work can be spread to a larger audience as a reminder not to let the bullies break their spirit. To that end, the documentary's director and producer, LA-based British filmmaker Kate Rees Davies, has set up an Indiegogo campaign to raise the funding necessary to finish the project.
Another motivation, perhaps even more personal, might be found in Hopgood's revelation of a hidden influence in another work from the "Empty Chairs" series: "Twelve Steps", which explores the massive financial success of a California citrus industry made possible by the hard work of a segregated Mexican immigrant labor force. "I was also inspired in that piece by a line from Greek poet Dinos Christianopoulos," he says, "who was sidelined by the Greek literary community in the 1970s because he was gay. It's a small but powerful couplet which was included in the collection 'The Body and the Wormwood' that reads, 'What didn't you do to bury me, but you forgot that I was a seed.'"
For Hopgood, perhaps, the documentary also represents a seed, one that he himself has planted in hope of spreading its positive power into the world – and he's counting on the support of his patrons through Indiegogo for the water, light and nourishment it requires to grow.