Todd Gloria hoping to make history as San Diego mayor
He'd be the first gay and person of color to run America's 8th largest city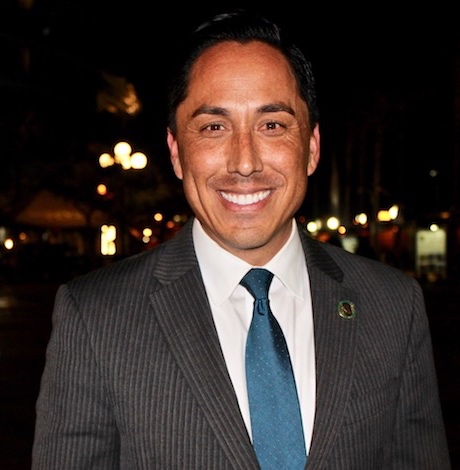 Compassion can't be ordered up like a dessert item on a road-stop menu. Compassion is a character trait developed through hard earned experience and the willingness to walk in someone else's shoes. And compassion, California Assemblymember Todd Gloria believes, is an attribute LGBT people can uniquely bring with them into elected office.
In an America fuming over Donald Trump's divisive toxic masculinity, Gloria stands for the triumph of humanity over smug cruelty and neglect. It's a practiced philosophy he intends to bring to his hometown of San Diego where he hopes to be elected mayor in 2020. 
"I'm third generation San Diegan. I know where the city has been and I have a vision for where I'd like to take it. The opportunity to lead my hometown—the second largest city in California and the eighth largest in the nation—is one that I don't want to pass up," Gloria tells the Los Angeles Blade by phone from Sacramento. "This is where I believe I can make the most meaningful impact."
There's a calm excitement in Gloria's voice, as if he's mentally transported himself to some San Diego site where, shovel in hand, he's about to dig a new beginning.
"I believe San Diego is at an inflection point where we can build on the things that I did while I was a city council member, city council president and interim mayor in the past," he says. "We must take on new challenges. We are the eighth largest city in the nation and we have the fourth largest homeless population in the United States! I think we should fix that."
There's also a housing affordability crisis that's hurting the middle class "that allowed me to get an education and build a career and a life in my hometown. That's imperiled at the moment," he says. "We need to build a world-class public transportation system – that still has not happened but could happen with the right kind of leadership." He's offering a new direction "that's more reflective of our big city status rather than the small town ways that have often held us back held back in realizing the full potential of our great city."
And, for the city often identified as the birthplace for the infamous anti-immigrant Prop 187, Gloria says:  "We are moving toward a new San Diego that is inclusive of all people. A city where everyone can make a life for themself."
Gloria would be the first openly LGBTQ person and the first person of color elected mayor in the eighth largest city, of particular intersectional interest since San Diego is a border city immediately adjacent to Baja California and Tijuana Mexico.
"My upbringing as the son of a maid and gardener very much colors my point of view on what we can and should be doing for San Diego," Gloria says of his mixed Native American, Filipino, Dutch, Puerto Rican heritage. "My parents are incredible people, hard working folks with high school educations who, despite significant challenges, were able to build a life – buy a home, put their two kids through college."
Gloria officially came out to his parents at 18, though he jokingly says he was never "in" the closet since he and apparently everyone at school knew he was gay. But he survived those difficult times to go on and graduate summa cum laude from the University of San Diego, having majored in history and political science.
"My concern is that that story is not as easily replicable today because of the challenges San Diego has not taken head on," he says. "We had a recent report where there's 40,000 San Diego young people in their late teens and early 20s who are completely disconnected from the worlds of education and the world of work. Those are young people who are going un-utilized in our economy and that's a missed potential towards the vision I have of a great city."
Gloria says he wants to "keep that ladder of opportunity in place. I want to rebuild it where it may have been broken. I believe it because I've experienced it and I want others to have that same experience. And right now I think there's good reason to doubt that that ladder exists. But my goal, my ambition, my vision is to rebuild it – not just for queer kids of color like me but really for every person who is going to work hard in San Diego."
Relatable compassion matters. "Anyone who has grown up LGBT publicly comes out with two qualities," he says. "One is compassion because what we often experience really allows us to feel other people's experience and understand and relate to them. When you've gone through junior high—it's a difficult experience so there's a level of compassion that many of us bring to our work. I certainly feel that."
Second, "there's also a level of strength," Gloria says. "If you can get through adolescence, through high school, through the worlds of work and career—it is not always easy. There are often daily challenges about whether you come out to those you're interacting with—what is the risk involved in that? I think back to my time at the University of San Diego—a Catholic institution in the 1990s—weighing my academic success about who it is to be authentically me."
But that turmoil created a deeper sense of humanity and "a level of personal inner strength that I think you want in your civic leaders so that when times are tough, you know that you're not going to bend," Gloria says, "that you have an authenticity, a resolve, a strength that will be used for the benefit of the people that you're elected to serve. But that's coupled with a level of compassion that allows you to understand and to perhaps walk a bit in the other person's shoes. So you can credibly say that you may be one person but you may understand the plight and the lived experiences of, in this case, the 1.4 million people who call San Diego home."
Gloria believes people want to know "that you understand a bit about their lives and consider that when you're doing your decision-making. I think that's a part of the benefit that being LGBTQ has for those of us that are lucky enough to serve in elected office." 
Along with compassion and strength comes a deep sense of responsibility. At the beginning of February, for instance, Gloria, State Superintendent of Public Instruction Tony Thurmond, and Equality California teamed up to introduce AB 493: the Safe and Supportive Schools Act of 2019 – a bill that would require California schools to provide annual teacher and staff training on how to support LGBTQ students at school and in their local community.
"According to the 2017 National School Climate Survey, 82 percent of LGBTQ students reported hearing anti-LGBTQ remarks in their school; approximately 7 in 10 reported being called names or threatened because of their sexual orientation; and more than one-third of students who identify as LGBTQ reported missing at least one day of school because of feeling unsafe," EQCA reported in their press release introducing AB 493.
"The bullying and name calling I experienced in school as a young gay kid is still a reality for today's LGBTQ youth. No child should have to experience that. Students should feel safe, accepted, included, and supported in their school," Gloria said at a news conference at a San Diego high school. "Equipping educators with resources to better support LGBTQ students will create a safer and more inclusive environment for these students to be successful."
And then there are the most marginalized of the marginalized—LGBTQ kids who wind up in the foster care system. In April 2018, Gloria introduced AB 2119 to demand that the state system connect trans and gender nonconforming youth to gender-affirming care, if and when they ask for it. According to the Williams Institute and other reports, LGBTQ kids are over-represented in the foster care system and are mistreated and abused more than non-LGBTQ kids.
On Sept. 14, 2018, Gov. Jerry Brown signed Gloria's bill.  "This is the beginning of a new and hopeful day for the many foster youth in California. With the signing of this bill, we tell our foster youth that no matter who you are or how you identify, there is a place for you in California," Gloria said. "We want our future generations to know they have a safe place to grow up and live. At its core, that's what this bill does — we empower transgender and gender non-conforming foster youth to live authentically despite their circumstances. I want to thank Governor Brown for signing this bill into law — an act which I truly believe will save lives."
And it's that power of compassion, strength and responsibility that Gloria hopes to bring home to San Diego. "I often talk on the campaign trail about this being a mayoral campaign and a hopeful administration that is focused on real people and on real problems," Gloria says, adding that he carries the voices of LGBT history with him. "Hopefully, I can make our community proud."
For more, visit: toddgloria.com
WeHo Arts unveils new holiday street pole banner by Sophie Morro
The city has also installed annual holiday lights on street poles and around trees lining Santa Monica Boulevard to make the city festive

By Paulo Murillo | WEST HOLLYWOOD – The annual holiday street pole banners went up this week throughout the city of West Hollywood. The City's WeHo Arsts unveiled the new holiday artwork by artist Sophie Morro along Santa Monica Boulevard, San Vicente Boulevard, and Melrose Avenue.
A total of 29 of the new banners were produced this year and will become part of the annual collection of holiday street pole banners on display in WeHo to celebrate the holidays. Banners include past holiday artwork by Shag (Josh Agle) and Mosa Tanksley.
The city has also installed annual holiday lights on street poles and around trees lining Santa Monica Boulevard to make the city festive around the holiday and New Year's celebrations.
Sophie Morro is an artist based in Los Angeles. Her oil paintings are largely informed by an autobiographical narrative with nods to spirituality, dreams and the otherworldly. Visit sophiemorro.com to learn more about the artist.
In April, 2022, the City of West Hollywood Arts Division made a call seeking a visual artist to provide artwork for the city's annual winter / holiday card and street pole banner display. The deadline to submit their work to WeHo's Performing Arts and Cultural Affairs Subcommittee was May, 2022.
The new artwork will also be used on the City's annual end of year Winter / Holiday card, social media promotions along with the printed street pole banners. Artists were invited to submit existing work samples to demonstrate their style and technique.
The Request for Qualifications was open to artists who live in California. Artists who live in
West Hollywood and artists of color, women, artists with disabilities, and LGBTQIA+ artists
were highly encouraged to apply. The artists who applied will remain eligible to be selected as semi-finalists for 3 calendar years without needing to reapply.
The City of West Hollywood's Arts Division and Arts and Cultural Affairs Commission believe
that all people in the City of West Hollywood have the right to celebrate and engage in meaningful and relevant arts and cultural experiences.
Each member of the community should have access to the arts which reflect and nurture individual identities, affirm personal value, and foster belonging in the community. The right to participate freely in the cultural life of the community is recognized as a basic human right.
The Division and Commission's definition of diversity includes all ways in which people
differ, including but not limited to, race, ethnicity, gender, socioeconomic status,
education, age, gender identity, gender expression, sexual orientation, ability,
geography, citizenship status, religion, language, physical appearance, and the
intersection of these various identities.
*******************************
Paulo Murillo is Editor in Chief and Publisher of WEHO TIMES. He brings over 20 years of experience as a columnist, reporter, and photo journalist.
The preceding article was previously published by WeHo Times and is republished with permission.