Trump says DOJ, FBI to review the Jussie Smollett case
The 'Empire' actor's 16 felony charges were dropped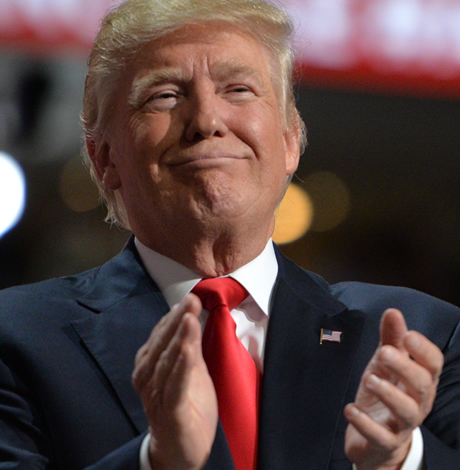 President Donald Trump tweeted on Thursday that the U.S. Department of Justice and FBI will review the "outrageous" Jussie Smollett case after prosecutors dropped 16 counts of disorderly conduct against the "Empire" actor.
"FBI & DOJ to review the outrageous Jussie Smollett case in Chicago. It is an embarrassment to our Nation!" Trump tweeted.
FBI & DOJ to review the outrageous Jussie Smollett case in Chicago. It is an embarrassment to our Nation!

— Donald J. Trump (@realDonaldTrump) March 28, 2019
On Jan. 29 in Chicago, Smollett reported to police that he had been physically and verbally attacked by two men in an alleged homophobic and racist hate crime. Smollett also claimed that his attackers yelled "MAGA country," in addition to racist and homophobic slurs.
Chicago police say that Smollett hired brothers Olabinjo ("Ola") and Abimbola ("Abel") Osundairo to stage the attack in an effort to increase his salary on "Empire." The police also claimed that a homophobic and racist letter sent to the studio where "Empire" films, and addressed to Smollett, was sent by Smollett himself. The FBI say the letter is still under investigation.
In February, prosecutors indicted Smollett on one felony count for filing a false police report. In March, a grand jury indicted him on an additional 15 charges for a total of 16 counts.
The Cook County state's attorney's office dropped all charges citing Smollett's community service as a factor. Smollett also agreed to let the city of Chicago keep his $10,000 bail.
Joe Magats, the top deputy for Cook County State's Attorney Kim Foxx, told the New York Times that Smollett was not exonerated but the actor wasn't seen as a priority.
"Here's the thing: We work to prioritize violent crime and the drivers of violent crime," Magats told the New York Times. "Public safety is our number one priority. I don't see Jussie Smollett as a threat to public safety."
Chicago Mayor Rahm Emanuel slammed the decision calling it "a whitewash of justice."
Smollett maintains his innocence. His attorneys released a statement saying, "He [Smollett] was a victim who was vilified and made to appear as a perpetrator as a result of false and inappropriate remarks made to the public causing an inappropriate rush to judgement."
Lesbian National Guard member discriminated against, says lawsuit
"I truly, truly hope that positive changes come from what has happened to me to where no other individual has to walk this path"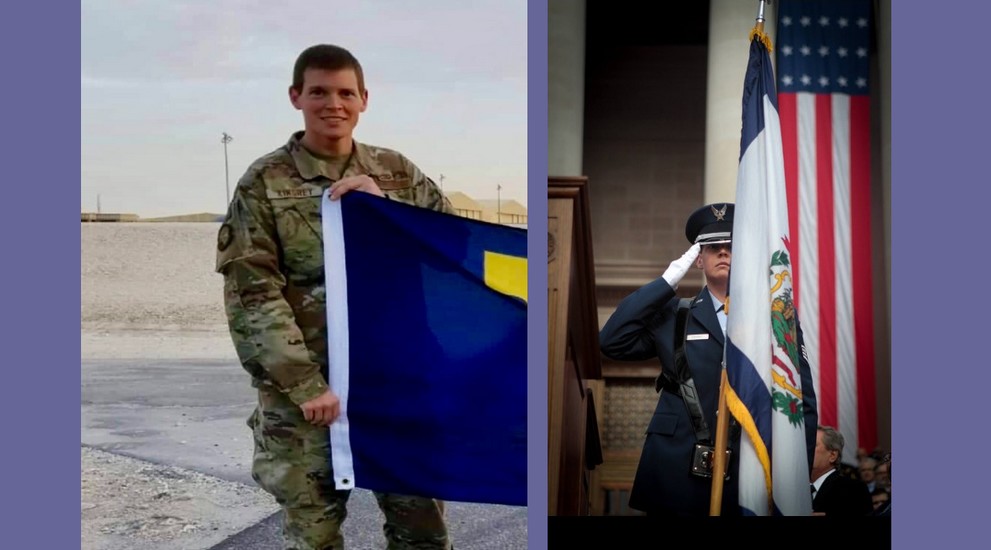 CHARLESTON, Wv. – For 14 years, Kristin Kingrey, a lesbian member of the West Virginia Air National Guard, has served her country and steadily moved through the ranks. But a lawsuit alleges that "despite her dedication," the National Guard discriminated against her sexual orientation and gender expression.
In the lawsuit, filed in a federal court in West Virginia, Kingrey claims she was informed that her superiors would not allow her career to advance unless she appeared more "feminine" by growing her hair out and wearing make-up. She alleges "intentional and unlawful" discrimination by the National Guard, culminating in two adverse employment actions.
"This has been a very long and dark road," Kingrey told the Blade.
According to court documents, Kingrey, who began employment as a federal civilian employee for the National Guard in 2016, was deployed to Qatar from August 2018 to March 2019. While in the country, she applied for the position of Human Resource Specialist (HRDS).
Kingrey, who was working as an HRO Benefits Specialist at the time, remotely interviewed for the position and was informed the same day that she was selected, the complaint said. She accepted that day.
Upon returning to Charleston, West Virginia, Kingrey began training for the HRDS position, but she could not assume the position due to "ongoing medical restrictions." However, she was to start serving in the position when cleared, documents state.
The HRDS position was then rescinded due to "budgetary" claims, so she was pulled from the position, despite accepting it. Months later, according to the lawsuit, the job was reposted, but Kingrey was never notified. The job ended up going to someone outside the protected class for the employee benefits position.
Behind the scenes, Kingrey's superiors were having "inappropriate, disparaging, and intentionally discriminatory" conversations about her outward appearance. According to the complaint, Colonel Michael Cadle was the one who made the comments.
The lawsuit states that during the meeting that took place when she was still in Qatar, Cadle requested that a lieutenant instruct Kingrey on how to appear more "feminine." In addition, he threatened Kingrey's career advancement with the National Guard.
According to the suit, Kingrey is tall and broad in stature, keeps her hair short in length and does not wear make-up or jewelry.
In her 14 years in the National Guard, Kingrey said that this was the first time she has dealt with discrimination and harassment to that magnitude, although she has heard "comments throughout" her time.
Court documents said that Kingrey was "frequently harassed" for the length of her hair. Due to the "volume of complaints," she started to, and still, carries the appropriate Air Force Instruction demonstrating that her hair is and was of an appropriate length.
In other instances, according to the lawsuit, Kingrey's superiors perpetuated the rumor that she was "transitioning" from female to male.
"I do not fit the mold that they feel that I should being a female," she said.
Though Kingrey doesn't want to speak for the whole LGBTQ community, she feels that "if I had long hair and wore make-up and still identified as being of the LGBTQ community, that's a different case."
The West Virginia National Guard did not immediately return a request for comment.
Kingrey called the whole situation "disheartening," adding that "it's been a very long and dark road."
She said that she works with "some of the greatest individuals that you will ever encounter at all," but the "problem lies with the individuals that are in key leadership roles."
At one point, Kingrey said that one of her superiors called her in to check on her, given her recent hardships and high suicide rate amongst LGBTQ service members. According to a JAMA Network Open report from last year, LGB veterans are at greater risk of suicide than the general population.
"There's so much pushed out via the Air Force and down through the Guard about diversity and inclusion, which is great," said Kingrey. "It looks good. It sounds good. But when you have individuals in key leadership positions that allow their personal beliefs to override the guidance that is being put out – it's just disheartening."
"No one should have to go through the kind of harassment and discrimination Technical Sergeant Kingrey faced over the years," said Andrew Schneider, executive director of Fairness West Virginia. "This is someone who has devoted her life to serving her country and her state, and this is how she's treated? We're better than this. For all of the lawmakers who say discrimination isn't a problem any more — here's proof it is."
In 2020, the U.S. Supreme Court ruled that existing federal law prohibiting discrimination in employment based on an employee's sex also protects LGBTQ employees.
Still, according to Fairness West Virginia, LGBTQ people face a "patchwork of protections" against discrimination. West Virginia is one of 29 states with no state law to ban discrimination in employment. According to a Norman Analytics and Research poll, 81% of West Virginians believe non-discrimination laws in the state should be strengthened.
Currently, a bipartisan proposal, called the Fairness Act, would update human rights law to include explicit protections for LGBTQ people in the state. The legislation has been endorsed across the state, including by more than 100 diverse faith leaders.
"Each person is created by God, for the Kingdom of God, and nothing we can say or do will remove us from the Love of God," said Rt. Rev. W. Michie Klusmeyer, Bishop of the Episcopal Diocese of West Virginia. "This is why the Fairness Act is needed. While the discussion of human sexuality continues to consume many people's conversations, nowhere in the Gospel of Jesus Christ are we allowed to remove the 'God-givenness of any individual or group of people."
However, the bill has not made it out of the state legislature.
"Kristin Kingrey's story goes to show that discrimination is still a major problem in West Virginia," Schneider said. "If respected members of the National Guard can face this kind of harassment, what happens to other LGBTQ people across our state? It's time for our leaders to stop sitting on their hands and to act. It's time for West Virginia to pass the Fairness Act and for Congress to pass the Equality Act."
Overall, Kingrey hopes some good will come out of what happened to her. "I truly, truly hope that positive changes come from what has happened to me to where no other individual has to walk this path," she said.
Los Angeles to host Summit of the Americas in June
The U.S. will host the Ninth Summit of the Americas in LA in June 2022 focused on "Building a Sustainable, Resilient, & Equitable Future"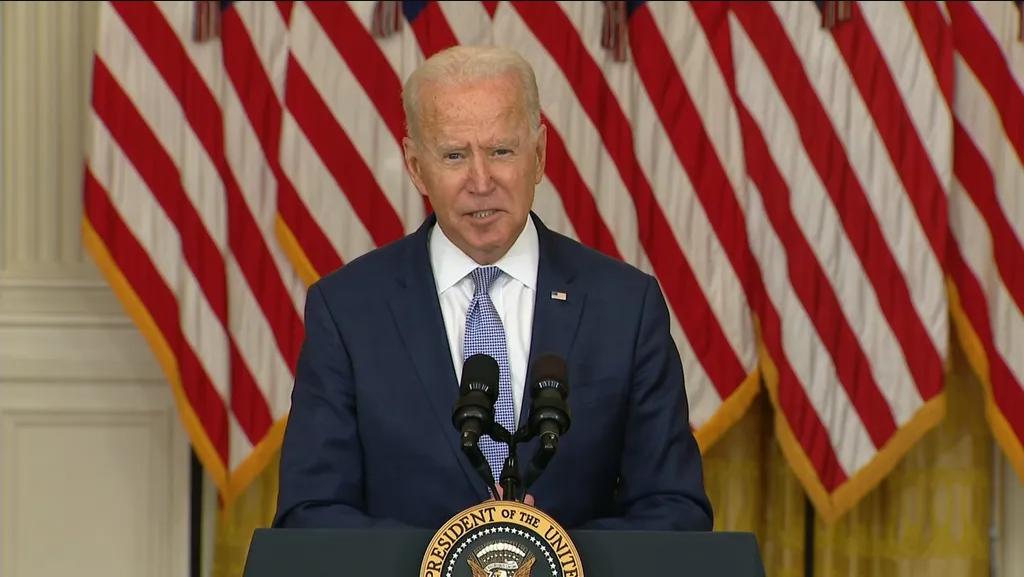 WASHINGTON – The White House announced Tuesday that Los Angeles has been chosen by the Biden administration to host this year's Summit of the Americas, the institutionalized gatherings of the heads of state and government of the Western Hemisphere.
The Summit of the Americas is where leaders discuss common policy issues, affirm shared values and commit to concerted actions at the national and regional level to address continuing and new challenges faced in the Americas.
The United States will host the Ninth Summit of the Americas in Los Angeles in June 2022 with a focus on "Building a Sustainable, Resilient, and Equitable Future" for the Western hemisphere.
"The vital national interests of the United States are inextricably bound to the fortunes of our closest neighbors in the Americas. To that end, the ability of our democracies to close the gap between what we promise and what we deliver depends in no small part on what we do, together, to make it better," President Biden said in his statement.
"The Summit of the Americas is the only hemisphere-wide convening of leaders from the countries of North, South, and Central America and the Caribbean. U.S. leadership in the Summit process underscores our deep and historical commitment to the people of the Western Hemisphere as well as our commitment to realizing the Build Back Better World (B3W) initiative," the statement said.
"Working with the city of Los Angeles, Mayor of Los Angeles Eric Garcetti, and Governor of California Gavin Newsom, the United States looks forward to convening leaders and stakeholders across the hemisphere to advance our shared commitment to economic prosperity, security, human rights, and dignity," the statement added.
U.S. officials hope will help mend diplomatic fences in the Western Hemisphere, officials familiar with the decision told the Los Angeles Times.
The administration is expected to cite the city's "deep and robust" ties throughout the hemisphere as one of the reasons it was selected, according to a White House official speaking on condition of anonymity to discuss the matter ahead of the formal announcement.
Marriage equality plaintiff Obergefell running for Ohio state legislature
Obergefell was the plaintiff seeking marriage rights that led the U.S. Supreme Court to rule in 2015 for same-sex marriage nationwide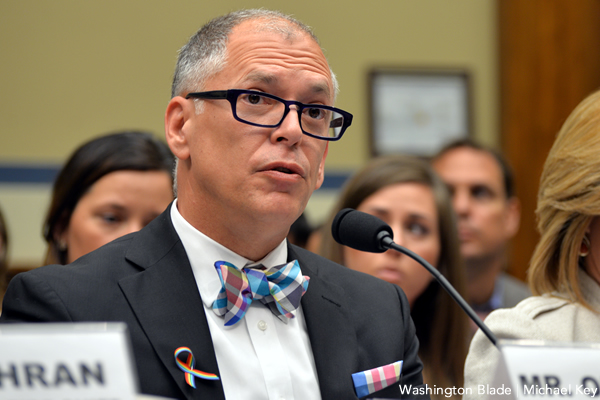 SANDUSKY, Oh. – Jim Obergefell, the lead plaintiff in the litigation that ensured same-sex couples have the right to marry nationwide, announced on Tuesday he'd pursue a new endeavor and run for a seat in the state legislature in his home state of Ohio.
"You deserve a representative who does the right thing, no matter what. You deserve a representative who fights to make things better for everyone," Obergefell said. "I've been part of a national civil rights case that made life better for millions of Americans. Simply put, I fight for what's right and just."
Obergefell, who claims residency in Sandusky, Ohio, is seeking a seat to represent 89th Ohio District, which comprises Erie and Ottawa Counties. A key portion of his announcement was devoted to vowing to protect the Great Lakes adjacent to Ohio.
"We need to invest in our Great Lake, protect our Great Lake, and make the nation envious that Ohio has smartly invested in one of the greatest freshwater assets in the world," Obergefell said.
Obergefell was the named plaintiff in the consolidated litigation of plaintiffs seeking marriage rights that led the U.S. Supreme Court to rule in 2015 for same-sex marriage nationwide. Obergefell was widower to John Arthur, who died of amyotrophic lateral sclerosis, and was seeking the right to be recognized as his spouse on his death certificate. The ruling in the consolidated cases ensured same-sex couples would enjoy the full benefits and responsibilities of marriage.
"We should all be able to participate fully in society and the economy, living in strong communities with great public schools, access to quality healthcare, and with well-paying jobs that allow us to stay in the community we love, with the family we care about," Obergefell said in a statement on his candidacy.