Rep. Katie Hill getting death threats
Says Rep. Omar's dehumanization is 'worst of all'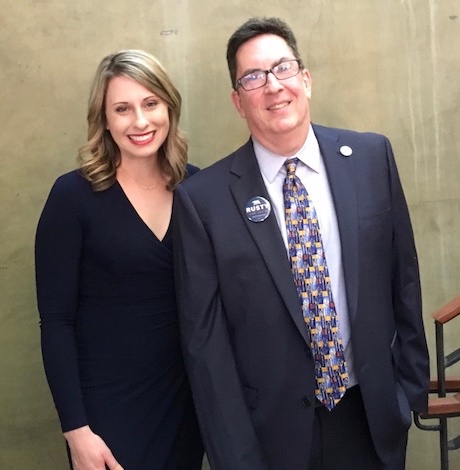 It's spring recess, a time when elected officials return to their districts to share what's happening in this new world of quicksand politics. But Stonewall Democratic Club's "Stoney Awards" on April 13 offered a sense of optimism that the darkness of Trump era is only a blip on the progressive trajectory of American democracy. 
Stonewall honored Rep. Katie Hill, Los Angeles City Councilmember David Ryu, transgender rights activist Karina Samala, Black AIDS Institute founder Phill Wilson and Stonewall's member of the year, John Erickson—and Rep. Adam Schiff received a hero's welcome.
Though the 2020 elections are still 19 months away, races are well underway with Democratic candidates seeking Stonewall's endorsement. In fact, Hill told the appreciative crowd, during the 2018 primary, she was accused of faking her sexual orientation to win their endorsement.
"One of my favorite moments in the entire campaign was in the primary," Hill said, "when I was told that I was pretending to be bi because I wanted the endorsement of the Stonewall Democratic Club. So clearly this is an endorsement that carries a lot of clout."
Republicans want Hill's purple 25th District back in 2020. She won handily in 2018 as part of California's blue wave winning the House of Representatives. The millennial activist defeated longtime conservative Rep. Steve Knight, son on the infamous anti-LGBT state legislator Pete Knight. 
But while her district includes Lancaster, Palmdale and Simi Valley where "The Gay Agenda" was produced and anti-LGBT hate crimes were routine, the old GOP stronghold went 50.3% for Hillary Clinton and 43.6% for Donald Trump. By 2018, Democrats held a nearly 4-point edge in the working class district. Hill defeated Knight 54.4% to 45.6%, becoming California's first out LGBT woman in Congress.
Hill was assigned to three significant House committees, including the important Oversight and Reform Committee where she is Vice Chair to Chair Rep. Elijah Cummings. Oversight is holding hearings on climate change and prescription drug prices, as well as accountability in government. Additionally, Hill is co-Freshman Class Representative with Colorado Rep. Joe Neguse to Speaker Nancy Pelosi and top leadership.
Hill will be holding a "conversation" with constituents about her first 100 days on Sat, April 27, 10:30 AM – 12:00 PM PDT at Santa Clarita City Hall. RSVPs are required: https://katiehill.house.gov/
Mike Garcia, son of a Mexican immigrant and a fighter pilot Iraq War veteran, announced on April 10 that he is challenging Hill. His strategy is to tie her to Bronx Rep. Alexandria Ocasio-Cortez (AOC) and others pushing a "Socialist agenda"—the new official Republican Party talking point.
"I have been at the edge where bullets fly and lives are lost," Garcia said in a press release, reports Politico. "I believe America is the greatest country in the world. I've seen men and women lose their lives defending this country. And I am disgusted that politicians in Washington are voting in lockstep with Alexandria Ocasio-Cortez to push a Socialist agenda that jeopardizes everything we've risked blood and treasure to defend."
Hill took the announcement in stride.
"I know how tough these primaries can be. With three Republicans now filed to run and likely more who will jump in, I wish them all luck," she told Politico. "I am deeply grateful to Mr. Garcia for his service to our nation and thank him and his family for all they have given to keep America safe."
Hill reported a little over $607,000 in first quarter filings for her re-election bid, according to Politico. Her SoCal 2018 fellow candidates also have done well. Finance whiz Rep. Katie Porter raised about $416,000; Rep. Gil Cisneros brought in $260,000; Rep. Harley Rouda collected around $495,000; and Rep. Mike Levin reported about $442,000.
The other member of the group, Ammar Campa-Najjar, lost by 3.4 points to longtime anti-LGBT Rep. Duncan Hunter, who is under federal indictment for allegedly using campaign funds for personal matters. Campa-Najjar raised more than $345,000 in the first quarter to Hunter's reported $93,000. Hunter, meanwhile, has resurrected his nasty claims that the devout Christian Campa-Najjar has secret ties to Islamic terrorists.
"He's just trying to fearmonger," Campa-Najjar told Politico, calling Hunter's claims "totally devoid of moral character and facts" to "distract from his criminal indictment."
But nowhere has the ugly trope of Islamic terrorism been used as harshly as against Minnesota Rep. Ilhan Omar, a Somali refugee who came to the US as a teenager with her family seeking asylum. She and Rep. Rashida Tlaib are the first two Muslim women elected to Congress and are in Hill's freshman class. Omar is also the first to wear a hijab on the House floor, becoming a powerful symbol for both refugees and Muslims—and a prime target for Trump's anti-Muslim aggression.
Trump tweeted a video using a fragment of remarks Omar delivered to the Council on American-Islamic Relations against the backdrop of graphic images showing the 9/11 terror attacks on the World Trade Center. Omar was describing how CAIR was founded after 9/11 "because they recognized that some people did something and that all of us were starting to lose access to our civil liberties."
"Since the president's tweet Friday evening, I have experienced an increase in direct threats on my life — many directly referencing or replying to the president's video," Omar tweeted. "This is endangering lives. It has to stop."
In an interview during the Stonewall event, Hill said death threats have become commonplace.
"I think that people have really diminished the fact that she [Omar] and Alexandria and Rashida—and even myself have—we've been under death threats for quite some time," Hill told the Los Angeles Blade. "Theirs have been worse—I don't want to pretend I'm even on the same level as them. But hers [Omar's] have been the worst of all.
"I don't know exactly what makes people think they can do that. But I do think it's a dehumanization," Hill said. "This idea of people being dehumanized as second class citizens—however you want to put that in your mind—is that you are able to put them to a point where they are getting death threats or you feel like you can do that to somebody. We have to say unequivocally that that behavior is unacceptable."
The interview was before Speaker Pelosi's response to Trump's tweet about Omar, which some Democrats felt was too tepid, and before Pelosi's appearance on "60 Minutes" where she seemed to minimize the impact of AOC and the more outspoken newer members.
Hill seems to have a good working relationship with Pelosi. "It feels very much like she's preparing for the next generation of leadership and I'm really honored and humbled and feel a great deal of responsibility to be part of that," Hill told the Los Angeles Blade. "And I think it shows how much I've got to learn. She's just an incredible role model and I would say unequivocally that we're not quite ready for her to go."
Hill, who has endorsed Sen. Kamala Harris for president, thinks candidates should focus on issues while providing a contrast to Trump.
"As far as I'm concerned, people's opinions of Donald Trump are set. So from where I'm at, we have to do our constitutional obligation in Congress to hold the President accountable and to provide the oversight that hasn't been done for two years. We're going to keep doing that," Hill said.
"We're also sent there to work on healthcare and to work on rebuilding the middle class, doing the infra-structure, raising people's wages, and providing accountability within government—so we've got to do that at the same time," she said.
"In terms of the presidential campaign, I think what people want to see is what alternative you bring. And to me that's honesty and integrity and an alternative that is not Donald Trump. I don't honestly think that people need to have a whole lot pointed out about him, because everyone knows if you're with Trump—that's not moving, no matter how much you try," Hill said, noting the importance of voters in the middle. "We can acknowledge what he's done but we should not let him drive the narrative, which is what he's done for four years."
Hill is also practical regarding calls for Trump's impeachment.
"Honestly, I think that what we have to just say across the board is that impeachment is a political process. If we don't have the votes in the Senate, there's no point," she said. "So what we have to do instead is bring to light all the information for the American people and make sure that they have that information going into the election and can make their own decision."
Hill's own focus is her district, her committee assignments and her leadership post. "In large part, I see a responsibility to be a messenger on behalf of the new class as the Freshman Leadership representative and as somebody who is from this purple kind of middle," Hill said. "It's kind of figuring out what that messaging is and being able to deliver it and do both jobs at the same time."
And run for re-election to keep the House in 2020.
Hate crime surge raises alarms, adds safety concerns for minorities
The report found that 72% of hate crimes were of a violent nature, the second highest percentage in at least 20 years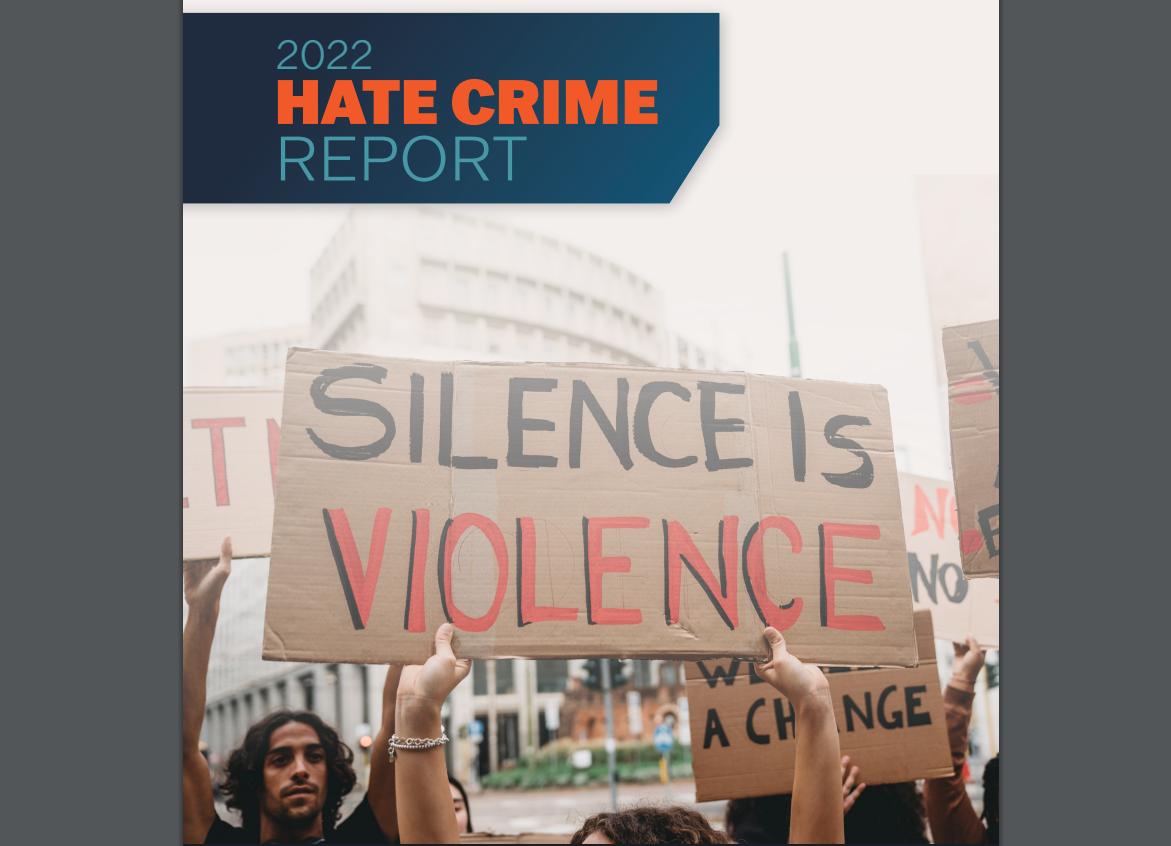 LOS ANGELES – A disconcerting surge in hate crimes, as revealed by the Los Angeles County Human Relations Commission's 2022 Report on Hate Crime, is posing a severe threat to the safety and well-being of minority communities in greater Los Angeles. Released on Nov. 29, the report disclosed alarming statistics, indicating the highest level of reported hate crimes in 21 years.
According to the report, hate crimes surged by 18% in 2022, reaching 929 reported incidents, the highest since 2001. This uptick reflects an ongoing trend, with hate crimes escalating by 143% since 2013, signaling a deeply concerning trajectory for the city.
The press conference, attended by influential figures such as Supervisor Hilda Solis, District Attorney George Gascón, Sheriff Robert Luna, LAPD Assistant Chief Blake Chow, Human Relations Commission President Ilan Davidson, and Executive Director Robin Toma, underscored the gravity of the situation.
Black residents experienced a higher rate of hate crimes, witnessing an increase from 219 to 294 incidents, marking the second-largest number of anti-Black crimes ever reported. Meanwhile, Latino residents faced a rise to 121 incidents, accompanied by the highest rate of violence among all racial/ethnic groups.
The report also highlighted a record-breaking number of anti-transgender crimes, a surge in hate crime violence, and an alarming 41% increase in religion-based crimes, with Jews being the primary target.
One of the most disturbing aspects is the continuous underreporting of hate crimes, as acknowledged by county officials. The LA vs Hate initiative has undoubtedly facilitated more robust reporting, resulting in increased numbers. However, the report emphasized that a substantial number of hate crimes likely go unreported, with nearly half of all violent hate crimes remaining undisclosed to law enforcement, according to the U.S. Department of Justice.
Concerns Deepen Amidst LAPD's Historic Shortage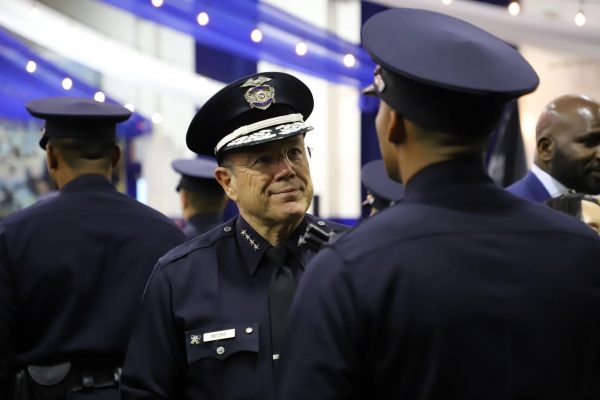 Amidst the rising tide of hate crimes, Los Angeles is grappling with a severe shortage in its police force, the most significant shortfall since the 1990s, according to Mayor Karen Bass. In a recent announcement, Mayor Bass expressed her apprehension about the dwindling numbers in the LAPD, meeting with the newest batch of officer recruits.
"Today L.A. Mayor Karen Bass met with the newest batch of officer recruits. Afterwards, she and Chief Michael Moore talked about how to address the department's officer shortage," noted the announcement.
The LAPD's officer workforce has dwindled to its lowest point since the 1990s, adding another layer of concern to an already precarious situation. The shortage is a multi-faceted challenge, impacting both sworn officers and civilian professional staff, affecting the overall efficiency of the department.
Addressing the shortage, Mayor Bass emphasized the importance of not only recruiting new officers but also improving working conditions, enhancing facilities, and upgrading technology. These measures, she believes, are crucial for making a marked difference in the path forward for a safer Los Angeles.
Navigating the Intersection of Hate Crimes and Police Shortages
The convergence of a historic surge in hate crimes and a substantial shortage in the LAPD poses a complex challenge for Los Angeles. The safety and security of minority communities hang in the balance as the city navigates the intricate dynamics of bias-motivated crimes and law enforcement capabilities.
In response to these challenges, the LA vs Hate initiative emerges as a beacon of hope. Recognizing the limitations of traditional reporting methods and the hesitancy within certain communities to engage with law enforcement, the initiative provides an alternative avenue for reporting hate crimes. The initiative's comprehensive approach involves community engagement, education, and support services to empower individuals to stand against hate.
As Los Angeles grapples with the daunting task of rebuilding its workforce and addressing the heightened concerns over public safety, city officials, community leaders, and law enforcement agencies must collaborate closely to implement comprehensive strategies. These strategies should not only combat hate crimes but also fortify the city's resilience against a backdrop of increasing challenges.
In this critical juncture, the urgency of addressing both hate crimes and police shortages cannot be overstated. Los Angeles must rise to the occasion, fostering a community that stands united against intolerance and equipped with the resources needed to ensure the safety and well-being of all its residents. The LA vs Hate initiative, with its focus on community-driven solutions, offers a promising path forward in these challenging times.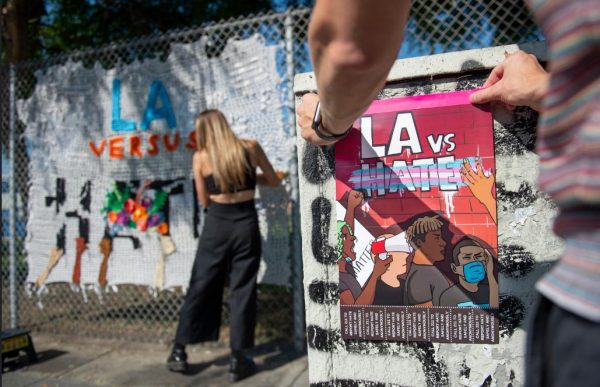 The statistics at a glance:
Following two years of double-digit increases, reported hate crimes in Los Angeles County grew 18% from 790 to 929, the second largest number in more than 20 years.  For the past 8 years, hate crimes have been trending upward and since 2013 there has been a 143% increase. 
The report's significant findings include the following:
72% of hate crimes were of a violent nature, the second highest percentage in at least 20 years.
Racial, sexual orientation and religious hate crimes all grew sharply. But racism was by far the most common motivation, constituting 57% of all hate crimes. Racist crimes jumped 14%, from 476 to 545.
Although they only comprise about 9% of the county's population, African Americans were again disproportionately targeted and comprised 53% of racial hate crime victims. While anti-Black crimes climbed, all other major racial and ethnic groups experienced slight increases or declined significantly.
Anti-Latino/a crimes rose 3% and they again were the second largest group of racial victims. This was the seventh year in a row that Latino/as experienced the highest rate of violence (93%) of any racial/ethnic group.
Anti-Asian crimes, which had soared to record highs during the pandemic, declined 25%. However, the 61 crimes reported were the second largest number in this report's history.
Sexual orientation crimes comprised the second largest motivation (18%) and grew 20%. 81% of these crimes targeted gay men.
Religious crimes spiked 41% and comprised 16% of all hate crimes. Eighty-three percent of these crimes were anti-Jewish.
There were 44 anti-transgender crimes, the largest number ever documented. Ninety-one percent of these crimes were violent, a rate much higher than racial, sexual orientation, and religious attacks.
After skyrocketing 48% the previous year, hate crimes in which anti-immigrant slurs were used continued to climb another 12% from 84 to 94. This was the largest number ever recorded. Suspects used anti-immigrant language in 55% of anti-Latino/a crimes and in 25% of anti-Asian offenses.
Hate crimes committed by gang members remained elevated and comprised 6% of all hate crimes. 74% of these were racially-motivated.
After declining the previous hear, hate crimes that contained evidence of white supremacist ideology (most often the use of swastikas in vandalism) increased 66% from 97 to 140 crimes. This was the largest number in 13 years. They comprised 15% of all reported hate crime. There was evidence of white supremacist belief systems in 38% of all religious hate crimes and 9% of racial crimes.
Similar to the previous year, the largest number of hate crimes (251) reported in 2022 took place in the Metro Service Planning Area (SPA) Region IV (which stretches from West Hollywood to Boyle Heights) followed by San Fernando Valley SPA Region II (141).  This represents large increases in the number of hate crimes in both regions. However, if one compares the populations of the regions to the numbers of reported hate crimes, the Metro SPA had the highest rate followed by West SPA Region V (which includes part of West Los Angeles, Beverly Hills, Culver City, and a number of beach communities). These two regions have had the highest rates for several years in a row.
To view the complete report, including hate crime maps, graphs, and tables, please visit hrc.lacounty.gov. Some hate crime data is limited by the current searchability of the database only for the time period of 2003 to 2022. For specific race/ethnicity data and examples, please click here for anti-Black hate crimes, click here for anti-Latino/a hate crimes, and click here for anti-Asian hate crimes.