Rep. Katie Hill getting death threats
Says Rep. Omar's dehumanization is 'worst of all'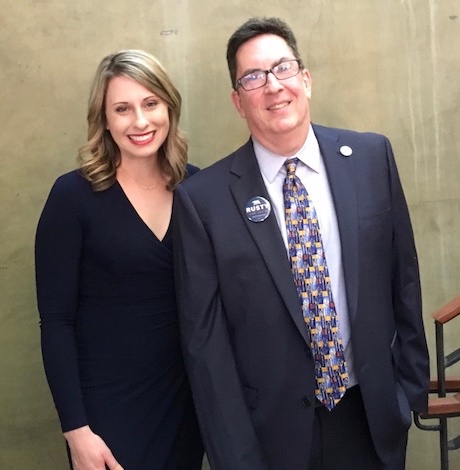 It's spring recess, a time when elected officials return to their districts to share what's happening in this new world of quicksand politics. But Stonewall Democratic Club's "Stoney Awards" on April 13 offered a sense of optimism that the darkness of Trump era is only a blip on the progressive trajectory of American democracy. 
Stonewall honored Rep. Katie Hill, Los Angeles City Councilmember David Ryu, transgender rights activist Karina Samala, Black AIDS Institute founder Phill Wilson and Stonewall's member of the year, John Erickson—and Rep. Adam Schiff received a hero's welcome.
Though the 2020 elections are still 19 months away, races are well underway with Democratic candidates seeking Stonewall's endorsement. In fact, Hill told the appreciative crowd, during the 2018 primary, she was accused of faking her sexual orientation to win their endorsement.
"One of my favorite moments in the entire campaign was in the primary," Hill said, "when I was told that I was pretending to be bi because I wanted the endorsement of the Stonewall Democratic Club. So clearly this is an endorsement that carries a lot of clout."
Republicans want Hill's purple 25th District back in 2020. She won handily in 2018 as part of California's blue wave winning the House of Representatives. The millennial activist defeated longtime conservative Rep. Steve Knight, son on the infamous anti-LGBT state legislator Pete Knight. 
But while her district includes Lancaster, Palmdale and Simi Valley where "The Gay Agenda" was produced and anti-LGBT hate crimes were routine, the old GOP stronghold went 50.3% for Hillary Clinton and 43.6% for Donald Trump. By 2018, Democrats held a nearly 4-point edge in the working class district. Hill defeated Knight 54.4% to 45.6%, becoming California's first out LGBT woman in Congress.
Hill was assigned to three significant House committees, including the important Oversight and Reform Committee where she is Vice Chair to Chair Rep. Elijah Cummings. Oversight is holding hearings on climate change and prescription drug prices, as well as accountability in government. Additionally, Hill is co-Freshman Class Representative with Colorado Rep. Joe Neguse to Speaker Nancy Pelosi and top leadership.
Hill will be holding a "conversation" with constituents about her first 100 days on Sat, April 27, 10:30 AM – 12:00 PM PDT at Santa Clarita City Hall. RSVPs are required: https://katiehill.house.gov/
Mike Garcia, son of a Mexican immigrant and a fighter pilot Iraq War veteran, announced on April 10 that he is challenging Hill. His strategy is to tie her to Bronx Rep. Alexandria Ocasio-Cortez (AOC) and others pushing a "Socialist agenda"—the new official Republican Party talking point.
"I have been at the edge where bullets fly and lives are lost," Garcia said in a press release, reports Politico. "I believe America is the greatest country in the world. I've seen men and women lose their lives defending this country. And I am disgusted that politicians in Washington are voting in lockstep with Alexandria Ocasio-Cortez to push a Socialist agenda that jeopardizes everything we've risked blood and treasure to defend."
Hill took the announcement in stride.
"I know how tough these primaries can be. With three Republicans now filed to run and likely more who will jump in, I wish them all luck," she told Politico. "I am deeply grateful to Mr. Garcia for his service to our nation and thank him and his family for all they have given to keep America safe."
Hill reported a little over $607,000 in first quarter filings for her re-election bid, according to Politico. Her SoCal 2018 fellow candidates also have done well. Finance whiz Rep. Katie Porter raised about $416,000; Rep. Gil Cisneros brought in $260,000; Rep. Harley Rouda collected around $495,000; and Rep. Mike Levin reported about $442,000.
The other member of the group, Ammar Campa-Najjar, lost by 3.4 points to longtime anti-LGBT Rep. Duncan Hunter, who is under federal indictment for allegedly using campaign funds for personal matters. Campa-Najjar raised more than $345,000 in the first quarter to Hunter's reported $93,000. Hunter, meanwhile, has resurrected his nasty claims that the devout Christian Campa-Najjar has secret ties to Islamic terrorists.
"He's just trying to fearmonger," Campa-Najjar told Politico, calling Hunter's claims "totally devoid of moral character and facts" to "distract from his criminal indictment."
But nowhere has the ugly trope of Islamic terrorism been used as harshly as against Minnesota Rep. Ilhan Omar, a Somali refugee who came to the US as a teenager with her family seeking asylum. She and Rep. Rashida Tlaib are the first two Muslim women elected to Congress and are in Hill's freshman class. Omar is also the first to wear a hijab on the House floor, becoming a powerful symbol for both refugees and Muslims—and a prime target for Trump's anti-Muslim aggression.
Trump tweeted a video using a fragment of remarks Omar delivered to the Council on American-Islamic Relations against the backdrop of graphic images showing the 9/11 terror attacks on the World Trade Center. Omar was describing how CAIR was founded after 9/11 "because they recognized that some people did something and that all of us were starting to lose access to our civil liberties."
"Since the president's tweet Friday evening, I have experienced an increase in direct threats on my life — many directly referencing or replying to the president's video," Omar tweeted. "This is endangering lives. It has to stop."
In an interview during the Stonewall event, Hill said death threats have become commonplace.
"I think that people have really diminished the fact that she [Omar] and Alexandria and Rashida—and even myself have—we've been under death threats for quite some time," Hill told the Los Angeles Blade. "Theirs have been worse—I don't want to pretend I'm even on the same level as them. But hers [Omar's] have been the worst of all.
"I don't know exactly what makes people think they can do that. But I do think it's a dehumanization," Hill said. "This idea of people being dehumanized as second class citizens—however you want to put that in your mind—is that you are able to put them to a point where they are getting death threats or you feel like you can do that to somebody. We have to say unequivocally that that behavior is unacceptable."
The interview was before Speaker Pelosi's response to Trump's tweet about Omar, which some Democrats felt was too tepid, and before Pelosi's appearance on "60 Minutes" where she seemed to minimize the impact of AOC and the more outspoken newer members.
Hill seems to have a good working relationship with Pelosi. "It feels very much like she's preparing for the next generation of leadership and I'm really honored and humbled and feel a great deal of responsibility to be part of that," Hill told the Los Angeles Blade. "And I think it shows how much I've got to learn. She's just an incredible role model and I would say unequivocally that we're not quite ready for her to go."
Hill, who has endorsed Sen. Kamala Harris for president, thinks candidates should focus on issues while providing a contrast to Trump.
"As far as I'm concerned, people's opinions of Donald Trump are set. So from where I'm at, we have to do our constitutional obligation in Congress to hold the President accountable and to provide the oversight that hasn't been done for two years. We're going to keep doing that," Hill said.
"We're also sent there to work on healthcare and to work on rebuilding the middle class, doing the infra-structure, raising people's wages, and providing accountability within government—so we've got to do that at the same time," she said.
"In terms of the presidential campaign, I think what people want to see is what alternative you bring. And to me that's honesty and integrity and an alternative that is not Donald Trump. I don't honestly think that people need to have a whole lot pointed out about him, because everyone knows if you're with Trump—that's not moving, no matter how much you try," Hill said, noting the importance of voters in the middle. "We can acknowledge what he's done but we should not let him drive the narrative, which is what he's done for four years."
Hill is also practical regarding calls for Trump's impeachment.
"Honestly, I think that what we have to just say across the board is that impeachment is a political process. If we don't have the votes in the Senate, there's no point," she said. "So what we have to do instead is bring to light all the information for the American people and make sure that they have that information going into the election and can make their own decision."
Hill's own focus is her district, her committee assignments and her leadership post. "In large part, I see a responsibility to be a messenger on behalf of the new class as the Freshman Leadership representative and as somebody who is from this purple kind of middle," Hill said. "It's kind of figuring out what that messaging is and being able to deliver it and do both jobs at the same time."
And run for re-election to keep the House in 2020.
Visalia's city council proclaims October 'LGBTQ history month'
"Thank you to the council for doing this […] When we started this work five years ago, we didn't know how we would be received in the city"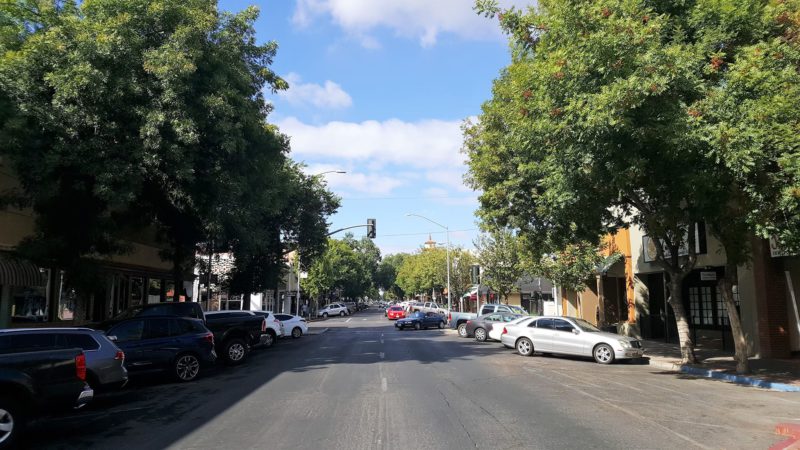 VISALIA, Ca. – In a proclamation this past Monday, the city council paid tribute to The Source LGBTQ+ Center's work in the Visalia LGBTQ+ community, including Tulare and Kings Counties over the past five years. The council also proclaimed October as LGBTQ+ history month presenting 'The Source' a plaque noting the nonprofit's recent expansion.
"In 5 years, The Source has become the largest LGBT center between Los Angeles and Sacramento," the plaque reads in part, The Visalia Times-Delta newspaper reported.
"We started with just an idea that we came up with on Main Street – back when it had antique stores," said Nick Vargas, director of development and cofounder of The Source. "From that idea, other people have joined us and I have been able to do the best work of my life, helping the citizens of Visalia, particularly the LGBTQ youth, those living with HIV, and their families."
On Saturday, the fifth annual Pride Visalia organized by 'The Source' was held at a different time of year and in a brand new location, Valley Strong Ballpark, supported by communications giant T-Mobile. The center's annual Halloween Gala was also held Saturday night at the Bello Vita Venue.
"Thank you to the council for doing this, it means a lot to us. When we started this work five years ago, we didn't know how we would be received in the city," Vargas said. "It means a lot to be here today, I would love it if you all showed up to PRIDE Visalia… but just knowing we have the support of the council and the city, is a lot."
On its website, 'The Source' specifies that the center's mission is to "provide spaces within our communities for the LGBT+ population to Learn, Grow, Belong, Transform, Question + Support."
Visalia, the Tulare County seat, is the gateway to Sequoia National Park, and only forty-one miles south of Fresno located in the conservative San Joaquin Valley region of central California. In Congress, the area, California's 22nd congressional district, is represented by Republican Devin Nunes, who has been unresponsive to LGBTQ+ concerns, having been labeled anti-LGBTQ+ by the Human Rights Campaign and Equality California.
The Times-Delta also reported that The Source is also hosting its first-ever AIDS Walk to raise awareness as well as funds. The walk is scheduled at 11 a.m. on Oct. 30 on NW 2nd Avenue.
Pride Visalia 2021 sponsored by T-Mobile:
Los Angeles City Council bans homeless camps in 54 locations
Sitting, sleeping & storing property near fire hydrants, building entrances, driveways, libraries, parks, elementary schools banned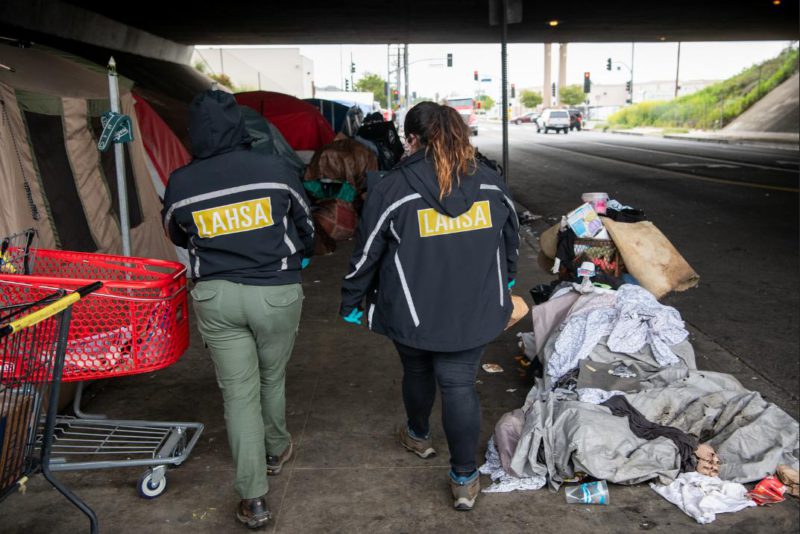 LOS ANGELES – Setting up or creating encampments by homeless persons in 54 select locations across the city is now banned after the LA City Council voted 12-2 Wednesday to outlaw sitting, sleeping and lying in those places.
Utilizing new laws passed over the summer after contentious and at times acrimonious debate, the council enacted new rules regulating sitting, sleeping and storing property near fire hydrants, building entrances, driveways, libraries, parks, elementary schools and several other locations.
The council also directed city staff to ensure that the homeless were given proper notifications prior to action and that all departments expand staff and make available resources to help those affected by the new ban.
On Wednesday, U.S. Veterans Affairs Secretary Denis McDonough announced that the VA is going to place more than 500 unhoused veterans living in Los Angeles into permanent housing.
According to McDonough, the efforts will be in two steps, the first to assist approximately 40 veterans living on the street in what is colloquially referred to as the 'Veteran's Row' encampment, located adjacent to the VA campus in Brentwood on San Vincente Boulevard.
Today, the VA has committed to quickly housing the Angelenos encamped on the federal land near the West LA campus — a big step in the right direction.

Deeply grateful to @SecVetAffairs, @LAHomeless, and @POTUS for their partnership.https://t.co/qiHNMvLm8j pic.twitter.com/R4q246RQFs

— MayorOfLA (@MayorOfLA) October 20, 2021
That encampment has been highlighted by mayoral candidates visiting it frequently including last week by U.S. Representative Karen Bass, (D) who was accompanied by the VA Secretary.
The next step is move another 500 veterans into permanent or transitional housing by December 31, the VA Secretary said.
In the last census count of homeless people conducted by the County of Los Angeles, of the nearly 66,000 people experiencing homelessness, roughly 3,900 are homeless veterans.
LA City Council votes to suspend Ridley-Thomas over corruption charges
The 11-to-3 vote to suspend vote came two days after Ridley-Thomas announced that he would "step back" from his duties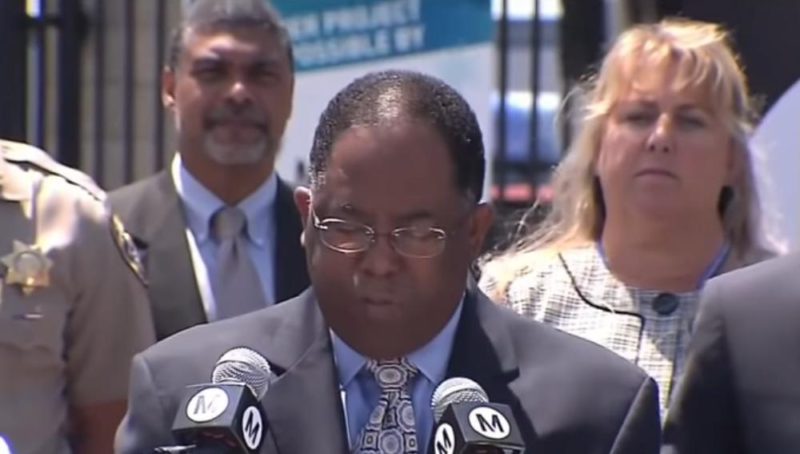 LOS ANGELES – The city council voted Wednesday to suspend Councilman Mark Ridley-Thomas, 66, who was was indicted a week ago by a federal grand jury on 20 federal counts of conspiracy, bribery, mail and wire fraud.
The 11-to-3 vote to suspend vote came two days after Ridley-Thomas announced that he would "step back" from participation in City Council meetings and committees. Ridley-Thomas, who has denied any wrongdoing, has said he will not resign and will fight the federal charges against him, KTLA and the Los Angeles Times reported.
The federal grand jury's indictment alleged that Ridley-Thomas took bribes from a former dean at the University of Southern California, (USC) when he was a member of the County Board of Supervisors.
In a letter sent to fellow councilmembers Monday, he indicated that he would step back from his duties but he declined to resign from his seat. He said that he planned to fight the "outrageous allegations" and would resume participation on the legislative body "at the earliest appropriate time."
The Los Angeles Times reported that in exchange for the payoffs, Ridley-Thomas allegedly supported awarding county contracts worth millions of dollars to USC.
In the indictment Ridley-Thomas is charged with conspiring with Marilyn Louise Flynn, 83, then dean of USC's School of Social Work, to steer county money to the university in return for admitting his son Sebastian into graduate school with a full-tuition scholarship and a paid professorship, the Times reported.