April 17, 2019 at 3:14 pm PDT | by Karen Ocamb
TransLatin@ Coalition trying to save trans asylum seeker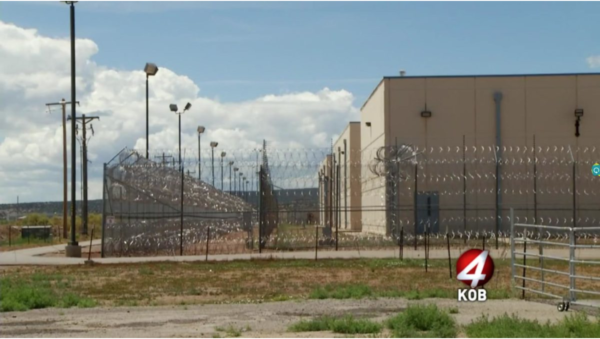 Bamby Salcedo didn't know about Attorney General Bill Barr's announcement late in the night of April 16. Barr in a long memo, Barr said that asylum seekers will no longer be granted bond to get out of ICE detention while their claim is being processed. Even those with "a credible fear of persecution or torture" in their country of origin could face indefinite detention, a new policy apparently designed to further President Trump's desire to get "tougher" on immigration.
The night Barr changed the immigration rules, Salcedo, founder and CEO of TransLatin@ Coalition, was focused on her April 17 news conference (streamed live on Facebook) with Amnesty International and New Mexico Immigrant Law Center at the Scales of Justice in Albuquerque, New Mexico. They called for ICE to stop the deportation process for trans asylum seeker Alejandra Barrera who fled violence in El Salvador in 2017 and has been held in Cibola County Correctional Center, ICE's for-profit contracted detention center in Milan, New Mexico ever since.
"Alejandra should have been released on parole over a year ago. It is outrageous that she faces deportation after being denied fair access to protection and being kept in inhumane conditions," Rebekah Wolf, Barrera attorney, said at the news conference. "There is no reason why she should be in this devastating situation today."
An online petition to #FreeAlejandra has collected close to 50,000 signatures and 60 national and local organizations have signed on. "The community is worried about her well being and healthcare needs," Salcedo told the Los Angeles Blade. "She has sponsors in New Mexico willing to take her in and support her as she goes through the process."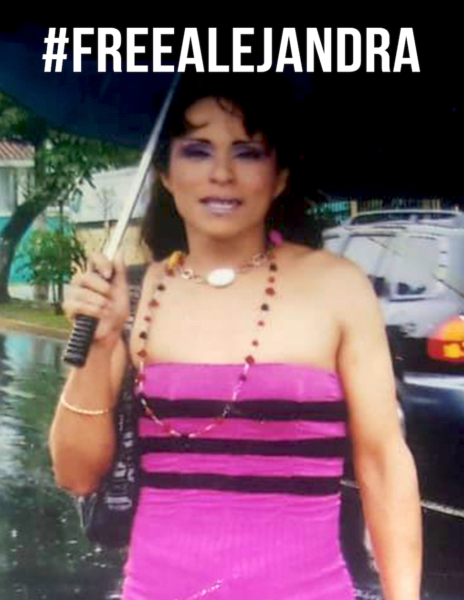 Barrera, who now has a serious medical condition after detention authorities failed to give her early medical treatment, called into the news conference. "She expressed gratitude for what everyone is trying to do. But she was very emotional, very depressed, very depleted, " Salcedo said. "She knows she faces a death sentence if she gets deported."
Salcedo was not surprised hearing about Barr's announcement against asylum seekers.
"This is one of the strategies the system uses to make money off people," she said by phone from New Mexico. "We know that corporations are the ones that are contracted with the government to manage the facility and we know that the immigration system really is set up exactly the way the correctional system is set up. The more people that they have detained is how they make money. Obviously, promoting this kind of policy is inhumane. It continues to criminalize people, to make money off of people in detention."
Salcedo said she is going to ask the TransLatin@ Coalition lawyer to see if there are any human rights or due process violations. The ACLU already filed a class action lawsuit filed against then-Attorney General Jeff Sessions for his administrations treatment of asylum seekers.
In 2017, Cibola County Correctional Center garnered scrutiny after an in-depth investigation by The Center for Investigative Reporting. Its corporate owner, CoreCivic, is the country's second-largest for-profit prison contractor with 84 correctional properties, according to reporter Sarah Macaraeg.
"ICE is the primary source of contracts for the private prison giant, whose CEO, Damon Hininger, recently highlighted ramped-up immigration enforcement in the interior of the country under Trump as a harbinger of new demand," she reported. "The facility's new role took shape after inmate deaths involving medical neglect came to light last year, prompting the federal Bureau of Prisons to cancel its contract with CoreCivic as part of a drive to minimize private prisons in its operations. That reliance conversely has grown under ICE, which commenced talks with CoreCivic to adopt Cibola soon after."
Reveal reported that "CoreCivic will be paid $150 million for detaining immigrants at Cibola over the course of a five-year arrangement with county officials and ICE that amounts to a no-bid contract with the federal government…..Cibola County serves only as a pass-through payment mechanism for federal funds to flow from ICE to CoreCivic."
It is not a stretch, then, to understand Wolf's complaints that ICE deliberately falsified documents regarding Barrera's requests for asylum.
"ICE is operating with impunity," Wolf said in an extensive interview with the Los Angeles Blade (now online).
"There was tons of new evidence, medical records, et cetera. So when I challenged that [denial] determination by saying this is a first parole request that you've ever considered," Wolf said, "they created a letter that they claimed was the original decision. So they said that in March of 2018, they made a determination and they sent me that letter in July of 2018."
But Wolf never received the letter – because it was made up in response to the second request. "The reason I know that they made it up is because it's signed by someone who wasn't in the role that was that actual position at the time that it was supposedly signed," Wolf said.
"The other reason why we knew it was false was because they're claiming that the original interview, for the original parole determination, happened on a day that happens to be my birthday (February 28, 2018), which is why I remember that she had court that day. So there's no way that they did a parole interview on that day, because I was with her."
Wolf has other evidence, as well, that ICE falsified documents that hurt Barrera's chances to escape deportation.
But would the health and fate of a trans activist escaping violence in El Salvador matter to an Attorney General apparently intent on doing Trump's bidding?
Bamby Salcedo hopes someone with power and a conscience will intervene before it's too late.