Fentanyl kills in 45 seconds
Fentanyl and deadlier Carfentanil cut into crystal meth and cocaine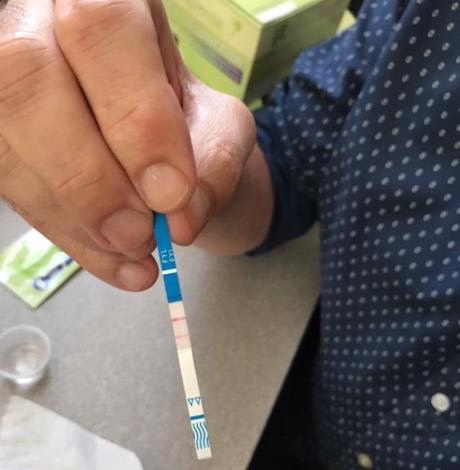 Last month, the Palm Springs LGBT community experienced a surge of fear after two people were shot at the Toucans Tiki Lounge, a popular gay nightclub. Instantly thoughts went to the Pulse Nightclub massacre in Orlando, Fla., on June 12, 2016. Nerves calmed when the facts emerged, with Palm Springs Police Lt. William Hutchinson telling the Los Angeles Blade that the shooting is not being investigated as a hate crime.
That terrorist attack on the Pulse Nightclub left a psychic mark with LGBT people now being more vigilant, sometimes curtailing freedom for the sake of safety. But there are also moments and events where the old gay liberation culture clamors to let it all hang out, let gay Pride and freedom ring and party until the spirit says please, no more.
One such event is the annual White Party in Palm Springs, this April 26-29 celebrating its 30th anniversary of unbridled gay hedonism. But there may be a silent killer stalking the White Party for which the organizers and partygoers are unprepared —Fentanyl and Carfentinal, about which the Drug Enforcement Agency just issued a dire warning after three deaths in San Diego. 
Fentanyl is usually linked with the nation's ongoing opioid epidemic, which kills 130 Americans every day, according to the Centers for Disease Control and Prevention and for which opioid manufacturers are facing over 1,700 federal lawsuits, according to ABC News. Federal prosecutors are also looking at pharmaceutical executives and companies' failure to properly report "thousands of suspicious orders of oxycodone, fentanyl and other controlled substances" to the DEA.
But the casual drug user attending the White Party or any other social gathering might not equate fentanyl in oxycodone with fentanyl in crystal meth, cocaine or other non-prescription drugs popular in the LGBT community. And that makes these new powder-forms even deadlier because one's guard is down.
Mike Rizzo, manager of Addiction Recovery Services at the Los Angeles LGBT Center, only became aware of the deadly encroaching crisis last year when an employee died of an accidental overdose of Fentanyl that was "cut" into the cocaine he was using.
"This beloved employee was not an addict," Rizzo told the Los Angeles Blade. "He and a few of his buddies where celebrating a friend's birthday. There were four of them that used that night—three of them died. The fourth individual woke up at 6 a.m., thought his friends were asleep, went home and felt sick. That prompted him to go the ER, which probably saved his life."
When he read about the Center employee's passing on Facebook, Rizzo says, "I was in shock. I immediately ran to the office and started to do some research and found that Fentanyl was being cut with meth, cocaine and ecstasy. It has been a problem on the East Coast and it's just now hitting the West Coast. This is very concerning for me."
The more research Rizzo did, the more afraid he became.
"Pride was right around the corner. What was going to happen to casual users who would choose to celebrate Pride with a bump of meth or cocaine? An unsuspecting individual may lose their life because they wanted to have a good time," Rizzo says. "Just because someone chooses to party doesn't mean they should lose their life."
Rizzo says there are five points to know about Fentanyl:
Fentanyl can be 100 times more potent than heroin;

Individuals may not know that what they are about to use may contain Fentanyl;

The intervention rate for a heroin overdose is 1-3 hours; the intervention for a Fentanyl overdose is 45 seconds;

The normal dose of Narcan may not be enough to prevent an overdose from Fentanyl, more may be needed;

Of the meth samples tested in San Francisco, 78 percent tested positive for Fentanyl and 68 percent of the cocaine samples also tested positive for Fentanyl.
"One of the scariest parts of this," Rizzo says, "is that people who are using meth or cocaine think they are using a stimulant and will not have the tools they need, like Narcan," a nasal spray or Naloxone, an injectable (needle) solution.
Fentanyl is a cheap, apparently relatively easy to make synthetic drug that has become popular among drug dealers because it's also highly addictive, as well as deadly when not dosed properly as in a legitimate prescription. Fentanyl can cause respiratory distress and death when taken in high doses or when combined with other substances, especially alcohol.
One example is the high-profile case of singer Demi Lovato, who was rushed to Cedars Sinai Medical Center last July after she was found unresponsive in her Hollywood Hills home. LACFD paramedics administered Narcan to the then 25-year-old pop star, reviving her prior to transport. It was believed at the time that she had ODed on oxy that may have been laced with Fentanyl.
As a drug 80 to 100 times more potent than heroin, Fentanyl may be classified as a weapon of mass destruction. "Fentanyl's high toxicity and increasing availability are attractive to threat actors seeking non-conventional materials for a chemical weapons attack," Assistant Secretary James F. McDonnell, Department of Homeland Security, wrote in a Feb. 22, 2019 internal memo to senior DHS and Defense Department officials asking them to consider classifying Fentanyl as a weapon of mass destruction.
In Nov. 2018, DEA Acting Administrator Uttam Dhillon announced results of the National Drug Threat Assessment that outlined the threats posed to the U.S. by domestic and international drug trafficking and the abuse of illicit drugs.
"Of all opioids, the abuse of illicit fentanyl and other synthetic opioids has led to the greatest number of deaths in the United States," the report said. "Fentanyl is increasingly available in the form of counterfeit prescription pills marketed for illicit street sales, and also sold by traffickers on its own, without the presence of other drugs."
On March 29, the editorial board of the Los Angeles Times took aim at the Trump administration's diverting billions of dollars away from the opioid crisis.
"In 2017, the most recent year for which we have good data, more than 70,000 Americans died from drug overdoses," The Times wrote. "Nearly 50,000 of those deaths involved opioids. New government data released this month show that a key driver of the overdose deaths in the last few years has been the spread of fentanyl, a synthetic opioid that has been mixed in with heroin and other illicit drugs. Extraordinarily potent, fentanyl is killing unwitting users in rapidly growing numbers."
This prompted the West Hollywood City Council to vote on April 15 to proactively engage in "harm reduction" by making available Fentanyl test strips available to combat the problem. 
"It's important to target the casual user, as well as the addicts," West Hollywood City Councilmember John Duran tells the Los Angeles Blade. "In the 1980s, I was legal counsel to Clean Needles Now, part of the efforts by ACT UP/LA to help in the prevention of spreading HIV."
Harm Reduction is "a much needed step in to addressing these deaths caused by Fentanyl-related overdoses," he added.
"We are doing this because WeHo is a hub for the LGBTQ community. This is a real public health emergency that has significant impact on the 40% of our population who are LGBT," he said.
"People who are using—whether at a party or an event like the upcoming White Party or hook-ups on Grindr or other social events. They're not expecting to use and then die," Duran says. "We need to inform people as to the real dangers. They need to understand that even their casual party use can be lethal."
Rizzo concurs. "With a 45-second intervention rate, the only defense is to test the product before you use it."
Fentanyl Test Strips are available in every Center department and in all satellite locations, including Center WEHO. The City of WeHo recently gave the Center a grant for more test strips and this year the Center will do outreach at every Pride event. "We would like people to stock up before they attend these events and have them available for themselves or for friends who may choose to party," Rizzo says. "If you do choose to party…party safer."
Even deadlier than Fentanyl is carfentanil, one hit of the drug the size of a speck of dust can kill, the DEA reports.
"The DEA in San Diego County has issued an alert after three people have suffered documented fatal overdoses from a new form of the drug Fentanyl know as carfentanil," CBS13 in Sacramento reported April 16. "It would only take 2 mg of the drug to cause a deadly overdose. Meanwhile, it would only take .02 mg of carfentanil to have the same fatal results."
This synthetic drug is so fast-acting it not only attacks the brain stem to interrupt breathing but also rapidly closes the esophagus so even Narcon might fail to act in time.
The bottom line: freedom-loving gay partiers these days must become as vigilant about their drugs as they are about scoping out the exits at a crowded gay bar.
For more information about Fentanyl and the addiction services offered at the Center, please call 323-993-7448.
President's Emergency Plan for AIDS Relief marks year 20
Achievements PEPFAR have been remarkable, well-documented by outside evaluators, and hugely applauded throughout the advocacy community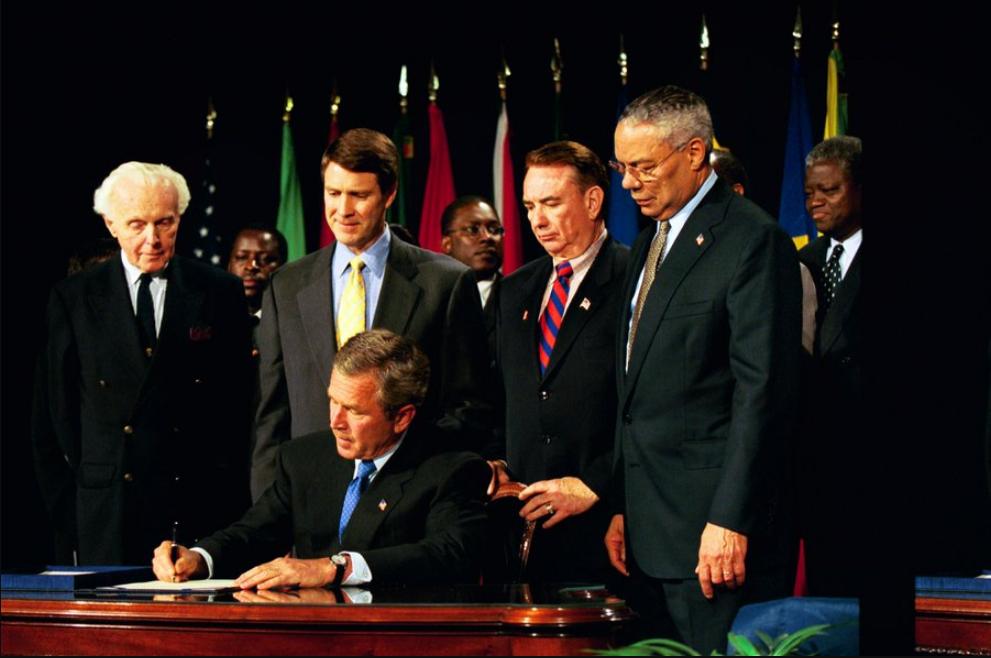 WASHINGTON – The President's Emergency Plan for AIDS Relief (PEPFAR) marks its twenty year anniversary today, marking the largest commitment by any nation to address a single disease in the world.
The initiative which was personally led and launched by former President George W. Bush in 2003, its funding has totaled more than $110 billion to date, including funding for the Global Fund to Fight AIDS, Tuberculosis and Malaria (Global Fund), to which the U.S. government is the largest donor.
PEPFAR is credited with saving millions of lives and helping to change the trajectory of the global HIV epidemic. The White House today released a statement by President Joe Biden marking the 20th Anniversary:
Twenty years ago today, President George W. Bush declared that preventing and treating HIV/AIDS was a foreign policy priority of the United States. At a time when nearly 30 million people were HIV positive, but very few were receiving life-saving medicines, the President's Emergency Plan for AIDS Relief (PEPFAR) transformed the global AIDS response and laid a marker for America's commitment to countries that were impacted the hardest by the AIDS epidemic. Helping lead the bipartisan effort in Congress to authorize PEPFAR is among my proudest achievements from my time in the Senate. To this day, PEPFAR remains a powerful example of America's unmatched ability to drive progress and make life better for people around the world.

Since 2003, PEPFAR has saved more than 25 million lives and dramatically improved health outcomes in more than 55 partner countries. AIDS-related deaths have declined by 68 percent since their peak in 2004, and new HIV infections are down 42 percent. PEPFAR investments have ensured that 5.5 million babies have been born HIV-free. And two decades of investment in partner nations' health systems played a critical role in countries' ability to respond to other health crises such as COVID-19, Mpox, and Ebola.

Today, PEPFAR continues to support 20.1 million people around the world with HIV/AIDS treatment, and my Administration is committed to continuing to lead the global HIV/AIDS response. We will build on our decades of progress to reach the Sustainable Development Goal of ending AIDS by 2030, work to eliminate the stigma and inequities that keep people from accessing care, and keep the voices of people living with HIV/AIDS at the center of our response. I look forward to working with Congress on PEPFAR's reauthorization this year.
PEPFAR is overseen by the U.S. Global AIDS Coordinator, who is appointed by the President, confirmed by the Senate, and reports directly to the Secretary of State, as established through PEPFAR's authorizing legislation.
PEPFAR's original authorization established new structures and authorities, consolidating all U.S. bilateral and multilateral activities and funding for global HIV/AIDS. Several U.S. agencies, host country governments, and other organizations are involved in implementation.
Dr. John Nkengasong, the current coordinator was sworn in on June 13, 2022, and holds the rank of Ambassador leading the Office of the Global AIDS Coordinator (OGAC) at the U.S. Department of State.
Twenty years ago this month, President George W. Bush announced #PEPFAR during his State of the Union address. Since then, the U.S. government has invested $100B+ in the global HIV/AIDS response through PEPFAR, saving 25M lives & bringing us closer to #EndAIDS2030. #PEPFAR20 pic.twitter.com/SMAOHWPZ03

— PEPFAR (@PEPFAR) January 11, 2023
Nobel Prize winning scientist Harold Varmus, who served as Director of the National Institutes of Health (NIH) from 1993 to 1999 and currently the Lewis Thomas University Professor of Medicine at Weill Cornell Medicine in New York City, wrote in an article honoring World Aids Day 2013:
[…] "the PEPFAR story must begin with George W. Bush and his wife, Laura, and their interests in AIDS, Africa, and what Bush termed "compassionate conservatism." According to his 2010 memoir, Decision Points, the two of them developed a serious interest in improving the fate of the people of Africa after reading Alex Haley's Roots and visiting The Gambia in 1990.3 In 1998, while pondering a run for the U.S. presidency, he discussed Africa with Condoleezza Rice, his future secretary of state; she said that, if elected, working more closely with countries on that continent should be a significant part of his foreign policy. She also told him that HIV/AIDS was a central problem in Africa but that the United States was spending only $500 million per year on global AIDS, with the money spread across six federal agencies, without a clear strategy for curbing the epidemic."
Key Facts (As provided by Kaiser Health & Family Foundation)
Although the U.S. has been involved in efforts to address the global AIDS crisis since the mid-1980s, the creation of the President's Emergency Plan for AIDS Relief (PEPFAR) in 2003 marked a significant increase in funding and attention to the epidemic.
PEPFAR is the largest commitment by any nation to address a single disease in the world; to date, its funding has totaled more than $110 billion, including funding for the Global Fund to Fight AIDS, Tuberculosis and Malaria (Global Fund), to which the U.S. government is the largest donor. PEPFAR is credited with saving millions of lives and helping to change the trajectory of the global HIV epidemic.
U.S. funding for PEPFAR grew from $2.2 billion in FY 2004 to $7.0 billion in FY 2022; FY 2022 funding includes $5.4 billion provided for bilateral HIV efforts and $1.6 billion for multilateral efforts ($50 million for UNAIDS and $1.56 billion for the Global Fund).
As the COVID-19 pandemic continues to have profound effects across the world, PEPFAR has acted to respond to COVID-19 in countries that receive support in order to minimize HIV service disruptions and leverage the program's capabilities to address COVID-19 more broadly.
Looking ahead, PEPFAR faces several issues and challenges, including how best to: address the short- and long-term impacts of COVID-19 on PEPFAR and the HIV response; accelerate progress toward epidemic control in the context of flat funding; support and strengthen community-led responses and the sustainability of HIV programs; define its role in global health security and broader health systems strengthening efforts; and continue to coordinate with other key players in the HIV ecosystem, including the Global Fund.
Key Activities and Results (As provided by Kaiser Health & Family Foundation)
PEPFAR activities focus on expanding access to HIV prevention, treatment, and care interventions. These include provision of antiretroviral treatment, pre-exposure prophylaxis, voluntary male circumcision, condoms, and other commodities related to HIV services. In addition, PEPFAR has launched specific initiatives in key strategic areas. For example, in 2015, PEPFAR launched DREAMS, a public-private partnership that aims to reduce HIV infections in adolescent girls and young women.
The latest results reported by PEPFAR indicate that it has:
supported testing services for 63.4 million people in FY 2021;
prevented 2.8 million babies from being born with HIV, who would have otherwise been infected;
provided care for more than 7.1 million orphans and vulnerable children (OVC);
supported training for nearly 300,000 new health care workers; and
supported antiretroviral treatment for 18.96 million people.
In the 15 countries implementing the DREAMS initiative, new diagnoses among adolescent girls and young women have declined with most DREAMS areas (96%) experiencing declines greater than 25% and nearly two-thirds with declines greater than 40%.
The achievements of the PEPFAR program have been remarkable, well-documented by outside evaluators, and hugely applauded throughout the advocacy community and the developing world. In general, milestones have been met, the program has been enlarged (for instance, to include some research on implementation of medical assistance), the roster of PEPFAR countries has grown and spending plans have not been exceeded.