Marianne Williamson wants to be the people's president
The spiritual guru wants to lead a vanguard of love against corruption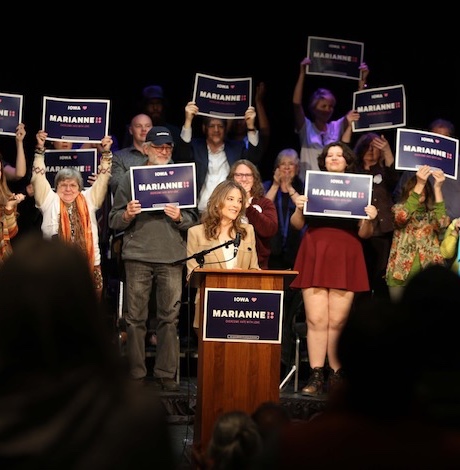 Once upon a time in America, gay men were dying faster than water squeezed through a clenched fist. Gay men and the lesbians and allies helping them were fighting against the creeping devastation of AIDS for which there was no cure, no recourse, no escape. But into that dark cavern a few good people shown a light of love and hope to gently lead heartbroken souls to the possibility of another day. Marianne Williamson was one of those good people.
Today, Williamson is running for the Democratic nomination to vie with Donald Trump for the presidency of the United States. Like him, she has no previous elective experience. But unlike him, she has morals, scruples, and sincerely believes she is once again stepping up with love to represent people whose voices have been drowned out by moneyed interests and corrupt power. 
"I'm saying things that I'm not hearing said elsewhere and that I believe need to be said. And I'm presenting to the American people an option for a path forward that I don't see articulated anywhere else," Williamson told the Los Angeles Blade by phone during a stop in LA recently. She is so dedicated to her long shot campaign, she has moved to Iowa to press to reach more people more often. 
"In order to transform our society, we need to recognize the depth of corruption that has set into our governmental and economic functioning," Williamson says. "We have essentially moved from a democratic to an aristocratic situation where our government works more to advocate for short term profits for multi-national corporations than it does to advocate for the well-being our people and our planet. Our government works more to make it easier for those who already have a lot of money to make more of it and harder for those who not have any money to even get by."
While her corruption message sounds akin to that of democratic socialist Vermont Sen. Bernie Sanders and Massachusetts Sen. Elizabeth Warren, both of whom are at the top of most polls, Williamson adds the spine of morality to her position. 
"This corruption, which has progressed over the last 40 years, has created an amoral economic system where economic values are placed before humanitarian values," she says. "And our democracy itself can no longer be accurately described as a government of the people, and by the people and for the people. It's only when we recognize the depth of the corruption that has set in here that we can move into a path of genuine transformation. Because until then, all we're doing is addressing the symptoms and no one is naming the cause. All we're doing is making incremental changes seeking to diminish the pain that people are experiencing because of all this, but not challenging the underlying forces that make all of that pain inevitable."
The first thing she would do if elected president is propose to Congress the establishment of public funding of federal campaigns to get money out of politics and overturn Citizens United. She would also repeal Trump's massive tax cut, immediately fund Medicare for All, and remove burdens to college. So far, she has not yet qualified to make the Democratic National Committee's debate stage to articulate her positions but FiveThirtyEight has qualified her as a "major" candidate.
Williamson is calling for "radical truth-telling" and taking "a serious moral inventory" to transform the country the way an individual transforms their own life, aligning capitalism with moral values. She is also keenly aware of the "mistakes we have made" in relaxing and taking our social justice gains for granted.  The rolling back of rights "is an awakening for all of us," but it also represents "a maturing of the political mind that freedom and democracy can never be taken for granted." Any effort to undermine the equal "is an effort to undermine America."
Williamson, who recently held an LGBT-specific town hall in Las Vegas, feels she is tied into the LGBT community.
"Discrimination in housing and employment is a terrible problem for the LGBTQ+ community. And I recognize that and I also recognize the efforts throughout the country to actually regress rather than to progress on efforts to provide greater equality for LGBTQ+ people," she says.
"My relationship with the gay community in the United States is deep and goes back for decades. It's a natural one. It's one that is already part of my emotional blood stream," she says, noting that prominent grief counselor David Kessler, with whom she co-founded Project Angel Food, is the godfather to her daughter.
"I feel that my recognition of discrimination against gay people has ben well honed over the decades and also my recognition of the profound gift of the gay community has been well honed," Williamson says. "I hope that there's the feeling that I've proven my kinship and my friendship as that community has certainly proven its friendship and kinship to me."
Williamson again hones in on morality and Trump's lack of it.
"No one would doubt, given the last two years in the United States, that the consciousness of the President of the United States effects the ethos," she says. "And this president has moral equivocation when it comes to his support of minorities and oppressed peoples. I have no such moral equivocation. And with my actions, with my words, and with my behavior, my absolute, unequivocal support for every single American – and particularly those who are victims of discrimination – would be unquestionable."
For more information, go to: marianne2020.com.
New on the LA County Channel
You can watch on Channel 92 or 94 on most cable systems, or anytime here. Catch up on LA County Close-Up here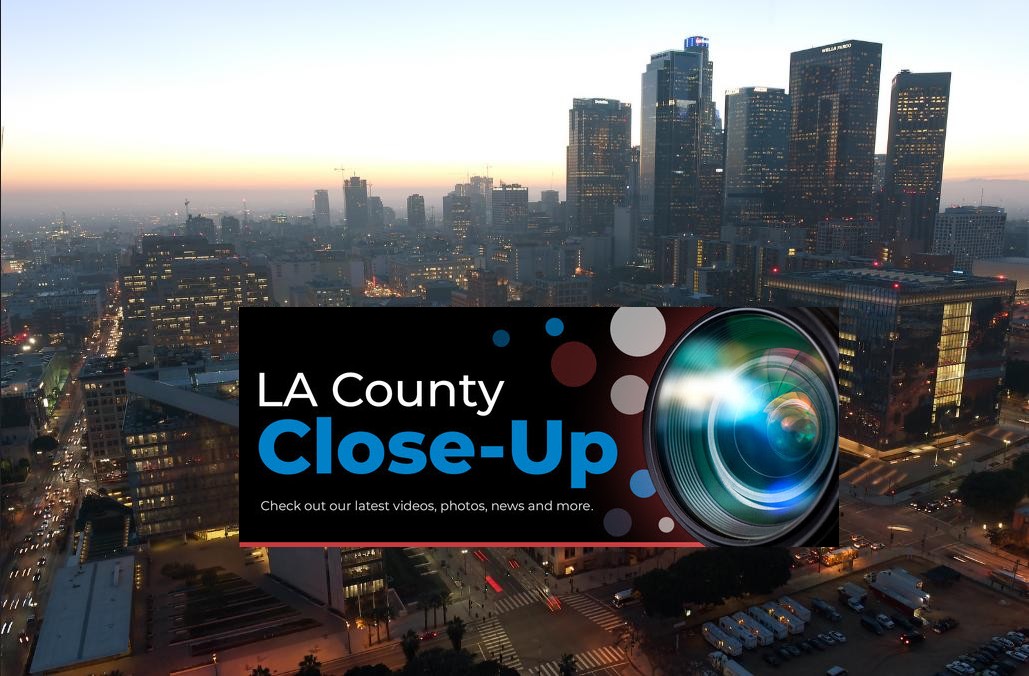 New on the County Channel
Go behind the scenes at the moving new exhibit at the Holocaust Museum.
You can watch more stories like this on Channel 92 or 94 on most cable systems, or anytime here. Catch up on LA County Close-Up here.
In Case You Missed It
Return Your Vote by Mail Ballot Early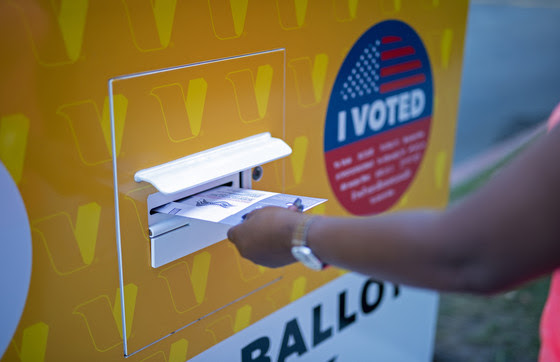 You don't need to wait until Election Day (April 4) to make your voice heard in the City of Los Angeles Council District 6 Special Primary Election.
Once you've completed your ballot, sign and date the Return Envelope and use one of these easy return options:
Return by mail: No postage is required.
Ballot Drop Box: There are 14 convenient Ballot Drop Box locations in your community.
Tracking your ballot – when it is mailed, received, and counted – has never been easier. Sign up to Where's My Ballot? to receive automatic notifications on the status of your ballot.
At Your Service
Upcoming Webinars for Landlords & Tenants
DCBA will host a series of webinars that will explain which protections from the COVID-19 Tenant Protections Resolution expire after March 31st, 2023, and the impacts of that expiration on landlords and tenants.
On Thursday, March 23 at 10 a.m., DCBA will host the first in a series of webinars for landlords. We can help you understand your rights and responsibilities.
An additional webinar is currently scheduled for Thursday, April 13. Visit our website at dcba.lacounty.gov/webinarsforlandlords to learn more and register for upcoming webinars.
On Thursday, March 30 at 10 a.m., DCBA will host an online workshop for tenants to discuss changes to tenant protections, the Rent Stabilization Ordinance in Unincorporated Los Angeles County, and other available resources for tenants.
Economic Opportunity Grants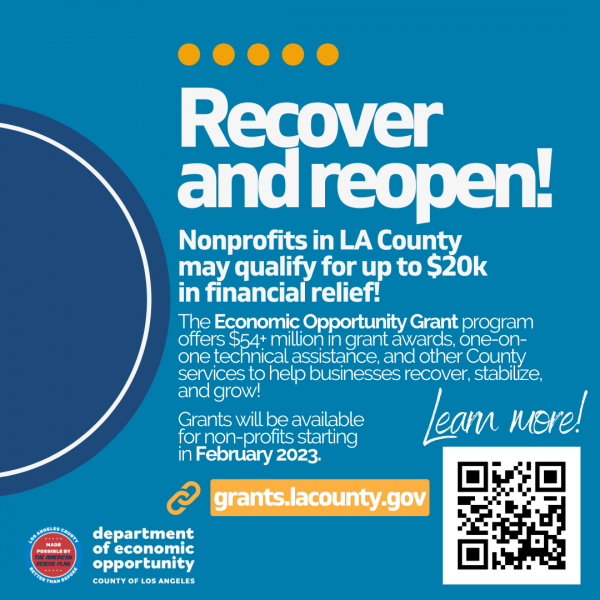 LA County's Economic Opportunity Grant program will award more than $54 million in grants to small & micro businesses, and non-profits impacted by the pandemic.
Grants ranging between $20,000 or $25,000 per grant will be available for non-profits starting in February. Interested businesses can visit grants.lacounty.gov to learn more or access multi-lingual support.
Out and About
Parks After Dark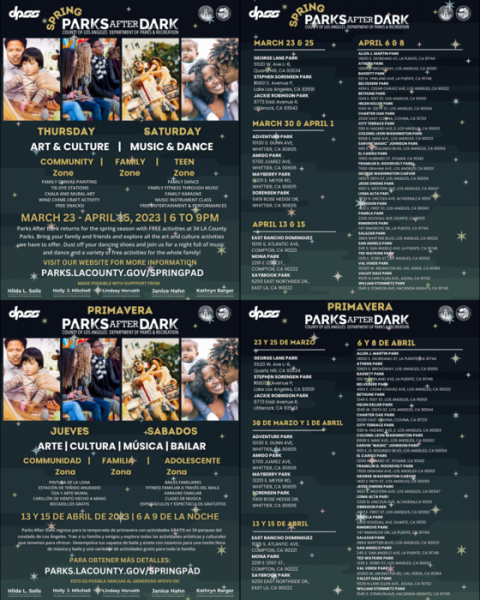 It's Park Time, L.A. County! Parks After Dark (PAD) returns this March with fun, free and safe recreational experiences that brings, teens, families, and communities together at 34 LA County Parks for two evenings during Spring Break. Parks After Dark is an award-winning program designed to bring communities together by activating park spaces with hands-on activities and entertainment that transforms local parks into safe havens.
The Spring edition of Parks after Dark kicks-off March 23 and runs through April 15 on Thursday and Saturday nights from 6 to 9 pm for two evenings of fun. Come experience an array of workshops and activities such as music, canvas painting, culinary art, family dances, arts, and crafts, and so much more. The Department of Parks and Recreation is dedicated to bringing the "World to You" through cultural performances sponsored by the Los Angeles Music Center. Enjoy snacks, refreshments, and entertainment in our community zone.
For more information on an LA County Parks After Dark location near you, visit Parks After Dark Spring 2023 – Parks & Recreation (lacounty.gov)
Free Yoga Classes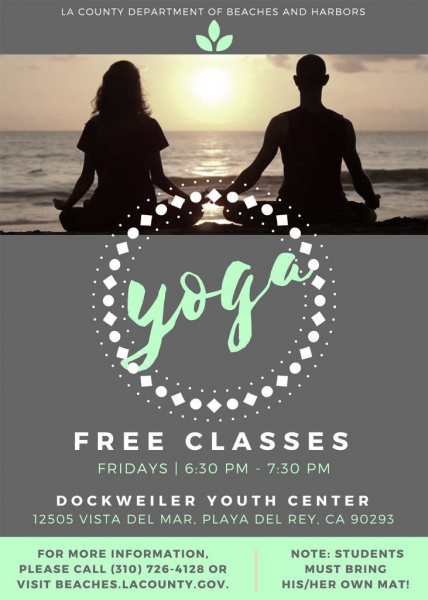 LA County Beaches and Harbor is offering FREE yoga classes on Fridays at the Dockweiler Youth Center.
Fridays | 6:30-7:30PM
Dockweiler Youth Center
12505 Vista Del Mar, Playa Del Rey, CA 90293
Note: Students must bring their own mats.
Visit beaches.lacounty.gov for more information.
Photo Finish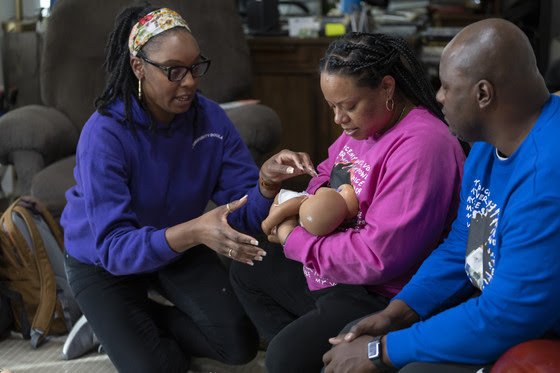 LA County African American Infant and Maternal Mortality Prevention Initiative.
Click here to access more photos of LA County in action.