Marianne Williamson wants to be the people's president
The spiritual guru wants to lead a vanguard of love against corruption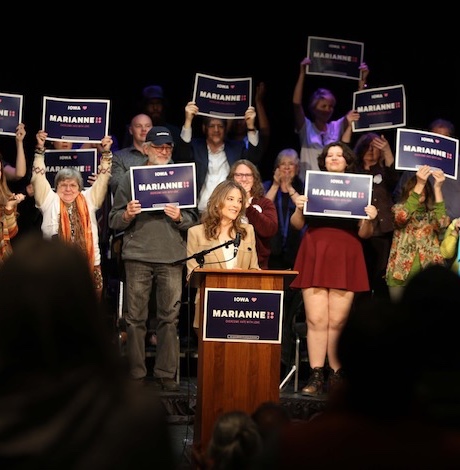 Once upon a time in America, gay men were dying faster than water squeezed through a clenched fist. Gay men and the lesbians and allies helping them were fighting against the creeping devastation of AIDS for which there was no cure, no recourse, no escape. But into that dark cavern a few good people shown a light of love and hope to gently lead heartbroken souls to the possibility of another day. Marianne Williamson was one of those good people.
Today, Williamson is running for the Democratic nomination to vie with Donald Trump for the presidency of the United States. Like him, she has no previous elective experience. But unlike him, she has morals, scruples, and sincerely believes she is once again stepping up with love to represent people whose voices have been drowned out by moneyed interests and corrupt power. 
"I'm saying things that I'm not hearing said elsewhere and that I believe need to be said. And I'm presenting to the American people an option for a path forward that I don't see articulated anywhere else," Williamson told the Los Angeles Blade by phone during a stop in LA recently. She is so dedicated to her long shot campaign, she has moved to Iowa to press to reach more people more often. 
"In order to transform our society, we need to recognize the depth of corruption that has set into our governmental and economic functioning," Williamson says. "We have essentially moved from a democratic to an aristocratic situation where our government works more to advocate for short term profits for multi-national corporations than it does to advocate for the well-being our people and our planet. Our government works more to make it easier for those who already have a lot of money to make more of it and harder for those who not have any money to even get by."
While her corruption message sounds akin to that of democratic socialist Vermont Sen. Bernie Sanders and Massachusetts Sen. Elizabeth Warren, both of whom are at the top of most polls, Williamson adds the spine of morality to her position. 
"This corruption, which has progressed over the last 40 years, has created an amoral economic system where economic values are placed before humanitarian values," she says. "And our democracy itself can no longer be accurately described as a government of the people, and by the people and for the people. It's only when we recognize the depth of the corruption that has set in here that we can move into a path of genuine transformation. Because until then, all we're doing is addressing the symptoms and no one is naming the cause. All we're doing is making incremental changes seeking to diminish the pain that people are experiencing because of all this, but not challenging the underlying forces that make all of that pain inevitable."
The first thing she would do if elected president is propose to Congress the establishment of public funding of federal campaigns to get money out of politics and overturn Citizens United. She would also repeal Trump's massive tax cut, immediately fund Medicare for All, and remove burdens to college. So far, she has not yet qualified to make the Democratic National Committee's debate stage to articulate her positions but FiveThirtyEight has qualified her as a "major" candidate.
Williamson is calling for "radical truth-telling" and taking "a serious moral inventory" to transform the country the way an individual transforms their own life, aligning capitalism with moral values. She is also keenly aware of the "mistakes we have made" in relaxing and taking our social justice gains for granted.  The rolling back of rights "is an awakening for all of us," but it also represents "a maturing of the political mind that freedom and democracy can never be taken for granted." Any effort to undermine the equal "is an effort to undermine America."
Williamson, who recently held an LGBT-specific town hall in Las Vegas, feels she is tied into the LGBT community.
"Discrimination in housing and employment is a terrible problem for the LGBTQ+ community. And I recognize that and I also recognize the efforts throughout the country to actually regress rather than to progress on efforts to provide greater equality for LGBTQ+ people," she says.
"My relationship with the gay community in the United States is deep and goes back for decades. It's a natural one. It's one that is already part of my emotional blood stream," she says, noting that prominent grief counselor David Kessler, with whom she co-founded Project Angel Food, is the godfather to her daughter.
"I feel that my recognition of discrimination against gay people has ben well honed over the decades and also my recognition of the profound gift of the gay community has been well honed," Williamson says. "I hope that there's the feeling that I've proven my kinship and my friendship as that community has certainly proven its friendship and kinship to me."
Williamson again hones in on morality and Trump's lack of it.
"No one would doubt, given the last two years in the United States, that the consciousness of the President of the United States effects the ethos," she says. "And this president has moral equivocation when it comes to his support of minorities and oppressed peoples. I have no such moral equivocation. And with my actions, with my words, and with my behavior, my absolute, unequivocal support for every single American – and particularly those who are victims of discrimination – would be unquestionable."
For more information, go to: marianne2020.com.
Black AIDS Institute appoints Toni Newman as interim CEO
As Toni Newman steps into her new role at BAI, she will be one of only a few Black Trans women to head a non-profit in the nation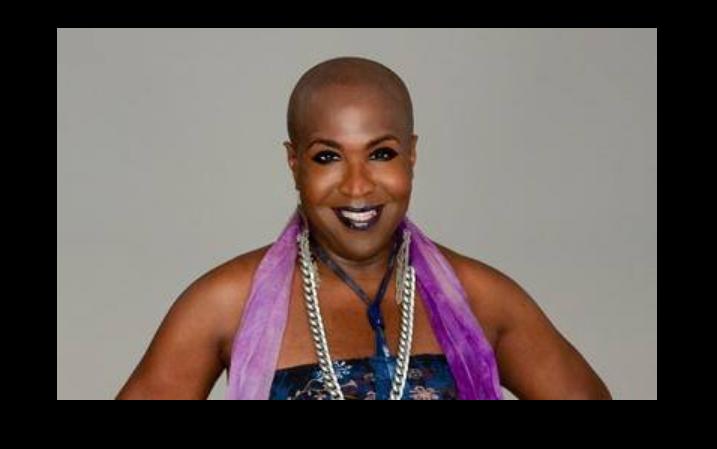 LOS ANGELES – The Board of Directors of the Black AIDS Institute (BAI) announced the appointment of Toni Newman as its Interim Chief Executive Officer and Dr. Kemal M. Atkins as Managing Director this past week.
Newman is currently the Interim Executive Director at LYRIC – a non-profit in San Francisco, California that focuses on advancing the community and creating social change for lesbian, gay, bisexual, transgender, queer and questioning (LGBTQQ) youth through education, career training and health advocacy. 
Dr. Atkins has been engaged to help further build infrastructure and management processes at BAI. Dr. Atkins, who will serve as a consultant on a temporary basis, has an extensive background in higher education and non-profit leadership where his expertise in crisis management, such as leading institutional responses to the COVID-19 pandemic, and expertise in building national wellness health models will provide much-needed program direction for BAI.
Founded in 1999, the mission of BAI is to stop the AIDS epidemic in Black communities by engaging and mobilizing Black institutions and individuals to confront HIV. In its mission statement, the organization states that "BAI envisions a world where all Black people are free and flourishing without HIV and AIDS, free of stigma and shame, where Black health and well-being are paramount. With a foundation in advocacy and policy work, BAI works towards improving the health and wellness of Black people through research, community efforts, and clinical work."
As she steps into her new role at BAI, she will be one of only a few Black Trans women to head a non-profit in the nation.
Ms. Newman is a distinguished Faculty Member at the Transgender Strategy Center in Los Angeles, where she advises non-profit organizations on engagement with transgender and nonconforming communities. In addition, she is the Chair of the Board of Directors for TransCanWork based in Los Angeles.
"Ms. Newman has a wealth of knowledge in non-profit management, budget and finance, and human resources and operations," BAI stated in its statement. "We're excited that she has agreed to serve as our Interim CEO as we continue implementing our transition plan to find a permanent, innovative executive staff leader."
Ohio added to 'Restricted' travel list for California state employees
"Blocking access to life-saving care is wrong. Period," said Bonta. "When states discriminate against LGBTQ+ Americans California must act."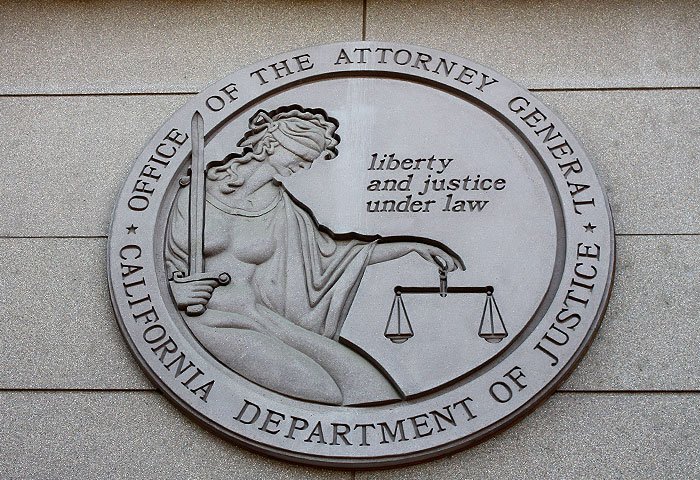 SACRAMENTO – California Attorney General Rob Bonta announced Friday that — effective Sept. 30, 2021 — California will restrict state-funded travel to Ohio as a result of new anti-LGBTQ+ legislation recently enacted in the state.
Specifically, provisions of the new legislation, Ohio House Bill 110 (HB 110), will allow medical providers in the state to deny care to LGBTQ+ Americans, including Californians traveling in Ohio. The new restrictions on state-funded travel to Ohio announced today are required by California Assembly Bill 1887 (AB 1887), which passed in 2016.
"Blocking access to life-saving care is wrong. Period," said Bonta. "Whether it's denying a prescription for medication that prevents the spread of HIV, refusing to provide gender-affirming care, or undermining a woman's right to choose, HB 110 unnecessarily puts the health of Americans at risk. Critically, the law runs afoul of Assembly Bill 1887. When states discriminate against LGBTQ+ Americans, the California Department of Justice must act. That's why — in line with the law — we're adding Ohio to California's state-funded travel restrictions list."
Effective 9/30, CA — in line w/ #AB1887 — is restricting state-funded travel to Ohio as a result of new legislation that threatens to deny medical care to members of the LGBTQ+ community.

Blocking access to healthcare is wrong. Period.https://t.co/8oWryHpN2g

— Rob Bonta (@AGRobBonta) September 24, 2021
Assemblymember Evan Low, the Chair of the California Legislative LGBTQ issued a statement in support of Bonta's action;
"Ohio's decision to condone attacks on the health of its nearly 400,000 LGBTQ+ residents was widely opposed by the state's medical community. It's plain that this law only serves to discriminate," said Low, "We will never put Californians at risk of falling victim to the same toxic standard by supporting the use of taxpayer dollars for travel in places where anti-LGBTQ discrimination is the law of the land."
Thank you 🙏 @AGRobBonta 🙏 for taking this important stand. We will never put Californians at risk by supporting the use of taxpayer dollars for travel in places where anti-LGBTQ discrimination is the law of the land. 👊🌈 @RobBonta @eqca https://t.co/FwJOjE4IBs

— Evan Low (@Evan_Low) September 24, 2021
In a statement released Friday by his office, Bonta noted;
"Despite increasing awareness of and respect for the inherent dignity of LGBTQ+ people, there has been a recent, dangerous wave of discriminatory new legislation signed into law in states across the country that directly works to roll back hard-won anti-discrimination protections. Many states pushing these new discriminatory laws are already on California's travel restrictions list, which with the addition of Ohio will now grow to a total of 18 states. Ohio's HB 110 is particularly troublesome in that it allows medical providers to deny important healthcare services to any patient over the entire course of the patient's treatment.
The law is applicable to a wide range of important services, including nursing and physician services, counseling and social work, psychological and psychiatric services, surgery, and the provision of pharmaceuticals. The law further takes steps to protect any medical practitioner or healthcare institution from suffering any consequences — whether civil, criminal, or administrative — for declining to participate in or pay for critical healthcare. Although HB 110 does contain a provision that suggests medical practitioners should try to transfer a patient where appropriate, the law offers no real protection because the language is discretionary and does not require action to help the patient.
In enacting AB 1887, the California Legislature determined that California must take action to avoid supporting or financing discrimination against lesbian, gay, bisexual, and transgender Americans. To that end, the law restricts state agencies, departments, boards, or commissions from authorizing state-funded travel to a state that — after June 26, 2015 — has enacted a law authorizing, or repealing existing protections against, discrimination on the basis of sexual orientation, gender identity, or gender expression. Each applicable California agency is responsible for consulting the AB 1887 list created by the California Department of Justice to comply with the travel and funding restrictions imposed by the law."
There is a ban against travel to 17 other states, including Texas which had attempted to sue California at the U.S. Supreme Court, which in a 7-2 decision, the high court rejected the case and declined to hear oral arguments.
Newsom highlights $15 billion to tackle wildfire & drought challenges
"California is doubling down on our nation-leading policies to confront the climate crisis while protecting the hardest-hit communities"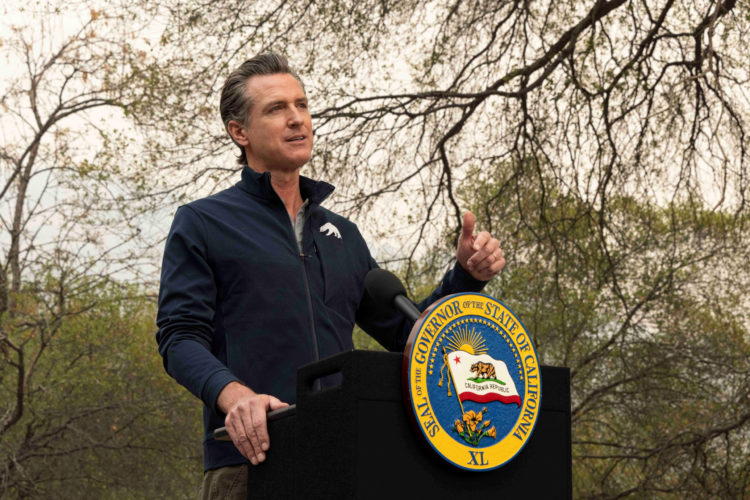 THREE RIVERS, Ca. – At the site of the KNP Complex in Sequoia National Park, Governor Gavin Newsom today highlighted the California Comeback Plan's over $15 billion climate package – the largest such investment in state history – tackling a wide array of climate impacts facing the state.
The Governor today signed legislation outlining investments in the package to build wildfire and forest resilience, support immediate drought response and long-term water resilience and directly protect communities across the state from multi-faceted climate risks, including extreme heat and sea level rise.
"California is doubling down on our nation-leading policies to confront the climate crisis head-on while protecting the hardest-hit communities," said Newsom. "We're deploying a comprehensive approach to meet the sobering challenges of the extreme weather patterns that imperil our way of life and the Golden State as we know it, including the largest investment in state history to bolster wildfire resilience, funding to tackle the drought emergency while building long-term water resilience, and strategic investments across the spectrum to protect communities from extreme heat, sea level rise and other climate risks that endanger the most vulnerable among us."
When the Governor signed the state budget and related legislation in July, he and legislative leaders agreed to additional discussions during the summer to further refine steps to advance their shared and funded priorities, including natural resources investments. The legislation signed today details some of the most important investments funded in the over $15 billion climate package, which includes:
$1.5 Billion Wildfire and Forest Resilience Package
The $1.5 billion package supporting a comprehensive forest and wildfire resilience strategy statewide is the largest such investment in California history. Building on a $536 million early action package in April ahead of peak fire season, an additional $988 million in 2021-22 will fund projects to reduce wildfire risk and improve the health of forests and wildlands. This includes investments for community hardening in fire-vulnerable areas, strategic fuel breaks and fuel reduction projects, approaches to restore landscapes and create resilient wildlands and a framework to expand the wood products market, supporting sustainable local economies.
This investment helps implement the Governor's Wildfire and Forest Resilience Action Plan published in January, and builds on previous budget investments for emergency management, including funding for additional fire crews and equipment, and executive actions to help combat catastrophic wildfires. Governor Newsom bolstered CAL FIRE's firefighting ranks in March by authorizing the early hire of 1,399 additional firefighters and in July supplemented the department's capacities with 12 additional aircraft. The Governor earlier this year launched an expanded and refocused Wildfire and Forest Resilience Task Force to deliver on key commitments in his Wildfire and Forest Resilience Action Plan. Last year, the Newsom Administration and the U.S. Forest Service announced a shared stewardship agreement under which they are working to treat one million acres of forest and wildland annually to reduce the risk of catastrophic wildfire.
$5.2 Billion Water and Drought Resilience Package
Climate change is making droughts more common and more severe. The California Comeback Plan invests $5.2 billion over three years to support immediate drought response and long-term water resilience, including funding for emergency drought relief projects to secure and expand water supplies; support for drinking water and wastewater infrastructure, with a focus on small and disadvantaged communities; Sustainable Groundwater Management Act implementation to improve water supply security and quality; and projects to support wildlife and habitat restoration efforts, among other nature-based solutions.
$3.7 Billion Climate Resilience Package
Focusing on vulnerable front-line communities, the package includes $3.7 billion over three years to build resilience against the state's multi-faceted climate risks, including extreme heat and sea level rise. Investments to address the impacts of extreme heat include urban greening projects, grants to support community resilience centers and projects that reduce the urban heat island effect, and funding to advance the Extreme Heat Framework as part of the state's Climate Adaptation Strategy. The package also supports coastal protection and adaptation measures, efforts to protect and conserve California's diverse ecosystems, and community-based investments to build resilience, such as grants to support environmental justice-focused initiatives and funding for the California Climate Action Corps, which supports local climate action projects in disadvantaged communities.
$1.1 Billion to Support Climate Smart Agriculture
Amid climate-driven drought and extreme heat challenges, California is committing $1.1 billion over two years to support sustainable agriculture practices and create a resilient and equitable food system. These efforts include investments to promote healthy soil management, support for livestock methane reduction efforts, funding for the replacement of agricultural equipment to reduce emissions and technical assistance and incentives for the development of farm conservation management plans. The package also supports programs to expand healthy food access for seniors and in schools, other public institutions and non-profit organizations.
$3.9 Billion Zero-Emission Vehicle Package
The California Comeback Plan supports California's nation-leading climate agenda with a $3.9 billion investment to hit fast forward on the state's Zero-Emission Vehicle goals and lead the transition to ZEVs on a global scale. The package includes funding to put 1,000 zero-emission drayage trucks, 1,000 zero-emission school buses and 1,000 transit buses, and the necessary infrastructure, on California roads – prioritizing projects that benefit disadvantaged communities. Helping drive consumer adoption, the package funds consumer rebates for new ZEV purchases and incentives for low-income Californians to replace their old car with a new or used advanced technology car.
Additional Investments
The package also includes $270 million to support a circular economy that advances sustainability and helps reduce short-lived climate pollutants from the waste sector, and $150 million that will support urban waterfront parks, with a focus on underserved communities.
More information on the over $15 billion climate package can be found in the Department of Finance's addendum to its enacted budget summary. Click here for the budget addendum.
Newsom today also signed a raft of new climate measures to protect communities and advance the state's climate and clean energy efforts.
Legislation to boost drought and wildfire resilience includes SB 552 by Senator Robert Hertzberg (D-Van Nuys) to ensure small and rural water suppliers develop drought and water shortage contingency plans and implement drought resiliency measures to prevent and prepare for future water shortages; SB 403 by Senator Lena Gonzalez (D-Long Beach) to allow the State Water Resources Control Board to order consolidation of an at-risk water system or domestic well in a disadvantaged community; SB 109 by Senator Bill Dodd (D-Napa) to create the Office of Wildfire Technology Research and Development at CAL FIRE to evaluate emerging firefighting technology; and AB 697 by Assemblymember Ed Chau (D-Arcadia), which enables the state to plan, manage and implement forest restoration projects on national forest lands through an expanded Good Neighbor Authority Program.
The legislation signed today also includes SB 1 by Senate President pro Tempore Toni G. Atkins (D-San Diego), which establishes the California Sea Level Rise Mitigation and Adaptation Act to help coordinate and fund state efforts to prepare for sea level rise; AB 525 by Assemblymember David Chiu (D-San Francisco), which directs state agencies to develop a strategic plan for offshore wind resources in California following the state's historic agreement earlier this year with federal partners; SB 47 by Senator Monique Limόn (D-Santa Barbara), which increases the amount of money the state can collect annually to plug abandoned wells, utilizing funds from fees on the oil and gas industry; and AB 39 by Assemblymember Ed Chau (D-Arcadia), which enables the University of California to establish the California-China Climate Institute to advance joint policy research and foster high-level dialogue in order to accelerate climate action.