Why do we need LGBTQ media? (Photos)
Examining the role of our alternative press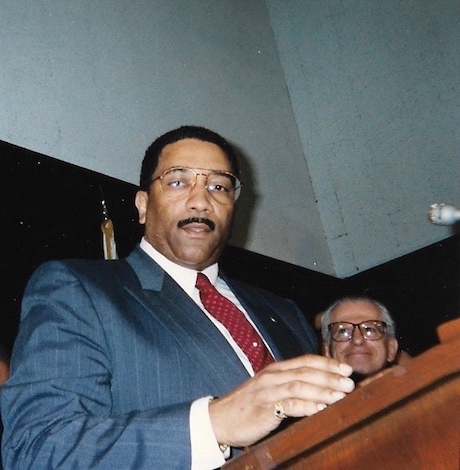 It was the last day of Passover, a calm and tranquil Sunday in West Hollywood. And then the news started bubbling up about an attack on the Chabad of Poway Synagogue in San Diego County by a 19-year-old with a semiautomatic weapon. One woman was dead and three others, including the rabbi, were wounded.
The shooting came one day after President Trump's speech before the National Rifle Association and major news coverage of former Vice President Joe Biden's campaign announcement video using the Neo-Nazi rally in Charlottesville where white supremacists carrying tiki torches chanted "Jews will not replace us!" The teenager arrested for shooting up the Poway synagogue apparently left an anti-Semitic screed on the Internet. Authorities said they would investigate the attack as a hate crime.
I read these news reports through rainbow-colored glasses. White supremacy isn't limited to anti-Semitism or racism. But hatred for LGBT people is such a given, we often don't even get a mention in their screeds. That's what I look for or extrapolate as an LGBT reporter.
LGBT people live intersectional lives and feel an empathetic gut-punch when any bias-based attack hits the news. But LGBT African Americans are not included or cross-indexed in an overview of racist hate crimes. And there is a whole separate category for the epidemic of murders of trans women of color. The Consumer Health Foundation, taking in access to healthcare, housing, jobs and violence, for instance, said in 2018 that the life expectancy for a trans woman of color is 31. Bamby Salcedo, founder and CEO of [email protected] Coalition, puts it closer to 22.
This horrifying statistic is ignored, as are other facts and assessments. The Williams Institute and the Center for American Progress have reported that those most at risk for poverty are African-American lesbian couples with children in the South. How can you put food on the table if you can't get a job because of your real or perceived sexual orientation or gender identity? But where is discussion of the Equality Act in the mainstream media?
LGBT people are officially second-class citizens, no matter how much money we do or don't have; or how much we contribute to politicians or non-profits; no matter how many voters we turn out; no matter if the media is taken with one of us credibly running for president of the United States.
To be sure, the mainstream cares when there's a big newsworthy event or a phenomenon like the epidemic of gay teen suicides that led to the It Gets Better movement. Remember that? Well, LGBT kids are still killing themselves.
But for the most part, we are ignored or erased from the narrative. For example: on Feb. 22, 2019, Thomas T. Cullen, US Attorney for the Western District of Virginia, wrote an op-ed for the New York Times entitled, "The Grave Threats of White Supremacy and Far-Right Extremism," which is posted on the Justice Department's website.
In it, Cullen writes: "In 2009, Congress took an important step in arming federal investigators to deal with hate crimes by passing the Matthew Shepard and James Byrd, Jr., Hate Crimes Prevention Act. This law makes it possible to prosecute as hate crimes violent acts committed against victims because of their race, color, national origin, religion, gender, gender identity or disability. The law provides stringent maximum penalties, including life imprisonment, if someone is killed during a hate crime."
Matthew Shepard was gay but Cullen curiously omits sexual orientation when talking about the hate crime bill.
The LGBT press offers an alternative to that void, to that willful and benign ignorance. And we have since at least 1947 when Lisa Ben typed Vice Versa onto several carbon copies to distribute the "magazine" to other lesbians she met covertly. Homosexuality was criminal in many states until 2003 when the Supreme Court overturned a Texas law criminalizing consenting adult gay sex in Lawrence v Texas.
But ironically, it was the Supreme Court that enabled gay people to find one another through the distribution of ONE Magazine. ONE Inc, which had broken off from the Silver Lake-based Mattachine Society, founded in 1950 by Harry Hay, started publishing ONE Magazine in 1952. But in 1954, the Los Angeles Postmaster Otto Olesen refused to mail the publication, describing the Oct. 1954 issue as "obscene, lewd, lascivious and filthy." But ONE fought back and while it took until 1958, it prevailed in the landmark First Amendment case. Playboy founder Hugh Hefner credited the victory in One, Inc. v. Olesen with enabling him to distribute Playboy magazine through the mail, thus jump-starting the sexual revolution of the 1960s.
ONE reported in the next issue: "For the first time in American publishing history, a decision binding on every court now stands. … affirming in effect that it is in no way proper to describe a love affair between two homosexuals as constitut(ing) obscenity," according to a report about the case in the LA Times.
That perception, however, didn't hold with the general public and the LGBT community is still fighting harmful beliefs that we need to change or die.
Nonetheless, LGBT people have persisted throughout our history: Jim Kepner, a writer for ONE Magazine, collected many of the publications aimed at informing and bolstering LGBT people, all of which he turned into an archive that now resides with ONE Institute at USC. That includes The Ladder, published by Phyllis Lyon and Del Martin, co-founders of the Daughters of Bilitis, from 1956-1972 and The Lesbian Tide, published by Jeanne Cordova, who ensured that ONE had a lesbian section curated by Yolanda Retter. ONE also houses Alan Bell's BLK Magazine and other publications such as The LA Advocate, first published before the Stonewall Riots to let gay people know about protests against LAPD bar raids.
Perhaps most importantly, the LGBT press recorded the devastation of the AIDS crisis—and not without financial risk and consternation. When Frontiers publisher Bob Craig reprinted Larry Kramer's explosive essay, "AIDS 1,112 and counting…,"— first published in the New York Native, Issue 59, March 14-27,1983—bar owners threw the magazine out lest it scare off patrons who didn't want to even think about the mysterious new disease killing gay men.
As the alternative to the mainstream media, it often falls to us to ask the questions other reporters may not even think about. That's what happened in April 1992, after the LA Riots finally forced longtime anti-LGBT LAPD Chief Daryl Gates to resign. Mayor Tom Bradley and the LA Police Commission introduced new Chief Willie Williams at a news conference broadcast live to the city.
I sat up front. LGBT civilians had major problems with the LAPD—the Christopher Commission Report indicated that cops often dubbed gays "NHI" – meaning "No Human Involved." But gay and lesbian officers also felt harassed on the job—as evidenced by Sgt. Mitch Grobeson's lawsuit that included testimony that he did not receive backup in a dangerous situation.
When I asked Williams about how he would treat gay officers and how he would enforce non-discrimination policies, the whole room went silent. Officials blanched with consternation since they clearly had not prepared him for the question. Seconds later, the clicks from photographers' cameras deafened the air as Williams answered that he had a track record in Philadelphia of working with the city's gay community and would do so here. One of his first stops after being sworn in was at the LA Gay & Lesbian Community Services Center. It was all major news, but mostly to us.
Today, we have Rachel Maddow, Anderson Cooper and Don Lemon as broadcast stars and the general public seems more inclined to like us. But on the ground, it's still hard to come out, LGBT teen suicide is still prevalent, trans murders are still an epidemic and Trump and some states are still trying to roll back or stop LGBT rights.
And yet we continue to prevail— and the LGBT press continues, as well.
Take Luis Sandoval, who recently came out on Univision. It's had a big impact on him and his audience. "I finally was honest and transparent with the audience and by doing so, I was opening a little door to start the conversation about important issues that have been part of my own experience: such as bullying, suicidal thoughts, lack of rights, depression and many more issues that affect our LGBTQ community," Sandoval told the Los Angeles Blade.
"Growing up in the late 80's and early 90's, most of the gay males I would see on TV were dying of AIDS. It was terrifying to think I was also gay," he said. "There were no role models to look up to. Now that I am on the other side of the screen, I feel it is my responsibility to make a difference, even if it is only one person at a time. If I can save one life, or make someone's life a little easier, it will be worth my while."
And this is why reporting on LGBT people not as a "social issue" but as human beings fighting for civil rights is central to the mission of the LGBT press.
The Los Angeles LGBT Center and NLGJA are hosting a free Big Queer Convo with LGBT journalists Bettina Boxall, LZ Granderson, Luis Sandoval and me on Wednesday, May 8 at The Village. Visit lalgbtcenter.org/bqc for more info.
Governor Newsom announces new gun safety legislation
In 2021, Calif. was ranked as the #1 state for gun safety by the Giffords Law Center, seeing a 37% lower gun death rate than national average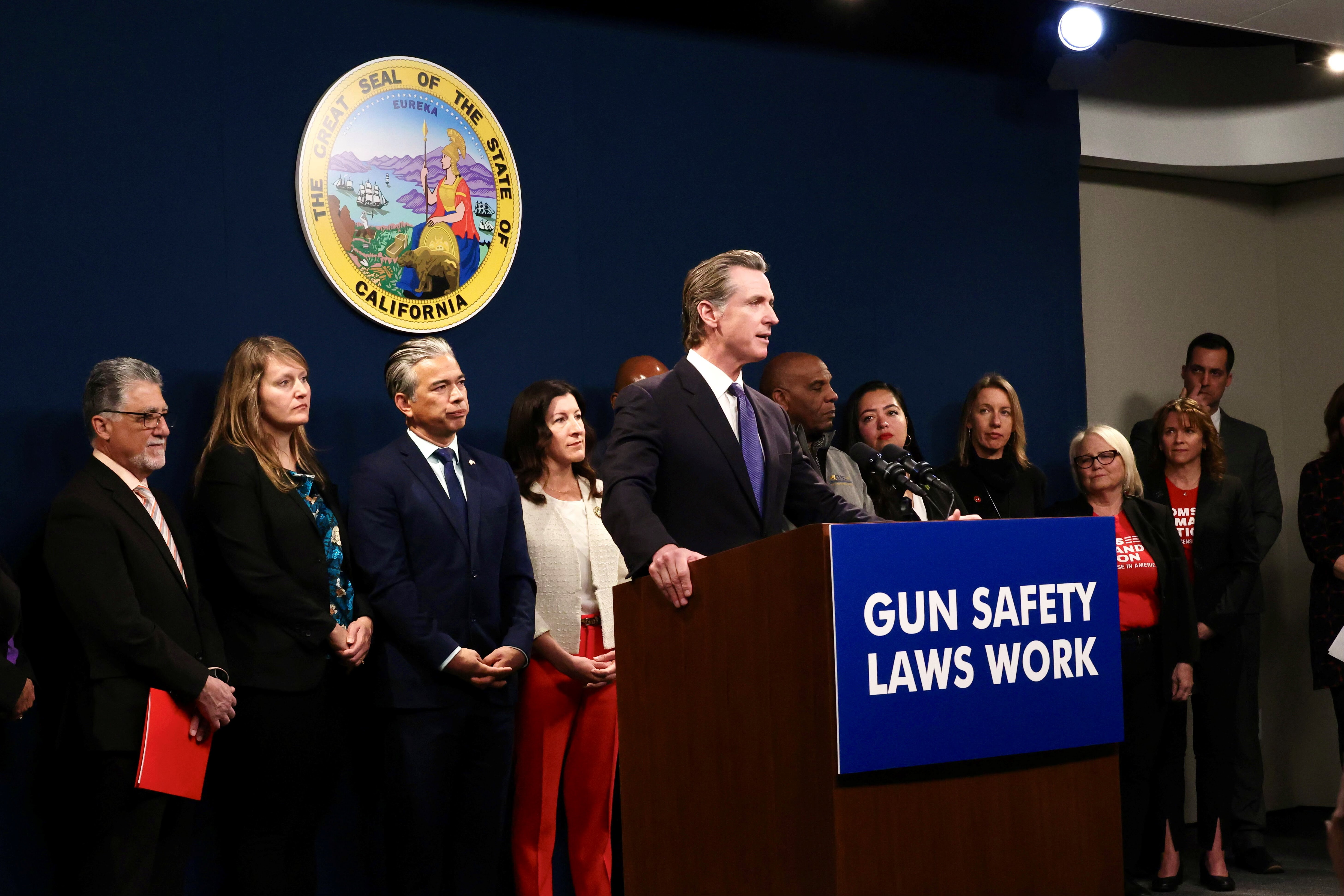 SACRAMENTO – In the wake of multiple mass shootings that took the lives of 19 Californians in just 72 hours last week, Governor Gavin Newsom, Attorney General Rob Bonta, and Senator Anthony Portantino (D-Burbank) announced new gun safety legislation to modernize and strengthen California's public carry laws.
"Only in America do we see the kind of carnage and chaos of gun violence that destroys our communities and our sense of safety and belonging," said Newsom. "America is number 1 in gun ownership and we far surpass every developed nation on Earth in gun deaths – it's not complicated. In California, we've passed common sense gun safety laws and they work: we have a 37% lower gun death rate than the national average. We're doubling down on gun safety and strengthening our public carry law to protect it from radical Republican attacks."
According to the Center for American Progress, efforts to weaken concealed carry laws across the country have increased violent crimes – with studies showing gun homicides increased by 22% in states that passed permitless carry laws and violent crimes with a firearm went up 29%.
Newsom signed a package of gun safety laws last year, making it easier for Californians to sue manufacturers of illegal assault weapons and those spreading them, allowing lawsuits against irresponsible gun industry members, strengthening prohibitions on ghost guns, as well as restricting marketing to minors. 
"The mass shooting incidents we have seen over recent weeks bring to light the need for stronger protections for our communities. The fact is, individuals who are not law-abiding, responsible citizens simply shouldn't possess firearms — and they especially shouldn't be allowed to carry a concealed weapon in public. When a gun is placed in the wrong hands, it is deadly," said California Attorney General Rob Bonta. "The Second Amendment is not a regulatory straightjacket — we must protect our communities. The time for thoughts and prayers has long passed, we need brave and immediate action by our leaders – here in California and beyond. We owe our community stronger protections. I urge our state leaders to quickly adopt SB 2. We can't afford to wait even one minute more."
Last June, the U.S. Supreme Court struck down a New York law, aspects of which mirrored California's public carry laws, and the legislation announced today – Senate Bill 2 by Senator Portantino – would make fixes necessary to update the standards and processes for obtaining a public carry permit in California.
Senate Bill 2 strengthens California's restrictions regarding public carry laws by:
Enhancing the existing licensing system – ensuring those permitted to carry firearms in public are responsible and law-abiding individuals;
Protecting children – setting a minimum age requirement of 21 years of age to obtain a CCW license;
Advancing stronger training requirements – ensuring proper handling, loading, unloading, and storage of firearms; and
Identifying certain sensitive public places – establishing safe community places where people should expect freedom from gun violence.
"In the wake of the recent tragedies in Monterey Park and Half Moon Bay and the continued threat of mass shootings, it's critical that California leads on the issue of gun safety and reform. I am proud to be working with Governor Newsom, Attorney General Bonta and activists on SB 2 to strengthen our existing public carry laws and ensure every Californian is safe from gun violence.  We must be diligent in addressing the gun violence epidemic in our country and public carry laws are a key component of this," said Senator Anthony Portantino.
California launched an 18-month campaign to promote gun violence restraining orders – "red flag laws" – that allow law enforcement, family, coworkers or friends to petition a court to temporarily remove weapons from people deemed dangerous to themselves or others. A study from the Violence Prevention Research Program at the University of California, Davis found that California's red flag law was used to stop 58 threatened mass shootings since 2016.
California's gun safety laws work. In 2021, California was ranked as the #1 state for gun safety by the Giffords Law Center, and the state saw a 37% lower gun death rate than the national average.
According to the CDC, California's gun death rate was the 44th lowest in the nation, with 8.5 gun deaths per 100,000 people – compared to 13.7 deaths per 100,000 nationally, 28.6 in Mississippi, 20.7 in Oklahoma, and 14.2 in Texas.
Moms Demand Action Founder Shannon Watts noted: "The Supreme Court's reckless Bruen decision opened up the floodgates for more guns in more places — but with this bill California once again renewed its commitment to being a national leader in the fight against gun violence. While the gun industry celebrated the ruling that put their profits over our safety, our grassroots army is proud to stand with our Gun Sense Champions in California to pass this critical bill and make our communities safer."
"Following the Supreme Court's egregious decision in the Bruen case, it is vital that the Golden State takes meaningful action to protect all Californians from the threat of gun violence. SB2 would do just this by updating and improving the state's already strong concealed carry license system, and ensure that loaded and concealed weapons are not allowed in certain sensitive places. With SB2, leaders in California are continuing their leadership in prioritizing the public health and safety of all its citizens," said Brady Campaign President Kris Brown, adding "Brady applauds Senator Portantino for introducing this important bill, and thanks Governor Newsom and Attorney General Bonta for their continued leadership on this issue, and urges the California legislature to pass it without delay."
Giffords State Policy Director Ari Freilich stated: "In the face of tragedy, California's leaders act. They've led the nation on gun safety reform and made California a much safer state than most. But today, grieving communities know all too well how much more work there is to do. California achieved an all-time record low gun fatality rate in 2019. But like the rest of the country, we have faced record spikes in gun sales and violence since the start of the pandemic and a flood of new weapons in public spaces as a result of the US Supreme Court's dangerous Second Amendment ruling last year. Passing SB (2) will strengthen communities' ability to respond to these threats by requiring stronger vetting and safety training to carry weapons in public and by designating vital community spaces like parks and playgrounds as off-limits to weapons throughout the state. We thank leaders like Governor Newsom, Attorney General Bonta, and Senator Portantino for their work and commitment to make all Californians safer and freer from violence."