Buttigieg, Jussie (the story that keeps giving) and 'Superbitch'
In other news, 'Magic Mike' musical appears to be on ice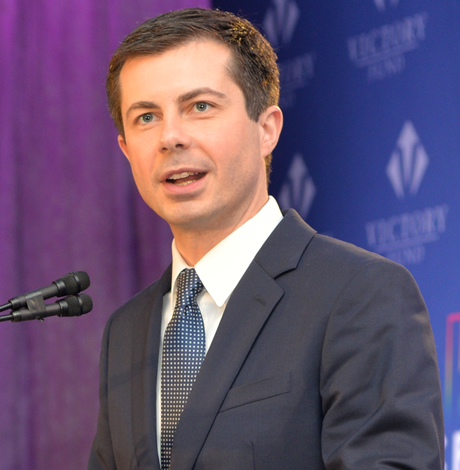 "There's a whole lot of sins that will keep you out of the Kingdom of God. Here's just a sample: sexually immoral can't get in, idolaters can't get in, adulterers can't get in. Men who practice homosexuality, and the term that Paul uses there, he uses two different terms: one for the active participant and the other for the passive. In the homosexual community, one is called the bottom; the other is called the top." — American Family Association radio host Bryan Fischer explains more over the free airwaves than anyone teaches in sex ed. Who knew the apostle Paul got specific about tops and bottoms?
As you know, I typically don't get embroiled in the political arena. But in my capacity as a television pundit (my latest appearance on "The Take" can be seen on billymasters.com), I've been asked for my "take" on the Democratic candidates for president.  
I may have predicted Miss Gillibrand would go low, but the story circulating about Pete Buttigieg is so low, it's ludicrous. In an inept attempt to smear Mayor Pete, a right-wing operative hired a Michigan college student to say he had been sexually assaulted by Buttigieg. I hate to say "as if", but AS IF! 
The 21-year-old agreed when he was told the operative would buy him "any house I wanted" (an offer nobody has ever made me!). At the last moment, the kid felt that lying would "cost me the two most important things to me: honesty and integrity." See, this is why nobody has ever made this offer to moi! 
Even before the fakery was revealed, some Republicans were skeptical. 
"Not a fan of Mayor Pete but this whole thing seems shady as hell," Tweeted Gregory T. Angelo, former head of the Log Cabin Republicans. Thank God — some sanity!
 I've avoided it as long as I could — back to Jussie Smollett. Do you want me to start with the good news or the bad news? OK, the good news is that Jussie will no longer have to commute back and forth to Chicago, a city he's not particularly welcomed in. While FOX renewed "Empire," there are no plans for Jussie to return to the show. But it's not all bleak for Smollett. The network did extend his contract through next season, while also saying there are no plans for him to appear in any episodes. Sigh, why can't I get a job where someone pays me to stay home?
 Lest you think Smollett's troubles are behind him, a judge has subpoenaed prosecutor Kim Foxx in regard to how she handled the case — specifically, why she dropped all charges against Jussie (something we're all wondering). Meanwhile, the actor's brother has revealed Jussie is having trouble sleeping due to "night terrors."  You know what might help? A brisk 2 a.m. stroll to his local Subway sandwich shop.
 Taking a break from all the "Empire" drama, creator Lee Daniels revealed some details about his gay superhero flick to CNN's Van Jones. "It's true! It's called 'Superbitch.' I found him on Instagram of all places. He does back flips and he has a cape and he does karate and, oh my God, he's going to be a hero. I'm not putting that much money behind it … a couple million dollars for a gay superhero movie is pretty f-king exciting." Jones replied, "With a name like 'Superbitch,' you ain't gotta promote it."
 I'm a little bit psychic. Last week, I answered a question about actor and CK model Noah Centineo and his nude JO video. This week, it's been announced that Sony will include He-Man in the "Masters of the Universe" flick. And, who will appear in the Speedo and harness? Yup, Noah Centineo. When discussing the gig with Jimmy Fallon, Noah said, "I have an affinity for being in my underwear." And out of it!
Stories about Noahs always come in pairs. In fact, I came with a pair of Noahs once, but that's another story.  This time it's Noah Galvin, from "The Real O'Neals" and that scandalous interview where he trashed basically everyone he's ever met. Last year, he made his Broadway debut with a short-lived stint playing the titular role in "Dear Evan Hansen." Now he's headed back to Broadway. On April 29th, he'll take over the role of Ogie in "Waitress." 
I recently went to a special live benefit reading of "Valley of the Dolls" which starred Sheryl Lee Ralph as Helen Lawson and Wilson Cruz as Neely O'Hara. To see Wilson pull off Deena Jones' wig was heaven, however, it was Alec Mapa who stole the show. As Anne, he mimicked Barbara Parkins' stilted line delivery to a T.  
Rounding out the glamorous trio was Bruce Vilanch as Jennifer, who pined over "Tony" with all the music of a buxom Sharon Tate. Marissa Jaret Winokur was great as Miss Steinberg, but it was her giggling at everything onstage which made me laugh out loud. Gordon Thomson (from the original "Dynasty") played Lyon with suave assurance. Joan Van Ark was Miriam and told me, "What I really want to play is Helen Lawson — wasn't Sheryl Lee incredible?" A lithe Greg Louganis played Tony Polar, Tom Lenk was Mel, Mo Gaffney took on Mr. Bellamy, and Joely Fisher was the narrator. The event benefited the L.A. LGBT Center and the Alcott Center for Mental Health Services.
Our "Ask Billy" question comes from Harry in Providence: "What is going on with the stage version of "Magic Mike"? I have tickets for the premiere in Boston over Christmas, but a friend told me it may not happen."
Your friend is right. There is trouble in the world of "Magic Mike: The Broadway Musical." After Channing Tatum's public endorsement of composer Tom Kitt and lyricist Brian Yorkey, the pair have exited the production taking the book writer Roberto Aguirre-Sacasa with them. The official word is that people were butting heads prior to a workshop planned for this week in New York. 
So the entire creative team left due to "creative differences" and the workshop was scrapped. So, to recap, the musical has no book, no lyrics and no music. Other than that, Mrs. Lincoln, how did you like the play? People are saying the show may not happen and Channing will simply fill the Boston run with the burlesque show "Magic Mike Live" he mounted in Vegas. Who knows what else he may be mounting.
When Channing Tatum may be stuffing more than stockings over Christmas, it's definitely time to end yet another column.  Whether you're naughty or nice, you can get your fill at billymasters.com, the site that always delivers. If you have a question, simply send it along to [email protected] and I promise to get back to you before Jussie is cast as someone's "Superbitch"! Until next time, remember, one man's filth is another man's bible.
STAGE RAW announces 2023 Theatre Awards Finalists
This year, Stage Raw is recognizing productions in venues of all sizes, rather than focusing entirely on venues of 99-seats or fewer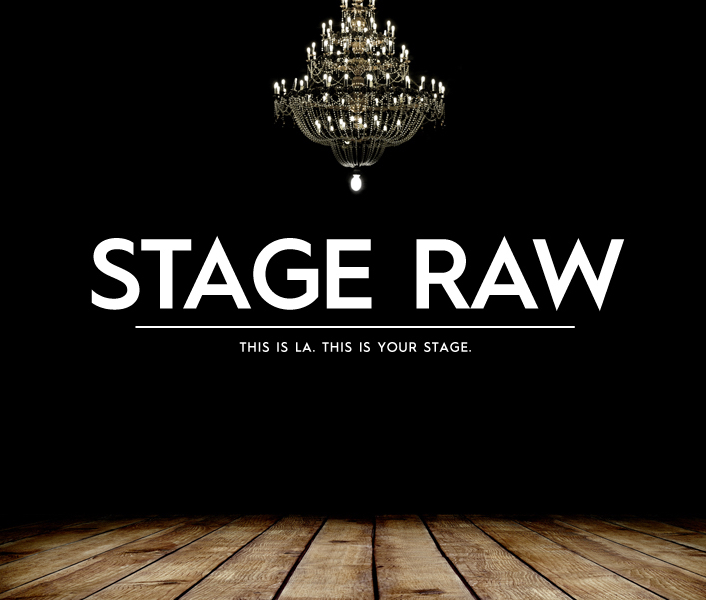 LOS ANGELES – The Stage Raw Theater Awards celebrate excellence on Los Angeles-area stages. This year's Stage Raw "I'm Still Here" Theater Awards Party will recognize productions that opened in the calendar year 2022.
Stage Raw is a community funded professional journalism website that was launched in 2014, in response to the decline of arts coverage in local mainstream and alternative media.
The Awards party will be held Monday night, April 17, 2023 at the Sassafras Saloon, 1233 N. Vine Street in Hollywood. Tickets are $20 for everybody, if purchased in advance. $25 at the door. (Capacity is limited and tickets will no longer be available once that capacity is reached.) Admission includes complimentary food, music, dancing and a cash bar.  All proceeds will be used to support the professional journalists of Stage Raw, and their ability to continue covering Los Angeles-area theater.  
Tickets can be purchased here: (Link)
Be sure to use the discount promo code "StageRaw" to bypass the $2.50 ticketing fee. (This is a service of ticketing agency onstage411.com).
CHANGES FROM PRIOR STAGE RAW AWARDS CEREMONIES:
This year, Stage Raw is recognizing productions in venues of all sizes, rather than focusing entirely on venues of 99-seats or fewer. 
Also, Stage Raw has changed its system of allocating recognition in response to the flaw in prior years of excluding excellent productions that were unable to attract a "quorum" of contributors. This year, each Stage Raw contributor has been allocated a number of votes, in proportion to the number of Stage Raw-reviewed shows they saw, and they have cast their votes to any person, production or in any category they choose.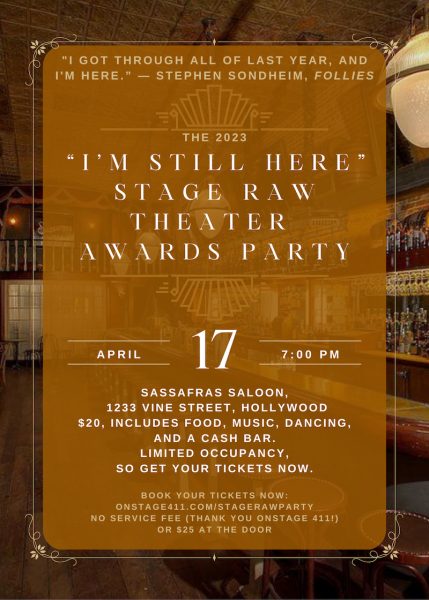 Explains Founding Editor Steven Leigh Morris: "The hoped-for effect of this system is to diversify the number of companies receiving awards by honoring the generational, ethnic, gender and aesthetic diversity of our individual contributors, who will each be selecting award winners."
And finally, the entire feel of the event will be more of a party than an awards show. The actual ceremony will be 30-45 minutes dedicated to announcements, and the presentation of the "Queen of the Angels" and "Lifetime Achievement" awards. All of the other awards recipients will be named during this ceremony and can retrieve their awards at a table.
THE 2023 STAGE RAW AWARD FINALISTS/RECIPIENTS:
FIGHT CHOREOGRAPHY
Ahmed Best, Hooded, or Being Black for Dummies, Echo Theater Company
SOUND DESIGN
Dean Harada, Tea, Hero Theatre at Inner-City Arts
LIGHTING DESIGN
Lap Chi Chu, The Search for Signs of Intelligent Life in the Universe, 
Center Theatre Group, Mark Taper Forum
VIDEO/PROJECTION DESIGN
Hsuan-Kuang Hsieh, The Great Jheri Curl Debate, East West Players
Nick Santiago, Green Day's American Idiot, Chance Theatre
SET DESIGN
Ann Beyersdorfer, Afterglow, Midnight Theatricals at the Hudson Theatre
John Iacovelli, The Brothers Paranormal, East West Players
Cindy Lin, Untitled Baby Play, IAMA Theatre Company
Rachel Myers, Power of Sail, Geffen Playhouse  
SUPPORTING PERFORMANCE
Aimee Carrero, Who's Afraid of Virginia Woolf?, Geffen Playhouse
Alexandra Hellquist, On the Other Hand We're Happy, Rogue Machine Theatre
Michael Matts, Angels in America: Perestroika, Foolish Production Company
Eileen T'Kaye, A Doll's House, Part II, International City Theatre
COMEDY PERFORMANCE
Brent Grimes, Hooded, or Being Black for Dummies, Echo Theater Company
SOLO PERFORMANCE
John Rubinstein, Eisenhower: This Piece of Ground, New Los Angeles Repertory Theatre Company, Theatre West and Hudson MainStage Theatre
SOLO WRITING-PERFORMANCE
Alex Alpharaoh, Wet: A DACAmented Journey, Greenway Court Theatre  
Colin Campbell, Grief: A One-Man Shitshow, The Broadwater
Ben Moroski, Dog, The Broadwater
Jesús I. Valles (Un)documents, Latino Theater Company

WRITING-PERFORMANCE
Judy Carter, A Death-Defying Escape!, Hudson Guild Theatre
LEAD PERFORMANCE
Hugo Armstrong, Uncle Vanya, Pasadena Playhouse
Kevin Ashworth, A Public Reading of an Unproduced Screenplay About the Death of Walt Disney, Theatre Planners at the Odyssey Theatre
Ramón de Ocampo, Hamlet, Antaeus Theatre Company
Jenny O'Hara, Little Theatre, Rogue Machine Theatre
Zachary Quinto, Who's Afraid of Virginia Woolf?, Geffen Playhouse
Jennifer Shelton, A Doll's House, Part II, International City Theatre
Michael A. Shepperd, Valley Song, International City Theatre
Kalean Ung, Macbeth, Independent Shakespeare Co.
DIRECTION
Nancy Lantis, The Sandman, Eclipse Theatre LA and Santa Clarita Shakespeare Festival
COMEDY DIRECTION
Ahmed Best, Hooded, or Being Black for Dummies, Echo Theater Company
DIRECTION/ENSEMBLE
Will Block and the ensemble of All is True or Henry VIII, The Porters of Hellsgate Theatre Company
Gregg T. Daniel and the ensemble of Radio Golf, A Noise Within
COMEDY ENSEMBLE
Can't Pay? Don't Pay!, The Actors' Gang
ENSEMBLE
Anna in The Tropics, A Noise Within
Blues for an Alabama Sky, Center Theatre Group/Mark Taper Forum
The Colored Museum, Loft Ensemble 
Freestyle Love Supreme, Pasadena Playhouse,
If Nobody Does Remarkable Things, Pandora Productions at the Garage Theatre 
The Inheritance, Geffen Playhouse
Masao and the Bronze Nightingale, CASA 0101 and the Japanese American National Museum
ADAPTATION
James Fowler, A Midsummer Night's Dream, Open Fist Theatre Company
PLAY WRITING
Carla Ching, Revenge Porn, Ammunition Theatre Company
Bernardo Cubria, The Play You Want, Road Theatre Company
Kelly McBurnette-Andronicos, The House of Final Ruin, Ophelia's Jump
Murray Mednick, Three Tables, Padua Playwrights at the Zephyr Theatre
PRODUCTION EXCELLENCE IN QUEER STORYTELLING
Interstate, East West Players
DISTINGUISHED MUSICAL REVIVAL
Oklahoma! Center Theatre Group/Ahmanson Theatre
DISTINGUISHED PRODUCTION
A Midsummer Night's Dream, Open Fist Theatre
The Penelopiad, City Garage
Roe, Fountain Theatre
Uncle Vanya, Pasadena Playhouse
DISTINGUISHED SEASON
The Road Theatre Company (The Play You Want, Beloved, Bright Half Life, According to the Chorus) 
LIFETIME ACHIEVEMENT
Maria Gobetti and Tom Ormeny (Victory Theatre Center)
Frédérique Michel and Charles Duncombe (City Garage)
QUEEN OF THE ANGELS
The SB116 Coalition (Teri Ball, Beatrice Casagran, Elina DeSantos, Emmanuel Deleage, Martha Demson, Christopher Maikish, Leo Marks, Marc Antonio Pritchett and Vanessa Stewart)
*****************************************************************************************
The 2023 Stage Raw "I'm Still Here" Theater Awards Party is supported through the generous sponsorship of the following companies and individuals: Antaeus Theatre Company, Crimson Square Theatre, Dina Morrone, DEMAND PR, The Geffen Playhouse, The Hudson Theatres, IAMA Theatre Company, Lucy Pollak Public Relations, Macha Theatre Company, Ophelia's Jump, Road Theatre Company, Sandra Kuker Public Relations, Santa Monica Playhouse, Sierra Madre Playhouse, Theatre 40, Theatre of NOTE, and The Victory Theatre Center.