Buttigieg thrills supporters at campaign event at The Abbey (partial transcript)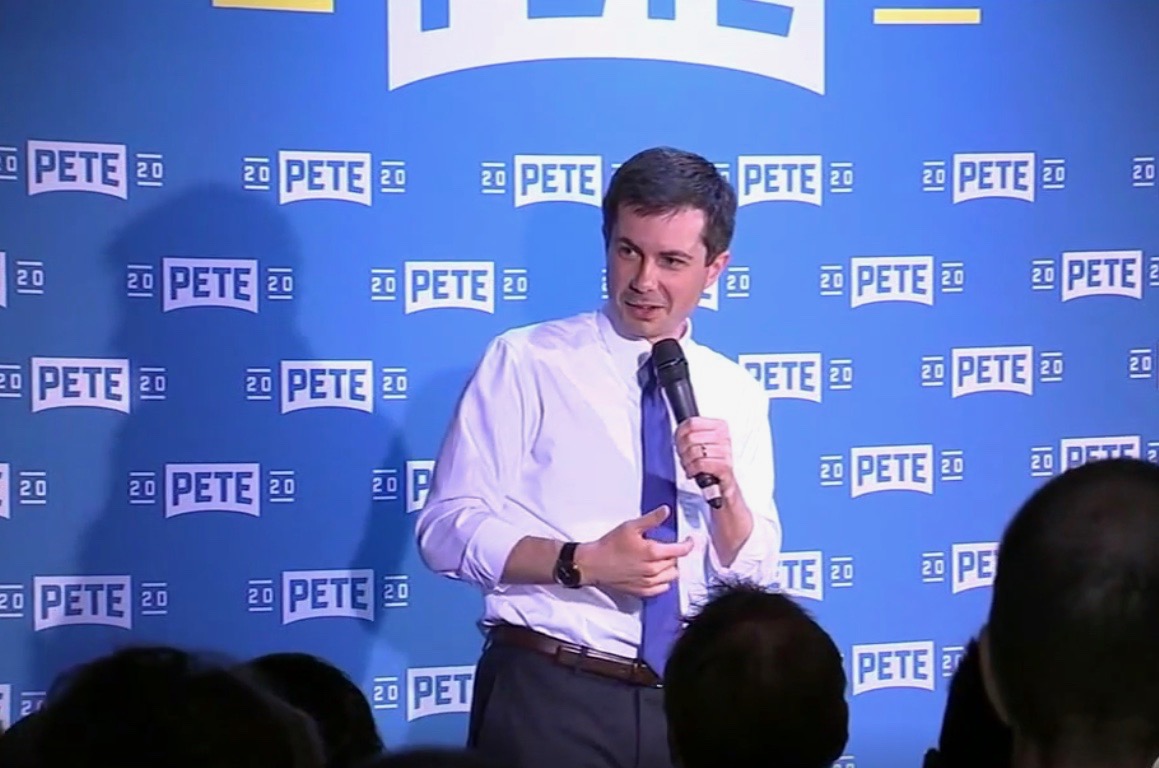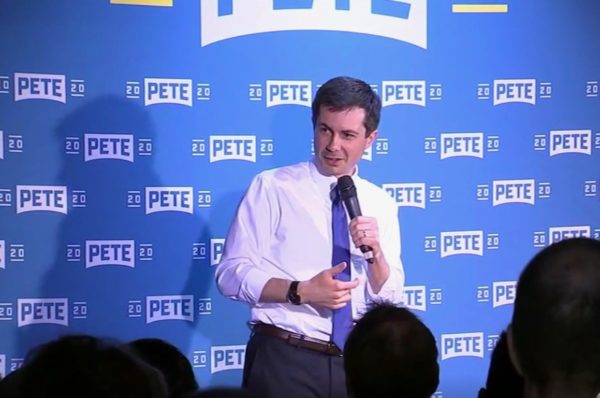 West Hollywood is far from anywhere in Iowa, home of the first-in-the-nation caucuses next February. The New Hampshire, Nevada and South Carolina electoral contests follow in quick succession helping determine which of the 21 declared Democratic candidates will challenge anti-LGBT Republican Donald Trump in his bid to win re-election in 2020.
But as The Abbey filled up with a sold-out crowd of 700 energized LGBT and ally grassroots voters excited to see Pete Buttigieg—the 37-year old gay married Christian breakout Democratic contender—it was clear that West Hollywood could well become ground zero for a massive Los Angeles get-out-the-vote effort in the critical March 3, Super Tuesday, California primary.
Buttigieg seemed keenly aware of the historic mantle passed to him by, among others, assassinated gay San Francisco Supervisor Harvey Milk who pressed the message of hope in times as dark as these. To roars of delight, the mayor of South Bend, Indiana, was introduced by his husband, Chasten Glezman.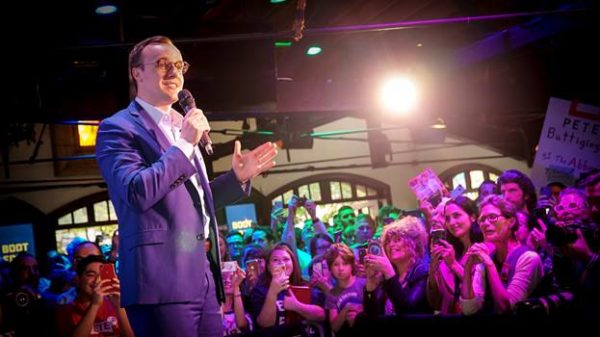 Chasten Glezman (Photo courtesy The Abbey & Food)
"Five years ago, I never thought I'd find love. But I met someone pretty amazing – and here we are! Yesterday, I was walking through whatever airport it was—it's hard to keep track— and saw my husband and I on the cover of Time magazine with the words 'First Family!' That's pretty remarkable and that's never going to go away," Chasten said. "That's out there. That's in print for every kid to see—that you, too, can run for president. I want to thank you so much for choosing to spend your time with us today—for investing in this project, for believing in my husband, and helping us spread this message across the country."
Before Buttigieg hit the stage, two key supporters shared how much the young mayor brings to the table. TV writer and podcaster Ira Madison, a co-host for the event, specifically addressed stories in the press about how Buttigieg is having difficulty connecting with black voters.
"I'm just excited to be here for Pete and I'm excited that all of you are here. You know it's just sort of, it feels a lot like how I felt when I was in college being able to vote for Obama, you know?" Madison said. "And it's great to see a gay candidate with his husband campaigning to the so many people coming out in support of him. Seeing him reaching across the aisle—as well, I don't love reaching across the aisle, but if you're running for president you have to."
But, Madison said, Buttigieg also addresses issues that are deeply personal to him.
"We were with Pete this morning and he was talking a lot about issues that are also very important to me as a black voter," Madison said. "He was talking about how infant mortality rates for mothers, for black mothers, is higher than it is for white mothers in this country. And a lot of that is about racism that has persisted in the medical industry. And he was also talking about housing inequality, income inequality. It's seeing a mayor who's from the Midwest—I am from Milwaukee—who understands these issues, really wants to talk to people that aren't just white and aren't just gay, who wants to really sort of unite our country."
California State Sen. Henry Stern, who went to Harvard with Buttigieg, officially endorsed him based on his friend's understanding of complex issues and decency.
"What we talked about back in school was how to solve health care, what climate change was actually going to mean to our generation and generations ahead of us—ideas," Stern said. "Standing at Harvard Square, eating a falafel and just talking for hours and trying to dig in. You know, truly embracing the importance of leadership in a way that is so rare these days. Not as a self-promotional kind, but a humility and a decency underlying that. But also of brilliance. I've met no one smarter in my entire life and I've had the privilege to meet some very brilliant people. But truly the mind on this young man is unprecedented. Unprecedented. And the challenges we're facing in this nation actually take that level of sophistication."
Buttigieg began his remarks with a refreshing nod to gratitude and old fashion decency. "What a pleasure. Wow," Buttigieg said, thanking the enthusiastic crowd. "Oh, my goodness."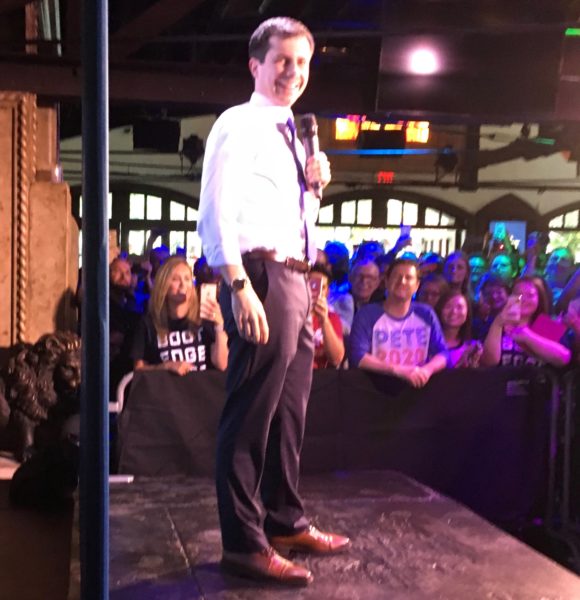 Buttigieg shared the surprise at how his unusual campaign has been quickly propelled into top tier status. And echoing the call issued by another young Democrat who became president, John F. Kennedy, Buttigieg said voters he's met think "it's time for a new generation of leadership in American politics."
"Here at The Abbey and everywhere we go from coast to coast, we see the startings of a generational alliance. This is not 1968 when one generation rose up against their parents. This a moment when you see young people, younger than I am, leading—whether it was the airport protests against the travel ban or even in South Bend, an amazing Women's March the day of the inauguration. Or the March For Our Lives that had young people saying, 'You're not doing enough to keep us safe.'

We saw young people in the lead but we also saw their parents and their grandparents at their side cheering them on. That's what change can look like in our time. That alliance is forming around the values of freedom, security, and democracy. Don't let anybody tell you that Democrats don't know how to put what we believe in on a blue bumper sticker. It fits: Freedom, Security, and Democracy.

We've got to make sure Americans understand that there's more to freedom than cutting somebody's taxes or taking apart a regulation on a bank. That freedom is something we have to build up, we have to lift each other up. We know that because freedom entails being able to live a life of your choosing and good policy, good government—not big or small but good government. It's government that tears down the barriers to that life. That's why we have an obligation to defend freedom by ensuring everybody has health care, so that you can start that small business, even if it means leaving your old job.

It's why I don't have to be a woman to know that we are not going to be a free country so long as there is a tax on a woman's right to make reproductive health decisions. It's why I know that I've got to stand up for people of color who in housing, education and so many other areas have been left behind as a consequence of racist policies that cannot be overcome simply by replacing racist policies with non-racist policies but will require us to establish anti-racist policies to become a more just society.

And yes, West Hollywood, we know that you're not free if a county clerk gets to tell you who you ought to marry because we know that love is love and freedom is on the line in our ability to have marriage. That struggle for freedom is the defining energy in the American story. And we shouldn't let anybody tell us that freedom belongs to a political party and if it did, it wouldn't be the one that's putting up somebody with authoritarian tendencies to run the United States of America."
The point is well taken, but for the record: LA County's Registrar-Recorder/County Clerk is the highly regarded, pro-gay Dean Logan. There was a moment in 2013 right after the anti-gay marriage law Prop 8 was struck down by the Supreme Court—as depicted in the excellent documentary The Case Against 8—when federal Prop 8 plaintiffs Jeff Zarrillo and Paul Katami were denied a marriage license application at the County Clerk's headquarters. Attorney General Kamala Harris, now a Democratic presidential contender, jumped on her cell phone and angrily called Logan from San Francisco, demanding that the gay couple be served. Logan, it turned out, had just heard about the ruling and had not yet conveyed instructions to his county clerks—who immediately complied. Harris has told the story on the stump as part of her bona fides with the LGBT community.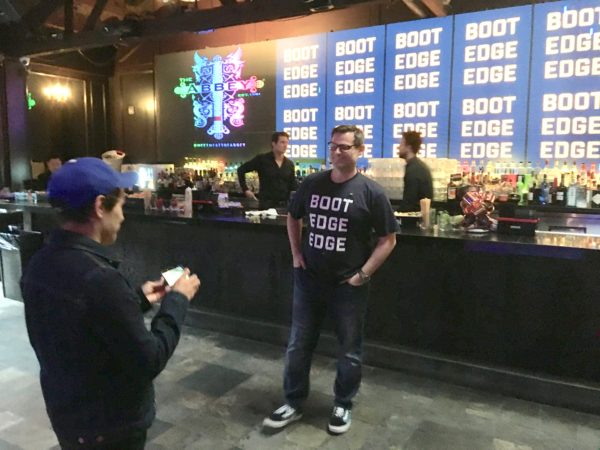 Buttigieg also talked about not being afraid to change the US Constitution—noting the "magnificent bar" in the back of The Abbey and pointing out that the Constitution was changed (under intense pressure from conservative Christian women) to prohibit drinking alcohol. But Prohibition spawned corruption, crime and mobs and was eventually repealed. Buttigieg said:
"Don't tell me we can't change our constitution in order to make this democracy more secure. It's why our founders invented the amendment process to begin with, so let's not be afraid to talk about structure. Economic structure, democratic structure, because it's gotten twisted, it's gotten warped. Presidencies like the one we're living in don't just happen, people like the person in the white house don't come within cheating distance of the oval office under ordinary circumstances. And that's why we've got to recognize the seriousness of this moment.

That what's happening right now. It's a symptom, not a cause, it's a symptom of a deep disorientation in our economy and our democracy. But we also have the great benefit of living in one of those rare moments in American history when the decisions we make will ripple out throughout time. That I'm convinced that the things we do in the next months, and the next years, will decide the next half century of American political, social, and economic life."
But there's a hitch to passing a Constitutional amendment. After it passes through Congress, it must be ratified by three-fourths of the states—that's 38 out of 50 states. After the 2018 midterms, Republicans control the legislatures in 31 states; Democrats control 18, including California. According to the New York Times, for the first time in 104 years, only one state has a divided lower and upper chamber in its legislature—Minnesota. So the idea of amending the Constitution to create better governance will remain an idea until state legislatures are changed—something both Republicans and Democrats count as part of their overall election strategies.
To press his point about the importance of politics and the importance of personal stories in changing politics, Buttigieg reminded the audience of how hospital visitation rights through marriage impact the lives of everyday LGBT people.
"It's the story, the understanding and the individual moments in our lives that are shaped by politics. That's why we even have politics, that's what politics is for—is to make our actual individual lives better.

And I say this as somebody who has my list of stories about how my life was changed by politics in some of the best moments and some of the worst moments of my life. It's why I shared with the country the way it felt on the worst morning of my life, going out to find my dad in the middle of his chemotherapy treatment, to let him know mom's going to need heart surgery. 'Cause you don't put that in a text message. And on my way, knowing that I had certain things going for me, one of which was the fact that at my mother's bedside—my husband was right there. As he should be, because in the eyes of the law, as well as in our hearts, he was the legal member of our family.

And then in the months that followed as he got worse and she got better, the fact that we got to make our decisions as a family, difficult though they were, not in terms of whether we were going to be broken financially, but in terms of what was right for this family. Because there was a decision, a series of decisions, made in those big white buildings in Washington that no one would be bankrupt when they reached a certain age by healthcare because it was time to create something called Medicare. I want every American to enjoy that same kind of feeling."
Buttigieg talked about meeting a DREAMer named Selena who "is an amazing American" and deserves support. And then he seemed to borrow from Harvey Milk's iconic message to give people hope.
"Everyone here has a story about how your life went different, went better or went worse, because of the decisions made by people in power. Whether it's the Supreme Court, the US Congress, the White House, or the Water Reclamation District. All of us, in more ways than we can even think about, find that our opportunities are opened or constrained by the decisions made in politics. That's why politics matters, that's why as a species we invented government and then set up processes to decide how that government's going to work. And that's why being involved in the political process is the greatest act of hope that a citizen can show.

You being here is an expression of hope. Watching a candidate speak, sending a candidate money, all of those thing are expressions of hope. But I'm also conscious that I'm preaching to the choir, that everyone here gets it. And there's a lot of people out there who don't get it. Not that there's anything wrong with them, a lot of them are just too busy, or overworked, or skeptical about whether this process even matters. And people have been given reason to be skeptical. But we are here to lift each other up in the knowledge that if everybody gets involved, if we all vote, we mobilize one another, if we broaden the base of our support, if we recruit more people not only to support this campaign but to help shape it—then we will model the kind of country we would be if it weren't for the current administration holding us back.

That's how we craft a story that doesn't revolve around the deficiencies of the President, though they be many. But revolves around you and the future that we can create together. I feel really good for that future. If anybody tells you they're not sure whether America is capable in these twisted and dark times of delivering or vindicating our hopes—tell them you saw at The Abbey in West Hollywood a top tier presidential candidate on his way to the White House moments after his husband introduced him."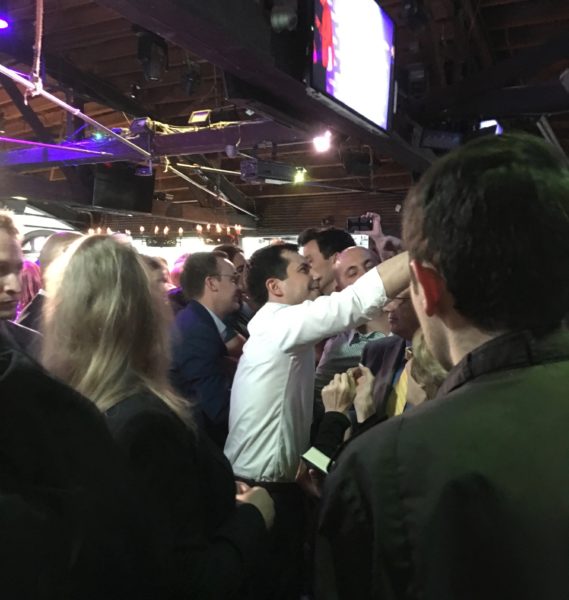 Buttigieg attended several other events while in Los Angeles, including a rally supporting initiative Measure EE with LA Mayor Eric Garcetti, who like Buttigieg, is a Rhodes Scholar, Naval Reserve officer, speaks different languages (Buttigieg speaks seven languages) and plays piano. Garcetti briefly thought about running for president, then decided against it.
The Democratic presidential candidate was asked about Trump mocking him at a rally in Florida.
"We have a young man, Buttigieg," Trump said. "Boot-edge-edge. They say 'edge-edge.' He's got a great chance. He'll be great. He'll be great representing us against President Xi of China. That'll be great. I want to be in that room. I wanna watch that one."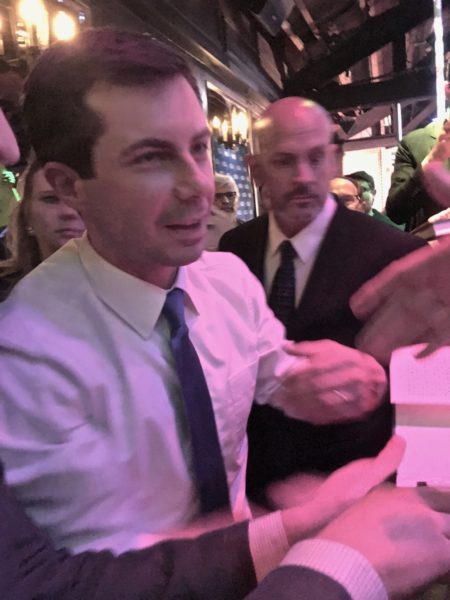 "You can't get too worried about the name calling and the games he plays," Buttigieg told reporters. "I was thinking of a Chinese proverb that goes: when the wind changes, some people build walls and some people build windmills."
Another sign of the times was Buttigieg's reaction to Trump finally giving him a nickname in an attempt to belittle him.
"Alfred E. Neuman cannot become president of the United States," Trump, 72, told Politico on Friday , referring to the freckled face, gap-toothed boy with big ears that characterized Mad magazine 20 years ago.
"I'll be honest. I had to Google that," Buttigieg said. "I guess it's just a generational thing. I didn't get the reference. It's kind of funny, I guess. But he's also the president of the United States and I'm surprised he's not spending more time trying to salvage this China deal."
Senator Wiener's No Tax Exemption for Insurrection Act, passes Senate
Senate Bill SB 834 strips state tax-exempt status from organizations that engage in or incite insurrection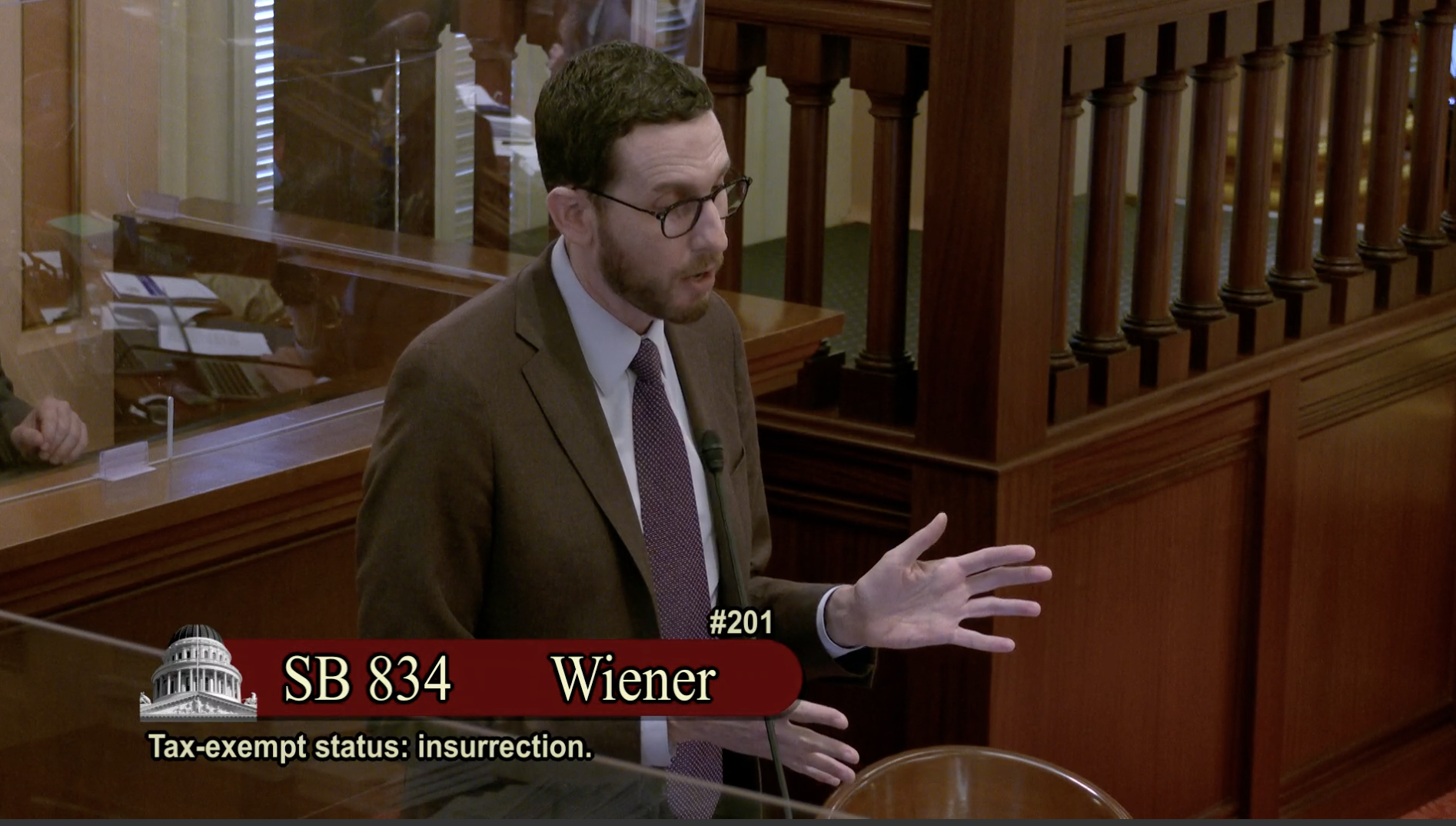 SACRAMENTO – Senator Scott Wiener (D-San Francisco)'s Senate Bill 834, the No Tax Exemption for Insurrection Act, passed the Senate by a vote of 28-0 Monday. It will now head to the Assembly for policy committee hearings.
SB 834 is a first-in-the-nation bill that will revoke the California tax-exempt status of nonprofit organizations that participate in or incite efforts to overthrow the United States government or any state government. Nonprofit organizations have used the "Big Lie" – the fraudulent notion that the 2020 election was stolen – to fundraise for and funnel money to extremist and anti-democratic initiatives like the January 6 insurrection.
Tax-exempt status is a privilege, not a right, and organizations that engage in or incite insurrection or conspiracy to commit insurrection – both of which are illegal – should not be given this special status to help them fundraise. Moreover, non-California nonprofits should not be able to register to raise money in California if they are engaging in or inciting insurrection.
"On January 6, 2021, the peaceful transfer of power in our democracy was threatened," said Wiener. "And for the first time since the Civil War, people died as a result. We cannot and will not let organizations that aid and abet insurrection – that break the law by trying to overthrow the U.S. government – operate with tax-exempt status. The people of California should not be subsidizing insurrection."
The January 6, 2021 insurrection took place, when pro-Trump extremists – in response to the false narrative that the Democrats "stole" the 2020 election and incited by then-President Donald Trump – breached the United States Capitol. Five people were killed as a result of this insurrection, and hundreds were injured.
Vice President Pence and Speaker Pelosi were specific targets of this violent attack on the nation's democracy. Many nonprofits that supported the insurrection and continue to perpetuate lies about the 2020 election in hopes of overturning the results still operate with tax-exempt status, both at the federal and state level.
SB 834 clarifies the Franchise Tax Board's authority to revoke the California tax-exempt status of a nonprofit organization if the California Attorney General determines that the nonprofit has actively engaged in, or incited: treason, misprision of treason, insurrection, seditious conspiracy, advocating overthrow of the government or the government of any State, or advocating mutiny by members of the military or naval forces of the United States (1.)
Under SB 834, if the Attorney General finds that a nonprofit organization has incited, or actively engaged in actions that are directed to or likely to imminently violate one or more of these crimes, they will notify the FTB, which then will have the ability to revoke the nonprofit's tax-exempt status.
For out-of-state nonprofits that engage in or incite insurrection, they will be prohibited from registering to raise money in California.
The United States Supreme Court has ruled that the purpose of charitable organizations claiming tax-exempt status "may not be illegal or contrary to public policy." Trying to overturn elections and violently attacking our legislators fits the bill. SB 834 will ensure that these organizations no longer claim this financial advantage.
Tax-exempt nonprofits are not required to pay corporate income taxes and may be exempt from other taxes as well. Additionally, donations to many nonprofits are deductible from income taxes, and private foundations and donor-advised funds can only donate to tax-exempt nonprofits. Private foundations and donor-advised funds represent a major funding source for many nonprofits.
Authoritarian and anti-democratic organizations have increasingly used the "Big Lie" to fundraise, and this narrative has driven millions of dollars in tax-exempt donations. And many new organizations have cropped up in the past year, hoping to ride the coattails of the insurrection and cash in.
These include California nonprofits and nonprofits registered in other states that fundraise in California. These organizations, which are fundamentally undermining our democracy and cheering for the destruction of free and fair elections in America, should not be allowed to operate with advantages like tax-exempt status.
For example, the leader of the "Oath Keepers," a national militia movement, was charged with seditious conspiracy. While the Oath Keepers does not have California tax-exempt status, it has an "educational foundation" with federal exempt status and tax-exempt branches in several states. In the words of one expert, "It can only be presumed that [funds contributed to the Oath Keepers], which [donors were] able to deduct from their federal taxes, went to transporting and lodging members of the group slated to participate in the ensuing riots." (2.) These organizations should not be allowed, under any circumstances, to use tax write-offs to help fund illegal activities.
There is precedent for making this distinction in California's tax code. Under federal and California law, for instance, if a nonprofit organization supports terrorism, its tax-exempt status is suspended. The nonprofit organizations that support insurrection should receive the same treatment.
Citations:
1. USC §§ 2381-2385, 2387
2. "Dollars against Democracy: Domestic Terrorist Financing in the Aftermath of Insurrection," Virtual Hearing before the Subcommittee on National Security, International Development and Monetary Policy of the Committee on Financial Services, U.S. House of Representatives, Feb 25, 2021.
Senators Josh Becker (D-Peninsula), Dave Min (D-Irvine), Josh Newman (D-Fullerton), Anthony Portantino (D-La Cañada Flintridge), Tom Umberg (D-Orange County), and Bob Hertzberg (D-Van Nuys) are co-authors of this bill. Assemblymembers Buffy Wicks (D-Oakland), Phil Ting (D-San Francisco), Cristina Garcia (D-Bell Gardens) and Marc Berman (D-Menlo Park) are also co-authors of SB 836. Assemblymember Kevin Mullin (D-San Mateo) is principal co-author.
Assembly passes bill protects patients & providers from anti-choice states
AB 1666 protects patients and providers in California from civil liability judgments for providing reproductive health care to patients

SACRAMENTO — In a two-thirds vote Monday, the Assembly passed AB 1666, sponsored by Assemblymember Rebecca Bauer-Kahan (D – Orinda) which creates a legal shield up for California patients and providers from extremist anti-abortion laws from anti-choice states.
The language of the measure reads: "This bill would declare another state's law authorizing a civil action against a person or entity that receives or seeks, performs or induces, or aids or abets the performance of an abortion, or who attempts or intends to engage in those actions, to be contrary to the public policy of this state. The bill would prohibit the application of that law to a case or controversy heard in state court, and would prohibit the enforcement or satisfaction of a civil judgment received under that law."
We're out! #AB1666 just passed the Assembly floor with a 2/3rds vote. This bill puts a legal shield up for CA patients and providers from extremist anti-abortion laws from anti-choice states. #ABORTIONISHEALTHCARE @PPActionCA @acog @AAUW @eqca

— Asm Rebecca Bauer-Kahan (@BauerKahan) May 23, 2022
Planned Parenthood Affiliates of California Legislative Director Molly Robson told the Blade in an emailed statement Monday;
"AB 1666 will allow California providers to continue to provide essential and timely health care, like abortion, with decreased risks of potential liability when helping people forced to seek care here in California rather than in their home state due to hostile, extreme, and dangerous restrictions or outright bans. These precautions and protections are necessary given the increased hostility and frequency of abortion bans in other states seeking to target patients and providers. Taking this action now is crucial as we prepare for the U.S. Supreme Court to overturn Roe v Wade and unleash a flood of hostile bans in more than half the states."
Planned Parenthood Affiliates of California also noted that AB 1666 protects patients and providers in California from civil liability judgments for providing reproductive health care to patients when the claims are based on laws in other states that are hostile to abortion rights and are contrary to the public policy of California.
AB 1666 builds on a recommendation put forth by the California Future of Abortion Council recommendations released in a December report, in which Planned Parenthood Affiliates of California is a member of its "Steering Committee."
A spokesperson for Equality California, Jorge Reyes Salinas, told the Blade Monday afternoon;
"LGBTQ+ people are directly impacted by laws that undermine abortion care. The LGBTQ+ community overall often lacks access to inclusive and affirming health care, and in particular transgender men and nonbinary people who become pregnant face significant challenges when seeking reproductive care.  In addition, many of the clinics that provide abortions also provide hormones and reduced-cost reproductive care for transgender and nonbinary people, efforts to undermine these clinics directly harm the LGBTQ+ community.
AB 1666 is a critical safeguard against the wave of proposals that will harm the health and well-being of vulnerable populations across the country. To the extent that California can provide a refuge for people seeking critical care, we have a duty to do so."
Right-wing extremist provocateur threatens to 'hunt' LGBT supporters
He has a history of right-wing extremist short videos including a harassment campaign against an Arizona wig shop that serves cancer patients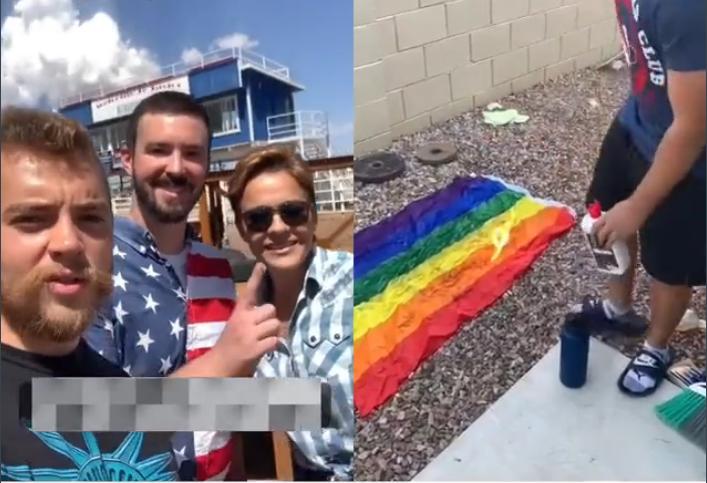 PHOENIX – A twenty-four year old right-wing extremist based in the metropolitan Phoenix, Arizona area, Ethan Schmidt, posted a short video of himself accompanied by Kyle Clifton who describes himself as "authoritarian Christian nationalist," driving in an undisclosed area announcing that he and Clifton will be "hunting 'LGBT supporters" and people in area Target retail stores.
The video captured by Twitter account Patriot Takes, which describes itself as a group of dedicated researchers monitoring and exposing right-wing extremism and other threats to democracy, first posted the video clip Saturday.
Ethan Schmidt, a right wing provocateur who has made videos with Kari Lake, Wendy Rogers, and Paul Gosar, warned Target he will "hunt LGBT supporters" in their stores and across Phoenix in June, stating they "are not safe" and they "can't hide." pic.twitter.com/O3ReHVN3qY

— PatriotTakes 🇺🇸 (@patriottakes) May 21, 2022
Schmidt has a history of making right-wing extremist short videos including a harassment campaign against an Arizona wig shop that serves cancer patients.
Sunny's Hair and Wigs, specialize in making wigs for women who have lost hair while getting treated for cancer and the store had implemented coronavirus pandemic protections including strict mask guidelines to ensure safety of their clients who are particularly vulnerable to infection.
Lisa Memberr, the owner of the shop had explained to local media outlets: "My customer base is very diverse," and she added, "Not only do I have Caucasians, I have Afro-Americans, I have Asians, I have Latin Americans."
Schmidt, who has ban banned by nearly all social media platforms including Twitter for spreading false and misleading COVID-19 pandemic information had been visiting numerous retail stores in the Phoenix area including Sunny's Hair and Wigs targeting those businesses that still require customers to wear mask. He invariably creates videos of his encounters which he uploads to right-wing social media and web sites that he hasn't been banned from.
In addition to his anti-mask campaign he has made videos with extremist conservative lawmakers including one with Arizona U.S. Republican Representative Paul Gosar telling antivaxxers "to stay the course."
Rep. Paul Gosar with Ethan Schmidt telling antivaxxers "to stay the course."

This is the new Republican Party. pic.twitter.com/Z0ogrq8nO4

— PatriotTakes 🇺🇸 (@patriottakes) May 21, 2022
He also filmed a short with Arizona State Senator Wendy Rogers who has established herself firmly as an anti-vax, anti-LGBTQ, right wing extremist.
Arizona State Senator Wendy Rogers made a video promoting Ethan Schmidt, who is now stating he will "hunt LGBT supporters" at Target and across Phoenix. pic.twitter.com/1CBmJGHYvN

— PatriotTakes 🇺🇸 (@patriottakes) May 21, 2022
Clifton is a leader of the America First Union, an openly white nationalist, antisemitic, "conservative youth" organization. He also promotes former President Donald Trump's big lie about the 2020 Presidential election being stolen by Democrats and President Joe Biden. Clifton also participated in the Arizona audit of the 2020 vote in Maricopa County, which state Sen. Rogers, had raised the visibility of her own political profile by insisting that Arizona's vote was stolen.
A semi-copy of the"American Populist Union" has been organizing under the name America First Union. The local chapter is led by the openly antisemitic Kyle Clifton of Peoria, AZ who describes himself as an "authoritarian Christian nationalist."https://t.co/OlyhxhK9kh

— AZ Right Wing Watch (@az_rww) October 8, 2021
Kyle Clifton is also obsessed with The Anti-Defamation League (see image above). He recently thought he went and filmed a rant in front of the Phoenix ADL headquarters, not realizing it has been long abandoned. pic.twitter.com/BjOxsme8fQ

— AZ Right Wing Watch (@az_rww) October 8, 2021
Last Fall Schmidt posed with Trump endorsed Republican candidate for Arizona Governor Kari Lake as he burned a LGBTQ+ Pride flag.
Kari Lake posed for an "Antimaskers Club" video with bigot Ethan Schmidt who burns rainbow flags.

This is who Trump endorsed. pic.twitter.com/mnTFqdjaAZ

— Resist Programming 🛰 (@RzstProgramming) September 28, 2021