Buttigieg thrills supporters at campaign event at The Abbey (partial transcript)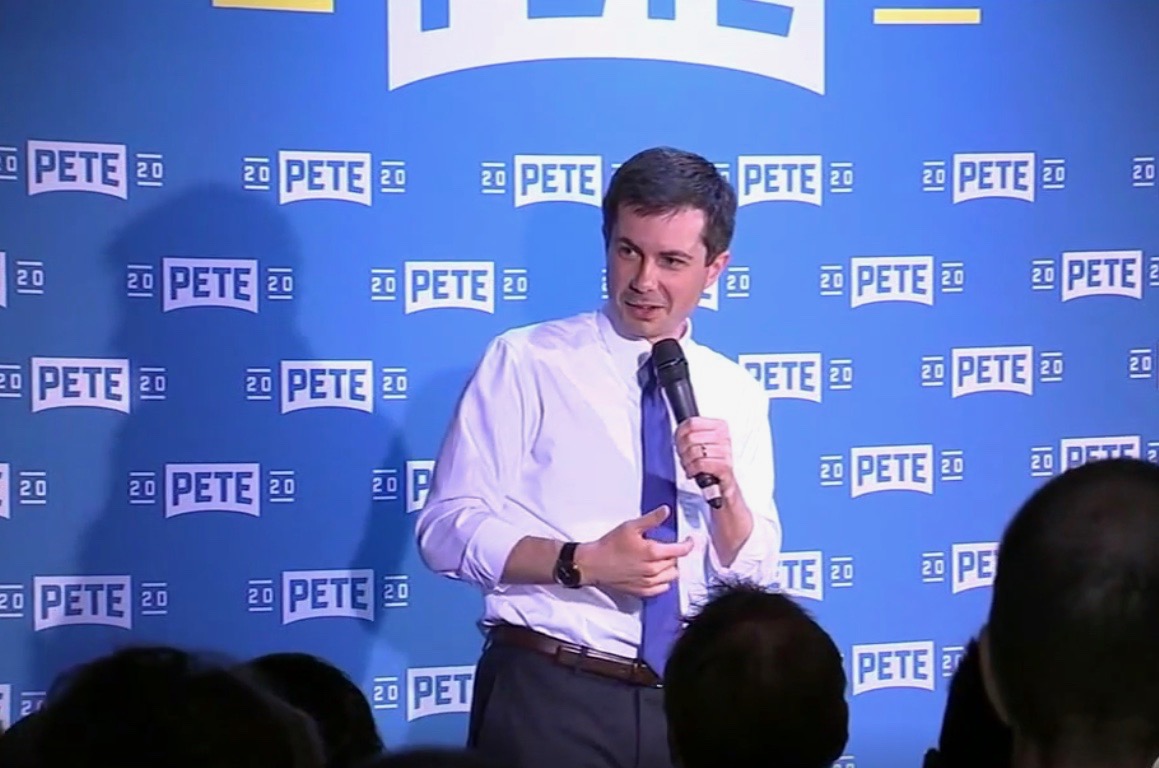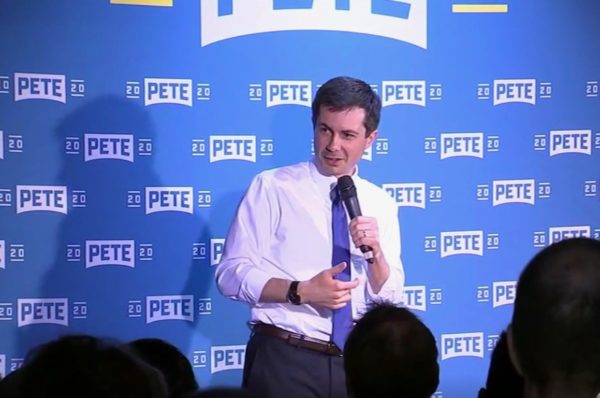 West Hollywood is far from anywhere in Iowa, home of the first-in-the-nation caucuses next February. The New Hampshire, Nevada and South Carolina electoral contests follow in quick succession helping determine which of the 21 declared Democratic candidates will challenge anti-LGBT Republican Donald Trump in his bid to win re-election in 2020.
But as The Abbey filled up with a sold-out crowd of 700 energized LGBT and ally grassroots voters excited to see Pete Buttigieg—the 37-year old gay married Christian breakout Democratic contender—it was clear that West Hollywood could well become ground zero for a massive Los Angeles get-out-the-vote effort in the critical March 3, Super Tuesday, California primary.
Buttigieg seemed keenly aware of the historic mantle passed to him by, among others, assassinated gay San Francisco Supervisor Harvey Milk who pressed the message of hope in times as dark as these. To roars of delight, the mayor of South Bend, Indiana, was introduced by his husband, Chasten Glezman.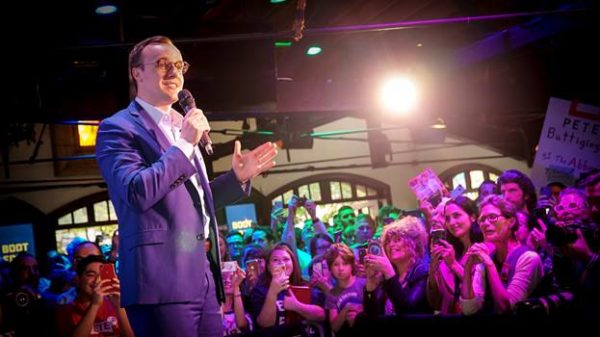 Chasten Glezman (Photo courtesy The Abbey & Food)
"Five years ago, I never thought I'd find love. But I met someone pretty amazing – and here we are! Yesterday, I was walking through whatever airport it was—it's hard to keep track— and saw my husband and I on the cover of Time magazine with the words 'First Family!' That's pretty remarkable and that's never going to go away," Chasten said. "That's out there. That's in print for every kid to see—that you, too, can run for president. I want to thank you so much for choosing to spend your time with us today—for investing in this project, for believing in my husband, and helping us spread this message across the country."
Before Buttigieg hit the stage, two key supporters shared how much the young mayor brings to the table. TV writer and podcaster Ira Madison, a co-host for the event, specifically addressed stories in the press about how Buttigieg is having difficulty connecting with black voters.
"I'm just excited to be here for Pete and I'm excited that all of you are here. You know it's just sort of, it feels a lot like how I felt when I was in college being able to vote for Obama, you know?" Madison said. "And it's great to see a gay candidate with his husband campaigning to the so many people coming out in support of him. Seeing him reaching across the aisle—as well, I don't love reaching across the aisle, but if you're running for president you have to."
But, Madison said, Buttigieg also addresses issues that are deeply personal to him.
"We were with Pete this morning and he was talking a lot about issues that are also very important to me as a black voter," Madison said. "He was talking about how infant mortality rates for mothers, for black mothers, is higher than it is for white mothers in this country. And a lot of that is about racism that has persisted in the medical industry. And he was also talking about housing inequality, income inequality. It's seeing a mayor who's from the Midwest—I am from Milwaukee—who understands these issues, really wants to talk to people that aren't just white and aren't just gay, who wants to really sort of unite our country."
California State Sen. Henry Stern, who went to Harvard with Buttigieg, officially endorsed him based on his friend's understanding of complex issues and decency.
"What we talked about back in school was how to solve health care, what climate change was actually going to mean to our generation and generations ahead of us—ideas," Stern said. "Standing at Harvard Square, eating a falafel and just talking for hours and trying to dig in. You know, truly embracing the importance of leadership in a way that is so rare these days. Not as a self-promotional kind, but a humility and a decency underlying that. But also of brilliance. I've met no one smarter in my entire life and I've had the privilege to meet some very brilliant people. But truly the mind on this young man is unprecedented. Unprecedented. And the challenges we're facing in this nation actually take that level of sophistication."
Buttigieg began his remarks with a refreshing nod to gratitude and old fashion decency. "What a pleasure. Wow," Buttigieg said, thanking the enthusiastic crowd. "Oh, my goodness."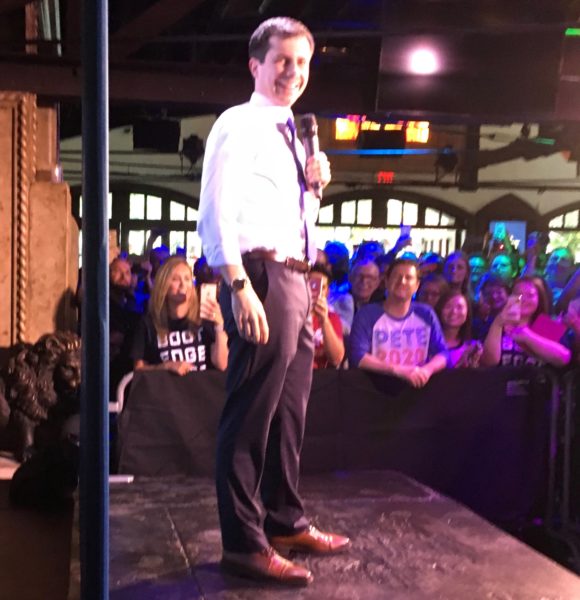 Buttigieg shared the surprise at how his unusual campaign has been quickly propelled into top tier status. And echoing the call issued by another young Democrat who became president, John F. Kennedy, Buttigieg said voters he's met think "it's time for a new generation of leadership in American politics."
"Here at The Abbey and everywhere we go from coast to coast, we see the startings of a generational alliance. This is not 1968 when one generation rose up against their parents. This a moment when you see young people, younger than I am, leading—whether it was the airport protests against the travel ban or even in South Bend, an amazing Women's March the day of the inauguration. Or the March For Our Lives that had young people saying, 'You're not doing enough to keep us safe.'

We saw young people in the lead but we also saw their parents and their grandparents at their side cheering them on. That's what change can look like in our time. That alliance is forming around the values of freedom, security, and democracy. Don't let anybody tell you that Democrats don't know how to put what we believe in on a blue bumper sticker. It fits: Freedom, Security, and Democracy.

We've got to make sure Americans understand that there's more to freedom than cutting somebody's taxes or taking apart a regulation on a bank. That freedom is something we have to build up, we have to lift each other up. We know that because freedom entails being able to live a life of your choosing and good policy, good government—not big or small but good government. It's government that tears down the barriers to that life. That's why we have an obligation to defend freedom by ensuring everybody has health care, so that you can start that small business, even if it means leaving your old job.

It's why I don't have to be a woman to know that we are not going to be a free country so long as there is a tax on a woman's right to make reproductive health decisions. It's why I know that I've got to stand up for people of color who in housing, education and so many other areas have been left behind as a consequence of racist policies that cannot be overcome simply by replacing racist policies with non-racist policies but will require us to establish anti-racist policies to become a more just society.

And yes, West Hollywood, we know that you're not free if a county clerk gets to tell you who you ought to marry because we know that love is love and freedom is on the line in our ability to have marriage. That struggle for freedom is the defining energy in the American story. And we shouldn't let anybody tell us that freedom belongs to a political party and if it did, it wouldn't be the one that's putting up somebody with authoritarian tendencies to run the United States of America."
The point is well taken, but for the record: LA County's Registrar-Recorder/County Clerk is the highly regarded, pro-gay Dean Logan. There was a moment in 2013 right after the anti-gay marriage law Prop 8 was struck down by the Supreme Court—as depicted in the excellent documentary The Case Against 8—when federal Prop 8 plaintiffs Jeff Zarrillo and Paul Katami were denied a marriage license application at the County Clerk's headquarters. Attorney General Kamala Harris, now a Democratic presidential contender, jumped on her cell phone and angrily called Logan from San Francisco, demanding that the gay couple be served. Logan, it turned out, had just heard about the ruling and had not yet conveyed instructions to his county clerks—who immediately complied. Harris has told the story on the stump as part of her bona fides with the LGBT community.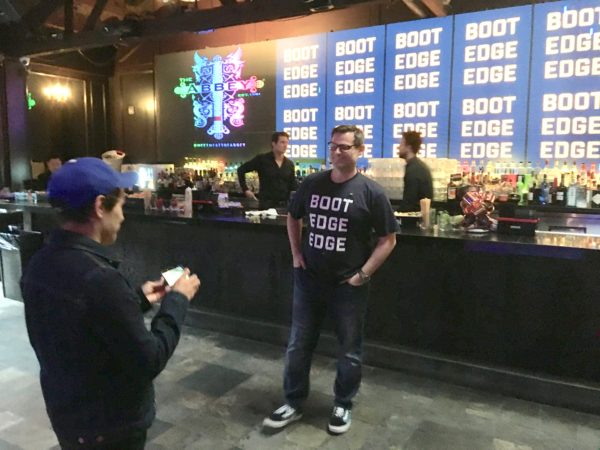 Buttigieg also talked about not being afraid to change the US Constitution—noting the "magnificent bar" in the back of The Abbey and pointing out that the Constitution was changed (under intense pressure from conservative Christian women) to prohibit drinking alcohol. But Prohibition spawned corruption, crime and mobs and was eventually repealed. Buttigieg said:
"Don't tell me we can't change our constitution in order to make this democracy more secure. It's why our founders invented the amendment process to begin with, so let's not be afraid to talk about structure. Economic structure, democratic structure, because it's gotten twisted, it's gotten warped. Presidencies like the one we're living in don't just happen, people like the person in the white house don't come within cheating distance of the oval office under ordinary circumstances. And that's why we've got to recognize the seriousness of this moment.

That what's happening right now. It's a symptom, not a cause, it's a symptom of a deep disorientation in our economy and our democracy. But we also have the great benefit of living in one of those rare moments in American history when the decisions we make will ripple out throughout time. That I'm convinced that the things we do in the next months, and the next years, will decide the next half century of American political, social, and economic life."
But there's a hitch to passing a Constitutional amendment. After it passes through Congress, it must be ratified by three-fourths of the states—that's 38 out of 50 states. After the 2018 midterms, Republicans control the legislatures in 31 states; Democrats control 18, including California. According to the New York Times, for the first time in 104 years, only one state has a divided lower and upper chamber in its legislature—Minnesota. So the idea of amending the Constitution to create better governance will remain an idea until state legislatures are changed—something both Republicans and Democrats count as part of their overall election strategies.
To press his point about the importance of politics and the importance of personal stories in changing politics, Buttigieg reminded the audience of how hospital visitation rights through marriage impact the lives of everyday LGBT people.
"It's the story, the understanding and the individual moments in our lives that are shaped by politics. That's why we even have politics, that's what politics is for—is to make our actual individual lives better.

And I say this as somebody who has my list of stories about how my life was changed by politics in some of the best moments and some of the worst moments of my life. It's why I shared with the country the way it felt on the worst morning of my life, going out to find my dad in the middle of his chemotherapy treatment, to let him know mom's going to need heart surgery. 'Cause you don't put that in a text message. And on my way, knowing that I had certain things going for me, one of which was the fact that at my mother's bedside—my husband was right there. As he should be, because in the eyes of the law, as well as in our hearts, he was the legal member of our family.

And then in the months that followed as he got worse and she got better, the fact that we got to make our decisions as a family, difficult though they were, not in terms of whether we were going to be broken financially, but in terms of what was right for this family. Because there was a decision, a series of decisions, made in those big white buildings in Washington that no one would be bankrupt when they reached a certain age by healthcare because it was time to create something called Medicare. I want every American to enjoy that same kind of feeling."
Buttigieg talked about meeting a DREAMer named Selena who "is an amazing American" and deserves support. And then he seemed to borrow from Harvey Milk's iconic message to give people hope.
"Everyone here has a story about how your life went different, went better or went worse, because of the decisions made by people in power. Whether it's the Supreme Court, the US Congress, the White House, or the Water Reclamation District. All of us, in more ways than we can even think about, find that our opportunities are opened or constrained by the decisions made in politics. That's why politics matters, that's why as a species we invented government and then set up processes to decide how that government's going to work. And that's why being involved in the political process is the greatest act of hope that a citizen can show.

You being here is an expression of hope. Watching a candidate speak, sending a candidate money, all of those thing are expressions of hope. But I'm also conscious that I'm preaching to the choir, that everyone here gets it. And there's a lot of people out there who don't get it. Not that there's anything wrong with them, a lot of them are just too busy, or overworked, or skeptical about whether this process even matters. And people have been given reason to be skeptical. But we are here to lift each other up in the knowledge that if everybody gets involved, if we all vote, we mobilize one another, if we broaden the base of our support, if we recruit more people not only to support this campaign but to help shape it—then we will model the kind of country we would be if it weren't for the current administration holding us back.

That's how we craft a story that doesn't revolve around the deficiencies of the President, though they be many. But revolves around you and the future that we can create together. I feel really good for that future. If anybody tells you they're not sure whether America is capable in these twisted and dark times of delivering or vindicating our hopes—tell them you saw at The Abbey in West Hollywood a top tier presidential candidate on his way to the White House moments after his husband introduced him."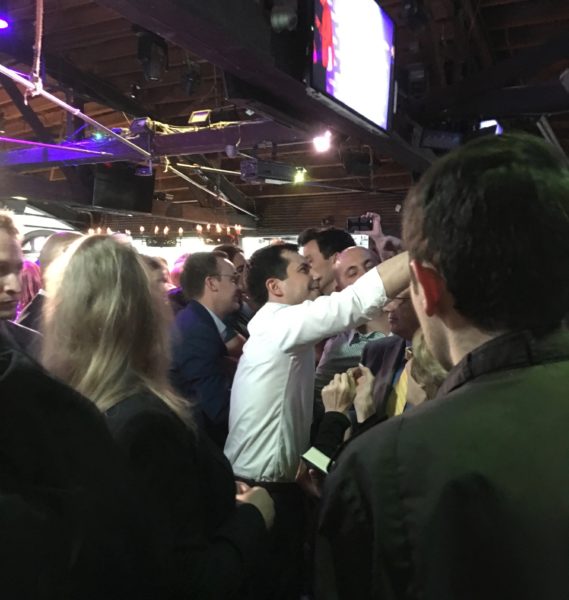 Buttigieg attended several other events while in Los Angeles, including a rally supporting initiative Measure EE with LA Mayor Eric Garcetti, who like Buttigieg, is a Rhodes Scholar, Naval Reserve officer, speaks different languages (Buttigieg speaks seven languages) and plays piano. Garcetti briefly thought about running for president, then decided against it.
The Democratic presidential candidate was asked about Trump mocking him at a rally in Florida.
"We have a young man, Buttigieg," Trump said. "Boot-edge-edge. They say 'edge-edge.' He's got a great chance. He'll be great. He'll be great representing us against President Xi of China. That'll be great. I want to be in that room. I wanna watch that one."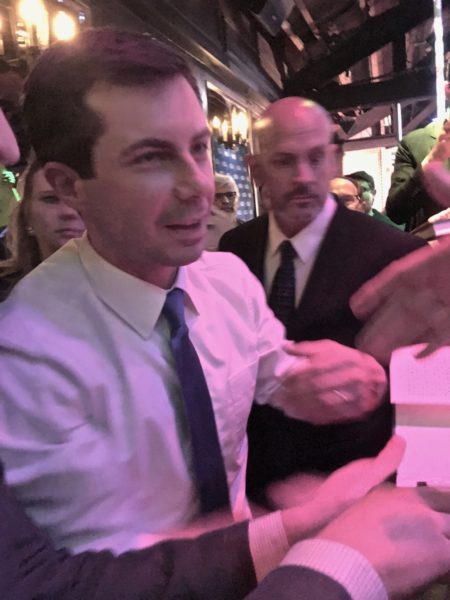 "You can't get too worried about the name calling and the games he plays," Buttigieg told reporters. "I was thinking of a Chinese proverb that goes: when the wind changes, some people build walls and some people build windmills."
Another sign of the times was Buttigieg's reaction to Trump finally giving him a nickname in an attempt to belittle him.
"Alfred E. Neuman cannot become president of the United States," Trump, 72, told Politico on Friday , referring to the freckled face, gap-toothed boy with big ears that characterized Mad magazine 20 years ago.
"I'll be honest. I had to Google that," Buttigieg said. "I guess it's just a generational thing. I didn't get the reference. It's kind of funny, I guess. But he's also the president of the United States and I'm surprised he's not spending more time trying to salvage this China deal."
Victory Fund honors Maine House speaker in D.C.
Ryan Fecteau is gay Catholic University alum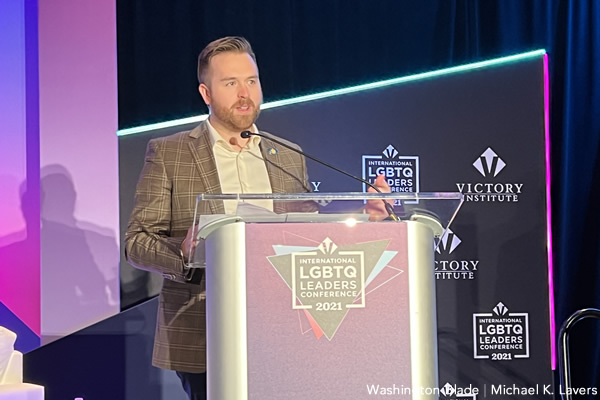 WASHINGTON — The Victory Fund on Saturday honored Maine House Speaker Ryan Fecteau on the last day of its International LGBTQ Leaders Conference in D.C.
Fecteau — an openly gay Catholic University of America alum — won a seat in the Maine House of Representatives in 2014. He became the chamber's speaker in 2018.
"Hate and intolerance will not derail us," said Fecteau after Florida state Rep. Carlos Guillermo Smith presented him with the Tammy Baldwin Breakthrough Award, which is named after U.S. Sen. Tammy Baldwin (D-Wis.). "Our community will not be intimidated."
The Victory Fund on Friday honored Guatemalan Congressman Aldo Dávila, a gay man who is living with HIV.
American Library Association; 155 efforts to ban LGBTQ+ & Black authors
Falsely claiming that these works are subversive, immoral, or worse, these groups induce officials to abandon constitutional principles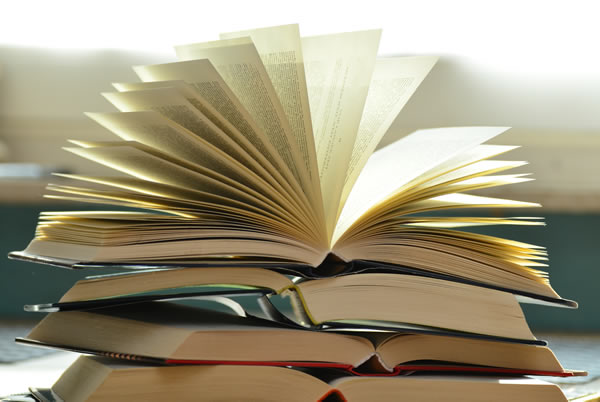 CHICAGO – The American Library Association (ALA) released a statement Tuesday noting that the organization has documented 155 separate incidents of efforts to remove or ban books that focus on LGBTQ+ issues and books by Black authors or that document the Black experience or the experiences of other BIPOC individuals.
Since June 1, 2021, OIF has tracked 155 unique censorship incidents and provided direct support and consultation in 120 of those cases.
"In recent months, a few organizations have advanced the proposition that the voices of the marginalized have no place on library shelves. To this end, they have launched campaigns demanding the censorship of books and resources that mirror the lives of those who are gay, queer, or transgender or that tell the stories of persons who are Black, Indigenous, or persons of color.
Falsely claiming that these works are subversive, immoral, or worse, these groups induce elected and non-elected officials to abandon constitutional principles, ignore the rule of law, and disregard individual rights to promote government censorship of library collections. Some of these groups even resort to intimidation and threats to achieve their ends, targeting the safety and livelihoods of library workers, educators, and board members who have dedicated themselves to public service, informing our communities, and educating our youth," the statement by the American Library Association Executive Board read.
"ALA strongly condemns these acts of censorship and intimidation. We are committed to defending the constitutional rights of all individuals of all ages to use the resources and services of libraries. We champion and defend the freedom to speak, the freedom to publish, and the freedom to read, as promised by the First Amendment of the Constitution of the United States.
We stand opposed to censorship and any effort to coerce belief, suppress opinion, or punish those whose expression does not conform to what is deemed orthodox in history, politics, or belief. The unfettered exchange of ideas is essential to the preservation of a free and democratic society," the ALA board noted.
The ALA Office for Intellectual Freedom (OIF) is actively involved in providing confidential legal guidance and strategic support to libraries and library professionals in communities across the country impacted by the recent surge in book challenges.
"We're seeing an unprecedented volume of challenges in the fall of 2021," said Deborah Caldwell-Stone, OIF Director. "In my twenty years with ALA, I can't recall a time when we had multiple challenges coming in on a daily basis."
The Williamson County, TN chapter of the group Moms for Liberty had filed an 11-page complaint with the state, claiming that the "classroom books and teacher manuals reveal both explicit and implicit Anti-American, Anti-White, and Anti-Mexican teaching," as The Tennessean reports.
In South Carolina, Governor Henry McMaster sent a letter to South Carolina Superintendent of Education Molly Spearman asking her to "begin a comprehensive investigation into the presence of obscene and pornographic materials in public schools in South Carolina."
A Flagler County, Florida, school board member is seeking criminal charges against school officials for allowing copies of the LGBTQ+ themed book "All Boys Aren't Blue" to remain in two of the county high school's libraries.
Texas Governor Greg Abbott sent a letter directing the Texas Education Agency, the Texas State Library and Archives Commission, and the State Board of Education to immediately develop statewide standards to restrict access to certain content in public schools, but highlighted as examples books by LGBTQ authors that tell the stories and explore the identities of LGBTQ people.
In Spotsylvania County, Virginia, the County School Board voted 5-2 to rescind their ban on "sexually explicit" books in the libraries of the district's schools that the board enacted last week in a 6-0 vote.
The original directive came last week after two parents raised concerns at a board meeting about books available to students, particularly LGBTQ+ fiction.
A recent article in Raw Story details some of the book ban efforts by Moms for Liberty, a far-right so-called 'family values' group founded in January 2021in Florida, which claims to be a 'grassroots' non-profit organization that advocates for parental rights.
Headquartered in Melbourne, Florida, the group which has 142 chapters in 35 states and 56,000 members and supporters, has campaigned against COVID-19 restrictions in schools, including mask and vaccine mandates, and against school curriculums that mention LGBT rights, race, and discrimination.
Raw Story reported; "Among their demands are that lessons about Martin Luther King, Jr. and Ruby Bridges be cut for being divisive, lessons about civil rights crackdowns be cut for "negative views of firemen and police," and lessons about Galileo be revised for being too anti-church. The story of Johnny Appleseed was also condemned as "sad and dark," Greek and Roman mythology for depicting the goddess Venus naked, and textbooks explaining the effects of hurricanes as too violent for first graders.
But one of the oddest crusades of the group is against a children's picture book on seahorses, which they believe, according to Weill, "is too sexy.""
Established Dec. 1, 1967, the OIF is charged with implementing ALA policies concerning the concept of intellectual freedom as embodied in the Library Bill of Rights, the association's basic policy on free access to libraries and library materials. The goal of the office is to educate librarians and the general public about the nature and importance of intellectual freedom in libraries.
"Moms for Liberty" seeks to ban MLK Jr. book- Tennessee Ed. Dept refuses
The group appears to suggest slavery and Jim Crow were "positive achievements, like unity and the overall improvement of our country"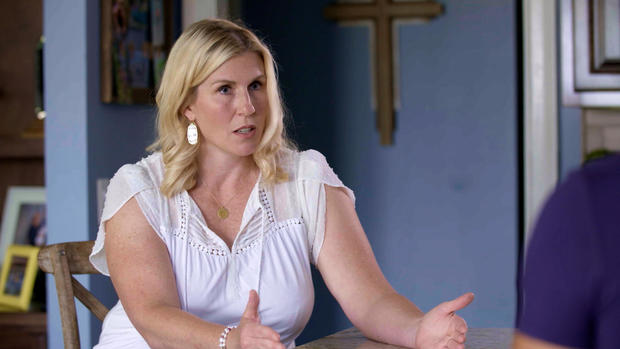 By David Badash | NASHVILLE – The Tennessee Dept. of Education is refusing to investigate a far right group's claims that a second grade curriculum which includes books about Black Civil Rights icon Dr. Martin Luther King, Jr. is "anti-American" and "anti-white" – but on a technicality.
The Williamson County, TN chapter of the group Moms for Liberty had filed an 11-page complaint with the state, claiming that the "classroom books and teacher manuals reveal both explicit and implicit Anti-American, Anti-White, and Anti-Mexican teaching," as The Tennessean reports.
"The relentless nature of how these divisive stories are taught," the group's complaint continues, "the lack of historical context and difference in perspective, and the manipulative pedagogy all work together to amplify and sow feelings of resentment, shame of one's skin color, and/or fear."
The complaint is signed by the local group's chairperson, Robin Steenman, who Reuters has called "an Air Force veteran and white mother of three." It claimed the Williamson County Schools district is violating the law:
Steenman also appears to suggest slavery and Jim Crow were "positive achievements, like unity and the overall improvement of our country."
Her comments to some may sound straight out of a Fox News or right wing media reports. They claim the curriculum amounts to a "heavily biased agenda," one that "makes children hate their country, each other, and/or themselves."
Rather than be concerned that these events actually happened, Steenman appears to be suggesting teaching they happened is anti-Americanism:
ThinkProgress and Popular Information founder Judd Legum:
Moms for Liberty says learning about MLK Jr's March on Washington is emotionally traumatizing for Tennessee students

Learning about past injustices, they say, violates Tennessee law pic.twitter.com/ElOx4ysfJ8

— Judd Legum (@JuddLegum) November 29, 2021
The Tennessean reports "the department declined to investigate the allegations because the lessons occurred during the 2020-21 school year."
The department is only authorized to investigate allegations that have occurred during the 2021‐ 2022 school year and subsequent school years, according to the letter sent to Steenman by Education Commissioner Penny Schwinn on Nov. 23.
Which means the complaint could be filed again.
********************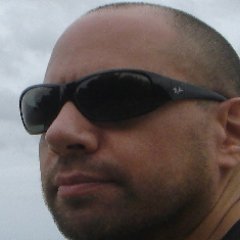 David Badash (@davidbadash) is the founder and editor of The New Civil Rights Movement, an award-winning news & opinion site.
********************
The preceding article was first published by The New Civil Rights Movement and is republished by permission.