Marianne Williamson qualifies for DNC debate stage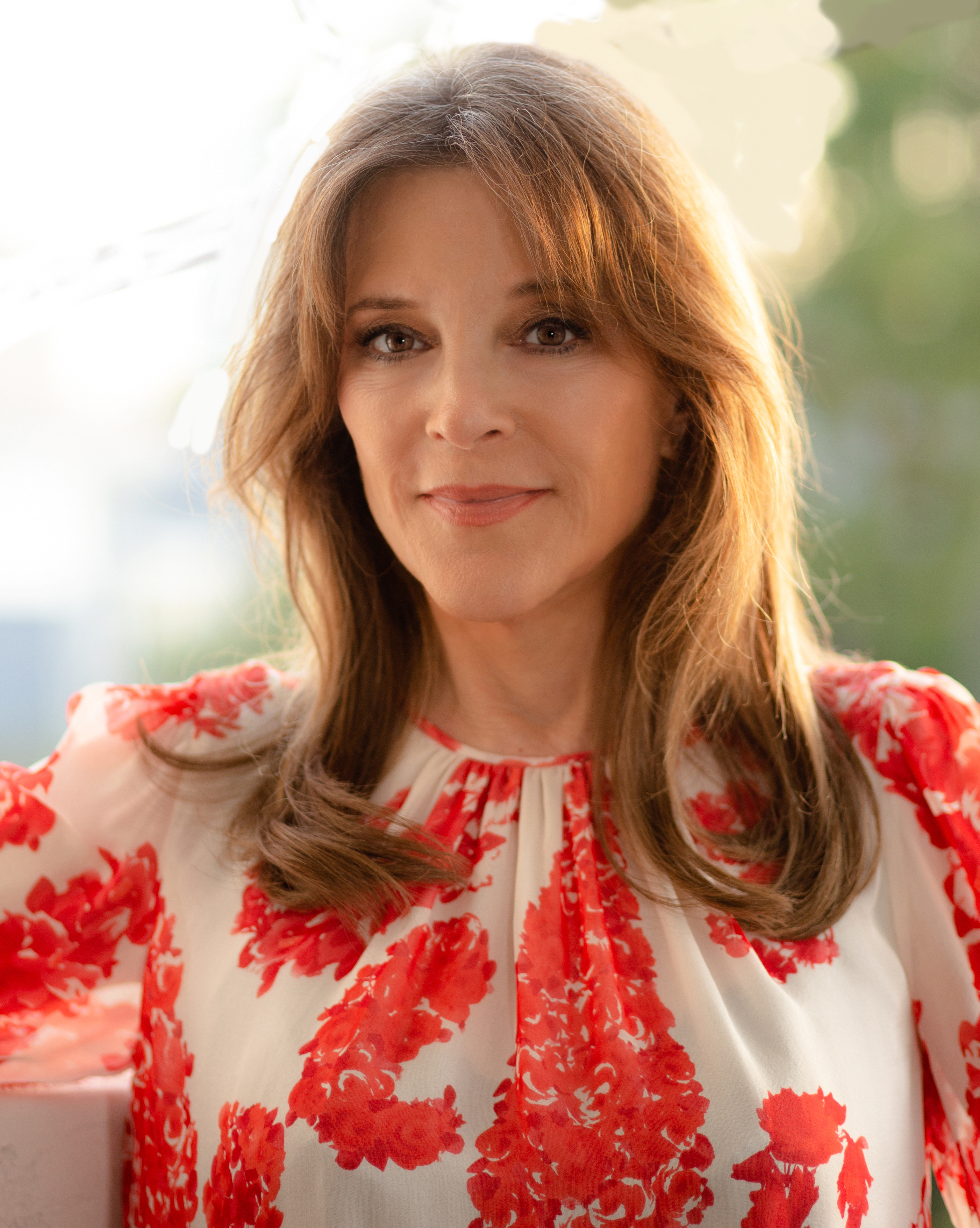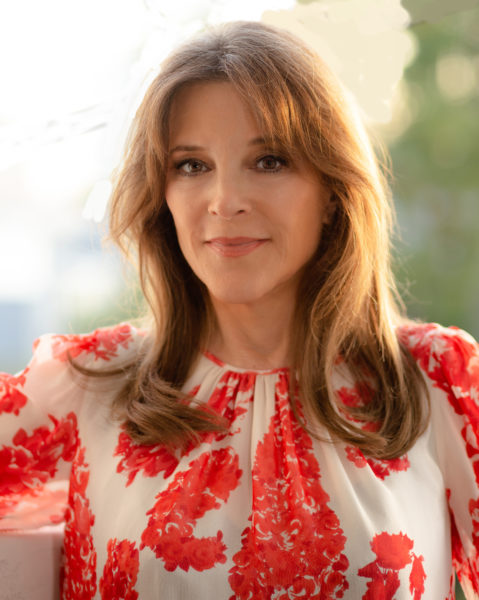 Marianne Williamson's mettle on the political battlefield has proven stronger than many anticipated. On Thursday, the Marianne Williamson for President 2020 campaign announced that it cleared the benchmark imposed by the Democratic National Committee on candidate qualifications to appear on the upcoming debate stage. And with 21 candidates  seeking the party's nomination to challenge President Donald Trump next year, being seen and heard by millions of voters who might not otherwise be engaged in the Democratic primary contest is a very big deal.
Williamson's message of love and hope and calling out corruption has reached the 65,000 donors required to be on the debate stage in June. The contributions included more than 200 people in each of 43 states, which is greater than the DNC's requirement of 200 people in 20 states.
"I am grateful to the many people who took it upon themselves to help create this significant achievement. Ours has been – and will continue to be – a campaign of ideas that people care about and that they are willing to stand behind. It takes a certain kind of audacity to take a stand for something truly new," said Williamson, the internationally renowned spiritual author,  in a press release. "Thank you to those of you who have seen the possibility of a new American beginning and have been willing to invest in its formation. What has occurred here is the proverbial 'end of the beginning', and now the next phase of our work begins."
Williamson believes her message is different from other candidates. "I'm saying things that I'm not hearing said elsewhere and that I believe need to be said. And I'm presenting to the American people an option for a path forward that I don't see articulated anywhere else," Williamson told the Los Angeles Blade during a stop in LA recently. She is so dedicated to her long shot campaign, she has moved to Iowa to press to reach more people more often.
"In order to transform our society, we need to recognize the depth of corruption that has set into our governmental and economic functioning," Williamson says. "We have essentially moved from a democratic to an aristocratic situation where our government works more to advocate for short term profits for multi-national corporations than it does to advocate for the well-being our people and our planet. Our government works more to make it easier for those who already have a lot of money to make more of it and harder for those who not have any money to even get by."
Watch Williamson on WMUR's New Hampshire Town Hall: "Conversations with the Candidate":
Charlie Kirk's Turning Point partners with registered sex offender
Bergstrand served time for attempted "coercion and enticement" after trying to persuade "a minor female" to "engage in sexual activity"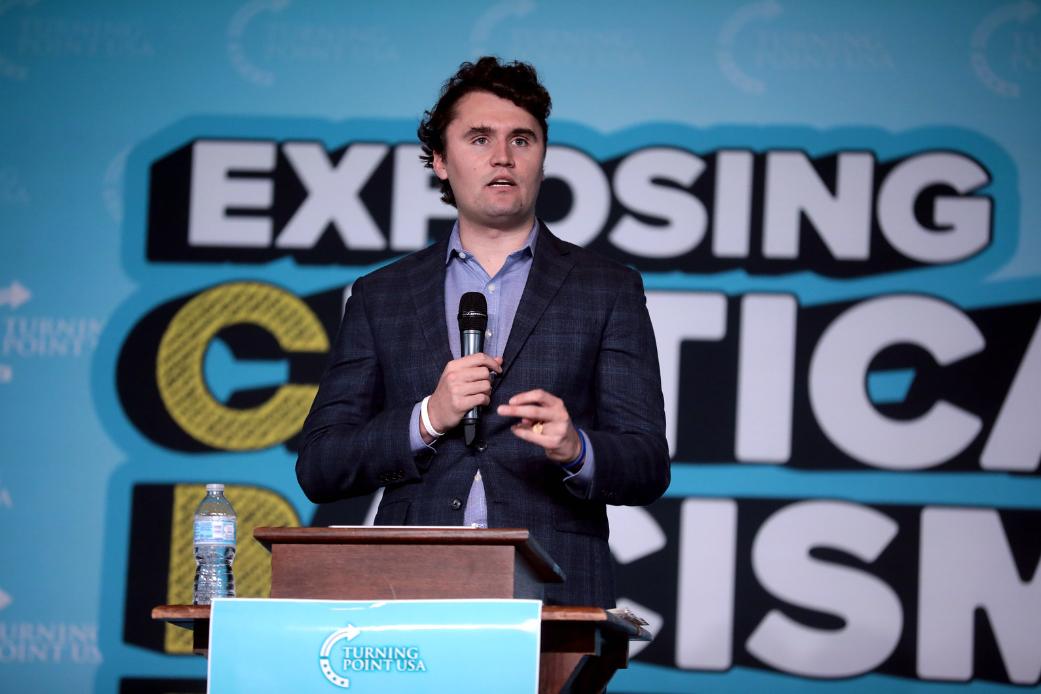 NASHVILLE – Far-right extremist radio chat show host and Turning Point USA CEO Charles J. Kirk, in statements he made this past week at the TPUSA's second-annual Pastors Summit, told attendees that conservatives and others needed to boycott Target for "their support for grooming kids."
Kirk also attacked Target, telling a packed audience of religious leaders: "If you love God, you must hate evil."
One of the TPUSA summit's corporate sponsors was Shawn Bergstrand, currently CEO of Bismarck-based Rightside Up Apparel, who is also a registered sex offender in North Dakota Rolling Stone magazine reported.
Bergstrand, served time in federal prison for attempted "coercion and enticement" after trying to persuade "a minor female" to "engage in sexual activity."
In a statement to Rolling Stone, TPUSA spokesman Andrew Kolvet said that TPUSA Faith "was not aware of this incident" but emphasized that, as an "exhibit sponsor," Bergstrand was not a speaker, organizer, or "professing doctrine from the stage."
Charlie Kirk decried the sexualization of children at his Pastors Summit this week.

One of the event's corporate sponsors is run by a man convicted of "coercion and enticement" of a minor.https://t.co/abUPkTCiWl

— Rolling Stone (@RollingStone) May 27, 2023
Kirk, who decried the sexualization of children at his pastors summit, responded on Twitter saying: "What a joke. Let's set the record straight. First, I've never met this person. He was one of many exhibitors at our event. He's not a "corporate sponsor" but rather a small business trying to market his company.
I'm told from the team that coordinates exhibitors that he's a nice person who did something wrong over a decade ago, and unlike Target, he repented and the experience led him to his faith. Good for him. That's the Gospel.
Lastly, he doesn't hide what happened. He tells his story on his own website, and the jerks at Rollingstone [sic] took that public testimony and called it "exclusive," just to unfairly smear him and play gotcha with me and TPUSA Faith. Rollingstone [sic] should be ashamed. Trash outlet that publishes trash hit pieces about an event they didn't witness and know nothing about.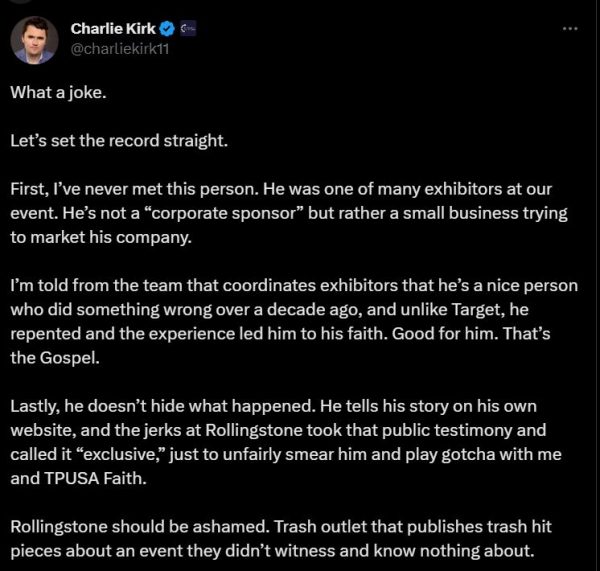 Rolling Stone also noted: Kirk responded to Rolling Stone's coverage of his group's new crusade. "First of all, it's not my Turning Point," Kirk insisted of his organization. "It's the Lord's Turning Point." He added: "I am both a Christian and a nationalist, but most importantly, I'm a Christian."
Bergstrand did not respond to requests for comment from the magazine, but his address on North Dakota's sex offender registry matches the registration address for Bergstrand and Rightside Up in a corporate registry maintained by North Dakota's secretary of state. Bergtrand's photo on the offender registry also matches video of the apparel CEO from RightsideUp's website.
Kirk has launched attacks on progressive politicians in a similar vein as his attacks on Target. Last November, in a lengthy tirade on Twitter, Kirk, while loosely channeling an InfoWars host Alex Jones style-attack, went after California State Senator Scott Wiener, (D-SF District 11) implying that the veteran lawmaker endorses and supports child molestation.
Kirk's attack on the senator commenced with: "Thousands of pedophiles in California are going free after just a few months in jail, thanks to the state's radically reduced penalties for child molestation. One reason so many of these predators are going free so early is California lawmaker Scott Wiener."
Editor's Note: It needs to be made clear, California has NOT reduced penalties for child molestation.
Senator Wiener responded to Kirk's attacks saying on Twitter:
Charlie Kirk — one of the biggest attention-seeking liars around — is spreading bald-faced lies about me. These statements are absolutely false & defamatory. These are the lies bigots have always spread about LGBTQ people — lies that lead to violence against our community.
Related: