Pete Buttigieg Primer
Where out Democratic presidential candidate Mayor Pete stands on the issues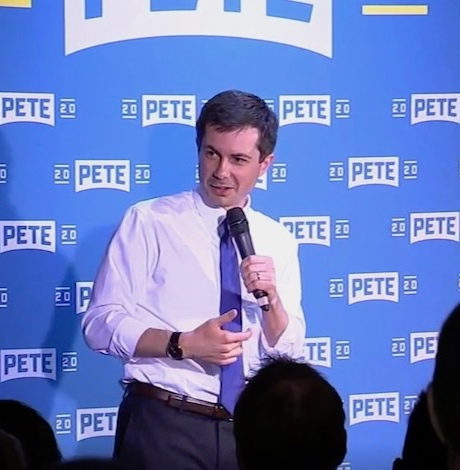 A funny thing happened on the way to the Democratic National Committee's presidential debate stages this June. The young gay guy with a last name no one could pronounce, Pete Buttigieg, the mayor of South Bend, Indiana, population 101,166, whose penchant for blindingly white shirts with Kennedy-esque rolled up sleeves started showing up in third place behind Joe Biden and Bernie Sanders in polls ranking the long list of better-known contenders vying for the opportunity to oust Donald Trump in 2020.
But why is Buttigieg the popular "it" guy of early presidential politics?
Late night host Trevor Noah and branding/politico Donny Deutsch call Buttigieg the "anti-Trump," for his decency, war service, intellect and even- keel sensibility. 
Deutsch tried to goad Buttigieg into taking an angry swipe at Trump, asserting that is necessary for any Democrat to win the nomination. Buttigieg balked. He knows Trump's a bully.
"I'm not too worried about it. I'm from Indiana. I'm gay. I can handle bullies. And I'm literally used to incoming rocket fire [in Afghanistan] so I think I'll be all right," Buttigieg said, thrilling the applauding West Hollywood crowd in March.
But Buttigieg's response to Deutsch speaks volumes about his nimble intellect, his tone of storytelling tinged with shade that plant seeds of moral comparisons while explaining why he won't play Trump's game, though he can be just as tough.
"My emotions about this president are not what's going to matter most, Buttigieg tells Deutsch. "I'm not as interested in expressing my anger about him as I am in defeating and ending his presidency. If we want to have a fight over any number of things – from the way I approach service and the way he did. The fact that I was packing my bags for Afghanistan while he was working on Season 7 of Celebrity Apprentice— we can have that fight. If someone wants to raise the question of which one of us has a more traditional attitude on marriage—we can have that fight.
"But at the end of the day, it's not about him. It's not about me. It's about you, the American voter," Buttigieg continues. "Here's the thing about this president: he has the ability to take any attention that comes his way – including attacks and criticism – and just kind of devour and grow bigger from it. So we could unintentionally be feeding the beast by competing to see who's going to be the one to land the biggest punch, the best zinger. And the reality is—if you just step back and think of the mentality that represents, that's an environment where he's the one we're trying to impress."
  Here's the thing about Buttigieg: he's a millennial philosopher and economist who's been thinking about the mission of politics since Harvard. And he's a devout Christian who wants to reclaim his faith and values from the Republican money-changers and false prophets. In some ways, he's the next iteration of the old feminist adage "the personal is political."
"No one has more at stake [in the 2020 elections] than the younger generation coming up," Buttigieg says, explaining why seeking the presidency at this moment is a personal calling.
Buttigieg is also keenly aware of the burden of hope and high expectations he shoulders as he campaigns during this incredible moment in LGBT history. But the 37- year old Harvard and Oxford graduate, Rhodes scholar, Naval Reserve Intelligence Officer (deployed to Afghanistan who was awarded the Joint Service Commendation Medal for his work in counterterrorism) also practices humility in exercising his public service.
Buttigieg's calm, smart, palpable authenticity and his charm gushing over husband Chasten Glezman have made him a breath of fresh air on the political landscape.
"I do believe I'm not like the others [Democratic presidential contenders]," Buttiegieg told Chris Wallace on Fox News Sunday March 17. "I belong to a different generation than most of the others. Mine was the generation that was in high school when mass shootings started being the norm. We're the generation that's going to be on the business end of the consequences of climate change. We're also the generation that's on track to be the first in American history to make less than our parents if nothing is done to change the trajectory of our economy."
Buttigieg has given considerable thought to how "America needs a narrative" with which people can identify.
"Presidencies like the one we're living in don't just happen. People like the person in the White House don't come within cheating distance of the Oval Office under ordinary circumstances. And that's why we've got to recognize the seriousness of this moment," Buttigieg said during his recent appearance at The Abbey in West Hollywood.
"What's happening right now is a symptom, not a cause," he continued. "It's a symptom of a deep disorientation in our economy and our democracy. But we also have the great benefit of living in one of those rare moments in American history when the decisions we make will ripple out throughout time….So, let's get it right."
Buttigieg, who is still hiring campaign staff and working on his campaign website—PeteforAmerica.com—has been criticized for not laying out specific policy positions for voters to compare with other candidates.
In fact, Buttigieg talks about issues all the time, couched within or providing context for a story that illustrates his message about freedom, security and democracy. 
(UPDATE: the campaign just updated their website with an Issues page.)
Here are just some of those issues.
Hope: "If anybody tells you whether they're not sure if America is capable in these twisted and dark times of delivering or vindicating our hopes, tell them you saw at The Abbey in West Hollywood the top tier presidential candidate on his way to the White House, moments after his husband introduced him."
Green New Deal is more of a "goal" than a plan. But climate change is real. "We have got to do this. This timetable isn't being set in Congress. It's being set by reality. It's being set by science. And it's going to hit— those deadlines are going to hit in our climate with or without us so we have to act…. Retro-fitting buildings means a huge amount of jobs for the building trades in this country. I view that as a good thing." On Fox News Sunday.
Climate change: "I see a family in South Bend right before school started trying to figure out what they're going to do after they've been run out of their house by a catastrophic flood. The time has ended for us to debate whether climate change is happening, but we need to start talking about it happening in our communities, in the heart of America today."
Experience: Buttigieg was elected South Bend mayor in 2011, the youngest American mayor at 29. "I have more years of government experience under my belt than the president. That's a low bar, I know that. I've also got more years of executive government experience under my belt than the vice president and more military experience than anybody to walk into that office on day one since George H.W. Bush. So I get that I'm the young guy in the conversation, but I would say experience is what qualifies me to have a seat at this table." CNN Town Hall, March 10.
Military service/War: Buttigieg served about nine months of active-duty service, with six of those months in Afghanistan as a Reserve Navy Intelligence Officer serving in the Afghanistan Threat Finance Cell (ATFC) in Kabul, placing him in "an imminent danger pay area" from late March to mid-September 2014. "We learned what it is to trust one another with our lives," Buttigieg said in his presidential launch. In his 2019 memoir, "Shortest Way Home," Buttigieg writes about soldiers killed President Obama announced the drawdown of the war. "I did not believe the Afghanistan War was a mistake," Buttigieg wrote. "But as I weighed my place in a war most people at home seemed to think was already ending, I couldn't stop wondering, how do you ask a person to be the last to die for anything?"
Abolish Electoral College: "The Electoral College needs to go, because it's made our society less and less democratic," Buttigieg says in the Nation, April 22, as part of a larger democracy agenda that also ends gerrymandering, extends voting rights and amends the Constitution to correct the Supreme Court's Citizens United decision. He also wants to structurally reform the Supreme Court to make it less political.
Single payer slides into Medicare for all: "A single-payer environment is probably the right answer in the long term, but I think any politician who throws around phrases like Medicare for all has to explain how we would get there. What you want to do is you take something like Medicare, you put it on the exchanges as a public option, and if people like me are right that that is both good coverage and more cost efficient, then more and more people will buy in and it will be a very natural glide path towards the single-payer environment." Fox News Sunday March 19
Economy: "The president's promise is to turn back the clock, that we can somehow just go back to the 1950s. It's just not true. The economy is changing, the pace of change is accelerating, and what we've got to do is master those changes in order to make them work for us." To Chris Wallace on Fox News Sunday.
Christianity: "When I read Scripture, when I go to church, I read about protecting the immigrant, welcoming the stranger, looking out for those who are on the margins of society….When God comes among us – frankly, priests and politicians don't look too good in that story. He's spending his time with sex workers. Right? He's spending his time with those on the margins of society. And the Scripture I read is about lifting people up, not about beating them down. So let's talk about it. I'm sick of the religious right having a monopoly on political religion in this country.  Let's have a religious left." At Bar Lubitsch in West  Hollywood March 14.
Reaching out to Black voters:
"Part of it is by laying out an agenda of the issues that black voters are asking me about most often: democracy in the way that a lot of voters of color have been excluded or found their voices diminished. Or the issues that are going to be tackled by that democracy—homeownership, entrepreneurship, heath, education, criminal justice reform. But a lot of it is also about a relationship. The black voters who know me best, voters in South Bend, which is a racially diverse city, helped return me to office with an overwhelming majority in the primary and in the general election….I'm hoping to appeal to anyone who is focused on the future—that includes anybody from a blue collar workers in the industrial Midwest to a transgender woman of color, which, by the way, could be the same person." NBC Today Show.
Demoting the black police chief: Buttigieg says he doesn't know what's on the five tapes allegedly of phone conversations inside the South Bend police department that may contain racist comments about former Police Chief Darryl Boykins, who is black. "[T]he reason I don't know is these tape recordings were made in a way that violated the federal wire tap act. That is a federal law that controls when you can and can't record people….That's a law punishable by a term in prison and so I'm not going to violate it, even though I want to know what's on those tapes like everybody else does." Buttigieg demoted the chief because he found Boykins "was the subject of a criminal investigation, not from him but the FBI, and it made it very hard for me to trust him as one of my own appointees." CNN Town Hall, April 22
Buttigieg's 1,000 home policy: Buttigieg used expedited code enforcement to demolish 1,000 deteriorating houses in 1,000 days, which critics said adversely impacted communities of color. However, Buttigieg says "the number one can complaint we heard, especially from minority and low income home owners in the neighborhood, was what took you so long?" He added: "No policy is perfect and we learned things the hard way on this one."
Immigration/asylum: Buttigieg supports DACA and a pathway to citizenship, as well as fixing the legal immigration system. On trans women seeking asylum, he says the US should accommodate them "because we are responsible for their safety. And they are coming here because they believe in us, because they believe they are safer here….They are fleeing what we're fighting. And that means we need to look at them not as a problem to be handled, but as an asset to this nation and part of the fabric of this country. And we should be lucky to be the place that turn to when they're in that kind of need." At Bar Lubitsch in West  Hollywood March 14
Supports gun control and universal background checks:
Buttigieg is a member of Mayors Against Illegal Guns; supports universal background checks, opposes guns for teachers in schools, and opposes "Stand Your Ground" laws. PBS Newshour, Feb 15.
Equality Act: "I know what it means to question whether your job will be viewed differently because of who you are. And it motivates me all the more to make sure that all of us are equal. And I want to fight for anybody who is on the wrong end of discrimination. But as part of a community that's experienced that directly, it's something that obviously matters to me a great deal." Los Angeles Blade, March 14, in West Hollywood
Why should women vote for him? "Let's pause and talk about the war on women that is underway. And it's one of many reasons we've got to talk more about freedom on our side of the aisle. They talk about freedom like the only thing that could make you un-free is like a tax or a regulation. Like government's the only thing that can make you un-free. Well, you know what makes you un-free? If you cannot make your own reproductive health decisions because of the intervention of some male boss or politician. Let's talk about freedom that way."
Late term abortion: "We're talking about situations where the life and health of the mother is at risk and/or the child can't survive….You only get to that late moment if you have been planning to bring a pregnancy to term. These are women facing some of the most unbelievably excruciating decisions and if they don't think it's easy, it's certainly not going to be any easier for government officials like me to come in and tell them what to do….In wrangling with those issues, does anyone really think an extra layer on top of the conscience of the woman facing the choice….that somebody else that comes in with their interpretation and their religion is going to make that decision any better? I just don't think that's how we handle these things in America." Morning Joe, April 18.
No free college tuition: "I think we need an expansion of Pell grants. I think we need the ability to re-finance student debt. I think we need to act on the way when your debt is forgiven with income-based re-payment, the way that that's taxed – I think we need to press states to step up and cover more college costs so it isn't falling on the students in the form of tuition. And I think there are a number of other steps that are going to expand access to college."
Trump's nicknames: In an interview with Politico, President Trump compared Buttigieg to the goofy-looking, gap-toothed cartoon character in Mad magazine. "Alfred E. Neuman cannot become president of the United States," Trump said. Buttigieg used the presumed insult to make his own point. "I had to Google that. I guess it's a generational thing."
Race to the Midterms: Christy Smith & Tony Hoang
Karen Ocamb & Max Huskins along with the Los Angeles Blade present a limited YouTube series "The Time is Now: Race to the Midterms"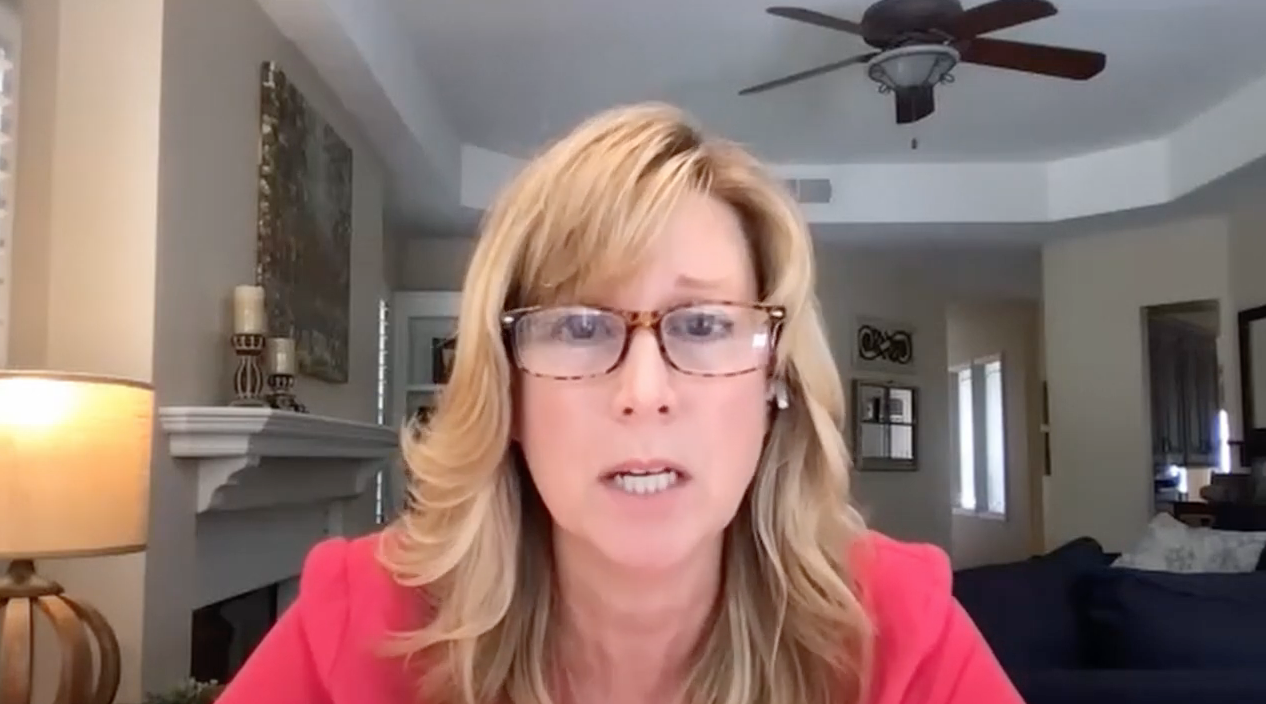 By Karen Ocamb | WEST HOLLYWOOD – The unimaginable is happening. Two years ago, Marc Elias, founder of the voting rights and elections-watcher Democracy Docket, warned that "we are one or two elections from losing our democracy."
Complete and comprehensive voting rights legislation was needed to prevent that. Nothing happened and now several states are running slates of Trump cultist election deniers and MAGA Republican are "flooding the system" with anti-voting lawsuits. "It's getting worse. It's not getting better," Elias told MSNBC's Nicole Wallace on Friday.
"The real threat to America's electoral system is not posed by ineligible voters trying to cast ballots. It is coming from inside the system," the New York Times Editorial Board wrote Friday, Sept. 23. 
"All those who value democracy have a role to play in strengthening and supporting the electoral system that powers it, whatever their party. This involves, first, taking the threat posed by election deniers seriously and talking to friends and neighbors about it. It means paying attention to local elections — not just national ones — and supporting candidates who reject conspiracy theories and unfounded claims of fraud. It means getting involved in elections as canvassers or poll watchers or precinct officers….And it means voting, in every race on the ballot and in every election."
A warranted panic is slowly moving through minority communities across the country — but there is still little concerted national outreach to LGBTQ voters who have our very lives, rights and future at stake in the upcoming Nov. 8 midterm elections. Not that LGBTQ organizations and candidates don't want to reach out – it's just incredibly hard to break through all the news noise.
That's why we — Karen Ocamb and (ally) Max Huskins — have teamed up with the Los Angeles Blade to produce a limited YouTube series "The Time is Now: Race to the Midterms." Our intention is to bring visibility to candidates and organization leaders and encourage LGBTQ people to get engaged, donate, do whatever they can to ensure a huge turnout for both local and statewide candidates and ballot measures, as well as electing candidates who will keep the US House of Representatives and the US Senate in Democratic hands. 
If MAGA Republicans win, Trump wins and we can kiss our democracy and our freedom goodbye. Think this is an exaggeration? No one really thought the US Supreme Court would overturn Roe v. Wade and put politicians in charge of women's bodies – but they did. The unthinkable is happening.
Meet Tony Hoang, Executive Director of Equality California. During the height of the AIDS crisis, the disease was perceived to be isolated to the gay community and gay meant "white." The result was that many people of color avoided seeking prevention and help. Today, California is a minority-majority state and EQCA has a rainbow staff that reflects that. "We really want to make sure that we reflect the diverse communities that we serve, whether that's around gender, gender identity, race and ethnicity," Tony says during the Zoom interview.
Equality California Votes, their new 501.C4 political action committee, just posted their first ad for out gay candidate Will Rollins (see our interview with Will in Episode 1). "Obviously, this is one of the most consequential election cycles in our lifetimes. And if we want to protect the pro-equality majority that we have in the House, that road runs through California. And so, CA-41, the district where Will Rollins is in, is one of the most important congressional flip opportunities in California. His opponent, Congressman Ken Calvert, for 30 years has voted against things like lowering prescription drug costs for seniors, against abortion rights and reproductive freedom and LGBTQ equality."
It would be a "sweet irony" for LGBTQ voters to turn this red seat blue.
Tony also talks about working with Planned Parenthood to explain why abortion rights is an LGBTQ issue and the importance of voting for Proposition One on the California ballot.
Tony is our first interview in tomorrow's show.
Full disclosure: since I am no longer a journalist, I get to express my own opinions and make endorsements. My first endorsement was for former EQCA executive director Rick Chavez Zbur, who I've known forever and who's now running for the state Assembly. My second-ever endorsement was for Christy Smith.
Meet Christy Smith, candidate for the CA-27. Christy ran for Katie Hill's seat after she resigned. That race against Mike Garcia was so nail-bitingly close, she ran again. That race was also heartbreakingly close. But Garcia has gone from a dullard Republican to a major Trump fanboy, hanging around with cultists like Marjorie Taylor Green. He was among the MAGA Republicans who signed the amicus brief to the US Supreme Court asking them specifically to overturn Roe v. Wade.
"Subsequent to that," Christy says in our interview, "he's one of the people who coauthored 'The Life Begins at Conception Act, which — don't let them fool you — is their roadmap for a national abortion ban. So, while my opponent now tries to hide in safe spaces and say, 'Well, abortion is safe in California — why are you so upset?' Really? They have clearly signaled — and Lindsey Graham the other day just doubled down on the fact that they plan to pursue a national abortion ban.
"But even aside from that," she continues, "we should never live in the kind of dystopian country where any person's rights vary from state to state. And you and I both know — we saw that for a very long time with gay marriage rights in this country, right? Where depending on where you live determines whether or not you can marry the person they love."
Flipping this seat is a necessity.
But one of the aspects about Christy Smith that folks may not know is that she's a policy nerd – and a policy nerd who likes to get things done.
Here's a quick clip of Christ talking about how climate change is a paramount national security issue. Please check back here Sunday for our full Episode 2 show of "The Time is Now: Race to the Midterms."
Internet blacked out for 4th day as violent protests continue in Iran
Protests by Iranians included women setting headscarves on fire in the streets resulted with harsh reaction from Iranian security services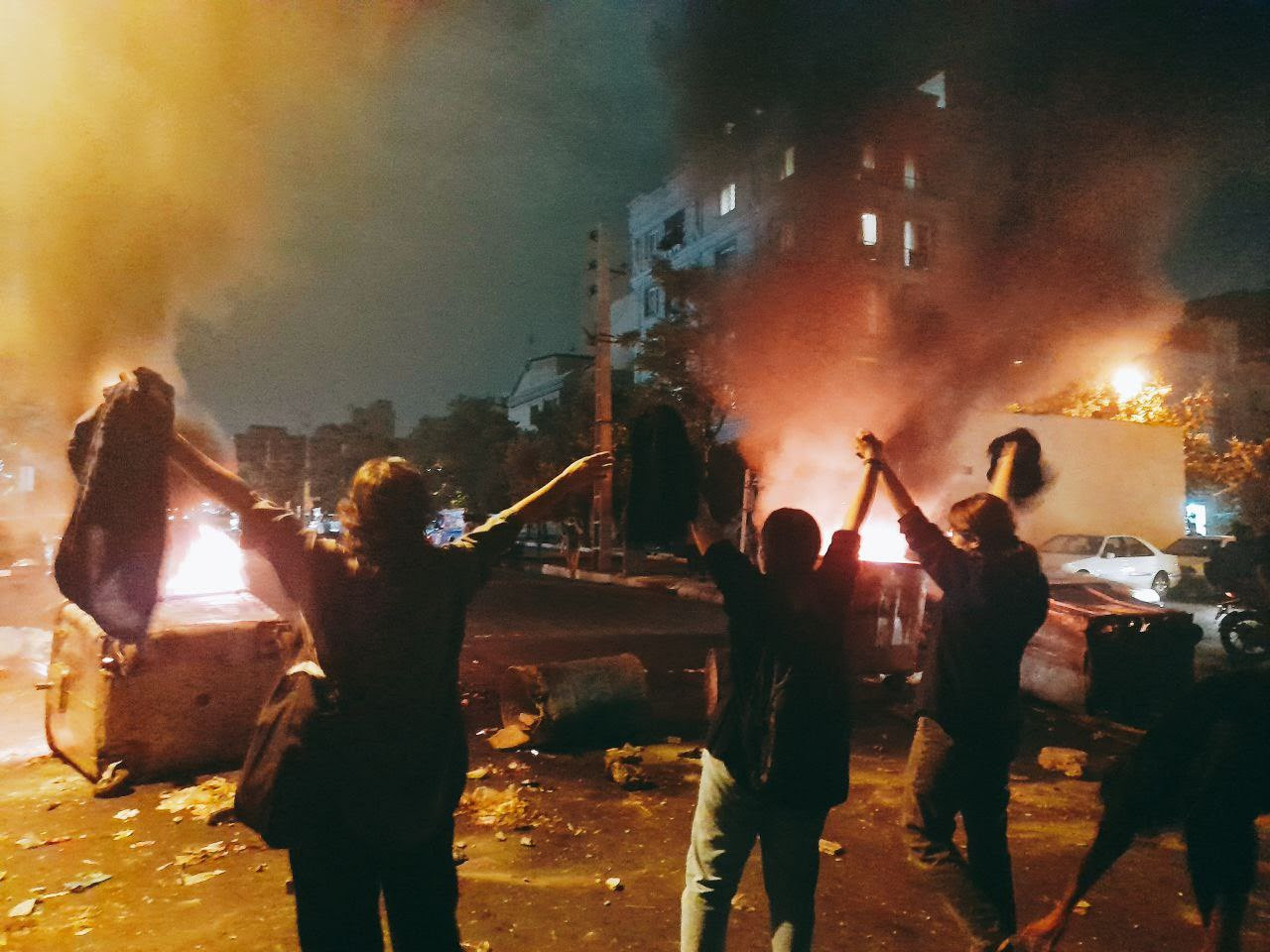 PARIS, France – For the fourth consecutive day the government of Iran has blocked internet access as tens of thousands across the Islamic Republic continue to protest the violent crack-down following the death of a 22-year-old Kurdish woman Mahsa Amini, who died in police custody after being arrested by Iran's "morality police" over a week ago.
London, UK-based news agency Iran International reported that Amini had traveled from a Kurdish region in Saqqez to the Iranian capital city of Tehran where there was a confrontation in the streets and she was arrested in her brother's car by the Islamic religious police.
Amini had been arrested for violating the nation's strict Islamic laws requiring women to wear head scarves known as hijabs by the notorious police units who enforce Iran's codes on hijabs and other conservative Islamic modes of dress and behavior.
Within twenty-two hours of her arrest she was taken to Kasra Hospital in northern Tehran where she died without regaining consciousness. According to her family members she was badly beaten by police in the prisoner transport van immediately after her arrest.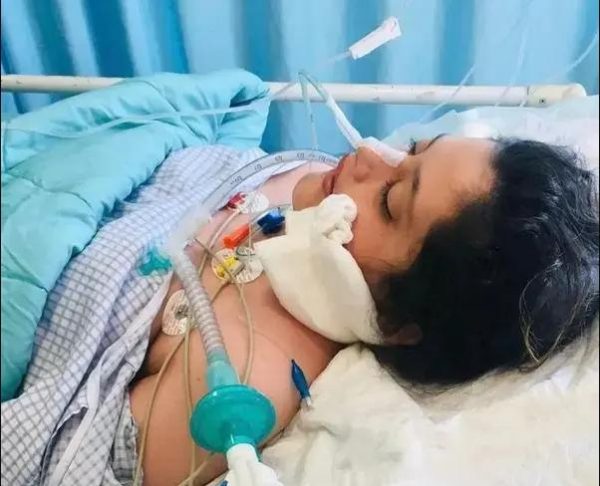 At hospital Amini was found suffering from "multiple blows" to the head and a hospital source told Iran International news agency additional her lungs were filled with blood when she was transferred to the hospital and it was clear that she "could not be revived."
The source emphasized that Mahsa's condition "was such that she could not be saved nor was surgery possible because her brain tissue was seriously damaged and it was clear that the patient was not injured by a single punch and must have received many blows to her head."
Her death on Friday, September 16 sparked protests that began to escalate, first in Tehran and then spreading across the country. Iran's President Ebrahim Raisi in an effort to quell the growing acts of dissent and protest promised Amini's family two days after her dying that her death would be investigated. Iran's chief justice, Mohseni Ejei, also promised a full investigation.
There were multiple international calls including the acting U.N. High Commissioner for Human Rights Nada Al-Nashif, who said in a statement; "Mahsa Amini's tragic death and allegations of torture and ill-treatment must be promptly, impartially and effectively investigated by an independent competent authority, that ensures, in particular, that her family has access to justice and truth."
The protests by Iranians outraged by Amini's death included some women setting their headscarves on fire in the streets. Reaction from Iranian security services has been harsh with thousands arrested and at least 54 who have died according to Iranian state media and human rights groups.
U.N. Commissioner Al-Nashif said the compulsory veiling laws remain of concern in Iran, where appearing in public without a hijab is punishable by imprisonment.
In recent months, the morality police have expanded street patrols, subjecting women perceived to be wearing "loose hijab" to verbal and physical harassment and arrest. The UN Human Rights Office has received numerous, and verified, videos of violent treatment of women, including slapping women across the face, beating them with batons and throwing them into police vans.
"The authorities must stop targeting, harassing, and detaining women who do not abide by the hijab rules," said Al-Nashif, calling for the repeal of all discriminatory laws and regulations that impose mandatory hijab.
Iran Human Rights and other sources report that at least 54 people have been killed by security forces in protests across Iran. In many cases, returning the bodies are made contingent on secret burials. Hundreds have also been injured or arrested.
Authorities have been dispersing demonstrators with water cannons and in some cases live ammunition. "The Iranian people are demanding rights that have been taken away from them by the Islamic Republic for more than 40 years. Now the Islamic Republic is responding to their peaceful protests with bullets," Mahmood Amiry-Moghaddam, Director Iran Human Rights told the Blade in an email adding: ""Condemnations and expressions of concern are no longer enough. The international community and anyone that adheres to human rights principles, must now support the Iranian people's demands."
With the Internet blocked by the government of Iran including banning use of mobile apps WhatsApp and Instagram two of the most popular social media services in Iran, information is being sent out through other channels.
In addition Signal, Google Play and the App Store are all down and their websites have been filtered. Internet disruptions have delayed information getting out about protesters that have been killed, wounded or arrested. As such, the number of deaths cited are protesters killed prior to September 23. True figures on the number of people injured and killed in the protests are unclear, but the tally is rising.
Wired magazine reported Iran started shutting the internet down on September 19 as protests around Amini's death gained momentum. Since then, multiple internet-monitoring organizations, including Kentik, Netblocks, Cloudflare, and the Open Observatory of Network Interference, have documented the disruptions. Mobile network operators, including the country's biggest providers—Irancell, Rightel, and MCI—have faced rolling blackouts, the groups say. Multiple mobile providers have lost connectivity for around 12 hours at a time, with Netblocks saying it has seen a "curfew-style pattern of disruptions."
Felicia Anthonio, who leads NGO Access Now's fight against internet shutdowns, says the group's partners have reported that text messages containing Amini's name have been blocked. "If you're sending a message containing that name, it doesn't go through," Anthonio says.
"Shutting down mobile internet service has become a go-to for the Iranian government when dealing with civil unrest," says Doug Madory, director of internet analysis at monitoring firm Kentik, who has been following the shutdowns. "People were using these services to share videos of the protests and the government's crackdown, so they became targets of government censorship."
Sources tell the Blade that anti-government demonstrators include LGBTQ activists standing in solidarity with women in the country.
The BBC and CBS reported in Tehran, marching demonstrators chanted "death to Khamenei" and "death to the dictator," referring to the country's supreme leader, 83-year old Ayatollah Ali Khamenei. Crowds of protestors pushed back against Iranian security forces, known as the "basij," with videos shared on social media showing uniformed officers running away as people cheered.
As protests continue to escalate and spread there is fear that Iran's Islamic Revolutionary Guard, (IRG) will step in with a massive crackdown. The IRG has already issued two statements this past week that condemned the protests as an organized conspiracy by enemies of Iran.
According to information obtained by Iran Human Rights from the victims' of police violence and having reviewed video evidence, security forces have been using disproportionate force and live ammunition to suppress peaceful protests in the last few days, a clear and gross violation of international law.
ABC News GMA- Protests in Iran turn deadly:
The White House celebrates "A night when hope & history rhyme"
"On his final tour in Washington, Jill and I invited Elton to the White House to thank him on behalf of the American people"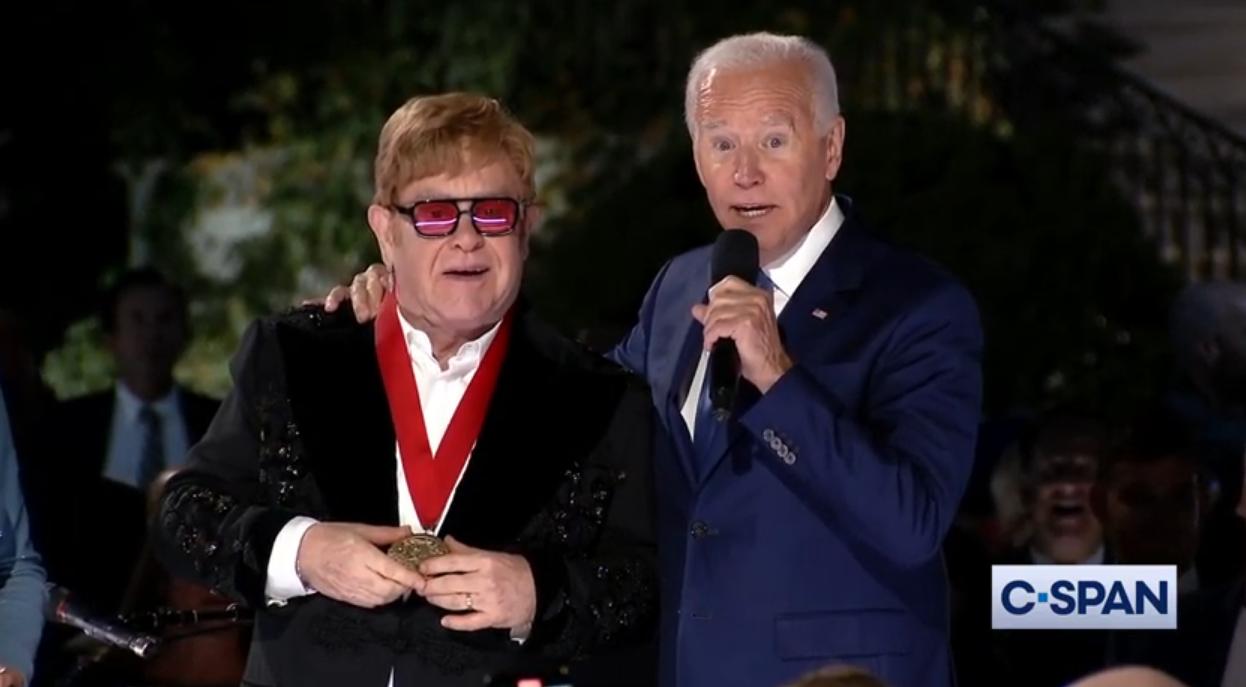 WASHINGTON – After a performance from a repertoire of the best known hits from his songbook in a special musical concert at the White House Friday evening, Sir Elton John was called to the podium where, accompanied by the First Lady Dr. Jill Biden, President Joe Biden surprised the iconic British singer-songwriter with an award.
The president presented John with the National Humanities Medal for his advocacy work in recognition of LGBTQ+ rights and tireless activism against the global HIV/AIDS crisis disease through his contributions in music and the arts.
The National Humanities Medal, inaugurated in 1997, honors individuals or groups whose work has deepened the nation's understanding of the humanities and broadened its citizens' engagement with history, literature, languages, philosophy, and other humanities subjects.
A stunned John was moved to tears. After the president had the citation read by a military aide and hung the medal around the singer's neck, Biden told the audience gathered, "I think we surprised him" to which they cheered and applauded.
The medal's citation read in part that it was honoring John "for moving our souls with his powerful voice and one of the defining song books of all time. An enduring icon and advocate with absolute courage, who found purpose to challenge convention, shatter stigma and advance the simple truth — that everyone deserves to be treated with dignity and respect."
Visibly moved, the iconic musician and performer said: "I just said to the First Lady, I'm never flabbergasted- but I'm flabbergasted and humbled and honoured by this incredible award from the United States of America. I will treasure this so much- I will make me double my efforts to make sure this disease goes away. Your kindness- America's kindness to me as a musician is second to none, but in the war against AIDS and HIV it's even bigger and I can't thank you enough…. I'm really emotional about this- thank you."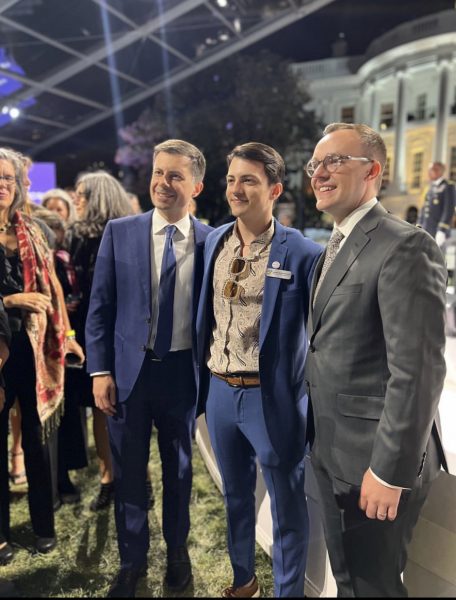 The special gathering held under a vaulted glass and aluminum 'tent' on the South Lawn of the White House was attended by 2,000 guests including former first lady Laura Bush, U.S. House Speaker Nancy Pelosi and U.S. Transportation Secretary Pete Buttigieg, his husband Chasten, as well as teachers, nurses, LGBTQ advocates and military families, who the White House had dubbed "everyday history-makers."
During a pause in his performance earlier, the singer addressed former first lady Laura Bush, praising her husband, former President George W. Bush's ongoing work on the Presidential Emergency Plan for AIDS Relief, which President Bush had initiated while in office and is credited with saving millions of lives across the African continent and helping to change the trajectory of the HIV/AIDS crisis globally.
"I want to say to the first lady, President Bush accelerated the whole thing with his PEPFAR bill. It was the most incredible thing," he said to Mrs. Bush.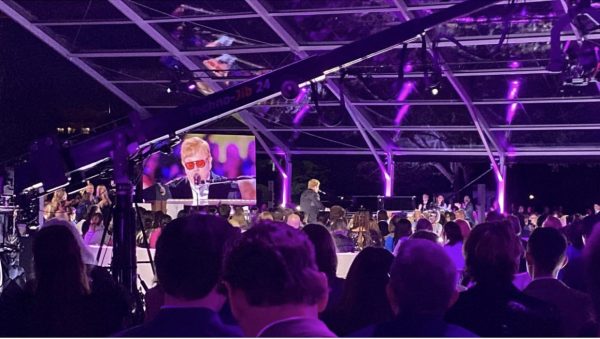 President Biden Awards Elton John with National Humanities Medal:
Full Text of the President and the First Lady's remarks:
THE FIRST LADY: Hello! Good evening. Thank you, Athen. It's leaders like you, those helping the next generation live authentically and find their voice, who make me so hopeful for our future.

And thank you to Paul Buccieri and A&E for helping us put this event together.

Isn't this incredible?

First Lady Laura Bush is with us tonight. And, Laura, it's such an honor to welcome you and your family back to the White House.

And finally, I want to say what a joy it is to be here with the man who has inspired, supported, and loved Sir Elton John for so many years: his husband, David.

Few things have the power to bring us together like music. It can compel us to move as one on the dance floor, to sing along with strangers when we hear that familiar tune. It's a voice for the feelings we can't always define.

When the piano plays, the strings swell, the drums beat in time with our hearts, we find joy or a balm for our sorrows or the harmonies that tell us we aren't alone.

And in that spirit, as we celebrate Elton John's music, we also celebrate you — everyday history-makers.

Many of you are my colleagues — fellow teachers, like Leah Michael Dillard. (Applause.) Love the teachers! So, Leah has taught 7th grade English for 20 years. And, Leah, your students are better thinkers and more engaged citizens because of you.

We also have first responders and healthcare heroes like — like Dr. Amber Pearson. Amber was the first person in her family to go to college. And it wasn't easy. She worked multiple jobs, took out loan, and when she finally reached her dream, she gave back to others, as an audiologist for veterans and their families, serving the women and men who serve us so well.

And in this crowd are leaders of the beautiful, bold, and diverse future we are building together, like Javier Gomez, a student from Miami. When his governor passed a law targeting the LGBTQ community, he didn't sit back.

Javier, you remind us of the power of one person who is willing to speak up for what is right, and that's what this night is all about. Coming together, using our voices, celebrating that, here in America, our differences are precious and our similarities infinite.

Elton once said, "Music has healing power. It has the ability to take people out of themselves for just a few hours."

We're here tonight to once again lose ourselves and be brought together — perhaps even healed — by the power of music.

And now, I get to introduce another huge fan, who also happens to be the President of the United States and my husband, Joe Biden.

THE PRESIDENT: You had to stand for Jill, but you can sit for me. Please, all have a seat. Please, have a seat.
Thank you, Jill. Thank you all for being here on such a special evening.

And, Athen, leaders like you are helping the next generation live an authentic voice. And I want to thank you very much for introducing me.
Look, I — as my colleagues — many of whom from the Senate are still here, came tonight — they always used to kid me because I — I was quoting Irish poets on the floor of the Senate.
The think I did it because I'm Irish. That's not the reason; I did it because they're the best poets in the world.
One who we lost not too long ago, Seamus Heaney, once wrote, and I quote, "Once in a lifetime, the longed-for tidal wave of justice rises up, and hope and history rhyme."

Throughout this incre- — his incredible career, Sir Elton John has been that tidal wave — a tidal wave to help people rise up and make hope and history rhyme. Three hundred million records sold. Seventy-one billboard hits, nearly half in the top ten. Six Grammy Awards. Two Oscars. One Tony, among the multiple, multiple nominations across the board. Four thousand performances around the world. A singer, songwriter of our time, for all time.

On his final tour in Washington, Jill and I invited Elton to the White House to thank him on behalf of the American people.

So, like so many Americans, our family loves his music. His songs take us — take us back to a time, a place, a memory. Songs that make every day exceptional, help us connect and come alive. And songs that reflect the artist's gift, that sixth sense to imagine what no one else can, and then sing and play and dream until he sets that feeling free.

As Jill just mentioned, we're joined by so many people that it's — he's set free to be themselves, to be treated with the dignity and respect they deserve.
Families and advocates in the fight against HIV/AIDS — a fight — a fight that he has led with sheer will, and fight for those lives lost and those lives that we can save.
Leaders standing up for equality of all people, no matter who you are or who you love.

Every day — every day Americans of every generation, of every background who know that life can be cruel and full of struggle, but it can also be full of joy and purpose.

And we're joined tonight by the UK Ambassador to the United States, Karen Pierce, during a difficult time. Karen, thank you. Thank you for being here, Karen.

Jill and I travelled to London to pay our respects to the Royal Family on the Queen's passing.

Our hopes tonight — our hope is that Sir Elton John's music heals the sorrow, as it often has in the past.
Throughout his career, Elton found his voice — not only his voice, but his voice to help others and help them find their voice.

With his hope, he made history rhyme for countless people in our nation. That's what tonight is all about.

Elton often talked about how American music changed his life and how the different genres and sounds influenced his own music and imagination. It's clear Elton John's music has changed our lives.

To David and the boys, thank you for sharing your husband and dad with us tonight. (Applause.) And to Elton, on behalf of the American people, thank you — and I sincerely mean this — thank you for moving the soul of our nation.