Mayor Pete's headed to Provincetown for July 4
Plus, how did Shawn Mendes' underwear end up in John Mayer's room?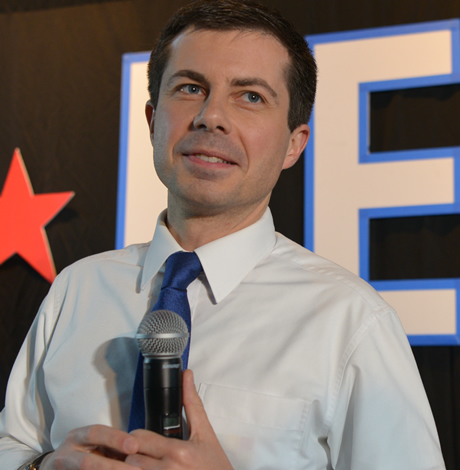 "Yes, I admit I was stalking Lou Pearlman into the bathroom!" – Ashley Parker Angel on how he met Pearlman and got cast on "Making the Band." He also was cast in Lou's private shower videos, but we'll get to that. 
I recently told you that presidential hopeful Pete Buttigieg planned to make a stop in Provincetown this summer. I can now confirm that he'll be turning up during the busiest weekend – Fourth of July! His free rally will take place on July 5 at Town Hall (there will be a high-priced fundraiser afterward). Since this is one of the biggest gay party weekends in the world with an assortment of scantily clad men of all ages, please be aware that a thong is not appropriate attire for any political rally on Cape Cod that does not include a member of the Kennedy family.
The Chinese parent company of Grindr has agreed to sell the popular gay hook-up app after the U.S. Committee on Foreign Investments deemed it a "national security risk," which says more about the Trump administration than anything in the Mueller Report! CNN reports that Kunlun Tech has agreed to sell the app by June 30, 2020.  "Until then, the firm says Grindr will not transmit any sensitive information to China, though it is not clear how that will be enforced." I don't know about anyone else, but I won't be cruising Grindr when I'm at Panda Express.
I did finally watch "The Boy Band Con." The Lou Pearlman documentary was produced by Lance Bass for YouTube. Without a doubt, there is an interesting, almost compelling, story there – but it's not in this documentary. It's unfortunate because obviously the powers-that-be snagged some great interviews and got access to lots of footage and songs. But either you know how to construct and tell a story, or you don't.
Last week, John Mayer was on SiriusXM with Andy Cohen and shared a "clickbait story," meaning it's so salacious, people will click on it. He provided the headline: "How Shawn Mendes' underwear ended up in John Mayer's hotel room." Yes, I'd click on that – but I'd also know it would end up being some innocuous anecdote. One day, Mayer was in the studio with Mendes. Shawn asked Mayer, "Hey, man, do you think you could, like, Postmates underwear?  Can I Postmates underwear?  I'm out of underwear."  Since I'm not of the iAnything persuasion, I had to look up "Postmates." Be that as it may, Mayer said he'd be happy to ask his assistant to go shopping for undies.  The assistant came back with a dozen pairs of various size medium boxer briefs in a bag (not a CK in the bunch). They finished up in the studio, and Shawn left — sans undies. So Mayer brought the underwear back to his hotel room. The end. What I got out of this story is that nobody wants to be in possession of underwear John Mayer was anywhere near – even underwear still in its package.
Speaking of packages, we hear that Chris Hemsworth is gearing up to play a stripper in an upcoming $40 million flick for Paramount. "Down Under Cover" will find Hemsworth and Tiffany Haddish playing police detectives who team up to crack a string of casino heists. The main suspects are a group of Aussie male strippers, kinda like "Thunder From Down Under." So, naturally, Hemsworth has to go undercover as a stripper. Is it just me, or does this sound like a gender-bending take on "Miss Congeniality?" Not that I'm complaining. The film was announced last week at the Cannes Film Festival and will begin shooting in February.
One of the best things I saw last year was "A Very English Scandal," a three-part miniseries from the BBC (you can watch it on Amazon). I urge you to check it out, not only for the outstanding performances by everyone (especially Hugh Grant and Ben Whishaw, who won a Golden Globe), but also for the crackerjack true story, which was riveting. Much of the credit goes to director Stephen Frears and writer Russell T Davies, who also brought us "Queer as Folk" as well as pivotal work on "Doctor Who" and "Torchwood."
Which leads us to our "Ask Billy" question from Thom in Baltimore: "What is this new show that Russell Tovey is in?  He said it had graphic gay sex, so I don't want to miss it."
Tovey is in a new BBC series called "Years and Years." written by Russell T Davies (HBO will run it at a later date). The first episode takes place in the near future, after Brexit and during Donald Trump's second term (God forbid). What Tovey said was, "Everything has to be shown because, otherwise, if you don't show diversity, if you don't show gay sex, if you don't show men in love, or women in love, or whatever, then how the hell do you normalize it?" I note he didn't mention that the show also features a sex robot! As to the gay sex scene in question, it comes toward the end of the first episode and, well, check it out on BillyMasters.com.
When robots are worried about the size of their packages, it's definitely time to end yet another column. With May Sweeps over, everything hits an inevitable lull. So it's the perfect time to check outwww.BillyMasters.com – the site that never disappoints.  If you have a question for me, send it along to [email protected] and I promise to get back to you before I run the inevitable scandalous photos from Buttigieg's Ptown rally!  Until next time, remember, one man's filth is another man's bible.
R.K. Russell's life, sport & bisexual awakening 
This Black queer former NFL player says he's fighting "for us all to be seen, whether it be in the pages or on the screen"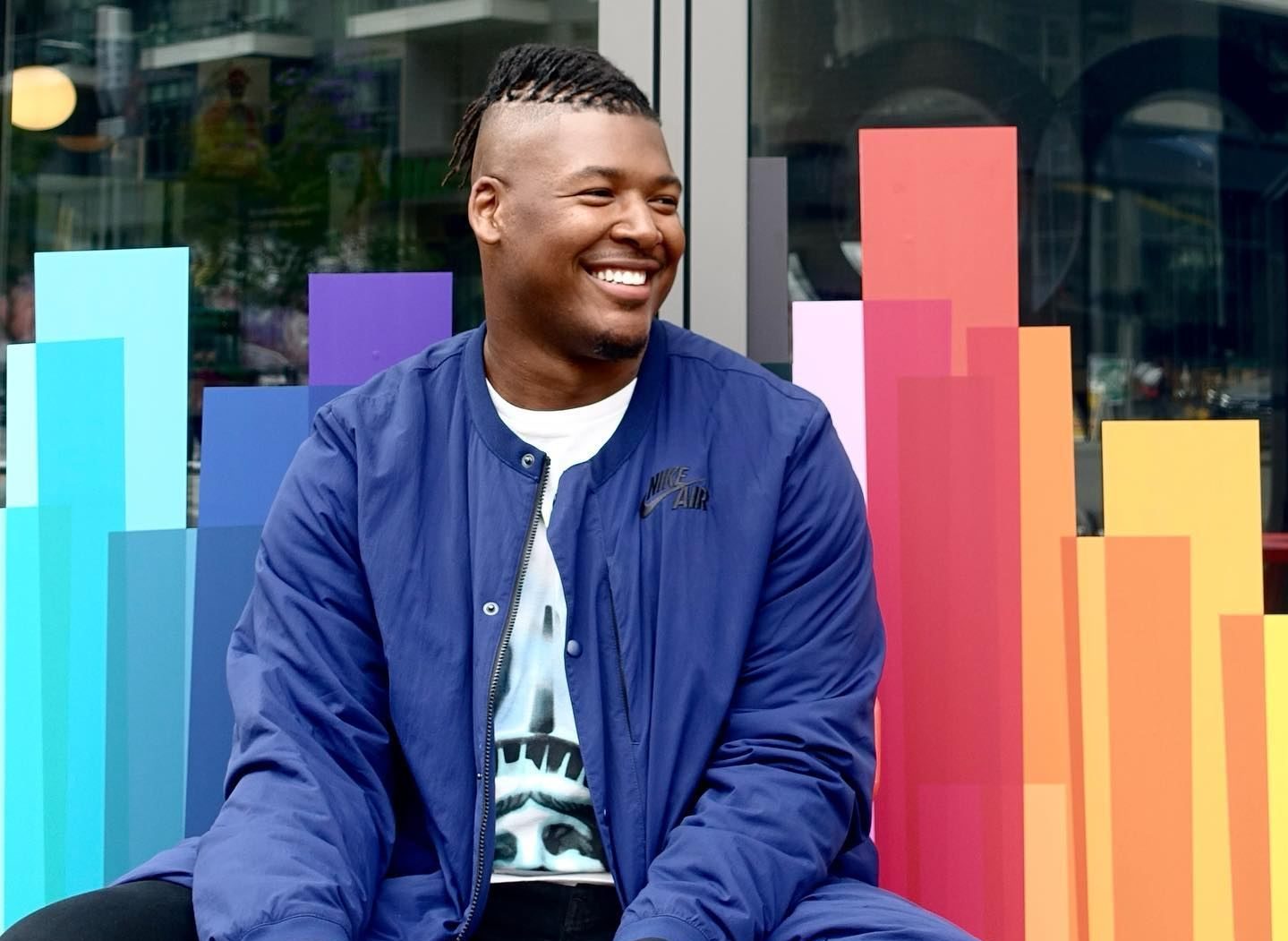 WEST HARTFORD, Conn. – He's tackled opponents on the gridiron, paved a path for out LGBTQ+ athletes and shared his unique voice in words and prose. Now R.K. Russell is celebrating the release of his long-awaited memoir, The Yards Between Us, as well as a Hollywood deal to bring his story to television viewers. 
It's something Russell told the Los Angeles Blade he never dreamed would be possible, even as a child.
"Grown me could barely imagine the book, let alone, little me," Russell said. "It is something I have not seen before, and something that doesn't really exist. Something that is so shocking even to me, this being my life. I think the reason that I continue to take these opportunities that come to use my platform and my voice and my talents, my gift, to not just tell these stories, but to hopefully champion other people in their story. To just fight for us all to be seen, whether it be in the pages or on the screen, everywhere people exist. We exist."
As the Blade reported in August 2019, Russell came out as bisexual in a feature for ESPN. The NFL defensive end was drafted by the Dallas Cowboys in 2015 and played a few seasons for the Tampa Bay Buccaneers and Buffalo Bills. After coming out as a free agent, Russell wasn't able to fulfill one of his dreams — to play professional football as an out and proud bisexual man. But at that time, he said all he was focused on was living his truth.
"It was a powerful time in my life," Russell told the Blade. "It was the first time I really felt that I was taking all this control and I wasn't just at the mercy of the NFL or waiting for that phone call, or at the mercy of friends, family, lovers. It was my decision and my moment and my truth. And I got to express it in a form that felt very genuine to me."
The Buffalo native called the experience "freeing."
"I didn't think I'd realize how much I had been proverbially holding my breath until that moment. And then it just felt like such an exhale. It's such a freeing thing, and the weight of the burden of that secret, of that shroud, or that shame," he said. "I just realized how heavy what I had been carrying for so long. So, definitely a powerful and freeing moment."
Having already told part of his story to ESPN, The New York Times and other news outlets over the years, there was a reason Russell felt it was important to write the rest of his story.
"That was just a very specific part of my life, and it showed me that maybe by sharing my whole story, my life and my journey and my truth and other parts could be just as impactful, if not more impactful," he said. As he set out to write the memoir, he said he first experienced imposter syndrome, until he came to a realization.
"The point that got me through was, 'What would little R.K. read that would have helped him? What was a book that didn't exist when he was young, and that he could have picked up and seen himself, or that people like him can pick up and see themselves? Or even people unlike him, to get a human connection to someone that does not look like them or doesn't play sports?' So, I think the huge, final push was, 'What would I have liked to have read as a child?' And hopefully that will help other people."
The Yards Between Us traces not only Russell's football career and his love for the game, for both men and for women, but also what it was like for him to keep his bisexuality secret and the tension between his private and public lives. As his weighs upon him, he's dealt a devastating loss, an event that leads to an all-enveloping darkness, until finally he recognizes, it's time to make a change.
Since coming out, he's found love with his boyfriend, Corey, grown closer to his mother and this September he'll mark four years sober.
Russell's memoir has won him accolades from LGBTQ+ readers, but not just them.
"I've also gotten a lot of support from people who aren't LGBTQ+ who see the value in the story, but also see the value in the intersections of it all. Because I don't just talk about being a bisexual, I talk about being a Black man. I talk about being a football player, defining masculinity and redefining masculinity. There's a lot of intersections that my story crosses. And I think for people to see all of these layers also coexisting in one person, that's important to see the bridges between these communities that at times can be put against each other, or it can be divided, to see them all exist within one person."
While all that sounds very serious, Sony Pictures Television sees comedy gold in exploring Russell's intersectionality of sports, race, sexuality and masculinity. His memoir is being adapted into a half-hour comedy series, as Deadline reported. Russell is co-writing and executive producing a half hour comedy series with Saeed Crumpler of "Flatbush Misdemeanors," alongside Gabrielle Union, who is a producer in her own right as well as wife to Dwyane Wade and stepmother to their 15-year-old trans daughter, Zaya Wade. As the Blade reported last month, the Wades left Florida because of its anti-trans policies and laws.
"She's fantastic. Amazing," said Russell. "If anyone wants to know what allyship looks like, Gabrielle Union and Dwyane Wade and their whole family, they're so amazing. "
Union, he said, recognizes the importance of representation. "It's important to have genuine representation, whether it be during Pride Month with companies and campaigns or in shows and books that our stories are coming from, that there are Black queer writers writing Black queer stories hopefully also in part started or acted by Black queer artists."
Long before he wrote a word of his memoir, Russell has been publishing his own poems, which he told the Blade was his "way to express life with words." He said he started writing poetry following the death of his stepfather.
"It was a way for me to kind of name grief, without naming it. I didn't have that vocabulary, that word at that time, but I was feeling it so intensely," he said.
One of Russell's poems, Tributes, was an effort at explaining bisexuality and his experiences. "'Bisexuality,' the word, means something slightly different to you, to me, or to someone else. I can talk about the experience in a way that is so varied and so broad and to me, so true and genuine." Below, an excerpt from that poem:
Love is freedom
and the freedom to love is a birthright,
or at least it should be.
These years fill my canvas
and I know too much of life to expect
only one color to leave its strokes across my heart.
Paint is intended to mix no matter the artist. —Tributes, by R.K. Russell