Actor Michael D. Cohen talks transition — and never keeping secrets
Nickelodeon star says, 'I don't see myself as coming out right now'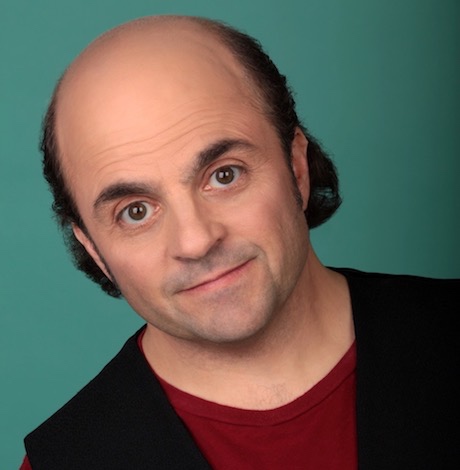 One good aspect of the debate over impeaching Donald Trump: the trolls are so preoccupied flogging their Twitter foes, they've missed a story that could have once created a vortex of online cruelty. Instead, Michael D. Cohen, who plays "loveable genius" Schwoz Schwartz on Nickelodeon's "Henry Danger" and its spinoff "The Adventures of Kid Danger," is featured in a widely shared Time magazine article about his gender transition 20 years ago.
Ironically, it's the convergence of stories about Trump, as well as the development of his one-man show about his transition that moved Cohen to disclose his personal story now.
"I don't see myself as 'coming out' right now, Cohen told the Los Angeles Blade in a recent phone interview. "I'm disclosing. I'm sharing my story. But my 'coming out' happened almost 20 years ago. I've been living my life. This isn't a coming out and I think that's an important distinction.
"I was never secretive about my having transitioned," says Cohen. "I transitioned in Toronto back in 2000. I was working as an actor at the time. I told my agent, went through the physical transition, and started auditioning as a man after that. People in the community that I worked with in terms of casting directors—they knew me before and they knew me after. People who were my friends, people who were other actors, everybody in my life, my family, my extended family, everybody knew. It was never a secret. In fact, I auditioned for roles that had trans characters so it was never a secret."
After he moved to Los Angeles and started dealing with Hollywood agents, Cohen says that he was mindful of his intentions on a "continuum of disclosure."
"To me it was a question of when is it relevant?" Cohen says. "I would have to question my intentions. Am I bringing this up because I'm afraid if they found out or am I bringing this up because it's relevant? I always wanted to go from the place of relevance. If I was looking for representation or something like that if it was relevant, and it usually was, I would mention it."
One time Cohen was outed because someone knew his story and recommended him for a transgender role.
"Keeping something that feels like a secret—it doesn't feel good," he says. "It feels like I'm attaching some sort of shame or something to it and I didn't do that consciously. I was as open as I needed to be."
Cohen has a completely different take on the issue some transgender people face when a straight person claims a trans person is  "deceiving" them by not disclosing.
Other than some "weird comments on the internet," Cohen has not had that experience. "For me, and I think a lot of people in transition feel this way, that when you do share that you have a trans history, you feel more deceptive sharing that than you do just being quiet and living your life because I'm living my truth now," Cohen says.
"If I tell you—"Hey, there was a period in my life where I felt like I was living a lie and I want you to see me through that lens of that lie"—it's encouraging a deception but it's a deception that's reversed from what you're talking about," he says.
"The way you see me now is the truth. That's where my authentic self lives. Whatever people expect, that's their business. This is the truth and this is what I'm going to show up in," Cohen says. "I think that's confusing for people who don't understand the nature of gender identity and being assigned a gender identity at birth that does not fit who you are. I think that coming into your truth is living it to the best you can. I've had the privilege of being able to live in my authentic self and present of my authentic self. Not everybody has had that privilege or had that access for whatever reason. It makes things extraordinarily difficult for a lot of those people."
Cohen says he's got a whole checklist for a person he might date and that does not include someone who might accuse him of deception.
Though he hasn't been highly visible in the LGBT movement, Cohen says he volunteered as a counselor with the Trevor Project's Lifeline about five years ago, an experience that changed his life.
"I've just been very passionate about helping youth and focusing on the needs of youth who are dealing with LGBT issues—whether it's coming out or that they feel like they are miss-assigned in their gender," he says. "Just having the privilege of be able to work on the Lifeline, that in and of itself was transformative."
Being able to connect with such vulnerable youth, many calling from the Deep South or other deeply religious areas where they can't be themselves—"to be literally be their lifeline is just the most profound honor and privilege."
And while he emphasized that most of the calls were not dramatic, some were. "They were literally about to kill themselves," Cohen says. "To be able to speak with them and spend as much time as it took on the phone and help them transform their ideas of what is possible for themselves, there's nothing like it….It made me grateful for how fortunate I have been and grateful for what I have been given."
Cohen pauses, recalling one kid in particular who called the next day and left a message. "He said, 'Please tell Michael thank you for saving my life.' I'm choking up. How do you not get changed from something like that? To touch people and to be touched in that profound way, it's life changing."
Several events prompted Cohen to disclose his transition, including a longtime plan to do a solo theatrical show, which has been deferred until spring 2020 by the success of his Nickelodeon show, "Henry Danger.  Another was seeing "more and more push back from the Trump administration against the rights of people with Trans experience, I started to get more and more frustrated with feeling like I didn't have a voice," he says.
"I'm going to be part of the fight in terms of making this administration see, to the best of my ability with other people obviously in partnership, that what they are doing is abject discrimination, it is unacceptable, and it is hurting innocent people and rolling back advances that our society has made that is bringing us back to a lesser society instead of a greater one," Cohen says. "I'm so disturbed about it. My intention is to help people have more room to be truthful in their own expressions."
Cohen understands that can be confusing. "The way that I see myself is: I am male. I am a man. That is my core being. That's always been there, that I've always been male. That feels like the truth in that core being way of truth," he says.
"Transgender, to me, describes the situation that I was in as a kid and partially as an adult, too. It describes the circumstance, it describes the journey, it describes the history, it describes some of the medical issues. It describes things that are more circumstantial. It does not describe my identity, it does not describe who I am in the most core basic way," Cohen says. "I also understand that there's a lot of people who feel differently and that really do identify with that word and that word's so important to them and their identity and I think that's completely valid and needs to be respected. But for me that does not fit.
"To me, I'm in alignment right now so, why would I bring up the fact that there was a huge part of my life that I wasn't in alignment with myself useless its relevant to that conversation? Then I would say, 'I've had a Transgender experience,' or 'I've had a Trans journey,'" he says. "I have spent a lot of my life taking labels that were uncomfortable for me that I felt like I had to contort to fit and I'm not willing to do that anymore."
The actor says he may be tied up with production of his Nickelodeon show but is checking to see if he might be free to enjoy LA Pride this year.
"I love that we celebrate this annual event and that it's called 'Pride' because it's the opposite of shame," Cohen says. "Coming out of shame and fully showing up as who we are, no matter what it is, is so important. I'm just proud to be aligned with a community of people that is willing to show up and celebrate being who they are. That's what it's all about."
To see a video of Cohen's in-production one-man show, 4 Cubits Make a Man, go to 4cubits.com.
On 49th anniversary of Roe v. Wade- is it the last? Biden & others weigh in
The whole country is waiting for the Supreme Court to decide on one of the most serious challenges to abortion rights since the Roe v. Wade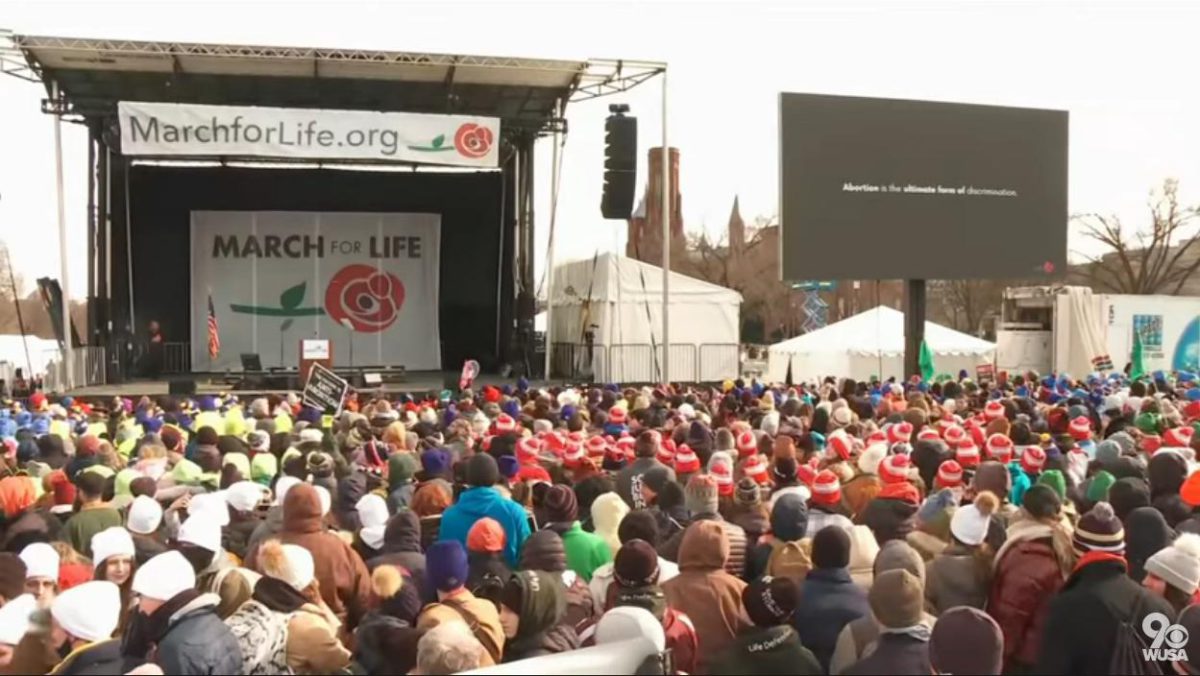 WASHINGTON – As thousands gathered on the National Mall in D.C. Friday for the annual anti-abortion 'March for Life March and Rally 2022,' there were signs among the speakers and the participants gathered of a renewed sense of optimism that with a pending Supreme Court case, this year maybe the last annual gathering as the court looks poised to overturn Roe v. Wade.
"We are hoping and praying that this year, 2022, will bring a historic change for life," Jeanne Mancini, president of the March for Life Education and Defense Fund, said at the event, The Associated Press reported.
A large portion of the crowd during the March for Life rally on Friday was made up of young people, with some holding signs saying they were the "pro-life generation."
The whole country is waiting for the Supreme Court to decide on one of the most serious challenges to abortion protections that the institution heard since the Roe v. Wade decision 49 years ago, which gave women the constitutional right to abortion.
The justices of the U.S. Supreme Court heard oral arguments this past December, in Dobbs v. Jackson Women's Health Organization, a case involving a Mississippi law that bans nearly all abortions after 15 weeks of pregnancy.
Mississippi's Gestational Age Act, passed in 2018 but has been blocked by two lower federal courts, allows abortion after 15 weeks "only in medical emergencies or for severe fetal abnormality" and has no exception for rape or incest. If doctors perform abortions outside the parameters of the law, they will have their medical licenses suspended or revoked and may be subject to additional penalties and fines.
The lack of access is felt most heavily by marginalized people, says Kari White, a sociologist at the University of Texas at Austin and researcher with the Mississippi Reproductive Health Access Project. She was the lead author of a study published last month in the journal Contraception that found that Mississippians were more likely to wait longer for an abortion if they were low-income or Black, NPR reported.
In an analysis published by SCOTUS blog, Amy Howe noted;
If the justices overturn Roe and Casey, the Guttmacher Institute estimates that 26 states (including Mississippi) will implement complete bans on abortion. Although the stakes in the case are thus obviously high, Mississippi takes pains to assure the justices that overruling Roe and Casey would not have ripple effects beyond abortion rights. It distinguishes abortion from other constitutionalized privacy interests, such as interracial marriage and same-sex marriage, saying that those interests – unlike abortion – do not involve the "purposeful termination of a potential life."
In a statement to the Los Angeles Blade after the oral arguments in Dobbs v. Jackson Women's Health Organization last December had concluded, Shannon Minter, the Legal Director for the National Center for Lesbian Rights (NCLR) warned;
"[Today's] arguments should be a wakeup call for LGBTQ people. We must face the reality of a Supreme Court packed by one of the most reactionary presidents of our time, and we must get serious about passing a federal law that protects basic rights and liberties for our community. If you care about LGBTQ equality, it is essential as never before to do everything within your power to elect fair-minded local, state, and federal officials and to engage in real dialogue with those who do not yet fully understand or support LGBTQ people. We do not have the luxury of disengagement or passivity. If you are not actively involved in supporting a federal civil rights law for LGBTQ people, you are part of the problem."
Minter further cautioned;
"While restrictions on abortion primarily harm women, they also compound the challenges that trans men and nonbinary people already face in accessing gynecological and reproductive health care. Being a trans man or a nonbinary individual who needs an abortion is often a nightmare even in jurisdictions that support reproductive freedom. In places like Texas, which are making abortions inaccessible to anyone, it is terrifying,"
"My heart goes out to the trans and nonbinary people who are living in fear, praying they never need this care, and that if they do, they can find a way out of the state. And for those who know they can't afford to travel or pay for out-of-state care, there is no hope," he added.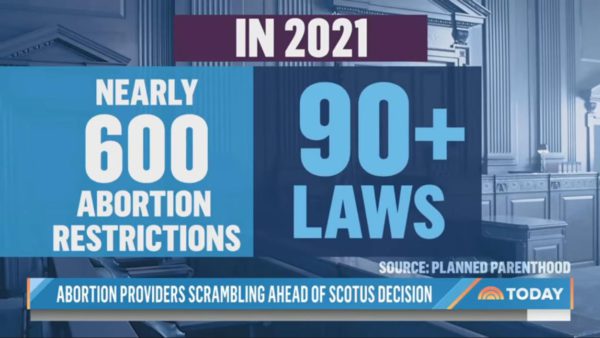 President Joe Biden and Vice President Kamala Harris released a joint statement Saturday commemorating the 49th anniversary of the landmark Supreme Court decision Roe v. Wade;
The constitutional right established in Roe v. Wade nearly 50 years ago today is under assault as never before. It is a right we believe should be codified into law, and we pledge to defend it with every tool we possess. We are deeply committed to protecting access to health care, including reproductive health care—and to ensuring that this country is not pushed backwards on women's equality.
In recent years, we have seen efforts to restrict access to reproductive health care increase at an alarming rate. In Texas, Mississippi, and many other states around the country, access to reproductive health care is under attack. These state restrictions constrain the freedom of all women. And they are particularly devastating for those who have fewer options and fewer resources, such as those in underserved communities, including communities of color and many in rural areas.
The Biden-Harris Administration strongly supports efforts to codify Roe, and we will continue to work with Congress on the Women's Health Protection Act. All people deserve access to reproductive health care regardless of their gender, income, race, zip code, health insurance status, immigration status, disability, or sexual orientation. And the continued defense of this constitutional right is essential to our health, safety, and progress as a nation.
We must ensure that our daughters and granddaughters have the same fundamental rights that their mothers and grandmothers fought for and won on this day, 49 years ago—including leaders like the late Sarah Weddington, whose successful arguments before the Supreme Court led to the landmark Roe v. Wade decision in 1973.
At this pivotal moment, we recommit to strengthening access to critical reproductive health care, defending the constitutional right established by Roe, and protecting the freedom of all people to build their own future.
A recent poll conducted by CNN found that a large majority of Americans — almost 70 percent — said that they oppose overturning Roe v. Wade. Thirty percent of respondents said that they supported the move.
New GOP majority city council to repeal LGBTQ+ law in Pennsylvania
"I don't know of any reasons for repealing it other than a political move […] This issue should not be politicized"
CHAMBERSBURG – The council of this central Pennsylvania borough (town) will meet on Monday, January 24 for a likely vote to repeal an ordinance passed this last October that safeguards residents against discrimination based on their sexual orientation, ethnicity or gender identity.
Opposition to the ordinance is led by newly installed borough council president Allen Coffman, a Republican. In an interview with media outlet Penn Live Saturday, Coffman said, "All of us that ran in this election to be on council we think we got a mandate from the people," he said. "People we talked to when we were campaigning did not like this ordinance at all. I don't know what the vote will be, but I have a pretty good idea."
The political makeup of the council changed with the November municipal election, which ushered in a 7-3 Republican majority.
The ordinance, which extends protections against discrimination to gay, transgender or genderqueer people in employment, housing and public accommodations, was passed in October by the then-Democratic majority council, Penn Live reported.
"I don't know of any reasons for repealing it other than a political move," said Alice Elia, a Democrat and the former Chambersburg borough council president. "This issue should not be politicized. It's an issue of justice and having equal protection for everybody in our community. It shouldn't be a political or a Democratic or Republican issue. This should be something we are all concerned about."
Coffman told Penn Live that the ordinance serves no purpose and is redundant. He points out that Pennsylvania's Human Relations Commission handles discrimination complaints from residents across the state.
"There are no penalties, no fines," he said. "There's nothing that the ordinance can make someone do. The most they can hope for is that the committee request the two parties to sit down with a counselor or mediator and talk about it. Quite frankly there is nothing that compels them to. There's no teeth in this."
Penn Live's Ivey DeJesus noted if Chambersburg succeeds in repealing the ordinance, it would mark the first time an LGBTQ inclusive law is revoked in Pennsylvania. To date, 70 municipalities have ratified such ordinances.
The Commonwealth of Pennsylvania is one of the 27 states in the nation that have no explicit statewide laws protecting people from discrimination on the basis of sexual orientation or gender identity in employment, housing and public accommodations.
Central Pa. borough poised to become first to repeal LGBTQ protections https://t.co/ZFpDOfRivw

— PennLive.com (@PennLive) January 22, 2022
Virginia Republican lawmaker introduces anti-Trans youth sports bill
Under the bill, male students are not permitted to participate on any school athletic team or squad designated for 'females'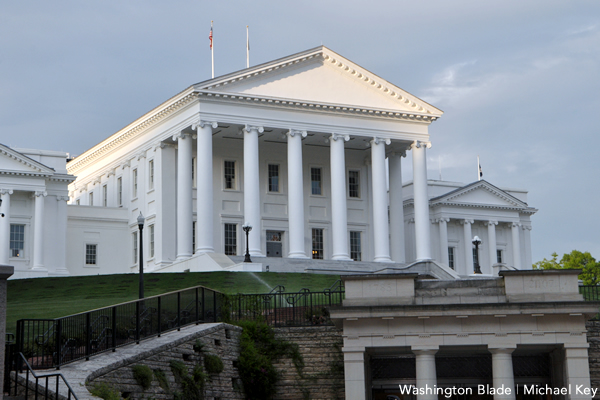 RICHMOND – A Virginia lawmaker has introduced a bill that would ban transgender students from joining school sports teams that are consistent with their gender identity.
Senate Bill 766, which state Sen. Jennifer Kiggans (R-Virginia Beach) introduced on Friday, would require "each elementary or secondary school or a private school that competes in sponsored athletic events against such public schools to designate athletic teams, whether a school athletic team or an intramural team sponsored by such school, based on biological sex as follows: (i) 'males,' 'men,' or 'boys'; (ii) 'females,' 'women,' or 'girls'; or (iii) 'coed' or 'mixed.'"
"Under the bill, male students are not permitted to participate on any school athletic team or squad designated for 'females,' 'women,' or 'girls'; however, this provision does not apply to physical education classes at schools," adds the bill. "The bill provides civil penalties for students and schools that suffer harm as a result of a violation of the bill. Such civil actions are required to be initiated within two years after the harm occurred."
Kiggans introduced her bill less than a week after Republican Gov. Glenn Youngkin took office.
Youngkin during his campaign said he does not support allowing trans children to play on sports teams that are consistent with their gender identity. Elizabeth Schultz, an anti-LGBTQ former member of the Fairfax County School Board, has been named the Virginia Department of Education's Assistant Superintendent of Public Instruction.
The General Assembly's 2022 legislative session began on Jan. 12 with Republicans in control of the state House of Delegates. Democrats still control the state Senate, and they have pledged to thwart any anti-LGBTQ bills.
"Let's be clear: This is part of an ongoing, nationwide effort to exclude trans people from enjoying the benefits of sports like their cisgender peers," tweeted the American Civil Liberties Union of Virginia on Friday after Kiggans introduced SB 766. "We won't tolerate this.
🚨ATTN: SB 766 to ban trans kids in Virginia from participating in sports has just dropped.

Let's be clear: This is part of an ongoing, nationwide effort to exclude trans people from enjoying the benefits of sports like their cisgender peers. We won't tolerate this. pic.twitter.com/oSDMvyewge

— ACLU of Virginia (@ACLUVA) January 21, 2022