June 2, 2019 at 2:07 pm PDT | by Karen Ocamb
AIDS LifeCycle kicks off in San Francisco, returns to WeHo on June 8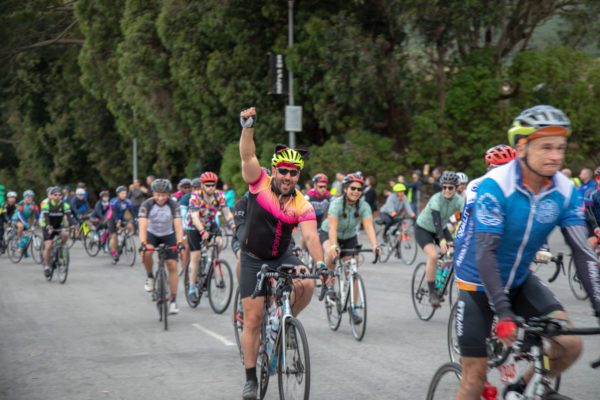 The world's largest annual HIV/AIDS fundraiser, a 7-day, 545-mile excursion from San Francisco to Los Angeles, kicked off Sunday with an extraordinary announcement. The roughly 2,200 cyclists raised more than $16.7 million, the most money ever raised for the San Francisco AIDS Foundation and the Los Angeles LGBT Center's HIV/AIDS-related services in the history of the event.
The trip is not just for cycling enthusiasts but for those who've lost someone or realize the fight against AIDS is far from over.
"In the seven days it takes the riders to reach Los Angeles, more than 700 people in the United States will contract HIV. Currently there are 1.2 million people living with HIV in the country, and one in seven people living with HIV nationwide is not aware of their status," the agencies say in a joint press release.
Not counting this year, the event, which began as the California AIDS Ride in 1994 and was renamed the AIDS/LifeCycle in 2002, raised more than $263 million from 60,000 rides. The venture is akin to moving a small tent city to each overnight stop, with more than 650 volunteer roadies providing support.
"The dedication of our riders and roadies—and their generous donors—makes it possible for us to provide vital medical care and services to people living with HIV and to provide prevention tools, including PrEP, to those most at risk of becoming infected," said Center CEO Lorri L. Jean. "As the Center celebrates our 50th anniversary, we salute everyone who is part of the amazing AIDS/LifeCycle community working tirelessly to end AIDS."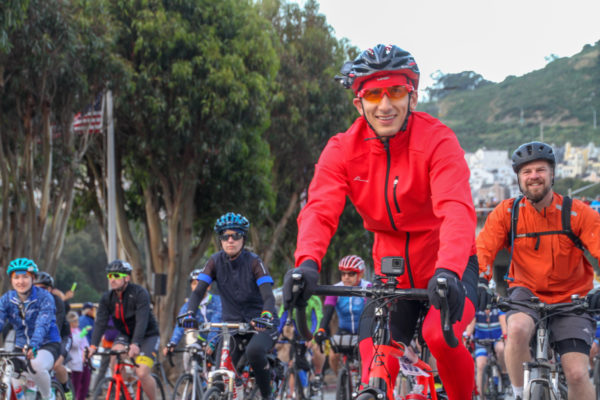 "The awareness and funds raised by the AIDS/LifeCycle community are critical components of ending the HIV epidemic—once and for all—for everyone," said San Francisco AIDS Foundation CEO Joe Hollendoner. "Because of the tenacity and enduring commitment of AIDS/LifeCycle participants, San Francisco AIDS Foundation is able to provide 25,000 clients with services that prevent new transmissions and promote the health of those living with HIV, all free of charge."
This year the finish line returns to West Hollywood, to Fairfax High School at 7850 Melrose Avenue, on Saturday, June 8. Many of the cyclists participate in the LA Pride Parade on Sunday. Last year's finish line was held in front of LA City Hall.
"Bringing back the finish line to West Hollywood was an easy decision for us to make because the ride and the city have a deep history that dates back more than 30 years. West Hollywood, disproportionately impacted by HIV and AIDS, embraced the ride when it began as California AIDS Ride," said AIDS/LifeCycle Ride Director Tracy Evans in a press statement.
"We're 'going back to our roots' and standing in unison with the city to make the bold statement: We will continue to ride until the epidemic is over. And with L.A. Pride taking place during the same weekend, our riders and roadies have more reasons to celebrate their heroic achievements with their families and friends!" Evans added.
AIDS LifeCycle Ride organizers are encouraging families, friends, and other spectators to cheer on the cyclists and their roadies as they reach the finish line. Participants will traverse east on Santa Monica Blvd., one of the major thoroughfares in West Hollywood, and then head south on N. Ogden Drive to reach Fairfax High School's entrance. The spectators' grandstand will be located at the southwest corner of Melrose Ave. and N. Ogden Drive.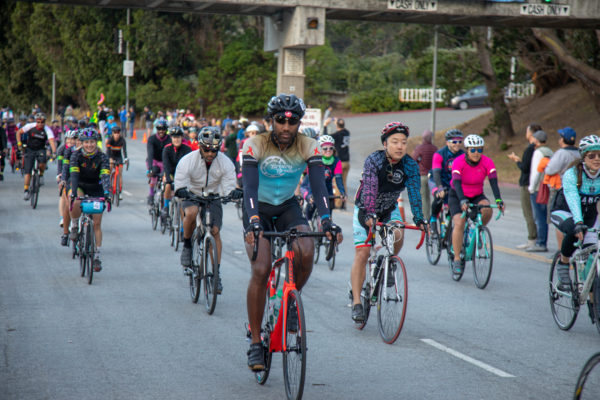 Volunteers are needed to assist with the festival. Beverages and snacks will be provided. Anyone interesting in volunteering can register online at aidslifecycle.org/volunteer.
To follow the Ride through pictures, stories, and videos, visit aidslifecycle.org and @aidslifecycle on social media.
For more information and to obtain the latest updates about the Finish Line Festival, visit aidslifecycle.org/finishline.
Saturday, June 8
11 a.m.–5 p.m.
Cyclists will cross the finish line as early as 11 a.m.
3:45–4 p.m. (approximately)
After the final cyclists and roadies cross the finish line, a Closing Ceremony with a video montage highlighting the ride's best moments will begin.
This year's AIDS/LifeCycle's sponsors include Gilead, FedEx, Wells Fargo, and United Airlines. The official bike sponsor is Cannondale. – Staff Reports contributed to this story. 
AIDS LifeCycle photos courtesy Los Angeles LGBT Center.