AIDS LifeCycle kicks off in San Francisco, returns to WeHo on June 8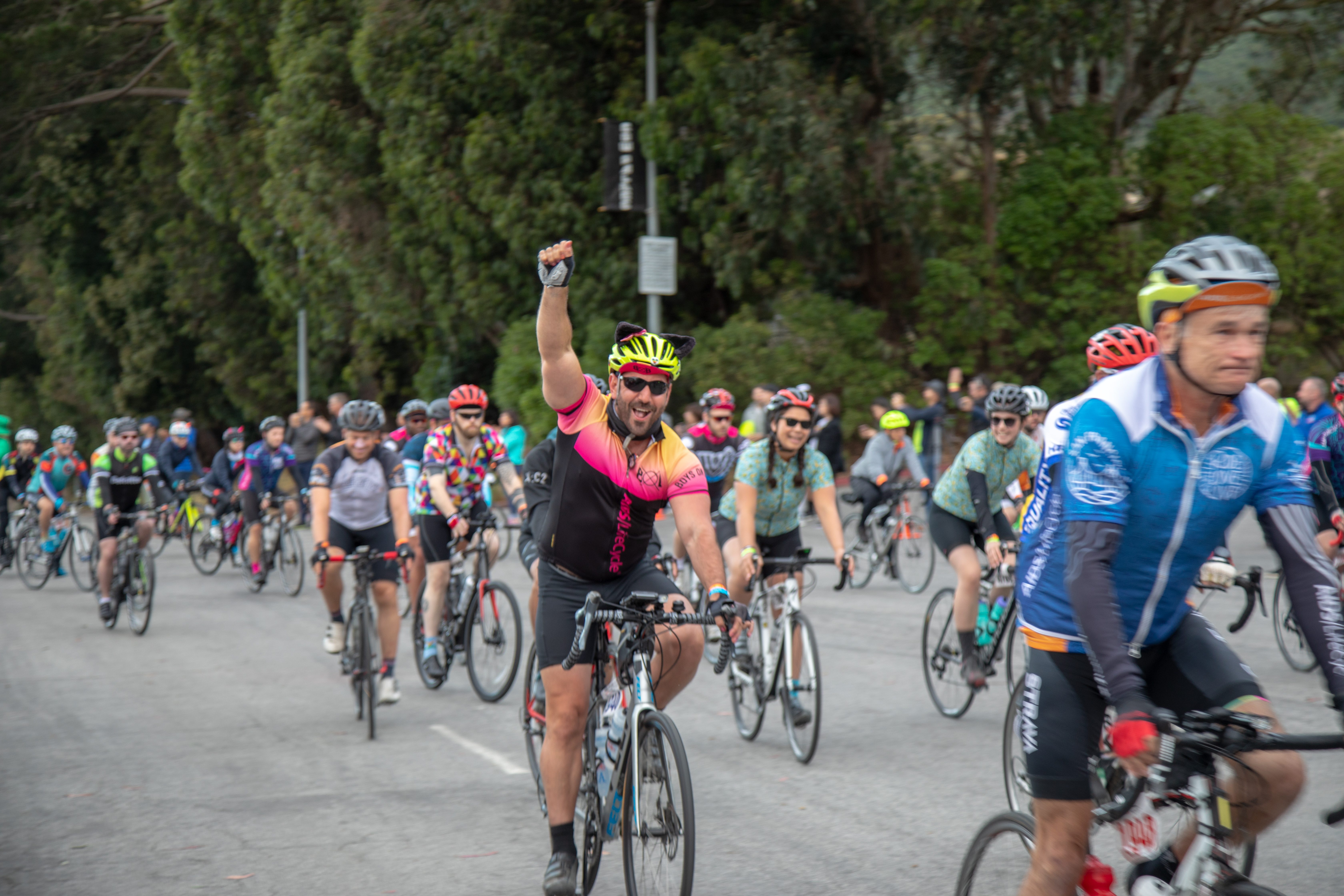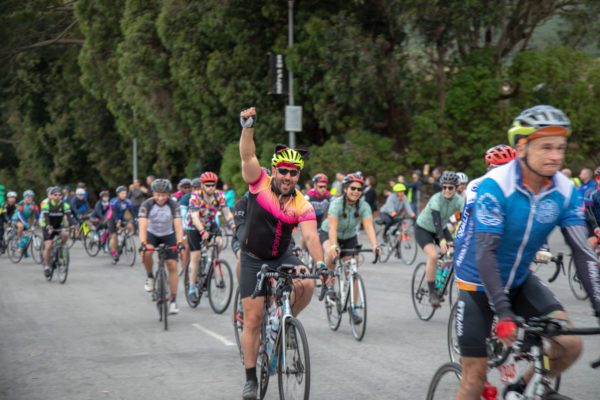 The world's largest annual HIV/AIDS fundraiser, a 7-day, 545-mile excursion from San Francisco to Los Angeles, kicked off Sunday with an extraordinary announcement. The roughly 2,200 cyclists raised more than $16.7 million, the most money ever raised for the San Francisco AIDS Foundation and the Los Angeles LGBT Center's HIV/AIDS-related services in the history of the event.
The trip is not just for cycling enthusiasts but for those who've lost someone or realize the fight against AIDS is far from over.
"In the seven days it takes the riders to reach Los Angeles, more than 700 people in the United States will contract HIV. Currently there are 1.2 million people living with HIV in the country, and one in seven people living with HIV nationwide is not aware of their status," the agencies say in a joint press release.
Not counting this year, the event, which began as the California AIDS Ride in 1994 and was renamed the AIDS/LifeCycle in 2002, raised more than $263 million from 60,000 rides. The venture is akin to moving a small tent city to each overnight stop, with more than 650 volunteer roadies providing support.
"The dedication of our riders and roadies—and their generous donors—makes it possible for us to provide vital medical care and services to people living with HIV and to provide prevention tools, including PrEP, to those most at risk of becoming infected," said Center CEO Lorri L. Jean. "As the Center celebrates our 50th anniversary, we salute everyone who is part of the amazing AIDS/LifeCycle community working tirelessly to end AIDS."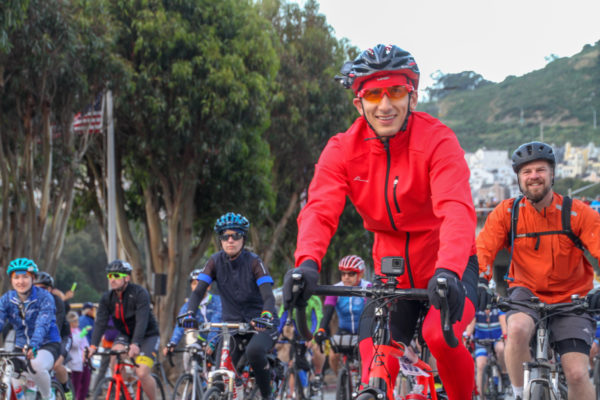 "The awareness and funds raised by the AIDS/LifeCycle community are critical components of ending the HIV epidemic—once and for all—for everyone," said San Francisco AIDS Foundation CEO Joe Hollendoner. "Because of the tenacity and enduring commitment of AIDS/LifeCycle participants, San Francisco AIDS Foundation is able to provide 25,000 clients with services that prevent new transmissions and promote the health of those living with HIV, all free of charge."
This year the finish line returns to West Hollywood, to Fairfax High School at 7850 Melrose Avenue, on Saturday, June 8. Many of the cyclists participate in the LA Pride Parade on Sunday. Last year's finish line was held in front of LA City Hall.
"Bringing back the finish line to West Hollywood was an easy decision for us to make because the ride and the city have a deep history that dates back more than 30 years. West Hollywood, disproportionately impacted by HIV and AIDS, embraced the ride when it began as California AIDS Ride," said AIDS/LifeCycle Ride Director Tracy Evans in a press statement.
"We're 'going back to our roots' and standing in unison with the city to make the bold statement: We will continue to ride until the epidemic is over. And with L.A. Pride taking place during the same weekend, our riders and roadies have more reasons to celebrate their heroic achievements with their families and friends!" Evans added.
AIDS LifeCycle Ride organizers are encouraging families, friends, and other spectators to cheer on the cyclists and their roadies as they reach the finish line. Participants will traverse east on Santa Monica Blvd., one of the major thoroughfares in West Hollywood, and then head south on N. Ogden Drive to reach Fairfax High School's entrance. The spectators' grandstand will be located at the southwest corner of Melrose Ave. and N. Ogden Drive.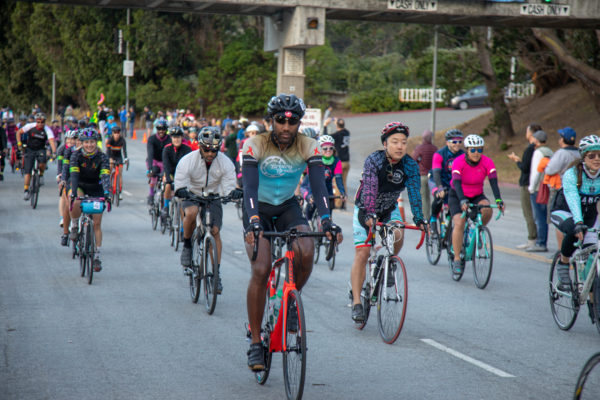 Volunteers are needed to assist with the festival. Beverages and snacks will be provided. Anyone interesting in volunteering can register online at aidslifecycle.org/volunteer.
To follow the Ride through pictures, stories, and videos, visit aidslifecycle.org and @aidslifecycle on social media.
For more information and to obtain the latest updates about the Finish Line Festival, visit aidslifecycle.org/finishline.
Saturday, June 8
11 a.m.–5 p.m.
Cyclists will cross the finish line as early as 11 a.m.
3:45–4 p.m. (approximately)
After the final cyclists and roadies cross the finish line, a Closing Ceremony with a video montage highlighting the ride's best moments will begin.
This year's AIDS/LifeCycle's sponsors include Gilead, FedEx, Wells Fargo, and United Airlines. The official bike sponsor is Cannondale. – Staff Reports contributed to this story. 
AIDS LifeCycle photos courtesy Los Angeles LGBT Center. 
Federal blood donation study recruiting gay, bi men
The study is aimed at assessing the individual risk of a gay or bisexual man transmitting HIV if they donate blood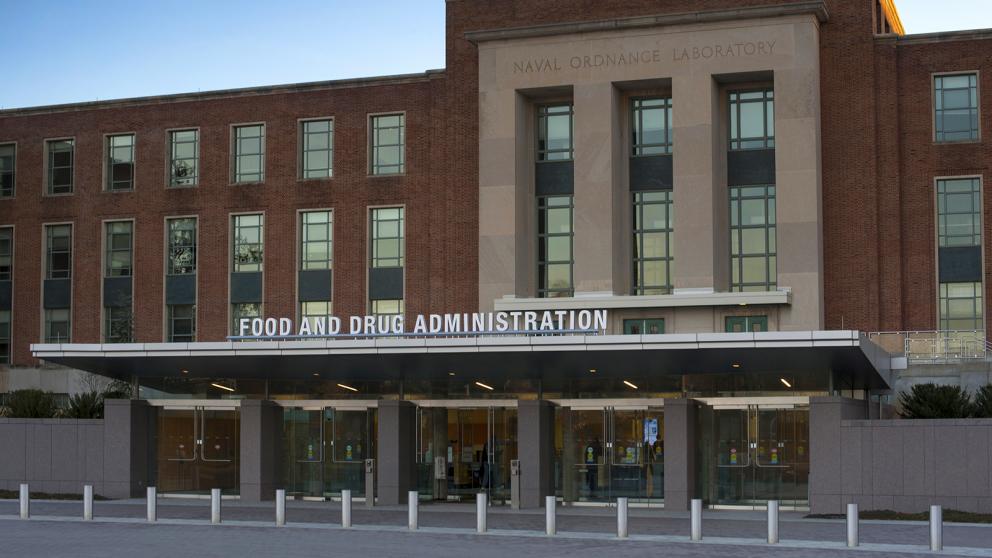 SILVER SPRING, Md. – Washington D.C.'s Whitman-Walker Institute and the Los Angeles LGBT Center are among LGBTQ supportive organizations in eight U.S. cities working with the nation's three largest blood donation centers on a study to find a way to significantly ease blood donation eligibility for men who have sex with men or MSM.
The study, which is funded by the U.S. Food and Drug Administration, calls for recruiting a total of 2,000 gay and bisexual men in eight U.S. cities selected for the study to test the reliability of a detailed donor history questionnaire aimed at assessing the individual risk of a gay or bisexual man transmitting HIV if they donate blood.
A statement released by the study organizers says the questionnaire, which could be given to a gay or bisexual person showing up at a blood donation site, could be a replacement for the FDA's current policy of banning men who have had sex with another man within the previous three months from donating blood.
In the early years of the AIDS epidemic in the 1980s, the FDA put in place a permanent ban on blood donations by men who have sex with men. In 2015, with advanced HIV testing and screening techniques readily available, the FDA lifted its permanent ban on MSM blood donations and replaced it with a 12-month restriction for sexual activity between MSM.
The FDA further reduced the time of sexual abstinence for MSM to three months in 2020.
LGBTQ rights organizations and others advocating for a change in the current FDA restriction point out that at a time when the nation is facing a severe shortage of blood donations due to the COVID pandemic, the three-month donation deferral requirement for MSM is preventing a large number of blood donations from men whose risk of HIV infection is low to nonexistent.
Under the FDA-funded and initiated study, the American Red Cross, Vitalant, and OneBlood — the nation's three largest blood donation centers — have been conducting the questionnaire testing since the study was launched in March 2021.
"To gather the necessary data, the blood centers will partner with LGBTQ+ Centers in Washington, D.C., San Francisco, Orlando, New Orleans/Baton Rouge, Miami, Memphis, Los Angeles, and Atlanta," the study organizers say in a statement on a website launched to help recruit volunteers for the study.
"The study will enroll a total of 2,000 gay and bisexual men (250 – 300 from each area) who meet the study eligibility criteria," the statement says.
Among the criteria for being eligible, the statement says, is the person must be between 18 and 39 years old, have expressed an interest in donating blood, must have had sex with at least one other man in the three months before joining the study, and must agree to an HIV test. A negative test result is also required for acceptance into the study.
The study is officially named ADVANCE, which stands for Assessing Donor Variability And New Concepts in Eligibility.
"The ADVANCE study is a first step in providing data that will help the FDA determine if a donor history questionnaire based on individual risk would be as effective as time-based deferral, in reducing the risk of HIV in the blood supply," the study organizers statement says.
"If the scientific evidence supports the use of the different questions, it could mean men who have sex with men who present to donate would be assessed based upon their own individual risk for HIV infection and not according to when their last sexual contact with another man occurred," the statement continues. "The ADVANCE study is groundbreaking because it's the first time a study is being conducted that could result in individual risk assessment for men who have sex with men to donate blood," the statement says.
The Whitman-Walker Institute, which is among the community-based organizations involved in helping organize and conduct the study, is an arm of Whitman-Walker Health, the LGBTQ supportive D.C. health center.
Christopher Cannon, director of Research Operations for Whitman-Walker Institute, said that since the D.C.-based part of the study was launched early last year prior to the official announcement of the study on March 20, D.C. has surpassed the original city goal of recruiting 250 participants for the study.
"We are currently at 276 as of last Friday's report," Cannon told the Blade in a Jan. 13 interview. "And the current goal is now 300," he said. "So, we're hoping to push this over that goal line in the coming days and weeks.
Cannon said that like the community organizations involved in the study in other cities, Whitman-Walker Institute's role has been focused on recruiting gay and bisexual men to participate in the study and to send them to the American Red Cross headquarters building at 430 17th St., N.W. near the White House. That site, which serves as a blood donation center, is also serving as the site where study participants are screened, interviewed, and presented with a detailed questionnaire.
"We promote the study within ," Cannon said. "We promote it to our networks. We did social media promotions across the city.'
Although Whitman-Walker doesn't have the final draft of the questionnaire being presented to study participants, Cannon said he has seen "bits and pieces" of it.
"They ask very direct questions about the person's sex life, sexual partners, sex acts, numbers of partners," Cannon said. "There are questions about condom use, PrEP use, drug use. How recently have you had sex? Lots of related questions," he said.
"It's really about trying to figure out effectively which are the best questions," according to Cannon. "The hope is by analyzing the questions and identifying maybe the best 10 to 12 questions that can be universally used…to get the best answers that identify the individuals that may have the highest risk," he said. Doing that, he points, out can help determine which men who have sex with men should be eligible to safely donate blood.
A statement released by Whitman-Walker last March calls the study a "monumental research effort" that has the potential to lift the stigma imposed on gay and bisexual men whose ability to donate blood is currently based on their sexual orientation.
"The ADVANCE study is designed to understand if, by asking carefully crafted and research-informed research questions, blood collectors can screen potential blood donors for their individual HIV risk factors rather than applying a ban against sexually active gay and bisexual men," the statement says.
"The goal is to move away from overly broad questions that exclude potential donors and spread stigmatizing messages about MSM and their HIV risks," it says.
Cannon said that as of last week, study organizers had recruited a total of 879 study participants nationwide out of the goal of 2,000 participants needed to complete the study. He said issues related to the COVID pandemic created delays in the recruitment efforts, but study organizers were hopeful the study could be completed by this summer.
Information about participating in the study or learning more about it can be obtained at advancestudy.org.