June 7, 2019 at 11:47 am PST | by Karen Ocamb
AIDS LifeCycle concludes on Saturday at Fairfax High School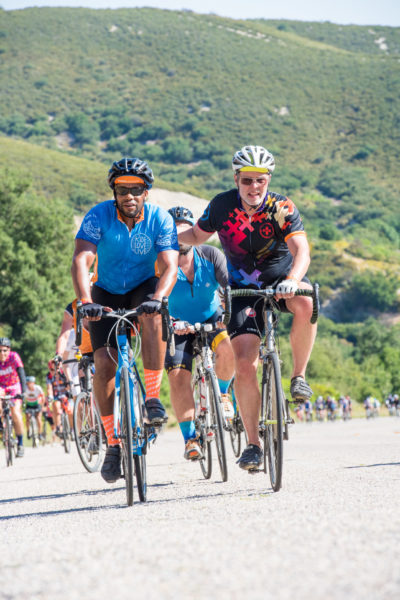 The AIDS LifeCycle, the world's largest annual HIV/AIDS fundraiser, a 7-day, 545-mile excursion from San Francisco's Cow Palace to Los Angeles – concludes Saturday at Fairfax High School. The roughly 2,200 cyclists raised more than $16.7 million, the most money ever raised for the San Francisco AIDS Foundation and the Los Angeles LGBT Center's HIV/AIDS-related services in the history of the event.
The Ride emphasizes that the AIDS epidemic is not over, with a projected 700 people expected to contract HIV in the span of the seven day trip. Right now, 1.2 million people are HIV-positive in America, with one-in-seven not knowing their status.
For many, the Ride is an opportunity to pay homage to dead lovers, friends, and family, interweaving the fun of Red Dress Day with the grueling "Quadbuster" challenge where cyclists climb up more than 800 feet steep, reaching an elevation of roughly 1,500 feet. It's a metaphoric struggle for what people with AIDS faced before the miracle medications – and the endurance struggle some still face today.
"The dedication of our riders and roadies—and their generous donors—makes it possible for us to provide vital medical care and services to people living with HIV and to provide prevention tools, including PrEP, to those most at risk of becoming infected," Center CEO Lorri L. Jean in a press release. "As the Center celebrates our 50th anniversary, we salute everyone who is part of the amazing AIDS/LifeCycle community working tirelessly to end AIDS."
"We will continue to ride until the epidemic is over," said AIDS/LifeCycle Ride Director Tracy Evans. "And with L.A. Pride taking place during the same weekend, our riders and roadies have more reasons to celebrate their heroic achievements with their families and friends!"
Day 7 begins at San Buenaventura State Beach, 901 San Pedro St. in Ventura around 6:15am. The next stop is around 10:30am to about 2:30pm for lunch at Will Rogers State Beach, 17000 Pacific Coast Hwy in Malibu. For those who might want to offer support along the picaresque oceanfront, be advised that parking is severely limited.
Most cyclists will arrive at Fairfax High School, 7850 Melrose Ave., at the Ogden entrance to cross the finish line between 2:00pm and 4:00pm. The Closing Ceremony will take place around 3:45 on the school's baseball field. The school's parking lot on Melrose and Fairfax will be used as the site to park the more than 2,200 bikes and for riders to pick up their gear before going home.
Many of the cyclists are expected to participate in CSW's LA Pride Parade on Sunday with the Los Angeles LGBT Center serving as Organizational Grand Marshall.
Photo courtesy AIDS LifeCycle.