'5B' nurses: the untold inspirational story of the lost AIDS generation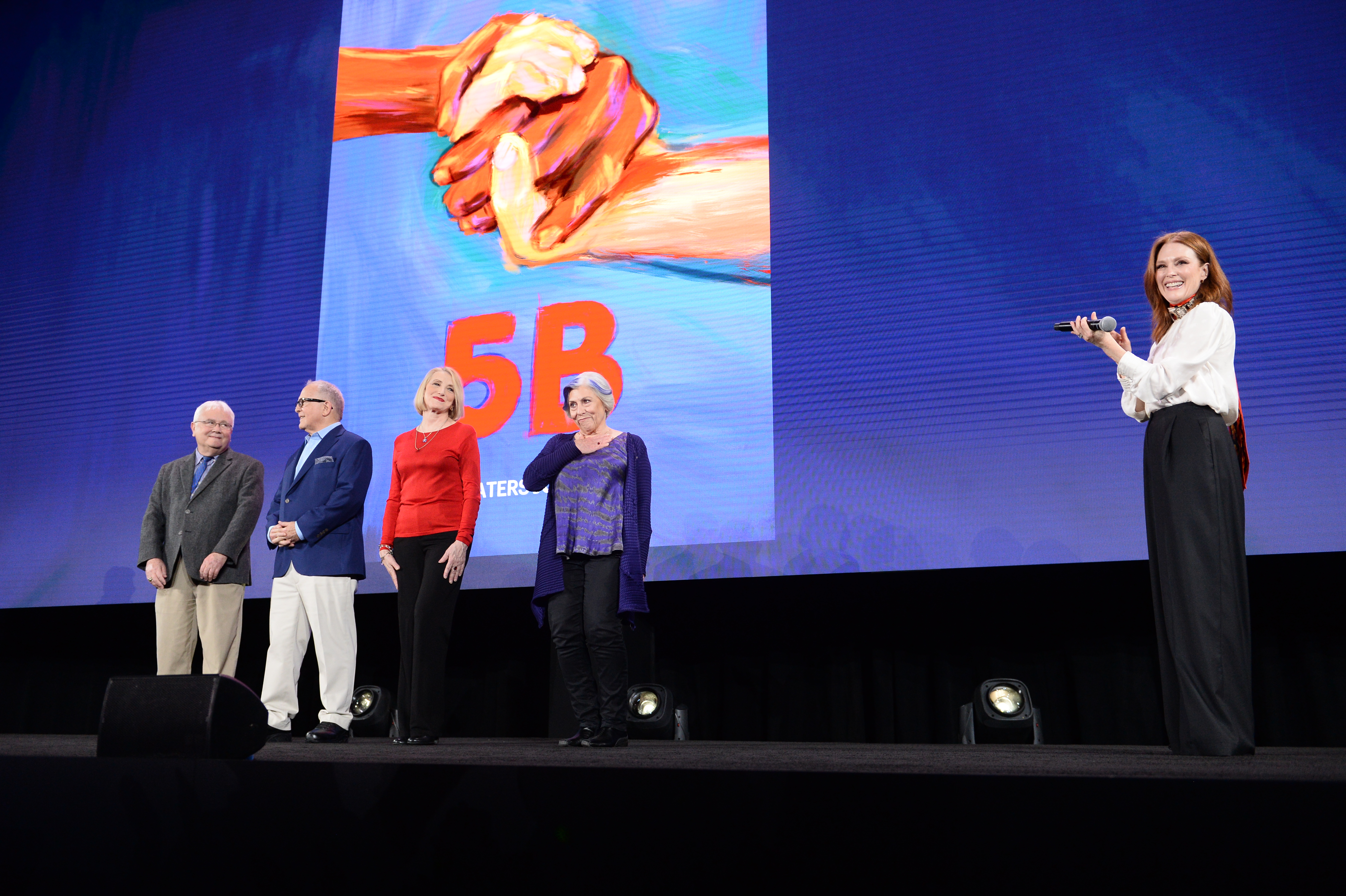 This June, LGBT people around the world are commemorating the 50th anniversary of the Stonewall Rebellion that galvanized the steady march toward full equality and LGBT civil rights. Stories are being told about the marginalized gay men people of color, lesbians, and trans folk who'd been harassed, beaten up and derided as sick sexual perverts screamed "enough is enough" and fought back against police violence and accepted societal brutality.
History is being recounted of how gays joined the sexual and political liberation movements of the 1960s and transformed the inculcated, internalized shame of being untouchable into the pride of defiant human truth and authenticity. Freedom was savored during the dawning of the Age of Aquarius and thousands of once despised queers burst out of the closet when religious bigots flooded the political system crying "Armageddon" and demanding the return of traditional values.
But then the stories stop. No one thought Armageddon would actually happen, and no one wants to tell that story anymore. The story of the lost generation. The story of how in the late 1970s, at the peak of the disco era frenzy when self-absorption was an unreflective way of life, death crept in like a burglar and silently, quickly, mysteriously stole gay men from the discos, the bathhouses, the social-family gatherings. Gay men just disappeared.
The hyper-dash to the movement for gay liberation and full equality connects to the early 1980s, when show-offs and body builders turned into terrified, shriveled, wasting away skeletons. No one knew why. And no one seemed to care.
But these gay men, some who fought in Vietnam, some who fought against it; some who became activists after Stonewall, some who took advantage of that activism – many who just danced – succumbed one by one to what took several years for researchers and the government to identify as HIV/AIDS.
In those very dark years of the government's stubbornly cruel refusal of care, as gay people became pariah's as "carriers" of the mysterious new disease that some believed could be transmitted through the air or through shared kitchen utensils—brave souls emerged to provide care and compassion to the terrified sick and dying.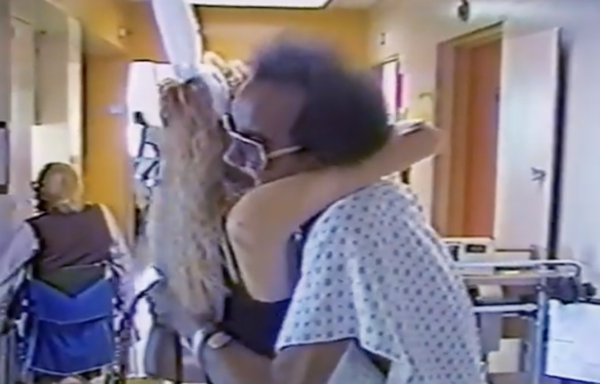 That story of compassion, restoration of dignity, that loving grace of one human being to another is the subject of a new documentary, '5B,' about the nation's first AIDS Ward in San Francisco in 1983. The film opened LA Pride Friday night, June 7, and will have limited theatrical distribution on June 14 through Verizon Media outlet Ryot. Julianne Moore helped promote the film last May at the Cannes Film Festival.
"Young people today don't realize what that was like. It was mysterious. It was frightening. People came in very sick and they died quickly," Dr. Paul Volberding told the Los Angeles Blade in a recent phone interview. A researcher and clinician, Volberding headed the AIDS Ward at San Francisco General Hospital.
"Before we knew about HIV or had any test for it, people didn't know they had anything wrong until they often got very sick. People often lost a lot of weight, were sometimes covered with Kaposi Sarcoma lesions, often couldn't breathe because of the pneumonias' that they had, and quite quickly people realized that if you got sick, you were going to die," he continues.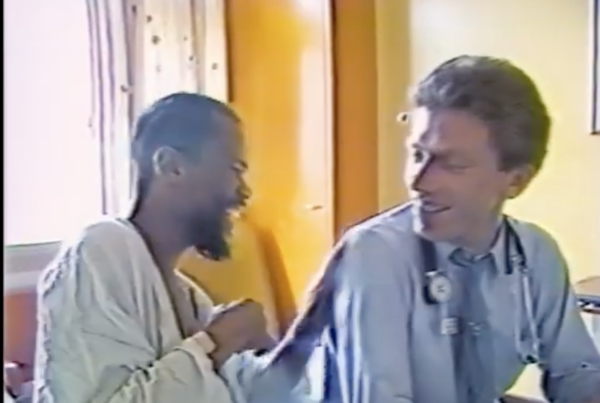 5B, the unit on the hospital's fifth floor, was created to try to provide aid and comfort. "The patients knew it was a death sentence; we knew it was and yet we tried to do what we could to help them stay comfortable as long as long as possible," Volberding says. "So in the early years, it was mostly about trying to understand what was going on, starting to be able to predict a little bit about what was going to happen, and try to make it go a little bit more slowly."
With its academic research environment, SF General became a kind of haven for the stricken.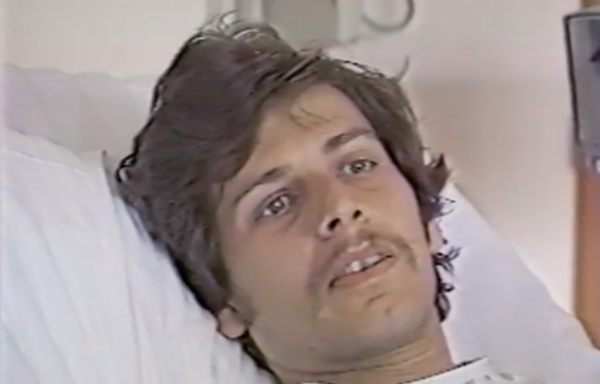 "It was actually a popular place for gay men with AIDS to come because we were the only place that was doing actual research. The move to start the AIDS inpatient unit really came from the nurses who were seeing kind of spotty care around the hospital," Volberding says. "It was to try to provide a place where these people really suffering and dying of AIDS would find a kind of loving environment. And the hospital absolutely went along with that right from Day One. They didn't have to really be convinced. The community and the Health Department were so connected on this that it didn't take a lot of effort – it certainly didn't take any kind of activism to open up the unit."
In 1985, the New York Times described 5B as "a model of care" for people with AIDS.
"Known within the hospital and the larger community as 5B, for its location on the fifth floor, the unit and its companion outpatient clinic, Ward 86, represent the unusual response by this city's health care workers to acquired immune deficiency syndrome," The Times reported. "For health care workers, 5B represents a victory over their own fears of the disease. It also forces them to focus on their feelings about homosexuality and their role in caring for a group of patients who will most surely die."
Four years later, Los Angles still didn't have a distinct AIDS Ward at LA County Hospital, prompting a series of demonstrations by ACT UP/LA.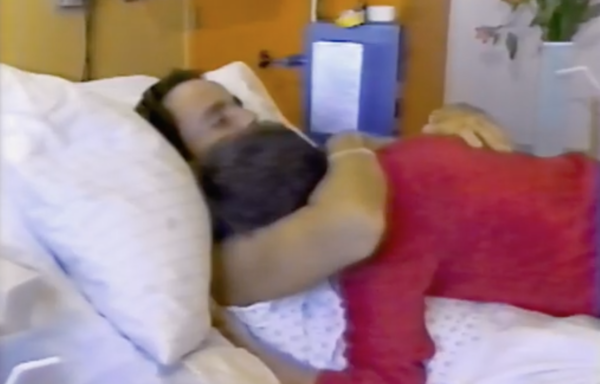 "It was a shocking experience to watch people my own age dying in front of me," Volberding says. "A lot of nurses were men and in a sense, they had it even worse because in many cases, they were gay themselves and some of them ended up having partners who died of AIDS. And some of them died of AIDS – not because they caught it at work but because they're gay men.
I think the fact that women were very important part of the response is a significant one….They were true heroes. There's no question about it."
And unlike films such as "And The Band Played On…," based on out San Francisco Chronicle reporter Randy Shilts' book about the early days of AIDS, "5B" focuses on the unsung heroes and heroines of the crisis – the nurses.
Cliff Morrison created the unit and became the AIDS coordinator.
"I wasn't the first person to talk about a specialized unit for the care of people with this disease," Morrison told the Los Angeles Blade. "The first people to do so were those that wanted to get people with AIDS out of the general hospital population.  They were saying that we had to separate, segregate and protect the 'innocent.' I was terrified and wanted nothing to do with."
Morrison grew up in the rural South (the North Florida Panhandle on the Suwannee River) in the 1950s and a segregated unit "scared the hell out of me," he says. However, keeping up with care for the burgeoning numbers of people with AIDS made him re-think his position.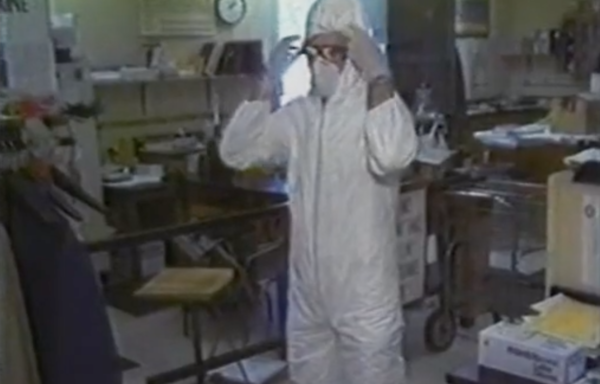 "It was a constant struggle and battle with staff all over the hospital that wouldn't perform the basic care needs for patients. Their rooms were not cleaned, beds not changed, food left outside their door, entering their rooms with all the isolation precautions and signage was horrifying. I began to think, what about a unit for all the right reasons," Morrison says. "A place where patients could receive the level of care and compassion that they needed desperately and that they begging for.  How about having staff, that are all professional nurses, that choose to be there, how about having a counseling staff for the caregivers, clients and their loved ones."
In March 1983, Morrison discussed the idea with the Director of Nursing, including all the "challenges, obstacles, hysteria, backlash (from within the hospital and the outside community, locally and nationally)," and after coming up with a basic plan, the two started "quite a bit of convincing and cajoling" but, with the help of allies such as Mayor Dianne Feinstein and San Francisco Health Dept. Director Dr. Merv Silverman, the Chief of Medicine at SFGH, Dr. Merle Sande, got on board and "it was a go."
That rural Southern experience, living with his poor, uneducated hard-working old half Native American grandmother growing up – a woman who became virtually a "personal servant" to the man who rescued her from farm work and poverty – had a profound impact on Morrison's life. "I identified with her so much because I was the outsider in my family as well," he says. "My grandmother used to hold me and rock me, telling me wonderful stories, and how much she loved me and that everything would be OK."
As a teenager, Morrison gravitated to working in a hospital because he couldn't handle working in the fields. "I hated dirty hands and always feeling gritty from dirt.  Working as an orderly in the local county hospital, I was drawn to all people suffering but particularly the elderly, who were often alone.  I found myself sitting with them, holding their hands, caressing them and hugging them," he says, adding that he became the first in his family to graduate high school and go to college.  At the time, there was a "great need for nurses" because of the Viet Nam War so he entered nursing.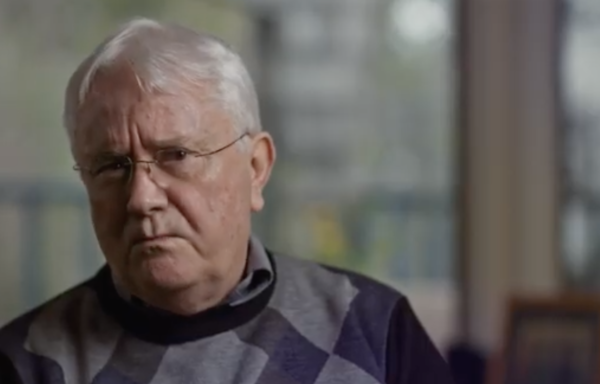 "My need for the personal touch and touching others was an inherent part of me from a very early point in my development," he says. "By the time I got to the situation at SFGH in 1982-83, I found myself going around the hospital coordinating their care on all the various units and it was clear what was really missing was human touch.
"There wasn't a lot that I could do, but I could touch and hold them and I did," Morrison says. "Much to the horror of other staff who criticized what I was doing, I realized that it was central to everything that we were trying, and should try, to do.  When you touch someone in a loving, caring way, you share the most intimacy that you will ever share with another human being, and there is nothing sexual about it."
Mary McGee was one of the many, many women who came forward to help the gay men society thought of as pariahs. Her first encounter with people with AIDS was in nursing school in New York. After graduating in 1984, she met others working on a medical surgical unit.
"They were all men and it was profound to see what they were going through and to see it in the context of knowing that there was just so much homophobia out there," McGee tells the Los Angeles Blade, homophobia that combined with fear of the disease became "a vehicle for really marginalizing people."
Straight and 22 with no previous connection to gays – though she had gone to a Catholic women's college with a secret lesbian underground – she started having "some meaningful connections" with her patients. "I went down to Christopher Street in the Village for an AIDS vigil and people were sending candles out in little boats in the water, representing people who had died, and I was very deeply moved," she says.
San Francisco beckoned McGee as a more manageable New York City. "And most importantly, I'd heard about this dedicated AIDS unit, which was the first in the country. And I was really, really hoping I could get a job there," she says, which she eventually did.
As someone who was "really uncomfortable with the discrimination and the fear" against gay people, McGee focused on nursing as a response to suffering.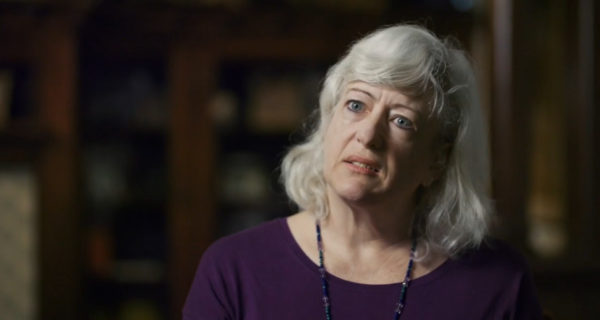 "The part about nursing that I loved was just really being present with people," she says. "So that's really what was being asked, just really be present with people and to touch them, to not be afraid to touch them and to hear their stories and meet their loved ones. And just to kind of counter this kind of ridiculous fear and homophobia. I don't know how else to put it."
McGee still sees numerous people's faces" in front of her throughout her time nursing on 5A and 5B. But there is one gentleman she will never forget.
"He was in for PCP, but he's responding to the treatment. He was a really sweet guy, articulate. He could still kind of walk on his own," McGee recalls. "And there was another gentleman on the unit who had the terrible brain infection and his mental status was severely altered. He was agitated and he would yell out on the unit and you'd go in and try to soothe him and if you left he would start again. And I mean this poor guy…and the other man was very well aware of him."
It's the late 1980s. President Ronald Reagan had finally said the word "AIDS" and members of the presidential AIDS commission were coming to visit this model AIDS Ward. Everyone was nervous and the articulate AIDS patient reluctantly agreed to be the patients' representative.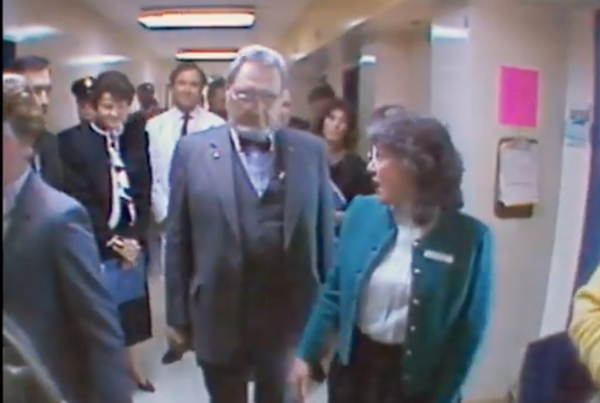 "I was on the night shift and he talked to me about it the night before it was going to happen," McGee says. "And then I went home for the day to sleep, and I came back that evening and he told me that he had gotten a phone call that his mom had died. But he went ahead with the interview with the commission and shook the commissioner's hand.
"And he's telling me this story and the other patient is having a hard time," McGee says. "And my patient who has gone through this that day — he's walking the floors after what he's been through. And he just went into that room and he sat with that man. He just sat him and comforted him. Well, it was, extraordinary. So that is someone that I will never forget. He is kind of a role model for me."
Hank Plante, an openly gay reporter for the CBS News affiliate in San Francisco, is also featured in "5B." He also notes the unheralded importance of women to the AIDS crisis.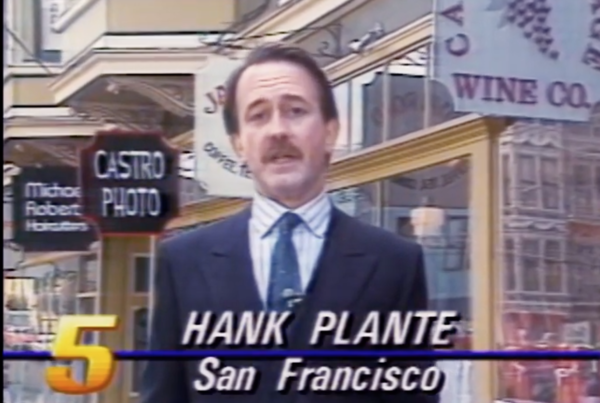 "Some of the earliest caregivers for AIDS patients were lesbians and straight women. Many of the AIDS organizations in San Francisco were staffed and managed by these women. The public face of the San Francisco AIDS Foundation (the group's Press spokesperson) was a lesbian, the group that delivered meals to people with AIDS (Project Open Hand) was founded by an elderly straight woman, the Shanti Project was run by a straight woman," Plante tells the Los Angeles Blade. "So many gay men were overwhelmed taking care of themselves that it was a blessing to have these lesbians and straight allies helping them out."
But while trained to be detached as as "objective" reporter, Plante could help but be impacted, too.
"As one of the first openly gay TV reporters in the country it was often hard for me to detach emotionally when covering AIDS stories" he says. "These were my brothers and sisters who were affected, so it was always more than just a story to me.  There were many times when I was reporting at San Francisco General when I'd have to go out into the hallway and compose myself before going back into a patient's room to finish an interview.
"I'm glad that by the time I got to San Francisco I had honed my skills enough so I could be a professional and get the job done, even though it was sometimes tearing me up inside," Plante says.
"On the other hand, covering AIDS as a gay man working in the mainstream media was a way for me to channel my grief and my anger over the disease, and to make me feel like I was at least doing something to help," PLante says. "I think many of us who survived those early years do have a form of PTSD today.  You can't lose that many friends without having it affect you for the rest of your life, as much we try to compartmentalize those years today.  Being part of the film brought those walls down again, and from the audience reaction so far, I can tell other people are experiencing it all coming back as well."
Volberding hopes the film will trigger thoughts of what we might do differently next time.
Next time?
"There will definitely be a next time," Volberding says. "I think in a sense Ebola was a 'next time.' Zika was a 'next time.' It's seeming that we're seeing a whole series of new viruses appearing – nothing that approached HIV in terms of how frightening it is. But we didn't expect HIV to come along, either."
AIDS @40: The White House laughs as gays try to save themselves
Over a third of them have died. It's known as "gay plague." (Laughter.) No, it is. I mean it's a pretty serious thing […]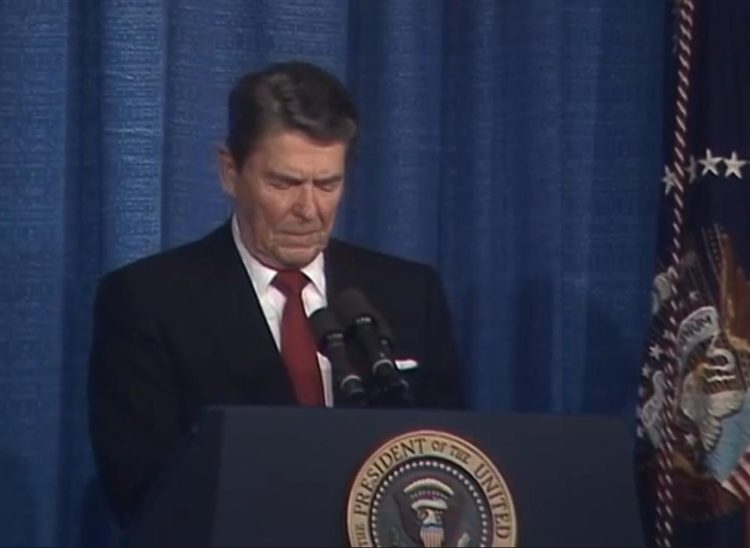 By Karen Ocamb | LOS ANGELES – Like so many others in California, lesbian feminist Ivy Bottini had high expectations for the federal government to finally intervene in the growing AIDS crisis after the first congressional committee hearing on the mysterious new disease, chaired by Rep. Henry Waxman, (D-CA) on April 13, 1982.
There was very little press coverage of the hearing — held at the Los Angeles Gay Community Services Center on Highland Avenue in Hollywood. But years later, Dr. Anthony Fauci of the National Institutes of Health recalled a quote reported by the Washington Blade:
"I want to be especially blunt about the political aspects of Kaposi's sarcoma (KS)," Waxman said. "This horrible disease afflicts members of one of the nation's most stigmatized and discriminated-against minorities….There is no doubt in my mind that if the same disease had appeared among Americans of Norwegian descent, or among tennis players, rather than among gay males, the responses of the government and the medical community would have been different."
The gay San Francisco newspaper The Sentinel published a very short brief on April 16 entitled "House Holds Cancer Hearings" about "the gay cancer." The paper quoted an unnamed subcommittee staffer saying the CDC, "which is coordinating research on the baffling outbreak, 'should not have to nickel and dime' for funds." The brief appeared next to a column written by gay nurse Bobbi Campbell, who wrote about going to The Shanti Project to get emotional support for his KS.
Bottini's take-away from the Waxman hearing was that no one really knew how AIDS was transmitted. She was upset. Her friend Ken Schnorr had died just before the hearing and Bottini had to explain to Ken's distraught mother that he had not been abused at the hospital — the purple bruises on his body were KS lesions.
After weeks of governmental inaction, Bottini called Dr. Joel Weisman, Schnorr's gay doctor, to update the community at a town hall in Fiesta Hall in West Hollywood's Plummer Park. Weisman had sent gay patients to Dr. Michael Gottlieb and was one of the co-authors on the first CDC public report about AIDS on June 5, 1981.
Bottini later recalled how gay men often thanked her for saving their lives at that packed town hall. Bottini subsequently founded AIDS Network LA, to serve as a clearing house for collecting and disseminating information. But not everyone bought the science-based premise that AIDS was transmitted through bodily fluids — including Bottini's friend Morris Kight, prompting a deep three-year rift.
Nonetheless, groups offering gay men advice on how to have safe sex started emerging, as did peer groups forming for emotional, spiritual and healthcare support. The Bay Area Physicians for Human Rights, Houston's Citizens for Human Equality and the new Gay Men's Health Crisis in New York City published pamphlets and newsletters.
Panic and denial were wafting in tandem through gay Los Angeles, too. In Oct. 1982, friends Nancy Cole Sawaya (an ally), Matt Redman, Ervin Munro, and Max Drew convened an emergency informational meeting at the Los Angeles Gay Community Services Center on Gay Related Immunodeficiency Disease (GRID, soon to be called AIDS) delivered by a representative from San Francisco's Kaposi's Sarcoma Foundation.
"My friends and I were in New York in 1981, hearing stories among friends coming down with this mysterious disease. We realized that back home in L.A. there was no hotline, no medical care, and no one to turn to for emotional support," Redman told The Advocate's Chris Bull on July 17, 2001 for a story on the 20th anniversary of AIDS. "For some reason I wasn't really scared. It was so early on that no one could predict what would happen."
That quickly changed when the friends realized there was no level of governmental help forthcoming. They set up a hotline in a closet space at the Center, found 12 volunteers and asked Weisman to train them on how to answer questions, reading off a one-page fact sheet. The idea was to "reduce fear" and eventually give out referrals to doctors and others willing to help.
The four also reached out to friends to raise money, netting $7,000 at a tony Christmas benefit to fund a new organization called AIDS Project Los Angeles. They set up a Board of Directors with Weisman and longtime checkbook activist attorney Diane Abbitt as Board co-chairs. They gaveled their first Board meeting to order on January 14, 1983 with five clients. The following month, APLA produced and distributed a brochure about AIDS in both English and Spanish.
Four months later, in May, APLA and other activists organized the first candlelight march in Los Angeles at the Federal Building in Westwood and in four other cities. The LA event was attended by more than 5,000 people demanding federal action. The KS/AIDS Foundation in San Francisco was led by people with AIDS carrying a banner that read "Fighting For Our Lives." When the banner was unfurled at the National Lesbian and Gay Health Conference that June by activists presenting The Denver Principles, the crowd cried, with a 10-minute ovation.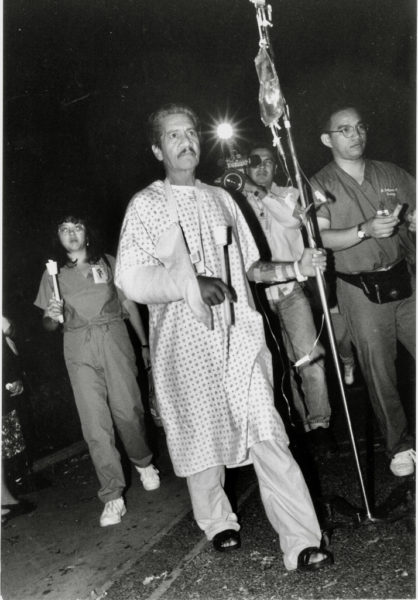 "If the word 'empowerment' hadn't yet been a part of the health care lexicon, it was about to be," HIV/AIDS activist Mark S. King wrote in POZ. The group took turns reading a document to the conference they had just created themselves, during hours sitting in a hospitality suite of the hotel. It was their Bill of Rights and Declaration of Independence rolled into one. It would be known as The Denver Principles, and it began like this:
'We condemn attempts to label us as 'victims,' which implies defeat, and we are only occasionally 'patients,' which implies passivity, helplessness, and dependence upon the care of others. We are 'people with AIDS.'"
While The Denver Principles were injecting self-empowerment into the growing movement of people with AIDS, the Reagan administration was infecting America through mass media association of homosexuality, AIDS and old myths of sexual perversion. Ronald Reagan was keenly aware of his anti-gay evangelical base, appointing Gary Bauer as a domestic policy advisor. Bauer was a close associate of James Dobson, president of the powerful Religious Right group Focus on the Family.
Reagan also picked anti-abortion crusader C. Everett Koop as Surgeon General — which turned into a mini-scandal when Koop agreed that sexually explicit AIDS education and gay-positive materials should be federally funded for schools. "You cannot be an efficient health officer with integrity if you let other things get in the way of health messages," Koop told the Village Voice. Koop was slammed by the Moral Majority's Rev. Jerry Falwell and other anti-gay evangelicals.
But perhaps one most egregious examples of the Reagan administration's homophobic callousness towards people with AIDS came from the persistent laughter emanating from the podium of White House Deputy Press Secretary Larry Speakes.
On Oct. 15, 1982, less than four weeks after Reps. Henry Waxman and Phillip Burton introduced a bill to allocate funds to the CDC for surveillance and the NIH for AIDS research, reporter Lester Kinsolving asked Speakes about the new disease called A.I.D.S..
Kinsolving: Larry, does the President have any reaction to the announcement — the Center for Disease Control in Atlanta, that AIDS is now an epidemic and have over 600 cases?
SPEAKES: What's AIDS?
Kinsolving: Over a third of them have died. It's known as "gay plague." (Laughter.) No, it is. I mean it's a pretty serious thing that one in every three people that get this have died. And I wondered if the President is aware of it?
SPEAKES: I don't have it. Do you? (Laughter.)
Kinsolving: You don't have it. Well, I'm relieved to hear that, Larry. (Laughter.) I'm delighted.
SPEAKES: Do you?
Kinsolving: No, I don't….In other words, the White House looks on this as a great joke?
SPEAKES: No, I don't know anything about it, Lester. What –
Kinsolving: Does the President, does anybody in the White House know about this epidemic, Larry?
SPEAKES: I don't think so. I don't think there's been any –
Kinsolving: Nobody knows?
SPEAKES: There has been no personal experience here, Lester.
The exchange goes on like that. For another two years. On World AIDS Day, Dec. 1, 2015, Vanity Fair debuted a 7:43 documentary directed and produced by Scott Calonico about that 1982 exchange between Kinsolving and Speakes. But Calonico also found audio of similar exchanges in 1983 and 1984 for his film, "When AIDS Was Funny."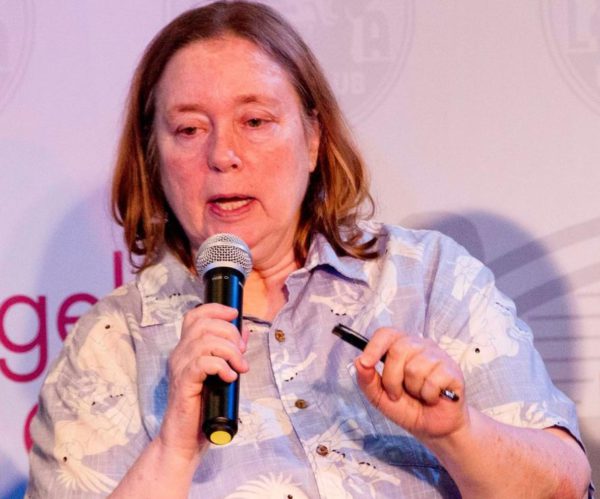 Karen Ocamb is the Director of Media Relations for Public Justice, a national nonprofit legal organization that advocates and litigates in the public interest. The former News Editor of the Los Angeles Blade, Ocamb is a longtime chronicler of the lives of the LGBTQ community in Southern California.
This is Part 4 of a series of 5 articles on AIDS @40.
Oregon House passes over-the-counter HIV prevention drugs bill
HIV-related stigma, homophobia and transphobia, and lack of access create equity gaps in HIV prevention, testing, and treatment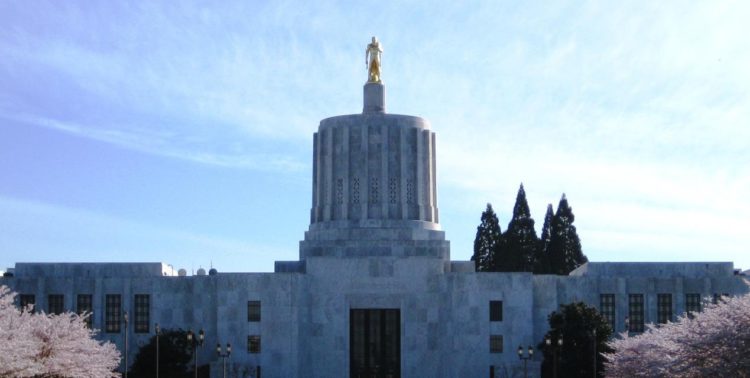 SALEM, OR. – The Oregon House of Representatives re-passed House Bill 2958B, a measure that would allow Oregon's pharmacists to prescribe, dispense, and administer both pre-exposure, (PrEP) and post-exposure prophylaxis, (PEP) the two drugs designed to prevent HIV infection.
The bill also sets the legal authority to conduct HIV tests in the state. The measure had passed in April on a 44-11 vote, was sent to the Senate, and then the measure was sent back after a compromise and conference bill was voted out of the Senate returning it to the House.
The Oregon House on Monday re-passed House Bill 2958 B, which allows pharmacists to prescribe, dispense, and administer both pre-exposure and post-exposure prophylaxis. Known as PrEP and PEP, the two drugs prevent HIV infection. The bill also clarifies that pharmacists have the legal authority to conduct HIV tests. The bill, which previously passed out of the House in April, passed today 44-11.
In an interview with Oregon Public Broadcasting, Rep. Rob Nosse, (D-SE Portland) who is openly gay and a lead sponsor of the bill noted; "Throughout this bill's journey through the legislative process, we heard repeatedly that pharmacists have the training necessary to administer these life-saving drugs."
"By making PrEP and PEP more widely available, we can get these medicines into communities that have been disproportionately impacted by HIV," he added.
Approximately 1.2 million people in the U.S. have HIV. About 13 percent of them don't know it and need testing. HIV continues to have a disproportionate impact on certain populations, particularly racial and ethnic minorities and gay, bisexual, and other men who have sex with men.
CDC estimates of annual HIV infections in the United States show hopeful signs of progress in recent years. CDC estimates show new HIV infections declined 8% from 37,800 in 2015 to 34,800 in 2019, after a period of general stability.
While new HIV diagnoses have declined significantly from their peak, the CDC and other Public Health officials across the U.S. have expressed concern of HIV resurgence due to several factors, including trends in injection and other drug use.
"When this disease first came into national focus, it was often referred to as 'gay related immune deficiency,' or GRID. Today, HIV is recognized as a disease that can be contracted by anyone, and those who are diagnosed as HIV positive can be given resources and medical support to live a long and healthy life," said Nosse. "This bill is potentially a lifesaving solution that will prevent deaths from HIV by making PrEP more accessible to all who need it."
Lawmakers in support of the bill say HIV-related stigma, homophobia and transphobia, and lack of access create equity gaps in HIV prevention, testing, and treatment, OPB reported.
"This is about reducing barriers to access for life-saving medications," said Rep. Dacia Grayber, D-Tigard, who also co-sponsored the bill. "PrEP and PEP are both vital parts of the toolkit for ending the HIV epidemic. By empowering pharmacists to test for HIV and prescribe these medications, we make it easier for Oregonians to get the health care services they need."
"Preventative treatments for HIV have saved countless lives, but not all communities have equal access to these drugs, and we can see the disparities in outcomes for low-income and BIPOC communities," said co-sponsor Rep. Karin Power, D-Milwaukie. "HB 2958 will help to distribute these life-saving drugs more broadly, so that we can begin to close these gaps in our health care system and ensure that more people are protected."
HB 2958 B now heads to Governor Kate Brown for her signature.
AIDS @40: AIDS disaster overwhelms the gays
"This horrible disease afflicts members of one of the nation's most stigmatized and discriminated-against minorities."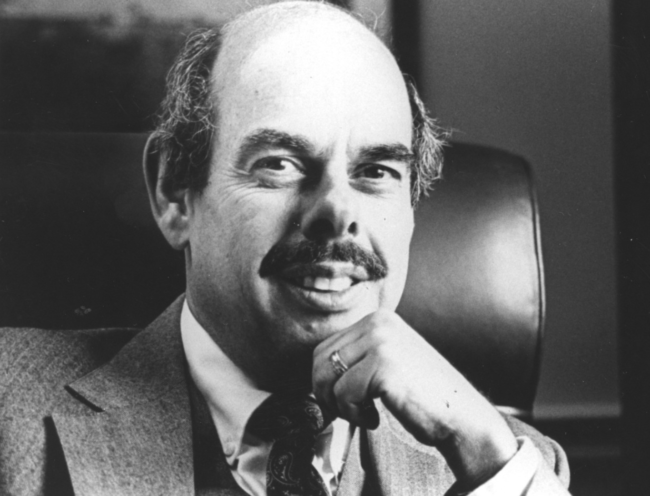 By Karen Ocamb | LOS ANGELES – After the Centers for Disease Control published his June 5, 1981 article on the mysterious new infectious disease sickening and killing gay men, Dr. Michael Gottlieb, an immunologist at UCLA School of Medicine, expected the government to show up and save the day. But it was Ronald Reagan, America's new and the conservative president who decided to dance with the right-wing anti-LGBTQ evangelicals who brought him to the White House.
"Government is not the solution to our problem, government is the problem," Reagan said at his Inauguration, before drastically cutting the federal budget, including the CDC and National Institutes of Health budgets and healthcare programs such as Medicare and Medicaid impacting more than a fifth of the US population, according to a Washington Post story at the time.
"I thought there'd be an aggressive response by the federal government, by the National Institutes of Health and CDC with the funding for research, but that never happened," Gottlieb told the Los Angeles Blade. "We were very frustrated — very frustrated. We piggybacked the research on funding that we already had for other things. But we continued to do the work."
In early 1982, the CDC launched a national case–control study that found that more case-patients were sexually active and more likely to have had sexually transmitted infections than their control gay patients. Meanwhile, in Los Angeles, Dr. David Auerbach, who replaced Dr. Wayne Shandera, the CDC Epidemic Intelligence Service (EIS) officer assigned to the Los Angeles County Department of Health Services, was asked by a gay community member if there was a possible sexual link between "the still rare cases" in Southern California. Auerbach collaborated with Dr. William Darrow of the Task Force on Kaposi's Sarcoma and Opportunistic Infections to investigate 13 of the first 19 cases reported in LA and Orange counties. They found that "nine had reported sexual contact with another person reported with AIDS within 5 years before their onset of symptoms," the CDC reported. They extended their epidemiologic investigation nationwide and, together with the case–control study, found evidence that "strongly suggested that the new syndrome was caused by a sexually transmissible infectious agent. Nonetheless, whether because of competing hypotheses or merely denial, many scientists and the public were skeptical of the infectious agent causation theory."
By the end of 1982, new cases of AIDS were reported in hemophiliacs, needle-sharing drug users, infants, women, people who received blood transfusions and heterosexual Haitian migrants.
The "gay plague" impacted heterosexuals, too. "[I]t was clear that others were at risk for the disease, and what had been complacency turned into serious concern, even panic. Many persons caring for AIDS patients were concerned about their own safety and, in some cases, health-care workers refused to provide needed care. To provide guidance for protection of clinicians and laboratory workers managing patients with AIDS and their biologic specimens, CDC issued guidelines in November 1982 that were based on those previously recommended to protect against hepatitis B virus infection," wrote James W. Curran, MD, and Harold W. Jaffe, MD in AIDS: the Early Years and CDC's Response, a CDC special report in 2011.
Proud and thriving gay liberationists and suave disco and ballroom dancers started wasting away uncontrollably. KS lesions blotched faces and bodies. Muscles atrophied. Beauty was betrayed by shrunken cheeks. Bowels wouldn't behave. Sweat fell like pouring rain onto bed sheets. Spirituality clashed with the most practical questions about quantity versus the quality of life. Gay men turning 20, rejected by their families after being outed by AIDS, died forlornly in the arms of lesbian friends, knowing they would never fall in love. AIDS was a cruel thief. Support groups started popping up: Gay Men's Health Crisis in New York; Shanti and The Kaposi's Sarcoma (KS) Research and Education Foundation and AIDS Project Los Angeles in 1983. Flirtations singer Michael Callen and Richard Berkowitz, two gay patients of Dr. Joseph Sonnabend, published How to Have Sex in an Epidemic, which essentially created the idea of safe sex with use of a condom.
On April 13, 1982, Rep. Henry Waxman, then the Chair of the House Energy and Commerce Subcommittee on Health and the Environment convened the first congressional hearing on AIDS (Acquired Immune Deficiency Syndrome). Waxman's district included the still unincorporated gay haven of West Hollywood and he went to where the gays were — the Los Angeles Gay and Lesbian Community Services Center on Highland Ave. in Hollywood, California. Years later, in presenting Waxman with an award, NIH's Dr. Anthony Fauci recalled that event.
According to an account in the Washington Blade, DC's gay newspaper of record at that time, Rep. Waxman did not mince words. "'I want to be especially blunt about the political aspects of Kaposi's sarcoma,' Rep. Waxman said. 'This horrible disease afflicts members of one of the nation's most stigmatized and discriminated-against minorities.' He continued, 'There is no doubt in my mind that if the same disease had appeared among Americans of Norwegian descent, or among tennis players, rather than among gay males, the responses of the government and the medical community would have been different.' He noted that the outbreak of Legionnaire's disease a few years earlier appeared to have received greater attention and funding for research and treatment than did the latest outbreaks of Kaposi's sarcoma and pneumocystis pneumonia among gay men."
Five months later, on Sept. 24, 1982, Waxman and Rep. Phillip Burton introduced legislation to allocate funds to the CDC for surveillance and to the NIH for AIDS research.
Dr. James Curran, head of the CDC's Task Force on Kaposi's Sarcoma and Opportunistic Infections, estimates that tens of thousands of people may be affected by the disease. Bobbi Campbell, a San Francisco nurse who came out Dec. 10, 1981 in the San Francisco Sentinel as the first KS patient to go public, also testified. The self-proclaimed "KS Poster Boy," was asked to translate "cold data into flesh and blood and tears," and to speak "of the men, my brothers, who have Kaposi's sarcoma and other illnesses."
Gottlieb was there but he doesn't remember much — just that his friend Steve Schulte was there and he met Tim Westmoreland, the gay man who staffed and organized the hearing for Waxman. And he remembers the Center as a broken-down old motel with the meeting held outside. It didn't get much press coverage.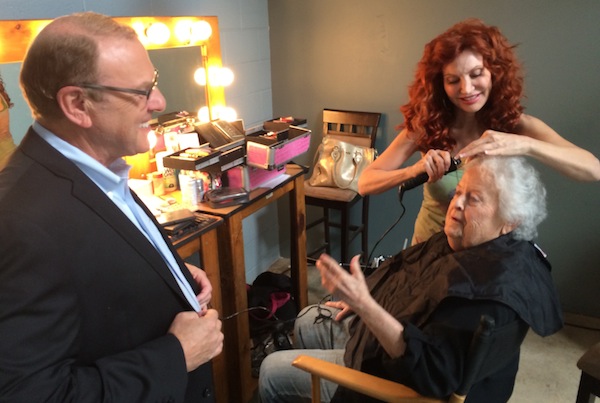 Gottlieb does remember his friendship with Ivy Bottini, an artist turned AIDS activist. Bottini's old friend from Long Island, Ken Schnorr, had collapsed and died in 1982. "After Ken died, something said to me there is more to this than we see," Bottini told the LA Blade. "So, for some reason, I just picked up the phone and called the CDC. I had never done that before. 'Look, this just happened to my friend. Do you have any answers? The hesitancy at the other end of the line, the hemming and the hawing before they would say anything — I just knew it was bad."
The CDC official explained that the bruises on Ken's body were Kaposi sarcoma, usually found in elderly Jewish men. "And that was the explanation," she said. "I got off and thought, 'no, this doesn't make sense because Ken was one of three first guys diagnosed with Kaposi in town, in West Hollywood, in L.A., and that started me on working to find out what the hell was going on. It was just horrible."
Waxman's hearing was held shortly after Schnorr's death. Bottini was there. "We all met in the lobby and under the stairs on the first floor," she said. "Waxman's basic message was spread the word: nobody really knows how it's passed."
"Thousands of deaths and no one cares! No one cares – except us," an emotional Bottini told Andy Sacher of the Lavender Effect about that time. "That was inhuman what was really happening to gay men. It was inhuman how they were demonized."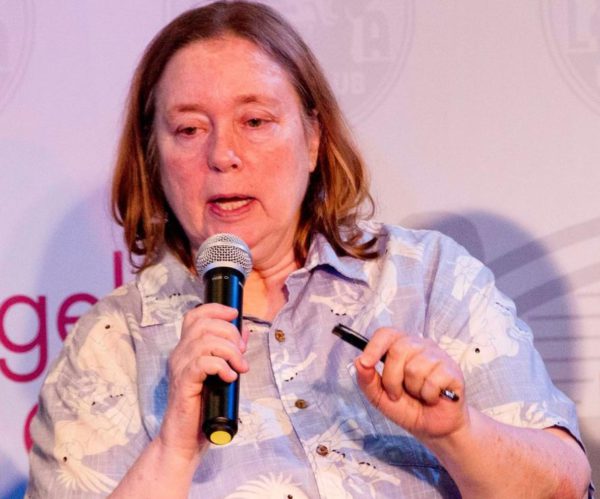 Karen Ocamb is the Director of Media Relations for Public Justice, a national nonprofit legal organization that advocates and litigates in the public interest.
The former News Editor of the Los Angeles Blade, Ocamb is a longtime chronicler of the lives of the LGBTQ community in Southern California.
This is Part 3 of a series of 5 articles on AIDS @40.