Unity is a force that takes Pride to new heights
Meet the Grand Marshals of LA Pride 2019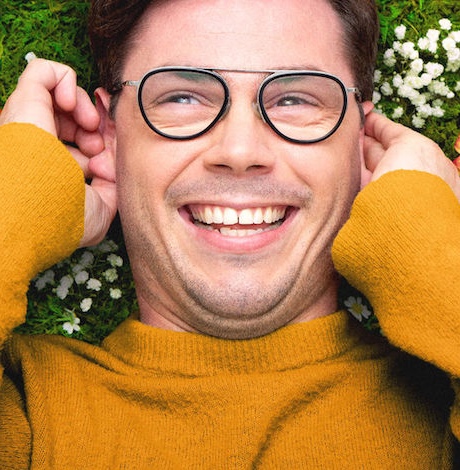 Pride has come a long way in the fifty years since Stonewall.  While it will forever be linked to the activist spirit that sparked the Gay Liberation Movement after that historic night, it has grown to become as much a party as a protest, a celebration of LGBTQ identity in all its myriad, diverse forms.

There's a lot to take in at a Pride Festival; from booths operated by merchants and organizations dedicated to serving LGBTQ people, to exciting entertainment options, to a sampling of the best food and drink the local community has to offer, it's a colorful whirlwind of a weekend with something for everyone to enjoy.

For many, though, the highlight will always be the Pride Parade. Blending both the activist and celebratory aspects of Pride, it's a spectacle that allows the many faces of our queer community to join together and present the full expression of our identity while carrying a message of equality to the world at large.

This year's parade looks to be a particularly triumphant event, and not just because it marks the half-century milestone of a seminal event in our history.  With L.A. Pride's 2019 theme of #JustUnite, it's also an opportunity to come together in a show of solidarity and, and to acknowledge that not only do we stand upon the shoulders of giants, but that we are stronger together than we are divided.

In honor of those cornerstone principles, this year's Pride Parade will be presided over by three Grand Marshal who represent the spirit of inclusion and work, each in their way, to lift up the entirely of the LGBTQ community.

The Organizational Grand Marshal for 2019 is The Organizational Grand Marshal, the Los Angeles LGBT Center, has a history which dates back as far as Pride itself, having supported the LGBTQ community in Los Angeles since 1969.  As it celebrates its 50th anniversary, it currently provides services and programs for more LGBTQ people than any other organization in the world, and it remains dedicated to building a world where LGBTQ people thrive as healthy, equal and complete members of society.  Their passion for equality and inclusion embodies this year's #JustUnite theme, and they look forward to continuing their ever-growing efforts to connect LGBTQ people with opportunities for health care, housing, legal assistance and cultural enrichment, while also cultivating the future of activism and advocacy in our community.

Chief Executive Officer Lorri L. Jean says, "For the Center, pride has always been something of a shorthand for certain values—dignity, resilience, power and joy—that bind us together as a community and  proud, equal members of the larger society. Motivated by those values, 50 years ago, a small group of volunteers banded together to offer services here in Los Angeles.
Since then, the Center has been a continuous beacon for the sense of community pride that we celebrate on Sunday."

She adds, "I would be remiss, however, if I didn't also say that pride has also been a call to action for us, a sense of duty to translate that pride into hard-won advances for our community.
The battles have been many and fierce—whether it has been challenging the government's criminal indifference during the early years of the AIDS epidemic, struggling to win marriage equality, or fighting to stop the senseless murders of transgender women that are happening at this very moment all over the country. Our pride has been—and will continue to be—both an expression of love and a weapon of resistance, and we are honored to celebrate with those who have shared in that historic march toward full equality."

Standing as the Community Grand Marshal is Phill Wilson, an LA-based activist whose career began after he and his partner were diagnosed with AIDS in the early 1980s. Since becoming an Angeleno, Wilson has served as the director of Policy and Planning for the AIDS Project, AIDS coordinator for Los Angeles, co-chair of the Los Angeles HIV Health Commission, and a member of the HRSA AIDS Advisory Committee. In 1999, he founded the Black AIDS Institute, and he was appointed to President Obama's Advisory Council on HIV/AIDS. As the founder of the Black AIDS Institute and prominent African American HIV/AIDS activist, he has dedicated himself to the effort toward ending the HIV/AIDS epidemic and bringing the community closer to health equity.

Wilson says, "I'm particularly excited this year, given that it's a major commemoration of the original Stonewall revolt in New York City.  I think there is so much happening in our community, and while we are facing huge challenges and adversity we are also making tremendous progress, so it is an exciting time to both remember and to celebrate our LGBTQ community."

Discussing what Pride means to him, he adds, "I think about Pride both generically, but also in my case, I think about all the parts of me.  As Pat Parker said, the sign of a revolution is when I can take all of me into any room, when I don't have to leave my gay self when I go into black spaces and I don't have to leave my black self when I go into gay spaces, and I think about Pride in that fashion.  Relative to the community, while we may not have achieved true inclusivity, I think that we strive for it, that we lean on our better angels and we understand, even when we fall short, that we are better as an inclusive community that we are when we attempt to shut others out."

Rounding out the trio is Celebrity Grand Marshal Ryan O'Connell, an actor, writer and producer wo served all three of those functions in "Special," an eight-episode short-form series on Netflix which debuted in April to widespread acclaim and popularity. Loosely based on O'Connell's own upbringing and experience as a gay man navigating the world with cerebral palsy, it's a show that exemplifies inclusivity – not to mention a sex-positive, celebratory attitude toward queerness – while making audiences think, feel, and laugh. His television work also includes serving as an Executive Story Editor on NBC's revival of "Will & Grace" and on the writing staff of MTV's "Awkward." In addition, he is the author of "I'm Special: And Other Lies We Tell Ourselves," a part-memoir, part-manifesto published in 2015, he's served as the Editor of Thought Catalog, and he's contributed to Vice, BuzzFeed, and numerous other publications.

In a statement, O'Connell says, "I'm honored to be one of The Grand Marshals at LA Pride. My hope is that every young LGBTQ+ person is proud of who they are and that they dream about who they can be. Can't wait to live, laugh, love with you all as we celebrate who we are and celebrate the brave shoulders that we all stand on."

CSW Board President Estevan Montemayor says, "We are thrilled to have Ryan as our Celebrity Grand Marshal. He has broken much needed new ground on ensuring that all LGBTQ+ people are represented in entertainment and media. We know, living here in Southern California, that inclusive imagery can change hearts and minds across the country and around the globe. Ryan represents the very best in harnessing creative talents to effect positive and meaningful change."

Sunday's Pride Parade will make history also as the KABC, Southern California's most-watched television station, becomes Pride's exclusive television and digital broadcast partner, ensuring that all Angelenos will be able to watch the festivities along with the crowds that line the parade route along Santa Monica Boulevard.  Featuring pre-parade coverage throughout Eyewitness News on Sunday morning, the station will also present a two-hour live broadcast of the parade itself from 11am-1pm.  The latter will be co-hosted by KABC's Ellen Leyva and Brandi Hitt, joined by Raven-Symoné, the star and executive producer of Disney Channel's "Raven's Home" and a proud member of the LGBTQ community.  Also joining the ABC7 team along the parade route will be Eyewitness News reporter Veronica Miracle and OTRC entertainment host, Karl Schmid. A pre-parade preview show will also air Saturday, June 8 at 6:30 p.m.

Joining the three Grand Marshals in celebrating Pride in the parade will be a long list of contingents representing the many facets of the LGBTQI and allied community.  A complete listing is available at www.lapride.org, but among them are AIDS Healthcare Foundation, GetPrEPLA, Equality California,The Los Angeles Gay Men's Chorus, The American Institute of Bisexuality, Congressman Adam Schiff, PFLAG of Los Angeles, the City of West Hollywood, The Trevor Project, The Stonewall Democratic Club, Trans [email protected] Coalition, Outsports, the Trans Chorus of Los Angeles, the West Hollywood Cheerleaders, and of course, the Los Angeles Blade.

The Pride Parade will march from 11am-2pm along Santa Monica Boulevard between Fairfax and Doheny in West Hollywood.  Festival organizers recommend arriving early in order to get a great spot along the parade route, and suggest considering the use of public transportation or rideshare services in order to avoid the difficulties of parking in West Hollywood.

The parade is free to attend, but admission to the Festival grounds (at West Hollywood Park, 647 N. San Vicente Boulevard) proper requires tickets, which may be purchased in advance.  To buy them, and for more information about the parade and its participants, please visit www.lapride.org. 
Hundreds attend 4th annual South LA Pride celebration
Hosted by Los Angeles City Councilmembers Marqueece Harris-Dawson & Herb Wesson, this year's family-friendly celebration was a "Pride Picnic"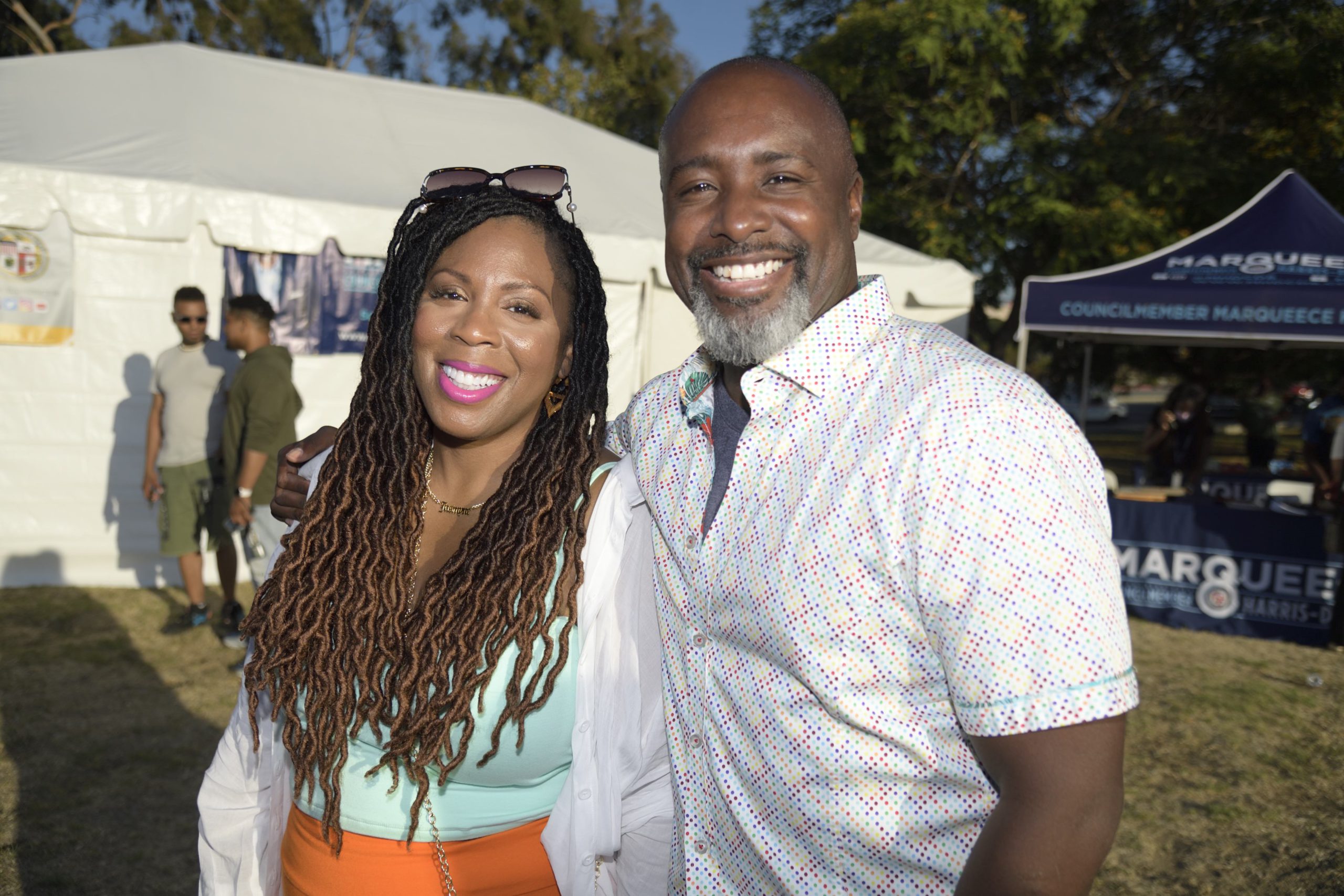 LOS ANGELES – Hundreds attended the 4th annual South LA Pride celebration on Jul. 1 at Norman O. Houston Park in Baldwin Hills.  Hosted by Los Angeles City Councilmembers Marqueece Harris-Dawson and Herb Wesson, this year's family-friendly celebration was a "Pride Picnic" meant to bring together South LA's LGBTQ community and their allies for a culturally relevant pride celebration.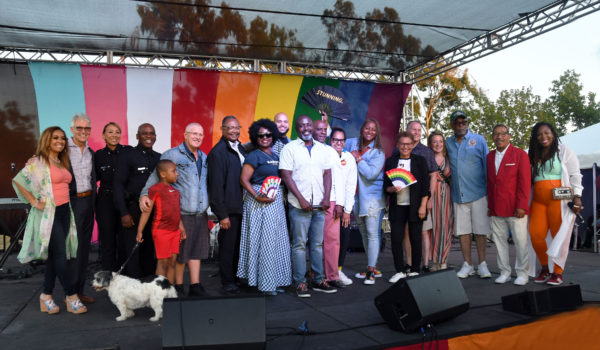 In addition to Harris-Dawson and Wesson, this year saw the most Black elected officials ever at a pride celebration in Los Angeles including Congresswoman Karen Bass, Supervisor Holly Mitchell, Senator Sydney Kamlager, and more.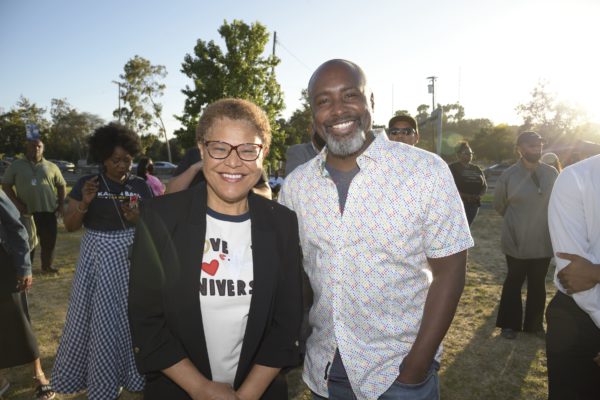 Journalist and advocate Jasmyne Cannick chaired the planning committee which included a host of community organizations.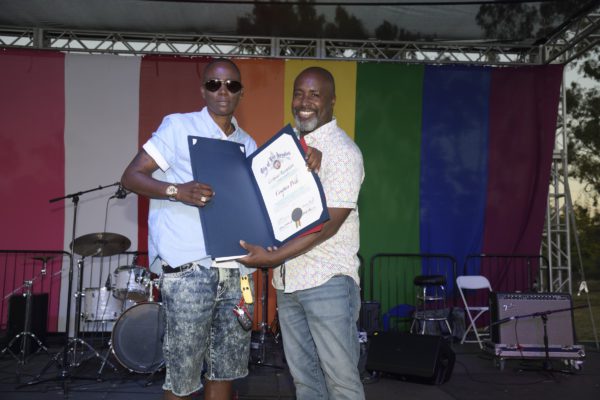 The 2022 South LA Pride Community Picnic was sponsored in part by Community Coalition, Providence, FOX, AEG, and the LA Civil + Human Rights and Equity Department.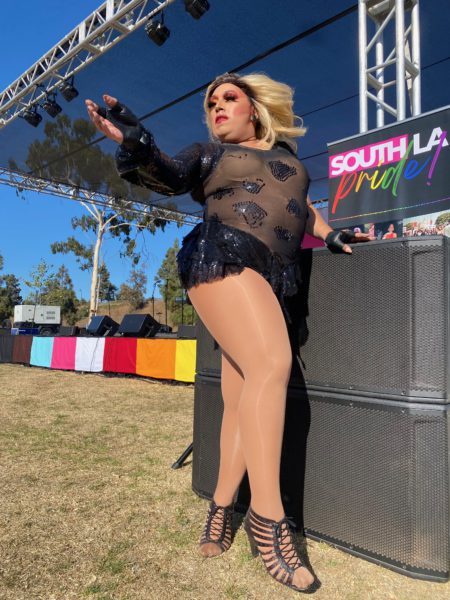 For more information, please visit southlapride.com.
EN VIDEO: Marchas del orgullo LGBTQ+ en Colombia
Se realizaron celebraciones en Bogotá, Medellín y Pereira
Pride in London celebrates 50, Heartstopper cast members troll protestors
"People in this community have been able to be open & successful, thriving – but also recognise that we can't be complacent" ~ London's Mayor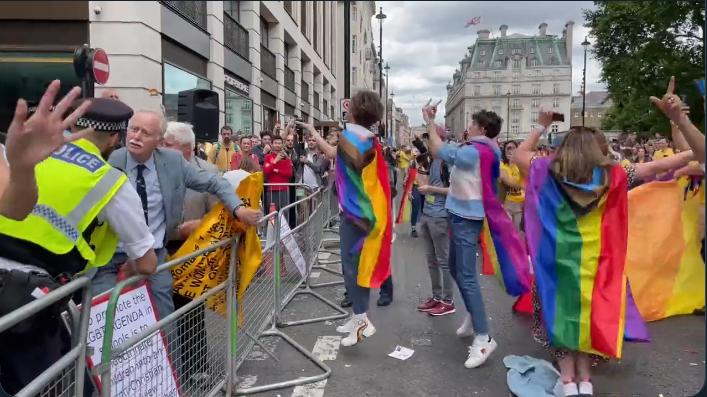 LONDON – Saturday marked the 50th anniversary of Pride in London, the first was led by the Gay Liberation Front in 1972. According to the BBC more than a million people thronged the streets of the UK's capital city ranking it as one of the largest LGBTQ+ events in Europe.
In a Sunday interview with BBC Radio, London's Pride director Chris Joell-Deshields said it was important as it provided a great level of visibility for LGBTQ+ rights.
"We're able to provide that form of visibility, unity, quality, that the world can see and it sends a message of solidarity to those persons who may be thinking 'I can't be open', 'I can't be visible or I'll be prosecuted in my country," he said.
"The battles have not all been won. Yes we've had some magnificent achievements, whether or not that's equal marriage, the repeal of section 28, the lifting of the ban of homosexuals and lesbians in the military, but we've still got a journey to go," he told BBC Radio.
"Every day we're continuing to have to fight for our trans people and making it a fair life for them. We're still having to fight for those around the world who live in countries where they can't be themselves," Joell-Deshields added.
Reflecting on the masses gathered at Traflagar Square Joell-Deshields noted:
"Yesterday when we were in Trafalgar Square, and we were chanting 'trans rights are human rights', we were pushing that so that volume of noise was heard at Downing Street and beyond, to the millions or people on the footprint and thousands on the parade.
"That sends a powerful message to politicians and others that we're here, we're proud and loud, and we're going to continue to fight.
"And there's the next generation coming along that we need to pass the mantel to. We want them to understand that the fight is not won, we have to continue and the pride platform is a great platform to do that."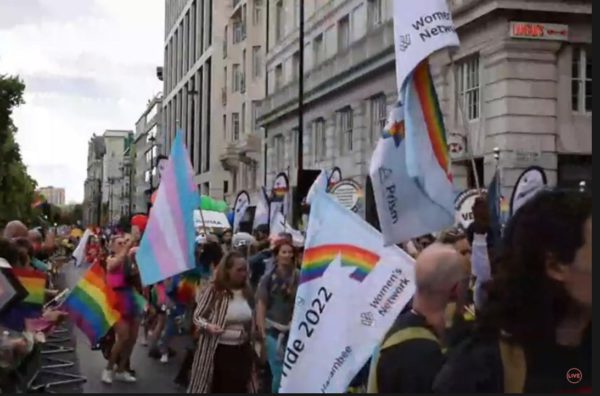 Echoing Joell-Deshields, the Mayor of London Sadiq Khan, who was in attendance Saturday told PinkNewsUK the LGBTQ+ community and allies "can't be complacent" in the fight for equality.
The Mayor stressed that it was important to celebrate the hard won rights that the UK's LGBTQ+ community has fought for over the last 50 years including the "end of Section 28", the introduction of same sex marriage and the approval of "laws to protect this community."
He then pivoted and warned there is still a "lot of campaigning" to be done in the wake of the deadly mass shooting at an LGBTQ+ venue in Oslo, Norway as well as attacks against the trans community in the UK.
"People in this community have been able to be open and successful, thriving – but also recognise that we can't be complacent," Khan said. "There is still a lot of campaigning to be done."
He continued: "This time last week we saw in Oslo members of this community being attacked – two being killed, many others being injured.
"We've seen trans people in this country being used as pawns by politicians and others in a culture war.
"So of course, we've got to continue protesting, continue campaigning, continue trying to make progress but also celebrate the progress we've made," the mayor said.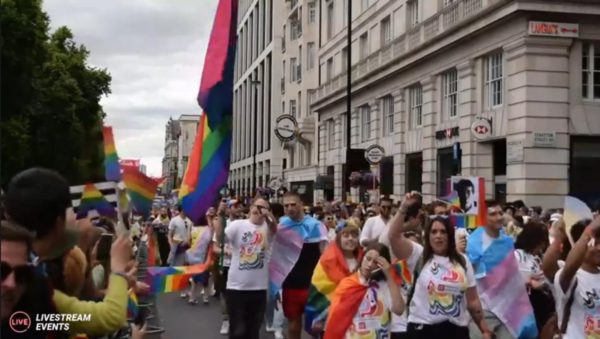 Joining in to march in parade were cast members of the Netflix hit LGBTQ+ drama series 'Heartstopper' including lead actors Kit Connor and Joe Locke, and castmates Jenny Walser, Sebastian Croft, Tobie Donovan, Corinna Brown and Kizzy Edgell.
Alice Oseman the author, illustrator, screenwriter, and executive producer of Heartstopper tweeted:
July 2, 2022
At one point in the parade the cast stopped and trolled some anti-LGBTQ+ street pastors spouting inflammatory hate speech. Actors Joe Locke, who plays Charlie Spring and Sebastian Croft who plays Ben Hope, can be seen jumping up and down dancing as they displayed their non-verbal disapproval of the protestors bullhorn-delivered messaging.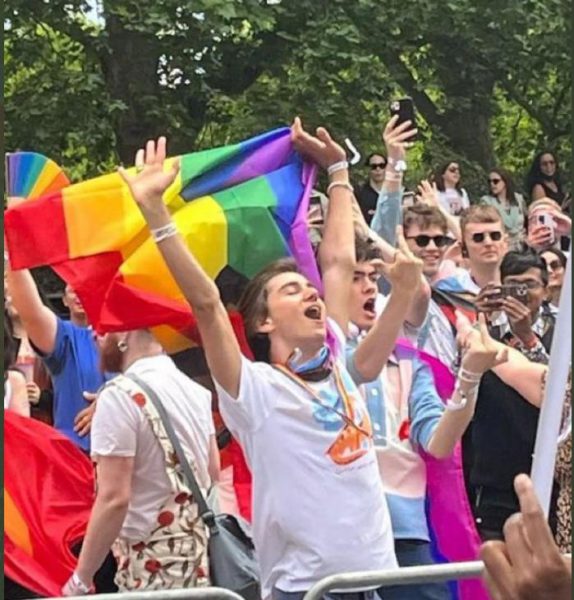 Kit Connor who plays Nick Nelson noted in a Twitter post:
uhhh I was videoing and screaming at them but please don't be mistaken, it wasn't 'Kit Connor and the rest of the cast', it was @joelocke03 and @SebastianCroft front and centre. Please give them the credit for doing something so powerful. https://t.co/SjvJFCHwKD

— Kit Connor (@kit_connor) July 2, 2022
A video, shared on Twitter by Sky News journalist Scott Beasley, showed the actors waving the middle finger and loudly singing along to Whitney Houston's hit "I Wanna Dance with Somebody (Who Loves Me)" in front of the street preachers.
The stars of Heartstopper absolutely loving it as anti-LGBT protesters are challenged by a young Pride supporter #Pride pic.twitter.com/7uUwaG9MXW

— Scott Beasley (@SkyScottBeasley) July 2, 2022
PinkNewsUK reported that elsewhere in the parade, Connor carried Locke on his back as they walked along the parade route behind a giant Pride flag. The scene was very reminiscent of a Heartstopper doodle that Alice Oseman created for Pride in 2019 that depicted Nick carrying Charlie, who was wearing a colourful flag, on his back.
happy pride month from me & the Heartstopper boys!! 🌈
(I have lots of time and energy to draw pride art this year and I am so excited!!!!!) pic.twitter.com/wqTValTBLl

— Alice Oseman Updates (@AliceOseman) June 4, 2019
Locke told the BBC that this was his first Pride ever and said it was "such an honour" to be celebrating "being queer when the world might not be so accepting".
"It's very, very surreal for me," he said.