Los Angeles Community College District holds Lavender Graduation
Pride season coincides with Graduation season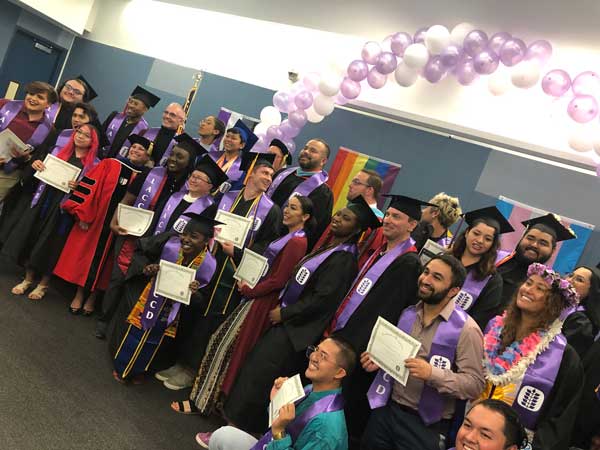 The Los Angeles Community College District (LACCD) held its second annual 'Lavender' graduation ceremony Saturday evening in the Student Union Building at Los Angeles City College.
LACCD is the largest community college district in the nation that serves about 230,000 full- and part-time students each year, and has an estimated 10,000 students who self-identify as members of the LGBTQI community. The 'Lavender' graduation ceremony was a prelude for approximately 200 graduates embracing celebration of their LGBTQI identities who will also be attending the LACCD's principal commencement ceremonies Tuesday June 5 at the district's nine campuses across the LA Metroplex.
Saturday's keynote speaker was LACCD Board of Trustees' first openly gay Board member,  David Vela.
Vela, the founder of HONOR PAC, (Political Action Committee that supports Latino LGBTQ political candidates), is a long time advocate for free tuition at community colleges, student housing, job training & creation and LGBTQI rights.
"My heart feels really good to see all of you here," Vela told the graduates and their families. "Congrats to you, the graduates of the class of 2019."
In his address he noted his background and then told those present that the reason he was attending was because he was just like them, referencing the fact he is an openly gay man.
"We are not the norm- well just not yet," Vela said. Then he addressed the rise in hate crimes and bigotry since the election of "you know who" as the crowd laughed at his oblique reference to President Trump. Specifically Vela then referenced the deaths of 29 Trans people in 2017 as he continued to refer to Trump as "you know who." He told the graduates that these were the reasons he is pushing for an LGBTQ "Bill of Rights" to be applied across all nine colleges in the LACCD, a statement met by enthusiastic applause.
Vela recognised Los Angeles City Councilman Mitch O'Farrell 13th District, who was in attendance, for his longtime support of LGBTQI rights.  O'Farrell was later introduced noting his status as an openly gay member of LA's City Council.
Dr. Mary Gallagher, President of LACC spoke of her commitment to diversity and added that "history is made by people who come together to do things that are different. This is the first time in the history of the college that all 9 LACC campuses have come together to have a Lavender graduation."
The student speaker, Sabrina Smith, spoke to the personal meaning for her as a member of the LGBTQI community to have a ceremony that recognized and celebrates that community.  "We the community are finally being seen, heard, acknowledged and celebrated as for far too long we haven't." She added that the LGBTQI students make up a significant amount of the total student body, faculty, and staff. She then gave her personal story and experiences as a student and the importance of visibility on college campuses.
O'Farrell congratulated the class of 2019 and then called on a round of applause in recognition of the family members of the graduates for their support. "At the end of the day, it is the allies and our family members who are supportive," he said adding, "who really keep our spirits up."
O'Farrell noted that the LGBTQI community "builds our own families. but it is especially blessed when it also happens to be our biological families."
Many of the students left feeling inspired. A transwoman who identified herself at Sheila but would not give a last name, said her journey had changed because of LACCD's free-tuition program. "I pulled myself off the streets because of this program. I realized I have potential." Joseph Patterson, pictured above with Director of Institutional Advancement Michael D. Fuller and Councilmember Mitch O'Farrell said he was "proud of the opportunity to excel." And, he, added, "I plan to pursue advanced degrees in Addiction and Counseling and that's something this college has made possible  for me."
Brittney Griner trial scheduled to begin July 1
WNBA star detained in Moscow airport in February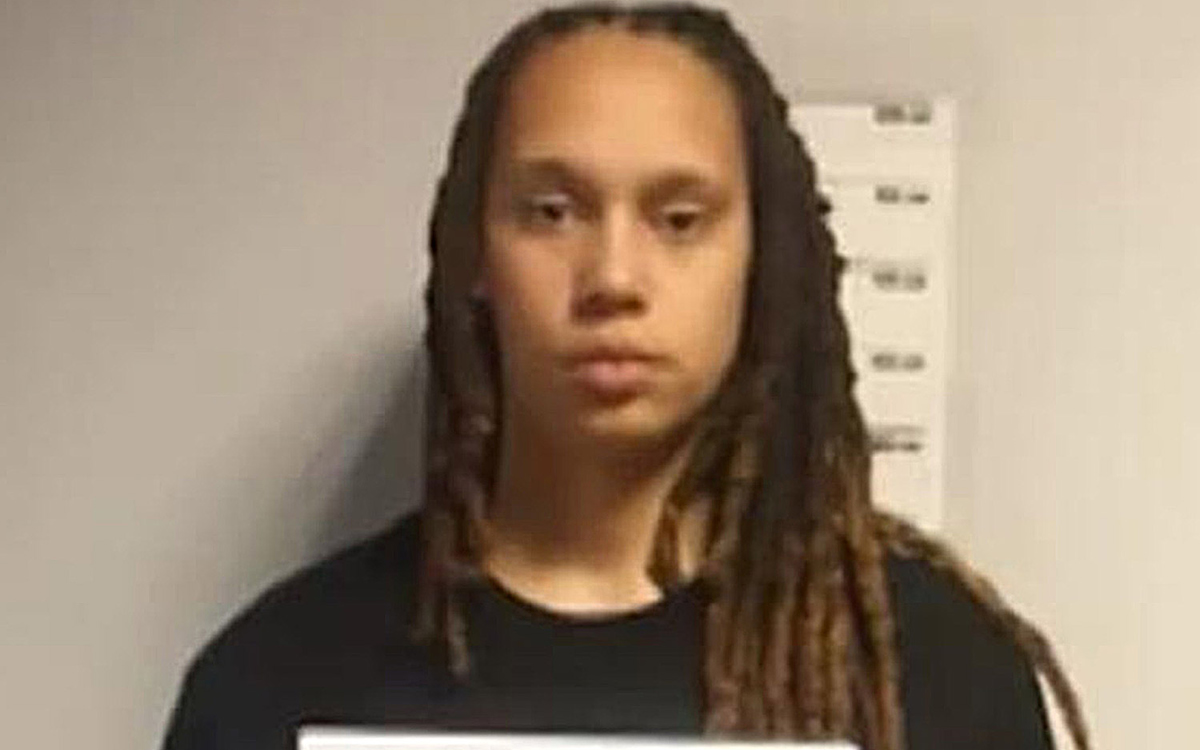 MOSCOW — A Russian court on Monday said detained WNBA star Brittney Griner's trial will begin on July 1.
The Associated Press reported the Phoenix Mercury center and two-time Olympic gold medalist who is a lesbian and married to her wife, Cherelle Griner, will remain in custody through the duration of her trial.
Officials at Moscow's Sheremetyevo Airport in February detained Brittney Griner after customs inspectors allegedly found hashish oil in her luggage. The State Department has determined that Russia "wrongfully detained" her.
Secretary of State Antony Blinken on May 14 spoke with Cherelle Griner.
Officials with the State Department's Office of the Special Presidential Envoy for Hostage Affairs and Bureau of Educational and Cultural Affairs on June 13 met with Brittney Griner's teammates to discuss her detention and efforts to secure her release.
Brittney Griner on June 18 was unable to speak with her wife on their fourth anniversary because the phone at the U.S. Embassy in Moscow that she called went unanswered. A State Department spokesperson later admitted a "logistical error" prevented Brittney Griner from speaking with Cherelle Griner.
Brittney Griner faces up to 10 years in prison if she is convicted.
The Human Rights Campaign and the Council for Global Equality are among the dozens of advocacy groups who signed a letter to President Joe Biden and Vice President Kamala Harris last week that urged them to do more to secure Brittney Griner's release.
Matanzas, la capital cubana del Orgullo LGBTQ+
AfroAtenAs y otros grupos forman parte de 'Matanzas, ciudad inclusiva'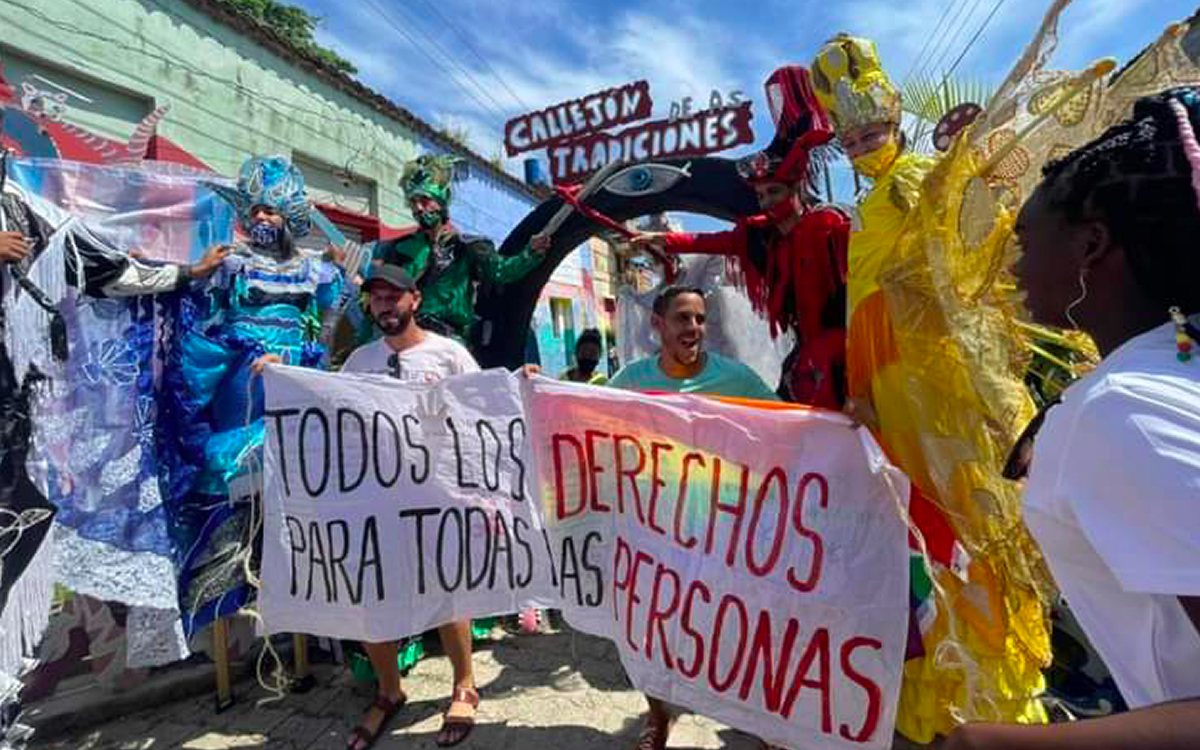 Tremenda Nota es el socio mediático del Washington Blade en Cuba. Esta nota salió en su sitio web el 26 de junio.
MATANZAS, Cuba — En una extensa jornada que comenzó el 11 de junio y ha tenido su momento culminante este 26, la ciudad de Matanzas se convirtió en el foco principal de las celebraciones por el Mes del Orgullo LGBTIQ+ en Cuba.
El proyecto AfroAtenAs, junto a otros grupos como la Iglesia de la Comunidad Metropolitana y el "Dame la mano", desarrollaron numerosas actividades, incluidas algunas comunitarias, que forman parte de una iniciativa con años de trabajo, denominada "Matanzas, ciudad inclusiva".
Las actividades han sido muy diversas, y entre ella se cuentan ferias comunitarias, actividades deportivas y galas culturales que abordan la necesidad de espacios de inclusión para la comunidad LGBTIQ+.
La jornada abrió el 11 de junio con un taller de capacitación en materia de derechos humanos para activistas y grupos LGBTIQ+. El taller contó con dos conferencias que abordaron la Constitución cubana, el proyecto de Código de las Familias y otras leyes previstas en el cronograma legislativo de la Asamblea Nacional del Poder Popular.
El 18 de junio se realizó una recogida de desechos por el Día Internacional de los Océanos y una Olimpiada LGBTIQ+.
Para llegar a los niños y jóvenes proyectaron audiovisuales y también se presentaron
artistas aficionados en diferentes espacios.
El 22 y 23 de junio se realizó la Fiesta Popular de San Juan y el 25 dedicaron la jornada a la no violencia hacia las mujeres y las niñas.
Este 26 de junio, en uno de los momentos más esperados por el activismo se realizó un pequeño desfile por las calles de Matanzas hasta la Plaza Vigía, bajo el lema de "Todos los derechos para todas las personas".
Después del pasacalle, que fue acompañado por una rumba, hubo una feria de negocios locales con venta de artesanías, música en vivo, intercambio con activistas y promotores de salud, e incluso se promovió la adopción de animales si hogar.
En la tarde de este domingo, se celebró también una ceremonia interrreligiosa en defensa de las familias LGBTIQ+, que fue auspiciada por la Iglesia de la Comunidad Metropolitana. Para cerrar este amplio calendario de eventos, en la noche abrió sus puertas la Sala White con una gala dedicada a la negritud en la comunidad LGBTIQ+ cubana.
Yoelkis Torres, fundador de AfroAtenAs, comentó a Tremenda Nota que el programa fue muy bien acogido: "En todos los espacios las personas llegan, preguntan, se incorporan ¿cuándo es? ¿qué sucede? ¿cómo va a ser? ¿cuándo van a hacer más cosas?".
Yoelkis explica que ocurrió "un debate serio y conflictivo" con las autoridades políticas y culturales para que fuera posible llegar a los espacios públicos de la ciudad y que estas jornadas pudieran realizarse en su plan original.
Desde 2018, AfroAtenAs desarrolla la campaña "Matanzas, ciudad inclusiva" para concientizar a la ciudadanía sobre las demandas de la comunidad LGBTIQ+. En ese mismo año comenzaron a utilizar el lema #TodosLosDerechosParaTodasLasPersonas en acciones de activismo realizadas durante el proceso de consulta y referendo de la Constitución que entró en vigor en 2019.
Más tarde, en 2021, iniciaron una nueva etapa de esta campaña para promover en Cuba el proyecto de Código de las Familias.
Los activistas del comité organizador de la campaña enviaron en abril de 2021 una misiva a Esteban Lazo Hernández, el presidente de la Asamblea Nacional del Poder Popular, y a otros funcionarios, en la que solicitaban que se tuvieran en cuenta las principales demandas de las personas LGBTIQ+ al momento de redactar la futura ley.
Newsom, Senate & Assembly leaders announce budget agreement
23 million Californians will benefit from direct payments of up to $1,050 & additional funds to help people pay rent & utility bills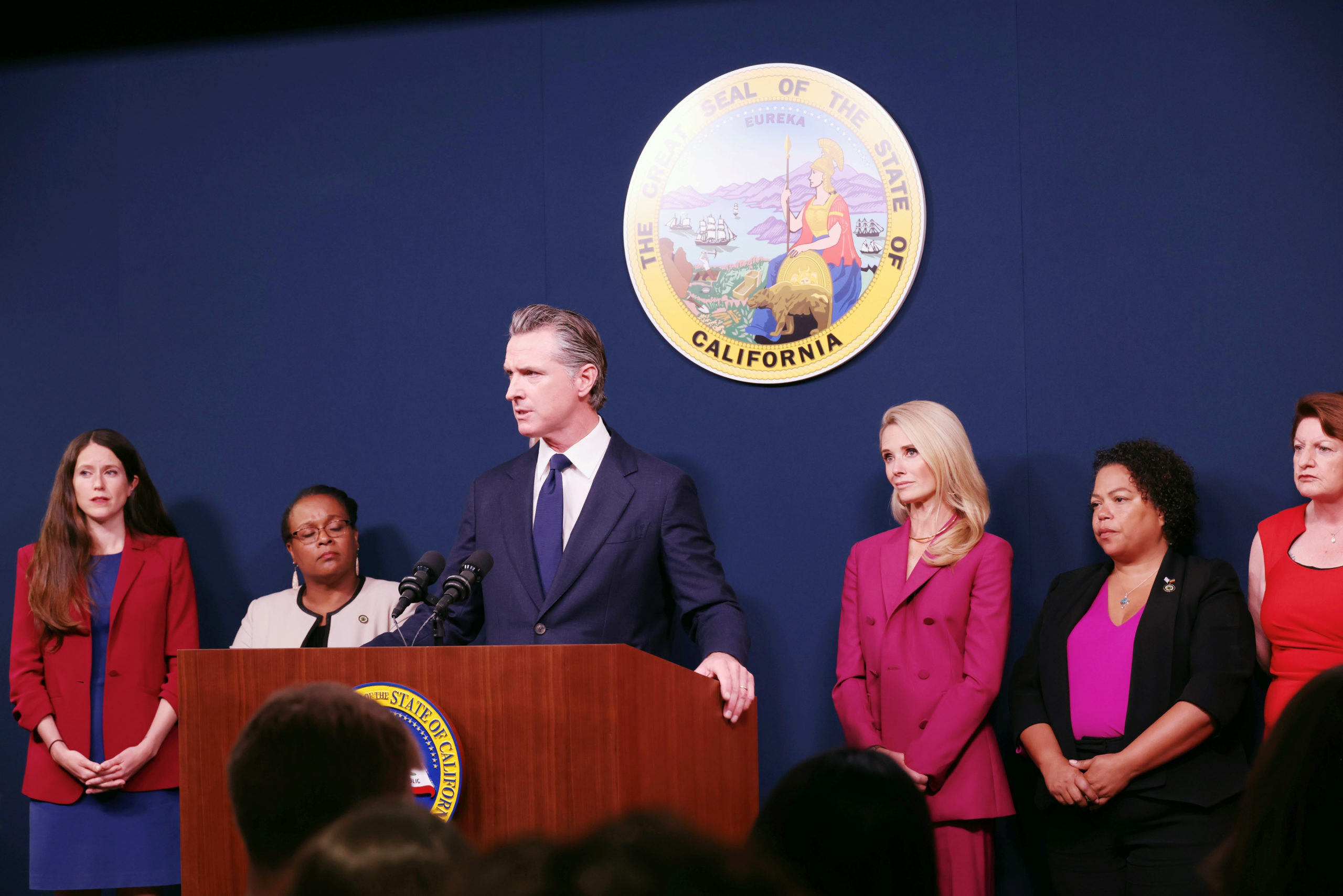 SACRAMENTO – California Governor Gavin Newsom, Senate President pro Tempore Toni G. Atkins (D-San Diego) and Assembly Speaker Anthony Rendon (D-Lakewood) announced they had were able to reach an agreement on the framework for the 2022-23 state budget.
In a statement released Sunday evening, the state's leadership said:
"California's budget addresses the state's most pressing needs, and prioritizes getting dollars back into the pockets of millions of Californians who are grappling with global inflation and rising prices of everything from gas to groceries.
"The centerpiece of the agreement, a $17 billion inflation relief package, will offer tax refunds to millions of working Californians. Twenty-three million Californians will benefit from direct payments of up to $1,050. The package will also include a suspension of the state sales tax on diesel, and additional funds to help people pay their rent and utility bills.
"In addition, California is doubling down in our response to the climate crisis – securing additional power-generating capacity for the summer, accelerating our clean energy future, expanding our ability to prepare for and respond to severe wildfires, extreme heat, and the continuing drought conditions that lie ahead.
"This budget builds on our unprecedented commitment to transform the resources available in our state, from a $47 billion multi-year infrastructure and transportation package to education and health care, showing the nation what a true pro-life agenda looks like. With these new investments, California will become the first state to achieve universal access to health care coverage.
Newsom and his legislative counterparts also highlighted that in the wake of Friday's stunning U.S. Supreme Court decision, California is reaffirming its commitment to defending reproductive rights, providing more than $200 million in additional funding for reproductive health care services. The state will also be investing in key programs that help California families, from funding for homeownership programs and billions of dollars in additional ongoing funding for education, to universal preschool, children's mental health, and free school meals.
"In the face of growing economic uncertainty, this budget invests in California's values while further filling the state's budget reserves and building in triggers for future state spending to ensure budget stability for years to come," the statement read.
Yesterday the governor and the leadership agreed to the framework to offset the high cost of gas prices and the hit inflation has created on the wallets of taxpayers, particularly those who least able to bear the added cost burden. Under the budget compromise most California taxpayers would get hundreds of dollars in cash to help offset the high price of fuel and other goods.