Transgender woman from El Salvador dies after release from ICE custody
Johana 'Joa' Medina Leon passed away in Texas hospital on Saturday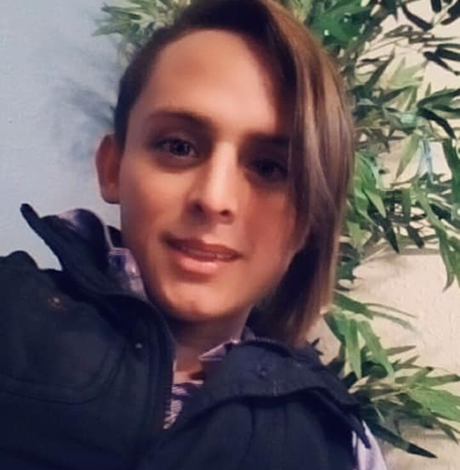 A transgender woman from El Salvador who had been in U.S. Immigration and Customs Enforcement custody died on Saturday.
An ICE press release says Johana "Joa" Medina Leon, who was identified by her birth name, passed away at a hospital in El Paso, Texas.
The press release says Medina, 25, "illegally" entered the U.S. at the Paso del Norte Port of Entry between El Paso and Ciudad Juárez, Mexico, on April 11.
ICE notes Medina "was processed as an expedited removal when she applied for admission to enter the United States." The press release says Medina entered ICE custody on April 14.
The press release noted Media on May 18 "received a positive credible fear finding" and four days later "was issued a notice to appear before" an immigration judge.
ICE says Medina on May 28 requested an HIV test and tested positive. The press release notes she was "transported" to Del Sol Medical Center in El Paso on the same day after "she complained of chest pains."
"That same day, her case was reviewed and she was processed for release on parole," says ICE.
Medina had been held at the Otero County Processing Center in Chaparral, N.M., which is roughly 30 miles north of El Paso, before her release.
An ICE spokesperson on Monday told the Los Angeles Blade that Medina was not in the agency's custody when she died. Corey A Price, field office director for ICE Enforcement and Removal Operations in El Paso, in the press release described Medina's death as "yet another unfortunate example of an alien who enters the United States with an untreated, unscreened medical condition."
"There is a crisis at our southern border with a mass influx of aliens lured by the lies of human smugglers who profit without regard for human life or well-being," he said. "Many of these aliens attempt to enter the United States with untreated or unknown diseases, which are not diagnosed until they are examined while in detention."
Medina died roughly a year after Roxsana Hernández, a transgender Honduran woman with HIV, died at a New Mexico hospital while in ICE custody.
New Mexico officials in April said an autopsy they performed on Hernández found she died from Castleman disease associated with AIDS. The results of a second autopsy the Transgender Law Center released late last year concluded Hernández was beaten before her death.
Hernández entered U.S. Customs and Border Protection custody on May 9, 2018, when she asked for asylum at the San Ysidro Port of Entry south of San Diego. She was then transferred to the Cibola County Correctional Center in Grants, N.M., which has a unit for trans detainees.
The Transgender Law Center on May 31 filed a lawsuit against ICE and the Department of Homeland Security for "illegally withholding information about" Hernández's death.
"A few days after marking the anniversary of Roxsana Hernández's death, we are devastated and outraged by reports that Johana Medina, a transgender woman and refugee from El Salvador, has died in Immigration and Customs Enforcement (ICE) custody," said the Transgender Law Center in a press release.
Andrew Lorenzen-Strait, the openly gay deputy assistant director of ICE ERO Custody Programs, told the Blade late last year a 2015 memorandum directs ICE personnel to allow trans detainees to identify themselves based on their gender identity on data forms, establishes guidelines for a "respectful, safe and secure environment" for them and requires detention facilities to provide access to hormone therapy and other trans-specific health care. The Transgender Law Center and other advocacy groups nevertheless remain highly critical of ICE over the treatment of trans people in their custody and the Trump administration's overall immigration policy.
"Justice for Roxsana means justice for Johana," said the Transgender Law Center in its press release. "Justice for Johana and Roxsana means an end to the conditions that killed them, conditions that transgender people in migrant prisons across the country continue to endure."
"Today, we mourn Johana, and renew our pledge to seek justice for her, for Roxsana, and for all black and brown trans women detained in migrant prisons," added the advocacy group. 
Human Rights Campaign Director of Government Affairs David Stacy on Monday described Medina's death as "yet another horrific and deeply disturbing development in the ongoing crisis of anti-LGBTQ actions by immigration authorities."
"This follows the still-unexplained death of Roxsana Hernandez and numerous reports of mistreatment of LGBTQ migrants and asylum seekers while in custody of CBP and ICE," added Stacy in his statement. "It is critical that every person be treated with safety, dignity, and respect by immigration authorities, and this latest tragedy demands greater transparency and accountability of these agencies."
The Los Angeles Blade will provide additional updates as they become available.
DeSantis targets Orlando non-profit over holiday drag show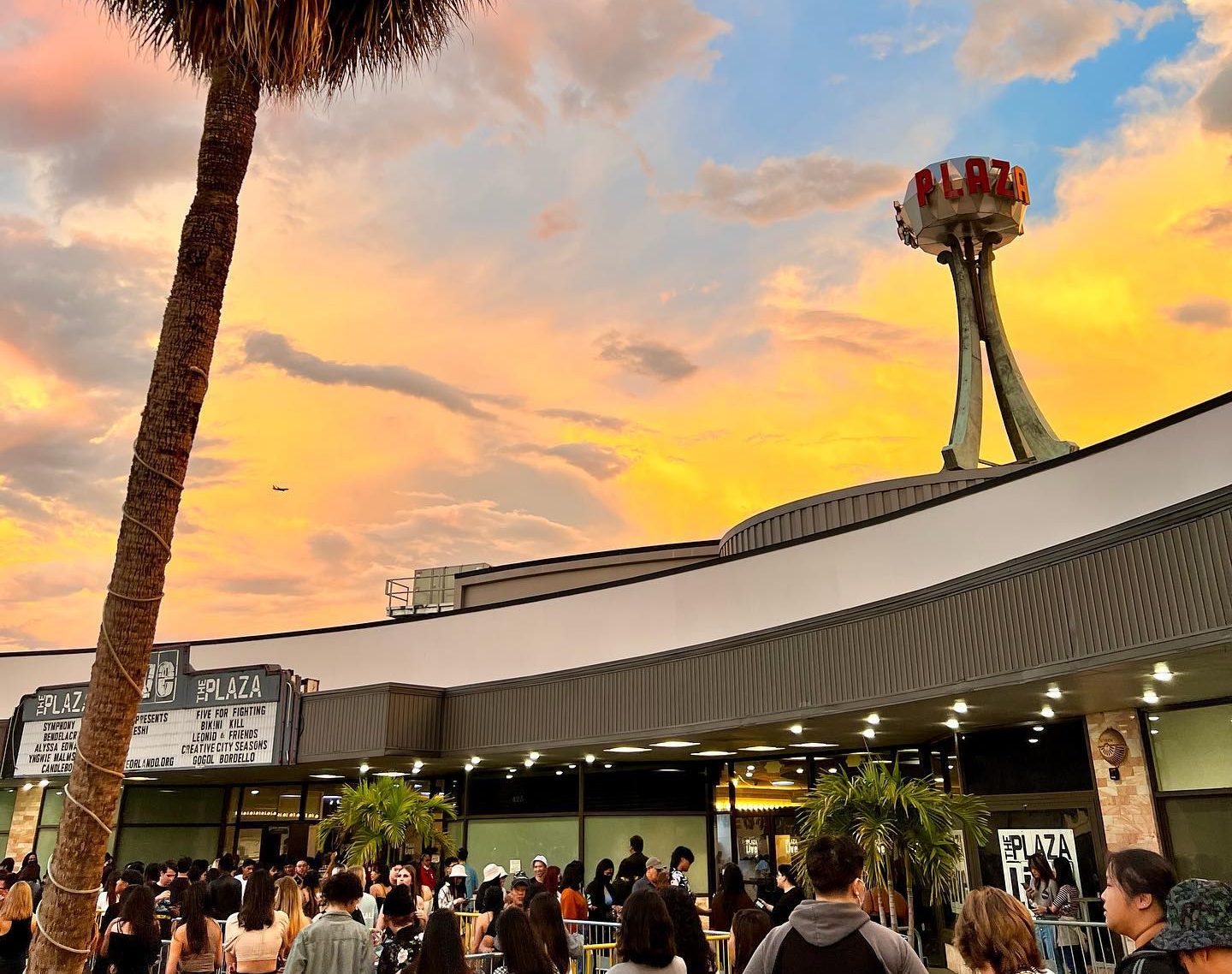 ORLANDO – Florida's Republican Governor Ron DeSantis escalated his war on the state's LGBTQ+ community ordering a state agency to launch a complaint against a Orlando non-profit over a drag holiday event it hosted in which children under age 18 were allowed to attend.
The state's Division of Alcoholic Beverages and Tobacco under the Department of Business and Professional Regulation filed the complaint on Friday against the Orlando Philharmonic Plaza Foundation alleging the foundation violated Florida law in allowing for a person to "commit lewd or lascivious exhibition" in the presence of an individual who is less than 16 years old. 
"A Drag Queen Christmas" was hosted by the foundation on Dec. 28 and during the performance sold alcoholic drinks at its Plaza Live venue. In the complaint, the agency states that the foundation used "Christmas-themed promotional materials" that did not give advance notice of the "sexually explicit nature" of the show's contents.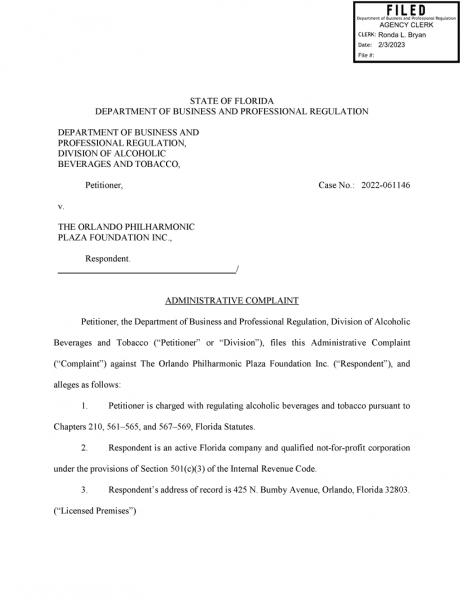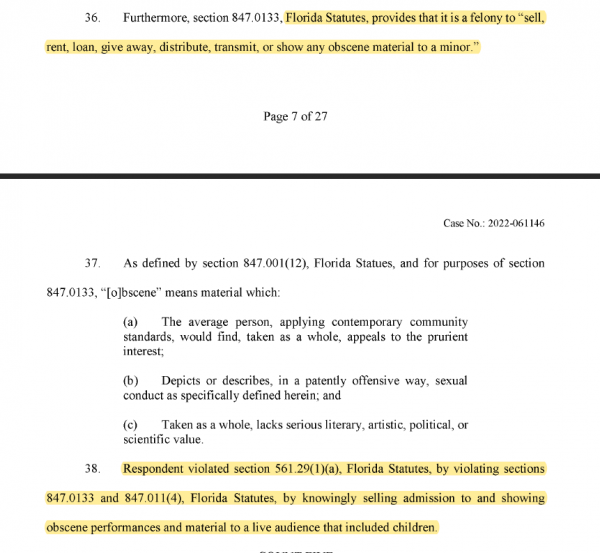 The complaint also states that the division sent the foundation a letter ahead of the show saying "sexually explicit drag show performances constitute public nuisances, lewd activity, and disorderly conduct when minors are in attendance" and the foundation's license could be subject to penalties if it did not ensure minors could not attend the event.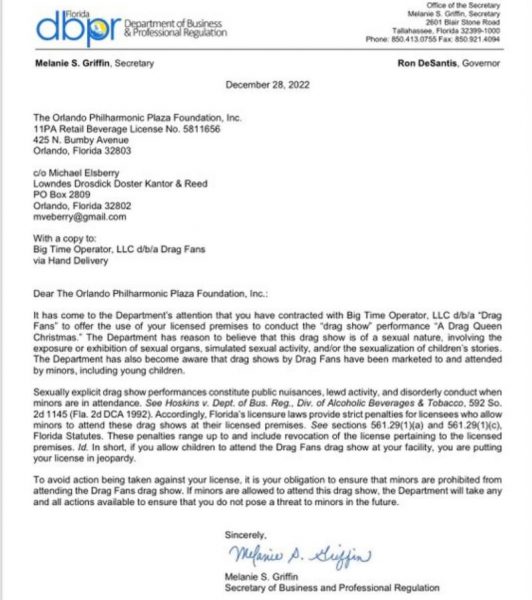 In its capacity as a regulator of alcohol, the division attempting to revoke the foundation's liquor license for six alleged counts of violating Florida statutes. 
When asked about the move by the DeSantis administration targeting the non-profit, Bryan D. Griffin, the spokesman for DeSantis said "Governor DeSantis stands to protect the innocence of children, and the governor always follows through when he says he will do something."
Orlando Weekly writer Matthew Moyer noted that The Plaza Live — besides serving as the performing home base of the Orlando Philharmonic — hosts a robust slate of touring bands, comedians, YouTubers and, yes, drag performers.
State Rep. Anna Eskamani released a statement to Orlando Weekly late Friday afternoon, condemning the state's actions in no uncertain terms. "Governor Ron DeSantis' culture wars are destroying people's jobs and livelihoods. The very notion of shutting down a small business over a drag show is insane and extreme," said Eskamani. "In the United States we do not allow the government to determine what we can read, see or hear or who we can gather with. Targeting drag performances limits everyone's freedom of speech and is all a part of the Governor's sick anti-LGBTQ+ agenda."
This is about dehumanizing LGBTQ people and targeting them for retribution by the state by portraying LGBTQ people as abberant and deviant. It's absolutely disgusting and should not be tolerated.

— Alejandra Caraballo (@Esqueer_) February 3, 2023
DeSantis previously filed a complaint against a popular restaurant and pub in the Miami's Wynwood neighborhood in July, alleging that it violated a public decency law in allowing children to attend a drag show.
The R house, is a unique casual fine dining establishment and lounge with an integrated gallery right in the heart of the vibrant Miami-Wynwood arts district named for Rocco Carulli, the executive chef as well as creator of the restaurant. The R House identifies itself on its Facebook page as "the proud home of South Florida's most popular weekend drag brunches! Make some time to check us out and experience R House."
The complaint was filed by the Department of Business and Professional Regulation on asking that the R House restaurant is a declared a public nuisance and has its liquor license revoked. 
According to the South Florida Sun Sentinel, the complaint was issued after a video of a recent performance at the bar's drag brunch went viral. A topless drag queen wearing lingerie stuffed with money can be seen in the video attempting to dance with a young girl, who the DPBR estimates is "between three and five years old." Twitter account "Libs of Tik Tok" originally found the footage on Tik Tok, posted by a user who wrote, "Children belong at drag shows!!!! Children deserve to see fun & expression & freedom."
The department cited multiple incidents of inappropriate drag performances with kids in the audience, including one in which a child "between the ages of ten and twelve" was "seen recoiling and turning away in her seat as a Brunch performer climbed on the back of the child's bench, squatted, and gyrated a couple of feet above the child's head."