June 6, 2019 at 3:13 pm PDT | by Staff reports
Sacramento PD reversal allows officers to march in uniform Pride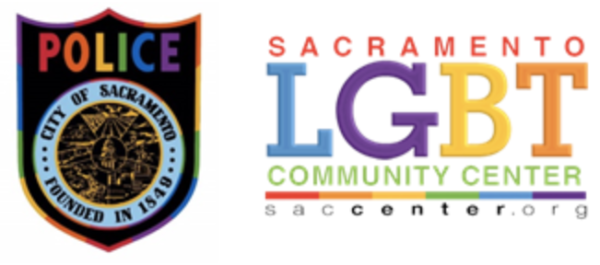 An agreement between the Sacramento Police Department and Sacramento LGBT Community Center allowing LGBTQ SPD officers to participate at Pride in their uniforms was announced Thursday in a joint press statement.
"The Sacramento Police Department and the Sacramento LGBT Community Center have committed to strengthening their partnership through community engagement strategies intended to ensure the safety and dignity of all when engaging with law enforcement, including those who are LGBTQ.
As part of the partnership, Department police officers, many of whom are LGBTQ themselves, will be welcome in uniform at SacPride and those who have been or feel disenfranchised by law enforcement will now have a platform upon which to seek improvements."
A request by the center and Pride committee to SPD officers from its LGBTQ contingent not wear their uniforms for Pride events previously had created an uproar. Last week, the center released the following statement on its Facebook Page,
"To honor the pain and marginalization of community members who have been harmed by police violence, we have asked Sacramento Police not to participate in uniform for the 50th anniversary of Stonewall."
The SPD responded with its own statement released to media outlets including the Los Angeles Blade Tuesday;
"Our police department is disappointed that the LGBT Center does not want our officers attending upcoming public community events while in uniform. We support our LGBTQ officers who proudly serve our community on a daily basis. They have worked hard to earn these uniforms and are proud to wear them."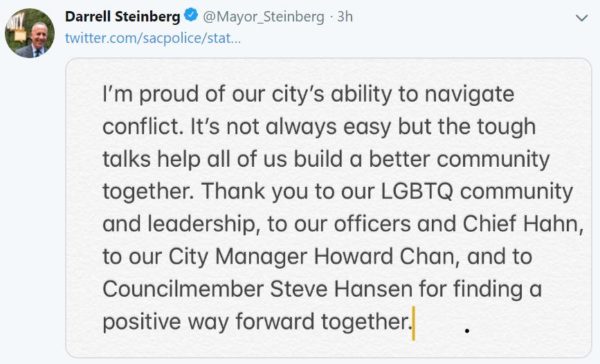 The two organizations also announced that the SPD agreed to create an LGBTQ liaison in its outreach unit, and create a standing "LGBT Community Advisory Committee" to recommend policies to better serve the LGBTQ community and "remove all barriers" for the community to interact with law enforcement. The SPD committed to the co-creation of a new training program that "elevates the voices of marginalized LGBTQ community members and discusses the role of implicit bias," the release said.
Sacramento's openly gay city council member praised the dialogue and resolution between the SPD and the LGBT Community Center.
"This agreement reflects so much of what I love about our City, the embrace of dialogue and the building of bridges. We owe it to all members of the LGBTQ community, especially those who are transgender or people of color, to ensure their voice is heard and their safety be paramount every day all day." Steve Hansen said.
"We also owe it to the LGBTQ officers and allies to recognize their pioneering role in opening up law enforcement careers to people of diverse backgrounds. Above all else, we owe it to our City and residents to show the power of neighborliness in working together to promote a welcoming, safe, and supportive community."
A spokesperson for Sacramento's Police Chief Chief Daniel Hahn told the LA Blade that the chief was pleased that the agreement had been reached after several weeks of negotiations.
"Everyone at the table listened, heard one another, and spoke from the heart, making it apparent everyone had the same desire to do what is best for the community," Hahn said in the joint statement.
"It's a complex landscape but ultimately boils down to a simple shared desire: we all want to be accepted for who we are and to feel safe and welcome in our own communities. As a Department, we are committed to continue our work with the Center on connectedness, youth programs, collaborative community forums, liaison enhancement, policy revision, education and long-lasting relationships."
In a tweet Thursday, Sacramento Mayor Darrell Steinberg wrote that he was "proud of our city's ability to navigate conflict." […] "It's not always easy but the tough talks help all of us build a better community together."
The release notes that SacPride takes place on June 8-9, 2019, at Capitol Mall, with the March taking place Sunday, June 9.
"The Department and Center are equally committed to protecting the public's safety this weekend where all will be welcome."