Pelosi argues for the 'I' word – investigations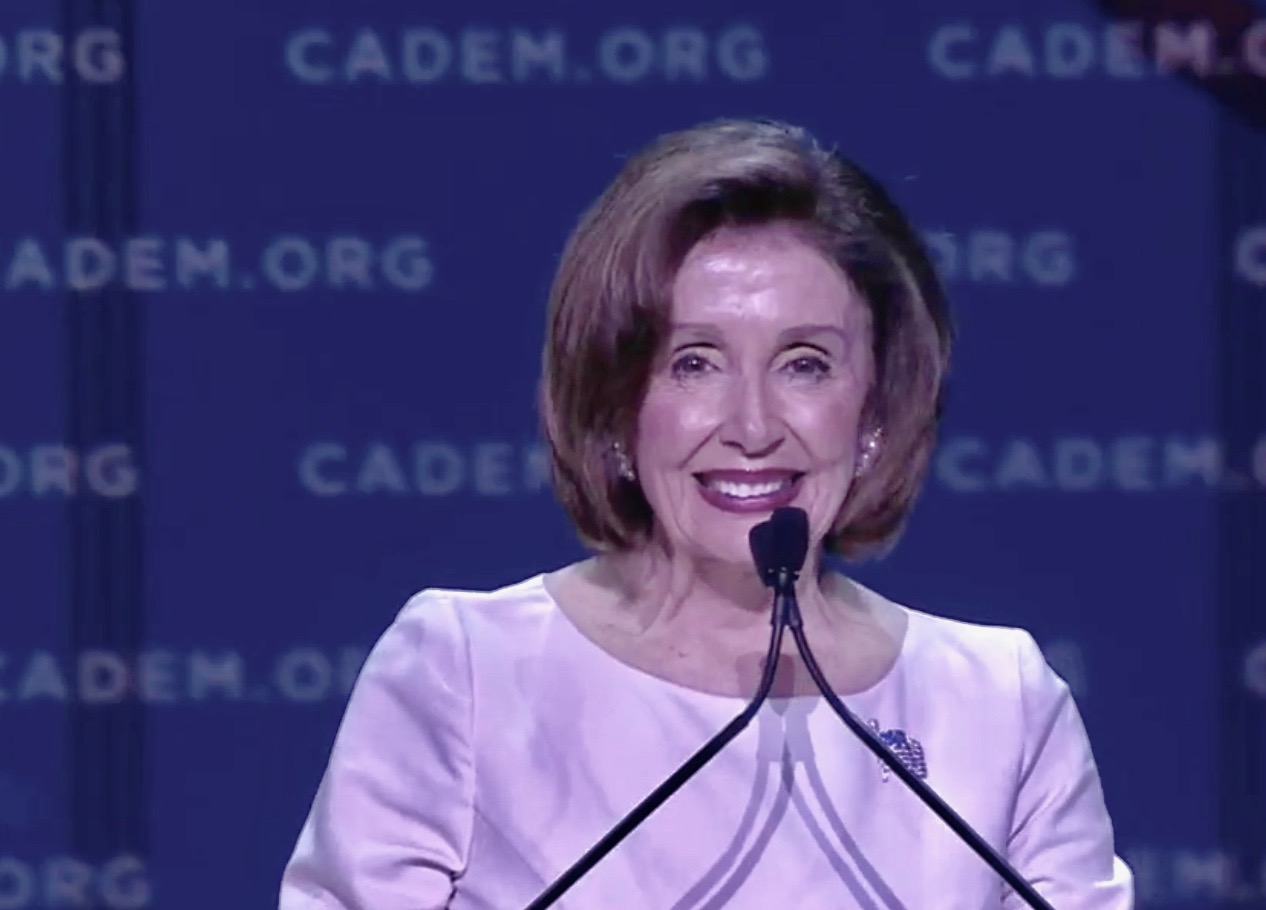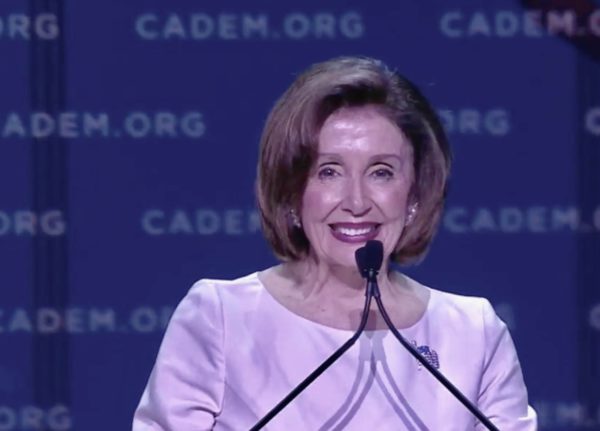 California Democrats are beyond excited. In 2020, the Big Blue state will finally matter in the Super Tuesday Democratic primary. In fact, vote-by-mail ballots will be sent out Feb. 3, the same day as the world tunes into the critical Iowa caucuses.
With the field-thinning Democratic debates coming up on June 26-27 and the ever-increasing need for money and grassroots support, a number of Democratic presidential hopefuls showed up at the California Democratic Party's organizing convention in San Francisco on June 1 to win over enthusiastic party activists.
But all eyes were focused on House Speaker Nancy Pelosi, wondering if the Queen of Political Strategy would buckle under the growing pressure to launch impeachment proceedings against reviled President Donald J. Trump.
The atmosphere was electric. A near-giddy Gov. Gavin Newsom promoted California's preeminence in the progressive movement. "We are nothing less than the progressive answer to a transgressive president," he said.
Out Senate Pro Tem Toni Atkins and buoyant out Insurance Commissioner Ricardo Lara touted their lesbian and gay identities on the first day of LGBT Pride Month and many officials noted Pride through official statements. In her Pride statement, Pelosi noted the 50th anniversary of the Stonewall uprising.
"In a moment that would change the world, these proud LGBTQ Americans refused to be silenced or shamed, declaring that they would no longer stand by and have their rights, their dignity and their lives attacked or denied," Pelosi said. This month, "we recommit ourselves to building a brighter, more just and equal future for all Americans."
But the not-so-subtle theme for the convention was who stands where on impeachment.
California rock star Sen. Kamala Harris—who surprisingly was bested in the applause-o-meter by "I've got a plan for that" Massachusetts Sen. Elizabeth Warren—emerged ebullient but turned very serious.
"Democrats, we have a fight on our hands. And it's a fight for who we are as a people. It's a fight for the highest ideals or our nation. And Democrats, with this president, it's a fight for truth itself," Harris said. "We need to begin impeachment proceedings and we need a new commander in chief," an especially poignant comment on the eve of the 75th anniversary of D-Day.
But the floor belonged to Warren who has probably inspired many of these same progressive activists at Netroots Nation. She embodied the ferocity and courage to fight Trump.
Out South Bend, Ind. Mayor Pete Buttigieg also wowed the audience with his applause line: "There is no such thing as an honest politics that revolves around the word 'again,'" managing to tag both Trump and former Vice President Joe Biden.
Biden skipped the convention, choosing instead to speak at the Human Rights Campaign gala in Columbus, Ohio. One wonders how Biden would have been treated if the left wing progressives learned he still supports the Hyde Amendment that prohibits federal funding to any clinic that performs abortions.
Impeachment obsessives were clearly disappointed by Pelosi's predictable restraint. But the mainstream media jumped on about 30 seconds of disruption of Pelosi's roughly 10-minute speech as if it was a grassroots insurrection. So far, the speaker has refused to begin impeachment hearings, despite tacit encouragement from Special Counsel Robert Mueller for Congress to take up that constitutional responsibility.
But Pelosi has another responsibility – to ensure that control of the House remains in Democratic hands and that Trump not escape justice, which could happen if the House proceeds with impeachment and indicts Trump, only to have the Senate acquit him, which would be the likely outcome. Trump could then claim the House pursued a witch-hunt since he was totally exonerated by the Senate – ergo, he should be re-elected, which means he also continues to escape criminal accountability.
"I don't want to see him impeached, I want to see him in prison," Pelosi said at a private meeting with Democratic leadership, Politico reported June 5. As long as Trump holds office, the Justice Department cannot or will not charge him with a crime.
But a Trump defeat at the ballot box requires an education of the public about how corrupt, unpatriotic and bad Trump has been as president. Though Pelosi has apparently scotched Judiciary Chair Nadler's two pitches to launch an impeachment inquiry immediately, the Speaker has not disallowed talk of impeachment as the Judiciary, Intelligence and other committees begin hearings on the Mueller report and the obstructionist conduct of Attorney General Barr, among other potential Trump-related high crimes and misdemeanors.
Pelosi has seen the nation divided before. In January 1977, a few years after Watergate and President Richard Nixon's resignation, she was elected CDP Northern California chair as the state debated the anti-gay Briggs Initiative; openly gay San Francisco Supervisor Harvey Milk was assassinated the next year. In 1981, she was elected CDP chair, just as Republican President Ronald Reagan and his political evangelical cronies came to power. Pelosi won her House seat in 1987, during the formation of ACT UP and the Second Wave of AIDS. A decade later, she witnessed the House's impeachment of President Bill Clinton, the Senate's acquittal and the electoral backlash against Republican control of Congress.
It is against that backdrop that Pelosi smiled when interrupted by calls for "Impeachment' from the floor of the convention. "I told you this was like coming home for me," she joked.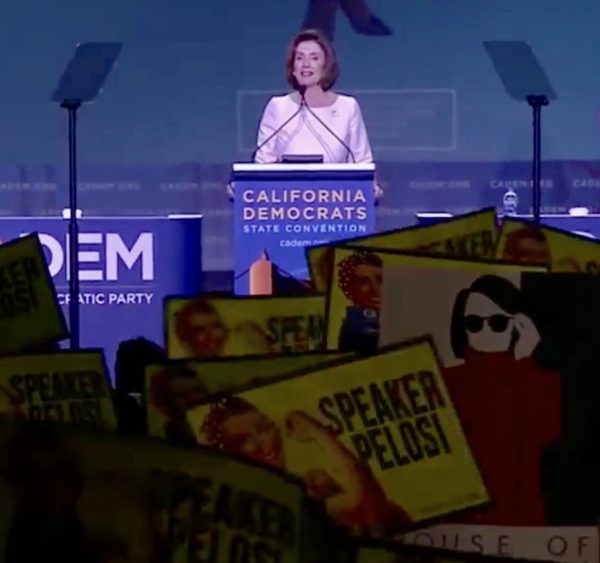 But Pelosi knew her audience. It was "the extraordinary leadership at the grassroots level" that helped elect "a transformational class" of seven freshmen in the 2018 elections: Gil Cisneros, TJ Cox, Josh Harder, Katie Hill, Mike Levin, Katie Porter and Harley Rouda—all of whom are up for reelection with the GOP salivating for their defeat in 2020.
"Now, we must keep the Blue Wave Rolling. We must defend and expand our majority in the House of Representatives and win back the U.S. Senate – for the Democrats, for the people," Pelosi said. "[A]nd we must elect a Democratic president of the United States."
The way to do that is to keep passing important legislation while also holding informative hearings – which could lead to impeachment if the evidence is "insurmountable."
"For expanding freedom in our country, we took historic action to pass the Equality Act – to end discrimination against the LGBTQ community! And next week, we will pass the American Dream and Promise Act – to protect TPS recipients and our patriotic young Dreamers!" she said, which they did on June 5 to much applause.
"Our House investigations are breaking through the Trump Administration's cover-up to get the truth for the American people," Pelosi told the delegates. "We are winning in the courts, with two resounding court victories last week affirming Congress' subpoenas must be obeyed."
She noted that the Mueller report "lays out 11 instances of possible obstruction of justice" by Trump, among other evidence.
"It is our patriotic duty to push back on the Trump Administration's undermining of America," Pelosi said. "In the darkest hours of the American Revolution, Thomas Paine wrote: 'The times have found us' – and today they have found us again. We do not place ourselves in the greatness of our Founders – but we do place ourselves in the urgency we face in securing our democracy that they established."
But, Pelosi emphasized, the commitment to hold Trump accountable "isn't about politics. It isn't about partisanship – Democrats versus Republicans. It's about patriotism. It's about the sanctity of the Constitution. And it's about the future of our nation," she said. "We will go where the facts lead us. We will insist on the truth. We will build an ironclad case to act. Because in the United States of America, no one is above the law – not even the president of the United States!"
Pelosi said in closing, "We will strive to unify, not divide, our country as we protect and defend it. The times have found us, each and every one of us, to have the courage and the strength to win."
Mayor Pete Buttigieg may have provided the best summary of how conflicted Democrats are over impeachment.
"I think to a lot of people, impeachment means removal from office but it's really a process and it's the only process we've got left because the DOJ has said you can't charge a sitting president, and I don't think it makes a lot of sense to suggest that the president is above the law," Buttigieg said at a town hall in Fresno on June 3.
"Basically it means the only place we can have a procedure, the only place we can have a due process, the only way we can get through the evidence and so forth as long as he is in the Oval Office is in Congress in the form of impeachment proceedings — which is what I think we're going to have to do," he said. "But in order to do that, it better be an air tight process. So I do recognize that while we're still trying to get information, the investigations are ongoing, there are witnesses that have yet to come before Congress, that there may be some strategic wisdom in following that sequence. I'll leave that to Congress."
But if he had the vote, Buttigieg said he would vote to impeach. However, "I would also think twice before offering strategic advice to Nancy Pelosi."
Gay man who live-streamed anti-government protests in Cuba detained
Yoan de la Cruz taken into custody on July 23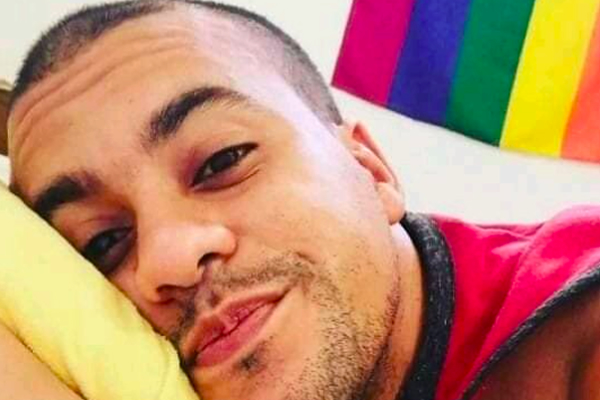 SAN ANTONIO DE LOS BAÑOS, Cuba — A gay man who live-streamed the first anti-government protest that took place in Cuba on July 11 has been detained.
Luis Ángel Adán Roble, a gay man who was once a member of Cuba's National Assembly, in a July 28 tweet wrote Yoan de la Cruz used Facebook Live to livestream a protest in San Antonio de los Baños, a municipality in Artemisa province that is just outside of Havana.
The San Antonio de los Baños protest was the first of dozens of anti-government demonstrations against mounting food shortages, the government's response to the pandemic, a worsening economic crisis and human rights that took place across Cuba on July 11. Many of those who participated in the protests chanted "libertad" or "freedom."
Cubalex, a U.S.-based Cuban human rights organization, confirms authorities detained De La Cruz on July 23. The Blade has not been able to confirm De La Cruz's current whereabouts.
"Yoan is the man who live-streamed the July 11 protests from San Antonio, nothing else," tweeted Adán. "They took him from his house a few days ago and he is being accused of 'incitement of the masses.' Free Yoan, he did not commit any crime!"
Yoan es un chico que transmitió en vivo las protestas del día #11J de San Antonio, solo eso. Hace unos días se lo llevaron de su casa y esta siendo acusado de "incitación de las masas". Liberen a Yoan, no cometió delito alguno!!!#LGBT #Cuba pic.twitter.com/sWyH5iAM8f

— Luis Angel Adán Roble (@angelDr_adan) July 29, 2021
The Los Angeles Blade has confirmed De La Cruz is gay.
Vida Bohemia, a drag queen who is De La Cruz's friend, also demanded de la Cruz's release.
"If he didn't throw a stone, (if) he didn't break glass, (if) he didn't hit anyone, (if) nobody yelled down below, please let him go," Bohemia told 14ymedio, a website founded by Yoani Sánchez, a journalist who is a vocal critic of the Cuban government. "He has a mother, a grandmother, a family and thousands of friends suffering."
Maykel González Vivero, editor of Tremenda Nota, the Blade's media partner in Cuba, is among the hundreds of people who were arrested during the July 11 protests. The New York Times reports that De La Cruz is among the estimated 700 people who remain in custody.
Thousands Cuban Americans gathered in front of the White House on July 26 to demand the Biden administration do more to support the protesters on the island. They later marched to the Cuban Embassy.
The White House under the Global Magnitsky Act has sanctioned Cuba's National Revolutionary Police (PNR), the Interior Ministry Special Brigade, Defense Minister Álvaro López Miera, PNR Director Oscar Callejas Valcarce and PNR Deputy Director Eddie Sierra Arias for their role in the government's crackdown on the July 11 protests. Yotuel Romero, a Cuban singer who co-wrote "Patria y vida!", a song that has become an anthem for anti-government protesters, is among those who met with President Biden at the White House on July 30.
FBI joins investigation into murder of LGBTQ Atlantan
Atlanta Police continue to search for the suspect in the deadly stabbing of a woman asking that anyone with information to please come forward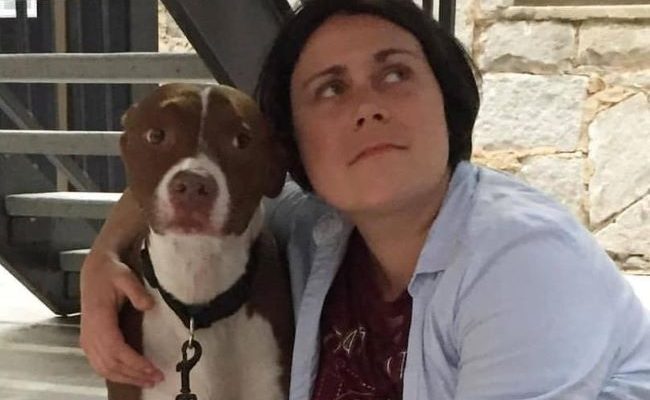 ATLANTA – The Atlanta Police Department's murder investigation into this past Wednesday's stabbing death of 40-year-old Katie Janness and her dog in Piedmont Park, located about 1 mile northeast of downtown between the Midtown and Virginia Highland neighborhoods, has been joined by the Federal Bureau of Investigation, (FBI).
WXIA 11 Alive news reported that the FBI is assisting the Atlanta Police Department, (APD) however a spokesperson for the APD told WXIA the department wouldn't provide any specifics about the FBI's involvement with the investigation, nor did the Atlanta Field Office of the FBI comment.
The Georgia Voice, the local LGBTQ newspaper, reported that Janness, a member of Atlanta's LGBTQ community and a bartender at the LGBTQ-owned Campagnolo, was found stabbed to death in the park on Wednesday (July 28) after walking her dog Bowie, who was also killed.
Janness was found by her partner of six years, Emma Clark, after Clark tracked her with her phone's GPS.
"Today, I lost the love of my life and baby boy," Clark said in a post shared to a GoFundMe page. "It was tragic. She was the most intelligent, kind, humble, and beautiful person I have ever known. I wanted to spend every second with her. [Bowie] was the sweetest, most loyal companion. My heart is so very broken, my world will never be the same."
A vigil was held for Janness on Thursday evening at Piedmont Park.
Atlanta Police continue to search for the suspect in a deadly stabbing of a woman in Piedmont Park
The Atlanta Journal-Constitution reported that Janness' murder is believed to be the first homicide inside the park in 12 years and according to family members of Janness' longtime girlfriend, a security camera at an intersection near the park's entrance captured the last known picture of Katherine Janness and her dog before the two were killed.
But other cameras in the area weren't working, including one facing the entrance. As of Friday the AJC also reported, as of Friday afternoon, Atlanta police had released few details about the murder investigation that has left city residents and parkgoers on edge.
Atlanta Police are asking that anyone with information to please come forward, and tipsters can remain anonymous by contacting Crime Stoppers Atlanta at 404-577-8477, texting information to 274637 or visiting the Crime Stoppers website.
APD detectives are also asking those who live in this area to review footage from their security cameras and contact the police if they find anything that may be pertinent to this investigation. The timeframe for review should be between 10:30 p.m. on Tuesday to 1:30 a.m. on Wednesday.
The CDC's eviction moratorium ending at midnight Saturday stoking fears
CDC's eviction ban expires at midnight tonight, millions of primarily lower income Americans are facing losing their homes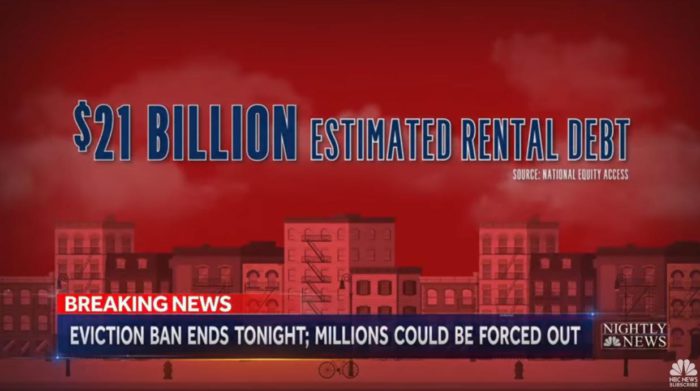 LOS ANGELES – As the U.S. Centers for Disease Control and Prevention, (CDC) eviction ban expires at midnight tonight, millions of primarily lower income Americans are facing losing their homes. Hopes of a federal extension approved by Congress failed this week and now lawmakers are on a six-week recess.
On Thursday, President Joe Biden announced that he would let the current CDC eviction moratorium expire instead of challenging the June U.S. Supreme Court ruling that extended the deadline to tonight. The high court ruled to extend moratoriums to the end of July but made it clear it would block any further extensions unless there was specific congressional authorization.
A White House official said that President Biden would have liked to extend the federal eviction moratorium because of the spread of the delta variant of the coronavirus which is highly contagious. However, the official conceded there were also concerns that challenging the high court may lead to a ruling that potentially could restrict the Biden administration's ability to take unilateral actions in future public health crises.
On Friday, Missouri Democratic Representative Cori Bush angrily denounced House colleagues for adjourning for the August recess without passing an extension of the CDC eviction moratorium.
"The House is at recess. People are on vacations. How are we on vacation when we have millions of people who could start to be evicted tonight?" Bush told CNN's Jessica Dean. "There are people already receiving and have received pay or vacate notices that will have them out on tomorrow. People are already in a position where they need help, our most vulnerable, our most marginalized, those who are in need," she said, adding, "How can we go vacation? No, we need to come back here."
The CDC's eviction ban was intended to prevent further spread of the coronavirus by people put out on the streets and into shelters. Congress had approved nearly $47 billion in federal housing aid to the states during the pandemic, but that funding has been slow to make it into the hands of renters and landlords owed payments. According to persons knowledgeable of the assistance system structure, one of the reasons for the delays are over complicated administrative requirements for renters seeking help.
The President had pleaded with local governments to "take all possible steps" to immediately disburse the funds. "There can be no excuse for any state or locality not accelerating funds to landlords and tenants that have been hurt during this pandemic," he said in a statement released late Friday.
While the Senate was in a rare Saturday work session on the president's infrastructure package during a floor speech Democratic Massachusetts Senator Elizabeth Warren stated, "We are only hours away from a fully preventable housing crisis. We have the tools, and we have the funding. What we need is the time."
The President's apparent action angered many lawmakers in his own party on Capitol Hill some who expressed anger furious that he expected Congress to provide a last-minute solution to protect renters that they were unable to deliver.
Representative Maxine Waters, (D-Calif.), Chair of the House Financial Services Committee, said Saturday on CNN: "We thought that the White House was in charge." Waters quickly produced a draft of a bill that would require the CDC to continue the ban through Dec. 31. At a hastily arranged hearing Friday morning to consider the bill she urged her colleagues to act, Stars and Stripes reported.
House Speaker Nancy Pelosi implored colleagues to pass Waters' bill extending the deadline, calling it a "moral imperative," to protect renters and also the landlords who are owed compensation. Landlords are opposed to extending the CDC's eviction moratorium and are also urging local and state governments to speed up disbursement of the funding designed to hep renters from losing their homes and landlords to meet their obligations.
When House Democrats failed to garner support for Waters' legislative efforts, they then tried to simply approve an extension by consent, without a formal vote, but House Republicans objected.
According to the Department of Housing and Urban Development, as of March of this year, 6.4 million American households were behind on their rent and as of July 5, the Census Bureau's Household Pulse Survey showed that in the next two months approximately 3.6 million Americans will face immediate eviction proceedings.
The Associated Press reported Saturday that some places are likely to see spikes in evictions starting Monday, while other jurisdictions will see an increase in court filings that will lead to evictions over several months.
The Biden administration is trying to keep renters in place through other means. It released more than $1.5 billion in rental assistance in June, which helped nearly 300,000 households.
The departments of Housing and Urban Development, Agriculture and Veterans Affairs extended their foreclosure-related eviction moratoriums through the end of September on households living in federally insured, single-family homes late Friday, after the president had asked them to do so.
In Los Angeles, the threat of a spate of evictions will greatly exacerbate the greater LA region's homelessness crisis. This past week in a 13-2 vote Wednesday, the Los Angeles City Council voted to stop people from camping in public spaces including the areas around parks, schools, homeless shelters, bridges and overpasses, and other similar structures.
A spokesperson for Los Angeles Mayor Eric Garcetti said that he will sign the ordinance. Once signed, the measure will go into effect 30 days later. Opponents of this ordinance are decrying it as another effort to criminalise the homeless population.
Homeless and civil rights activist Eddie Cruz told KTLA, "this ordinance is targeting a specific group of people in the unhoused community. We believe that this is an irresponsible attack from the City Council and an irresponsible way to deal with the homelessness crisis that is occurring in Los Angeles," Cruz said.
In a new poll released last week conducted by Inside California Politics and Emerson College of more than 1,000 registered voters, half rated Governor Gavin Newsom's response to the homelessness crisis in California as 'poor.'
Newsom's low marks comes after he signed the largest funding and reform package for housing and homelessness in California history as part of the $100 billion California Comeback Plan. The package includes $10.3 billion for affordable housing and $12 billion over two years towards tackling the homelessness crisis including $5.8 billion to add 42,000 new housing units through the states' Project Homekey .
Another $3 billion of this investment is dedicated to housing for people with the most acute behavioral and physical health needs.
However, say activists, there is no sense of urgency in assisting people navigate through what most people see as an overly complicated application process matched with tens of thousands who will be immediately impacted and without a time cushion to work through the assistance process once the moratorium is lifted.
Eviction Moratorium Ending
RELATED: House Democrats' appeal to extend eviction moratorium ends in vain