Lieu ready for another attempt at federal ban on 'conversion therapy'
Congressman hosts UCLA panel to denounce debunked practice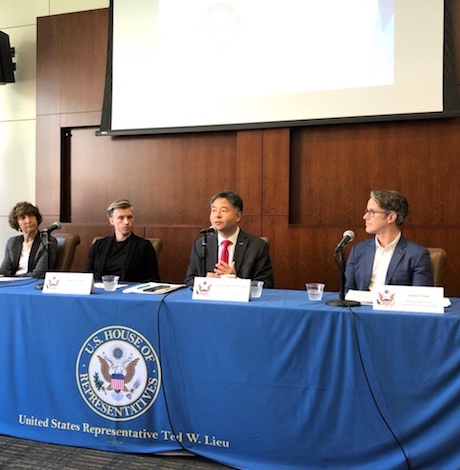 Rep. Ted Lieu hosted a roundtable at the UCLA School of Law on June 6 with advocates, mental health experts and survivors of LGBTQ "conversion therapy" to discuss the devastating impact of the fraudulent practice. Lieu intends to reintroduce the Therapeutic Fraud Prevention Act, legislation he first introduced in 2015, that would enact a blanket federal ban on the harmful commercial promise to "convert" LGBT people into heterosexuals.
Lieu was inspired to fight for a "conversion therapy" ban after seeing a documentary on the infamous "Sissy Boy" experiment. As a California State Senator, he described the fraudulent practice as "psychological child abuse" and authored and passed the first prohibition in 2012. That legislation has since served as a model for similar bans in 18 states and numerous municipalities.
The Williams Institute estimates that 698,000 LGBT adults in the U.S. have received "conversion therapy," 350,000 of whom suffered the experience as adolescents. Most medical and psychological professional associations strongly oppose "conversion therapy" as illegitimate. 
Lieu was optimistic that the Therapeutic Fraud Prevention Act can garner bipartisan support, pointing to the bipartisan backing for the Equality Act, the LGBT civil rights bill that passed the current Democratic-controlled House. "Like any other institution, the [Republican-controlled] Senate responds to public sentiment. If people rise up and say this is evil and wrong, [the Senate] could pass it," he said.
Casey Pick, a Senior Research Fellow for Advocacy and Government Affairs at the Trevor Project, noted that of the 18 states where bipartisan bans have been enacted, seven were signed into law by Republican governors.
"The Therapeutic Fraud Prevention Act, by declaring conversion therapy to be the harmful and wholly ineffective fraud that it is, elevates the conversation to another level. Most importantly, this bill tells LGBTQ youth across the country that their sexual orientation and gender identity is real and should be protected under the law," said Pick.
"If enacted, this bill would protect thousands of people across the country, and make clear that a person's protection against this harmful therapy should not depend on where they live," said Jocelyn Samuels, Executive Director of the Williams Institute at UCLA.
But, Samuels noted, there are "increasing threats in the courts." Protecting the bans "is vitally important." Additionally, states with bans often carve out exceptions, exclusions for religious or spiritual advisors, leaving an estimated 57,000 LGBTQ youth nationwide vulnerable to "conversion" counseling.
"Issues around conversion therapy come up regularly in conversation with youth who contact us, as often as weekly," said Pick. "Our records show that in recent years, hundreds of contacts have reached out to the Trevor Project expressing specific concerns about conversion therapy, and related terms have appeared on our text-based platforms with disturbing frequency."
Despite the LGBT progress, "we still receive people who come in seeking services as a result of the barbaric and inhumane treatment that they experienced at the hands of someone practicing conversion therapy," said Terra Russell Slavin, Director of Policy and Community Building at the Los Angeles LGBT Center. "The trauma is not being LGBT, it's being rejected and being put through conversion therapy."
Mathew Shurka, Co-Founder of "Born Perfect: Ending Conversion Therapy," experienced "conversion therapy" from ages 16 to 21, after a licensed professional told his loving father that homosexuality did not exist and was created by the trauma of being too close to female family members.
"They believe that trauma is the source of anything LGBTQ, and that if you can treat the trauma, you can stop the same-sex attraction," Shurka said, noting that the therapist exacerbated his three-year separation from his mother and sisters. "It had a massive impact on my life and relationships with them."
Kate McCobb said her California-licensed psychotherapist "focused immediately on repressed sexual abuse," though there was none. "First it was about convincing me that I was traumatized, and then about me recovering from my trauma."
Duped, McCobb started dating men. "I was told that if I stopped dating women, my attraction to them would eventually subside. I was also told that all romantic interactions I'd ever had with women were a re-enacting of childhood abuse, and that was the last thing I'd want to do to another person," she said.
McCobb quit the "therapy," moved to Oregon and worked with the National Center for Lesbian Rights to take legal action against the therapist. "It took me a little while to realize that what I'd gone through was conversion therapy, but once I did, I was angry," McCobb said.
James Guay, a marriage and family therapist, and "conversion therapy" survivor, explained the fraudulence as convincing participants that they're "actually straight, but haven't yet reached their heterosexual or cisgender potential," finding an often fabricated root cause or implanting false memories and conflating gender identity and sexual orientation.
"A rejection of self is at the core of what creates these [mental health] problems for people in conversion therapy. When we are taught to limit our natural expression and humanity, it produces all sorts of symptoms," said Guay.
The Center's Terra Russell Slavin said passage of the Therapeutic Fraud Prevention Act is essential to the LGBTQ community.
"If we are truly, as a community, going to thrive as healthy, equal, and complete," Slavin said, "conversion therapy" as a recognized practice "needs to stop – and it needs to stop now."
The Abbey raises $10,000 for Elizabeth Taylor AIDS Foundation
Schukraft took the opportunity to reassure the crowd that he intends to uphold The Abbey's central place in the West Hollywood community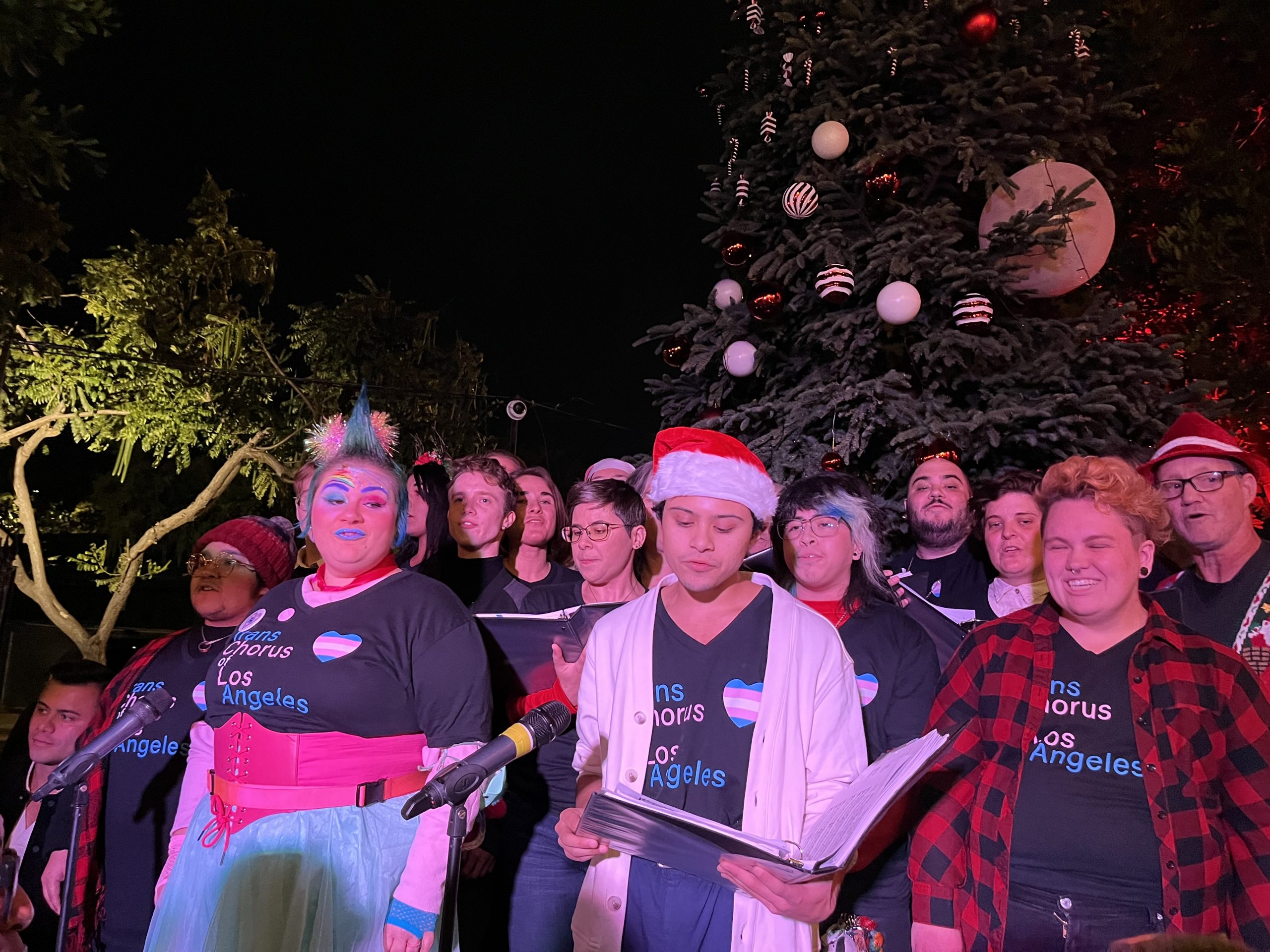 By Rob Salerno | WEST HOLLYWOOD – The Abbey raised more than $10,000 for the Elizabeth Taylor AIDS Foundation at its annual World AIDS Day tree-lighting ceremony Friday evening, an event that featured Sutton Stracke of The Real Housewives of Beverley Hills and the Trans Chorus of Los Angeles.
The ceremony was the last to be hosted by David Cooley, the founder of The Abbey who recently sold his business to Mistr CEO Tristan Schukraft. Cooley was visibly emotional when he told the crowd how his friendship with Elizabeth Taylor – struck up over drinks at the Abbey – inspired him to start the annual tradition.
"What this woman has done for our community and continues to do for our community – she wouldn't even mention how many people she has taken care of and continues to take care of," Cooley said. "It means a lot that we do this in her honor, for the Elizabeth Taylor AIDS Foundation."
The Elizabeth Taylor AIDS Foundation works to fight the ongoing HIV epidemic through direct care, prevention, advocacy, and education.
The moment clearly felt bittersweet for Cooley as he went off-script to talk about how he'd founded The Abbey 33 years ago.
"I had a dream coming from college that I wanted to open a gay bar in southern California and be open and proud and not behind closed doors. I started across the street there as a coffee house and expanded into this," he said. "When we give donations, it's not the Abbey, it's not David Cooley – it's all of us here. You have supported The Abbey and David Cooley for thirty years. Thank you very much."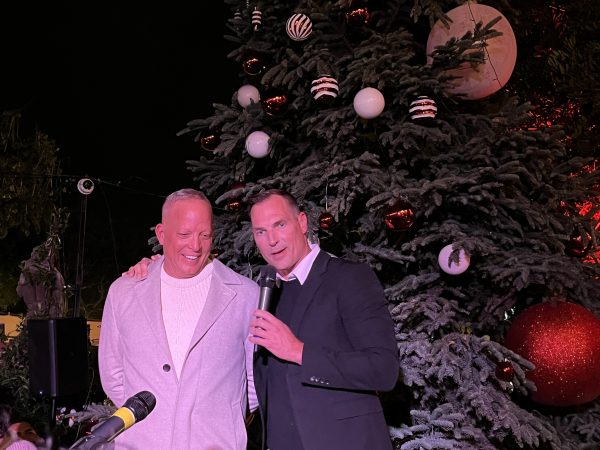 Cooley then became wry and wistful as he described his decision to walk away from the bar he built.
"It was a decision that was hard to make. I decided that maybe I should take a little time for myself. I've been very selfish with the business. I took time for the business always, and maybe not my friends, my family, building a relationship – that never worked out," he said to laughs from the crowd.
"I went back and forth seeing the offers and opportunities I had. I made a clear decision and the right decision on who I decided to pass the torch on to. He's part of our community," Cooley said of Schukraft. "It was a very tough decision but a very easy decision at the very end."
Schukraft took the opportunity to reassure the crowd that he intends to uphold The Abbey's central place in the West Hollywood community.
"I'm very excited. I know I have some big shoes to fill to continue your legacy, making sure that the Abbey and Chapel continue to be the cornerstone of the gay community here and beyond. These events make it even more special," Schukraft said.
"David's not going anywhere. He's going to be here. The only thing is he's not going to be asking for free drinks," Schukraft said to laughs from the crowd, and joking protests from Cooley that there's language about that in their contract.
When Sutton Stracke took the stage, she spoke about the toll that AIDS has continued to take on the community.
"AIDS does still exist. I know I have lost many friends to AIDS, as I know many of you have to, so this is very special to me," she said.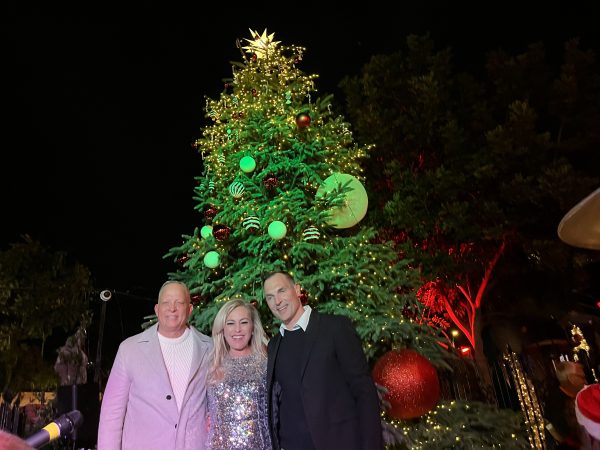 The crowd was then treated to a performance by the Trans Choir of Los Angeles, who sang "I'll Be Home For Christmas," as a reminder to the crowd that many in our community – especially the trans community – do not have families that welcome them home for the holidays.
A $10,000 check was then presented to the Elizabeth Taylor Foundation by Tito's Vodka, which was sponsoring the event, on behalf of the Abbey.
Stracke then announced she would write a check to the foundation herself after the ceremony, then began the countdown to the lighting of the enormous tree on the Abbey's front patio.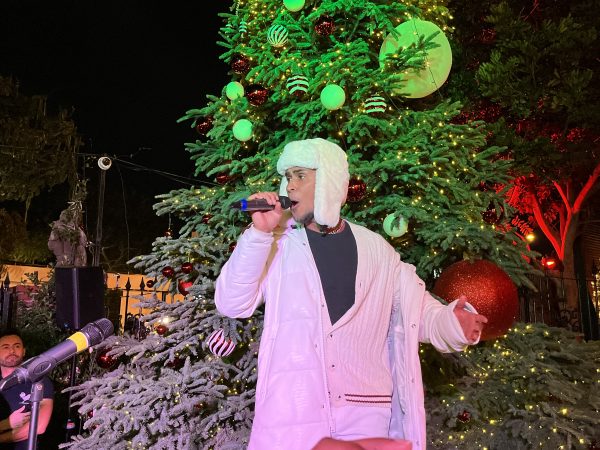 The event closed out with a performance by South African pop singer Lyle Anthony.