June 18, 2019 at 11:00 am PDT | by Staff reports
Man who threatened 'Pulse-style attack' arrested in Fresno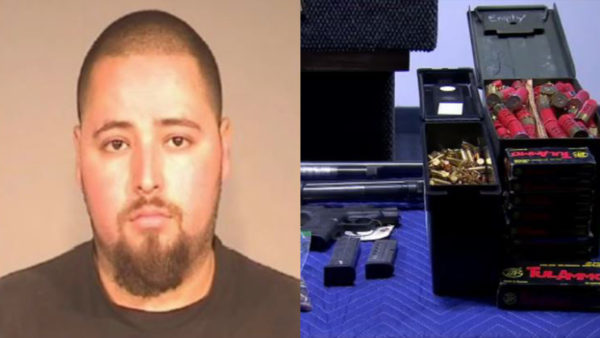 Fresno Police arrested a suspect on Monday, June 17, for making online threats of carrying out another "Pulse-style" mass shooting against a local LGBTQ nightclub, ABC News affiliate KFSN-ABC30 reported. On June 12, much of the nation commemorated the three- year anniversary of the mass shooting at the gay Pulse nightclub in Orlando, Florida that left 49 people dead and 53 others wounded.
Fresno Police Chief Jerry Dyer told reporters that the threats were made on a Facebook profile, which was later determined to be counterfeit. Terry Story, owner of the FAB Fresno nightclub, had reported the threats to police, and even though the profile disappeared the same day, detectives were able to trace it to 28-year-old Jose Lechuga, with help from the FBI and Facebook.
"Lechuga certainly had the capability of carrying out this threat," Chief Dyer said. "The information was very alarming because those posts appeared to be very, very real," Dyer noted. "Whether he would've done so is unknown. But I can tell you we have prevented what could've been a mass shooting in our city."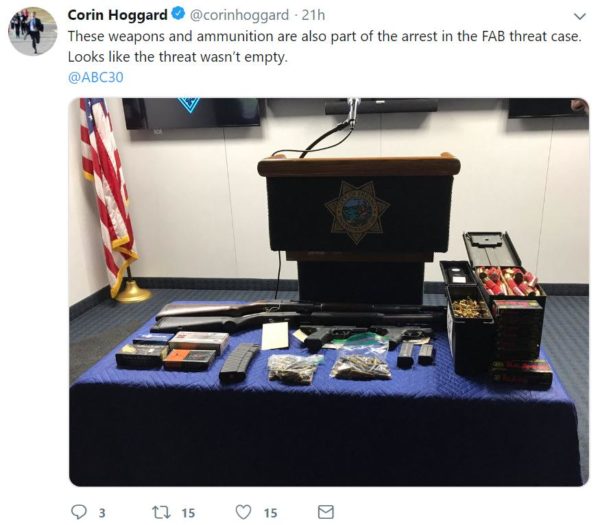 ABC30 investigative reporter Colin Hoggard tweeted a photo of the weapons seized by Fresno Police while executing the arrest of Lechuga that were displayed during the press conference.
According to ABC30, the threats occurred after a video of a woman slurring anti-gay insults at people at FAB was uploaded to the club's social media pages. The woman can be heard on the video cursing "this is a fucking bunch of fucking queers" after she was asked to leave the club. Fresno officers who responded to complaints didn't arrest her, so the club's owner decided to post the video to make sure there were some consequences.
Fresno police stated that within the first 24 hours of that post going up, 27,000 Facebook users viewed the video, including a person labeling himself "Maga Shooter." The Facebook profile photo was that of the Pulse nightclub murderer. Comments left on the nightclub's Facebook page by the "Maga Shooter" threatened a repeat of the Pulse shooting at FAB.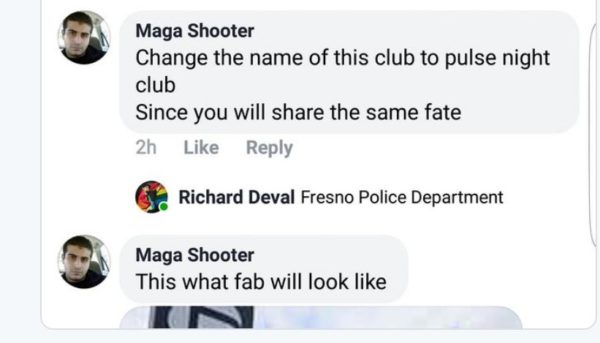 Fresno Investigators said Lechuga admitted to making those threats but, ABC30's Hoggard noted, Lechuga told detectives he didn't plan to carry them out. Investigators said he was mad about how the video portrayed the woman, now dubbed "Nightclub Nancy." According to police, Lechuga is dating one of her daughters, adding that the unnamed woman has not been charged in connection with the threats made against the club.
Lechuga was released on bail Monday evening.