Stonewall ignited gay liberation
And even more LGBT history was made in 1970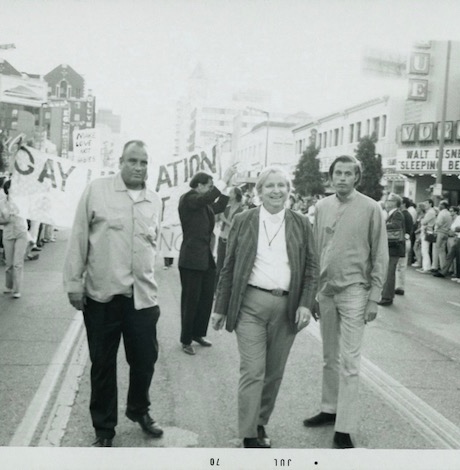 The 1960s was the era of creative transformation as young people took up John F. Kennedy's call to service and television changed life from black and white to vivid color. By May 18, 1969 Apollo 10 transmitted the first color images of the planet Earth as seen from space and suddenly "wonder" was no longer a fanciful promise offered by Walt Disney.
It was an era of peace, love, happiness and dreams that a shared humanity would eradicate poverty, racism, sexism, and entrenched inequality.
But it was also the era in which the government got caught lying about the war in Vietnam, about thousands of young men sent to ignoble and senseless deaths. Revolution was on the lips of thousands of Parisian students, Maoists in China and fans of the Beatles' "White Album" in 1968. Changing the world was not a theory, a desire, but an action.
And action was fraught with danger. Two of the most prominent progressive heroes expected to lead that non-violent revolution and restore faith in America – Rev. Martin Luther King Jr. and Democratic presidential candidate Robert F. Kennedy – were assassinated. Eyes on the prize were refocused, turning darkly inward as protests for justice and equality transformed into liberation movements with sharper edges and a pall of violence.
No one thought limp-wristed sissies who couldn't throw a softball would even know how to throw a punch. But after Stonewall in June 1969, police and tabloid reporters in cities around the country speculated about all the pent up rage boiling behind those secret closet doors. It was clear to young New Yorkers that Stonewall was not a one-and-done reaction to a police raid. By November, some activists had organized into the Gay Liberation Front and the Gay Alliance and NYU's Student Homophile League proposed an annual commemorative demonstration in New York on the last Saturday in June called CHRISTOPHER STREET LIBERATION DAY. The activists contacted gay activists in other cities to share their idea.
Being gay was no longer an arbitrary individual behavior; a chosen community was being born.
Meanwhile in Hollywood, anti-war activist/organizer Morris Kight also decided to start a Gay Liberation Front—LA was one of five cities launch GLFs in the aftermath of Stonewall. Kight's GLF provided direct services to gays and lesbians, especially homeless youth, and pro bono legal advice for those being discharged from the military, STD shots, or busted for being gay. Kight also set up rap groups to develop self-esteem through shared story-telling akin to AA shares and feminist consciousness raising.
In November 1969, Kight took out a small ad in the leftist L.A. Free Press saying he wanted to hold a homosexual organizing meeting. He later told Eric Markus of Making Gay History that Stonewall "had not one trace of an influence upon my work."
In fact, Kight said, "I had a number of telephone calls from payphones by Christopher Park, by Sheridan Square, while the Stonewall rebellion was going on, and since I was in the midst of a whole variety of rebellions, since I was up to my neck in civil disobedience, since I was up to my neck in television and radio and newspapers, I was up to my neck in organizing…against the war in Vietnam, and against poverty, and against racism, and against classism, and against redlining. I was involved in super-radical activities, and so I absorbed it as just one more interesting activity, except it was us instead of them. And that was the only difference, uh, that came in my mind, I said, "Well, fine, thank you for calling, that's very interesting, I'm happy it's happening." Uh, the Stonewall, uh, rebellion did not influence my founding the Gay Liberation Front of Los Angeles."
But it may well have influenced those who joined him, which in turn influenced Kight's response.
"The country was ripe with discontent and rebellion, people were already mobilized and Kight seized the momentum, as he liked to put it, to 'free my people.' When Morris Kight shifted his thinking and refocused his energy, he made sure that it created a rippling effect. He tapped organizational muscle, skills, and funds from the Peace Movement, Black Power, Feminism, and the LA Mission," writes Mary Ann Cherry in her upcoming biography MORRIS KIGHT: Humanist, Liberationist, Fantabulist A Story of Gay Rights and Gay Wrongs due out in April 2020 from Process Media.
Among those who joined GLF was a young activist named Don Kilhefner, with whom Kight would disrupt an American Psychiatric Association Conference and later found the Los Angeles Gay Community Services Center. Their first headquarters in a rented old Victorian on Wilshire Boulevard stopped traffic with residents and tourists alike shocked to see such an open display of the word "Gay."
"After Stonewall, we were on fire. Something was unleashed in us. After all those decades of being told who we are, we began to define ourselves and found ourselves to be good, decent people," Kilhefner told filmmakers Patrick Sammon and Bennett Singer for their forthcoming documentary Cured.  "So part of our work was not only fighting back against the shrinks, but also working with gay people to undo the harm that had been done to us. And it felt like ripples went out across the country. In every major city, something happened. In San Francisco and Chicago, in Atlanta, in New York, in Boston, something happened, and in each town it was different depending on what the circumstances were, who was meeting, and what was going on there — but we were everywhere."
In LA, Kight wanted to ensure that GLF meetings were radical, democratic, and based in the spirit of non-violence, no matter how much rage spilled out at rap meetings tackling the root cause of gay oppression—lack of self-acceptance. That pain also created bitchy attacks on one another, which Kight called "oppression sickness." 
But Kight was a keen organizer.
"Kight saw the big picture of gay rights as building-up one person at a time, and he didn't let anyone leave those meetings without being affected in some positive way or learning something," Cherry writes. "Often described as a 'warm and encouraging leader' and 'father figure' in the Gay Liberation Front, Kight did a private appraisal of every able body that expressed interest in the movement and then found a specific function for each person to contribute to their liberation. He gave every young person at these meetings a direction or an assignment, to give them a new purpose."
Cherry cites an anonymous GLF paper that expresses the point. "Look out straights, here comes the Gay Liberation Front… Understand this–that the worst part of being a homosexual is having to keep it secret. Not the occasional murders by police or teenage queer-baiters, not the loss of jobs or the expulsion from schools or dishonorable discharges–but the daily knowledge that what you are is so awful that it cannot be revealed. The violence against us is sporadic. Most of us are not affected. But the internal violence of being made to carry–or choosing to carry–the load of your straight society's unconscious guilt–this is what tears us apart, what makes us want to stand up in the offices, in the factories and the schools and shout out our true identities."
To press the point, get media attention and give GLFers an action to take, Kight planned zaps, some of which were potentially dangerous, such as the protest against Barney's Beanery demanding the removal of their "Fagots Stay Out" sign
Another zap was a theatrical stunt declaring March 1,1970 "Lavender Sunday" during which gays protested the church of their choice then presented the church with a reparations bill for $90 billion for all the harm done to gays over the years. The reaction was mixed. Some said "God bless you!" and shouted "Gay Power!" while others screamed, "You will all burn in hell!"
Mattachine Society member and gay journalist Jim Kepner attended GLF meetings, as did the Rev. Troy Perry, founder of the Metropolitan Community Church with whom Kight subsequently co-founded Christopher Street West and the first gay Pride parade. By the spring of 1970 as planning began, three gay men had died in police custody and countless police beatings received no justice or accountability.
"It was outright dangerous to be openly gay much less part of gay liberation," Cherry writes.
Nonetheless, Kight, Perry, and homeless advocate Rev. Bob Humphries made plans for a parade, not a demonstration, down Hollywood Boulevard.  The May 14, 1970 Parade Permit Application said the purpose of the parade was: "A joyous celebration of the total freedom of homosexuals in Los Angeles, with their families and friends, indicating that they are full citizens of this community and their rights to use the streets in the city of Los Angeles."
The permit was denied but they appealed, including an extraordinary bond the LAPD required for extra police in case a Stonewall-like gay riot broke out.
On Friday June 26, California Superior Court Judge Richard Schauer ordered the Police Commissioner to issue the permit for a "Hollywood Blvd. homosexual-oriented parade without requiring a $1,500 cash bond." It was the first official recognition of "gay" in California. 
Death threats against Kight intensified.
"Someone telephoned in the morning [of the Pride parade] and said, 'How would you like it if I came over and killed you today?' And I told him, 'No, I cannot do that today. I have a very big day ahead of me and I must attend a parade.' And I hung up," Kight told Cherry. 
It took courage to step off the corner of McCadden Place and Hollywood Boulevard that June 28—but 1800 people showed up with thousands more lining the streets to watch gays and lesbians holding hands and more creative participants. Two men walked sheep dogs with signs saying, "Not all of us walk poodles." The Guerrilla Theatre showcased "vice cops chasing screaming fairies wearing paper wings." And The Militant Gay Movement floated a blown-up super-sized Vaseline jar. The GLF marched behind Kight.
"Los Angeles activists, by participating in a Stonewall commemoration the first year, played a crucial role in the survival of the Stonewall story," the American Sociological Review reported in 2006. "The first commemoration of Stonewall was gay liberation's biggest and most successful protest event."
Iowa State Appeal Board settles lawsuits by anti-LGBTQ religious groups
The Christian groups claimed the university had violated their constitutional rights to free speech and the free exercise of religion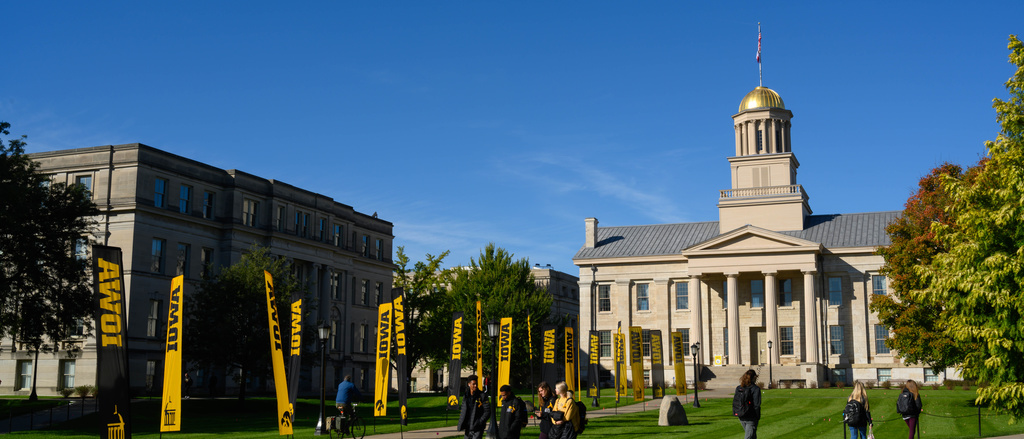 DES MOINES – The Iowa State Appeal Board, made up of Iowa state Treasurer Michael Fitzgerald, Auditor Rob Sand and Department of Management Director Kraig Paulsen, approved disbursing nearly $2 million in state funds to settle two Federal lawsuits brought against the University of Iowa in 2017 after a religious group denied an openly gay student a leadership role. 
According to the Associated Press in a U.S. News article Monday, lawyers for the student group Business Leaders in Christ were awarded $1.37 million in fees and costs for litigating their case. A second student group, Intervarsity Christian Fellowship, won their federal court case and will be paid $20,000 in damages and about $513,000 in attorney fees.
The groups claimed the university had violated their constitutional rights to free speech and the free exercise of religion.
The monetary amounts were negotiated between the university and the plaintiffs in both cases and approved by a federal judge. Monday's approval by the State Appeal Board authorizes the state to make the payments the AP reported.
In March of this past Spring, the 8th U.S. Circuit Court of Appeals ruled in favor of Business Leaders in Christ after the University of Iowa had ordered group was dismantled in 2017 after claiming the student group violated its Human Rights Policy.
As reported by The Daily Iowan, Marcus Miller, a UI sophomore at the time, filed a discrimination complaint against the Business Leaders in Christ after the group  revoked a leadership position from Miller upon finding out his sexual orientation.
A new law that requires state universities and community colleges to adopt policies that prohibit them from denying benefits to a student organization based on the viewpoint of the group was implemented in 2019.
"In addition, a public institution of higher education shall not deny any benefit or privilege to a student organization based on the student organization's requirement that the leaders of the student organization agree to and support the student organization's beliefs, as those beliefs are interpreted and applied by the organization, and to further the student organization's mission," the law reads.
New state charges against man who threatened LGBTQ+ New Yorkers
Fehring is being charged with criminal mischief and grand larceny as a hate crime in the Sayville, Long Island case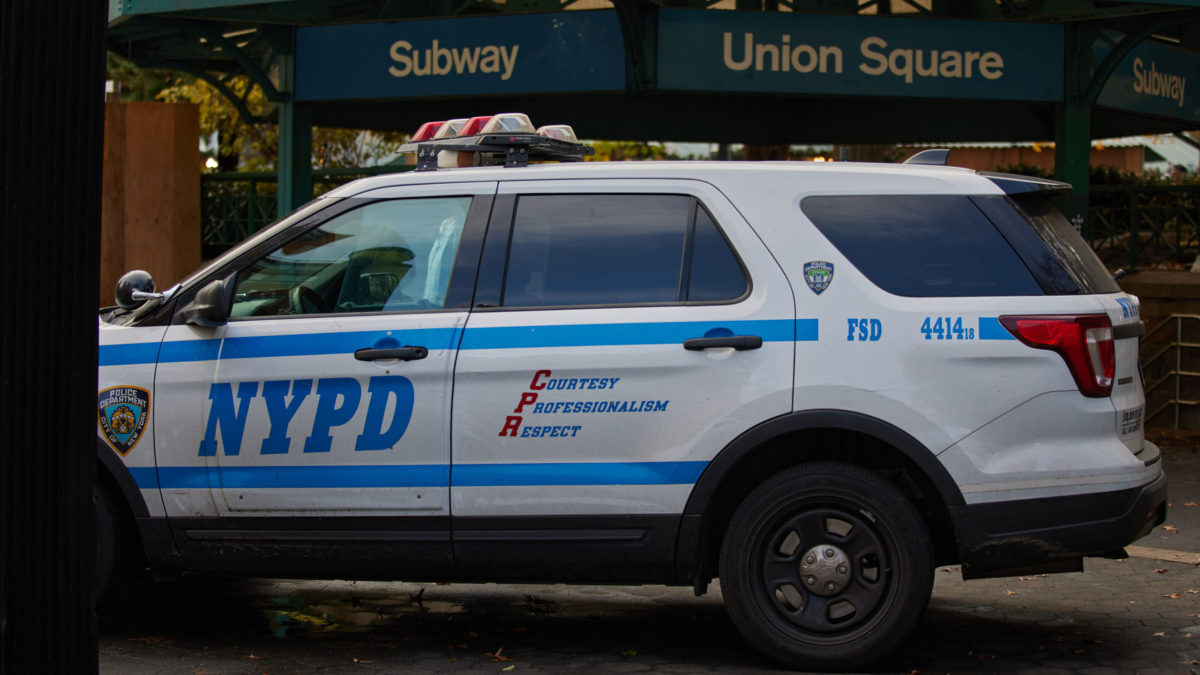 RIVERHEAD, Ny. – The man arrested by FBI agents on Monday charged in U.S. District Court for the Eastern District of New York for mailing letters threatening to assault, shoot, and bomb LGBTQ+ affiliated individuals, organizations, and businesses, was arrested Tuesday on state charges.
Tri-state news outlet News 12 New York reported that Robert Fehring, 74, a resident of Bayport, New York on Long Island, surrendered to Suffolk County police detectives accused of stealing almost two dozen pride flags back in July from Long Railroad Avenue in Sayville.
Eileen Tyznar has organized the LGBTQ parade for the past three years in Sayville. She saysshe lived in fear and would constantly get threatening letters. She is now relieved Fehring was arrested she told News12.
The stolen pride flags inside his home were discovered while executing the Federal search warrant, Suffolk police said.
On November 18, 2021, members of the FBI's Civil Rights Squad and the New York Joint Terrorism Task Force executed a search warrant at Fehring's home in Bayport, New York, and recovered photographs from a June 2021 Pride event in East Meadow, New York, two loaded shotguns, hundreds of rounds of ammunition, two stun guns, and a stamped envelope addressed to an LGBTQ+ affiliated attorney containing the remains of a dead bird.
Fehring is being charged with criminal mischief and grand larceny as a hate crime in the Sayville case.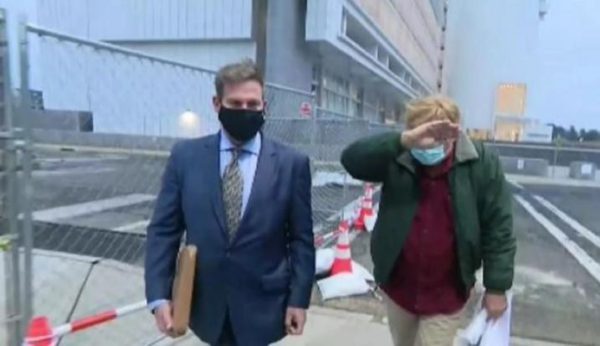 In the Federal criminal complaint Fehring is accused of sending, according to the complaint, include one this year threatening to shoot a high-powered rifle at a Long Island Pride event in June; another warning a local Chamber of Commerce member that ambulances would be needed if the group allowed an L.G.B.T.Q. event to proceed; and a third describing a Brooklyn barbershop as a "perfect target for a bombing."
Since at least 2013, Fehring had been sending individuals associated with the LGBTQ+ community letters in which he threatened violence, including threatening the use of firearms and explosives.
In the criminal complaint and affidavit for arrest, federal prosecutors allege that one letter threatened that there would "be radio-cont[r]olled devices placed at numerous strategic places" at the 2021 New York City Pride March with "firepower" that would "make the 2016 Orlando Pulse Nightclub shooting look like a cakewalk," referencing the 2016 attack in which 49 persons were killed and dozens wounded at Pulse, a gay nightclub in Orlando, Florida.
If convicted, Fehring, whom media outlets in New York identified as a retired high school teacher, band director and track coach, faces up to five years in prison.
Court records show that he sued the Suffolk County police unsuccessfully after being taken into custody in 2010 after an off-duty officer saw him hide a shotgun under a raincoat and bring it into a Long Island office building, the New York Times reported.
Gay City News editor Matt Tracy reported that Fehring appeared in court on December 6 before Magistrate Judge Steven I. Locke and was released on $100,000 bond. He is restricted to home detention with location monitoring, according to prosecutors. He is not allowed to have any firearms or "destructive devices," is barred from contacting any of his alleged victims, and cannot go to the places he is said to have targeted.
D.C. Trans woman's killers could be free in 3 years in a plea deal
"A plea bargain from first-degree murder to voluntary manslaughter is a miscarriage of justice"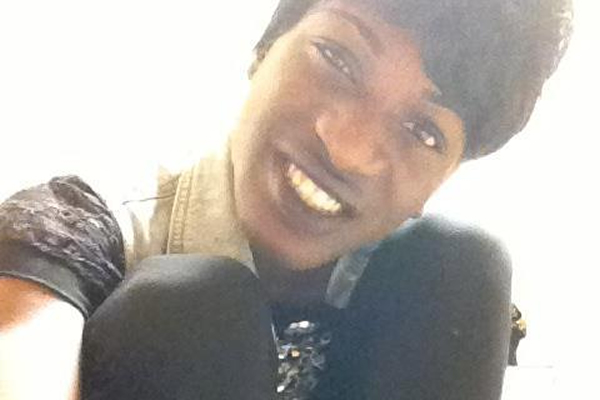 WASHINGTON – A D.C. LGBTQ anti-violence group will be submitting a community impact statement for a D.C. Superior Court judge scheduled to sentence two men on Dec. 10 for the July 4, 2016, shooting death of transgender woman Deeniquia "Dee Dee" Dodds in a case D.C. police listed as a hate crime.
Stephania Mahdi, chair of the D.C. Center for the LGBT Community's Anti-Violence Project, told the Washington Blade the project has been in contact with the Office of the U.S. Attorney for D.C., which is prosecuting the case against the two defendants set to be sentenced this week, to arrange for the submission of a statement on the impact the murder of Dodds has had on the community.
The impact statement would also apply to the sentencing of two other men charged in the Dodds murder case who are scheduled to be sentenced on Dec. 20.
The Dec. 10 sentencing for Jolonta Little, 30, and Monte T. Johnson, 25, was set to take place a little over two months after Little and Johnson pleaded guilty on Sept. 30 to a single count of voluntary manslaughter as part of a plea bargain deal offered by prosecutors.
In exchange for the guilty plea for voluntary manslaughter, prosecutors with the U.S. Attorney's Office agreed to drop the charge of first-degree murder while armed originally brought against the two men. The plea agreement also called for dropping additional charges against them in connection with the Dodds murder, including robbery while armed, possession of a firearm during a crime of violence, and unlawful possession of a firearm.
In addition, the plea agreement includes a promise by prosecutors to ask D.C. Superior Court Judge Milton C. Lee, who is presiding over the case, to issue a sentence of eight years in prison for both men. Under the D.C. criminal code, a conviction on a voluntary manslaughter charge carries a maximum sentence of 30 years in prison.
Johnson has been held without bond for five years and three months since his arrest in the Dodds case in September 2016. Little has been held without bond since his arrest for the Dodds murder in February 2017. Courthouse observers say that judges almost always give defendants credit for time served prior to their sentencing, a development that would likely result in the two men being released in about three years.
The plea deal for the two men came two and a half years after a D.C. Superior Court jury became deadlocked and could not reach a verdict on the first-degree murder charges against Johnson and Little following a month-long trial, prompting Judge Lee to declare a mistrial on March 6, 2019.
The two other men charged in Dodds' murder, Shareem Hall, 27, and his brother, Cyheme Hall, 25, accepted a separate plea bargain offer by prosecutors shortly before the start of the 2019 trial in which they pled guilty to second-degree murder. Both testified at Johnson and Little's the trial as government witnesses.
In dramatic testimony, Cyheme Hall told the jury that it was Johnson who fatally shot Dodds in the neck at point blank range after he said she grabbed the barrel of Johnson's handgun as Johnson and Hall attempted to rob her on Division Ave., N.E., near where she lived. Hall testified that the plan among the four men to rob Dodds did not include the intent to kill her.
In his testimony, Hall said that on the day of Dodd's murder, he and the other three men made plans to commit armed robberies for cash in areas of D.C. where trans women, some of whom were sex workers, congregated. He testified that the four men got into a car driven by Little and searched the streets for victims they didn't expect to offer resistance.
D.C. police and the U.S. Attorney's office initially designated the murder charge against Little and Johnson as an anti-trans hate crime offense based on findings by homicide detectives that the men were targeting trans women for armed robberies. But during Johnson and Little's trial, Judge Lee dismissed the hate crime designation at the request of defense attorneys on grounds that there was insufficient evidence to support a hate crime designation.
At the request of prosecutors, Judge Lee scheduled a second trial for Johnson and Little on the murder charge for Feb. 25, 2020. But court records show the trial date was postponed to June 22, 2020, and postponed several more times – to Jan 11, 2021, and later to Feb. 17, 2022, due to COVID-related restrictions before the plea bargain offer was agreed to in September of this year. The public court records do not show why the trial was postponed the first few times prior to the start of COVID restrictions on court proceedings.
Legal observers have said long delays in trials, especially murder trials, often make it more difficult for prosecutors to obtain a conviction because memories of key witnesses sometimes become faulty several years after a crime was committed.
"The D.C. Anti-Violence Project is disappointed to hear about the unfortunate proceedings in the case to bring justice for Dee Dee Dodds," Mahdi, the Anti-Violence Project's chair, told the Blade in a statement.
"A plea bargain from first-degree murder to voluntary manslaughter as well as a reduction of years in sentencing from 30 to 8 communicates not only a miscarriage of justice, but a message of penalization for victims who attempt to protect themselves during a violent assault," Mahdi said. "The continual impact of reducing the culpability of perpetrators who target members of specifically identified communities sends a malicious message to criminals that certain groups of people are easier targets with lenient consequences," she said.
"As a result of this pattern, the D.C. community has failed to defend the life and civil rights of Dee Dee Dodds and leaves criminally targeted LGBTQ+ community and other cultural identity communities critically undervalued by stewards of justice in the nation's capital," Mahdi concluded.
William Miller, a spokesperson for the U.S. Attorney's Office, has declined to disclose the reason why prosecutors decided to offer Johnson and Little the plea bargain deal rather than petition the court for a second trial for the two men on the first-degree murder charge.
Attorneys familiar with cases like this, where a jury becomes deadlocked, have said prosecutors sometimes decide to offer a plea deal rather than go to trial again out of concern that another jury could find a defendant not guilty on all charges.
During the trial, defense attorneys told the jury that the Hall brothers were habitual liars and there were inconsistencies in their testimony. They argued that the Halls' motives were aimed strictly at saying what prosecutors wanted them to say so they could get off with a lighter sentence.
The two prosecutors participating in the trial disputed those claims, arguing that government witnesses provided strong evidence that Johnson and Little should be found guilty of first-degree murder and other related charges.
Before the jury announced it was irreconcilably deadlocked on the murder charges, the jury announced it found Little not guilty of seven separate counts of possession of a firearm during a crime of violence and found Johnson not guilty of five counts of possession of a firearm during a crime of violence.