Stonewall ignited gay liberation
And even more LGBT history was made in 1970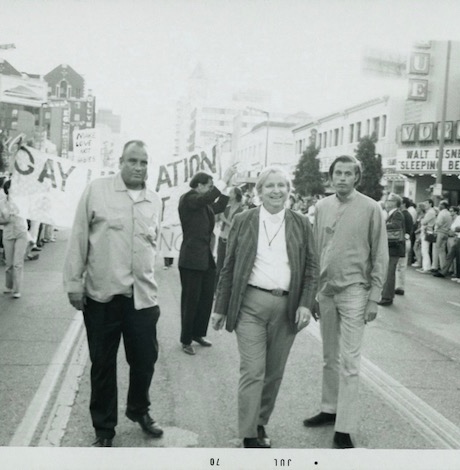 The 1960s was the era of creative transformation as young people took up John F. Kennedy's call to service and television changed life from black and white to vivid color. By May 18, 1969 Apollo 10 transmitted the first color images of the planet Earth as seen from space and suddenly "wonder" was no longer a fanciful promise offered by Walt Disney.
It was an era of peace, love, happiness and dreams that a shared humanity would eradicate poverty, racism, sexism, and entrenched inequality.
But it was also the era in which the government got caught lying about the war in Vietnam, about thousands of young men sent to ignoble and senseless deaths. Revolution was on the lips of thousands of Parisian students, Maoists in China and fans of the Beatles' "White Album" in 1968. Changing the world was not a theory, a desire, but an action.
And action was fraught with danger. Two of the most prominent progressive heroes expected to lead that non-violent revolution and restore faith in America – Rev. Martin Luther King Jr. and Democratic presidential candidate Robert F. Kennedy – were assassinated. Eyes on the prize were refocused, turning darkly inward as protests for justice and equality transformed into liberation movements with sharper edges and a pall of violence.
No one thought limp-wristed sissies who couldn't throw a softball would even know how to throw a punch. But after Stonewall in June 1969, police and tabloid reporters in cities around the country speculated about all the pent up rage boiling behind those secret closet doors. It was clear to young New Yorkers that Stonewall was not a one-and-done reaction to a police raid. By November, some activists had organized into the Gay Liberation Front and the Gay Alliance and NYU's Student Homophile League proposed an annual commemorative demonstration in New York on the last Saturday in June called CHRISTOPHER STREET LIBERATION DAY. The activists contacted gay activists in other cities to share their idea.
Being gay was no longer an arbitrary individual behavior; a chosen community was being born.
Meanwhile in Hollywood, anti-war activist/organizer Morris Kight also decided to start a Gay Liberation Front—LA was one of five cities launch GLFs in the aftermath of Stonewall. Kight's GLF provided direct services to gays and lesbians, especially homeless youth, and pro bono legal advice for those being discharged from the military, STD shots, or busted for being gay. Kight also set up rap groups to develop self-esteem through shared story-telling akin to AA shares and feminist consciousness raising.
In November 1969, Kight took out a small ad in the leftist L.A. Free Press saying he wanted to hold a homosexual organizing meeting. He later told Eric Markus of Making Gay History that Stonewall "had not one trace of an influence upon my work."
In fact, Kight said, "I had a number of telephone calls from payphones by Christopher Park, by Sheridan Square, while the Stonewall rebellion was going on, and since I was in the midst of a whole variety of rebellions, since I was up to my neck in civil disobedience, since I was up to my neck in television and radio and newspapers, I was up to my neck in organizing…against the war in Vietnam, and against poverty, and against racism, and against classism, and against redlining. I was involved in super-radical activities, and so I absorbed it as just one more interesting activity, except it was us instead of them. And that was the only difference, uh, that came in my mind, I said, "Well, fine, thank you for calling, that's very interesting, I'm happy it's happening." Uh, the Stonewall, uh, rebellion did not influence my founding the Gay Liberation Front of Los Angeles."
But it may well have influenced those who joined him, which in turn influenced Kight's response.
"The country was ripe with discontent and rebellion, people were already mobilized and Kight seized the momentum, as he liked to put it, to 'free my people.' When Morris Kight shifted his thinking and refocused his energy, he made sure that it created a rippling effect. He tapped organizational muscle, skills, and funds from the Peace Movement, Black Power, Feminism, and the LA Mission," writes Mary Ann Cherry in her upcoming biography MORRIS KIGHT: Humanist, Liberationist, Fantabulist A Story of Gay Rights and Gay Wrongs due out in April 2020 from Process Media.
Among those who joined GLF was a young activist named Don Kilhefner, with whom Kight would disrupt an American Psychiatric Association Conference and later found the Los Angeles Gay Community Services Center. Their first headquarters in a rented old Victorian on Wilshire Boulevard stopped traffic with residents and tourists alike shocked to see such an open display of the word "Gay."
"After Stonewall, we were on fire. Something was unleashed in us. After all those decades of being told who we are, we began to define ourselves and found ourselves to be good, decent people," Kilhefner told filmmakers Patrick Sammon and Bennett Singer for their forthcoming documentary Cured.  "So part of our work was not only fighting back against the shrinks, but also working with gay people to undo the harm that had been done to us. And it felt like ripples went out across the country. In every major city, something happened. In San Francisco and Chicago, in Atlanta, in New York, in Boston, something happened, and in each town it was different depending on what the circumstances were, who was meeting, and what was going on there — but we were everywhere."
In LA, Kight wanted to ensure that GLF meetings were radical, democratic, and based in the spirit of non-violence, no matter how much rage spilled out at rap meetings tackling the root cause of gay oppression—lack of self-acceptance. That pain also created bitchy attacks on one another, which Kight called "oppression sickness." 
But Kight was a keen organizer.
"Kight saw the big picture of gay rights as building-up one person at a time, and he didn't let anyone leave those meetings without being affected in some positive way or learning something," Cherry writes. "Often described as a 'warm and encouraging leader' and 'father figure' in the Gay Liberation Front, Kight did a private appraisal of every able body that expressed interest in the movement and then found a specific function for each person to contribute to their liberation. He gave every young person at these meetings a direction or an assignment, to give them a new purpose."
Cherry cites an anonymous GLF paper that expresses the point. "Look out straights, here comes the Gay Liberation Front… Understand this–that the worst part of being a homosexual is having to keep it secret. Not the occasional murders by police or teenage queer-baiters, not the loss of jobs or the expulsion from schools or dishonorable discharges–but the daily knowledge that what you are is so awful that it cannot be revealed. The violence against us is sporadic. Most of us are not affected. But the internal violence of being made to carry–or choosing to carry–the load of your straight society's unconscious guilt–this is what tears us apart, what makes us want to stand up in the offices, in the factories and the schools and shout out our true identities."
To press the point, get media attention and give GLFers an action to take, Kight planned zaps, some of which were potentially dangerous, such as the protest against Barney's Beanery demanding the removal of their "Fagots Stay Out" sign
Another zap was a theatrical stunt declaring March 1,1970 "Lavender Sunday" during which gays protested the church of their choice then presented the church with a reparations bill for $90 billion for all the harm done to gays over the years. The reaction was mixed. Some said "God bless you!" and shouted "Gay Power!" while others screamed, "You will all burn in hell!"
Mattachine Society member and gay journalist Jim Kepner attended GLF meetings, as did the Rev. Troy Perry, founder of the Metropolitan Community Church with whom Kight subsequently co-founded Christopher Street West and the first gay Pride parade. By the spring of 1970 as planning began, three gay men had died in police custody and countless police beatings received no justice or accountability.
"It was outright dangerous to be openly gay much less part of gay liberation," Cherry writes.
Nonetheless, Kight, Perry, and homeless advocate Rev. Bob Humphries made plans for a parade, not a demonstration, down Hollywood Boulevard.  The May 14, 1970 Parade Permit Application said the purpose of the parade was: "A joyous celebration of the total freedom of homosexuals in Los Angeles, with their families and friends, indicating that they are full citizens of this community and their rights to use the streets in the city of Los Angeles."
The permit was denied but they appealed, including an extraordinary bond the LAPD required for extra police in case a Stonewall-like gay riot broke out.
On Friday June 26, California Superior Court Judge Richard Schauer ordered the Police Commissioner to issue the permit for a "Hollywood Blvd. homosexual-oriented parade without requiring a $1,500 cash bond." It was the first official recognition of "gay" in California. 
Death threats against Kight intensified.
"Someone telephoned in the morning [of the Pride parade] and said, 'How would you like it if I came over and killed you today?' And I told him, 'No, I cannot do that today. I have a very big day ahead of me and I must attend a parade.' And I hung up," Kight told Cherry. 
It took courage to step off the corner of McCadden Place and Hollywood Boulevard that June 28—but 1800 people showed up with thousands more lining the streets to watch gays and lesbians holding hands and more creative participants. Two men walked sheep dogs with signs saying, "Not all of us walk poodles." The Guerrilla Theatre showcased "vice cops chasing screaming fairies wearing paper wings." And The Militant Gay Movement floated a blown-up super-sized Vaseline jar. The GLF marched behind Kight.
"Los Angeles activists, by participating in a Stonewall commemoration the first year, played a crucial role in the survival of the Stonewall story," the American Sociological Review reported in 2006. "The first commemoration of Stonewall was gay liberation's biggest and most successful protest event."
U.S. Senate vote sets up passage of same-sex marriage act
Coordinated campaign by anti-LGBTQ groups fails to weaken support among GOP Senators as the bill sees clear path to near-certain passage
WASHINGTON – Passage of the Respect for Marriage Act became all but certain with the U.S. Senate's procedural 61-35 vote on Monday night to forego additional debate in the chamber over the landmark legislation.
From here, the bill will return to the U.S. House of Representatives, which will consider — and is expected to approve — an amendment that was added by a bipartisan group of Senators led by Tammy Baldwin (D-Wis.). Then, it will reach President Joe Biden's desk.
The president has repeatedly urged lawmakers to pass the bill so he can sign it into law. His administration, along with Congressional Democratic leadership, has made the Respect for Marriage Act a top legislative priority in the weeks before the new Congress is seated in January.
Today's move by the Senate came on the heels of a coordinated campaign by conservative and anti-LGBTQ advocacy groups that wield considerable influence on Capitol Hill and marshaled their efforts to peel off support from Republican senators in the days leading up to Monday's vote.
Republican Sens. Todd Young (Ind.) and Cynthia Lummis (Wyo.), who were among the 12 Senate Republicans who supported advancing the legislation in a procedural vote taken before Thanksgiving, cast the final two votes on Monday allowing the measure to clear the 60-vote majority threshold to pass. Axios reports the two lawmakers faced particular pressure from conservative activists who sought to erode their support for the legislation.
The Respect for Marriage Act will repeal the Clinton-era Defense of Marriage Act, adding legal protections for same-sex couples, many of whom would otherwise face devastating consequences if the U.S. Supreme Court reverses or substantially weakens the constitutional right to marriage equality.
Notwithstanding criticism from some progressives who feel the bill is too conservative in scope, the Respect for Marriage Act — along with the bipartisan amendment that was introduced in the Senate to enshrine protections for religious liberty — is supported by major LGBTQ organizations including the Human Rights Campaign, GLAAD, Lambda Legal, the National Center for Transgender Equality, GLSEN and PFLAG National, among others.
The bill's aim, narrowly tailored, was to gird against the possibility that the high court would revisit its precedential decisions in United States v. Windsor (2013) and Obergefell v. Hodges (2015).
Justice Clarence Thomas signaled his intention to do so with his concurring opinion earlier this year in Dobbs v. Jackson Women's Health Organization — a case that revoked Americans' constitutional right to abortion, overturning the Court's historic rulings in Roe v. Wade (1973) and Planned Parenthood v. Casey (1992).
Over the summer, the House passed the Respect for Marriage Act with an overwhelming majority, including votes from 47 Republican members. Dozens of religious denominations and groups that represent a broad spectrum of beliefs have endorsed the legislation, including the Mormon church, which took pains to reaffirm its position that same-sex relationships are sinful. Scholars representing a similarly diverse range of opinions on germane legal questions have also publicly backed the bill.
Still, the opposition remained steadfast.
"Religious Americans will be subject to potentially ruinous litigation, while the tax-exempt status of certain charitable organizations, educational institutions, and non-profits will be threatened," said Sen. Mike Lee (R-Utah) in a statement opposing the legislation as written and proposing an additional amendment to the bill.
Organizations like the Heritage Foundation, a conservative think tank, echoed Lee's concerns about the Respect for Marriage Act vis-à-vis protections for religious liberty. Others, like the Liberty Counsel, designated by the Southern Poverty Law Center as an anti-LGBTQ hate group, peddled outrageous arguments including the lie that the Respect for Marriage Act would normalize or facilitate child sexual exploitation and abuse.
Even in the aftermath of the deadly shooting on Nov. 19 at a Colorado Springs, Colo., LGBTQ nightclub, these attacks from conservative groups continued apace and even increased as the Senate's vote on Monday drew nearer.