Prince William says it would be 'absolutely fine' if his children were gay
The Duke of Cambridge would still be 'worried'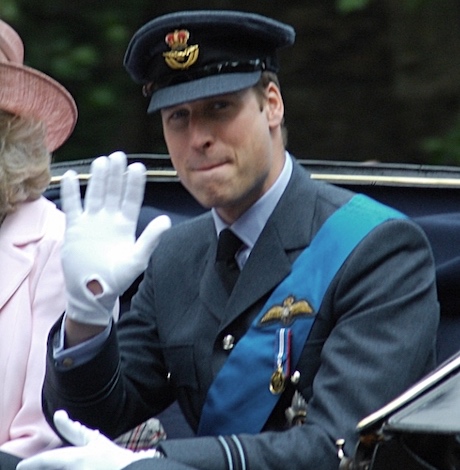 Prince William says it would be "absolutely fine by me" if any of his three children were gay.
The Duke of Cambridge visited the Albert Kennedy Trust on Wednesday to discuss LGBTQ youth homelessness. During his visit, Prince William was asked how he would feel if one of his children ever came out as gay.
"Do you know what, I've been giving that some thought recently because a couple of other parents said that to me as well," William replied via Express. "I think, you really don't start thinking about that until you are a parent, and I think — obviously absolutely fine by me."
Prince William did share that he would still be worried for his children since their lives are so public.
"The one thing I'd be worried about is how they, particularly the roles my children fill, is how that is going to be interpreted and seen," he added."So Catherine and I have been doing a lot of talking about it to make sure they were prepared."
He and his wife Kate Middleton are the parents to Prince George, 5, Princess Charlotte, 4 and Prince Louis, 1.
Mass shooting in Norwegian capital cancels LGBTQ+ Pride, leaves 2 dead
The Norwegian Police Service are investigating the matter as an act of terrorism. The suspect is a Norwegian citizen originally from Iran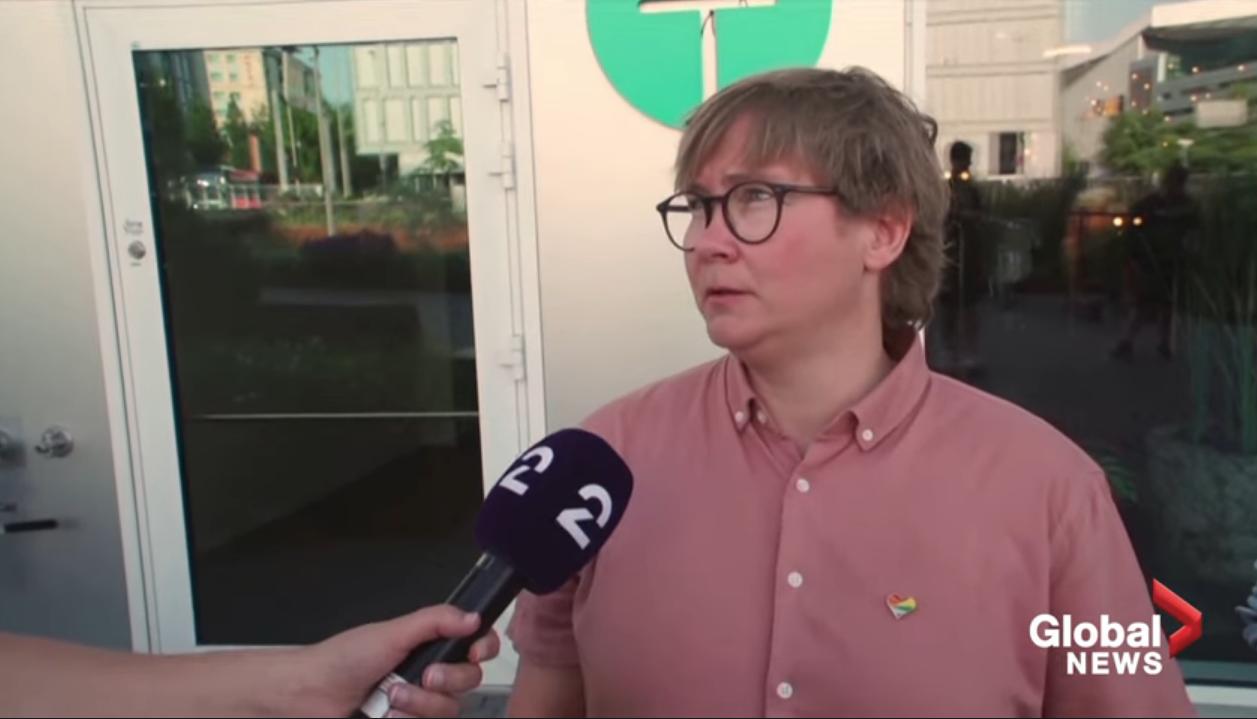 OSLO, Norway – A gunman entered an establishment popular with the LGBTQ+ community in the Norwegian capital city's night-life district on Saturday morning at approximately 1 a.m. local time and opened fire killing two people and injuring dozens more.
A spokesperson for the Norwegian Police Service (Politi- og lensmannsetaten) told the Blade in a phone call that officials are investigating the matter as an act of terrorism. According to the official, the suspect is a 42-year-old Norwegian citizen originally from Iran.
Multiple eyewitnesses reported that the suspect had entered the bar and produced a semi-automatic rifle from a bag and started shooting.
A reporter with Norway's largest broadcast media outlet NRK, Olav Roenneberg, who was on scene when the shooting started, told NRK colleagues in an interview;
"I saw a man arrive at the site with a bag- He picked up a weapon and started shooting. First I thought it was an air gun. Then the glass of the bar next door was shattered and I understood I had to run for cover."
The police official while not confirming the weapon used did acknowledge that the shooter had been known to Norwegian officials in the country's security services since 2015 as a "suspected radicalised Islamist" and also apparently had a history of mental illness. The official also pointed out that up until the incident there were no previous major criminal acts committed by the suspect.
Because of the incident, organisers of the Pride parade which had been scheduled to start hours after the shooting was cancelled. The parade was set to culminate the week long Pride festivities in Oslo.
Norway's Prime Minister Prime Minister Jonas Gahr Stoere wrote in a public post on Facebook, "the shooting outside London Pub in Oslo tonight was a cruel and deeply shocking attack on innocent people." He added "We all stand by you," showing support for the country's LGBTQ+ citizenry.
Norway's King Harald V issued a statement offering condolences and said he and Norway's royal family were "horrified by the night's shooting tragedy."
"We sympathize with all relatives and affected and send warm thoughts to all who are now scared, restless and in grief," the Norwegian monarch said. "We must stand together to defend our values: freedom, diversity and respect for each other. We must continue to stand up for all people to feel safe."
Oslo Pride issued a statement concerning cancelling the Pride parade;
Oslo Pride has received clear advice and recommendation from the police that the parade, Pride park and other events in connection with Oslo Pride be canceled. Oslo Pride therefore asks everyone who has planned to participate in or watch the parade not to attend. All events in connection with Oslo Pride are canceled.
Now we will follow the police's recommendations and take care of each other. Warm thoughts and love go to relatives, the injured and others affected. We will soon be proud and visible again, but today we will hold and share the pride celebrations from home, says Inger Kristin Haugsevje, leader of Oslo Pride and Inge Alexander Gjestvang, leader of FRI – The Association for Gender and Sexuality Diversity.
Oslo Pride has close communication with the police and is following the situation, and will provide ongoing information.
The White House reacted to the news of the shooting issuing a statement by National Security Advisor Jake Sullivan;
"The horrific shooting in Norway this morning has been felt around the world. The United States strongly condemns this act of terror. We stand in solidarity with the families of the victims, the diverse and strong LGBTQI+ community of Oslo, our close NATO ally Norway, and all who have been devastated by this senseless act. The United States has been in touch with the Norwegian government and offered to provide assistance. We remain committed to continuing to partner with Norway to advance a more equitable and just world for all, free from violence and discrimination."
Oslo shooting being investigated as act of terrorism:
LA County Public Health confirms community transmission of Monkeypox 
Public Health is offering the JYNNEOS vaccine in a targeted manner to reach individuals at higher risk of monkeypox
LOS ANGELES – Los Angeles County Department of Public Health has confirmed local transmission of monkeypox in LA County, as some of the more recent of the 22 cases of monkeypox in LA County thus far have no history of international or out-of-state travel. There have been no hospitalizations or deaths.
Anyone can get and spread monkeypox, but some of the recent cases identified have been among gay, bisexual, and other men who have sex with men who attended large events where the exposure to monkeypox may have occurred. Public Health is working with event organizers to notify attendees of potential exposure.
While supplies of monkeypox vaccine are limited, Public Health is offering the JYNNEOS vaccine in a targeted manner to reach individuals at higher risk of monkeypox. This includes people who are known close contacts to someone diagnosed with monkeypox and individuals who attended an event where they may have had skin-to-skin contact with someone who later tested positive for monkeypox virus. The vaccine is being used in these cases to reduce the risk of developing monkeypox.
As vaccine supply increases, Public Health will focus on making the monkeypox vaccine available for other high-risk groups in efforts to prevent widespread community transmission.
Monkeypox does not spread easily between people. The spread of monkeypox from person to person can occur through contact with body fluids, monkeypox sores, items that have been contaminated with fluids or sores (like clothing or linens), or through prolonged exposure to respiratory droplets. Because of this, transmission may also occur during sex through skin-to-skin and other intimate contact.
LA County encourages persons who experience symptoms consistent with monkeypox (such as characteristic rashes or lesions), persons who traveled to countries where monkeypox cases have been reported or persons who have had close contact, including sexual contact, with someone who has a similar rash or received a diagnosis of suspected or confirmed monkeypox, to contact their health care provider for a risk assessment. Those who do not have a regular provider should call 2-1-1 for assistance.
Activists gather & prepare for post-Roe America
"For a country about personal rights, we're doing an awful lot right now to limit women's ability to do what they want with their body"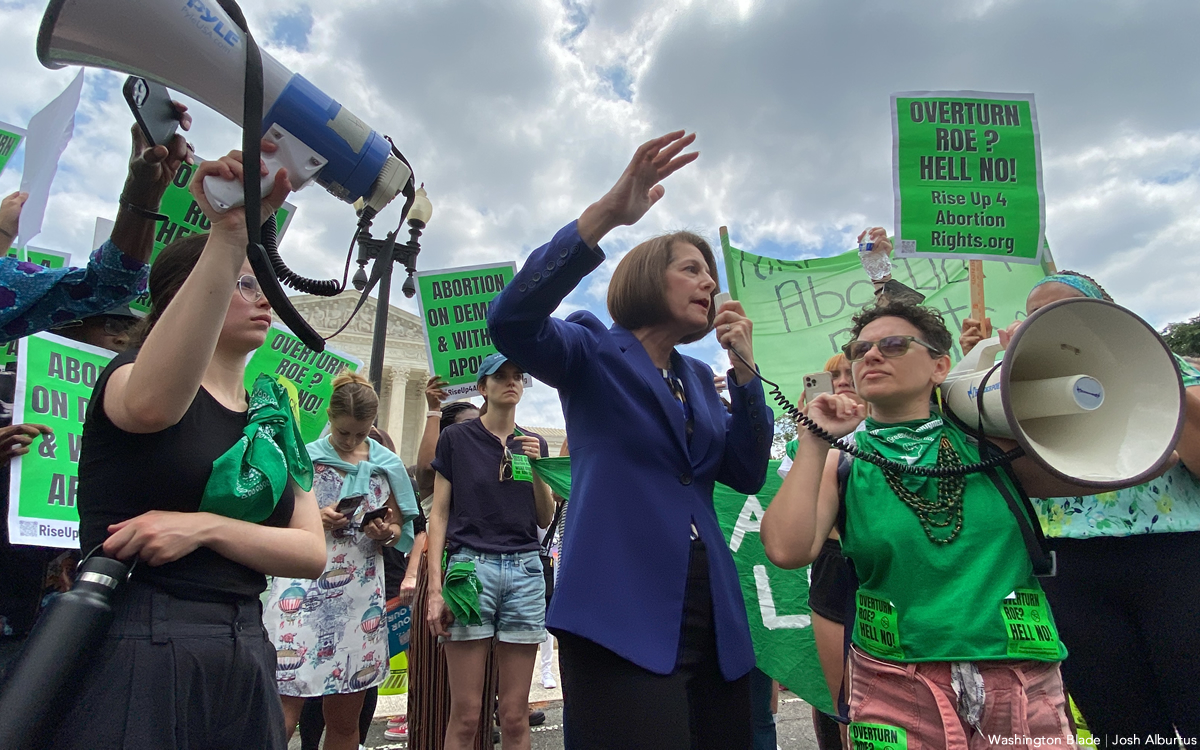 WASHINGTON – Just moments after the U.S. Supreme Court delivered its decision on Friday overturning its landmark ruling in Roe v. Wade that had legalized abortion nationwide for 49 years, hundreds gathered outside the Court to both protest and celebrate the ruling.
In its decision in Dobbs v. Jackson Women's Health Organization, the court found that access to abortion was not a right guaranteed under the language of the Constitution. The ruling effectively reversed the Court's 1973 decision that mandated states to allow the procedure in most instances throughout the first two trimesters of pregnancy.
Immediately following the decision, a group of those welcoming the decision quickly gathered in front of the Court.
Anna Lulis, a member of Students for Life of America, welcomed the decision as long overdue.
"I think it is a huge victory for human rights," Lulis said. "For far too long, since 1973, human rights have been infringed upon at an egregious level."
Beside Lulis, Olivia Cowin, a member of Survivors LA, shared a similar reason for gathering outside the Court.
"This is a celebratory day to show our support of the unborn and of women and support both simultaneously," Cowin said.
But not all that were gathered immediately after the unveiling of the decision were encouraged by the decision's implications.
Across the way from the Court's west side, Virginia resident Alysia Dempsey feared what the verdict in Dobbs could mean for women's rights – including those of her four daughters.
"I believe in women's rights, and I think that our country needs to be able to start listening to each of our stories and to have empathy for them in so many different aspects," Dempsey said. "I feel like we're sort of going back in time with regard to so many rights."
Hailing from Arizona, a state under Republican legislative leadership where Planned Parenthood has already halted all abortion services pending legal clarity from the state, Hannah Waldrip cast doubt on the sincerity of anti-abortion rationale.
"For a country about personal rights and personal freedom, we're doing an awful lot right now to limit women's or people with uterus' ability to do what they want with their body," Waldrip said.
Stark divisions between the groups arose as ideological lines could be seen physically emerging between the crowds.
And as the day progressed, those protesting the ruling quickly began to outnumber its supporters.
Among the protesters, the color green – a symbol for abortion rights activists borne out of similar movements in Argentina and elsewhere in Latin America – could be seen lining the street on scarves, shirts, stickers, and elsewhere.
As the crowd continued to grow and green began to eclipse the heat-simmering pavement beneath the protesters, several speakers emerged amidst the epicenter of the crowd.
One of those speakers was Elizabeth Paige White, a civil rights lawyer working under nationally renowned attorney Ben Crump.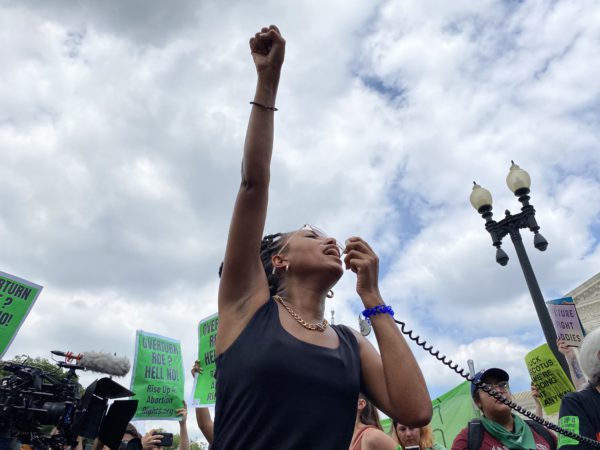 In connecting Friday's decision to the United States' history of patriarchal structure, White called into focus the disproportionate effect the repeal of nationwide abortion access is widely expected to have on minorities and communities of color with less resources to travel to abortion-friendly states.
"As Black, Brown, and all these women out here know, we've been fighting for our rights since the inception of this country," White said. "We have been fighting to have rights over our own bodies since the inception of this country."
With the repeal of Roe, decisions on whether to legalize or outlaw abortion will now be left to each individual state. As of Friday's ruling, 13 states are now set to make almost all abortions illegal, having passed "trigger bans" designed to take effect in the immediate aftermath of Roe's demise or within the next month.
However, many abortion rights supporters, activists and lawmakers still fear that the curtailing of reproductive rights won't end with the Court's decision.
Sen. Catherine Cortez-Masto (D-Nev.) addressed the crowd with a message of urgency and revelation.
"At the end of the day, let me just say, here's what's next," Cortez-Masto said. "I've got some of my Republican colleagues based on this decision who are already drafting legislation to restrict abortion in this country. If they win this election, they will pass that legislation and it will preempt all of the state laws we have protecting women in this country when it comes to our right to choose."
Even beyond nationwide restrictions on abortion, some fear even more privacy restrictions are now under fire.
Such privacy rights have been established in other past Supreme Court rulings based on the same Due Process and Equal Protection clauses of the 14th Amendment that justices used to interpret nationwide abortion rights nearly half a century ago. These cases have included those that established access in all states to contraception, same-sex marriage, interracial marriage, and the right to same-sex relations in the privacy of one's home.
Among the crowd gathered on Friday, such was a sobering outlook for many.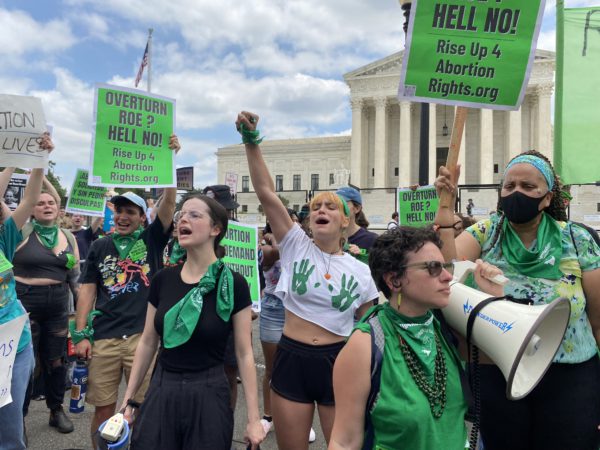 "Gay marriage, interracial marriage, gay sex are going to fall like fucking dominoes if we let them," one speaker outside the Court said.
Anger and fear could be felt permeating those in the crowd. Activists, however, were determined to turn their compatriots' fears into action and change.
"We must get out in the streets," the speaker said. "We need millions of people all around the country because this affects every single living, breathing person in this country whether they realize it yet or not."
Among protesters' trepidation regarding the future of women's rights and privacy rights in America, many clung to a message of hope as speakers and activists pledged to continue fighting.
"They have worked to keep us down, they worked to keep us enslaved, they worked to keep us out of the polls, they worked to keep us out of political offices, they've worked to keep us in the home," White said. "But we know, as we fought for centuries, that this will not stand."