July 1, 2019 at 10:58 am PDT | by Karen Ocamb
Conservative gay journalist attacked covering Portland protest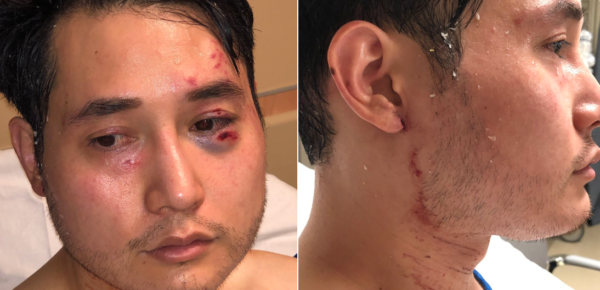 Portland, Oregon is gaining a reputation as a flashpoint for violent encounters between far right and far left wing demonstrators and riot police. Last August, police issued an order to disperse then fired flash-bang grenades and rubber bullets into an anti-fascist (antifa) crowd protesting a right-wing Patriot Prayer free speech demonstration. After several people were injured, police claimed they responded to objects being thrown at them, though a review of videotapes of the clash did not show that provocation.
This past weekend, on Saturday, June 29, Portland police dealt with three demonstrations of left-wingers antifa (which the FBI labeled "domestic terrorists" in 2017) protesting right-wingers Patriot Prayer and the Proud Boys (which the Southern Poverty Law Center has deemed an extremist white nationalist group), though what they were specifically demonstrating for and against is not clear. What is clear, however, as captured on video shot by The Oregonian's Jim Ryan, is a swarm of mask-wearing antifa activists surrounding conservative gay journalist Andy Ngo, editor at Quillette, punching him in the face and throwing milkshakes at him before and as he fled the scene.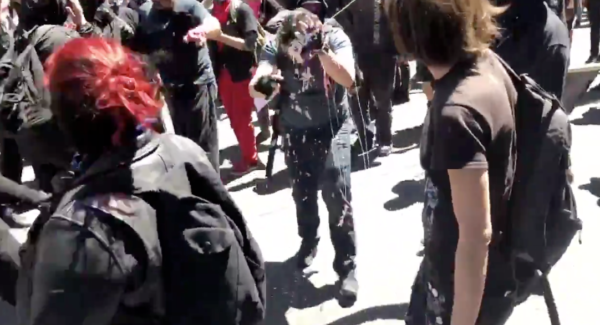 Milkshakes are commonly used as a way of humiliating someone—much as a pie-in-the-face was used by gay activist Tom Higgins against anti-gay singer Anita Bryant in the 1970s. But in this case, Portland police tweeted, there were reports that the milkshakes contained quick-drying cement.
While Ngo is apparently well known in conservative media circles for covering antifa, The Oregonian describes him as "a right-leaning provocateur with online news and opinion outlet Quillette."
Human Rights Campaign spokesperson Charlotte Clymer tweeted: "Andy Ngo intentionally provokes people on the left to drive his content. Being attacked today on video taken by an actual journalist (because Ngo is definitely not) is the greatest thing that could have happened to his career."
But Ngo—who tweeted out videos of the protests before he was attacked—is also apparently a friend of gay US Ambassador to Germany, Richard Grenell, who has asked the Justice Department to investigate the attack. "This is a pre-meditated attack on someone because intolerant radicals don't like that Andy happens to be gay, Asian and conservative. They targeted him publicly before their protest. Mayor @tedwheeler knew this was coming. The people of Oregon must speak up today," he tweeted.
The controversy is getting even more ugly, as evidenced by this taunting headline by antifa fan Jarvis Dupont for the Spectator: "Conservative snowflake Andy Ngo can't handle a peaceful beating – He was asking for it." He compared antifa to rebels against Hitler. "[I]f fascists don't want to be intimidated into silence and physically assaulted in the streets, they shouldn't do and say stuff members of Antifa deem to be problematic," Dupont wrote.
Reporters such as CNN's Brian Stelter tweeted that any attack on a journalist is "unacceptable." "Even @MrAndyNgo's critics should have no trouble saying this: The assault against him was unacceptable."
The Oregonian reported that three people were arrested during the course of the afternoon for assault on a police officer, disorderly conduct and harassment.
So far, President Trump, who has called journalists "enemies of the people," has not weighed in on the incident and controversy.