Anderson Cooper will inherit almost all of Gloria Vanderbilt's fortune
The CNN anchor once said he didn't expect to receive a trust fund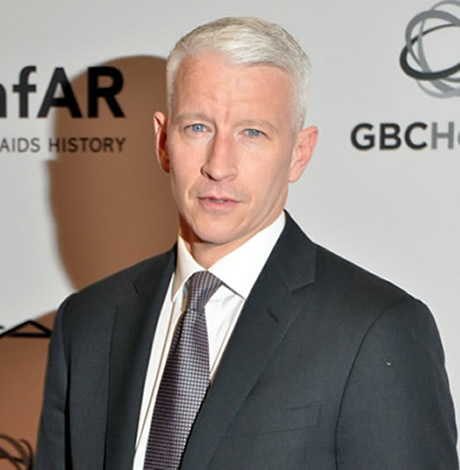 Anderson Cooper, the youngest child of Gloria Vanderbilt, is set to receive almost all of his mother's fortune.
Page Six reports that Vanderbilt's will, which was filed on Monday in Manhattan surrogate court, left her oldest son Leopold "Stan" Stokowski her Midtown New York City apartment.
"All of the rest" of her property was left to Cooper. The exact amount Cooper will receive is unknown. Her middle son Chris Stokowski, who estranged himself from his family 40 years ago, was left nothing.
In an interview with Howard Stern in 2014, Cooper said he didn't expect to receive any of Vanderbilt's fortune, which was estimated at the time to be $200 million.
"My mom's made clear to me that there's no trust fund. There's none of that," the CNN anchor told Stern. "I don't believe in inheriting money. I think it's an initiative sucker. I think it's a curse. Who's inherited a lot of money that has gone on to do things in their life? From the time I was growing up, if I felt like there was some pot of gold waiting for me, I don't know if I would have been so motivated."
Vanderbilt, the great-great-great-granddaughter of railroad tycoon Cornelius Vanderbilt, died on June 17 at the age of 95 following a battle with stomach cancer.
For Gaiman fans, 'Sandman' is a 'Dream' come true
Netflix series offers fantasy space where all feel welcome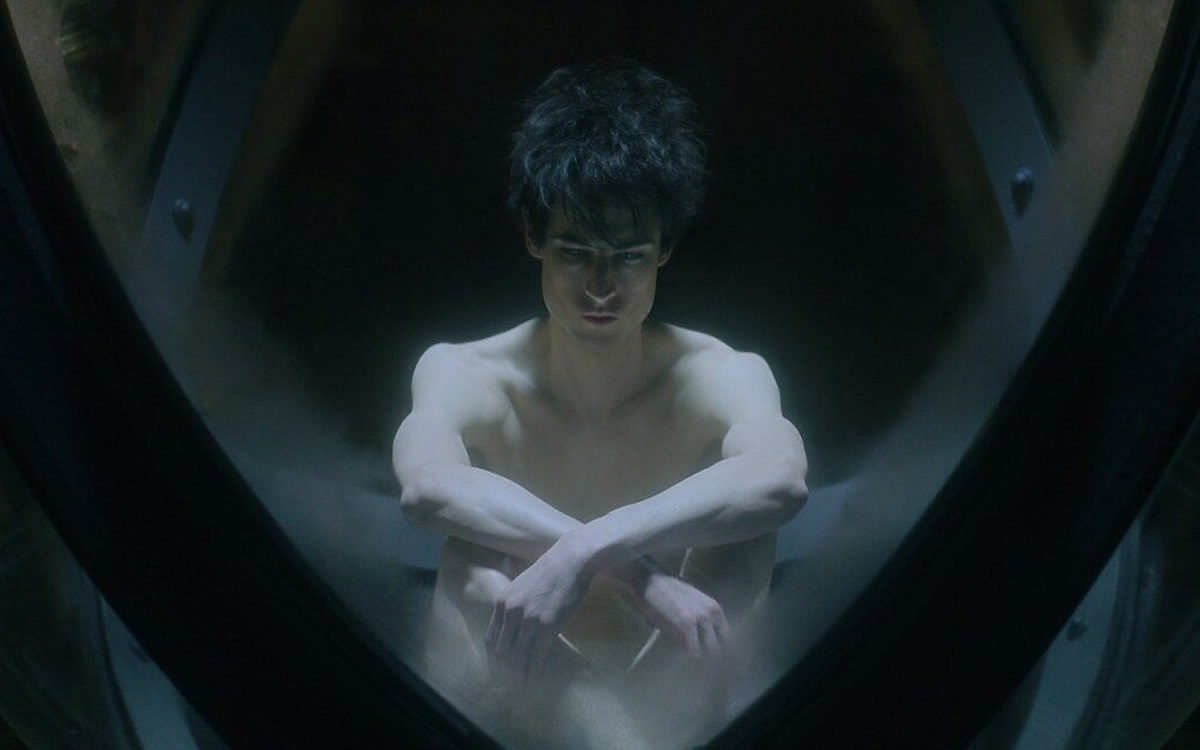 For the millions of fans who have embraced Neil Gaiman's "The Sandman" and its darkly beautiful, queer-inclusive mystical universe since it debuted in comic book form more than three decades ago, the arrival of a new Netflix series based on it is a very, very big deal – even if, for the uninitiated, it might be hard to understand why. After all, the streaming giant has already unleashed such a vast array of LGBTQ-friendly fantasy movies and shows that one more, welcome though it may be, hardly seems like anything new.
As any of the above-mentioned fans will quickly tell you, however, "Sandman" is not just any fantasy series. Initiated by DC Comics as a revival of an older comic book of the same name, it was handed over to Gaiman – then still a budding writer of comics with a few promising titles under his belt – with the stipulation that he keep the name but change everything else. The comic series he came up with went on to enjoy a 75-issue original run from 1989 to 1993, an era when an expanded literary appreciation for such works gave rise to the term "graphic novel", and it joined "Maus" and "Watchmen" among the first few comics to be included on the New York Times Best Seller List. Arguably more important, it also generated a huge and diverse fan following, and its incorporation of multiple queer characters and storylines has inspired subsequent generations of comic book creators to envision new and inclusive fantasy worlds of their own.
Despite that success, it's taken 33 years for it to finally be adapted for the screen. Beginning in the late '90s, attempts were made to develop "The Sandman" for film, but though a few scripts initially managed to win Gaiman's approval, creative differences inevitably led to a dead end, and the Hollywood rumor mill began to buzz that the story was ultimately "unfilmable" – until 2019, when Netflix and Warner Brothers (parent company to DC Comics) officially reached a deal to bring it to the screen as a series, with Gaiman fully on board and a creative team in place that was determined to faithfully adapt the much-loved original for a contemporary audience.
The show that came from that decision, which premiered on Netflix Aug. 5, makes it clear that the long wait was more than worth it.
"The Sandman" of the title refers to the story's leading figure – Dream (known also as Morpheus, among other names), one of seven elemental siblings whose mystical realms overlay and intertwine with the human world. As ruler of the dream world, he holds hidden power over all mankind – until a human sorcerer manages to trap him and imprison him on Earth for more than 100 years. Finally freed, he returns to his kingdom to find it in disarray, and he sets out to restore order and undo the damage done – a quest that will require him to enlist the aid of numerous (and sometimes less-than-willing) allies, both human and immortal, to save the cosmos from a chaotic force that has been unleashed in his absence.
Like any good myth cycle, it's both an epic story and an episodic one, making it a much better fit for the long-form storytelling capacity of series television than for any of the one-off film adaptations that it almost became. In his sweeping, unapologetically allegorical saga of the ever-dueling forces within our human psyche, Gaiman uses broad strokes in composing his plot, recycling and reinventing timeless motifs and themes while relying on our comfortable acceptance of the familiar tropes of myth and magic to get us all on board; the narrative is a massive structure, but it's not hard to follow the basics. Where "Sandman" becomes complex – and exceptional – is in the details Gaiman gave himself room to explore along the way, the human moments caught in between the monumental cosmic drama.
It's these parts of the story that have made his graphic novel iconic, more even than its gothic melancholy or its layered personification of primal forces into complex human archetypes; it's there, too that he was able to explore a broad and diverse range of human experience, including many queer characters in a time when comic book literature was far from a queer-friendly space. It's these things that made Gaiman's comic a touchstone for a wide spectrum of fans – and they would have been the first things that would have been jettisoned had any of the potential "Sandman" films seen the light of day. Because Gaiman has held out for so long to make sure it could be done right, series television has finally given him the chance, as co-creator and co-executive producer (alongside David S. Goyer and Allan Heinberg), to make it happen.
The big-budget Netflix production values certainly help, too, allowing the striking visual aesthetic of the comic – in which even the horrific can be exquisitely beautiful – to come thrillingly alive. The show's many baroque and gruesome deaths bear testament to that, as does a fourth episode sequence when Morpheus's quest requires him to descend into a Hell that evokes the macabre beauty of Dore's illustrations for Dante's "Inferno," the very landscape itself made up of the writhing and tormented souls of the damned. The artfulness of this show's scenic design lingers in the memory, appropriately enough, like images from a dream.
Still, it's all just scenery without the players, and "Sandman" assembles a top-drawer cast capable of bringing Gaiman's characters to life with the level of depth they deserve. Tom Sturridge makes for a compelling leading figure, capturing the titular character's complex mix of coldness and compassion without ever losing our loyalty; he's supported by an equally talented ensemble of players, including heavyweight UK stalwarts like Charles Dance, Joely Richardson, David Thewlis, and Stephen Fry among a host of less familiar faces, and there's not a weak performance to be found among any of them.
As to whether the show's writing does justice to the original, different fans will surely have different opinions. The story has been remolded to fit the modern world, and many elements of the comic have been reconfigured in the process. This is particularly true in terms of representation; though queer characters were always a part of the "Sandman" universe, the comic debuted 34 years ago, and much has changed since then. In bringing the story to the screen, the author and the rest of the creative team have brought things up to date, bringing more nuance to its queer representation even as it expands it wider, and reimagining many of its characters to reflect a more diverse and inclusive vision of the world. Inevitably, these choices may upset some die-hard fans – there's already been the inevitable toxic outcry against the show's gender-swapping of characters and the decision to cast actors of color in roles originally depicted as white.
Still, for those who loved the original for providing a fantasy space where ALL could feel welcome – exactly the way Neil Gaiman intended it to be – it's hard to find a reason to complain.
New doc illuminates Patricia Highsmith's life and work
'Intercourse with men is like steel wool to the face'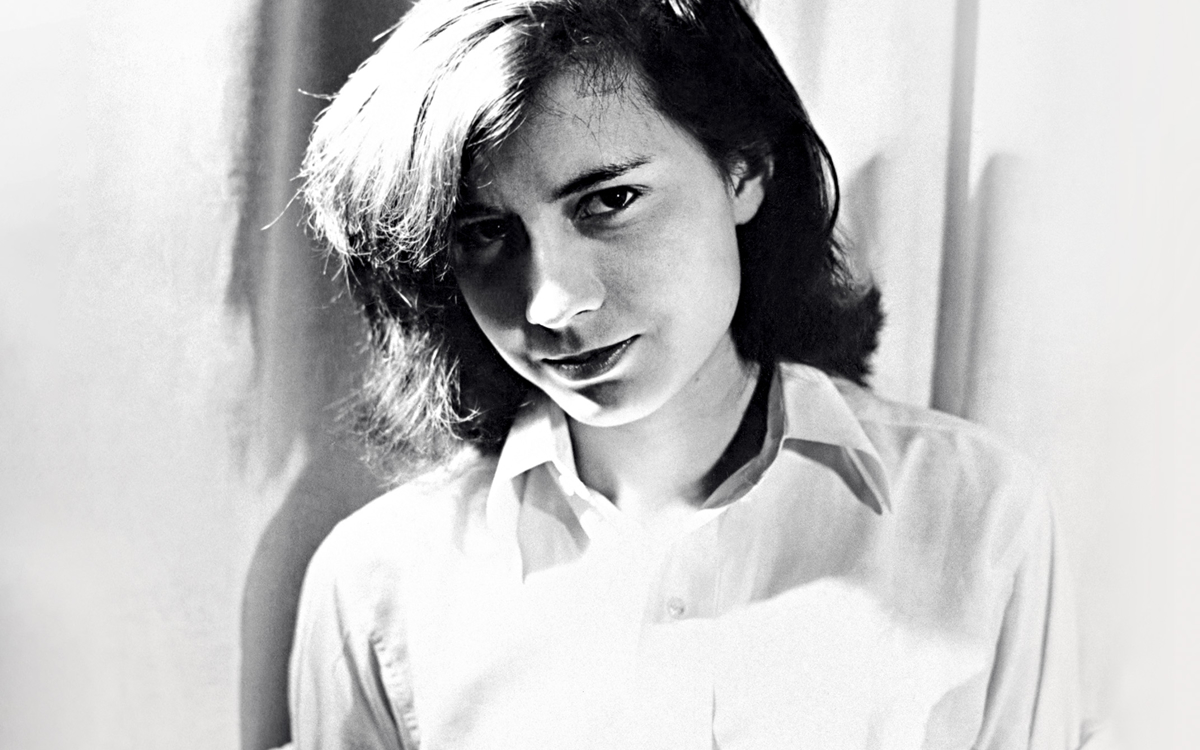 If you've been transfixed by the amusement park scene in Alfred Hitchcock's "Strangers on a Train," rooted for the sociopath Tom Ripley in the 1999 film "The Talented Mr. Ripley" or been moved to tears by the love of Therese and Carol in Todd Haynes's movie of "Carol," Patricia Highsmith is etched in your DNA.
Highsmith, who lived from 1921 to 1995 wrote more than 50 books (novels and short story collections). Nearly all of her books were made into movies.
Recently, "Loving Highsmith," a fab documentary about Patricia Highsmith has been released. The film, written and directed by Eva Vitija, opens Sept. 2 at the Film Forum in New York and Sept. 9 at Landmark's Nuart Theatre in Los Angeles. "Loving Highsmith" premiered at the Sydney Film Festival and bowed at the Frameline Film Festival in June.
Highsmith, like Tom Ripley and many of her other fictional characters, led a double life. She was a lesbian. But, because of the homophobia of her era, Highsmith had to be closeted about what she called "the ever present subject" of her "homosexuality."
Except in the 5,000 pages of her diaries and notebooks. (1,000 pages of her diaries and notebooks were published in 2021 in "Patricia Highsmith: Her Diaries and Notebooks: 1941-1995.")
Even if Highsmith weren't acclaimed for her mastery of suspense, she would be a queer hero.
In 1952, her novel "The Price of Salt" was published under the pseudonym "Claire Morgan." (It was reissued in 1990 under the title "Carol" and with Highsmith's real name.)
Then, fiction featuring queer characters had to end unhappily: they died or went to jail. "The Price of Salt," a rare exception, became a lesbian cult classic. Its protagonists end up together – alive and not in prison.
"Loving Highsmith" deftly uses writings from her diaries and notebooks as well as interviews with her family and lovers to illuminate not only Highsmith's life and work but queer culture in the 1950s.
The film skillfully interweaves archival clips from interviews with Highsmith and famous film adaptations of her work with stories from her relatives and lovers. Gwendoline Christie ("Game of Thrones") reads excerpts from Highsmith's work.
Too often watching documentaries of talented, deceased icons is deadly. You feel like you're entombed in lifeless talking heads and stagnant images.
You don't have to worry about "Loving Highsmith." Its talk and images make Highsmith's story come alive.
As the film makes clear, Highsmith was quite "loving." She had many lovers – in New York, England, France and Germany. Despite trying to cure herself with analysis, Highsmith sexually liked women. "Sexual intercourse [with men] is to me like steel wool to the face," she says.
Highsmith's mother, by the accounts of Highsmith herself, her family and her lovers, was a horror show. She told Highsmith that she was sorry she hadn't aborted her. When Highsmith was 14, her mother berated her for "making noises" like a "les."
New York had many gay bars in the 1950s, we learn from "Loving Highsmith." But homophobia was so rampant that you wouldn't get off at a subway stop near a bar out of fear that a straight friend, family member, or co-worker would see you going into a queer bar.
There is one problem with "Loving Highsmith." It soft pedals Highsmith's anti-Semitism and racism. It mentions Highsmith's prejudices only once: saying Highsmith in her old age reverted to the bigotry of her grandparents.
Highsmith's bigotry grew more virulent in her old age. But, though she had Jewish friends, Highsmith was anti-Semitic throughout her life.
This doesn't diminish Highsmith's literary achievement or iconic role in queer history. Anti-Semitism and racism were likely common in Texas where Highsmith was born and lived before moving to New York when she was six. "Loving Highsmith" is a thoughtful, informative documentary. It would have been more insightful if more attention had been paid to Highsmith's prejudices.
Even with this caveat, "Loving Highsmith" is a must-see documentary. It will send you racing to read the nearest Highsmith book at hand.
Two new political memoirs reveal how the sausage of democracy is made
Top Dem, GOP spin-meisters weigh in on Trump, Buttigieg, more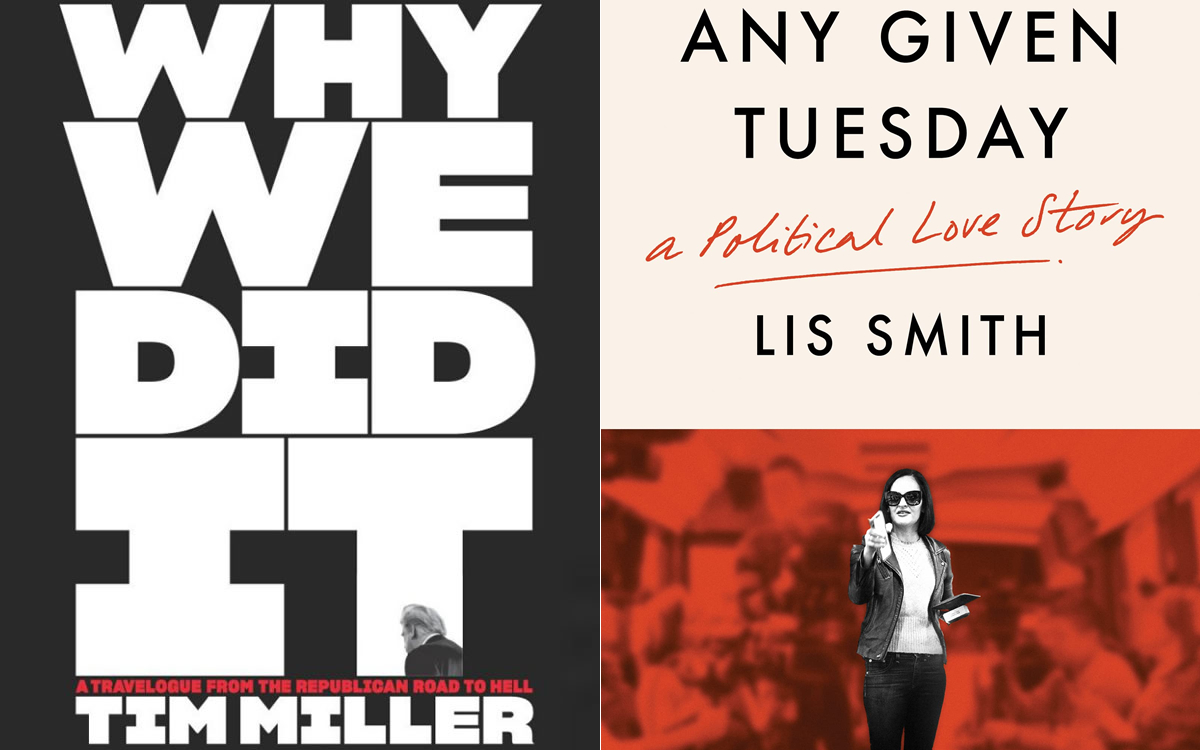 'Why We Did It: A Travelogue from the Republican Road to Hell'
By Tim Miller
c.2022, Harper
$26.99/259 pages
'Any Given Tuesday: A Political Love Story'
By Lis Smith
c.2022, Harper
$22.39/304 pages
The lilies of the field, the Bible tells us, "neither toil nor spin." If only, they had met Tim Miller and Lis Smith!
Miller and Smith, two top-tier spinmeisters have written memoirs. Fasten your seatbelts. These aren't the usual tepid politico's tales.
As you read, you'll laugh out loud one minute. Then gulp down your go-to comfort food or libation while (literally) worrying about the fate of our democracy.
"Next to love, the most sacred thing you can give is your labor," James Carville says to staff and volunteers in the last days of Bill Clinton's 1992 presidential campaign in a real life Aaron Sorkin moment in the 1993 documentary "The War Room."
Miller and Smith both saw "The War Room" when they were kids. Miller would grow up to be a Republican strategist who left the party over Trump. Smith would become a top Democratic political operative. But "The War Room" instilled in both of them a love of the public service and game of politics.
Miller, who lives in Oakland, Calif., with his husband Tyler and their daughter Toulouse, is a former Republican political operative. He was communications director for Jeb Bush's 2016 presidential campaign and spokesman for the Republican National Committee during Mitt Romney's 2012 presidential campaign. Miller left the GOP to become a leader of the "Never Trump" movement. After calling it quits with Trump, Miller worked briefly as a consultant for Scott Pruitt, Environmental Protection Agency administrator during the Trump administration. Now, Miller is an MSNBC analyst, a writer at large with "The Bulwark" and the host of "Not My Party" on Snapchat.
The Republican Party has a history – from Ronald Reagan's abysmal record on AIDS to Donald Trump's transphobic policies – of being anti-queer. You're likely wondering how Miller, as a gay man, could stomach working for the GOP.
In "Why We Did It," Miller puts himself and some of the people who "enabled" Trump under the microscope.
"America never would have gotten into this mess if it weren't for me and my friends," Miller writes, "We were the 'normal' Republicans."
When Trump arrived, they didn't take him seriously. They didn't, "get off on the tears of immigrant children," Miller writes. Nor would they have been caught "dead in one of those gaudy red baseball caps," he adds.
"Why in the fuck," Miller asks, "did the vast, vast majority of seemingly normal, decent people whom I worked with go along with the most abnormal, indecent of men?"
The first half of the memoir is Miller's story of how he "compartmentalized" being a gay man with being an operative for the largely homophobic GOP.
Take when he worked for John McCain's presidential campaign. Though he was gay, Miller told McCain to walk it back after McCain said "gay marriage should be allowed if there's a ceremony kind of thing."
In the second half of the book, Miller examines why people such as Elise Stefanik opted to "take the red pill" and work for "the great MAGA future."
"Why We Did It" is dishy, dark, and soul-churning.
Smith, a top Democratic strategist and veteran of 20 campaigns, has worked for everyone from Claire McCaskill to Barack Obama. She was a senior communications adviser for Pete Buttigieg's presidential campaign.
Thankfully, "Any Given Tuesday" isn't a stuffy political memoir. It's smart, snarky, and gossipy. Smith is James Carville in high heels.
"Any Given Tuesday" is about Smith's life in politics intertwined with stories from her personal life.
Due to sexism, her love life was politicized. Smith became a tabloid target when she fell in love with former New York Gov. Eliot Spitzer. Former New York City Mayor Bill de Blasio, after learning of Smith's relationship with Spitzer, fired her from her job with his administration. (Though she had worked for de Blasio's campaign.)
You wonder if this would have happened if Smith had been a man. But Smith gets many digs at de Blasio. After her firing, de Blasio tried to win Spitzer's political endorsement. "Both of us had tried to get in bed with Eliot," she writes of de Blasio's failure to win Spitzer's backing, "but only one of us had been successful." (Smith and Spitzer no longer have a relationship.)
Unlike Miller, Smith doesn't have to twist herself into a compartmentalized pretzel to do her work. Like Miller, she's hopped up on the "game" of campaigns. Though Smith doesn't agree with everything everyone she works for believes in, she's generally in synch with centrist Democrats.
Among the most interesting chapters of "Any Given Tuesday" are those about her work on Buttigieg's campaign. If you're queer or queer-friendly, even if you don't agree with his politics, you get the historic significance of Buttigieg's campaign.
Smith's account of being on the road with the "Buttibus" and prepping Buttigieg for the candidates' debates is entertaining and informative. It's moving when Smith, a seasoned, snarky hack, comes to believe Buttigieg is "the one" — the candidate who truly would serve this country well.
In "Any Given Tuesday," Smith reveals how the messy sausage of democracy is made. In "Why We Did It," Miller makes even die-hard atheists pray that democracy will last.
The Blade may receive commissions from qualifying purchases made via this post.