First Pride Festival in South LA on July 6th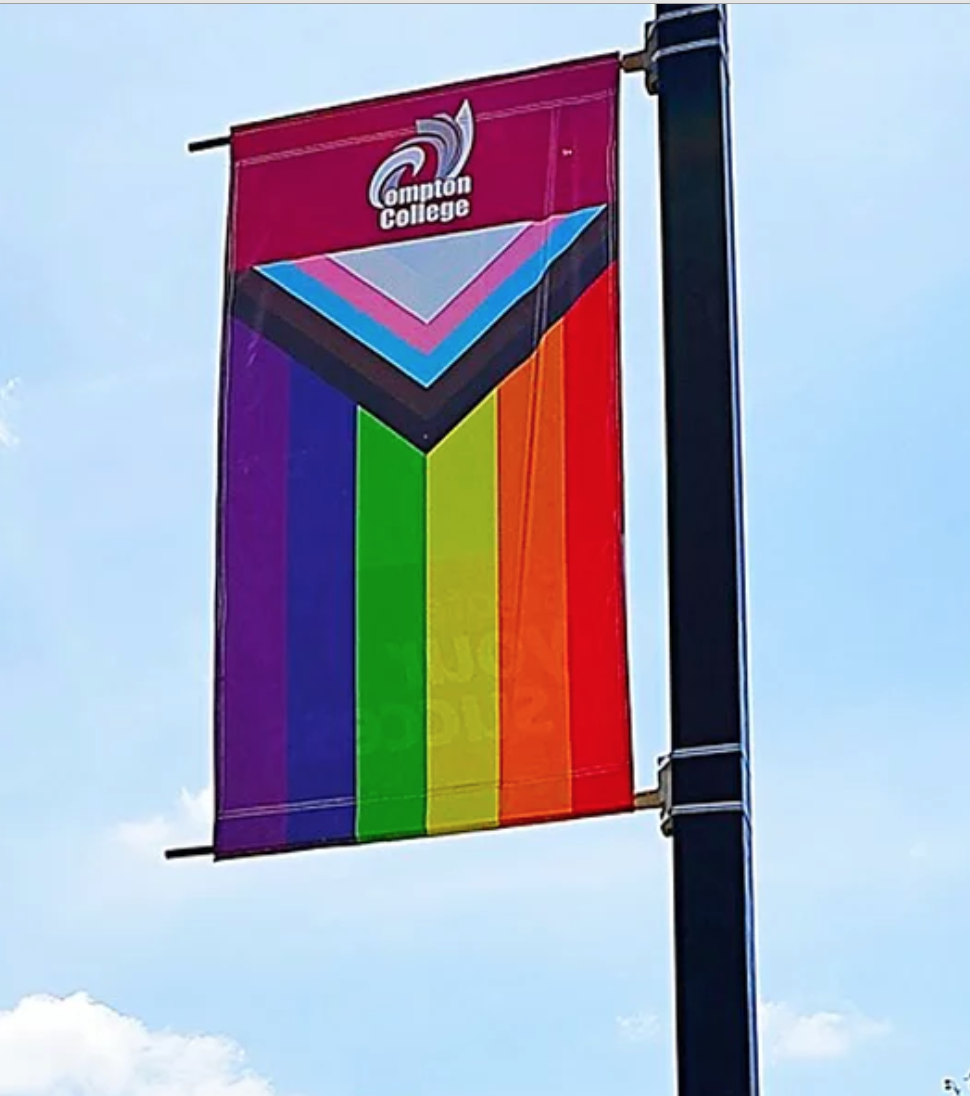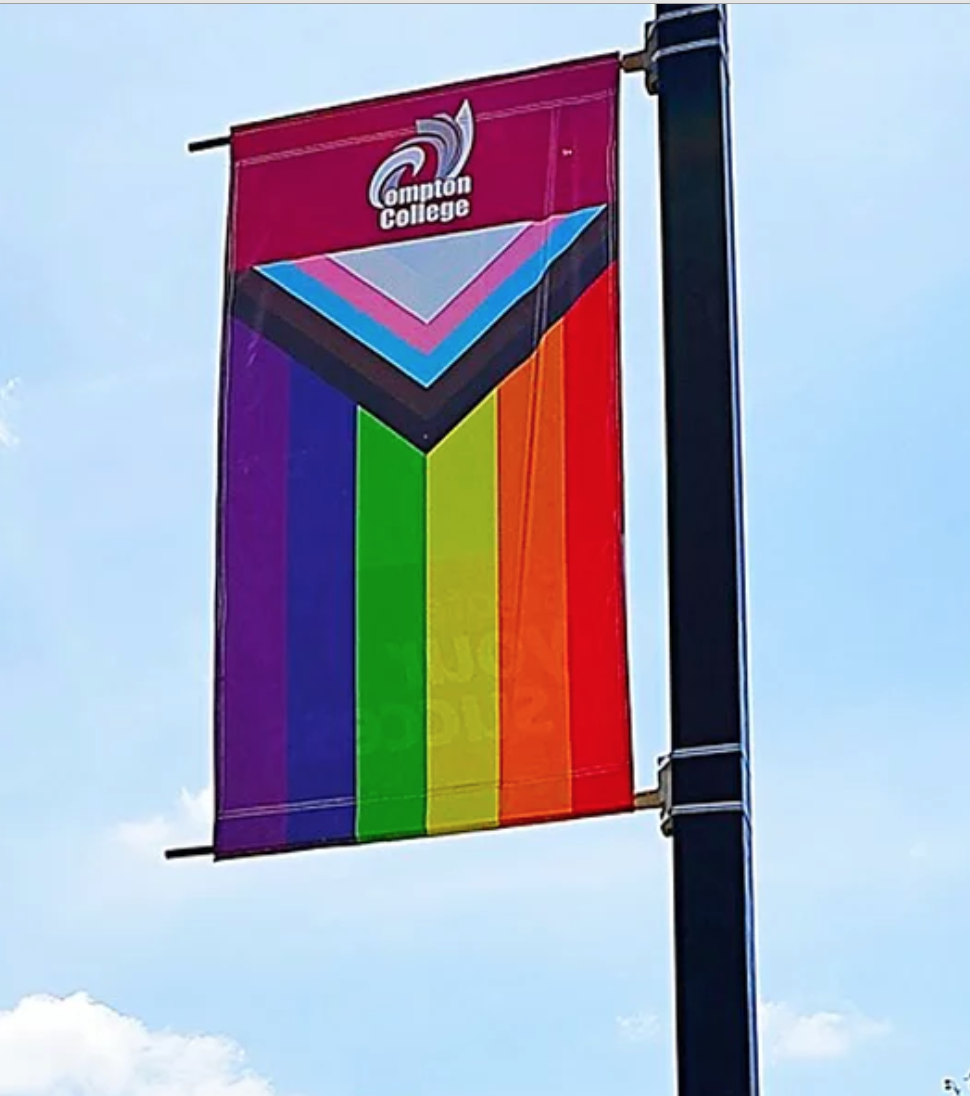 Racism and progressive values are top of mind in this divisive Donald Trump era. Hate crimes have skyrocketed—eleven black trans women have been murdered since the year began. But on June 19, a House Judiciary subcommittee held an historic hearing, during which Ta-Nehisi Coates and Danny Glover testified about the need to create a commission to study slavery reparations.
Meanwhile, Black Democratic presidential candidate Sen. Kamala Harris challenged frontrunner Joe Biden on the former Vice President's record on busing and his pride in working with segregationists to "get things done" in the senate. A Biden ally subsequently said that if Harris had been a senator in the 1970s, she, too, "would have been as ingratiating and collegial with Southern segregationists from her own party as she accuses Biden of being back then."
For many Black LGBTs in Los Angeles, the arguments are both political and deeply personal – and they just need a break to enjoy and flex their own empowerment.
Star View TEAMMATES, a non-profit organization, realized that need for positive community unity, too, and created the first annual Compton PRIDE Festival— the first ever PRIDE festival in south Los Angeles. "Like LGBTQIA youth, Compton is easily underestimated, even marginalized," says their press release.
The Festival will take place on Saturday, July 6th, from noon to 8 p.m. on the Compton College campus at 1111 East Artesia Boulevard. The free event is a safe, accepting space for individuals and families to celebrate the lesbian, gay, bisexual, transgender, queer, questioning, intersex and asexual (LGBTQIA) community.
Organizers say there will be live performers—including DJ T-LA STORM, Bre-Z from the All-American, BRITT-J from American Idol, the Trans Chorus of Los Angeles, TV personality/singer James Wright, singer/songwriter Lunalovebad, and Tommy the Clown. LGBT legend Jewel Thais-Williams, founder of Jewel's Catch One Disco and The Village Health Foundation, is a featured speaker.
"Compton is an area often devoid of resources for the LGBTQIA community, and yet it's an ideal place to highlight and recognize the benefits of diversity," Tina Binda, Administrator of Star View TEAMMATES, a non-profit mental health/social services organization serving youth and their families, said in a press release. "Compton is easily underestimated and even marginalized much like the LGBTQIA community, so we wanted to celebrate gay rights as well as the anniversary of the Stonewall riots 50 years ago."
Compton PRIDE Festival sponsors include L.A. Care Health Plan, the Office of Supervisor Mark-Ridley Thomas, Kaiser Permanente, UCLA Health; SoCal Club, Charles Drew University, Cedars-Sinai; APLA Health; LA Gender Center; Martin Luther King, Jr. Hospital; Pride & Promote, and many others.
For more information (including parking info) about Compton's first PRIDE festival, visit www.comptonpridefestival.com or contact Princess Murray at (310) 868-5379 x112.
Trump gives misogynistic & transphobic rant at young conservative rally
"If I were a coach, I wouldn't be talking to too many women as we know women- I'd be getting some of these people that say they're 'women.'"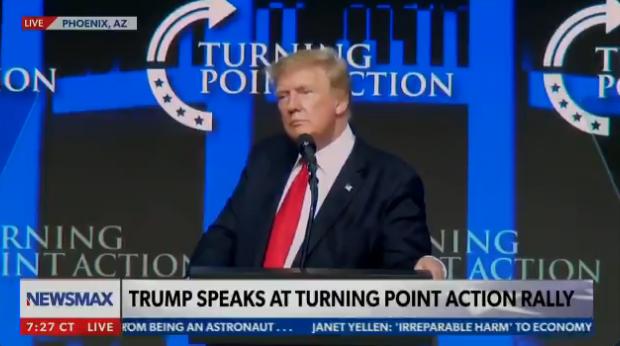 PHOENIX – In a two hour rambling address to an audience of approximately 5,000 plus at the Arizona Federal Theater on Saturday, former President Trump attacked fellow Republicans including his former Vice-President Mike Pence and also bizarrely attacked the U.S Women's Olympic Soccer Team.
He also praised the highly criticised 'audit' of Arizona's 2020 election data suggesting that it and other state audits would return him the presidency.
The U.S Women's Olympic Soccer Team is led by co-captain 35-year-old out lesbian Megan Rapinoe who gained the former president's enmity as an LGBTQ and civil rights activist. Rapinoe was early supporter of Black Lives Matter and earned Trump's disdain she took a knee during the national anthem in 2016 in solidarity with former San Francisco 49ers player Colin Kaepernick.
Her feuding with the former president really ignited in 2019 when a reporter for the soccer magazine Eight by Eight asked Rapinoe if she'd be attending a ceremony at the White House as co-captain of U.S. women's national soccer team, if the team won the World Cup.
Her answer was blunt, "I'm not going to the fucking White House," she said. Trump responded with "Megan should WIN before she TALKS," on his now banned twitter account and afterwards there were further harsh exchanges between the two on the social media platform.
At the rally in Phoenix, dubbed the "Rally to Protect Our Elections," hosted by conservative group Turning Point USA's PAC, Trump took aim at the Women's Team who had suffered a significant rare 3-0 loss to the Swedish Women's Team this past week.
Trump bemoaning the loss encouraged the hyped-up crowd to boo the U.S. Women's soccer team. "Wokeism makes you lose," he said. "The US Women's Soccer team is a very good example of what's going on," he added as some in the crowd started to boo.
"Woke politics takes the life and joy out of everything. Woke-ism makes you lose, ruins your mind and ruins you as a person. You become warped. You become demented​," he said.
"Earlier this week, [the women's team] unexpectedly lost to Sweden, three to nothing, and Americans were happy about it​," Trump told the crowd, who responded by cheering. "You proved that point before I even said it​," Trump added to the audience, shaking his head. 
Trump has been speaking for more than 90 minutes now. He's currently goading his audience into booing the US women's soccer team. pic.twitter.com/yKubKXTuUO

— Aaron Rupar (@atrupar) July 25, 2021
Dan Wetzel, the Yahoo Sports national columnist noted that even as criticism of the team mounted after the loss to Sweden, Rapinoe read and heard plenty of it.
"I know what it is," she said. "I'm on social media. I'm not a hermit."
Yet her reaction to waves of criticism was that it didn't bother her. She sort of liked it, actually- she was heartened by it even, Wetzel wrote adding that "part of that is Rapinoe being Rapinoe; she puts herself out there and has never shied away from a fight. Part of it is that she sees the reaction as an unlikely sign of respect not just for this powerhouse team, but women's sports in general."
"I always welcome the criticism," Rapinoe said Saturday after the U.S. responded by blitzing New Zealand, 6-1, to keep its gold medal hopes in play. "For women's sports, criticism in the media still needs to get better."
Back in Phoenix Trump's tirade also included a bizarre rant where he speculated that the Los Angeles Lakers basketball's team superstar LeBron James might get sex reassignment surgery and transition to being female.
Casting himself in a hypothetical role of a coach on a woman's basketball team Trump in a transphobic way noted he would only recruit transgender athletes. "If I were a coach, I wouldn't be talking to too many women as we know women," he said. "I'd be getting some of these people that say they're 'women,'" he said.
"Somebody said that if LeBron James ever decided to get the operation, how would he be on the court? How would he be?" Trump said. Although James is absent in Olympic play, the U.S. Men's Basketball Team suffered a loss to the French national team 83-76.
"LeBron James, you can have him," Trump continued. "Did you see the basketball ratings that were terrible? They went up after his team was defeated."
Budapest Pride takes place amid Hungary LGBTQ rights crackdown
City's mayor among parade participants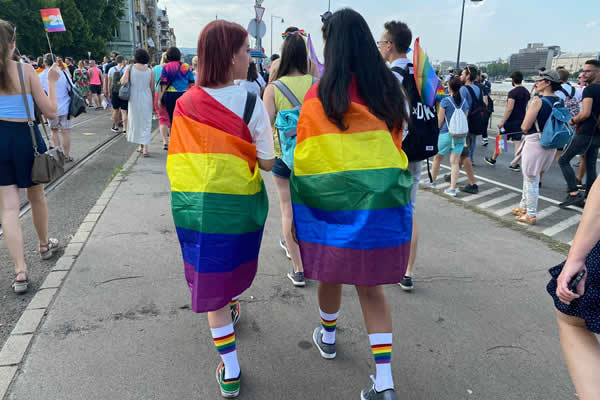 BUDAPEST, Hungary — Thousands of people attended a Pride parade in the Hungarian capital of Budapest on Saturday that took place against the backdrop of the government's ongoing efforts to curtail LGBTQ rights.
Budapest Mayor Gergely Karacsony, who is challenging Prime Minister Viktor Orbán in next year's presidential election, is among those who participated in the Budapest Pride parade. Event organizers said upwards of 30,000 people took part.
"There were a lot of supporters and allies, lots of young people and some older people," one Budapest Pride participant told the Los Angeles Blade.
The participant said someone shouted an anti-gay slur at them and their friends as they walked home while holding a rainbow flag. They said the parade was nevertheless peaceful.
"The mood was more like a protest, solidarity and marching for equal rights than a party," they told the Blade. "I didn't see drag queens and it felt a bit muted, but I'm happy we had such a peaceful and fun Pride."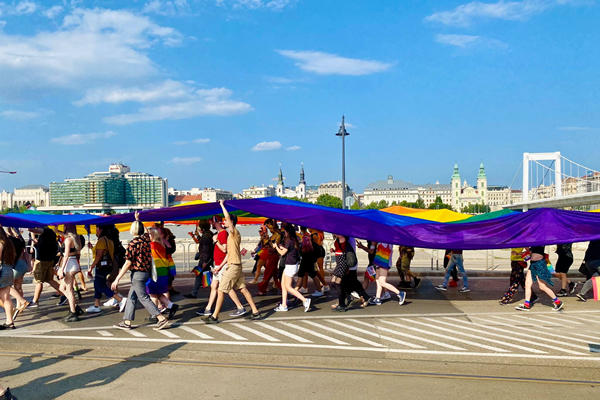 Budapest Pride took place less than a week after Prime Minister Viktor Orbán announced he wants to hold a referendum on a new law that bans the promotion of homosexuality and sex-reassignment surgery to minors in the country.
The law took effect on July 8. The European Commission a week later announced it would take legal action against Hungary.
Hungarian lawmakers late last year amended the country's constitution to define family as "based on marriage and the parent-child relation" with "the mother is a woman, the father a man" and effectively banned same-sex couples from adopting children. The Hungarian Parliament in April 2020 approved a bill that bans transgender and intersex people from legally changing their gender.
Arrest made in a kidnapping in West Hollywood bar & nightclub district
Detectives seek to speak with any additional witnesses or anyone who has had contact with Diaz on the night of the incident or in the past.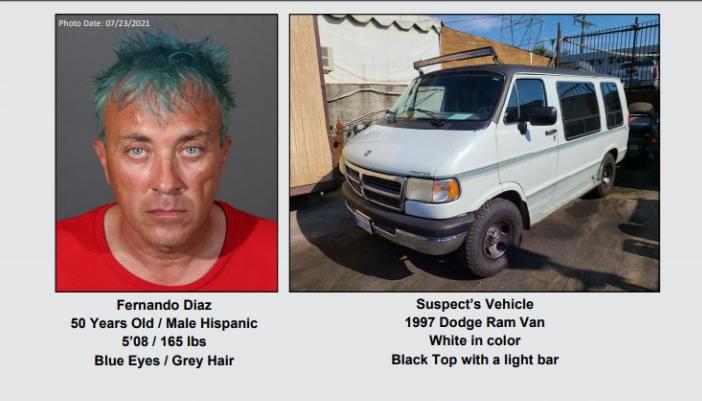 WEST HOLLYWOOD – The Los Angeles County Sheriff's department announced in a tweet that deputies had arrested Fernando Diaz, 50, at 3 a.m. Friday morning after he was seen allegedly carrying an unconscious woman to a van and then driving off. Diaz was released on bond a day later, officials confirmed Sunday.
Diaz's bail amount was set at $100,000 and he was released on Saturday after posting bond, according to the Sheriff's Department's inmate locator.
Detectives seek to speak with any additional witnesses or anyone who has had contact with Diaz on the night of the incident or in the past.
Anyone with information is asked to contact Detective Cynthia Mejia at the West Hollywood Sheriff's Station Detective Bureau by calling 310-358-4028 or [email protected]