Woman in Brazil shoves anti-gay priest off stage in viral video
The clip has received millions of views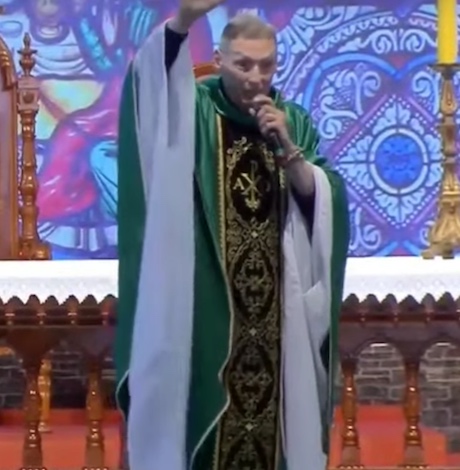 A video of a woman shoving a famous priest off stage in Brazil has gone viral. The video has received more than two million views.
Father Marcelo Rossi was preaching at a youth retreat in front of 50,000 people on Sunday in Cachoeira Paulista, São Paulo when a woman ran on stage and shoved him off the stage.
According to the newspaper O Dia, the unidentified woman was a participant in the retreat and brought her 3-year-old son. She reportedly suffers from mental health problems.
"She said that she wanted to come in to talk to him and that she was scared the moment she saw the security guards running after her. It's her version, but anyone who sees the pictures sees that there is none of it [security guards running after her]. She says she got scared and pushed him at a time when she kind of freaked out, lost control, but she had no intention [of hurting him], she just wanted to talk to him," O Dia reports.
Father Rossi is a well known religious figure in Brazil and is open about his anti-gay sentiments. In 1998 he stated, "A lot of ideas will change the day homosexuality is proven to be an illness." In an interview in 2014 Father Rossi commented that "Sex between man causes pain, if something causes pain, it can't be a good thing." He is also opposed to same-sex marriage.
According to reports, Father Rossi was not badly hurt and will not press charges against the woman.
Vienna Ávila, la abogada transfeminista de Honduras que revoluciona Libre
Fue candidata a diputada en las elecciones del 2017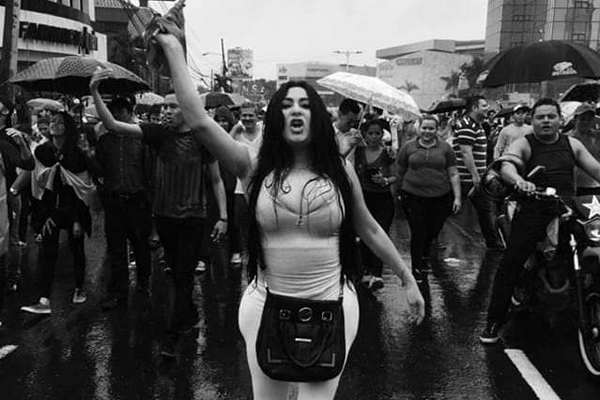 Reportar sin Miedo es el socio mediático del Los Angeles Blade en Honduras. Esta nota salió en su sitio web el 7 de julio.
TEGUCIGALPA, Honduras — Como una oportunidad de reivindicar y dar visibilidad a la mujer: así considera su elección como secretaria de la Diversidad Sexual por el movimiento Fuerza de Refundación Popular (FRP) del partido Libertad y Refundación (Libre) la activista trans y abogada Vienna Ávila.
El coordinador nacional de Libre y expresidente de Honduras, Manuel Zelaya Rosales, se reunió en Tegucigalpa con el coordinador de campaña del FRP, Juan Barahona, y destacadxs aspirantes políticxs y representantes de la diversidad sexual.
Durante el encuentro, los líderes y lideresas de Libre decidieron darle el puesto a la directora de la Asociación Feminista Trans (AFET), de 36 años, quien fue juramentada el 28 de junio.
De ese modo, Libre reconoce la amplia trayectoria de Ávila, quien el año pasado recibió amenazas contra su integridad física debido a su trabajo en defensa de las poblaciones de la diversidad sexual hondureña, y especialmente de los grupos LGBTIQ+ de la ciudad de San Pedro Sula, en la costa norte del país.
La líder de AFET toma el puesto en el principal partido de oposición en Honduras después de una larga carrera al frente de las luchas reivindicativas de la diversidad sexual hondureña.
Su labor en favor de los derechos LGBTIQ+ del país ha puesto y sigue poniendo su vida en peligro. Sin embargo, las amenazas no la hacen echarse para atrás en su objetivo de dar voz a las poblaciones que orgullosamente representa.
Un puesto que da más visibilidad LGBTIQ+
Con su importante nombramiento en Libre, Vienna Ávila consolida aún más su imagen pública, la cual impulsó en 2017 al obtener la candidatura a una diputación por la corriente Fuerza y Esperanza. Además, el protagonismo de la abogada Ávila en Libre aumenta la representación de las poblaciones LGBTIQ+ en las instituciones políticas de oposición.
En su cargo como secretaria de la Diversidad Sexual, Ávila, nacida en San Nicolás, Santa Bárbara, en el occidente hondureño, será la responsable de hacer cumplir los estatutos de Libre.
En especial, Ávila se encargará de promover el respeto y la aplicación de la política de género del destacado instituto político hondureño liderado, entre otros, por el expresidente Zelaya, quien fuera derrocado en el golpe de Estado de 2009 que instauró el gobierno de facto del dueño de autobuses Roberto Micheletti.
La abogada Vienna Ávila es miembra de uno de los partidos hondureños más inclusivos. Los estatutos de Libre no solamente abarcan objetivos como refundar Honduras, sino también "garantizar la equidad e igualdad de género; así como el respeto a la diversidad sexual, desarraigando la cultura patriarcal en todos los ámbitos de la sociedad".
En su artículo 101, los estatutos de Libertad y Refundación señalan que las atribuciones de la Secretaría de la Diversidad Sexual, encabezada desde el mes pasado por Vienna Ávila, consisten en "elaborar y ejecutar la estrategia de defensa de los derechos de la diversidad sexual".
Con su liderazgo en Libre, la directora de AFET amplía su compromiso con las poblaciones LGBTIQ+ en Honduras, las cuales siguen siendo invisibilizadas en un país dominado por el tradicional machismo, el odio, la persecución y la discriminación.
Libre permite que se le unan ciudadanos y ciudadanas de sectores tradicionalmente olvidados y maltratados por las políticas del bipartidismo hondureño, incluyendo a lxs miembrxs de la diversidad sexual. En las filas del partido hay maestrxs, obrerxs, campesinxs, pueblos originarios y afrodescendientes y otras poblaciones no beneficiadas por los gobiernos tradicionales.
"Total respaldo del coordinador general a que la secretaría quede bien nombrada", escribió Ana Armijo en Facebook. "La pelota está en la cancha de la coordinación FRP y esperamos que sea respetuosa de la diversidad sexual".
Una mujer trans revoluciona Libre
El nombramiento de la abogada Vienna Ávila vuelve a poner al frente de esa secretaría de la FRP a una miembra de las poblaciones LGBTIQ+.
Para Ávila, era necesario que una mujer trans ocupara este cargo en Libre. "Somos invisibilizadas y necesitamos este tipo de apoyo, más cuando la primera persona que ocupó este cargo fue una persona trans. Necesitamos estos espacios", dijo la nueva secretaria de la Diversidad Sexual. El puesto había sido ocupado antes por personas LGBTIQ+ como Erick Martínez y Claudia Spellman.
En su trabajo al frente de la Secretaría de Diversidad Sexual de Libre, Vienna Ávila busca cuidar, "según los estatutos, los derechos de las personas LGTBI+, presentar el plan de trabajo para las personas trans", velando por "la inclusión y participación segura dentro de los partidos políticos".
La intención de la abogada es hacer que Libre sea un partido "totalmente inclusivo".
La política en un país violento
Un motivo de "temor" es también, para Ávila, el nuevo puesto en Libre debido a la "visibilidad de las personas trans lideresas y defensoras de derechos humanos por el riesgo que corren porque no hay protección a la participación política LGTB por parte del Estado".
Y es un temor justificado, si tomamos en cuenta que Honduras es un país donde ser LGBTIQ+ es un riesgo constante. El peligro aumenta cuando se trata de mujeres trans y es aún mayor cuando son mujeres trans visibles como Ávila.
Al menos 119 mujeres trans han sido asesinadas en Honduras desde 2009, año del golpe de Estado que depuso al entonces presidente hondureño y hoy coordinador nacional de Libre, Manuel Zelaya.
De hecho, un exsecretario de la Diversidad Sexual de Libre, Erick Martínez, fue asesinado en 2012 en Tegucigalpa. El periodista, defensor de los derechos humanos y candidato a diputado fue hallado muerto en la carretera a Olancho.
Las muertes violentas de mujeres trans son un problema que preocupa a la abogada Vienna Ávila. En el mes de mayo dos personas fueron asesinadas, una en La Lima y otra en Tegucigalpa. Hasta la fecha 388 personas LGBTI han muerto de forma violenta según registra el Observatorio de la Red Lésbica Cattrachas.
"A las personas trans las asesinan por el odio a la identidad de género", dice Ávila. "La mora judicial existe bastante para este sector vulnerado".
La nueva secretaria de la Diversidad Sexual de Libre lamenta que el Estado hondureño siga en deuda con las personas LGBTIQ+. Esa preocupación empuja "a la migración y el desplazamiento forzado de todas nuestras compañeras", agrega.
More Americans personally know someone who's transgender, non-binary
Half of Americans say they would be either very or somewhat comfortable using a gender-neutral pronoun to refer to someone if asked to do so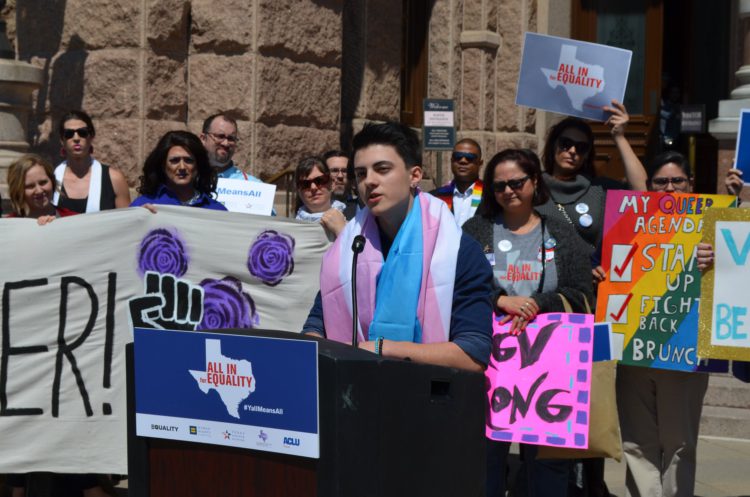 WASHINGTON – More Americans personally know a transgender person or someone who goes by gender-neutral pronouns, according to new data from the non-partisan Pew Research Center.
A survey found 42 percent of Americans know someone who's transgender, who is up from 37 percent who said so in 2017. Although most Americans, 57 percent, still say they don't know anyone who's transgender, that's down from 63 percent five years ago.
Similarly, 26 percent of Americans say they know someone who uses non-binary gender pronouns compared to the 18 percent in 2018 who said they knew someone uses pronouns such as "they" as opposed to "he" or "she."
At the same time, comfort levels with using gender-neutral pronouns – as well as their opinions on whether someone's gender can differ from the sex they were assigned at birth – has remained about the same. Half of Americans say they would be either very or somewhat comfortable using a gender-neutral pronoun to refer to someone if asked to do so, compared to 48 percent who say they would not be comfortable. The numbers, according to Pew Research, are basically unchanged since 2018.
The survey found profound differences by age, party, and education in knowing a transgender person or someone who goes by gender-neutral pronouns, although in both parties growing shares of Americans report knowing a person who's transgender.
For Americans under age 30, some 53 percent say they know a transgender person, which is up from 44 percent in 2017. In the same age group, 46 percent of younger U.S. adults know someone who goes by gender-neutral pronouns, compared to 32 percent in 2018.
The Pew Research Center conducted the survey of 10,606 U.S. adults between June 14 and June 17. The survey is weighted to reflect the U.S. adult population in terms of gender, race, ethnicity, partisan affiliation, education, and other categories, according to Pew Research.
Gay Nigerian priest makes religion serve LGBTQ people
Rev. Jide Macaulay founded House of Rainbow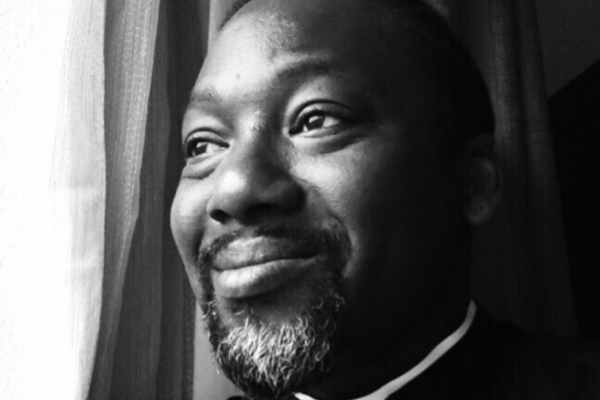 LONDON — It is impossible to speak of queer identity and culture without acknowledging the important role religion has played in shaping it throughout history. Whether it's Pope Francis praising the work an American priest has done to affirm LGBTQ identity, or a Republican legislator rebuking the existence of transgender people by invoking scripture from the Bible, religion and spirituality unquestionably influence conversations about sexual identity in the U.S. and how American society would like for people to manifest their sexuality. 
A significant portion of LGBTQ people in the U.S. are religious.
A study the UCLA School of Law's Williams Institute conducted in 2020 found that 5.3 million LGBTQ adults are religious with almost half of this metric identifying as "highly religious." Forty percent of those between ages 18 and 35 are religious, and 65 percent percent of those over 65 identify as religious as well. In addition, 71 percent of Black LGBTQ adults in the U.S. are religious.
The Washington Blade recently spoke with Rev. Jide Macaulay, founder and CEO of the London-based House of Rainbow CIC, to talk about his work as a gay Black African Christian priest.
Macaulay was born in London and grew up in Ikeja, the boisterous capital of Nigeria's Lagos State. He was born into a religious family to parents who he described to the Blade during a 2017 interview as "very dedicated Christians." His father was one of Nigeria's leading theologians, so Macaulay's upbringing was naturally Christian-centric, with him being involved in the church from a young age.
As a budding adult, Macaulay pursued theology as a profession and became an ordained minister in 1998 after training with his father. After a two-year hiatus from the church, he joined the Metropolitan Community Church in London to study theology and later joined its congregation as a minister in 2003. Macaulay says it was there that he became confident in his understanding that "God loves gay people regardless of all these messages of it being a taboo or abomination."
Sheathed with this conviction, Macaulay moved back to Nigeria to create an environment that mimics that which he had experienced at the Metropolitan Community Church.
"It became important to me to go to Nigeria to create the same space and tell LGBTQ people that 'God loves you just the way you are,'" says Macaulay. "I embodied a lot of the spirit of the human rights church that came out of the origin of the Metropolitan Community Church."
Macaulay started House of Rainbow under this ideology on Sept. 2, 2006. This weekly gathering of LGBTQ Christians initially began with 34 congregants, but the congregation grew rapidly to a point where Macaulay "didn't know what to do with all the people." He says the growth "perplexed" him as he didn't realize that House of Rainbow was so popular.
House of Rainbow encountered problems that emanated from operating in a country with virulent homophobic laws, despite its popularity. Many congregants were physically attacked for identifying as queer, and Macaulay recalls individuals emerging to church with broken noses and arms. The media also caught wind of House of Rainbow's weekly gatherings and chaos ensued.
The culmination of these events forced Macaulay to leave Nigeria after two years. House of Rainbow remained steadfast with its mission to create a community for LGBTQ Christians and soldiered on for a couple of more years before it eventually dissolved.
"It's unfortunate, now, that as I speak to you we do not have a House of Rainbow community in Nigeria," says Macaulay. "We still have people connected [to the community], but we don't have a physical presence or anyone leading it."
House of Rainbow's reach has nevertheless now become global, with communities established in 22 countries. The majority of them are in Africa.
'Homosexuality is not a sin; it is who we are'
The crux of Macaulay's ideology centers on inclusion and acceptance. He creates a space at House of Rainbow where LGBTQ individuals can not only gather in community, but can also feel seen and recognized as meaningful members and contributors to Christianity
"The important thing [that people need to understand] is that as a minister of the gospel of Christ, I want every LGBTQ person to make [it to] heaven," says Macaulay. "I want them to be on a path towards salvation and redemption."
"This whole language that if you are gay, you are destined for hell and eternal damnation is so wrong. That is even abusive in itself," adds Macaulay.
He further invokes a popular scripture that loosely states, "For all have sinned and fallen short of the glory of God."
This scripture is a part of what homophobic Christians use to denounce queerness. Macaulay, nevertheless emphasizes that there is a lack of complete understanding of what the scripture truly communicates.
"[The scripture] didn't say that anyone is going to hell. It said that we have all sinned and fallen short of the glory of God," says Macaulay. "Having said that, it is important to understand that homosexuality is not a sin; it is who we are."
Macaulay's work is therefore enmeshed in the need to fight for social justice causes. He aims to use the church as a platform to bring awareness to and fight for all iterations of LGBTQ rights. Whether it be racism, sexism, or classism, Macaulay aims to "be like Jesus" and emulate his unwavering passion to uplift those at the bottom of society's hierarchy.
"It's inconceivable to think that any religious space wouldn't be a platform for social justice. Jesus Christ was about social justice," says Macaulay. "Even the Civil Rights Movement in America had the church fighting injustices relating to racism."
Macaulay stresses that the church needs to "do what is right" and stand up for the rights of LGBTQ people.
"In the Bible in Micah 6:18, it says, 'What does the Lord require of you but to do justice? To love kindness and work in humility with your God," says Macaulay. "Therefore, Christian leaders need to have a strong understanding of justice."
When reflecting on the current state of religion, its diversion from and/or weak approach towards social justice, and also its complicity in oppressing minority groups, Macaulay says, "Jesus Christ would definitely be mad."
Can you be a gay African and Christian?
Prior to being colonized by European countries, many African cultures had relaxed attitudes towards sexuality and gender. The Shona in Zimbabwe, Pangwe in Cameroon, Igbo in Nigeria and other African tribes all permitted queer existence without any negative repercussions.
The expansion of European global influence brought with it homophobic laws, which were largely enacted under the pretense of "Christian values," that forced African countries to institutionalize queerphobia, which has now become an undeniable legacy of colonialism on the continent.
That colonialism introduced African populations to Christianity is not an uncommon sentiment among queer Africans and Africans in general. Hence, it is not uncommon to find LGBTQ Africans who denounce Christianity not only because of its association with the racism that fueled European occupation of the continent, but also its functioning as a tool that erased what many of them nostalgically view as a queer-affirming past tainted by the arrival of the white man.
Macaulay both believes and shuns this. He acknowledges that colonialism did participate in the erasure of queer acceptance in African cultures, however, the concept of Christianity being "unAfrican" is fallacious.
He asserts that African and Black African Christians existed before colonialism, and thus, the notion that Christianity is the "white man's religion" is a false notion.
"Christianity was present in pre-colonial Africa," says Macaulay. "In the Bible there are numerous references to Africa, including Egypt and Ethiopia where important biblical events happened, [for example], the story of the Israelites leaving Egypt in search of the promised land."
Macaulay, because of this, spotlights the need for religion to be decolonized.
By reframing how Christians conceive of religion, from unlearning the notion that Jesus is white to acknowledging the existence of Black people in the Bible, one can have a more wholesome and truthful interaction with Christianity.
Also, this will allow for queer African Christians to exist in their queer communities comfortably as Macaulay states that there's a need for them to occupy space in the community as proudly religious people without bearing the shame that is cast on them by what seems to be an agnostic-leaning landscape.
Lil Nas X and 'going to hell'
Lil Nas X on March 26 released a single titled "Call Me By Your Name" which garnered massive attention for both its musical mastery through a catchy hook and its depiction of Black queerness. The accompanying video further dramatized the story by drawing from Christian visual imagery of heaven and hell, and God and the Devil.
The song's video features scenes of Lil Nas X in sensual form, including him giving a caricature of Satan a lap dance. This particularly angered many religious groups, including Christian allies of the LGBTQ community who USA Today reported criticized the video for "going too far to prove a point.'"
Macaulay is a fan of Lil Nas X, who he dubs as his "favorite artist of all time right now, after Michael Jackson," and for him, Lil Nas X's discography extends beyond simple displays of queer identity.
Macaulay has one thought at the forefront of his mind when he looks at "Call Me By Your Name": The concept of hell is abusive and a form of scaremongering.
"The concept of hell is propaganda. It is almost fictional," says Macaulay. "The idea that if you do something wrong you will go to hell, is wrong in and of itself. Homosexuality was never wrong. Homophobia is wrong."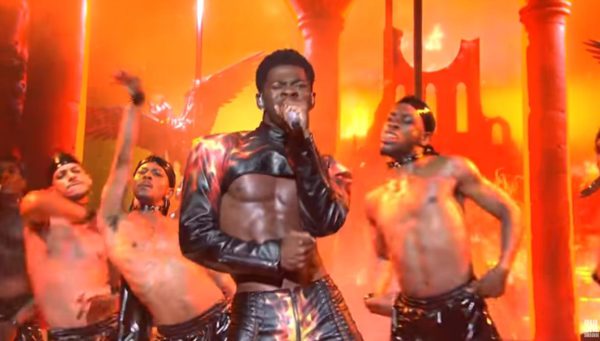 He further underlines that God made gay people, and supports this with a scripture from the book of Philippians which loosely points to God's omnipotent knowledge before, during, and after one's life on earth.
Macaulay says that people should listen to Lil Nas X's pain, and not rebuke him, because he speaks for millions of gay people.
"The reality is that when you tell people that they are going to hell, you are excommunicating them from living their own lives appropriately," says Macaulay.
Macaulay nonetheless has a deep admiration for today's younger generations, especially because they refuse to align themselves with the bigotry that ravages societal discourse about identity.
"I'm really glad for the young people that have stepped out. They are fighting back. They are the warriors and heroes saying, 'Enough is enough. I'm proud, queer and African,'" says Macaulay. "I think that the sad reality for the Christian community is that they're missing out on the gift and talents of the queer community [by being exclusive]."
Macaulay and House of Rainbow have created "GAYMoment," a weekly online service that centers queer worship. Each Sunday, queer people from around the world gather online for prayer, sermon, and testimonies, all provided by queer people.
Macaulay champions sex positivity
Discussing sex and sexual identity is a topic from which Macaulay does not shy away. In fact, it is one that although he is a religious leader, he also approaches as a person of faith.
Macaulay, who lives with HIV, is a proponent of sex positivity.
"I think it's important for every adult human being to experience a sexual relationship that is appropriate, suitable, and consensual," says Macaulay. "It is important that everyone in their lifetime engages positively with sex, particularly adults. I don't recommend it for minors though."
Macaulay is also a vocal advocate for having honest and open conversations about sex and sexuality. He gives credence to the fact that society needs to address the lack of comprehensive sex education.
"Countries that have [addressed sex education] are doing better. They have less cases of STIs and teenage pregnancies," says Macaulay. "Also, students get more opportunities to know more about various sexulities."
Sex education should be age-appropriate and geared towards protecting children, minors, and vulnerable adults, says Macaulay. He believes that children should know about their bodies and be armed with the confidence to talk to adults when their boundaries are violated.
Thus, by keeping advocacy as the focal point, Macaulay, who is affectionately known as "Mama Jide" functions in a quintessential role in the queer community, one similar to that of house mothers in ballroom culture who outstretch themselves to the limits to ensure that their children not only have their basic needs, but also reach a point of complete self-actualization and realization of their purpose in life.