Lisa Vanderpump delivers Project Angel Food's 12 millionth meal to Bill LaVallee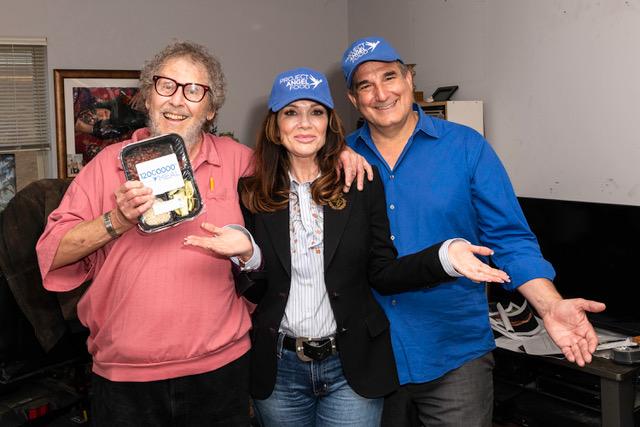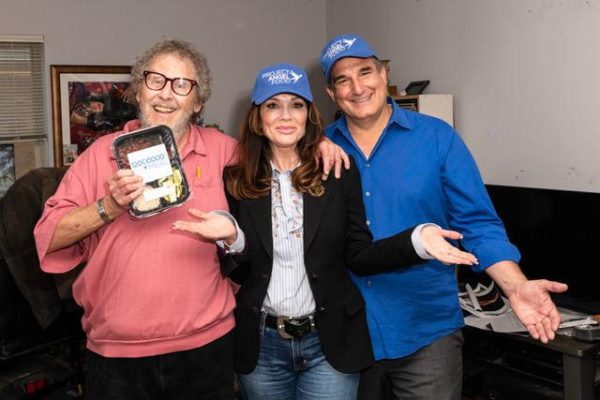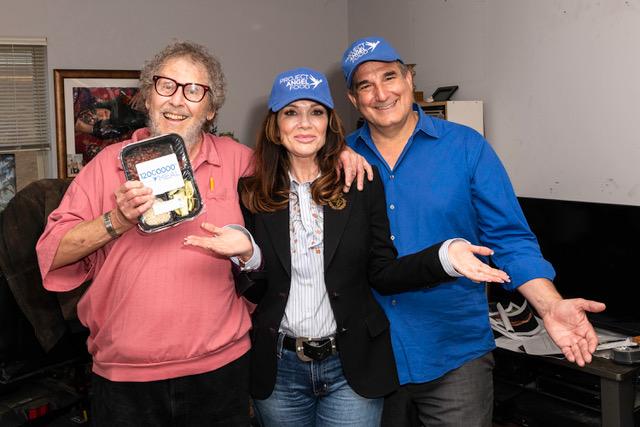 As the world churned on Thursday, aghast at Donald Trump's dangerous incitement of racism directed toward a Muslim congresswoman from Minnesota, a small bright miracle happened in Hollywood that attests to the beam of goodness in the heart of humanity.
Bill LaVallee, a hero to many in the Los Angeles 12 Step recovery community, opened the door of his one bedroom apartment in Los Angeles LGBT Center-run Triangle Square Apartment complex to find Reality TV executive producer/star and philanthropist Lisa Vanderpump standing there with his dinner, the 12,000,000 meal made and delivered by Project Angel Food since its inception in 1989. He had voted for her on "Dancing with the Stars."
The moment was incredibly special. Both Vanderpump and LaValle had volunteered for Project Angel Food during the height of the AIDS crisis in 1989 when both were struggling actors. "Today, Angel Food generously delivers to the ill, the crippled and the aged like me at 82," LaVallee, who has psoriatic arthritis, wrote on his Facebook page.
It had already been an eventful morning. Project Angel Food's headquarters was packed with media covering the historic event – and the opportunity to snag an interview with the 58-year-old Bravo pop icon who had quit The Real Housewives of Beverly Hills after 9 seasons, the last filled with mean-girl animus toward the star.
"There's been a lot of negativity from the fans and I want that to stop," Vanderpump told Us Weekly. "I do. Because it's amazing to have their support, but you don't need to go down a negative path. It's been a very difficult year for me. I've only been back a couple days after losing my mother. I just want to focus on the greater good."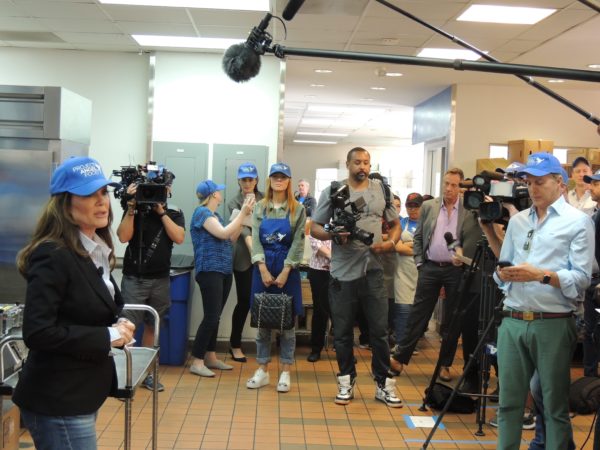 Lisa Vanderpump talks to the media (Photo by Austin Mendoza)
"I have no regrets in leaving the series," the executive producer and star of Vanderpump Rules told the media. "It allows me to focus on things that really matter, like being here for Project Angel Food on such an important day."
In fact Vanderpump had flown back from London after burying her mother Jean (one year after the suicide of her brother Mark) specifically because she made a commitment to Project Angel Food Executive Director Richard Ayoub to dedicate and serve the non-profit's 12 millionth meal and she wanted to keep her commitment.
"I first became involved with Project Angel Food in late 1989, so when Richard called and asked me to deliver the 12-millionth meal, I was so honored and humbled, really," she said, tearing up. "There is nowhere I would rather be than here.  It is important that we do what we can to give back to the community."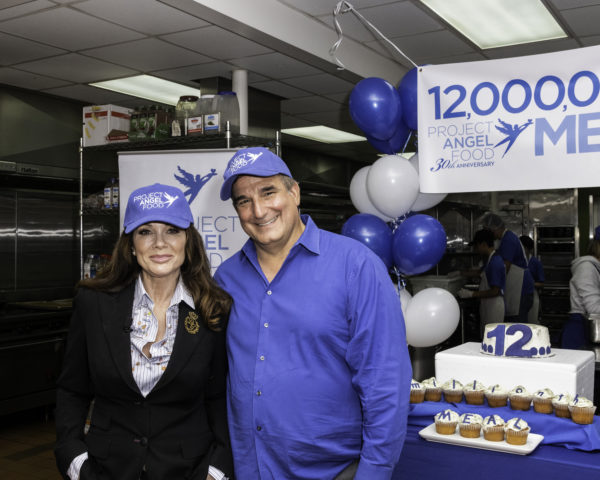 Lisa Vanderpump and Richard Ayoub (Photo by Charlie Steffens) 
"This is a very special day for us, because what would Los Angeles be like without Project Angel Food? What would it be like if thousands of people in LA didn't care about their suffering neighbors?" Ayoub asked. "It's really amazing that we don't need to think about that because Project Angel Food has a halo of love."
Project Angel Food was co-founded by motivational speaker Marianne Williamson (now a 2020 presidential candidate) and grief expert David Kessler in 1989 in response to the devastating second wave of AIDS in Los Angeles County. The non-profit subsequently expanded its mission to serve those battling HIV/AIDS, cancer, kidney failure, lung disease, diabetes, heart disease and other debilitating and life-threatening illnesses with daily "medically tailored" nutritious meals delivered to 1,400 men, women and children (their youngest client is 16 years old) prepared by 50 full-time staff and over 4,700 volunteers.
Project Angel Food also serves as a lifeline, as 97% of their clients are living at or below the poverty level while combatting their medical conditions. "Approximately 97% of Project Angel Food clients are living at or below the poverty level, and Project Angel Food is their lifeline, filling a vital need in all communities. The client demographics are testimony to this: 37% Latino, 29% African-American, 22% Caucasian, 6% Asian/Pacific Islander, 1% Native American and 5% Multicultural," said Brad Bessey, who helped produce the event.
"This is such a great gift that we have to share it with all of Los Angeles," said Ayoub, "for us to hit this milestone of twelve million meals is phenomenal. They're delivered with love."
"It's not about me. I'm happy to draw attention to it, but it's about the unsung heroes here – the people who work here constantly every day, the chef that's been here 25 years," Vanderpump told the Los Angeles Blade.
Project Angel Food was selected as Nonprofit of the Year by California State Senator Ben Allen, in addition to being voted "Best Nonprofit" by Los Angeles Blade readers. The organization was also given the Rainbow Key Award in June by the City of West Hollywood.
Vanderpump and Ayoub both encouraged the LGBT community to volunteer and get involved. "It's just about being a compassionate person. I'm not saying you have to donate your whole life to being philanthropic, but certainly everybody can do something. I think that's the message here today," said Vanderpump.
The 12-millionth meal was taped for an episode of Bravo's Vanderpump Rules. But as sometimes happens in life, as well as Reality TV, there are mishaps. In this case, an amusing mishap.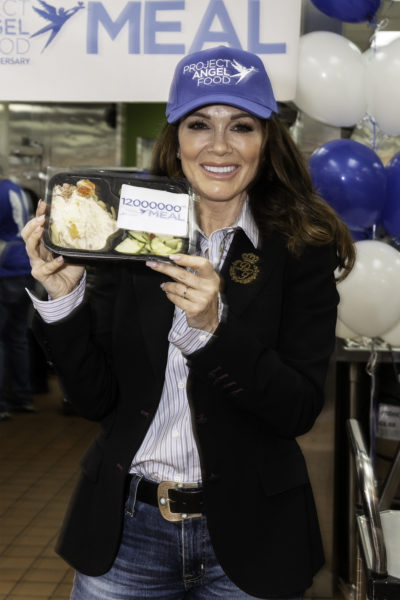 Project Angel Food's 12-millionth meal was Chicken Milano with Fettuccine.  However, LaValle is a vegetarian. Luckily, the error was discovered in time and the meal and the 12 millionth meal label were switched before Vanderpump and Ayoub delivered it in person to LaVallee in his Triangle Square apartment in Hollywood. They laughed and shared memories. LaVallee told Vanderpump that he had been an actor in Hollywood in the 1960's and had kissed Elizabeth Taylor.
Vanderpump autographed the Project Angel Food label for him.
Later, LaVallee posted this story about the visit to his Facebook page—how Project Angel Food changed his life.
"Long, long story: I just was delivered the 12,000,000 meal of Angel Food by the beautiful Lisa Vanderpump, a surprise and great honor, not only because of my long history with Angel Food,, having delivered it to people with HIV and/or AIDS way long ago. Today, Angel Food generously delivers to the ill, the crippled and the aged like me at 82,

Decades before on one fateful day, when starting my deliveries, I was shocked to discover that a deep, great love of mine from the 1970′ s was on the list of sick men and women who had AIDS and received meals.. I asked the wonderful actress in charge of the food deliveries, Freddie Weber, if my buddy, Michael Snyder and I could add his name to our list and deliver meals to him. She agreed and it brought about a great and welcomed change in my life.

On that first visit, when he opened the front door that incredible day, I stood trembling not knowing what would happen. In great surprise to see me, his eyes widened and his jaw nearly dropped to the floor. As we both dissolved in tears, he grabbed me in a big bear hug, almost crushing me against his once gigantic muscular 6'3" frame, which by then was almost skeletal. As the three of us visited through the afternoon I tearfully accepted his amends to me and I made an amends to him.

Then, Michael and I delivered meals to him for the rest of his life.
All of the bitterness/sadness/anger over the past melted away into a deep, ever-lasting love which grew every day that we arrived at his house..

When he died, in 1990, my daughter Shawn and I went to the church for his gigantically attended memorial service.. Shawn had worked for him as his stage manager the period after he and I had separated.

We arrived at the steps of the church at the same moment his wife did, and the crowds on the grounds of the church lawn had parted as if Moses had just made a path through the crowds — for her and me.

As we all reached the steps of the church we stopped dead, she said something like "It's kind of silly to be angry at this point, isn't it?" I nodded my head, she put her arm through mine and led me and my daughter through the entire crowd of theatrical personalities who had come to the service. We reached and sat with her and his children in the front pew of church for the entire beautiful service for him.

Today, I was delivered the 12,000,000 meal of the delicious Angel Food meals. They knew this story and I was honored with this meal. A circle of life has been completed once again… blv"
If you would like to get involved with Project Angel Food, visit www.angelfood.org for more information. — Austin Mendoza contributed to this story.
Local, national events to mark 35th annual World AIDS Day
HIV disproportionately affects certain populations. Men who have sex with men accounted for 70% of 32,100 estimated new HIV infections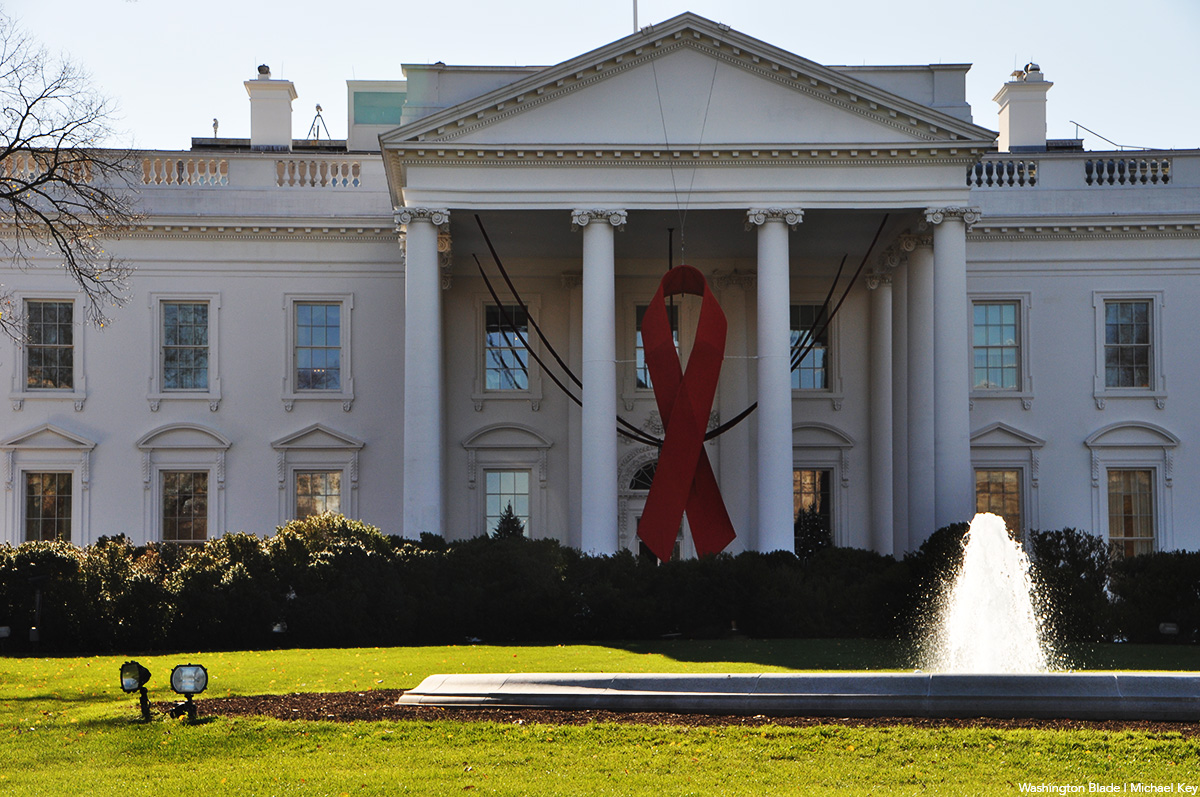 WASHINGTON – UNAIDS dubbed this year's World AIDS Day theme as "Let Communities Lead." This is how conversations around HIV and AIDS should be structured, Duante' Brown said, who manages two programs at NMAC — a nonprofit dedicated to working to end the AIDS epidemic. People living with HIV need to be considered the subject matter experts, he said. 
"Bringing those people into the room, showing them that they have a voice and that there's not just this group of people who are making a decision for them … is definitely the way that you go about this."
Brown manages the ESCALATE program at NMAC, which aims to empower people to address HIV stigma, and the ELEVATE program, which is a training program for people with HIV to be more involved in the planning and delivery of the Ryan White HIV/AIDS Program, which is the largest federal program designed specifically for people with HIV.
In the United States, it's estimated 1.2 million people are living with HIV, according to HIV.gov. About 13% are unaware they have HIV.
HIV also continues to disproportionately affect certain populations. Men who have sex with men accounted for 70% of the 32,100 estimated new HIV infections in 2021. And Black individuals accounted for 40% of the new infections that year, while only comprising 12% of the population of the United States, according to the CDC.
In 2023, stigma is a key inhibitor to ending the epidemic, Brown said. When stigma gets out of the way, there could be a day when there are no new cases of HIV transmissions, he said. To get around that stigma, people need to have meaningful and productive conversations about AIDS.
"Not treating it as taboo, making sure that we are empowering people living with HIV and AIDS to tell their stories and to be empowered to feel that it's OK," Brown said. "And that nothing is wrong with you."
And there are events in the locally and nationally to recognize World AIDS Day, many of them aimed at abolishing the stigma that comes with talking about HIV.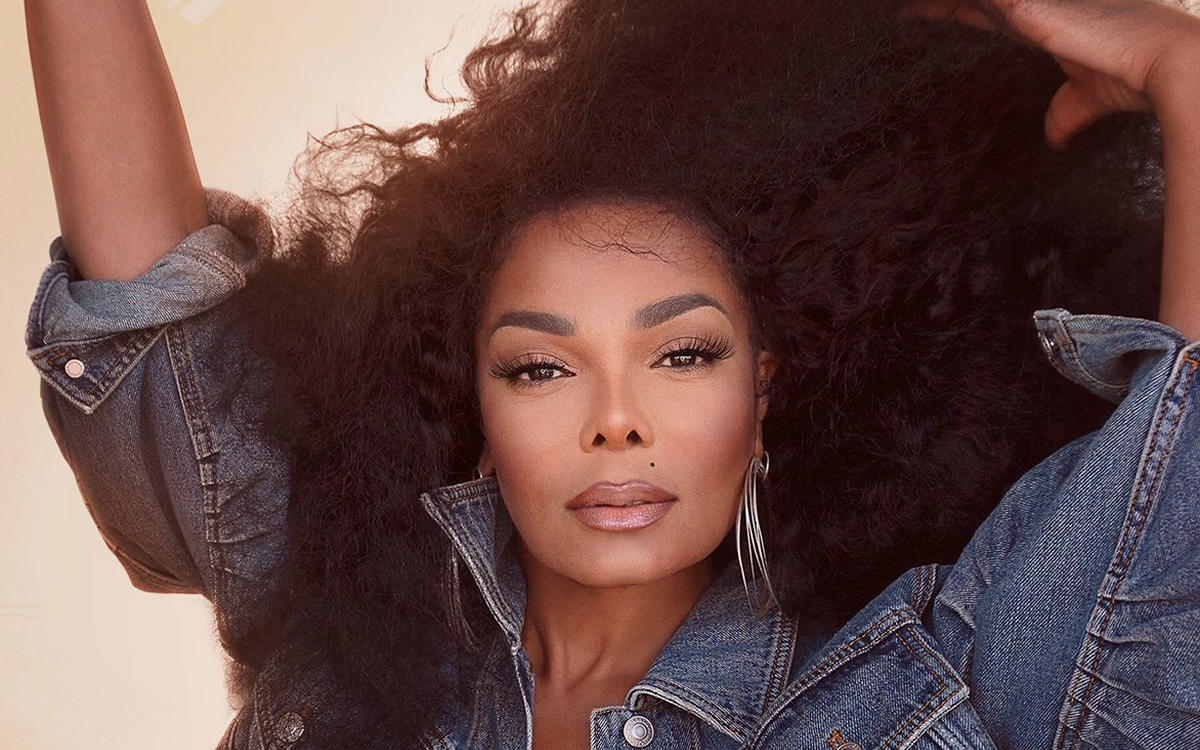 At a national level, Janet Jackson is set to headline the World AIDS Day concert on Dec. 1 — an annual fundraiser sponsored by the AIDS Healthcare Foundation. The concert will be at the NRG Arena in Houston, and will also honor actor and activist Blair Underwood with its lifetime achievement award. 
"[The concert] really is a way to commemorate World AIDS Day in a way that is both remembrance of those that we've lost, recognizing where we're at, but also really celebrating and connecting the work that's yet to be done. And having folks still leaving uplifted and elevated about what the future could hold," said Imara Canady, AHF's national director for communications and community engagement.
Jackson has long been an outspoken advocate for people living with HIV. Her song, "Together Again," is a tribute to a friend she lost to AIDS, as well as a dedication to patients around the world.
The AIDS Healthcare Foundation, the largest nonprofit HIV/AIDS service organization and advocacy group, has several health care centers in the region and many across the nation and world. AHF also has a free HIV test locater online at freehivtest.net.
AIDSWatch, the electronic memorial to people lost to HIV and AIDS, will be viewable on www.AIDSWatch.org and on the City of West Hollywood's WeHoTV broadcast and streaming channels, including Spectrum Channel 10 within West Hollywood, beginning at 12:01 a.m. on Thursday, Dec. 1, for 24 hours.
The City of West Hollywood will join STORIES: The AIDS Monument and APLA Health in a World AIDS Day event on Friday, Dec. 1. The evening will begin at 5:30 p.m. with a reception at the West Hollywood Park Aquatic and Recreation Center (ARC) Respite Deck, located at 8750 El Tovar Place.
After a short program with refreshments, attendees will descend the grand staircase of the ARC at 6:30 p.m. in a candlelight procession through West Hollywood Park and along N. Robertson, Santa Monica, and N. San Vicente Boulevards to the City's Council Chambers/Public Meeting Room, located at 625 N. San Vicente Boulevard. There, the evening will continue with a screening of the award-winning 2023 documentary "Commitment to Life." Doors will open at 7 p.m. and the screening will begin promptly at 7:15 p.m. 
Events are free to attend and open to the public. Limited validated parking will be available at the West Hollywood Park 5-Story structure. 
Advance RSVP is requested by reserving a spot on Eventbrite.