Memorial for Rose Greene, lesbian checkbook activist, set for August 4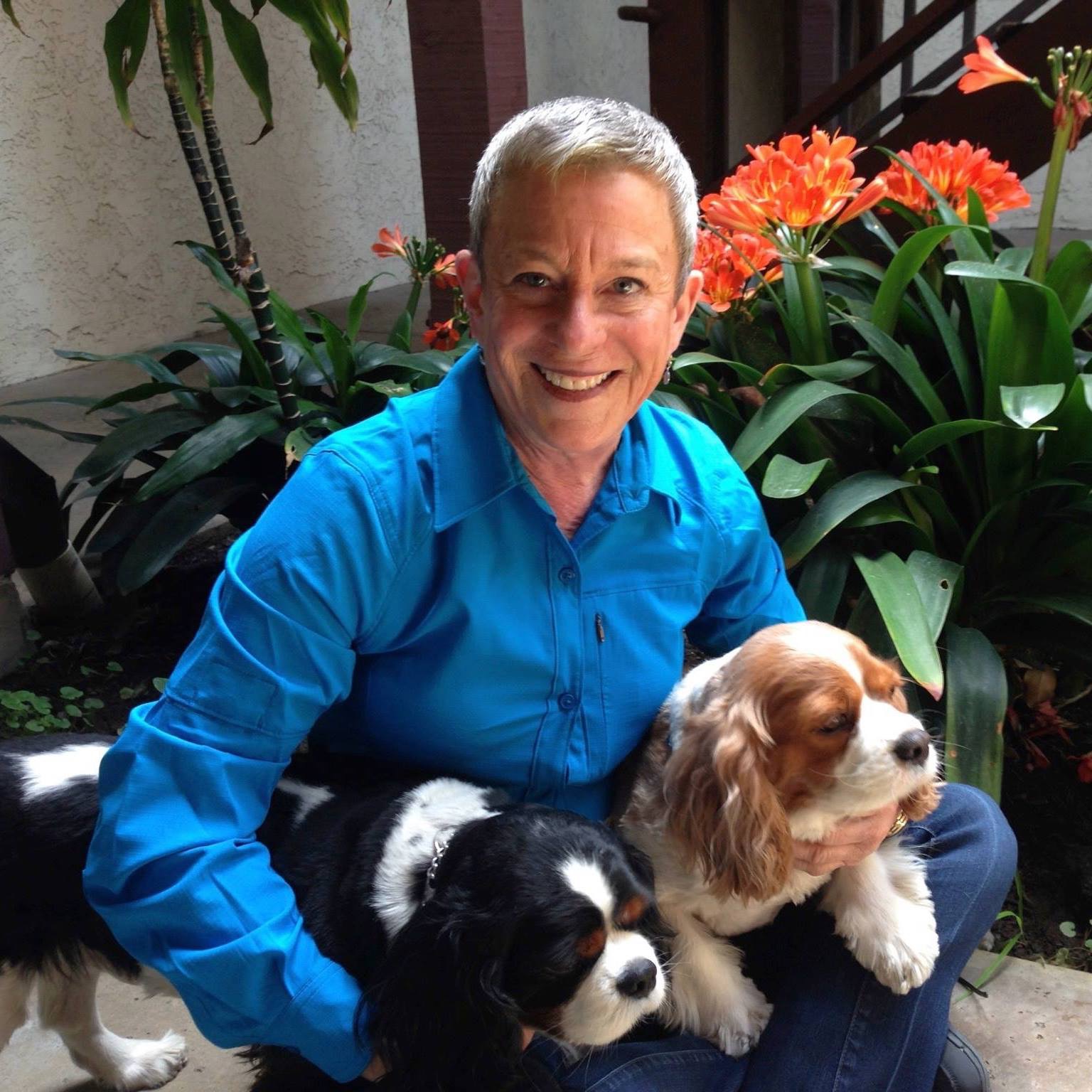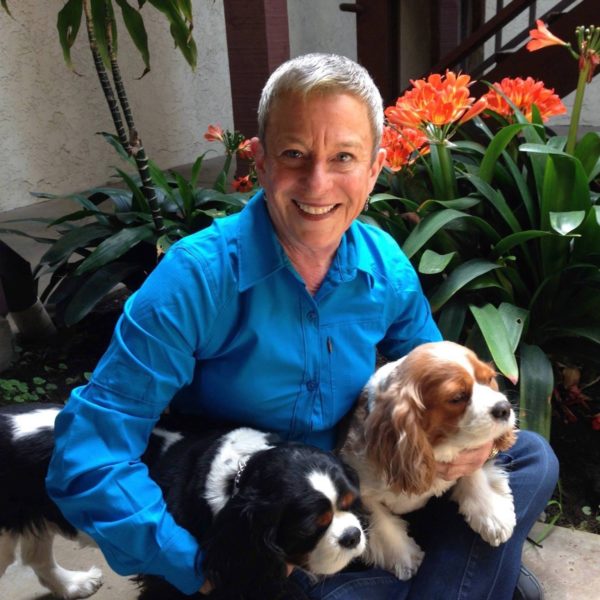 The LGBT community often fetes its celebrity top-donors at black tie and gown galas to show gratitude for helping grow or keep an organization afloat. Less well-recognized are the cadre of volunteer board members, checkbook activists who are just as dedicated to serving the LGBT movement as any grassroots activist, but other than a line at the bottom of their LinkedIn profile, prefer to lead and work in the background to make things happen.
Rose Greene was such a leader. She served twice on the Los Angeles LGBT Center's Board of Directors from 1989-1995 and 2006-2011, critical times in the LA LGBT movement's history. Only with her death on July 11 is the community learning the depth of her commitment and her contribution—which will no doubt be recounted at her memorial service on Sunday, August 4 at the Renberg Theatre at The Village at Ed Gould Plaza, 1125 McCadden Place in Hollywood. The service, officiated by Rabbi Denise Eger, will begin at 1 pm.
Greene died of bone cancer, said Lorri L. Jean, CEO of the Los Angeles LGBT Center. She was 72.
Rose Greene was an Angelino. Born in 1946 to a father who owned a cement company and a mother who died when she was 12, Greene attended Fairfax High School, graduated from Cal State Northridge in 1968 with a bachelor's in fine arts, then briefly taught photography at Hamilton High School, according to an obituary in the Los Angeles Times.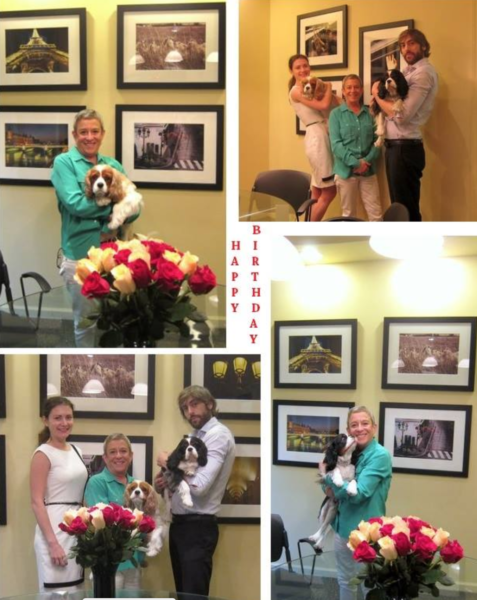 In 1985, she graduated from the University of Southern California after studying personal financial planning. She subsequently founded her own business, Greene Group Financial, based in Santa Monica, which used a team approach to developing personalized plans for clients.  She also promoted Community on her webpage.
"Rose believes passionately that one must give back to their community and encourages all of her clients to do the same. To that end, when Rose is not in the office, you'll find her advising non-profits on their endowments and capital campaigns," says the outdated post. She also believed in walking the talk.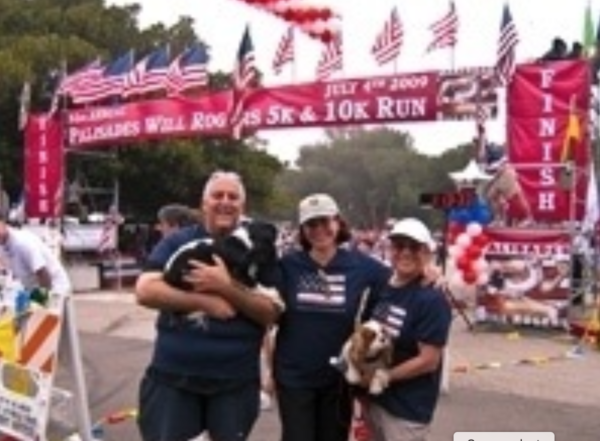 Rose Greene, Helena Ruffin, Cousin and Client Mark Samara (and Maggie and Gabriel of course) participate in the 32nd annual July 4th, 5k and 10K run/walk benefiting Will Rogers Park. Everyone crossed the finish line, Gabe and Maggie however needed a little escorting.
Greene came out in the 1960s, Jean told The Times. It was a time of significant political and cultural turmoil and change with protests against the war in Vietnam and the music revolution reflecting and fueling it from Frank Zappa; Jim Morrison and The Doors; Carole King; The Byrds; Buffalo Springfield; Crosby, Stills, Nash & Young; Joni Mitchell and so many others centered in LA, West Hollywood and Laurel Canyon on and just off the Sunset Strip.
And yet homophobia and homo-hatred were still a constant during the "Make Love, Not War" generation. There were still violent gay bars raids such as at the Black Cat Tavern in 1967 and the very public murder of a gay nurse named Howard Efland by LAPD cops at the SRO Dover Hotel in downtown LA on March 9, 1969—a murder the Coroner called an "excusable homicide." There were also organized public protests by such out gay leaders as Rev. Troy Perry and Morris Kight, captured on film by film activist Pat Rocco.
It was against this backdrop that Rose Greene developed her sense of community spirit. She was always forthright and honest. She wasn't afraid to be herself, Jean told The Times.
Women's Liberation movement was also developing at this time and Greene's path was actually more lesbian-feminist focused than gay.
"I recruited Rose to work on our first women's event — the June Swoon — almost as soon as I became executive director [of the Los Angeles Gay and Lesbian Community Services Center] in 1888 and onto the Board shortly thereafter," longtime LGBT and political activist Torie Osborn tells the Los Angeles Blade. "I'd known her from around the lesbian community since the '70s.  She was a passionate feminist who was highly skeptical that the Center could transform into a place welcoming lesbians, as well as gay men.
"I watched her become more and more of a leader, more and more of an advocate for the Center, and more and more outspoken and militant," says Osborn.  "When we all hit the streets in October of 1991, in response to Gov. Pete Wilson's veto of AB 101 [the gay civil rights bill he'd promised to sign], there was Rose, angry and loud, chanting and marching with the rest of us.  She served as female co-chair of the Board during my tenure and brought her terrific business acumen, great humor and common sense to us at a time we needed all of it.  She carried the hopes and dreams of the lesbian-feminist world into the Center with power, passion and purpose.  She was a key figure at a key time in Center history."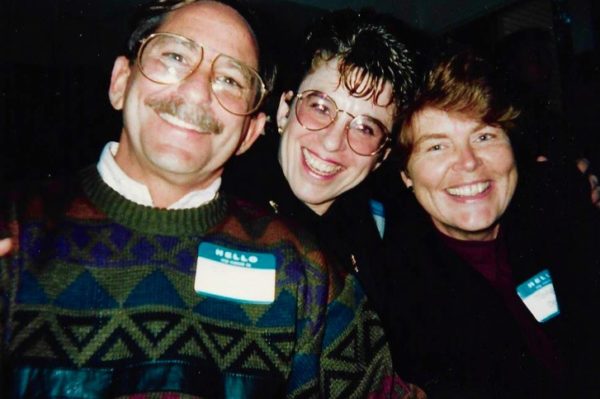 LA Gay and Lesbian Community Services Center Board co-chairs Ed Gould and Rose Greene with Center Executive Director Torie Osborn at event for the historic Capital Campaign. (Photo by Karen Ocamb)
Greene and Board co-chair Ed Gould followed the hard work of Board stalwart Karen Siteman who, with Mason Sommers, kicked off and led the first-ever LGBT capital campaign to buy the 44,000-square-foot old IRS building on the Hollywood street later renamed for longtime Center supporter and Board member, Judge Rand Schrader. Ironically, the IRS declined to grant the Center non-profit status in 1972, but did grant it on appeal after then-Center executive director Don Kilhefner promised that the Center would not advocate for homosexuality, only gay consciousness raising.
Schrader, who announced he was HIV positive in November 1991, joined LA City Councilmember Mike Woo, Board co-chair Ed Gould, Center Board member Will Halm (partially obscured in this photo), LA County Supervisor Ed Edelman, Center Board co-chair Rose Green (a stand out in white), actress Judith Light, Executive Director Torie Osborn, and LA County Assessor Kenny Hahn for the ribbon cutting ceremony in November 1992 for what became the Center's headquarters at the McDonald/Wright Building.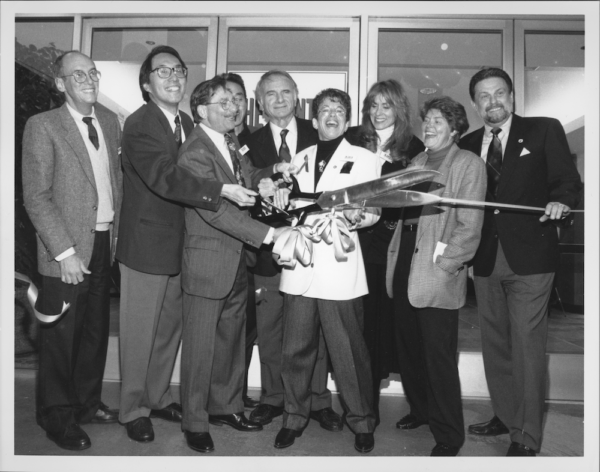 Unbeknownst to most caught up in the historic ceremony was that the Center's incoming executive director, attorney and FEMA San Francisco-based director Lorri L. Jean, was in the audience.
"I'll never forget that day in the summer of 1992 when my San Francisco office phone rang, and it was Rose whom I had never met. Her mission was to recruit me to apply for the job of Executive Director at the Center. Her passion was infectious. Her commitment impressive. She succeeded, and that pivotal moment changed my life," Jean says. The success of that first-ever Capitol Campaign "inspired others throughout the nation, among them the New York LGBT Center and the Human Rights Campaign."
It inspired Greene, too, deciding to mount a second capital campaign to raise $15 million to purchase a $6.7-million Hollywood complex at 1125 N. McCadden Place and renovate it.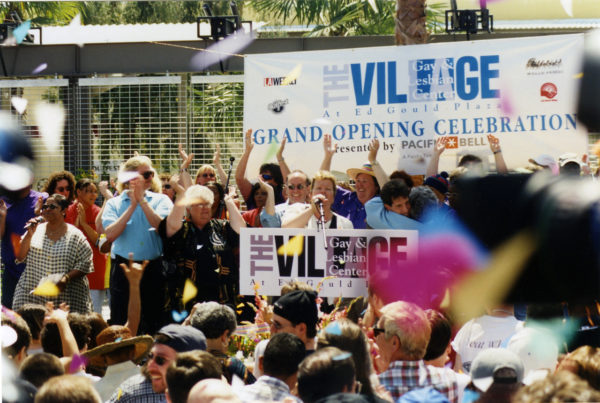 On June 21, 1998, it opened as The Village at Ed Gould Plaza, along with a $10-million endowment fund. Additionally, in 1993, Greene helped lead the Center in opening the Jeffrey Goodman Special Care Clinic, which expanded free and comprehensive early intervention HIV and AIDS medical care when AIDS was still crashing all around LA in the second wave of AIDS, according to Jean.
Perhaps Greene's greatest legacy – that few know about – is her central significance in creating and developing the first California AIDS Ride in 1994. The 545-mile bike ride from San Francisco to Los Angeles, now known as the popular AIDS/LifeCycle, has raised more than $280 million for HIV/AIDS- related services at the Center and the San Francisco AIDS Foundation.
But it took Rose Greene to trigger the launch.
In an email to friends and supporters, Dan Pallotta, now leader in "transformation technologies," writes about how he "originally developed the concept of the AIDSRide — an epic, multi-day, 4-figure pledge journey — for Israel's Weizmann Institute of Science, but they didn't feel it was for them at the time. It sat on the shelf for a year or so until Torie Osborn hired me to help with the fundraising for the Los Angeles Gay & Lesbian Community Services Center." Then, in January of 1993, he saw the movie, "Alive" and his life changed.
"It reminded me of the power of doing the impossible. Of the human hunger to go after the unreasonable result," Pallotta writes. I decided immediately that it was time to make the AIDSRide happen and the next Monday my team and I began researching how to move, feed, house, shower and otherwise care for hundreds or thousands of people in the outdoors over the course of a week. And how to get them to agree to do it in the first place."
New director Lorri Jean was looking for a signature event and the young event planner brought the idea to Jean and Development Director Joel Safranek.
"We had a deck for the concept, the cover of which read, 'The road from San Francisco to Los Angeles is paved with $600,000,' which was what we thought it could net the first time around," Pallotta writes. "When the idea was ready, I asked myself, 'Who will have the vision to really get this?' That's where Rose Greene came in — a woman diminutive in inches and enormous in spirit — an investment manager who sat on the board of the Center and with whom I had become friends while we were raising money for the Center's capital campaign together.
"I took her out for lunch in Hollywood and explained the idea to her," Pallotta writes. "She got it and she and Ed Gould, the board chair at the time, helped to shepherd it through board approval to get the $50,000 in risk capital we needed to launch it."
Approval did not come easily. Greene had to convince one board member, in particular, who wanted to studying the proposal first before making any commitment.
"You know the type," Pallotta writes his friends. "Makes covering your ass sound like absolute saintly virtue and integrity. But Rose had a strong entrepreneurial business sense about her. And she knew that the way you study something that has never been done before is singular and simple: you do it."
Pallotta says that his idea for a multi-day pledge event "that I showed to Rose that day in the late winter of 1993, has raised in excess of $2 billion for causes from AIDS to breast cancer to pediatric cancer, suicide prevention and more."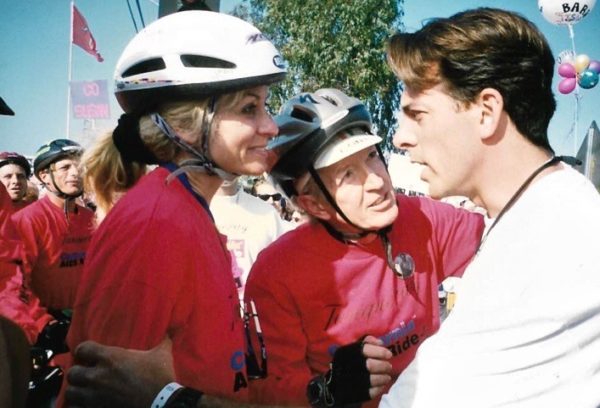 Dan Pallotta with actress Judith Light and her manager Herb Hamsher who rode the last portion of the first AIDS Ride (Photo by Karen Ocamb)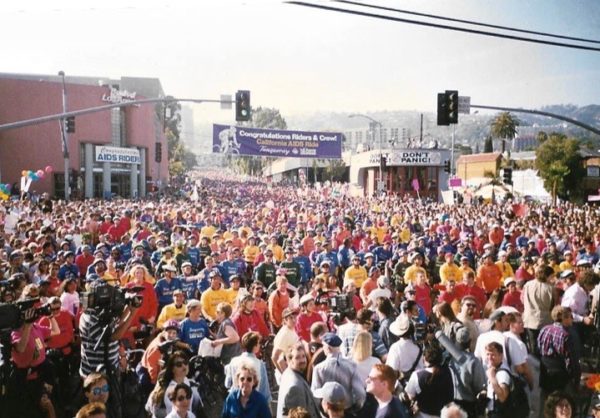 West Hollywood receives thousands of first AIDS Riders and their supporters. (Photo by Karen Ocamb)
"If Rose Green had not been there, I'm not sure it ever would have happened, at least not at that moment or for that organization. She understood the importance of taking a risk, and the rest of the board took comfort in her confidence," he writes.
Greene's courage and confidence in taking a risk when necessary to bring about change should serve as a model for others, Pallotta says.
"For all of the thought leadership that has been proffered about social change and risk since 1993, not too much has changed. Peoples' attitudes toward risk is mostly still, 'Sure, I'll take a risk, so long as I know it's all going to work out.' But that is not the nature of risk. Rose Greene understood that, before the term 'social enterprise' ever even really existed. She was a mensch. A kindred spirit. Authentic. Full of real integrity and a sense of possibility. She loved life and living," Pallotta writes.
"And damned if she didn't actually ride the whole 575 miles with us in that very first AIDSRide. By the way, it didn't net the $600,000 we had projected. It netted $1,013,000," Pallotta writes. "The world needs more Rose Greenes."
Greene continued to believe in the power of informed risk-taking. In January, she posted on her Rose Green Cfp Facebook page: "An important, exceptional excerpt about risk from the Behavioral Investor by Daniel Crosby. Remember this paragraph when thinking about investing for the long term (because thinking short term, reacting to negative moves in the market, will easily ruin your chances of success)."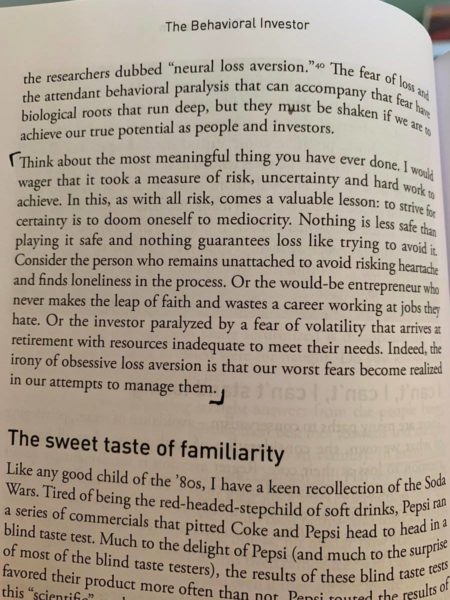 Greene left the Center Board in 1995, but returned 11 years later in 2006, serving until 2011. During that time, California wrestled with marriage equality and then the war over Prop 8 in 2008.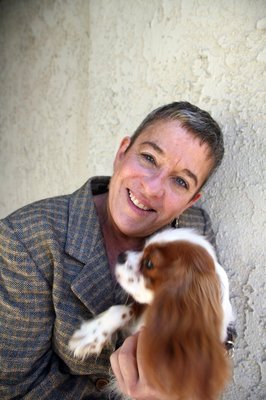 Greene married Helena Ruffin on June 17, 2008, the day after same-sex marriage was officially legalized in California, before Prop 8 was put on the November 2008 ballot.
"Rose taught me to live my authentic life," Ruffin told The Times, crediting Greene with helping her come out.
"Rose would tell me: 'The more we tell people who we are, the easier it will be for us to be accepted,'" Ruffin said. For Greene, "it was always about advocacy and always finding places for people who were cast out, and making sure they could find a home and place to be… she fought for people to be treated as equals."
That sense of equality extended to family. She and Ruffin broke up about 10 years ago but never got divorced and remained very close friends, including with Ruffin's partner, Shari Robins.
"It's been a difficult few months to say the least. As many of you know my partner Helena was brutally attacked on March 2nd in an attempted carjacking. The first person I called was Rose Greene, a women who had become my dear friend, and was the wife of, you guessed it Helena. It was complicated, but never for us. Rose was a 4 time cancer survivor and the first time we met, Helena and I promised her we would always take care of her," Robins wrote on her Facebook page after Greene passed away, detailing how often they all stayed and traveled together.
"We had a really good thing going the 3 of us. When she discovered she had developed a type of bone leukemia, related to all the chemo she had endured, she vowed to do what was needed to make a 5th defense of this insipid disease. She was a fighter," she wrote. Sadly things did not improve and Rose had really had enough. She agreed to give treatment one more week…. On Monday Helena got a call that things had gone south, Rose's kidneys were failing. Tuesday Helen said I had to get to LA and I managed to get an earlier flight on Thursday AM Rose was hanging on. I got the COH at 7. O'clock in the car I ordered Din Tai Fung, our special comfort food, to arrive at the hospital when I arrived. Rose was still with us. Helena was telling Rose all day that I was coming and she held on.
"Helen and I and Bernadette, our caregiver, held Rose's hand and prayed in 3 religions, me Jewish, Helena AntiochIan Orthodox and Bernadette Christian. We let her know she was good to go and that she had fought so admirably hard. She passed peacefully at 9:23 pm on July 11th.
"Our hearts are broken she will be dearly missed. I love you Rosie. Hope you are enjoying that Med Men and Tequila in the sky. Xo Rest In Peace Hon."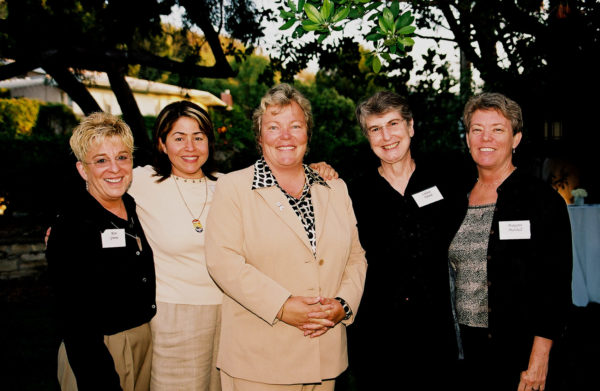 Rose Greene; Helena Ruffin; Lorri L. Jean; Lillene Fifield; and Margaret Marshall (Photo courtesy Los Angeles LGBT Center) 
"Rose left this Earth way too early at the age of 72. But she went out fighting following a stem cell transplant in her quest to defeat bone cancer," Jean says. "The Center is what it is today, thanks in part to Rose's leadership and vision….Today the Center lauds this tireless champion of the oppressed, this extraordinary, amazing, powerful, hilarious, and loving woman. May she rest in peace."
Peace and happiness may be what she sought most for herself, her friends, family and clients to enjoy. Last February 27, she posted this on her Facebook business page:
"Our desire for happiness is something we all have in common.

As advisors we have the remarkable connections, intelligence, experience and technology, among other things, to help you plan for the future and invest for retirement but it is compassion that is our most important trait. Our concern for others' well-being, our clients, whom are our family.

"Cooperation comes from friendship, friendship comes from trust, and trust comes from kindheartedness. Once you have a genuine sense of concern for others, there's no room for cheating, bullying, or exploitation; instead, you can be honest, truthful, and transparent in your conduct. Be compassionate." -Dalai Lama"
Five days earlier, she posted this photo, seeing herself and life in perspective: "It's Friday! There's a crisp chill in the air but skies are clear and blue. We can see the Hollywood sign all the way from Santa Monica. Though it really isn't that far away when you look at the actual distance…."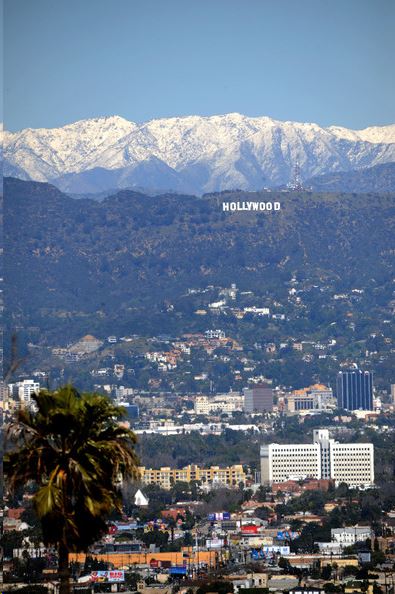 Please note: this article was corrected to indicate that it was Karen Siteman, with Mason Sommers, who launched and did much of the hard work purchasing the old IRS building. 
Rep. Cicilline on future of LGBTQ rights & life after Congress
Looking beyond Congress, Cicilline said he is eager to continue advancing "equality and justice for our community"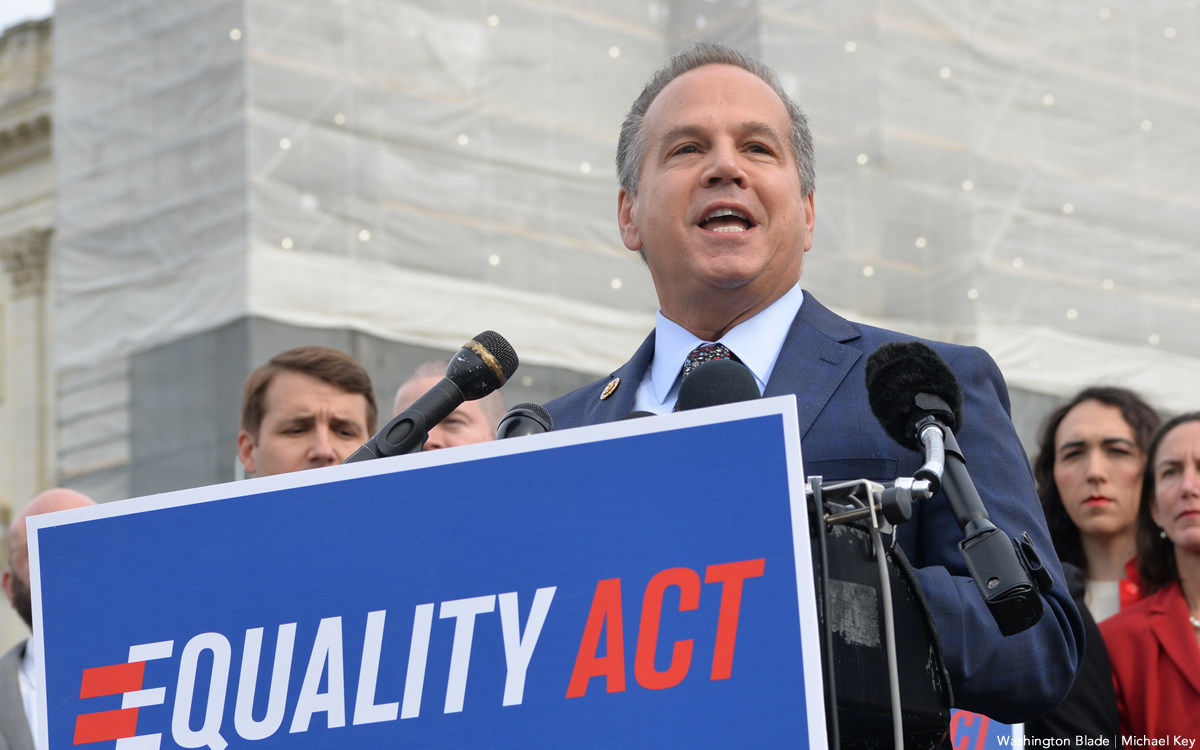 PROVIDENCE, R.I. – Speaking with the Washington Blade by phone on Tuesday from Rhode Island, U.S. Rep. David Cicilline (D-R.I.) was optimistic about the outcome of the debt ceiling negotiations that have roiled Capitol Hill, the White House, and Wall Street for weeks.
"My sense of it is there are enough Democratic and Republican votes to get it to the president's desk," said the congressman, who would fly back to Washington in the evening with the expectation that a vote would be held the following day.
Even amid the chaos and back-and-forth travel this week, Cicilline was ready to look back on the landmark legislative accomplishments of his distinguished career in politics, which have included groundbreaking advancements for LGBTQ rights.
And despite the ascendancy of anti-LGBTQ attacks from the right, including from much of the Republican caucus, he told the Blade there is ample reason to be optimistic that the chamber's pro-equality work will continue in his absence.
As announced back in February and effective on Thursday, Cicilline will retire from Congress to lead his state's largest philanthropic organization, the Rhode Island Foundation, having represented its 1st Congressional District in the U.S. House since 2011.
A former attorney, Cicilline was tapped to lead the House Judiciary Committee's Subcommittee on Antitrust, Commercial, and Administrative Law as well as the House Foreign Affairs Committee's Subcommittee on the Middle East, North Africa, and Global Counterterrorism.
Particularly in recent years, the congressman became one of the most powerful House Democrats, elected to leadership in 2017 as a co-chair of the House Democratic Policy and Communications Committee and picked in 2021 by then-House Speaker Nancy Pelosi (D-Calif.) to serve as one of the nine members tasked with managing the House's second impeachment of former President Donald Trump.
Among other legislative achievements, Cicilline is widely credited with leading the House's passage, twice, of the biggest civil rights bill since the 1964 Civil Rights Act – the Equality Act, which would prohibit anti-LGBTQ discrimination in areas from education and housing to employment and public accommodations.
While the Senate failed to pass the Equality Act, Cicilline said, "I'm handing that work off to [U.S. Rep.] Mark Takano [D-Calif.], who I know will take it over the finish line" once Democrats win control of the House again.
The congressman told the Blade that he hopes his leadership on this bill will be remembered as a key part of his legacy – and was adamant that its passage through both chambers is now a question of "when" rather than "if."
"The majority of Americans support the Equality Act, and a majority of voters in every single state support nondiscrimination protections for LGBTQ+ people," so "this is about the Republican conference in Congress catching up with the American people," Cicilline said.
Congress is beginning to look more like America in at least one respect, though. After his first election to the House, Cicilline was one of only three openly LGBTQ members serving in Congress (having already made history in 2003 as the first openly gay mayor of a state capital, Providence, R.I.).
Today, "I'm leaving with 10 colleagues in the House and two in the Senate," he said, "so that's great progress."
"The calvary has arrived" with "young new members who are going to lead the next wave of this fight" such as openly LGBTQ U.S. Reps. Robert Garcia (Calif.), Becca Balint (Vt.), Eric Sorensen (Ill.), and Ritchie Torres (N.Y.), Cicilline said.
Echoing comments from his final speech on the House floor last week, the congressman also expressed his faith and confidence in party leaders with whom he has worked closely, including Democratic House Minority Leader Hakeem Jeffries (D-N.Y.)
Tonight, I addressed the House of Representatives for the final time as a Member of Congress.

As a lifelong Rhode Islander, it is only fitting that my final message is one of HOPE — hope for our democracy and our Congress.

Watch here:https://t.co/2HTSNuuk1P

— Congressman David N. Cicilline (@RepCicilline) May 24, 2023
Hopes and expectations for the current Democratic conference's ability to deliver on behalf of LGBTQ Americans were buttressed late last year by passage of the Respect for Marriage Act, legislation co-led by Cicilline that codified fundamental rights for same-sex couples that might otherwise be erased if the U.S. Supreme Court overturns or weakens its constitutional protections for marriage equality.
How to combat the rightwing crusade against LGBTQ and especially trans Americans
However prepared Cicilline believes his colleagues are to meet the moment, the congressman is also up to speed on the unprecedented challenges presented by the current political climate with respect to LGBTQ rights.
This year, state legislatures have introduced hundreds of bills targeting trans Americans, which endeavor to restrict their access to everything from lifesaving healthcare to public bathrooms. At the same time, anti-trans rhetoric has escalated to such an extent that a rightwing pundit speaking at CPAC said "transgenderism must be eradicated from public life entirely," which some interpreted as a call for genocide against the community.
Legislatively, Cicilline said it is all part of a cynical political strategy adopted by Republicans. Having concluded that their crusade against same-sex marriage was no longer winnable, the party sought another way to fight against LGBTQ rights, eventually polling anti-trans positions and messaging that successfully motivates "the most extreme parts of their political base," he said.
"Our Republican colleagues have weaponized the trans community in such a way that they think it's politically advantageous to attack even trans kids," which is "really horrific" especially considering the potential for tragic real-world consequences, including targeted violence against the trans community, Cicilline said.
"I hope people who are seeking public office will be conscious of that and will be responsible, but unfortunately, I think there are some who are so driven by their desire for power, that they're prepared to do almost anything to get there," the congressman added.
Some conservatives hope their polarization of and fear mongering about trans issues will drive a wedge, providing sufficient incentive or a permission structure for LGB Americans to turn their backs on the trans community, Cicilline said, but "That's not gonna happen."
"We are standing in lockstep with our trans brothers and sisters, and we're just not going to allow them to be attacked in this way," he said.
Broadly speaking, Cicilline said elected Democrats must "stand up for the queer community, speak out, condemn this kind of [anti-LGBTQ/anti-trans] legislation, and let the American people see the contrast" between the Democratic Party, which "stands for inclusion and has fought for LGBTQ+ equality" and the GOP, which is pushing "these very toxic and dangerous and un-American attacks on the LGBTQ community."
The congressman noted that working against the interests of LGBTQ Americans is nothing new for congressional Republicans. "With just a couple of exceptions," he said, the House GOP caucus voted against the Equality Act's nondiscrimination protections, which stem directly from America's most basic foundational values of fairness and equality.
"So that means I have colleagues in the Congress of the United States on the Republican side who fundamentally rejected the legislation that would grant me and others in my community full equality as citizens of this country, [colleagues who would] allow discrimination to continue against our community," Cicilline said.
When it comes to navigating interpersonal working relationships with anti-LGBTQ Republicans in the chamber, though, "I frankly don't really care how they feel about us," the congressman said. "That's irrelevant to me."
Cicilline to continue advocating for LGBTQ Americans after Congress
In addition to the Equality Act, Cicilline said that if Democrats recapture control of the House, he expects to see renewed momentum for a bill that he authored, the Global Respect Act, and another for which he was an original cosponsor, the LGBTQI+ Data Inclusion Act. Both were passed by the House but not by the Senate and therefore remain "unfinished business," he said.
The Global Respect Act, Cicilline said, "will allow the U.S. to impose visa sanctions on anyone who commits gross human rights violations against the LGBTQ community," while the latter bill would mandate that federal surveys must include data collection on sexual orientation and gender identity.
Other legislative efforts that Cicilline has led, in areas from antitrust to foreign policy to gun violence, also include some "unfinished business" – bills that might see movement in the next Congress that carry the potential, in many cases, to measurably impact the lives of all Americans.
For instance, Cicilline, who has been at the vanguard of Congress's work modernizing and strengthening antitrust law, remains hopeful about the eventual passage of six bills that he introduced in 2021, all designed to increase competition in digital markets.
These would curb the monopolistic power of dominant tech platform companies whose business models center engagement as the primary mechanism to drive advertising revenue – even though, as these firms are aware, content that tends to earn more engagement tends to be that which is incendiary, offensive, hateful, false, or misleading, violent or otherwise outrageous.
Looking beyond Congress, Cicilline said he is eager to continue advancing "equality and justice for our community" at the Rhode Island Foundation, building upon the organization's existing work "supporting the organizations that are doing really important work to support the LGBTQ community."
Cicilline acknowledged that leading an "explicitly non-partisan organization" will be a departure from his work in Washington – though perhaps not to the extent one might imagine.
"You know, our community remains, in this country, a marginalized community," the congressman said. "In fact, it's the only community, still, in America, that it's legal to discriminate against."
At this point, rather than pivoting back to discussing the need for passage of the Equality Act, Cicilline instead explained that because of the lack of national nondiscrimination protections, he is even more eager to include the LGBTQ community in the foundation's work advancing diversity, equity, and inclusion.