April 15, 2019 at 4:31 pm PDT | by Karen Ocamb
LGBT history lines McCadden Place (Photo essay)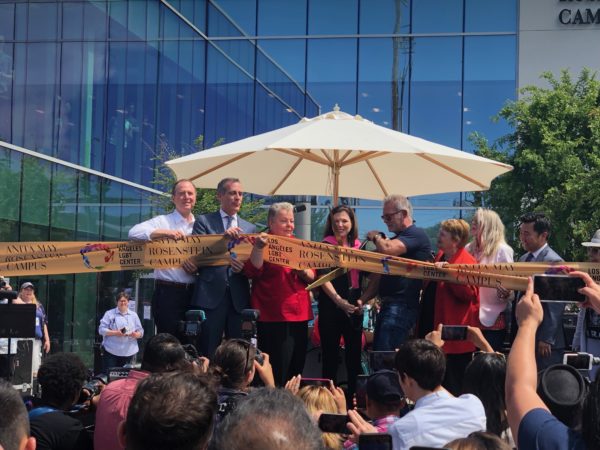 As LGBT people and allies around the world prepare to commemorate the 50th anniversary of Stonewall and the Los Angeles LGBT Center prepares for its own 50th anniversary, as well, another monumental moment in LGBT movement history occurred with the April 7 opening of the two-acre Anita May Rosenstein Campus on McCadden Place in Hollywood. Ironically, the first major gathering of out and proud LGBT people and allies occurred 49 years ago a few blocks north of the Campus with the kick-off of the first Christopher Street West Pride parade at McCadden and Hollywood Boulevard.
"We are immensely proud that the Anita May Rosenstein Campus allows us to greatly expand our services, especially to LGBT seniors and youth," said Los Angeles LGBT Center CEO Lorri L. Jean. "The Campus is proof that a committed group of people who have the audacity to dream big and work hard are capable of creating something the world has never seen, something that now stands as a testament to the fact that we will not turn back in our march toward full equality and humanity."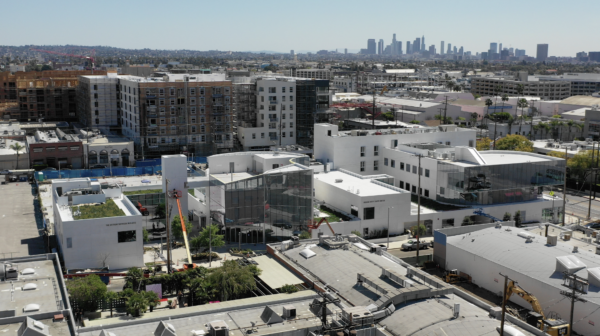 (Photo courtesy the Los Angeles LGBT Center)
More than $141 million was raised by more than 350 capital campaign donors and a record-breaking 15 seven-figure gifts for the 2-acre Anita May Rosenstein Campus,
It was not an easy task, says Capital Campaign Chair David Bailey. "There was a feasibility study done and our advisors told us you'll be lucky to raise between $18-20 million. They said, don't' stretch for any higher than that because it won't happen. As time went on, everybody continued to give bigger and bigger amounts and it started with one million here, one million here, four million here, and before you know it, we'd raised $57 million in private funds."
The project was conceived during a strategic planning process in late 2006 but the deal was finalized to buy the land from the State of California in 2011. "At the time, it was at the bottom of the real estate market and the political environment was a little more friendly towards us," says Bailey. "The entire time, we have been concerned about what might happen to us, as far as federal funding – because you never know. They've got to pay for these tax cuts somehow and it's going to come out of the most vulnerable. We've had obstacle after obstacle.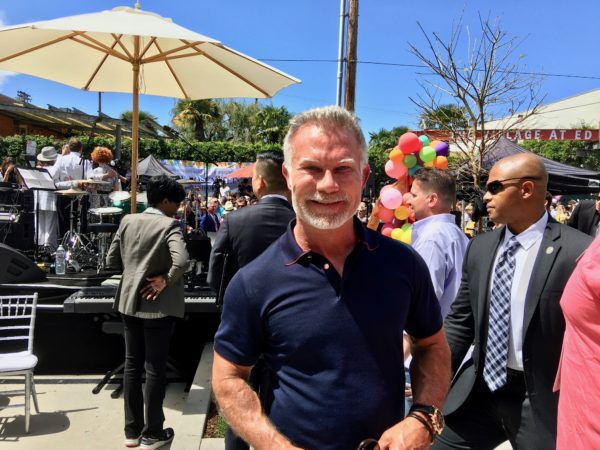 Capital Campaign Chair David Bailey (photo by Karen Ocamb)
 "But I have to say this: a Higher Power was involved in the Center," says Bailey. "When we bought the land, it was at the bottom of the market. We thought we could only raise $18-20 million – we raised $57 million. Add in the New Market Tax Credits, that frankly, we never even heard of – that was $9.5 million, which was the largest New Market Tax Credit issued last year in the entire United States. So it shot us to $67 million and we were able to afford it. But today, I don't know if it would happen because escalating values of land in this area – the dirt here, which we paid $12.7 million for—would today be worth $30 million."
It took four and half years but people saw the vision. "They gave because of the passion for what we do," says Bailey. "They see the groundbreaking work we do. This is grassroots – 97% of our funds go back to the community. And we truly are the heart and soul of the LGBT community right here in Los Angeles."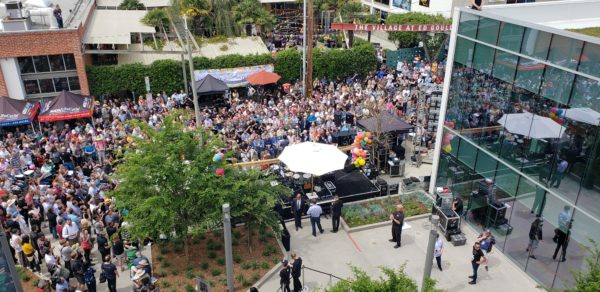 Crowd at the opening of the Anita May Rosenstein Campus across from The Village at Ed Gould Plaza (Photo by Getty for the Los Angeles LGBT Center)
The Campus—across from The Village at Ed Gould Plaza with its arts, cultural events and offices for the AIDS LifeCyle and other activities—includes 100 beds for homeless youth, a new Senior Community Center, Youth Drop-In Center and The Ariadne Getty Foundation Youth Academy, a huge kitchen plus expanded programming. Additionally, all administrative services are shifting from the four-story McDonald/Wright Building on Schrader Boulevard, transforming the main headquarters onto a health center. The second phase of development will include 99 units of affordable housing for seniors and 25 supportive housing apartments for youth. It is expected to open mid-2020.
Like lighting the fuse at the beginning of Mission Impossible, Anita May Rosenstein's gift of $8 million through her foundation and the Wilbur D. May Foundation and the Anita and Arnold Rosenstein Family Foundation kicked off the giving.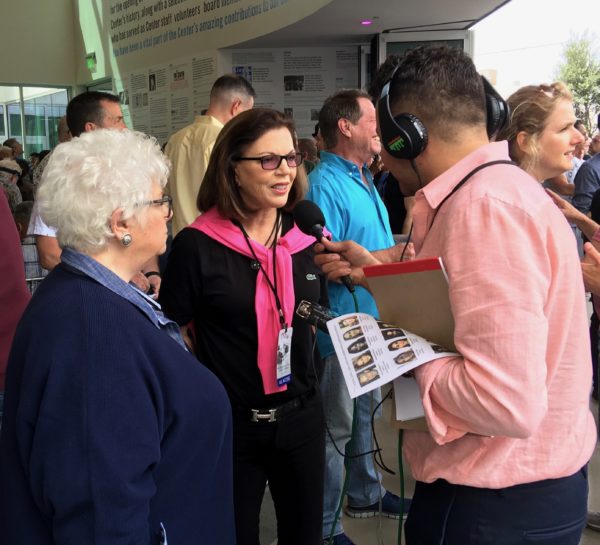 Anita May Rosenstein interviewed by KPFK/IMRU's Wayne Sampson (Photo by Karen Ocamb)
"Let's be clear: this is not my Campus, it's our Campus," Rosenstein said at the opening. "Our Campus is a beacon of hope and inspiration for people around the world. It is a safe haven for youth experiencing homelessness, and it will become a unique experience for youth and seniors to live together and learn from each other."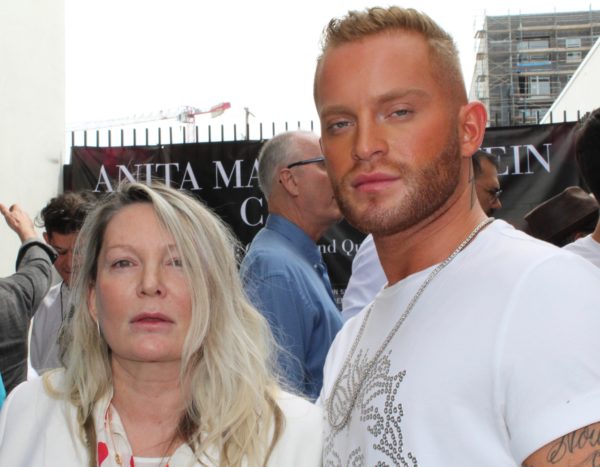 Ariadne Getty and August Getty (Photo by K Ocamb)
Ariadne Getty had personal reasons for contributing. "I have two gay children. When they came out, I started going to West Hollywood to educate myself and I realized there was a lot of work to do," Getty tells the Los Angeles Blade. "I was lucky enough to go to a fundraiser and found Lorri Jean. She was talking about the Center and within a week, I came and did a tour and was blown away because I felt like I had come home."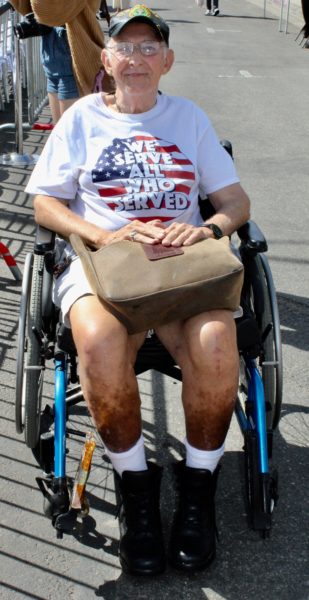 Army vet Tony Sadowski (Photo by Karen Ocamb)
Army vet Tony Sadowski, 75, says he is excited by the Campus opening. He has been using the Center's services since the Gay Community Services Center was first headquartered on Wilshire Blvd., co-founded in 1969 and led by Don Kilhefner, who became the volunteer Executive Director, Morris Kight, Jim Kepner, June Herrle, MSW, Martin Field, MD, John Plantania and Lee Hansen Sisson. The center sprung out of work organized in April 1971 by post-Stonewall Gay Liberation Front/LA founders Kilhefner, Kight and Plantania.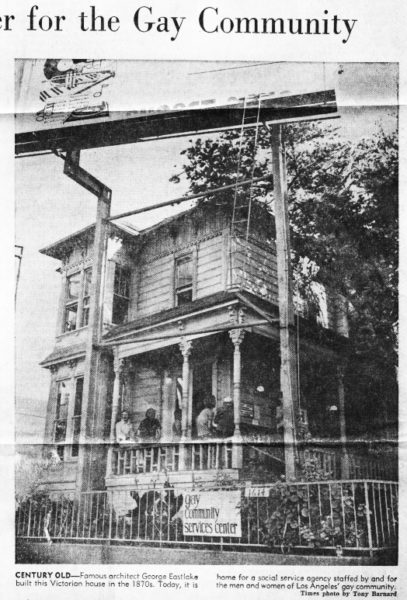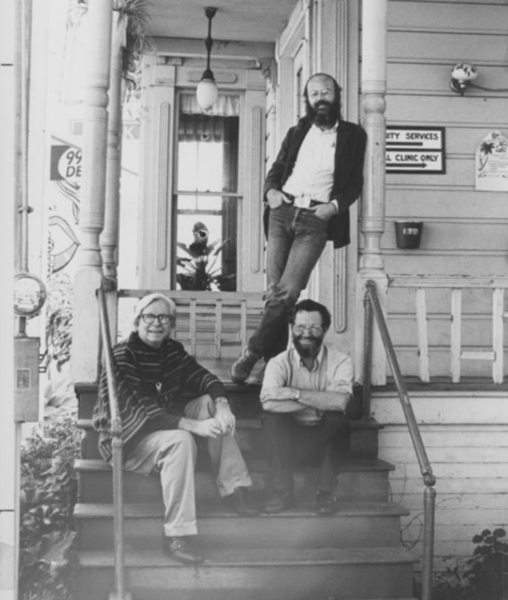 Three founders of GCSC on the front steps of the building on Wilshire Boulevard, circa 1974. Source: ONE National Gay and Lesbian Archive.
In those days, the community services at the drop-in center provided were pride by stating out loud in the name "GAY" when homosexuality was still illegal; provided legal help for servicemembers discharged for homosexuality, for anti- Vietnam War protesters, and for those arrested in police bar raids. They also held rap sessions, had an STD clinic for testing and shots; help for gay homeless in four "Liberation" houses; and in 1973, they helped found the Van Ness Recovery House and the Alcoholism Center for Women.
Kight lived at 1428 North McCadden, just south of Sunset Blvd, where his door was open welcoming visitors and Gay Liberation Front activists, and anyone interested in his "McCadden Place Collection" art work. That included the LGBT historical artifact – the "Fagots – Stay Out!" sign from Barney's Beanery, which he told Making Gay History reporter Eric Marcus was "retrieved there in January 1970, by me."  (The sign was replaced several times—Rev. Troy Perry, who organized the protests and directly confronted homophobic owner Irwin Held, also has a "Fagots – Stay Out!" sign.)
"I want to indicate through example that I'm not afraid," he says. "I don't have any draperies or shades on the windows. I never have in any house I've ever lived in. Gays like openness. It's a metaphor," Kight told the LA Times in 1988.
The Times noted that: "At numerous functions over the years, politicians such as Mayor Bradley, Sam Yorty, Bella Abzug, Zev Yaroslavsky, Gray Davis, Chip Carter and Gore Vidal have all come to McCadden Place to pay their respects."
Kight's house on McCadden Place, which he moved into the mid-1970s, was also a staging area for the CSW Pride Parades on Hollywood Boulevard. That corner was the jumping off site of the first Pride Parade in 1970, organized by Kight and his fellow CSW co-founders Rev. Troy Perry and gay homeless activist, Rev. Bob Humphries.
McCadden served as a staging area for other marches and demonstrations, as well.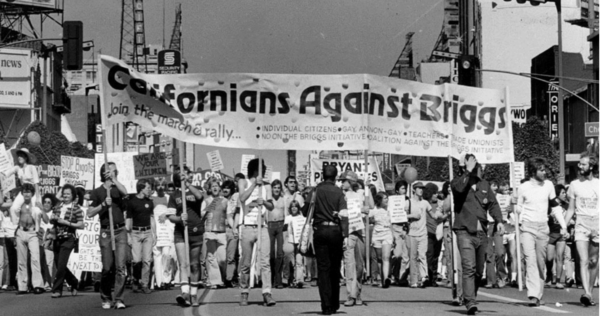 No on Proposition 6 demonstration on Hollywood Boulevard, 1978. Beginning in 1966, many LGBT protests took place on Hollywood Boulevard—often beginning at the corner of Las Palmas Avenue and McCadden Place—an important LGBT social gathering locus beginning in the 1950s. Source: Los Angeles Public Library Photo Collection.
In 2003, after Kight's death, Perry and Los Angeles City Councilmembers Eric Garcetti and Tom LaBonge dedicated the corner of Hollywood Boulevard and McCadden Place "Morris Kight Square."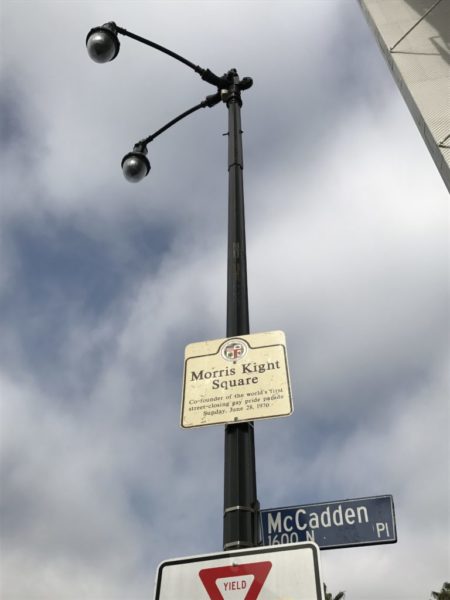 The intersection of McCadden Place and Hollywood Blvd. has been designated Morris Kight Square, honoring the co-founder of the world's first street-closing gay pride parade on Sunday, June 28, 1970. (Photo by Devin Strecker) (Photo via onlyinhollywood.org)
Actor/comedian Jason Stuart also attended the opening of the Anita May Rosenstein Campus. He, too, has ties to the Center.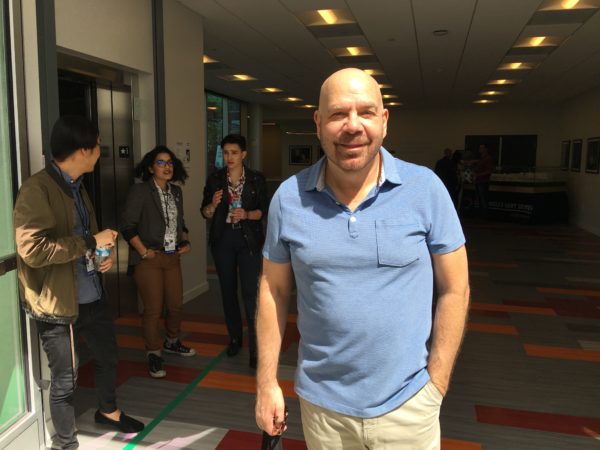 Jason Stuart (Photo by Karen Ocamb)
"I walked through the gate (for the Campus opening) and I started to get so emotional thinking, wow – I went to the Center for my first 12 Step meeting – Al Anon – and my first coming out stuff," Stuart says. "I wanted to know what was it going to be like being an openly gay actor/comedian. What would I talk about? Who am I? Will I get any work? Where do I get my support? Then I started doing all these shows for the Life Works Mentoring. All these things, just the years flashed before my eyes thinking I never ever thought something like this would be there. There's going to be a place for a lot of people that need a place to live and services."
Stuart most recently played a white heterosexual Christian plantation owner in the film re-make of Birth of a Nation. But 25 years ago, in June 1993, he came out to great fanfare on the Geraldo Rivera Show.
By then, Stuart had public backup.
The American Psychiatric Association declassified homosexuality as a mental disorder in Dec. 1973; the Center got its non-profit classification in 1974; and in 1975, California finally decriminalized homosexuality through the Consenting Adult Sex Bill.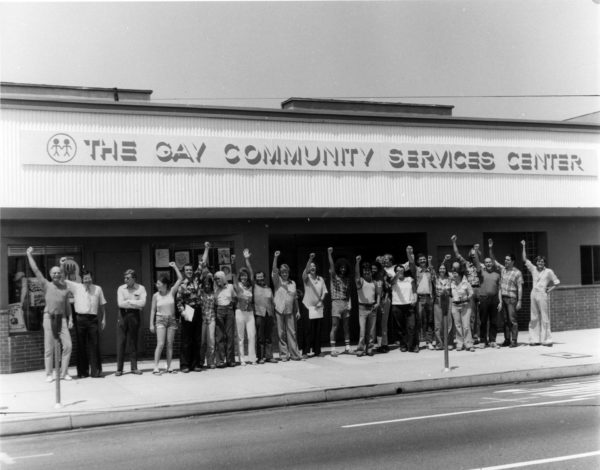 Two dozen supporters stand in front of the Gay Community Services Center, circa 1974. Courtesy of the ONE National Gay & Lesbian Archives at the USC Libraries.
The Center moved to 1220 North Highland Avenue in Hollywood in 1975 and changed its name to the Los Angeles Gay & Lesbian Services Center in 1980. The STD Clinic started seeing clients with strange dark Kaposi Sarcoma spots and a mysterious fatal flu in 1979, eventually housing what became AIDS Project Los Angeles and hosting Rep. Henry Waxman's first congressional hearing on AIDS. By the late 1980s, Executive Director Torie Osborn, an activist/organizer, strongly backed ACT UP/LA.
By 1991, Los Angeles had emerged from the mythical step-sister status to San Francisco and New York. With the public political fundraising prowess of ANGLE raising $3.1 million in early money for then-dark horse Democratic presidential candidate Arkansas Gov. Bill Clinton, a friend of ANGLE co-founder David Mixner and the almost three weeks of street protests in 1991 after Gov. Pete Wilson vetoed the gay civil rights bill, AB 101, "gay power," fueled by ACT UP and Queer Nation refused to politely cower in the closet. And much of the organizing for those political demonstrations took place at the Gay & Lesbian Community Services Center on Highland Ave and Osborn not only got arrested with others but helped fund the flatbed trucks and speaker systems for demonstrations.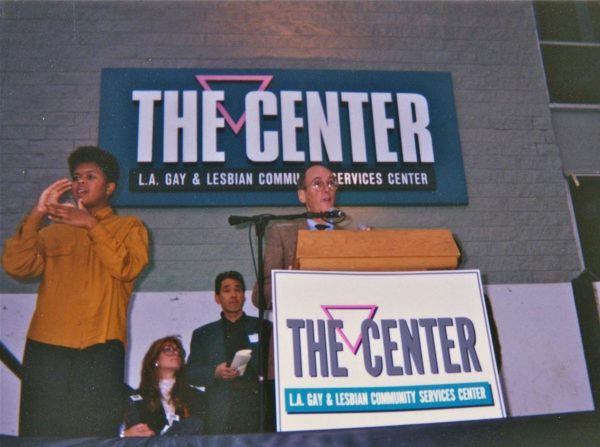 Out and HIV-positive Judge Rand Schrader, who had volunteered at the Gay Center on Wilshire Blvd as a law student, helped open the new LA Gay & Lesbian Center in Dec. 1992, with ally/AIDS activist actress Judith Light lending some star-power. Schrader died of AIDS six months later; the City of Los Angeles re-named the street to Schrader Blvd. (Photo by Karen Ocamb)
A symbol of that new power was the Center's new headquarters. This is how LA Times reporter Bettina Boxall described the opening in a long piece on March 28, 1993:
"ON A RAINY SUNDAY LAST DECEMBER, A CROWD OF NEARLY A thousand people gathered around the corner from Frederick's of Hollywood in front of a bland '60s building. They were there to mark its transformation into something that could have barely been imagined three decades ago, a $7-million center for the gay men and lesbians of Greater Los Angeles. Nowhere else in the country is there an institution quite like it–nothing so big, so rich–dedicated to serving the social-service needs of gay people. A staff of more than 150 oversees everything from a youth shelter to artist-in-residence and mediation programs, serving thousands of clients a month. All the more ironic that the Los Angeles Gay and Lesbian Community Services Center had bought this particular building for its new home. For it was here that the agency's founders came 22 years ago to ask the startled bureaucrats of the Internal Revenue Service for tax-exempt status, one of the first such requests ever made in the nation for an explicitly homosexual organization.

Now 1625 N. Hudson Ave. is claimed by gigantic gay pride banners. Impossible to ignore, the center is an apt metaphor for the local gay community, which is asserting itself as never before, defying cherished stereotypes and, in some ways, upstaging the traditional gay power centers of New York and San Francisco."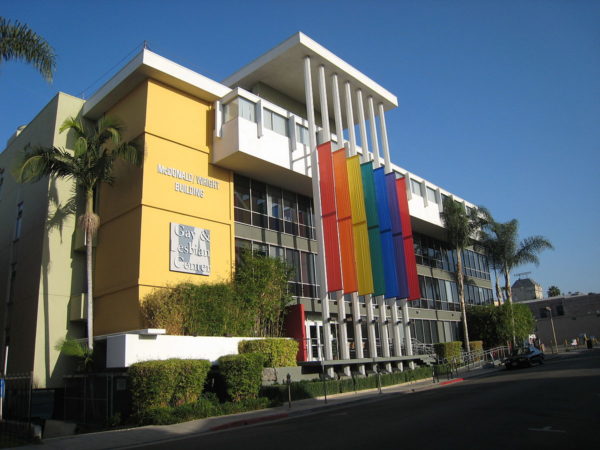 The irony of purchasing the old IRS building is actually a bit more colorful. As Don Kilhefner tells it, when they first applied for non-profit incorporation status in 1971, IRS officials said the Center must not "advocate the practice of homosexuality or contend that homosexuality is normal" and "no avowed homosexuals" could service on the board. That was fine with them since they believed "homosexuality" was a government term. They were advocating consciousness raising, education and social services for "gay" people.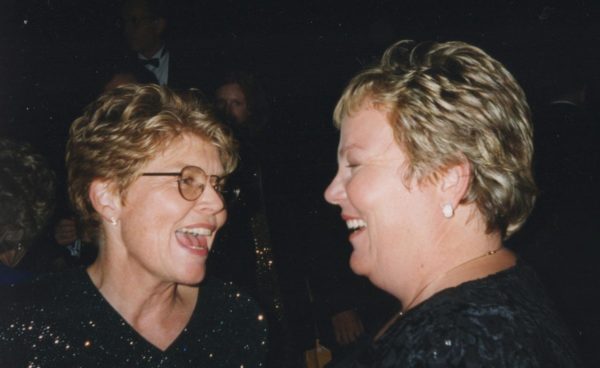 Outgoing Center Executive Director Torie Osborn and incoming Center Executive Director Lorri L. Jean (Photo by Karen Ocamb)
In 1993, the Center changed hands, with lawyer and former regional FEMA director Lorri L. Jean taking over as executive director. That included taking over the responsibility of fighting the AIDS crisis. Shortly after President Bill Clinton named Kristine Gebbie as the first AIDS Czar in June 1993, Gebbie visited the Center and got a tour from Jean and Chief of Staff Darrel Cummings.
AIDS Czar Kristine Gebbie with LA Gay & Lesbian Center executive director Lorrie Jean and Chief of Staff Darrel Cummings, with ANGLE and APLA Board members Diane Abbitt and Dr. Scott Hitt in background (Photo by Karen Ocamb)
The next year, Jean was looking for a signature event to be associated with the Center when young events consultant Dan Pallotta brought the idea for the California AIDS Ride to Jean and Development Director Joel Safranek. There was still no cure for AIDS nor any way to staunch the daily dying. The arduous seven-day, 560-mile bike ride from San Francisco to Los Angeles gave ordinary people an opportunity to contribute money, time and their souls to a cause greater than themselves in remembrance of those they lost.
Here's a good video about that first Tanqueray California AIDS Ride in 1994.
The return to West Hollywood in those first years was extraordinary.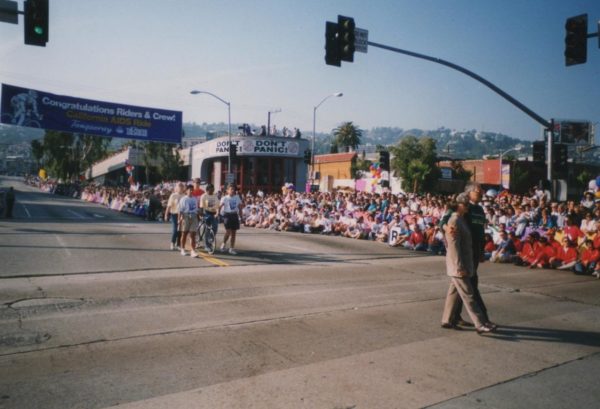 Ron and Shelli Goodman, who lost their son Jeffrey to AIDS, lead the procession with a rider-less bike held up by people with HIV/AIDS. Some of the millions raised went to help fund programs at the San Francisco AIDS Foundation and the Center, including medical care at its Jeffrey Goodman Special Care Clinic.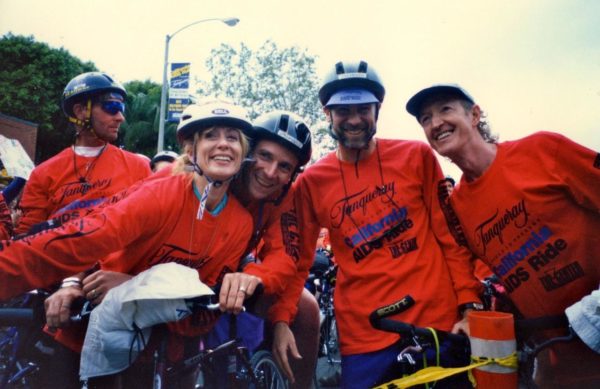 Among those who rode the last 90 miles were actress Judith Light, Robert Desiderio, Jonathan Stoller and Herb Hamsher. (Photo by Karen Ocamb)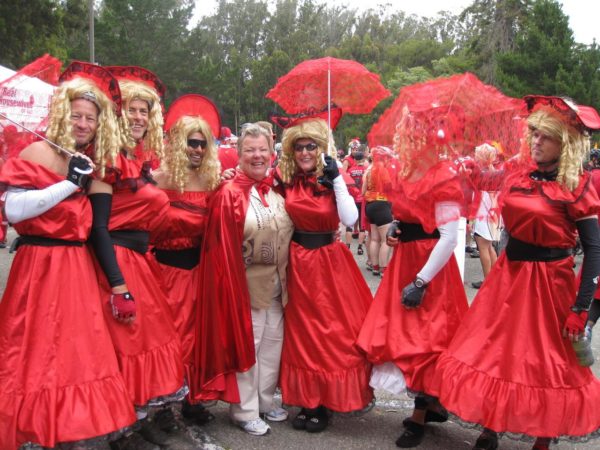 By 2002, the AIDS Ride had raised millions but was mired in controversy. The event was eventually re-launched as the AIDS LifeCycle, with headquarters at 1125 N. McCadden Place. Lorri Jean participated, including in the now-famous Red Dress Day. Last year the event raised more than $16.6 million.
The next AIDS LifeCycle is happening between June 2-8.
At the opening of the Anita May Rosenstein Campus, Jean mentioned that Rep. Adam Schiff rode the entire 545 miles.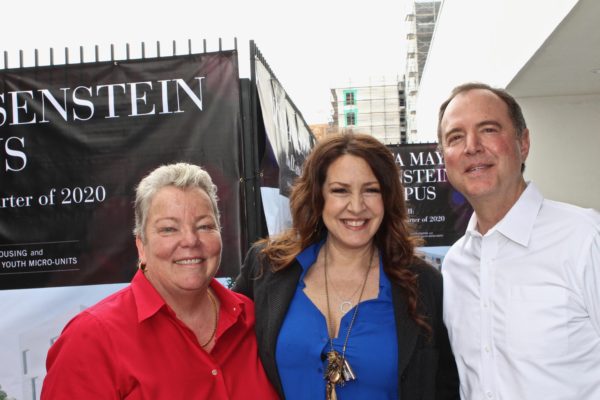 Lorri Jean, actress Joely Fisher, Rep. Adam Schiff (Photo by Karen Ocamb)
"I'm fortunate to represent a district with a large and vibrant LGBT community, and many of my constituents have received the highest quality care and services from the LA LGBT Center, one of the main beneficiaries of the ride," Schiff said before his 2014 ride. "I have been to the Center, I have seen the amazing work they do every day, and I know they have been a lifeline to people living with HIV."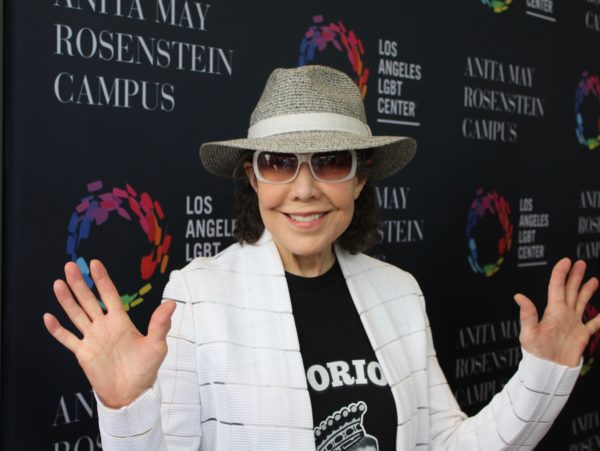 Lily Tomlin (Photo by Karen Ocamb)
The AIDS Life/Cycle is but one of a slew of educational and cultural offices and venues headquartered at The Village, including the 200-seat Renberg Theatre and The Lily Tomlin/Jane Wagner Cultural Arts Center. Tomlin has been a strong supporter for years.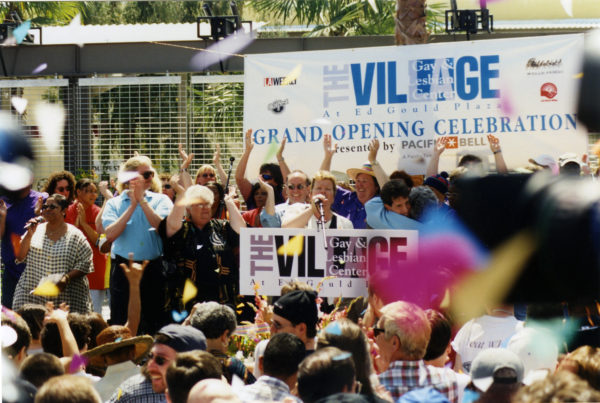 The Village at Ed Gould Plaza opens in June 1998 (Photo courtesy the Los Angeles LGBT Center)
The Village, Jean told the LA Times before its opening in 1998, is "a final piece in building a holistic gay and lesbian center," noting that heretofore "We've always been focused on the more dire needs." The Village complex cost about $6.7-million.
And from the early 1980s onward, the dire needs included at-risk and homeless LGBT youth, especially through their Jeff Griffith Youth Center on Santa Monica Blvd, established in 1995. While some youth found services through GLASS groups homes and the foster care system, there was little for youth who "aged out" of the system at age 18. The Youth Center focused on youth ages 18-24, providing three hot meals a day, showers, laundry facilities, lockers, and clothing, as well as HIV testing, educational help in getting a GED, and job hunting. The Youth Center moved to 1220 N. Highland where it provided 20 emergency shelter beds, thanks in part to help from the City of West Hollywood.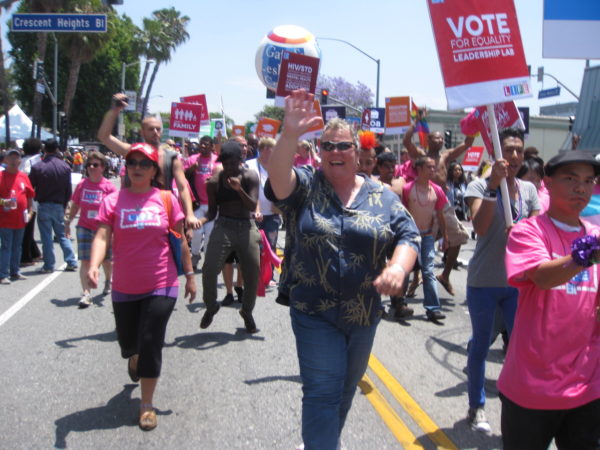 Inspiring and fighting for LGBT youth is also part of the mission. (Photo by Karen Ocamb)
Another dire need was the focus on the tragic injustice of homophobia faced by LGBT seniors who also became homelessness or were forced to go back into the closet to get care. The L.A. Gay & Lesbian Center determined that there were an estimated 65,000 LGBT people age 65 and older living in Los Angeles.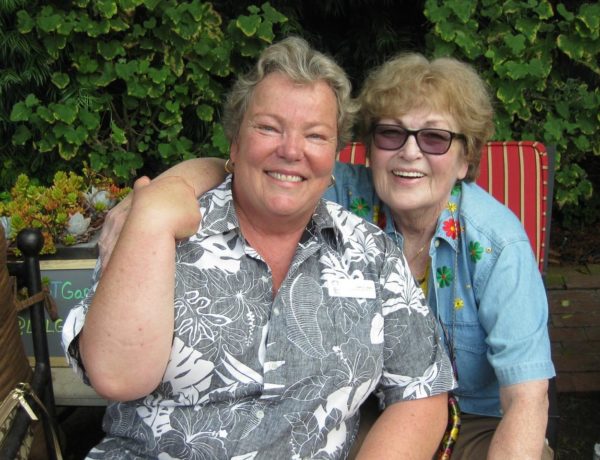 For Jean, the dire situation became clearer and even more real when she met Alice Herman. When Herman's partner of 45 years, Sylvia Purdue, died, she was left with a broken heart, two cats, two months rent and a car she was about to move in when the money ran out. Because she and Purdue were not allowed to marry, Herman had no access to her partner's Social Security benefits, as happens in heterosexual marriages.
Jean and the National Gay & Lesbian Task Force developed a joint project to call attention to the discrimination and lobby for legislation to remedy the inequity. Alice is featured in the Rock for Equality video.
The Center's Alan Acosta had helped Herman get an apartment at Triangle Square, the affordable housing by built by nonprofit Gay & Lesbian Elder Housing (GLEH) in 2007. In 2014, GLEH and the Center merged, with the LA Times reporting that "[a]bout 70% of GLEH's residents live at or near poverty level."
"This is the first generation of people who were willing to be out," Jean told The Times. "And many LGBT seniors are far poorer than people ever realize."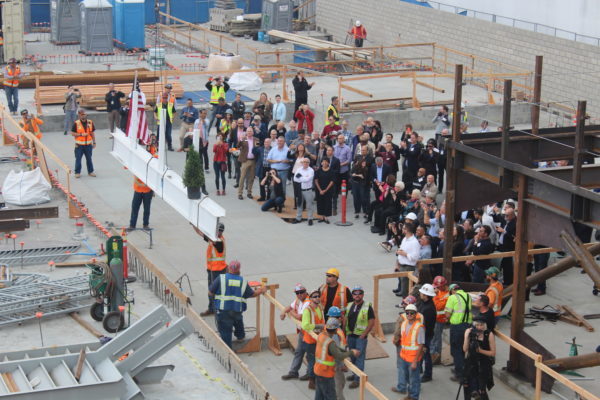 Four years later, as the beams were going in place for the Anita May Rosenstein Campus, the weight – and the joy – of the responsibility of caring for so many in the LGBT community started to really sink in.
"As I stood in the midst of the construction site, surrounded by towering steel girders and watching donors sign the beam with such excitement, I realized that a number of us were on the verge of tears," Jean told the Los Angeles Blade. 
"We knew our Center was achieving another pioneering 'first' for our worldwide movement.  It was as if the span of nearly 50 years of organizational history was condensed into that moment.  For centuries, our people hid in the shadows.  Then in 1971, the Center founders rented the first headquarters–an old clapboard house on Wilshire. They refused to hide, boldly putting our uncloseted name on the front for all to see (which some LGBTQ centers today are still afraid to do!)," she said. "Now we're in the final stretch of constructing the Anita May Rosenstein Campus which, combined with the Village, will occupy more than a city block.  Moreover, it sits visibly and proudly along of our nation's most iconic boulevards: the famed Route 66. We were teary-eyed because we knew not only that we were witnessing history being made, but that we were a part of it making it possible."
Lorri Jean and Anita May Rosenstein pose on a rooftop of a Campus building located at the intersection of Santa Monica Blvd, of Route 66 fame, and McCadden Place, a street that holds major LGBT history. (Photo courtesy the Los Angeles LGBT Center)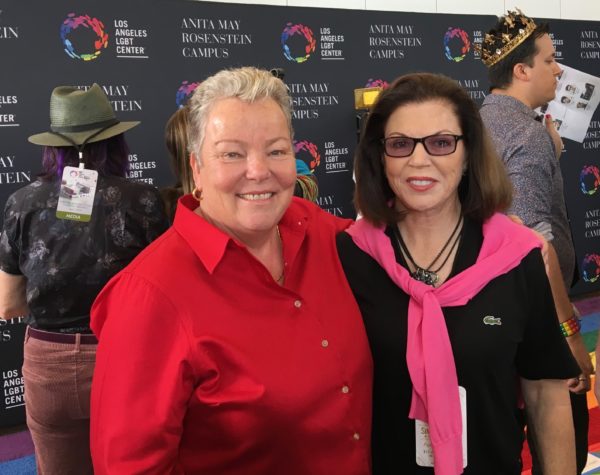 Jean was very proud of how many women stepped up, with Anita May Rosenstein taking a lead. (Photo by Karen Ocamb)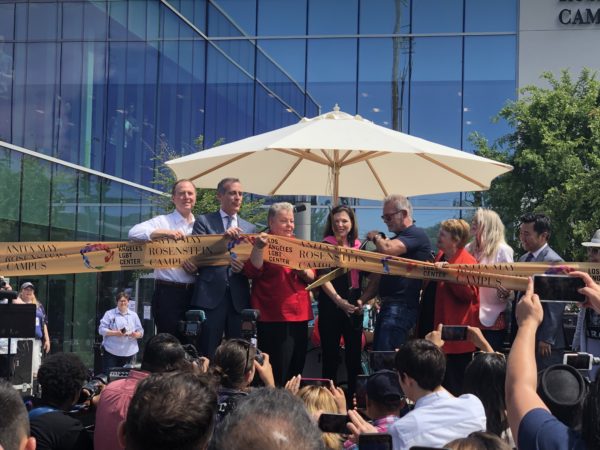 And then on April 7, 2019, Rep. Adam Schiff, LA Mayor Eric Garcetti, LA LGBT Center CEO Lorri L. Jean, lead donor Anita May Rosenstein, David Bailey, Center Board co-chair and Capital Campaign Chair, LA County Supervisor Sheila Kuehl, top donor Ariadne Getty, and LA City Councilmember David Ryu open the Anita May Rosenstein Campus. (Photo by Troy Masters)
Rep. Adam Schiff helped secure federal funding. "I was here on the night after the [2016] election when hundreds of people gathered quite spontaneously to ask the most profound and worrying questions about what [Donald Trump's election] means for the country, what it would mean for the community, what it would mean for all the hard-won progress towards marriage equality," Schiff told the Los Angeles Blade.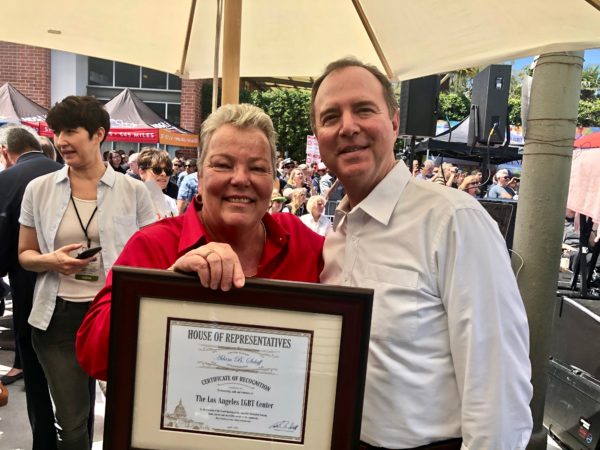 Los Angeles LGBT Center CEO Lorri L. Jean and Rep. Adam Schiff (Photo by Troy Masters)
"And this center, this beautiful new Campus is a testament that we march forward, that we will not be deterred," Schiff said. "Our community stands united behind equality no matter who is in the Oval Office—we shall overcome. I think it's just a wonderful celebration of what's possible when people work together."

Citycouncilmember Ryu addressing the crowd (Photo by Troy Masters) 
LA City Councilmember David Ryu secured a $4.9 million grant from the City of Los Angeles and the City of West Hollywood committed to contributing over $2 million.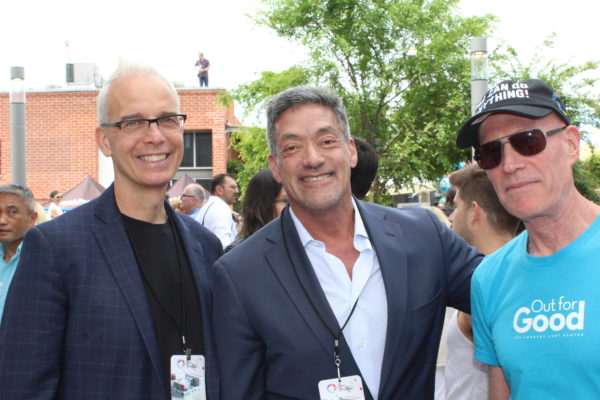 West Hollywood City Councilmembers John Heilman and John Duran with longtime Center Legal Services Director Roger Coggan. (Photo by Karen Ocamb)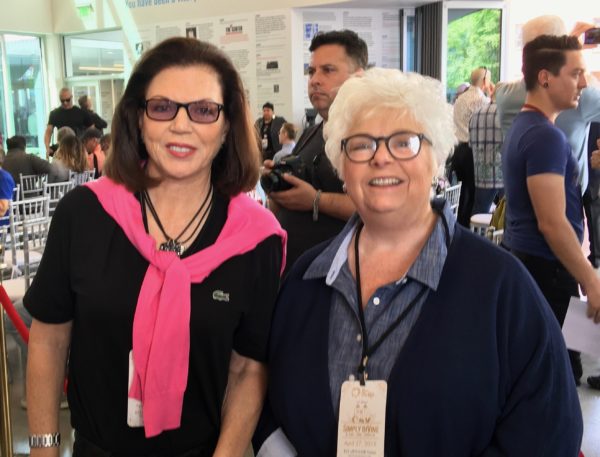 Lead donor Anita May Rosenstein and longtime Center Boardmember LuAnn Boylan (Photo by Karen Ocamb)
"I've been on the board for 27 years," Boylan told the Los Angeles Blade. "I stood on this side of the street when it was a parking lot looking across the street when we accomplished that thinking this is the apex of what we will do. I chaired the strategic planning committee that started about 11 ½ or 12 years ago when we started to envision that we needed to be doing more, in particular, toward the senior population in our community. I don't think we had any idea that we were envisioning this. On the other hand, we were pretty puffed up about the fact that we had pulled off the Village and kind of felt invincible, like if we need to do it, we can do it and that's it. And so here we are – $141 million dollars later, 180,000-plus square feet of service.

It's a beautiful building. In the Trump era where everyone is expecting us to go back into the closet and to minimize our importance, we're standing here saying that's not going to happen. And this is (gets emotional) such a testament to the power of love and the power of commitment from all of our people and our allies. It's just an amazing accomplishment."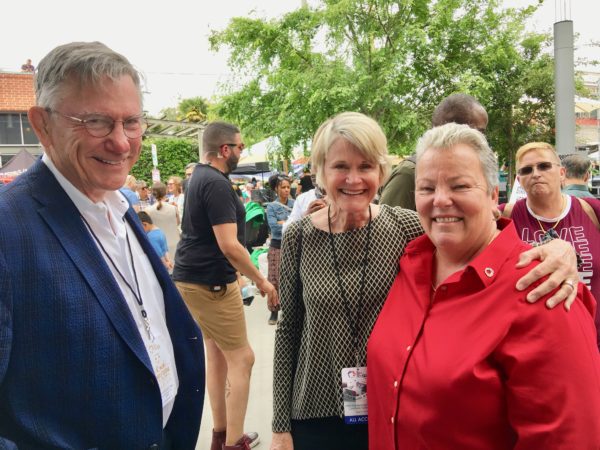 Killefer Flammang Architects Partners Wade Killefer, FAIA, and Barbara Flammang, AIA, with Los Angeles LGBT Center CEO Lorri L. Jean (Photo Karen Ocamb)
"The Center's leaders gave KFA and Leong Leong a clear vision: that the design of the new Anita May Rosenstein Campus must reflect the boldness, optimism, and absolute certainty of the Center's mission to care for, champion, and celebrate LGBT individuals and families," said KFA Partner Barbara Flammang, AIA, in a press release. "KFA is immensely proud to have participated in the creation of this historic new campus. We hope that the design and formal expression of these buildings and open, landscaped spaces contribute to the flourishing of the people who live in, work at, and visit this wonderful place."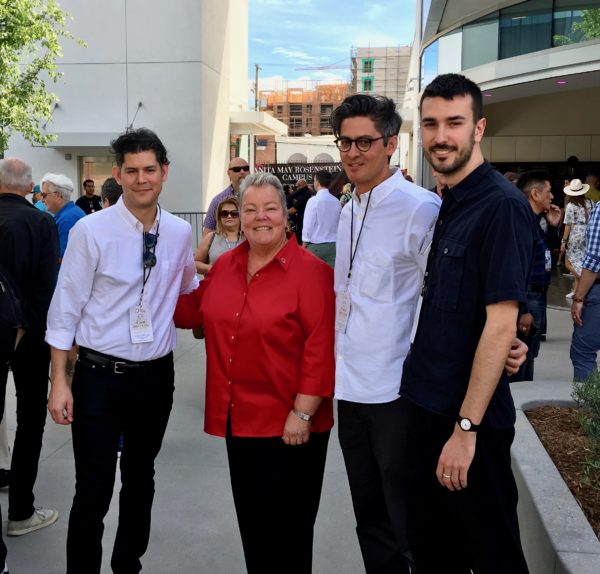 Chris Leong, Center CEO Lorri L. Jean, Dominic Leong, and Gabriel Burkett of Leong Leong design architects (Photo Karen Ocamb)
"The Anita May Rosenstein Campus is a new type of social infrastructure for the LGBTQ community that synthesizes social services and affordable housing into a porous urban campus," Dominic Leong of Leong Leong said in a press release. "The architecture proactively interfaces with the city, while serving as a sanctuary for diversity. A series of internal courtyards create spaces of refuge within, while a new public plaza invites the community and the city to connect. The architecture is a mosaic of identities and programs rather than a singular iconic gesture."
And a mosaic showed up for the opening.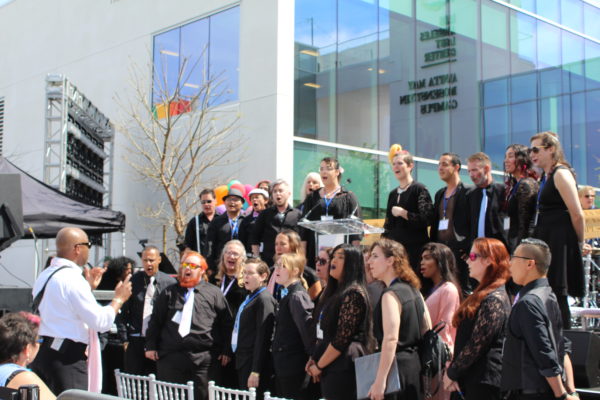 Trans Chorus of Los Angeles performs at the opening of the Anita May Rosenstein Campus (Photo by Karen Ocamb)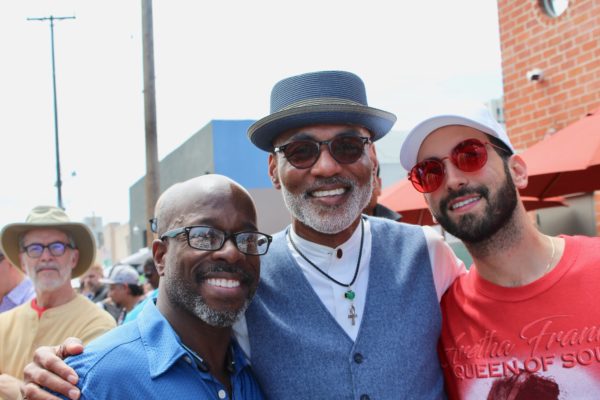 Black AIDS Institute Founder and former CEO Phill Wilson (center) with friends (Photo by Karen Ocamb)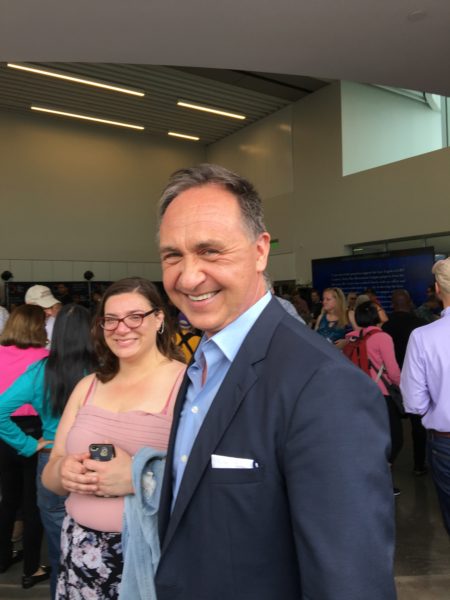 Equality California Executive Director Rick Zbur was happy to be there. (Photo by Karen Ocamb)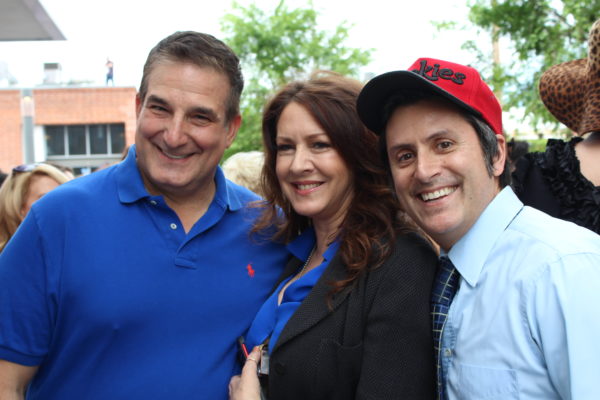 Project Angel Food Executive Director Richard Ayoub with longtime LGBT ally Joyly Fisher hung out. (Photo by Karen Ocamb)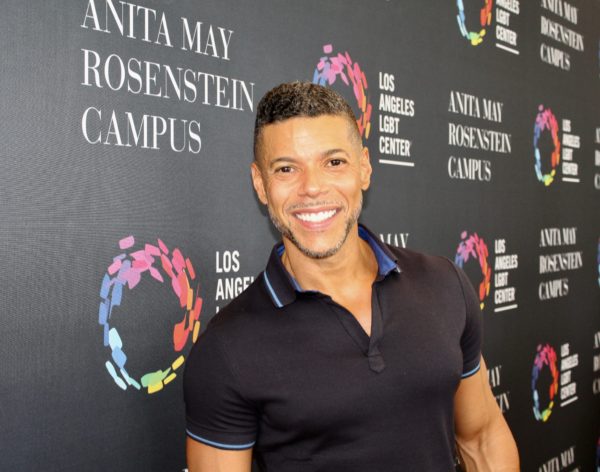 "Star Trek: Discovery" actor Wilson Cruz supported the Center's Pedro Zamora Youth HIV Program in 1995 as the out teen star of "My So-Called Life" (Photo by Karen Ocamb)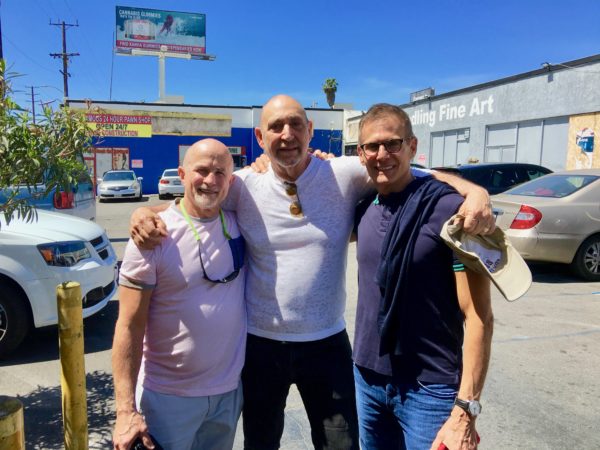 Tom E. Jones, Michaeljohn Horne and Board member Michael Lombardo after the Campus opening block party (Photo by Karen Ocamb)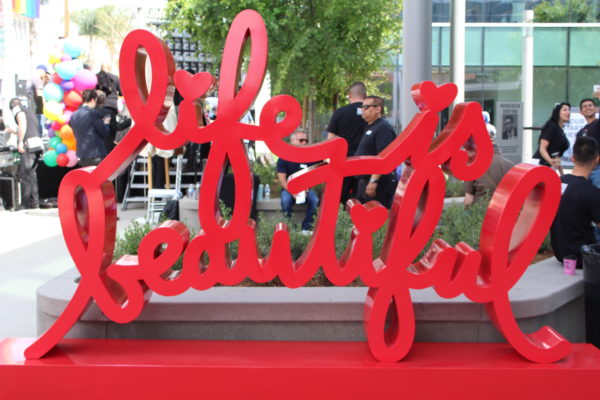 While McCadden Place and Hollywood Blvd provided hope and pride in being out in the 1960s, McCadden Place at Santa Monica Blvd provides the historical avenue to today's hope for freedom, equality and a real chance to pursue and embrace happiness. Life is Beautiful by the muralist artist Mr. Brainwash (Photo by Karen Ocamb)
April 18: this article has been updated and corrected from the original version.