Outfest 2019 kicks off with glittering gala, "Circus of Books"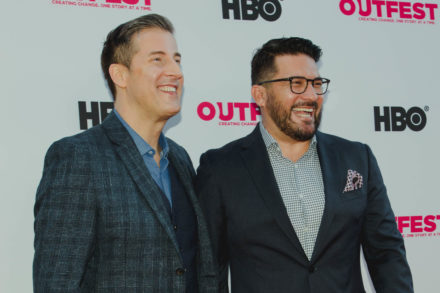 The historic Orpheum Theater in DTLA played host Thursday night to a sea of LGBTQ glitterati as the 2019 edition of Outfest kicked off its 11-day film festival with the traditional Opening Night gala, an event which has long been one of the highlights of LA's queer calendar.
As the sunset lingered in the downtown summer sky, a diverse and high-spirited crowd enjoyed a pre-party in the Orpheum parking lot, with music, cocktails, fun activities, and food ranging from free movie popcorn to the heartier fare served up by participating caterers like On The Border Mexican Grill.
The evening's main attraction was the festival's first film screening, the eagerly-awaited documentary "Circus of Books," which uses the story of gay LA' long-notorious – and beloved – bookstore and cultural hub – which closed its doors permanently in February of 2019 – as a means to explore the hidden history of LGBTQ life in the city, as well as to profile the store's unlikely owners, a married straight couple who fell into selling porn as a temporary means of making a living, and ended up raising a family while running an iconic queer business for decades.
Before the movie, Outfest board co-Presidents Terry Franklin and Marissa Roman Griffith took the stage in front of the packed theater audience to open the festivities with a joint speech, thanking the festival's many donors, members and sponsors, with Franklin saying, "Tonight you are out here in force, and we want to thank you for your commitment to ensuring that LGBT+ stories are made, seen, and preserved."
Franklin also invoked the recent 50th anniversary of Stonewall, saying, "Who among those gathered at Stonewall in 1969 could have imagined that an out black man and a fierce Latina ally would be standing here, in this historic venue in front of this diverse group, as co-presidents of the Board of Directors of Outfest?  It's a first, and we are incredibly proud to be here."
Griffith called Outfest a "family," and spoke of Outset, the festival's young filmmaker project in partnership with the LA LGBT Center.  Watching these young artists "find and raise their own voices through the collective medium of film was a joy and a privilege," she said. "It was more than their creative choices that were so inspiring – it was also about how the Outset program supported them in becoming stronger, more authentic versions of themselves. That is our future."
The pair then introduced outgoing Outfest Executive Director Christopher Racster, who is stepping down after 4 years in the post.  After being met with an enthusiastically vocal standing ovation, Racster said "It has been a joyous experience."  He went on to extend praise to the festival's board members for their "hundreds of hours" serving alongside an "incredibly tireless and passionate staff," as well as the volunteers "who give what is perhaps the most precious gift we have today, time, in service to this organization."
Following Racster's brief remarks, Franklin and Griffith introduced new Executive Director Damien Navarro, who said, "As a lifelong lover of film and storytelling, it is both exhilarating and pretty, pretty overwhelming to be standing here in this theater with you guys tonight.  However, I couldn't be more exciting to joining Outfest's family, on what promises to be a truly thrilling ride."
After citing the festival's importance as "a unique, powerful witness of our lives and contributions," in a time when "there are people in power […] who are actively working to reverse the progress we have made, and to silence our voices once again," Navarro went on to say, "We are not just a regional film festival anymore, in fact we haven't been that for decades. We are a festival of life, where every silenced and underrepresented voice can be heard, expressed, and protected."
He ended by calling on the audience full of Outfest supporters for their help, saying "We will need each and every one of you to help make this next chapter in Outfest a reality – but with the energy in this room, combined with what I know about this community, I have no doubt that we can do anything that we set our fabulous little queer minds to."
After Navarro's speech, Director of Festival Programming Mike Dougherty spoke about the 2019 festival's upcoming slate.  He remarked on the two themes he sees as connecting the films to be screened. "One is triumph," he said, adding, "In this world where the fight for our communities rights is under attack, showcasing over 200 stories from queer filmmakers is in itself triumphant."
He went on to single out history as the second theme, citing two of the year's scheduled films – the restored version of the 1967 seminal documentary, "The Queen," spotlighting New York ballroom legend Crystal LaBeija, and a new documentary, "Pier Kids," about queer and trans homeless youth who still live at New York's Christopher Street pier. "The rich diversity you'll see onscreen over the next eleven days exemplifies just how many of our voices can now be heard," he went on, "and it is crucial that we listen to all of them, and fight for all of them."
He then invited festival-goers to support movies outside their comfort zone.  "We all want to see ourselves represented onscreen," he said, "but what if we all took a challenge tonight to support stories that are outside our own experiences?  We've chosen some tremendous films that will allow you to do just that, and we promise it will be rewarding."
Dougherty then introduced Rachel Mason, director of "Circus of Books" and the daughter of Karen and Barry Mason – the iconic Weho shop's longtime owners who are at the center of the documentary.  She thanked the many people in the audience who had helped her in making the film by asking them to stand up and be acknowledged.  She then said to the audience, "If you have ever been to Circus of Books, in any capacity, please stand," and brought half the crowd to their feet.
Before beginning the film, Mason brought her family to the stage – brothers Josh and Micah, and Karen and Barry themselves.  When asked by her daughter if she would like to say something, Karen Mason said, "If I had known you all were going to show up to see this, I would never have cooperated with it."
The film, which was acquired by Netflix prior to its screening at the Tribeca Film Festival and will debut on the streaming platform later this year, evoked laughs and stirred memories in an appreciative audience full of people for whom its story was part of a shared personal history.
Following the screening, the crowd of happy film fans returned to the parking lot for an after-party that continued into the night, celebrating the official start of an important, exciting, and uplifting week-and-a-half dedicated to queer stories and the queer people who tell them.
For tickets and information about Outfest 2019, visit www.outfest.org.
STAGE RAW announces 2023 Theatre Awards Finalists
This year, Stage Raw is recognizing productions in venues of all sizes, rather than focusing entirely on venues of 99-seats or fewer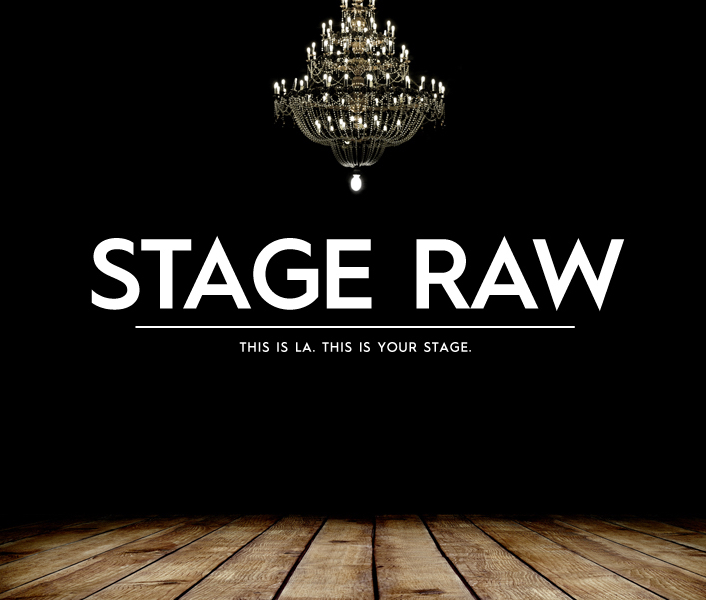 LOS ANGELES – The Stage Raw Theater Awards celebrate excellence on Los Angeles-area stages. This year's Stage Raw "I'm Still Here" Theater Awards Party will recognize productions that opened in the calendar year 2022.
Stage Raw is a community funded professional journalism website that was launched in 2014, in response to the decline of arts coverage in local mainstream and alternative media.
The Awards party will be held Monday night, April 17, 2023 at the Sassafras Saloon, 1233 N. Vine Street in Hollywood. Tickets are $20 for everybody, if purchased in advance. $25 at the door. (Capacity is limited and tickets will no longer be available once that capacity is reached.) Admission includes complimentary food, music, dancing and a cash bar.  All proceeds will be used to support the professional journalists of Stage Raw, and their ability to continue covering Los Angeles-area theater.  
Tickets can be purchased here: (Link)
Be sure to use the discount promo code "StageRaw" to bypass the $2.50 ticketing fee. (This is a service of ticketing agency onstage411.com).
CHANGES FROM PRIOR STAGE RAW AWARDS CEREMONIES:
This year, Stage Raw is recognizing productions in venues of all sizes, rather than focusing entirely on venues of 99-seats or fewer. 
Also, Stage Raw has changed its system of allocating recognition in response to the flaw in prior years of excluding excellent productions that were unable to attract a "quorum" of contributors. This year, each Stage Raw contributor has been allocated a number of votes, in proportion to the number of Stage Raw-reviewed shows they saw, and they have cast their votes to any person, production or in any category they choose.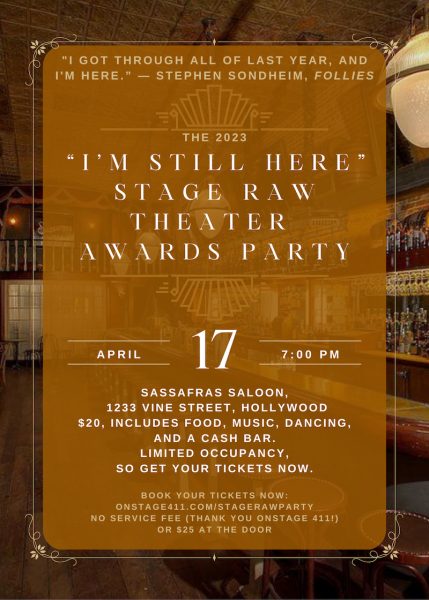 Explains Founding Editor Steven Leigh Morris: "The hoped-for effect of this system is to diversify the number of companies receiving awards by honoring the generational, ethnic, gender and aesthetic diversity of our individual contributors, who will each be selecting award winners."
And finally, the entire feel of the event will be more of a party than an awards show. The actual ceremony will be 30-45 minutes dedicated to announcements, and the presentation of the "Queen of the Angels" and "Lifetime Achievement" awards. All of the other awards recipients will be named during this ceremony and can retrieve their awards at a table.
THE 2023 STAGE RAW AWARD FINALISTS/RECIPIENTS:
FIGHT CHOREOGRAPHY
Ahmed Best, Hooded, or Being Black for Dummies, Echo Theater Company
SOUND DESIGN
Dean Harada, Tea, Hero Theatre at Inner-City Arts
LIGHTING DESIGN
Lap Chi Chu, The Search for Signs of Intelligent Life in the Universe, 
Center Theatre Group, Mark Taper Forum
VIDEO/PROJECTION DESIGN
Hsuan-Kuang Hsieh, The Great Jheri Curl Debate, East West Players
Nick Santiago, Green Day's American Idiot, Chance Theatre
SET DESIGN
Ann Beyersdorfer, Afterglow, Midnight Theatricals at the Hudson Theatre
John Iacovelli, The Brothers Paranormal, East West Players
Cindy Lin, Untitled Baby Play, IAMA Theatre Company
Rachel Myers, Power of Sail, Geffen Playhouse  
SUPPORTING PERFORMANCE
Aimee Carrero, Who's Afraid of Virginia Woolf?, Geffen Playhouse
Alexandra Hellquist, On the Other Hand We're Happy, Rogue Machine Theatre
Michael Matts, Angels in America: Perestroika, Foolish Production Company
Eileen T'Kaye, A Doll's House, Part II, International City Theatre
COMEDY PERFORMANCE
Brent Grimes, Hooded, or Being Black for Dummies, Echo Theater Company
SOLO PERFORMANCE
John Rubinstein, Eisenhower: This Piece of Ground, New Los Angeles Repertory Theatre Company, Theatre West and Hudson MainStage Theatre
SOLO WRITING-PERFORMANCE
Alex Alpharaoh, Wet: A DACAmented Journey, Greenway Court Theatre  
Colin Campbell, Grief: A One-Man Shitshow, The Broadwater
Ben Moroski, Dog, The Broadwater
Jesús I. Valles (Un)documents, Latino Theater Company

WRITING-PERFORMANCE
Judy Carter, A Death-Defying Escape!, Hudson Guild Theatre
LEAD PERFORMANCE
Hugo Armstrong, Uncle Vanya, Pasadena Playhouse
Kevin Ashworth, A Public Reading of an Unproduced Screenplay About the Death of Walt Disney, Theatre Planners at the Odyssey Theatre
Ramón de Ocampo, Hamlet, Antaeus Theatre Company
Jenny O'Hara, Little Theatre, Rogue Machine Theatre
Zachary Quinto, Who's Afraid of Virginia Woolf?, Geffen Playhouse
Jennifer Shelton, A Doll's House, Part II, International City Theatre
Michael A. Shepperd, Valley Song, International City Theatre
Kalean Ung, Macbeth, Independent Shakespeare Co.
DIRECTION
Nancy Lantis, The Sandman, Eclipse Theatre LA and Santa Clarita Shakespeare Festival
COMEDY DIRECTION
Ahmed Best, Hooded, or Being Black for Dummies, Echo Theater Company
DIRECTION/ENSEMBLE
Will Block and the ensemble of All is True or Henry VIII, The Porters of Hellsgate Theatre Company
Gregg T. Daniel and the ensemble of Radio Golf, A Noise Within
COMEDY ENSEMBLE
Can't Pay? Don't Pay!, The Actors' Gang
ENSEMBLE
Anna in The Tropics, A Noise Within
Blues for an Alabama Sky, Center Theatre Group/Mark Taper Forum
The Colored Museum, Loft Ensemble 
Freestyle Love Supreme, Pasadena Playhouse,
If Nobody Does Remarkable Things, Pandora Productions at the Garage Theatre 
The Inheritance, Geffen Playhouse
Masao and the Bronze Nightingale, CASA 0101 and the Japanese American National Museum
ADAPTATION
James Fowler, A Midsummer Night's Dream, Open Fist Theatre Company
PLAY WRITING
Carla Ching, Revenge Porn, Ammunition Theatre Company
Bernardo Cubria, The Play You Want, Road Theatre Company
Kelly McBurnette-Andronicos, The House of Final Ruin, Ophelia's Jump
Murray Mednick, Three Tables, Padua Playwrights at the Zephyr Theatre
PRODUCTION EXCELLENCE IN QUEER STORYTELLING
Interstate, East West Players
DISTINGUISHED MUSICAL REVIVAL
Oklahoma! Center Theatre Group/Ahmanson Theatre
DISTINGUISHED PRODUCTION
A Midsummer Night's Dream, Open Fist Theatre
The Penelopiad, City Garage
Roe, Fountain Theatre
Uncle Vanya, Pasadena Playhouse
DISTINGUISHED SEASON
The Road Theatre Company (The Play You Want, Beloved, Bright Half Life, According to the Chorus) 
LIFETIME ACHIEVEMENT
Maria Gobetti and Tom Ormeny (Victory Theatre Center)
Frédérique Michel and Charles Duncombe (City Garage)
QUEEN OF THE ANGELS
The SB116 Coalition (Teri Ball, Beatrice Casagran, Elina DeSantos, Emmanuel Deleage, Martha Demson, Christopher Maikish, Leo Marks, Marc Antonio Pritchett and Vanessa Stewart)
*****************************************************************************************
The 2023 Stage Raw "I'm Still Here" Theater Awards Party is supported through the generous sponsorship of the following companies and individuals: Antaeus Theatre Company, Crimson Square Theatre, Dina Morrone, DEMAND PR, The Geffen Playhouse, The Hudson Theatres, IAMA Theatre Company, Lucy Pollak Public Relations, Macha Theatre Company, Ophelia's Jump, Road Theatre Company, Sandra Kuker Public Relations, Santa Monica Playhouse, Sierra Madre Playhouse, Theatre 40, Theatre of NOTE, and The Victory Theatre Center.