July 31, 2019 at 11:56 am PDT | by Karen Ocamb
Warren wins among LA Democratic 1st debate watchers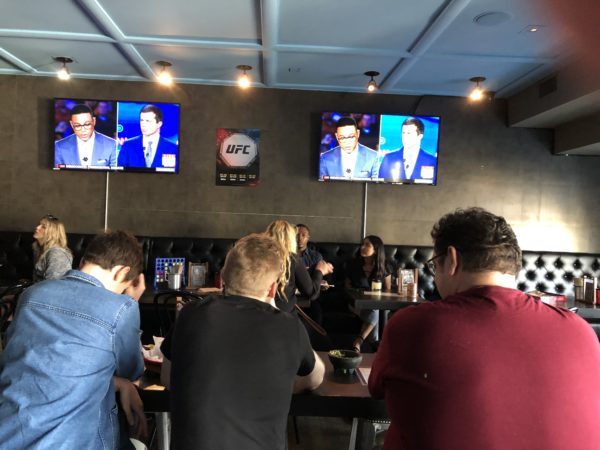 It was a loud Tuesday night at Jalapeño Pete's in Studio City with families watching an LA Dodgers comeback on huge TV screens on one side and on the other side members of Stonewall Democratic Club,  San Fernando Valley Young Democrats and Los Angeles County Young Democrats holding one of several parties around Los Angeles County watching the first of two Democratic debates on CNN.
Though the past several days have seen Democrats distraught over President Trump's overt racist attacks against beloved Rep. Elijah Cummings and more House members calling for impeachment inquiries, the 10 Democrats onstage in Detroit, Michigan focused on differences in policy and fighting for a viral moment than giving Trump any precious air time.
Out South Bend, Indiana Mayor Pete Buttigieg embodied LGBTQ issues by his sheer presence, if debate watchers caught moderator Jake Tapper's reference to Buttigieg's husband Chasten. Otherwise, there was only one reference throughout the night to the LGBTQ community—when Vermont Sen. Bernie Sanders mentioned that Trump is a "homophobia" in his list of the president's hateful characteristics.
That was not a particularly big deal among the crowd of debate watchers at Jalapeno Pete's. What mattered more among these Democrats, most of whom were millennials, was who could take on Donald Trump and win. And while Sanders appeared to excite the audience in Detroit, Massachusetts Sen. Elizabeth Warren won the room in Studio City. Buttigieg stood his ground, landing some erudite punches. But perhaps the biggest surprise was former LA-based self-help guru Marianne Williamson who prompted laughter and nodding heads with her "yada, yada, yada" Seinfield reference and her lightsaber slashing of the tangled policy back-and-forth of her rivals.
"She's a little kooky but she makes some good points," says Michael Colorge.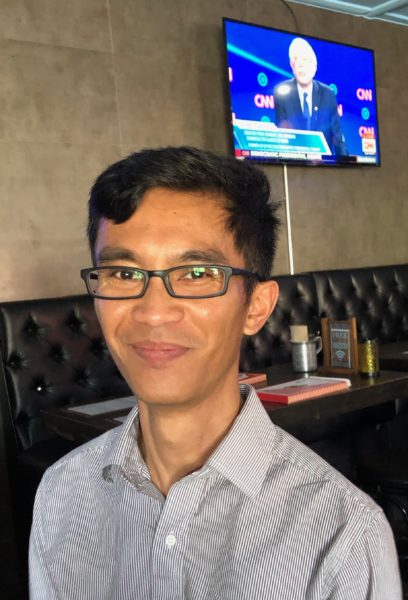 Michael Colorge (Photo by Karen Ocamb)
At 37, Colorge aged out of his longtime association with Stonewall Young Democrats but he's still deeply involved in Democratic politics. He says he's gravitating more toward the women candidates, especially Warren and California Sen. Kamala Harris—but he wants to see how all the candidates handle themselves and who has the most staying power before making a commitment. He expects at least half of the 20 contenders to "disappear" after the two CNN debates.
Harris will be onstage Wednesday night, along with former vice president Joe Biden, who is currently leading in most of the polls. While pundits are expecting a rematch between Harris and Biden, who clashed in last month's debate in a painful moment about racism, it is actually New Jersey Sen. Cory Booker who has virtually announced he's going to take on Biden, the author of the crime bill that is believed to have led to the mass incarceration of African Americans and divisive criminal justice policies.
Former housing secretary Julián Castro, who gained some much needed notice in the last debate by going after Trump on immigration, may also make some waves Wednesday night. But Colorado Sen. Michael Bennet, Sen. Kirsten Gillibrand, Rep. Tulsi Gabbard, Washington Gov. Jay Inslee, New York City Mayor Bill de Blasio and businessman Andrew Yang need more than just oxygen to survive to make the next debate stage in September.
Though several pundits gave the Tuesday night crowd some applause, very little attention was paid to Ohio Rep. Tim Ryan, former Colorado Gov. John Hickenlooper, former Maryland Rep. John Delaney, or Montana Gov. Steve Bullock. Even one-time Texas shooting star, former Rep. Beto O'Rourke, and Minnesota Sen. Amy Klobuchar failed to rise above the restaurant din unless they were challenging Buttigieg, Sanders or Warren.
Delaney, a rich, moderate, former health-care executive, looked like a white, bald bobble-head doll up against Warren.
"I'm the only one on the stage who actually has experience in the health-care business, and with all due respect, I don't think my colleagues understand the business," he said during what seemed like an endless debate over Medicare-for-all and the end of private insurance.
"We are the Democrats. We are not about trying to take health care away from anybody. That's what Republicans are trying to do," Warren said, to the approval of the crowd in Studio City.
While Warren and Sanders appeared on the same page about many issues, the LA party watchers were not as excited by Sanders, who some felt sounded much the same as he did in 2016. A residue anger that he subsequently failed to help Hillary Clinton after she secured the Democratic nomination hung over comments about the candidate who is second in the polls behind Biden.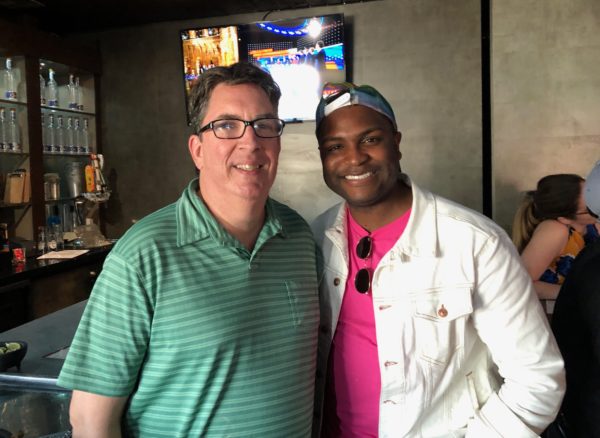 Stonewall Democratic Club President Lester Aponte and Stonewall's Community Outreach Vice President Drexel Heard (Photo by Karen Ocamb)
But, says Stonewall Democratic Club President Lester Aponte, there were many reasons Clinton lost, including that she talked about Trump every day. Sanders and Biden are at the top of the polls now because people who wait until the last minute to get engaged recognize their names.
"In 2018, candidates won by talking about the issues," he says. "The economy may be 'great' but it's not 'great' for everyone. People are having a hard time making ends meet. They want to know what these candidates will do to help them."
Aponte agrees with Speaker Nancy Pelosi that a House vote on impeaching Trump before the 2020 elections "plays into his hands. It's important to let the public know what Trump has done—that [Special Counsel] Mueller did not exonerate him— and build public support. Democrats should talk about his illegal acts and [the investigating committees] should bring in witnesses with personal knowledge" about his wrong-doing.
"Trump has no sense of decency," Aponte says. "Even the Republicans of the 1970s had a certain level of civic responsibility," when it came to the impeachment of President Richard M. Nixon. "Now witnesses are not even responding to subpoenas and will not testify" before Congress, on orders from the White House.
"In a way, this is exposing weaknesses in our political system," says Aponte, pointing out that the governor of Puerto Rico resigned after the territory's House of Representatives, controlled by members of his own party, started preparing articles of impeachment. "His party abandoned him. Here, [South Carolina Sen.] Lindsey Graham rolls over for Trump."
Buttigieg expressed a similar sentiment during the debate, spinning a question about whether age should matter in choosing a candidate. He said it didn't matter, as long as a candidate's vision isn't "back to normal," an oblique reference to Biden.
"It's the only reason we got this president. That normal didn't work," said Buttigieg, 37, the youngest candidate. It is the duty of leaders to not only take on Trump but also the president's "enablers." Today the Republican Party is supporting Trump's "naked racism." But 20 years ago, when former KKK Grand Wizard and avowed white supremacist David Duke ran for office, the Republican Party "ran away from him."
Buttigieg then looked directly into the camera and, as if speaking for moral people everywhere, said: "If you are watching at home, and you are a Republican member of Congress, consider the fact that, when the sun sets on your career, and they are writing your story, of all the good and bad things you did in your life, the thing you will be remembered for is whether, in this moment, with this President, you found the courage to stand up to him or continue to put party over country."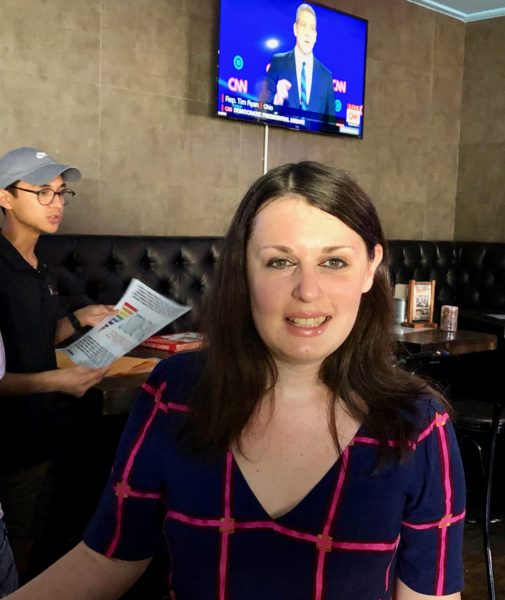 Michelle Elmer (Photo by Karen Ocamb)
It was a moment. And millennials such as Michelle Elmer, 37, who volunteered for now-Rep. Harley Rouda in 2018, like Buttigieg as the first viable gay and millennial to make the debate stage. But while he is on her list of top three candidates, she still prefers Warren, whose plans resonate with her, and Harris. "I want to see a woman elected president," she says, definitively.
And Warren did not disappoint. "You know, I don't understand why anybody goes to all the trouble of running for President of the United States just to talk about what we really can't do and shouldn't fight for," she said in another slam against Delany.
It was another moment that got heads nodding in the affirmative, another moment that might help with those small donations and willingness to volunteer that candidates rely on grassroots organizations to help galvanize their campaigns.
Drexel Heard, 33, Stonewall's Community Outreach Vice President, finds political engagement to be a public service.
"As a military kid, service is ingrained in what we know to do. It's kind of indoctrinated in you—to be there for people, to care about people. That's what the Democratic Party stands for," he says. "If we apply the honor code of our principles, then a majority of voters will understand what Democrats believe in—that we are unwavering in how we look out for people."
Wednesday night will be another opportunity to see how the Democratic Party intends to define itself against Donald Trump.
CORRECTION: This post corrects the misidentification of Michael Colorge and the title for Drexel Heard with deepest apologies.