Newsom signs bill requiring presidential candidates to disclose tax returns, including Trump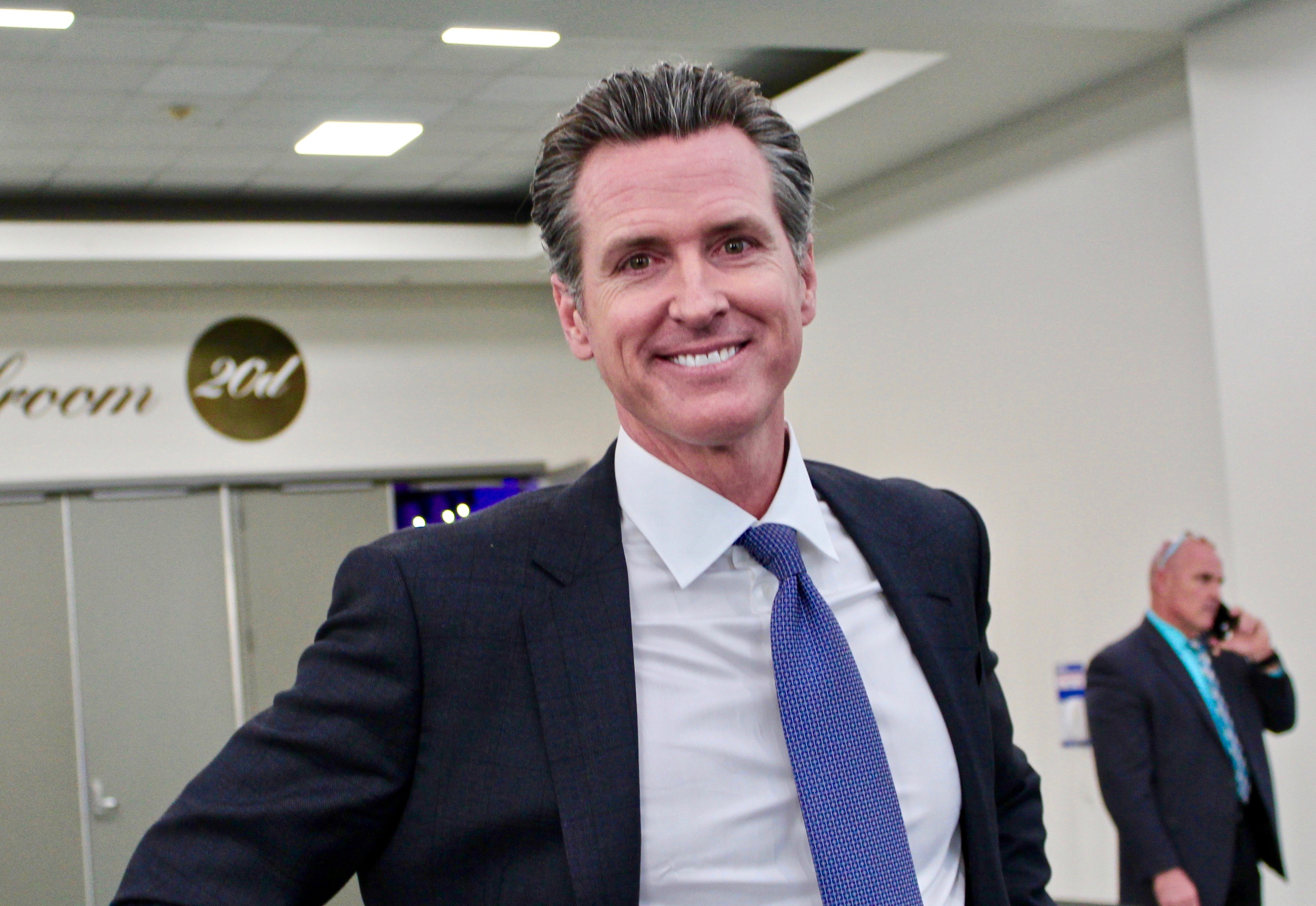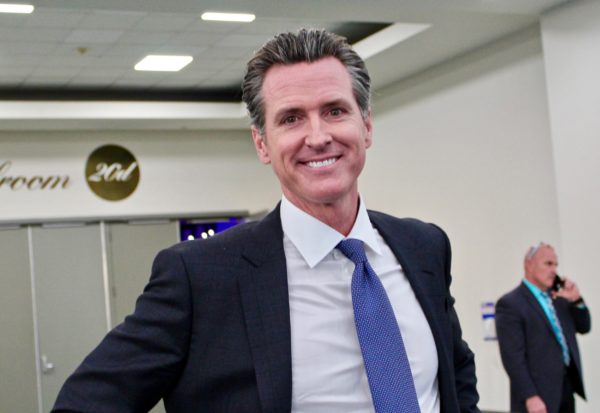 California is the first state in the country to make the disclosure of tax returns a requirement for a March primary ballot spot under a law signed July 30 by Gov. Gavin Newsom. Though Senate Bill 27, the "Presidential Tax Transparency and Accountability Act," clearly was inspired by Donald Trump's persistent refusal since 2016 to disclose his returns, as has been a custom for decades, the law applies to Democratic and other party candidates, as well.
SB 27, authored by Sen. Mike McGuire (D-Healdsburg) and out Sen. Scott Wiener (D-San Francisco), requires that all candidates running for president or governor submit the last five years of their personal income tax returns to California's Secretary of State. The information would then be published online for the public to see, with contact information, Social Security numbers and medical information redacted.
"These are extraordinary times and states have a legal and moral duty to do everything in their power to ensure leaders seeking the highest offices meet minimal standards, and to restore public confidence. The disclosure required by this bill will shed light on conflicts of interest, self-dealing, or influence from domestic and foreign business interest," Newsom wrote in his signing statement Tuesday. "The United States Constitution grants states the authority to determine how their electors are chosen, and California is well within its constitutional right to include this requirement."
Trump's 2020 presidential reelection campaign spokesperson, Tim Murtaugh, calls the move "unconstitutional."
"There are very good reasons why the very liberal Gov. Jerry Brown vetoed this bill two years ago— it's unconstitutional and it opens up the possibility for states to load up more requirements on candidates in future elections. What's next, five years of health records?" Murtaugh said.
In fact, as the Los Angeles Times points out, "neither then-Gov. Jerry Brown nor his GOP challengers would divulge details on their finances during the 2010 and 2014 campaigns."
In 2017, Brown vetoed a similar measure, arguing that it is probably unconstitutional and sets a bad slippery-slope precedent. "Today we require tax returns, but what would be next?" Brown argued in his veto message. "Five years of health records? A certified birth certificate? High school report cards? And will these requirements vary depending on which political party is in power?
The law does not apply to gubernatorial candidates until 2024 but the bill takes immediate effect for 2020 presidential candidates who must file their returns by late November to get a spot on California's Super Tuesday primary ballot.
The law, therefore, will likely be challenged quickly as happened with Trump's lawsuit filed in U.S. District Court for the Southern District of New York challenging a law signed earlier this month by Gov. Andrew Cuomo that requires the state to turn over Trump's New York state tax returns to House committees investigating the president's business and other dealings.
The Los Angeles Blade spoke with a lawyer, who requested anonymity, familiar with the New York filing. He said Newsom's action would likely bring an immediate legal challenge the California law. "Because of the campaign process and the time requirements, I can see this challenge getting fast tracked through the Ninth Circuit and landing at SCOTUS by next Spring 2020," he said.
That timing might keep Trump off the March Primary ballot—unless he mounts an exempted write-in campaign. But he could still get a spot on the November 2020 election ballot.
Trump's reelection spokesperson seemed to flag the campaign's argument—that states cannot add requirements to presidential candidates' qualifications for running.
"The Constitution is clear on the qualifications for someone to serve as president and states cannot add additional requirements on their own," Murtaugh said. "The bill also violates the 1st Amendment right of association since California can't tell political parties which candidates their members can or cannot vote for in a primary election."
Constitutional expert Erwin Chemerinsky, Dean of the University of California's School of Law, disagrees. "SB 27, which requires that presidential candidates disclose tax returns, is constitutional. It does not keep any candidate from being on the ballot so long as he or she complies with a simple requirement that is meant to provide California voters crucial information," Chemerinsky said in a statement. "This is the state acting to make sure that its voters have information that might be very important to them when they cast their ballots as to who they want to be President of the United States."
David Boies, Chair of Boies Schiller Flexner LLP, famous Democratic litigator in Bush v Gore and the federal lawsuit against Prop 8 (with Ted Olson), also argued that point.
"The U.S. Constitution gives each state the authority to determine how that state's electors are chosen, limited only by compliance with other constitutional provisions, such as equal protection. No other constitutional provision is implicated or violated by a state's requirement that a Presidential candidate disclose tax returns," Boies said in a statement. "Moreover, California, which permits electors to be chosen by popular vote, has an important interest in insuring that its voters are informed. I also would note that people are regularly required to produce their tax returns pursuant to state law for far less consequential matters than a Presidential election, such as civil litigation or obtaining a loan from a bank."
Newsom has been challenging Trump since the then-Republican presidential candidate refused to release his returns because he claimed to be under IRS audit. "Folks think @realDonaldTrump is avoiding tax release because he pays a very low rate," Newsom tweeted in May 2016. "I think its because his finances are a house of cards."
The real house of cards, scarier than the Netflix version. – Karen Ocamb contributed to this story. 
Little hope for Trans youth under siege by Republicans
Fear, anger, outrage, and exasperation are now the experiences daily for Trans Americans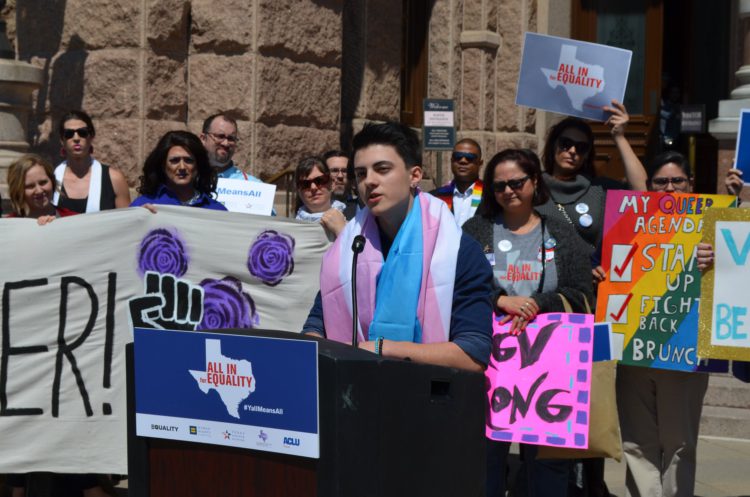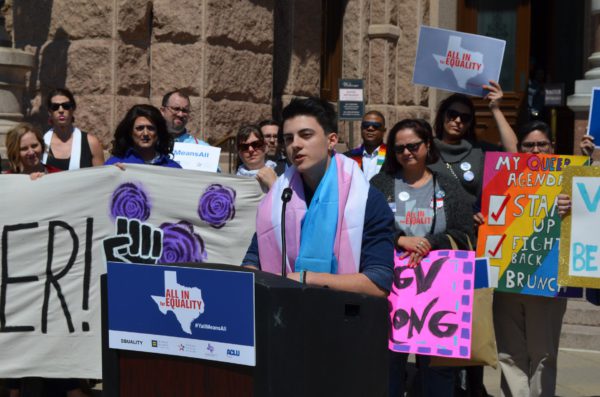 HOUSTON, TX. – The thousand-yard stare is rapidly afflicting many members of the Transgender community in the United States these days, especially Trans youth and their parents.
That phrase, often used to describe the blank, unfocused gaze of combatants who have become emotionally detached from the horrors around them, sadly fits most Trans people.
It is a war without bullets, bombs and artillery shells, but it is a war nonetheless being waged against a fractional percentage minority in America ironically by another minority, only one that is well funded and politically powerful backed by religious zealots and extremists.
Fear, anger, outrage, and exasperation are now the experiences daily for Trans Americans of every age as they confront what has been a virtual tsunami of legislative actions in twenty-five states specifically targeting their existence, as Republican lawmakers work to limit medical care, participation in sports, or limit their being able to self determine their own gender identity.
In a published commentary this week, an 18 year-old trans male from Virginia pointed out;
"A lot of anti- trans bills targeting people like me passed recently and more are being proposed. Republicans have decided that the most important thing to do in the middle of a pandemic is to take away life-saving treatment from children and ban them from playing sports," Eric Tannehill said.
"This has been painful for me. It's like watching a murder in slow motion. I see what they're doing and recognize that it's going to get people killed and there's nothing I can do but just watch as they target kids like me with a smile on their face and a Bible in hand," he added.
The soft voice on the phone is weary filled with mixed tones of anger and disgust but also apprehension. "There's so many of these bills," 18 year-old Landon Richie tells the Blade. Richie, a college freshman in the metropolitan Houston area has been invested in the fight for Trans rights in Texas since he first came out as an young child.
"I've been very lucky to have had my parents' support especially with my medical care. I'm on hormones, I had 'top' surgery- but if they pass both House Bill 1399 and Senate Bill 1311 I have a younger sibling who identifies as non-binary and they would be blocked from receiving medical care," he said. "We don't know what we (as a family) are going to do- I mean there are other families who are talking about moving away. [from Texas]"
HB 1399 prohibit health care providers and physicians from performing gender confirmation surgery or prescribing, administering or supplying puberty blockers or hormone treatment to anyone under the age of 18. SB1311 would revoke the medical license of health care providers and physicians who perform such procedures or prescribe such drugs or hormones to people younger than 18.
As these bills work their way through the Texas statehouse, the ACLU reports that in 14 other states, lawmakers are also pushing laws that bans or severely restrictions on transition care for trans youth under 18.
The Williams Institute at the University of California Los Angeles School of Law warns that 45,100 trans youth are at risk of loss of gender-affirming medical care.
Most of these bills propose to make it a crime or a cause for professional discipline for medical providers to deliver gender-affirming care to minors. Bills in Louisiana, Missouri, North Carolina, South Carolina, Tennessee, and Texas also include penalties for parents who encourage or facilitate minors' access to gender-affirming medical care.
In three other states—Alabama, Louisiana, and South Carolina—school employees would be prohibited from withholding information about a child being transgender from that child's parents, while a similar requirement proposed in North Carolina would apply to all state employees.
The bill passed in Arkansas, and bills under consideration in Louisiana, Montana, North Carolina, and Tennessee, would allow individuals to file civil suits for damages against medical providers who violate these laws.
Bills in Arkansas and Montana provide mechanisms for the state Attorneys General to file suit against medical providers to enforce compliance.
"I can't see not being able to transition- I mean having to live with non-support?" Richie said. "I can tell you that if I had not had the support of my parents and well, if I hadn't been able to transition- I may not even be here, nothing is more terrifying for a Trans kid than being out and not able to transition," he added.
In the case of Texas, Richie says he is aggravated by the fact that lawmakers aren't listening to experts, medical experts, counselors, and even trans youth who have been testifying in front of both Representatives and Senators in the various committees. "They don't care, they listen to some bogus groups like the "American College of Pediatricians" which isn't credible," he angrily stated.
The ACP is a small group of physicians that left The American Academy of Pediatrics after the AAP released a 2002 policy statement explaining that gay parents pose no risk to adopted children. The Southern Poverty Law Center has repeatedly labeled the ACP as an anti-LGBT hate group that promotes false claims and misleading scientific reports.
"Texas will be uninhabitable for Trans kids if they pass all these bad bills," he said.
Medical experts agree that should this legislative tsunami pass into law, the mental health toll of gender dysphoria and social marginalization will produce spikes in youth suicides and other psychological trauma.
In an interview with The Texas Tribune, Marjan Linnell, a general pediatrician explained that puberty suppression treatment has been used for decades to prevent children from going through puberty too soon. Once those children reach an appropriate age, their treatment stops and natural puberty occurs. Linnell said the same is true for transgender children, for whom puberty can often exacerbate poor mental health.
"The point is to have a reversible treatment that can give them some time," she said. "That not only helps to gain some time to make sure we're making an appropriate and best practice medical decision for these kids and families, but we also know it can be incredibly important for preserving the mental health of our kids that are going through gender affirming care."
In Orange County California, the mother of an 11 and a half year old trans daughter, who asked to not be identified, relayed in a phone call to the Blade that the impact on Trans youth even in affirming states like California is horrific.
"She asked me if she was going to be safe. Like most kids who follow the news she panicked- kids think globally she has friends in Texas, she thought 'the government' would take away her rights," the mother said.
NBC's Jo Yurcaba reported Monday that George and Emily Spurrier are leaving their home of 16 years in central Arkansas due to a new law that will ban the health care that they say their 17-year-old transgender son needs.
Emily Spurrier said when her son heard the news, he sat in her car and cried for an hour.
"It was just kind of a wave of emotions, thinking about moving and then him worrying about some friends that he has here in the Little Rock area," she said. "And then just the thought that this is really the only place he ever remembers living."
Richie tells the Blade that worst part of this entire mess is being targeted by Republicans for what he sees as an immutable part of his existence as a human being.