LGBTQs at high risk for COVID-19 – but where's the data?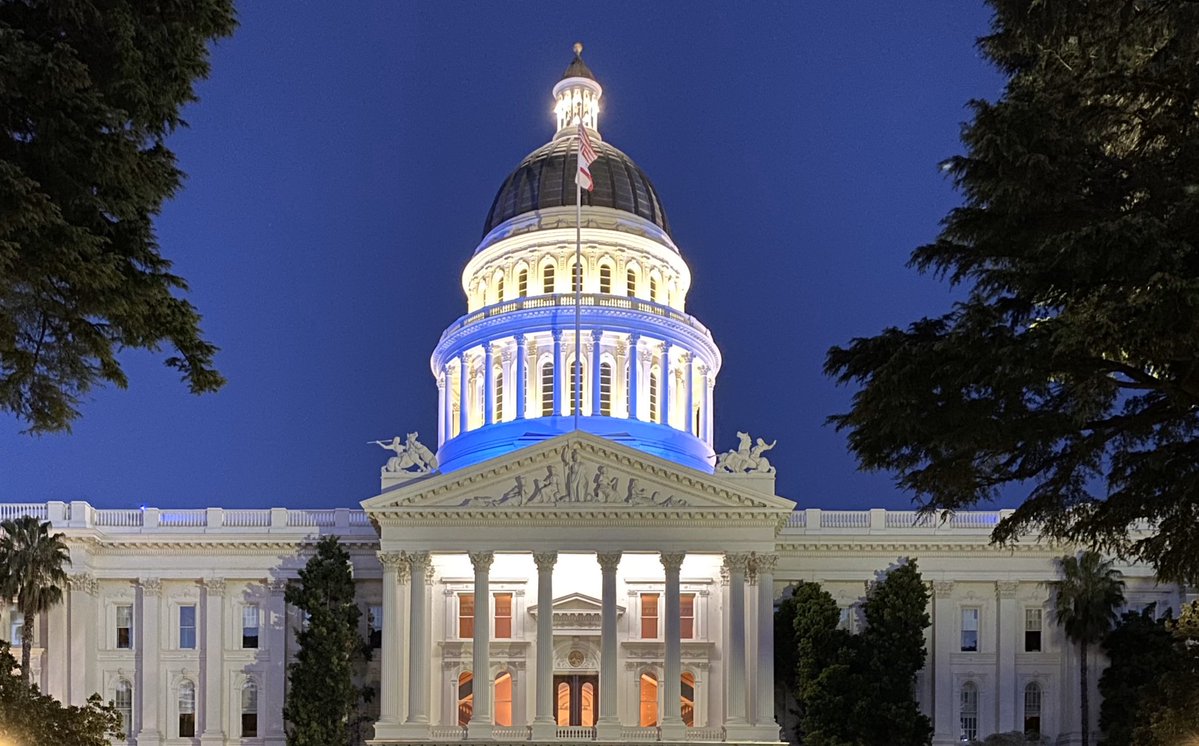 The California state Capitol went blue Monday night to show love for healthcare workers.
One month ago, the whole world changed as the novel coronavirus quickly became a global pandemic. On March 13, President Trump finally ordered a national state of emergency but told the states they were responsible for the frontline reaction, including medical equipment, protection and hospital beds. There was no federal plan for mass testing, though Trump had received ample early warning about the potential for a pandemic, according a bombshell New York Times report.
As NPR reported April 13, Trump's promises during his emergency announcement have gone largely unfulfilled.
The nation's governors took action in the vacuum Trump's magical thinking created around the virus. "It's going to disappear," Trump said Feb. 27.
California Gov. Gavin Newsom, who declared a state of emergency on March 12, set in motion a series of actions, including ordering social distancing, shutting down schools and non-essential businesses, setting up a main COVID-19 website with reliable, up-to-date information and a myriad of resources, and initiating a series of executive orders  targeting specific issues and populations to combat the novel coronavirus, for which there is no immunity, treatment, cure or vaccine.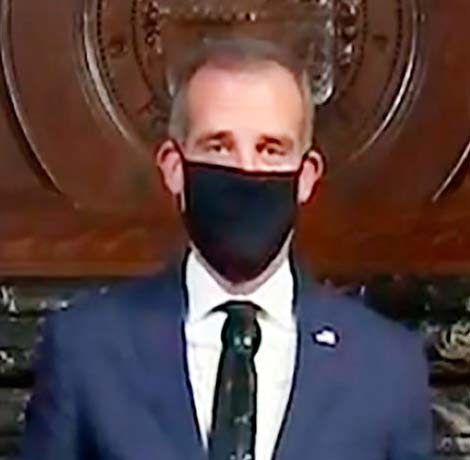 The hope and intention of Newsom and local elected officials such as LA Mayor Eric Garcetti  and Long Beach Mayor Robert Garcia, is to flatten the curve of new infections to find and control the virus through testing, quarantining, isolating and finding contacts of those infected.
On April 7, Newsom signed an order to expand support for vulnerable populations, identified as older adults and vulnerable young children. But early data indicate that  COVID-19 is not the "great equalizer" as more blacks and Latinos contract and die from the virus; they are twice as at risk than whites in New York City.
He addressed the disparities during his daily briefing. "A lot of attention is appropriately being placed as it always must be placed on the issue of disparities," he said. "Those issues preceded this crisis and they continue to persist even within this crisis." He cautioned that, at least in California, the only data so far has been collected from less than half of the confirmed cases.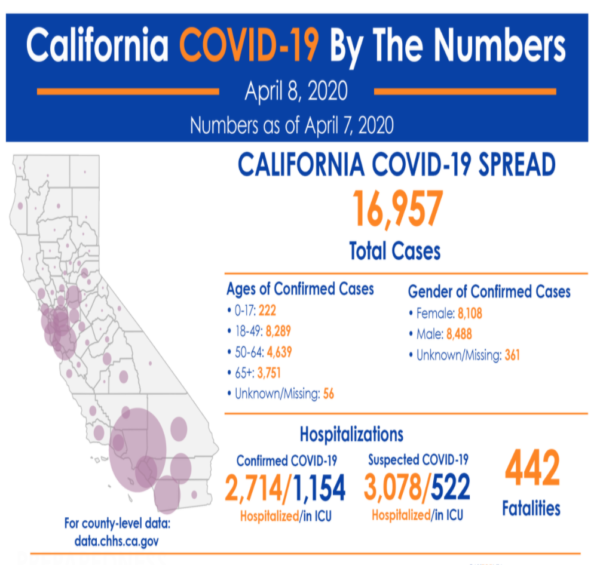 The latest statewide coronavirus numbers that day, April 8, were 16,957 cases with 442 deaths.
Five days later, on April 13, the state reported 22,348 cases with 687 deaths. Meanwhile, Los Angeles County reported that there were 9,420 cases in the county, including 779 new cases over the preceding 48 hours, with 320 total deaths.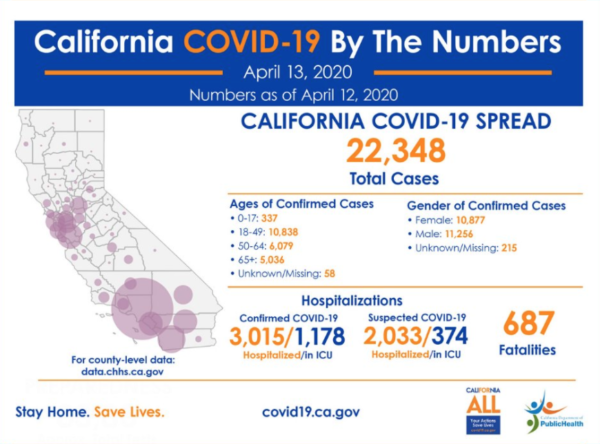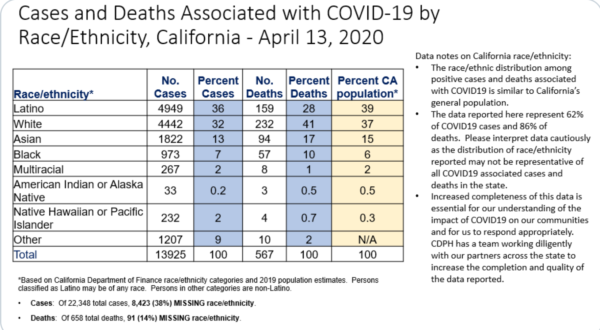 LA county has also started publishing information about race and ethnicity of the COVID-19 deaths. The data for April 12: "for 240 people (85 percent of the cases); 33% of deaths occurred among Latinx residents, 32% among White residents, 19% among Asian residents, 14% among African American residents, and 2% among residents identifying with other races."
No public official has clearly identified LGBTQ COVID-19-related deaths, though Newsom has at least talked briefly about LGBTQ people and has implemented at least one LGBTQ-specific resource.
On April 4, Newsom was asked by the Los Angeles Blade if the state's response met the specific health and economic needs of LGBTQ Californians, especially those living with HIV and LGBTQI+ residents solely dependent on the gig economy. The governor noted that it was a "point of pride" for him to proactively address those needs.
"Yeah, from across the spectrum — from addressing homeless youth — particularly in LA County, so the answer is 'yes.' From an LGBTQ perspective but also from a geographical perspective. And from an age perspective, as it relates to finding more federal resources for housing opportunities for LGBTQ youth and adults. Look, I come from San Francisco, 5th generation, it's a point of deep pride when we talk in terms of cultural competency- neighborhood by neighborhood," Newsom said.
"The history of the HIV epidemic searing the consciousness of our health care delivery focus — again a bottom-up focus, and yeah, of course that extended to Dr. Fauci, who is very familiar to the folks in San Francisco and within the LGBTQ community as being one of our heroes decades ago, in terms of how he met that moment and he spoke truth in that moment. So, the answer is absolutely 'yes'– point of pride for me as a former mayor of San Francisco, who's deeply attached to the needs and desires and aspirations and the health of our LGBTQ community," he added.
On April 7, Newsom talked about the importance of managing stress and promoted new resources for emotional support and well-being on the COVID19.CA.GOV  website, including helping lines directed to LGBTQ people in distress.
Newsom said at his briefing:
"We are struggling, as you know, as a nation to address the needs of our LGBTQ youth, in particular. The state of California bears a unique responsibility to do more and better than any other part of the nation to address those needs – and we've done so through policy, through advocacy, and through highlighting those challenges.

LA County, in particular, has been a leader. The number of LGBTQ youth – homeless youth – disproportionately is represented in LA County.

And so, we look at the world, not through the lens of one size fits all but through the competency lens and the unique needs and the unique challenges that reside within the LGBTQ community. And not just in the community writ large, but specifically on the basis of age, as well.

So know that is a big part of our agenda, a big part of our focus, a big part of the reason we've been so aggressive in terms of these Helplines, these Teen Crisis lines – they include specific resources on that COVID19.ca.gov website – specific resources and hotlines for the LGBT community. Know we're going to do everything in our power to continue to support incredible organizations, non-profit associations, community centers, as we recover from this crisis because they disproportionally will be bearing the brunt of those that are particularly in need for a multitude of reasons and issues."
The Emotional health resources page includes:
Hotlines if you need to talk to someone 

If you are feeling overwhelmed with sadness, depression, or anxiety, or feel like you want to harm yourself or others, you can call the National Suicide Prevention Hotline at 1-800-273-8255.

There are additional resources available if you are in crisis:
They also list specific resources: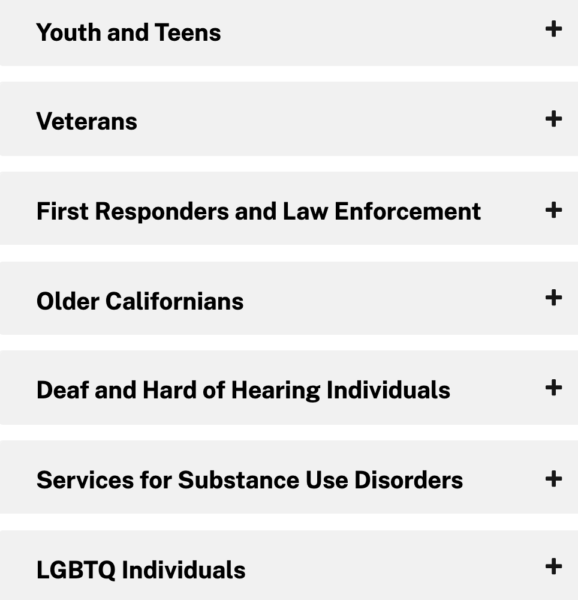   Trevor Project: Call 1-866-488-7386 or text START to 678678 for 24/7 information and suicide prevention resources for LGBTQ youth.

  Lesbian, Gay, Bisexual and Transgender National Hotline: Call 1-800-273-8255from 1pm – 9pm for support, information or help finding resources.

  Victims of Crime Resource Center: Call or text 1-800-842-8467 or chat online for information about LGTBQ rights, legal protections, and local resources.
The issue is more dire than public and elected officials recognize.
"Over the past week, the number of calls, chats, and texts from LGBTQ youth to The Trevor Project's 24/7 crisis services have spiked to double our normal call volume. Mentions of the pandemic have increased more than 60 times over the last month. In fact, 25% of our conversations with LGBTQ youth are now about COVID-19," says Amit Paley, CEO & Executive Director of The Trevor Project in an email last week.
The LGBTQ community was facing an existential threat before COVID-19. The Trump administration has erased, revoked or rolled back LGBTQ progress toward full equality and has wantonly unleashed anti-LGBTQ forces to strip or undermine state protections.
Meanwhile, anti-LGBTQ forces use old tropes to scapegoat the community. The Rev. Ralph Drollinger, bible study coach for Trump's Cabinet, wrote a "wrath of God" screed on his Capitol Ministries blog March 21 that he subsequently told NBC News in an email was misinterpreted and not anti-LGBTQ. Drollinger said he does not "believe that homosexuality played any role whatsoever in the coronavirus." But here's a key citation:

No wonder there was a spike in hate crimes last month.
But other than statistics on hate crimes and HIV/AIDS and data collected by the Williams Institute and some organizations' specific issue surveys, LGBTQ people still do not exist as an identifiable minority demographic. LGBTQ people exist as donors and voters and cool kids on TV but somehow do not exist in real life – otherwise the LGBTQ COVID-19 cases and death toll would be of equal importance with gender, race and ethnicity.
In fact, under the Obama administration, LGBTQs did matter. In June 2011, as part of the Affordable Care Act, the nation's healthcare system had an edict from then-US Health and Human Services Sec. Kathleen Sebelius to collect LGBTQ healthcare data.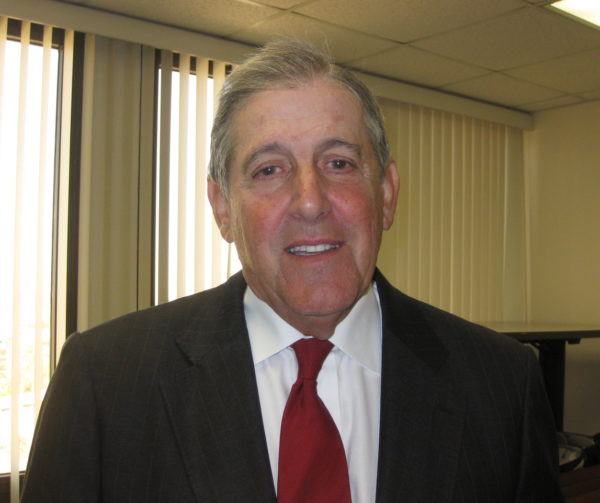 This reporter repeatedly brought the Sebelius order to the attention of then-LA County Public Health Director Jonathan Fielding in 2013 when the county was accused by AIDS Healthcare Foundation of being "indifferent" to the LGBTQ community after the county failed to sound the alarm about a meningitis outbreak in which two of four gay men who contracted meningitis in a four-month period died.
Fielding acknowledged that the county started tracking sexual orientation data in November of 2012 but did not connect the dots between the four gay men and meningitis until slammed by AHF.
So what happened? Was LGBTQ healthcare data collection killed after Trump was elected? Why would LA County in the state with the nation's largest LGBTQ population decide such data was no longer significant? On whose orders?
Recently health professionals have warned of a potential "explosion" of the coronavirus in black, brown, Native American and other minority communities.
And experts responded.
"We cannot have a colorblind policy," Stephen Thomas, director of the University of Maryland's Center for Health Equity, told Politico. "With a colorblind policy — 'Hey, we're all in this together' — we'll be left with an explosion of Covid-19 concentrated in racial and ethnic minority communities."
But on March 11, the National LGBT Cancer Network and GLMA: Health Professionals Advancing LGBTQ Equality were distributed an open letter from more than 100 organizations specifying how COVID-19 could impact LGBTQ communities with vulnerabilities and underlying medical conditions. For instance: 37% of LGBTQ adults smoke every day compared to 27% of non-LGBTQ people; 21% of LGBTQ people have asthma, compared to 14% of non-LGBTQ people.
"At the same time, like our colleagues who joined the open letter, we call on public health officials to ensure the LGBTQ community is considered and included in the public health response to COVID-19 based on potential risk factors that exist in our community," wrote GLMA President Scott Nass, MD, MPA.
No one seemed to care.
State Sen. Scott Wiener and Assemblymember Todd Gloria, Chair and Vice-Chair of the California Legislative LGBTQ Caucus respectively, pushed the issue, sending an April 10 letter to Newsom asking the state to begin collecting data regarding the impacts of COVID-19 on the LGBTQ community.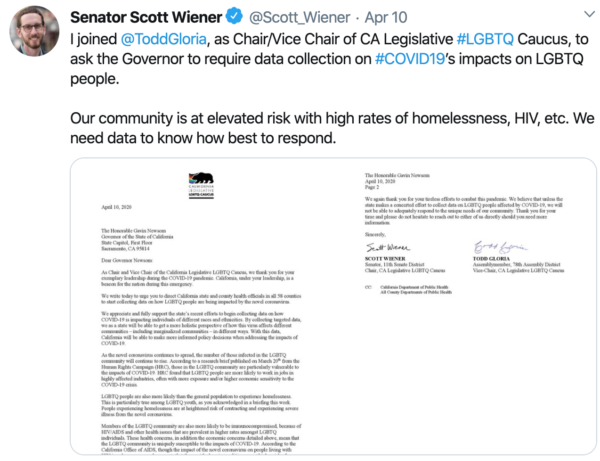 "Right now, the LGBTQ community is incredibly vulnerable to both the health and economic impacts of coronavirus. Many LGBTQ individuals work in sectors that are deeply impacted by COVID-19, and LGBTQ individuals are more likely to be immunocompromised due to HIV/AIDS and other health issues," Weiner wrote in a press release. "And LGBTQ youth are more likely to experience homelessness. We need to collect data on how COVID-19 is impacting the LGBTQ community, or we won't be able to get the support we need. We are asking Governor Newsom to ensure the state and California counties are collecting relevant data to make sure we can understand the breadth of the impacts COVID-19 will have on our community, so we can allocate appropriate public health and economic resources."
"Data collection allows us to answer pertinent questions and evaluate outcomes. It is more important than ever that data is gathered on all communities, including sexual orientation and gender identity, race, disability status and more," Gloria said. "The more data that can be collected will only better help resources be appropriated to communities with the greatest needs."
LGBTQ people live a multi-layered, nuanced existence across all demographics. As the Williams Institute at UCLA School of Law noted, an estimated 162,300 LGB and 9,000 transgender people age 65 and older live in California and are at high risk for serious illness from COVID-19. Additionally, LGBT people have intense housing instability with higher rates of poverty, lower rates of homeownership and higher rates of homelessness – and face widespread discrimination.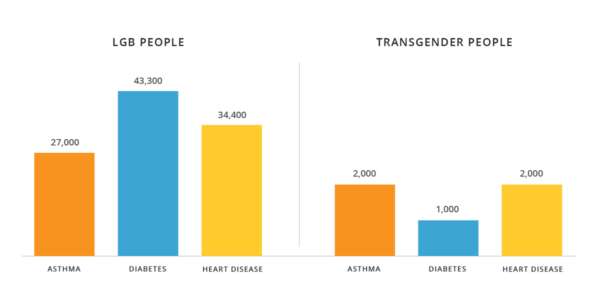 The Los Angeles Blade has repeatedly tried to ask public officials about the health and economic fallout in the LGBTQ community during the crisis.
Rep. Adam Schiff responded. "One thing this virus is teaching us is that nobody is invincible, not even the healthiest or youngest amongst us," Schiff said. "And when our mayors and governors tell us that they need us to stay at home to lower the rate of infection and flatten the curve, it's important to follow their advice. That means we must all practice social distancing by connecting with friends, loved ones and even potential dates online, rather than in person, until this virus is under control."
Newsom, Garcetti (early on) and Long Beach Mayor Robert Garcia have also responded to inquiries from LA Blade – and West Hollywood City Councilmember John Duran does daily briefings on Facebook – but LA County Dept. of Public Health has not responded to email requests to the communications department nor has an LGBTQ question been taken during the county's daily briefings — despite the desperate need for attention and specific resources.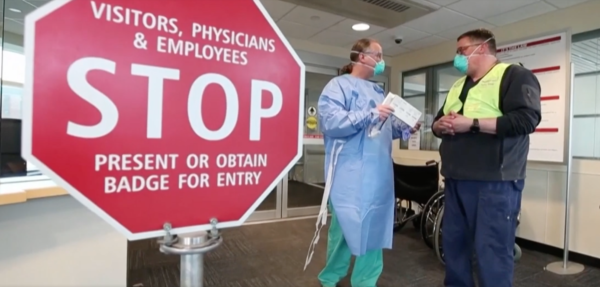 "St. John's is continuing to see 500-600 trans patients each month," Jim Mangia, the out director of St. John's Well Child and Family clinics, told the Los Angeles Blade recently. "Dozens of trans patients have presented with [COVID-19] symptoms in the last two weeks. It's taking 5-14 days to get test results back – but we've already had one trans patient who has tested positive for COVID." St. John's is on the frontlines and they don't have the tools they need to protect their workforce and patients from the spread of the virus.
Chela Demuir, President and Executive Director of the LA-based Black Trans organization, The Unique Woman's Coalition, recently held a virtual town hall with Dr. Nina Harawa, an Epidemiologist from UCLA.
"We've launched an emergency relief fund to offset challenges community may be dealing with," Demuir told the Blade. "We're also in the process of actively raising funds to support this fund via CASH APP @theuwcofficial. We're a small organization doing our part to pitch in. Donations go directly to community members in dire need of emergency assistance."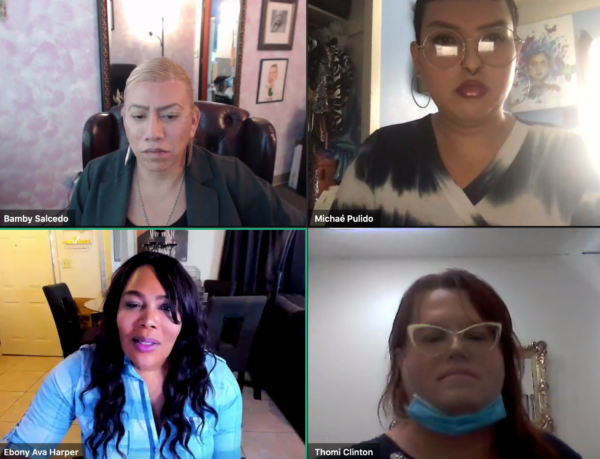 Bamby Salcedo, founder of [email protected] Coalition, and coalition partners Michae Pulido, Ebony Ava Harper and Thomi Clinton also held a video conference for the trans, gender non-conforming and intersex communities. They are pushing for an emergency fund to address many of their issues, especially given a pre-COVID-19 high unemployment rate of 29% and "likely" poverty.
"COVID-19 is a setback to all LGBTQ organizations but it's a disaster for us," Salcedo writes in an open letter circulated April 8. "TGI people are not part of discussions on how to address LGBTQ needs.  For instance, we provide shelter to members of our community in our own places (if we have one) and we feed our people even when we do not have food to feed ourselves."
Salcedo adds: "We need for our siblings in philanthropy to step up to the plate and demonstrate that the principles of humanity and equity are a real driving factor in funding decisions. TGI people want to believe that 'we are in this together' building a world that we all want to live in."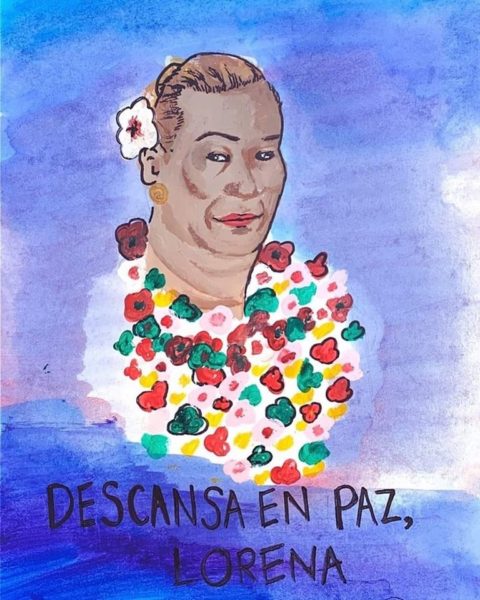 And like the multiple communities within the LGBTQ community, the [email protected] Coalition has lost dear activist friends to COVID-19, such as Lorena Borjas.  (Portrait courtesy Michaé @_singenero via Salcedo)
And the deep need goes on.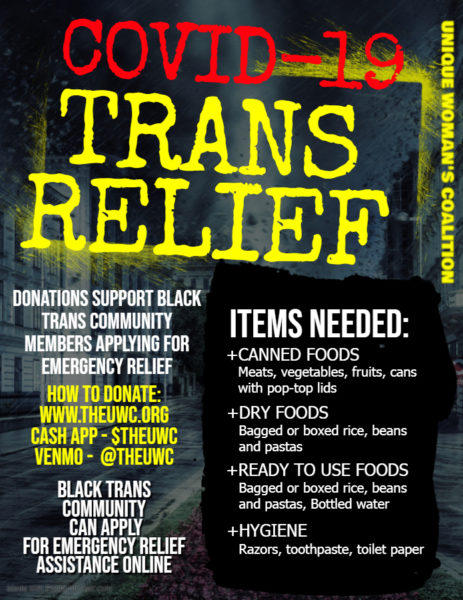 CDC: 85% of gay & lesbian adults in U.S. are vaccinated against COVID
Data on COVID-19 vaccination among LGBTQ persons limited because of the lack of routine SOGI data collection at the national & state levels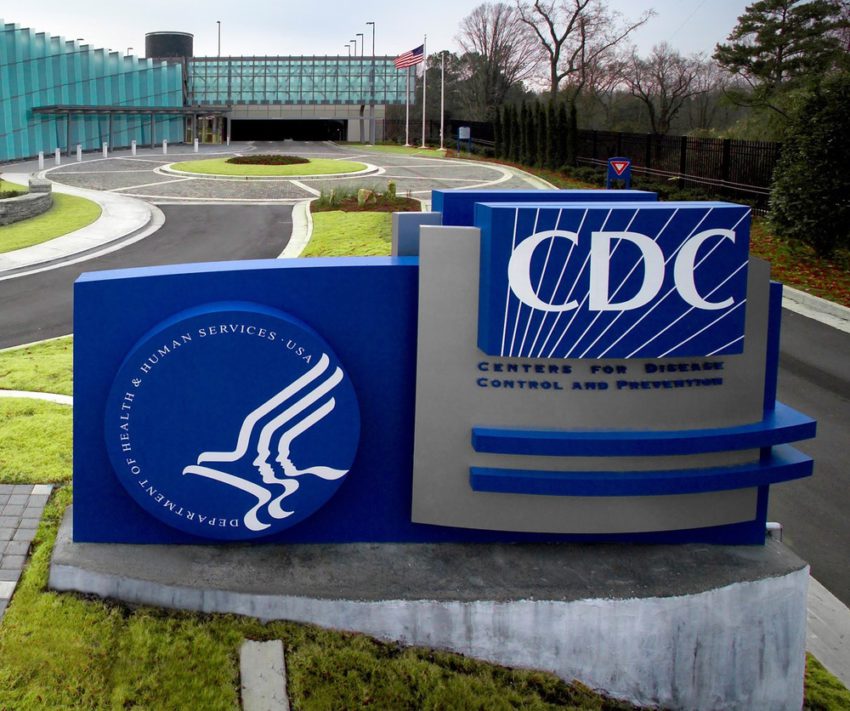 ATLANTA – A new study report released Friday by the Centers for Disease Control and Prevention, (CDC), found that found 85.4% of gay and lesbian Americans above age 18 had received at least one vaccine dose as of October 2021.
The study, conducted from August 29 until October 30, 2021, also found that by comparison, only 76.3% of heterosexuals reported receiving at least an initial dose by the same date.
The report noted that Lesbian, gay, bisexual, and transgender (LGBT) populations have higher prevalence of health conditions associated with severe COVID-19 illness compared with non-LGBT populations.
The potential for low vaccine confidence and coverage among LGBT populations is of concern because these persons historically experience challenges accessing, trusting, and receiving health care services
Data on COVID-19 vaccination among LGBT persons are limited, in part because of the lack of routine data collection on sexual orientation and gender identity at the national and state levels.
In March of 2021, the Blade reported the coronavirus (COVID-19) pandemic has revealed deep-seated inequities in health care for communities of color and amplifies social and economic factors that have contributed to those communities being hit hardest, and Mega-vaccination centers set up by California health officials and the Federal Emergency Management Agency have been addressing and tracking the issue- the LGBTQ communities are still not being tracked.
This lack of data collection has frustrated and angered California State Senator Scott Wiener who authored a bill last year that passed through the legislature and signed by Governor Gavin Newsom last Fall that mandates gathering sexual orientation and gender identity data related to the COVID testing in California.
"We're one year into the pandemic, and LGBTQ people continue to be erased in our public health response to COVID-19 — similar to our invisibility throughout history. No government is successfully tracking COVID-19 cases in the LGBTQ community, despite a law I wrote mandating that California do so," Weiner told the Blade. "And, we now know that LGBTQ people are more vulnerable to COVID-19. We've also just learned that vaccination demographic data doesn't include LGBTQ data. It simply shocking that in 2021, progressive health agencies continue to forget about our community," he added.
The CDC also noted that gay and lesbian adults were more likely to be concerned about COVID-19 and to believe in the safety and efficacy of vaccines.
"We know that the prevalence of certain health conditions associated with severe COVID-19 illness, such as cancer, smoking, and obesity, are higher in LGBT populations, and access to health care continues to be an issue for some people in the LGBT community," Dr. A.D. McNaghten, a member of the CDC's COVID-19 Emergency Response Team and corresponding author of the study, told ABC News. "We wanted to see if vaccination coverage among LGBT persons was the same as non-LGBT persons."
The CDC data recorded that bisexual and transgender adults had similar vaccination rates to heterosexual adults with 72.6% of bisexual adults fully vaccinated by the end of October, as were 71.4% of transgender adults. The numbers however for Black and Hispanic lesbian women had lower rates of vaccination at 57.9% and 72.6%, respectively, compared to Black and Hispanic heterosexual women at 75.6% and 80.5%, respectively.
Higher percentages of gay or lesbian adults and bisexual adults reported that they thought COVID-19 vaccine was very or somewhat important to protect oneself (90.8% and 86.8%, respectively) compared with heterosexual adults (80.4%), and higher percentages of adults who identified as transgender or nonbinary reported they thought COVID-19 vaccine was very or somewhat important to protect oneself (83.2%) compared with those who did not identify as transgender or nonbinary (80.7%).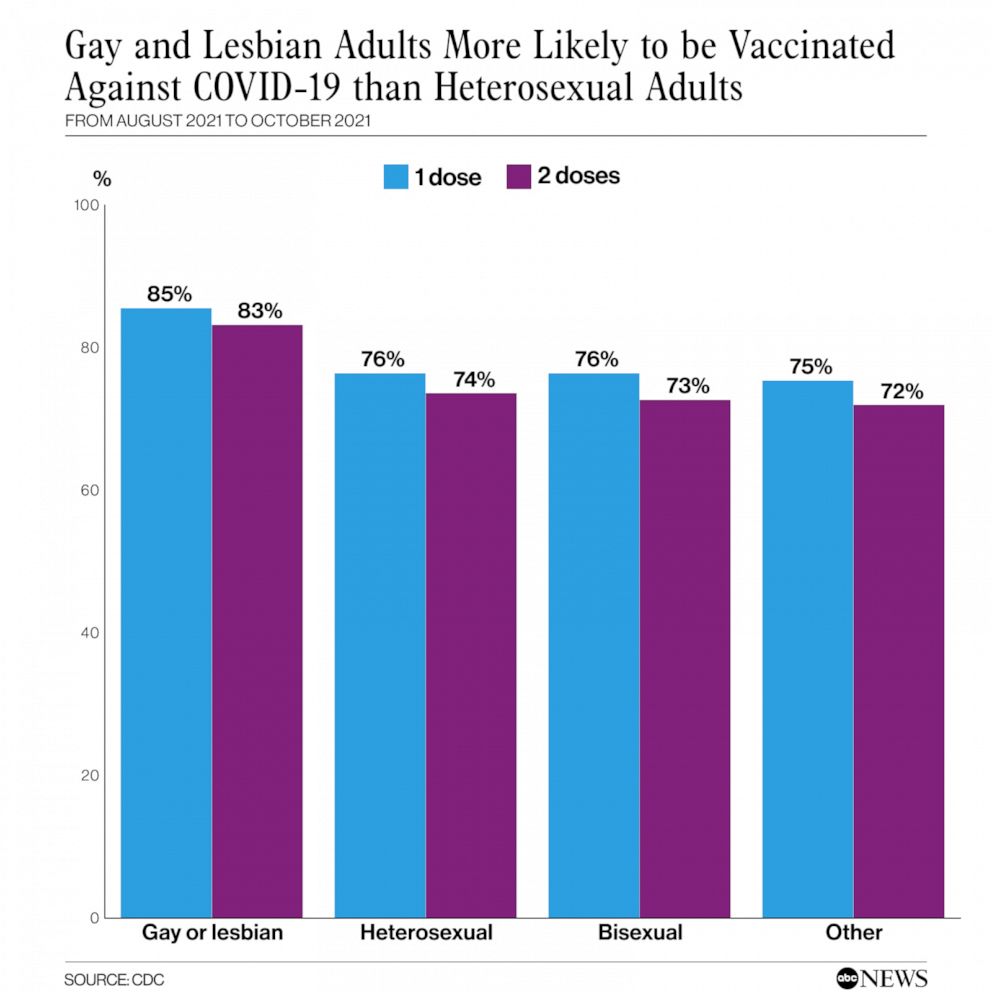 White House orders distribution of 400 million free N95 masks
Dr. Tom Inglesby, the administration's Covid testing coordinator; "We know that these masks provide better protection than cloth masks"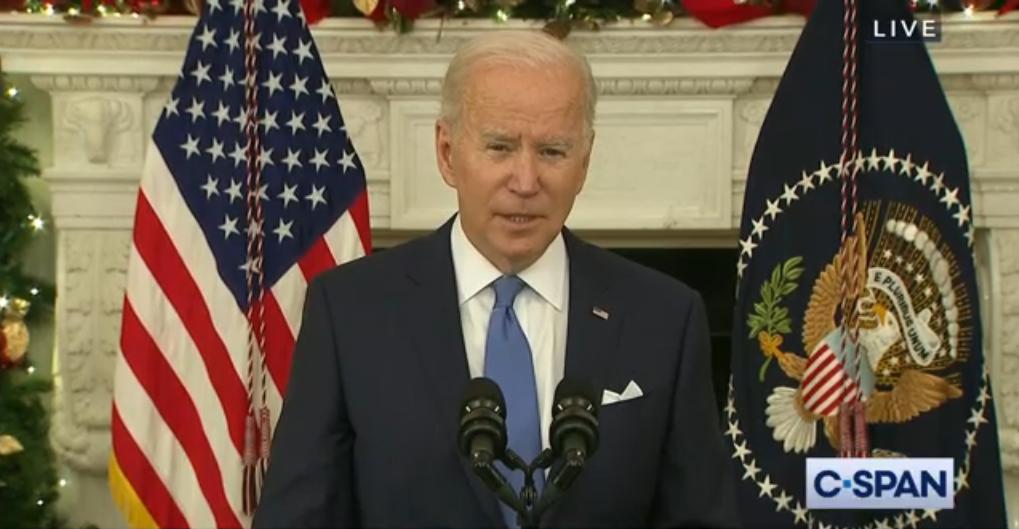 WASHINGTON – As the latest surge of the highly contagious and easily transmissible Omicron variant of the coronavirus continues to cause a rise in hospitalizations, especially among unvaccinated adults and children, the White House announced Wednesday it is making 400 million N95 masks available for free at thousands of locations across the nation.
The plan an admkistartion official said, is to start shipping the nonsurgical masks to pharmacies and community health centers to distribute this week, which will come from the Strategic National Stockpile.
In an interview with NBC News, Dr. Tom Inglesby, the administration's Covid testing coordinator, said, "We know that these masks provide better protection than cloth masks."
The N95 masks will be made available to everybody, and recipients will not be prioritized based on vulnerability to Covid, income or other criteria. Inglesby said the administration was "confident that people who want to access them will be able to access them," but it was not immediately clear how many masks a person could receive at one time.
On January 13, President Joe Biden had announced a plan to have the government distribute 1 billion rapid, at-home COVID-19 tests free to Americans, along with the N95 masks, as the administration works to fight the spiraling upward spike in coronavirus cases.
The White House website to order free at-home Covid tests went live Tuesday. The website says: "Every home in the U.S. is eligible to order 4 free at-home COVID-19 tests. The tests are completely free. Orders will usually ship in 7-12 days."
A White House official said Wednesday that the distribution of 400 million masks would be the largest deployment of personal protective equipment in U.S. history.
Inglesby told NBC News that the administration was "absolutely preparing for the possibility of additional variants in the future" and that people could expect the government to make N95 masks "more and more available."
Biden announces free masks, tests to fight omicron:
COVID-19 Cases increase by nearly 10 times in one month
While hospitalizations continue to climb, Public Health data shows that many positive cases are admitted for reasons other than COVID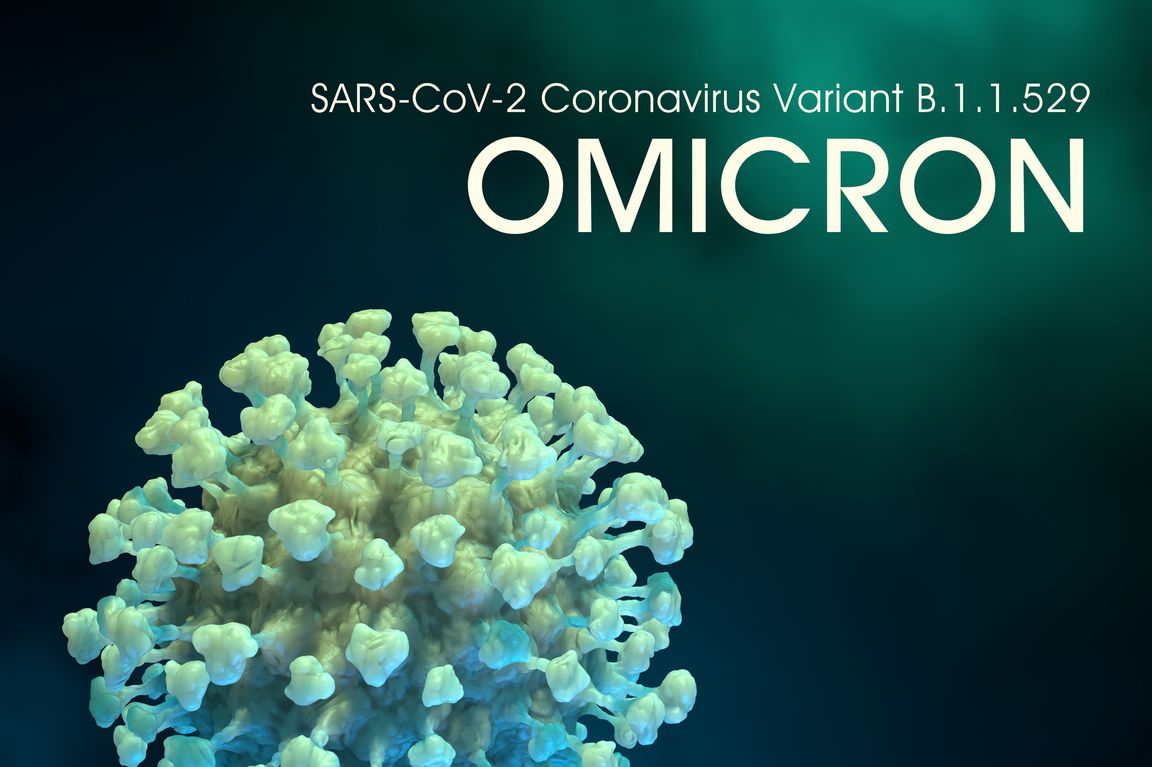 LOS ANGELES – A total of 31,576 new COVID-19 cases were documented on Monday — up ten times the number of cases reported on Dec. 17, 2021, when there were 3,360 new cases recorded the Los Angeles County Department of Public Health reported Monday.
There are 4,564 people with COVID-19 currently hospitalized, nearly 6 times the number from one month ago when 772 people were hospitalized. The daily positivity rate is 16.5%, more than 8 times the 2% daily positivity rate on December 17th.
Just one week ago, the county surpassed 2 million total COVID-19 cases, with the figure reaching 2,289,045 cases as of Monday.
"On this national holiday where we celebrate the life and legacy of Dr. Martin Luther King, we remember his deep commitment to health equity. As Reverend King memorably said, 'Of all the forms of inequality, injustice in health is the most shocking and the most inhuman because it often results in physical death,' " said Dr. Barbara Ferrer, Director of Public Health.
"Tragically, we have seen this play out in real life and very clearly over the past two years with the disparate impacts of the COVID-19 pandemic on people of color. From the onset of the pandemic, communities of color have experienced the greatest devastation from COVID-19 in Los Angeles County and throughout the nation," she added.
"The good news is that while hospitalizations continue to climb, Public Health data shows that many positive cases are admitted for reasons other than COVID but, are identified with COVID when tested for COVID upon hospital admission," the health department said in a statement released last week.
As of Friday, more than 80% of all adult ICU beds in the county were occupied.
There are also 27 new deaths due to COVID-19 in Los Angeles County and 31,576 new positive cases.
The public health department also noted that while the number of children hospitalized with the virus remains low, the number of them admitted to L.A. County hospitals "significantly increased" over the past month, with the largest increase among children younger than 5 years old.
The increase mirrors trends seen nationwide for the age group — the only one not yet eligible for the vaccine.
The county also saw its highest coronavirus death rate in nearly 10 months over this past week, with an average of 40 COVID-19 deaths a day.
"From the onset of the pandemic, communities of color have experienced the greatest devastation from COVID-19 in Los Angeles County and throughout the nation. As we continue to implement strategies – enforcing worker protections through our Health Officer Orders, providing resources needed by many to survive the impact of the pandemic, funding community-based organizations in hard hit areas to serve as trusted public health messengers, and increasing vaccination access in under-sourced neighborhoods – we also need to come together to address the impact that racism, historical disinvestment, and social marginalization have on COVID-19 outcomes," Ferrer said.
"While these conditions predate the pandemic, without deliberate collective actions to address the root causes of health inequities, we are unlikely to close the gaps we have documented for 2 long years," she added.
California has recorded more than 7 million coronavirus cases after its fastest accumulation of reported infections in the history of the pandemic, the Los Angeles Times reported.
The unprecedented count, recorded in California's databases late Monday, comes one week after the state tallied its 6 millionth coronavirus case.