April 10, 2020 at 10:18 am PDT | by Karen Ocamb
HRC's Alphonso David and the historic LA moment when everything changed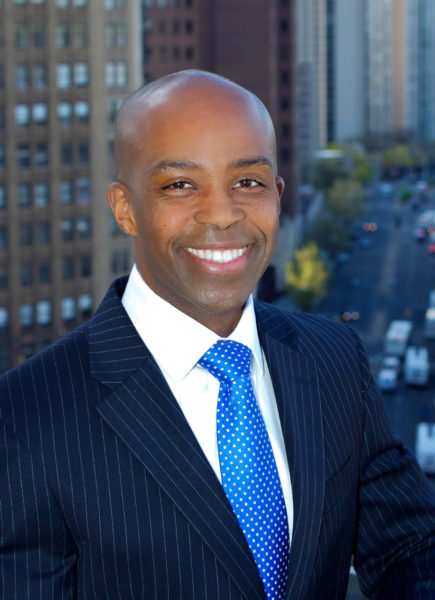 Human Rights Campaign President Alphonso David looked forward to this year's Los Angeles Dinner. The nation's largest LGBTQ civil rights organization planned to honor the incredible Janelle Monáe and Dan Levy at their annual star-studded gala and David could finally meet in person so many longtime supporters, some of whom remember HRC when it was the Human Rights Campaign Fund, and revel in opening HRC's first LA office.
In his first eight months since taking the job, David had already made an impression — being named #64 on City&State's "2020 Law Power 100" as one of New York's most politically powerful lawyers and as "the first civil rights lawyer and the first person of color to serve as president of the Human Rights Campaign in its 40-year history."
The March 28 gala would also enable David to exalt in the organization's rallying of LGBTQ voters. On March 9, six days after Super Tuesday and 19 days before the dinner, HRC released a "March Voter Snapshot" of LGBTQ voting power, including 11 million LGBTQ voters and 57 million "Equality Voters," or LGBTQ allies.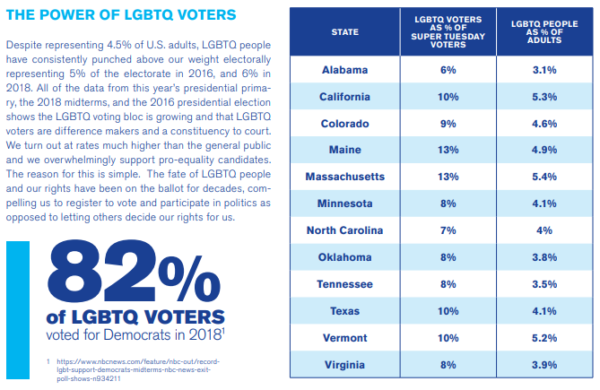 "LGBTQ voters have shown up in record numbers in states across the country and cemented our status as a crucial constituency to court," David said in a press release. "LGBTQ people and our allies are among the most politically engaged voters in the country, and Democratic presidential candidates are taking notice. LGBTQ and Equality Voters are fired up and ready to send the Trump-Pence administration packing."
According to NBC News exit polling,Super Tuesday states, including California, brought out 4,339,000 LGBTQ voters and 21,153,000 Equality Voters, nearly doubling LGBTQ representation in the electorate.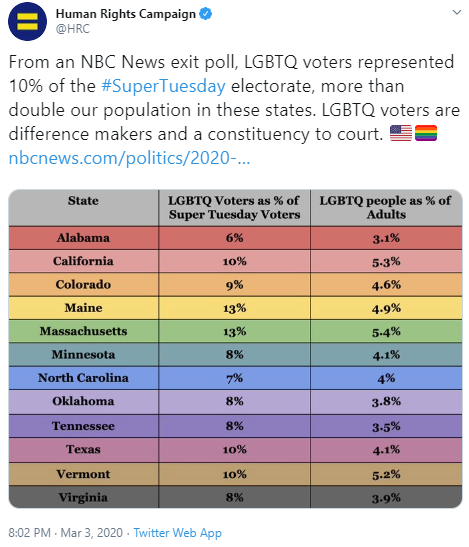 "Los Angeles — and California generally — is a significant area in the country for us to engage and mobilize people and appreciate the importance of this election," David told the Los Angeles Blade in an April 6 phone interview, including HRC-endorsed candidate Christy Smith in the CA 25th congressional race.
In addition to electoral politics, David intended to talk to the HRC/LA audience about "the importance of focusing on people who are multiply marginalized. I'm talking about someone who is black with HIV and lacks access to healthcare in the South. We're talking about an immigrant who was thrown out of her country because she's a lesbian and faces persecution in her country and seeks asylum here in the United States. I'm talking about an Asian boy, who was bullied at school, and is suffering from some other type of condition and doesn't have any types of protection in his, or her, or their home state."
And, David continues about his intended speech, "the black transgender woman who is afraid to walk home at night because she may face violence, be murdered, be attacked. That is in every single speech I've given. We launched the Transgender Justice Initiative, the first initiative that I launched when I took over as president of the Human Rights Campaign. I just hired a national director, Tori Cooper, who is a well-known activist from Atlanta.
She's now moved to Washington, D.C., where she's overseeing our entire program to make sure that we elevate members of the trans community and think about how we can address the crisis that is facing the transgender community."
David underscores his point. "When I say people who are 'multiply marginalized,' that is a community that has faced so many obstacles over time and has persevered — but we need to do a lot more in order to address the systemic barriers that transgender people face," says the HRC president.
"One of our biggest challenges: we have to think about how we can see ourselves in others who don't look like us, because as a community we are incredibly diverse," David says. "But unfortunately, those that are multiply marginalized don't receive the resources, don't receive the support that they should."
And in the Trump/Pence era of division and destruction (see "Trump's Timeline of Hate"), LGBTQ unity must succeed.
"In order for us to coalesce as a community, in order for us to win and sustain our wins, which is just as important, we need to come together as a community," David says. "And the most effective way that we can do that is to focus on those who are multiple marginalized. There was an anecdote that someone raised with me a few years ago, which is, 'If they're coming for me today, they're going to come for you tomorrow.' As a community, I want to make sure that we take that principle, internalize that principle and use it to mobilize ourselves in order to advance our community to higher heights."
Super Tuesday made community coalescing seem eminently possible.
But then came the novel coronavirus.
It snuck up on Americans who'd been told that COVID-19 was a new animal-to-human flu-like virus contained in a section of China, suddenly spreading rapidly through Italy, then Spain but not yet impacting the U.S. The Los Angeles Blade first reported on what was then considered the "low risk" for the coronavirus in California on Feb. 27, the first U.S. case for what became known as "community spread."
Cautiously, business went on as usual as concern began to build.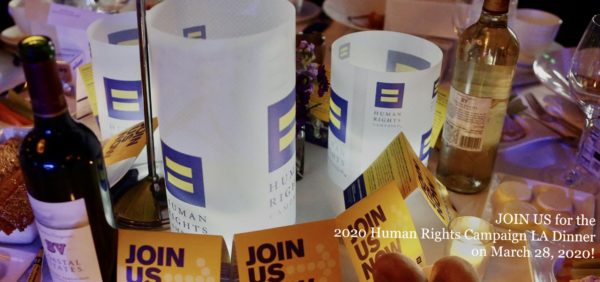 Indeed, on Wednesday, March 11, HRC told the Blade that the LA gala was still on, though with extensive precautions and safety measures in place. Then the axe fell.
Later that day, California Gov. Gavin Newsom announced that nearly 200 people in the state were now infected by the fast-moving COVID-19 for which humans had no built-in immunity and he prohibited gatherings of 250 people or even smaller if people couldn't stay six feet apart as if that "social distancing" could stop the pandemic.
The next day, on March 12, 2020, the world as we knew it changed forever.

Los Angeles City and County officials held a joint news conference in which L.A. County Department of Public Health director Barbara Ferrer reported a total of 32 coronavirus cases. L.A. Mayor Eric Garcetti opened on an optimistic note, then got serious, limiting gatherings to 50 people.
"Unlike the heroism we saw recently in the fires, [in this case] each one of us is a first responder," Garcetti said.
"Coronavirus is here. Your actions can help us flatten that curve, literally buying us days and weeks to get to a moment when the virus is less of a threat."
There was an instant cascade of cancellations, from NCAA's March Madness  to Broadway shows. HRC signed onto an open letter from more than 100 organizations specifying how COVID-19 could impact LGBTQ communities with vulnerabilities and underlying medical conditions. For instance: 37% of LGBTQ adults smoke every day compared to 27% of non-LGBTQ people; 21% of LGBTQ people have asthma, compared to 14% of non-LGBTQ people.
HRC cancelled everything, too. In a press release announcing the cancellations, David noted that HRC's mission would continue.
"Our focus remains on the goal of advancing the rights of LGBTQ people around the world and on the defeat of Donald Trump and Mike Pence in November," David said. "We will continue to work toward this goal, and weather this crisis as we have weathered crises before — by uniting as a community."
One week later, on March 19, David wrote a letter to the community:
"The LGBTQ community has known adversity. In fact, we have drawn much of our strength and power from times of great uncertainty. From blatant discrimination to government indifference, from the AIDS crisis to relentless attacks on who we are and who we love, from bills attacking our transgender siblings to regulations removing protections that have existed for decades, we have seen our fair share of struggle.

But in each of these struggles, we have banded together to overcome challenges that seemed insurmountable. With your help, we have harnessed our fear and our anger and turned them into strength.

Now, we are living in an extraordinary moment yet again. As the world watches the spread of COVID-19, many of us, myself included, are concerned and afraid for ourselves and our loved ones. And that fear cannot be minimized. But it can be the basis for action. As we have time and again, we must raise our voices together to fight for our community, to lift each other up and to vote out those who are not protecting us."
David noted that while COVID-19 affects everyone, it has a disproportionate impact on LGBTQ people. And he gave stats: 40 percent of all industries that LGBTQ people work in are likely to be impacted by COVID-19, impacting 5 million LGBTQ people; a disproportionate number of LGBTQ people work in restaurants (15%) compared to their non-LGBTQ peers (6%); and 17 percent of LGBTQ people lack health insurance. The aging population and folks with compromised immune systems are also at a greater risk of infection.
"This is an abnormal time amid an already abnormal few years. We can get through this. I know this, because we have gotten through crises before. But we cannot do it alone; we have to stand together," David wrote. "Please be safe, please continue to wash your hands and please don't give up."
The next day, March 20, HRC published a research brief to provide policymakers and community advocates with some of that critical data on the health and economic risks LGBTQ people face during the COVID-19 pandemic.
"That research report highlighted that one out of five LGBTQ people live in poverty," David says, adding that LGBTQ people face greater healthcare risks "from kidney disease to high blood pressure to, unfortunately, lack of access to healthcare."
David has been on cable news and Twitter talking about the research data.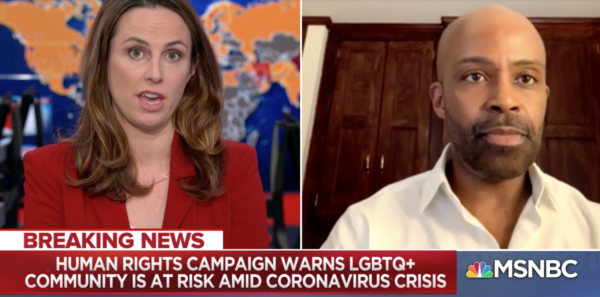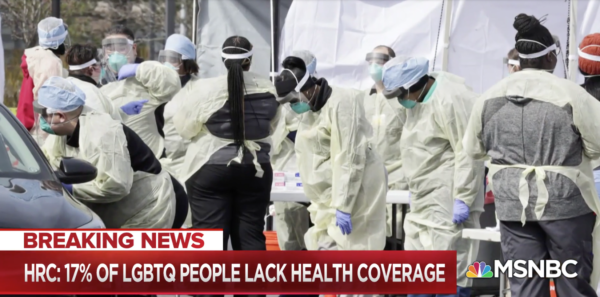 HRC has also produced a series of COVID-19-impact webinars: one primarily for black men with HIV; another with a medical physician who talked about the impact that COVID-19 may have on people who are living with HIV; another on older LGBTQ adults and another regarding child welfare organizations.
On March 23, HRC signed onto a coalition letter to congressional leaders about including and prioritizing the needs of the disability community in legislation being considered around COVID-19. HIV/AIDS is considered a disability in the Americans with Disabilities Act.
"We wanted to inform policymakers that when they develop solutions to COVID-19, we have to make sure that those solutions are thinking about the impact on LGBTQ people" and others, David says.
The "good news" is that "in some instances we're seeing policymakers respond. We saw the recent stimulus package include $90 million, as an example, for HIV/AIDS care and treatment. It also included $65 million for housing for people living with AIDS. It also included $25 million for carrying out activities for runaway and homeless youth. And we know that 40% of those who are homeless classify as LGBTQ."
However, "we need more because, unfortunately, the statistics are dire. One out of two black gay or bisexual men will get HIV in their lifetime and the issue isn't so much within the COVID-19 crisis," David says.
"It's compounded by the fact that people are living with HIV but have lack of access to health care. And when you don't have access to healthcare, and you have HIV and you're susceptible to COVID-19, the numbers are just really frightening — the number of people that are going to be impacted and the implication for people of color in this country (Blacks have since emerged with alarming rates of the virus)," he says. "So, we have to continue being more vocal, and I'm being more vocal and making sure that our research is in the hands of every single policy maker throughout the country."
But while it's important to talk about people of color and marginalized communities, David notes that it's another thing to "make sure that when we develop that policy, it has to be implemented in a nondiscriminatory way."
"We know in 29 states in this country, there are no state laws that specifically protect LGBTQ people," he says. So Congress could pass legislation appropriating money for HIV/AIDS or people who are homeless and those states could still deny LGBTQ people the resources they need.
Additionally, LGBTQ people may lack paid sick leave; or an LGBTQ young person could be sent home from school to face an abusive parent; an LGBTQ elder must choose between living alone in near poverty or going back into the closet to get into an anti-gay shelter.
"I want to make sure that's not lost in the conversation," David says. "I'm raising the alarm that please, please, please make sure that when you develop policy solutions, you are mindful of how these policy solutions should impact the LGBTQ community, because we are disproportionately impacted."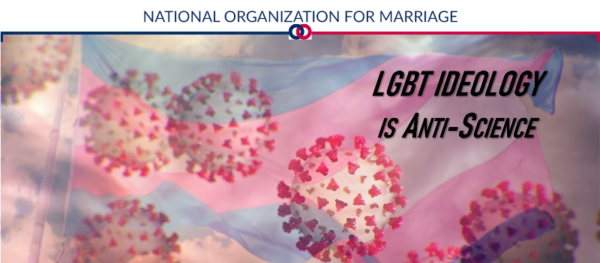 Brian Brown, president of the almost defunct National Organization for Marriage (NOM), once infamous for pushing anti-gay Prop 8, has been turning those pleas for pro-LGBTQ policy solutions into fundraising scams.
"Some of the nation's wealthiest and most powerful LGBT groups, including the grossly-misnamed Human Rights Campaign (HRC), have issued a demand of media, governmental and public health officials that the LGBT community be given special consideration in the nationwide response to the COVID-19 coronavirus crisis," Brown wrote in a recent fundraising email. "In light of what everyone is dealing with, it is more than a little off-putting that LGBT activists are demanding special considerations for their community."
Then, wrote Brown — whose Prop 8 coalition included evangelical Creationists — "Large elements of their agenda, especially their incessant push for gender ideology, requires that people ignore science, yet it is science and accurate data that we need most in designing strategies to combat COVID-19."
David transcends the invective, saying that while everyone is being impacted, some are being impacted more. "It's not disregarding the impact that it's having on others; it's just appreciating the disproportionate impact that it's having on us," David says.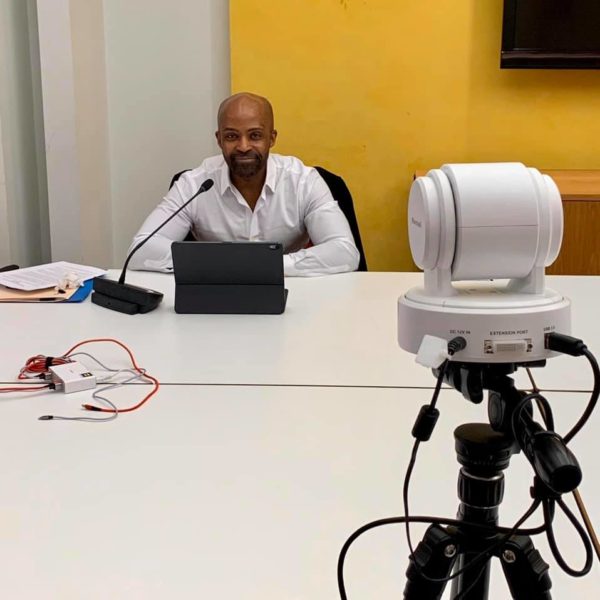 "I am doing well. I am healthy," David says. "Every single member of the Human Rights Campaign is effectively working from home, and we are advancing all of our priorities remotely," adding that all the staff are safe and healthy at this point, including board member Jodie Patterson, who contracted the virus but is now well.
HRC staff may be working from home but they still face the challenge of how to "actually get out and mobilize people to vote. Not only in California but making sure that we can get out of our comfort zones and speak to others outside of the places where we know people will vote for a pro-equality candidate. And it's going to be a lot more complicated with COVID-19," says David. "How can you engage in political organizing in a way that's impactful and effective in the virtual space? We're advancing a lot of different tools in the virtual space."
The challenge goes deeper. Elections are a "meaningful tool" to achieving full equality," David says. "But getting a pro-equality candidate into elected office in November, for me, is not the win. The win is sustaining that success over time."
But for this moment, Alphonso David is more mindful of a shared humanity and history. "Please support your fellow LGBTQ members of our community," he says. "We will get through this crisis. We've gone through crises before, and we are resilient, and we will get through this crisis together."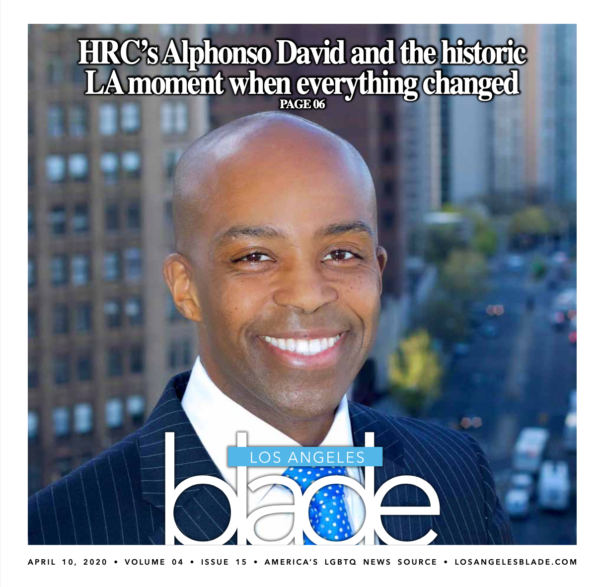 Photos of Human Rights Campaign President Alphonso David courtesy HRC or via his Facebook page.