LA Mayor Eric Garcetti issues coronavirus message with resources, info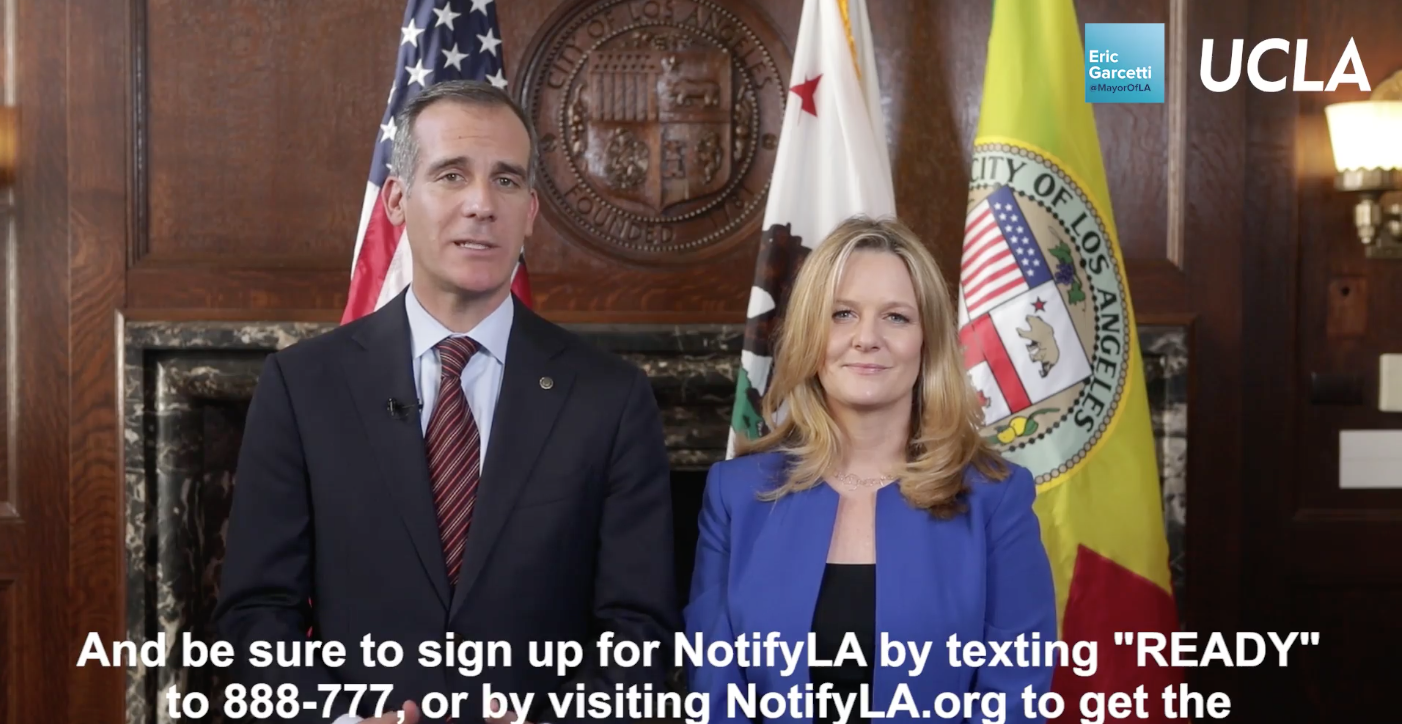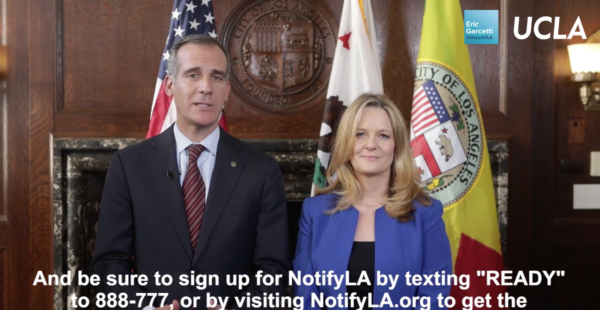 President Donald Trump may declare a state of national emergency but unfortunately, his credibility and incompetence has been so damaged over the past three years, many Americans are looking for leadership, guidance and help elsewhere as the new coronavirus continues to spread. This is why government, good governance, science and data matter – and in states around the country, governors and mayors have stepped up to serve the people they took an oath to protect. In California, Gov. Newsom has declared a state of emergency and local officials in West Hollywood and other cities have followed suit.
But there are still fundamental disagreements over  what the federal government says and what state health officials and local leaders say – with NAID Director Dr. Anthony Fauci being the only reliable source of information willing to contradict Trump appointees.  For instance, the McClatchy news service just reported that the CDC said it sent 69 kits to test for the coronavirus (COVID-19), "enough to test tens of thousands of people for the coronavirus. But Gov. Gavin Newsom and the state's health department said earlier on Thursday that kits had arrived to test only 8,227 residents."
In addition to the hundreds of event cancelations, on Friday morning in Los Angeles, the LA Unified School District decided to close the nation's second largest school district, though their important meal programs will continue and school lessons will be televised and offered online in an attempt to help families.
LA Mayor Eric Garcetti posted a video address about the coronavirus on Facebook with Dr. Anne Rimoin, Director of the UCLA Center for Global and Immigrant Health and Professor of Epidemiology at the Fielding School of Public Health. Garcetti also issued this statement, which we are posting directly:
"Hi,

I hear you. I know there's uncertainty and anxiety right now in our communities about the novel coronavirus outbreak. Everyone's feeling on edge, and I want to make sure you have everything you need to stay informed, prepare yourself, and take action to help limit the risk of spreading the virus.

Here's an overview of the latest steps the City is taking to prevent the spread of COVID-19, remain vigilant, and keep Los Angeles safe and healthy.

First of all, I encourage you to sign up for NotifyLA, our City's emergency alerts system, which we are using to push out updates about COVID-19 prevention. Please encourage your family and friends to do the same.

On Wednesday night, the Governor announced a new California Department of Public Health policy to cancel or postpone all gatherings of 250 people or more, along with other important guidance on protecting public health and stemming the spread of COVID-19.

We are implementing statewide guidance in our City policies, in addition to employing strategies to protect our City's workforce, outlined in a directive I sent to the heads of all City departments this morning. We are also continuing to work alongside the County Department of Public Health and other local, state, and federal partners to further strengthen our response to COVID-19 and empower our families and communities with vital public health and safety information.

And we're collaborating with scientists like Dr. Anne Rimoin, a COVID-19 expert at UCLA, to share what you need to know about the virus and how to protect yourself. Watch our video and share it on Facebook and Twitter.

Here are a few key parts of my directive to all City departments:

Public events:All non-essential public community events or group activities with 50 or more participants –– or that require close contact between vulnerable individuals –– will be postponed or cancelled in order to limit the risk of exposing staff and the public to the virus. This includes all events or conferences on City-owned properties that are anticipated to attract more than 50 people.
Entry to city buildings: The City will stagger entry for visitors in public buildings to no more than 50 at a time — including City museums, libraries, parks, pools, and community centers. Transit locations and similar facilities, including LAX and the Port of Los Angeles, as well as all City shelters, are exempt from this requirement at this time. The Los Angeles City Hall complex, including City Hall East, City Hall South, and Van Nuys City Hall, will be temporarily closed to members of the public, except for public meetings of the City Council.
Sanitation protocols:Hand-washing and sanitizing stations will be available in City-owned public buildings, and extra steps are being taken to clean facilities regularly and thoroughly.

More about what the City is doing:

Prevention and preparedness: We're working to get the word out with the latest information about COVID-19, and ways to protect yourself and your family, including practicing social distancing. Learn more from the L.A. County Department of Public Health.
Homeless Angelenos:Our Unified Homelessness Response Center (UHRC) is closely monitoring the situation and taking steps to prevent the spread of COVID-19 among Angelenos experiencing homelessness. The UHRC is coordinating with the L.A. Homeless Services Authority and the L.A. County Department of Public Health to ensure unsheltered Angelenos have information about the virus and resources to protect their health and safety. Homelessness outreach teams and shelter providers are receiving additional training on best practices for addressing a coronavirus outbreak and referring individuals experiencing illness to medical professionals. We're adding new hygiene stations throughout the city, as well as providing hand sanitizer to homeless Angelenos.
Public transportation:Metro, Metrolink, and LADOT are closely monitoring the current situation. Each agency is vigorously cleaning buses, trains, stations, and facilities on a regular basis and will continue to review and update cleaning protocols as needed.

Public schools: The L.A. Unified School District Board of Education voted this week to delegate emergency powers to the Superintendent in the event that action needs to be taken swiftly as the COVID-19 situation unfolds. LAUSD is coordinating with and following the guidance of the CDC and the County Department of Public Health should school closures be required at any point. In the meantime, the District has implemented several new policies — including cancelling all large gatherings of staff and/or students, and all off-campus visits by students and staff to public places where crowds may gather. At this time, student competitions are allowed to proceed without spectators.

Here are steps you should take:

Know the symptoms:COVID-19 symptoms include fever, cough, and shortness of breath — and may appear in as few as 2 days or as long as 14 days after exposure. Person-to-person spread mainly occurs via respiratory droplets produced when an infected person coughs or sneezes, like the flu. A less common form of transmission can take place from objects or surfaces that become infected.
Take precautions:If you are sick, stay home. Wash your hands often with soap and water for at least 20 seconds. Avoid touching your eyes, nose, and mouth. Cover your cough or sneeze. Clean and disinfect frequently touched objects and surfaces. If you have recently traveled in an area with COVID-19 infections or have been in contact with someone with COVID-19 and are showing symptoms, monitor your health and contact your doctor.
Plan ahead: Make sure you have extra food, medical supplies, and emergency kits in your home. Talk to your family, friends, and neighbors to develop emergency plans — particularly for children, seniors, and anyone with chronic medical conditions that may make them particularly susceptible to illness. And remember, L.A. City tap water continues to be of the highest quality and is 100-percent safe to drink. LADWP's treatment processes are specifically designed to protect the public from all viruses and harmful bacteria.

Stay informed: Stick with trusted and official sources for accurate and timely updates, including CDC.gov, PublicHealth.LACounty.gov, and LAMayor.org/Coronavirus. And don't forget to sign up for NotifyLA, our city's emergency notification system. For more questions, you can call 211, the County's hotline, which is available 24/7.

Share this information with your family, friends, and colleagues, so we can all do our part to protect our community and our city.

This is a moment for preparation, not panic. A moment to be kind and generous and to show the very best of the Angeleno spirit. And I know that each of us will do our part to stay vigilant, stay informed, and help limit the spread of this virus.

We will get through this together –– in Los Angeles, we always do.

Eric Garcetti

Your Mayor"
CDC backtracks and releases new guidance on facial masks
CDC's mask guidance recommends fully vaccinated people wear masks indoors when in areas with "substantial" & "high" transmission of Covid-19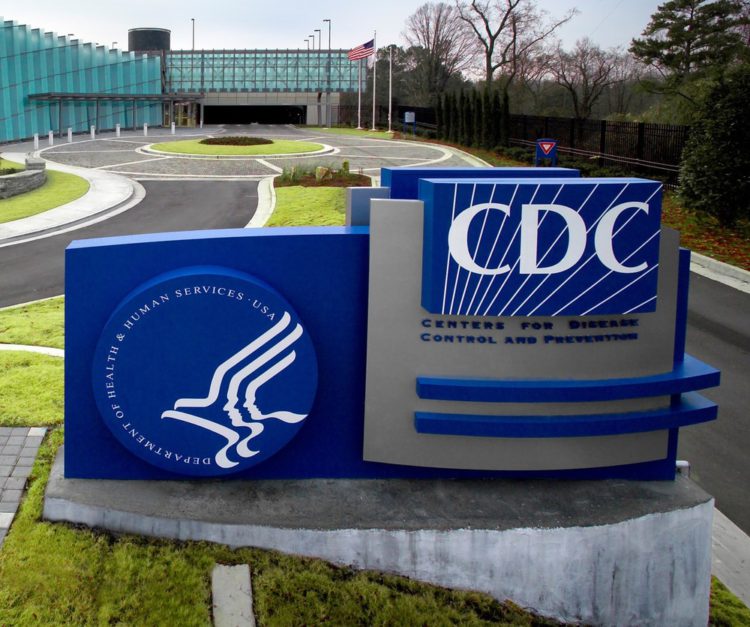 ATLANTA – The Centers for Disease Control and Prevention, citing increasing concern around the fast-spreading and highly contagious delta variant on Tuesday, reversed its earlier mask guidance to specifically target areas of the country with the highest levels of the coronavirus and recommended that everyone in those areas, vaccinated or not, wear a mask as the delta variant continues to spread rapidly across the U.S.
"CDC recommends localities encourage universal indoor masking for all teachers, staff, students, and visitors to schools, regardless of vaccination status," the CDC announced. "Children should return to full-time in-person learning in the fall with proper prevention strategies are in place."
The White House issued a statement from President Joe Biden which read in part:
"Today's announcement by the CDC—that new research and concerns about the Delta variant leads CDC to recommend a return to masking in parts of the country—is another step on our journey to defeating this virus. I hope all Americans who live in the areas covered by the CDC guidance will follow it; I certainly will when I travel to these areas.
Today, the CDC also reaffirmed that we can safely reopen schools this fall—full time. Masking students is inconvenient, I know, but will allow them to learn and be with their classmates with the best available protection.
Most importantly, today's announcement also makes clear that the most important protection we have against the Delta variant is to get vaccinated. Although most U.S. adults are vaccinated, too many are not. While we have seen an increase in vaccinations in recent days, we still need to do better."
The CDC's mask guidance that recommends fully vaccinated people wear masks indoors when in areas with "substantial" and "high" transmission of Covid-19 includes nearly two-thirds of U.S. counties.
State employees & health care workers must show proof of vaccination
Newsom blasts 'right-wing echo chamber' for vaccine misinformation & claimed individuals refusing the vaccine are similar to drunk drivers.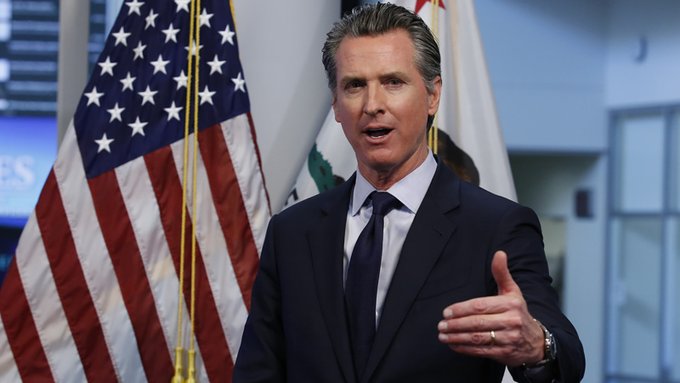 SACRAMENTO – As the Delta variant continues to surge driving coronavirus case numbers higher, Governor Gavin Newsom in a press conference Monday announced California is implementing a first-in-the-nation standard to require all state workers and workers in health care and high-risk congregate settings to either show proof of full vaccination or be tested at least once per week.
"We are now dealing with a pandemic of the unvaccinated, and it's going to take renewed efforts to protect Californians from the dangerous Delta variant," said Newsom. "As the state's largest employer, we are leading by example and requiring all state and health care workers to show proof of vaccination or be tested regularly, and we are encouraging local governments and businesses to do the same. Vaccines are safe – they protect our family, those who truly can't get vaccinated, our children and our economy. Vaccines are the way we end this pandemic."
The new policy for state workers will take effect August 2 and testing will be phased in over the next few weeks. The new policy for health care workers and congregate facilities will take effect on August 9, and health care facilities will have until August 23 to come into full compliance.
"Why now? It's pretty self evident. We went from 0.7%, the lowest positivity rate in America, just a handful of weeks ago, now to 5.3% positivity," Gov. Newsom says.

"We're seeing the number of people in hospitals increase from 900 to 3,000 today." pic.twitter.com/GO8MyiFwy2

— MSNBC (@MSNBC) July 26, 2021
Despite California leading the nation in vaccinations, with more than 44 million doses administered and 75 percent of the eligible population having received at least one dose, . This increase is heavily due to the Delta variant, which is more contagious and kills people faster:
As of last week, California's statewide case rate more than quadrupled from a low in May of 1.9 cases/100,000/day to at least 9.5 cases/100,000.
The testing positivity was at a low of 0.7 percent in June, now it has risen to 5.2 percent.
Hospitalizations were at a low in June of under 900, and the state numbers are now approaching 3,000.
The vast majority of new cases are among the unvaccinated, with 600 percent higher case rates among the unvaccinated than for those who are vaccinated.
"California has administered more vaccines than any other state, with 75 percent of those eligible having gotten at least one dose, and we were weeks ahead of meeting President Biden's 70 percent goal. But we must do more to fight disinformation and encourage vaccine-hesitant communities and individuals," said California's Health and Human Services Secretary Dr. Mark Ghaly. "The Delta variant is up to 60 percent more infectious than the Alpha strain but many times more infectious than the original COVID-19 strain. If you have been waiting to get vaccinated, now is the time."
Appearing on MSNBC, Newsom aggressively lashed out at some conservatives after being asked what the governor attributed to those 25% of Californians who remain unvaccinated. Newsom responded by saying he credited "[an] overwhelming majority of misinformation by right-wing pundits.
California to require vaccinations or frequent testing of state workers:
Appearing on MSNBC and CNN, Newsom claimed that individuals who refused to take the vaccine posed a risk to the public similar to drunk driving.
"It's like drunk drivers, you don't have the right to go out and drink and drive and put everybody else at risk including your own life," the governor said.
Newsom also denounced high-profile conservatives, including Fox News host Tucker Carlson. In a harsh exchange on Twitter, Newsom aggressively put down an attack by Georgia Rep. Marjorie Taylor Greene (R) a noted QAnon and conspiracy afficando:
Disgraceful? Here's a word — murderous.

Your anti-vaccine lies are literally killing Americans. Your own supporters are following you off a cliff and into the ICU.

Come clean about vaccines — they save lives. https://t.co/pJjlzJ3TVJ

— Gavin Newsom (@GavinNewsom) July 26, 2021
.@AymanM: What do you attribute those 25% that have remain unvaccinated? What do you attribute that to in your state?

California Gov. Newsom: Overwhelming majority of misinformation by right-wing pundits. pic.twitter.com/GLPQNnSop9

— MSNBC (@MSNBC) July 26, 2021
In addition to these new measures, the state continues its efforts to vaccinate Californians. Last week, California surpassed 2 million newly vaccinated individuals since launching its incentive program, Vax for the Win. The program increased HPI Q1 vaccinations, and increased doses administered to the Latinx population by 10 percent. It also successfully slowed the rate of decline that California was experiencing in vaccination rates.
The program's peak showed a 33 percent increase in vaccinations, "outpacing the inoculation trends in much of the country," including more recently a 4.4 percent increase for the week ending July 14 – a promising sign in California, as vaccination rates declined nationwide.
Fauci says CDC may now back masks as Delta variant explodes
Caused by the Delta variant, 40% of all cases reported in the United States occurred in three states, Texas, Missouri and Florida.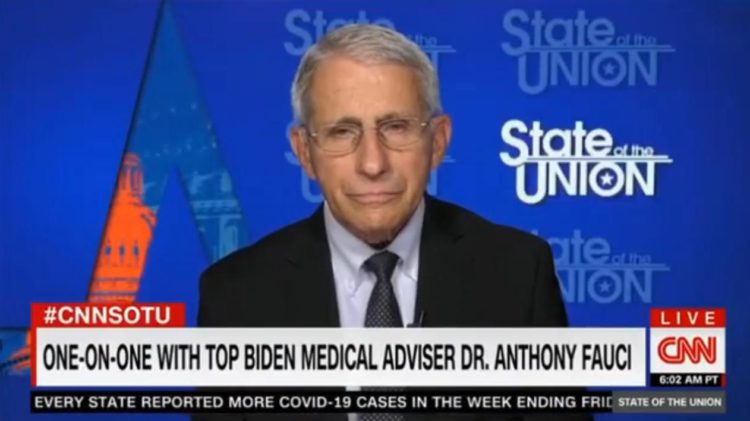 WASHINGTON – Dr. Anthony Fauci told CNN's Sunday morning political talk show "State of the Union" that he's taken part in conversations about the U.S. Centers for Disease Control and Prevention altering its masking guidelines, which he described as being "under active consideration."
Fauci, the chief medical advisor to President Joe Biden, also acknowledged that in some jurisdictions where infection rates are surging are already mandating individuals to wear masks in public regardless of their vaccination status. He added those mandates are not incompatible with the CDC's recommendation that the vaccinated don't need to wear masks in public.
CNN's Jake Tapper pointed out that in the most recent surge caused by the Delta variant, 40% of all coronavirus cases reported in the United States occurred in three states, Texas, Missouri and Florida. Tapper and Fauci both noted that the sudden explosion in COVID-19 was primarily caused by those Americans, 12-years-old and older who remained unvaccinated.
Politico reported that the Republican governor of Arkansas on Sunday said resistance to the coronavirus vaccine "has hardened" in some areas of the state, blaming the hesitancy on "false information" and "myths."
"I don't know if I underestimated it, but, certainly, the resistance has hardened in certain elements, and is simply false information," Gov. Asa Hutchinson said in an interview on CNN's "State of the Union."
"It is myths. As I go into these town hall meetings, someone said: Don't call it a vaccine. Call it a bioweapon. And they talk about mind control," Hutchinson said. "Well, those are obviously erroneous. Other members of the community correct that."
Arkansas governor blames 'myths' for 'hardened' vaccine resistance https://t.co/IfuC32sGkr

— POLITICO Pro (@POLITICOPro) July 25, 2021
Delta Variant Fuels Surge Of New Cases Across U.S.