L.A. County on track to bring back mandatory indoor masking
If LA county stays in CDC designated High Community Level for 2 consecutive weeks officials would implement a universal indoor masking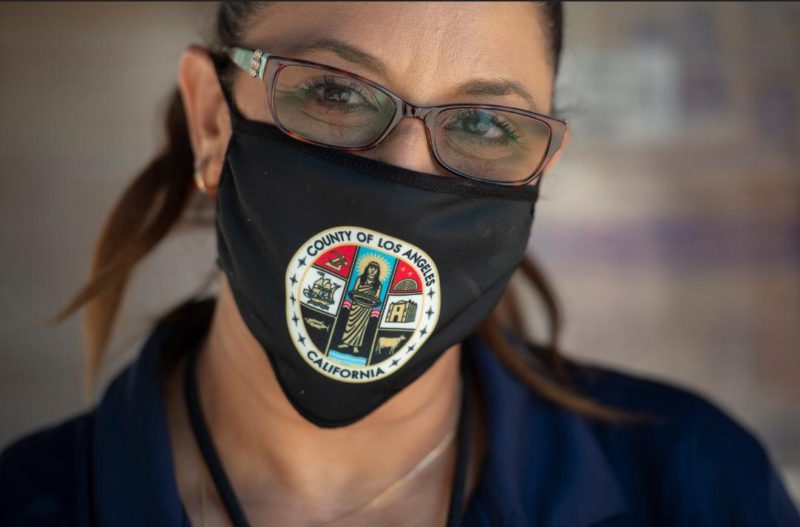 LOS ANGELES – The Los Angeles County Department of Public Health indicated that if the upward trend in coronavirus numbers continues, due to the increased circulation of the more infectious BA.4 and BA.5 Omicron subvariants coupled with increased community spread, officials may order a return to indoor masks.
On Friday, Public Health said that while the county currently remains at the CDC designated COVID-19 Medium Community Level. There are increasing concerns about the impact of new Omicron sub-variants on transmission and hospitalizations that could result in the County moving into the High Community Level designation sometime later this summer.
Barbara Ferrer, Director of LA County Public Health expressed concern and cautioned Angelenos as the region prepares for the July 4th holiday weekend.
"Since July 4 is right around the corner and many of us are looking forward to celebrating Independence Day with family and friends, it is important to remember that many of our loved ones may be older adults, or have serious underlying health conditions, or not yet been vaccinated and boosted," Ferrer said.
"Given the rising number of COVID cases and hospitalizations, and the increased circulation of the more infectious BA.4 and BA.5 subvariants, it is extra important to take steps that reduce the risk of transmission especially over the long holiday weekend; this helps us protect ourselves, our families, and our community," She continued adding, "With a little planning, you can have a great time celebrating while keeping each other safe. Please be sure to remind friends and family to stay home and skip the celebration if they feel sick or have tested positive. It is also a great idea for everyone to test themselves before getting together, ideally on the day of the gathering. It is always best to celebrate outdoors, and if people come indoors for part of the gathering, wearing a mask is advisable, particularly if there are individuals at high risk of severe illness should they become infected."
LA County Public Health pointed out in a statement that six of the seven Early Alert metrics Public Health are tracking continue to convey cause for Medium or High Concern. Moreover, in the past week, four Early Alert Signals moved upward in the level of concern: The case rate in the lowest income areas and the number of new outbreaks at Skilled Nursing Facilities per week, both moved up to High Concern.
The number of new outbreaks in settings for People Experiencing Homelessness is now at Medium Concern. And the number of worksite clusters increased, moving from Medium to High Concern for the first time since Public Health started tracking this metric in early March.
There was also an uptick in the percentage of Emergency Department Visits. The only measure indicating Low Concern is the number of sewer systems with a two-fold increase in viral load.
The first of two hospital metrics in the CDC Community Levels Framework is the seven-day total of new hospital admissions per 100,000, which rose this past week to 8.1 admissions per 100,000 people. This is a 56% increase compared to one month ago. The second hospital metric, the seven-day average for the proportion of staffed inpatient beds occupied by COVID-19 patients, also increased this past week to 4.2%.
If the county moves into the CDC designated High Community Level and remains there for two consecutive weeks, the county would implement a universal indoor masking requirement for everyone age 2 and older in LA County as a safety measure aligned with the CDC framework. The safety measure would remain in effect until the county returned to the CDC Medium Community Level designation, or lower, for two consecutive weeks.
Newsom announces end of the COVID-19 State of Emergency
California's pandemic response efforts have saved tens of thousands of lives, kept people out of the hospital and protected the economy
SACRAMENTO – Today, Governor Gavin Newsom announced that the COVID-19 State of Emergency will end on February 28, 2023, charting the path to phasing out one of the most effective and necessary tools that California has used to combat COVID-19.
This timeline gives the health care system needed flexibility to handle any potential surge that may occur after the holidays in January and February, in addition to providing state and local partners the time needed to prepare for this phaseout and set themselves up for success afterwards.
With hospitalizations and deaths dramatically reduced due to the state's vaccination and public health efforts, California has the tools needed to continue fighting COVID-19 when the State of Emergency terminates at the end of February, including vaccines and boosters, testing, treatments and other mitigation measures like masking and indoor ventilation.
As the State of Emergency is phased out, the SMARTER Plan continues to guide California's strategy to best protect people from COVID-19.
"Throughout the pandemic, we've been guided by the science and data – moving quickly and strategically to save lives. The State of Emergency was an effective and necessary tool that we utilized to protect our state, and we wouldn't have gotten to this point without it," said Newsom. "With the operational preparedness that we've built up and the measures that we'll continue to employ moving forward, California is ready to phase out this tool."
 
To maintain California's COVID-19 laboratory testing and therapeutics treatment capacity, the Newsom Administration will be seeking two statutory changes immediately upon the Legislature's return: 1) The continued ability of nurses to dispense COVID-19 therapeutics; and 2) The continued ability of laboratory workers to solely process COVID-19 tests.
"California's response to the COVID-19 pandemic has prepared us for whatever comes next. As we move into this next phase, the infrastructure and processes we've invested in and built up will provide us the tools to manage any ups and downs in the future," said Secretary of the California Health & Human Services Agency, Dr. Mark Ghaly. "While the threat of this virus is still real, our preparedness and collective work have helped turn this once crisis emergency into a manageable situation."
 
Throughout the pandemic, Governor Newsom, the Legislature and state agencies have been guided by the science and data to best protect Californians and save lives – with a focus on those facing the greatest social and health inequities – remaining nimble to adapt mitigation efforts along the way as we learned more about COVID-19. The state's efforts to support Californians resulted in:
Administration of 81 million vaccinations, distribution of a billion units of PPE throughout the state and processing of 186 million tests.
Allocation of billions of dollars to support hospitals, community organizations, frontline workers, schools and more throughout the pandemic.
The nation's largest stimulus programs to support people hardest hit by the pandemic – $18.5 billion for direct payments to Californians, $8 billion for rent relief, $10 billion for small business grants and tax relief, $2.8 billion to help with overdue utility bills, and more.
California's pandemic response efforts have saved tens of thousands of lives, kept people out of the hospital and protected the economy:
California's death rate is the lowest amongst large states. If California had Texas' death rate, 27,000 more people would have died here. If California had Florida's rate, that figure jumps to approximately 56,000 more deaths.
In only the first ten months of vaccines being available, a study showed that California's efforts saved 20,000 lives, kept 73,000 people out of the hospital and prevented 1.5 million infections.  
California's actions during the pandemic protected the economy and the state continues to lead the nation in creating jobs and new business starts:

"'Lockdown' states like California did better economically than 'looser' states like Florida, new COVID data shows," with California's economy having contracted less than such states – economic output shrank 3.5% on average for the U.S., compared with 2.8% for California.
Since February 2021, California has created 1,628,300 new jobs – over 16% of the nation's jobs, by far more than any other state. By comparison, Texas created 1,133,200 jobs (11.3% of the nation's) and Florida created 787,600 jobs (7.9% of the nation's) in that same timeframe.
Since the beginning of 2019, data from the Bureau of Labor Statistics shows that over 569,000 businesses started in California, by far more than any other state.