New bill for Kids 12+ to get vaccinated without parental consent introduced
It's unacceptable for this vaccine to be excluded from the decisions California teens are already empowered to make about their bodies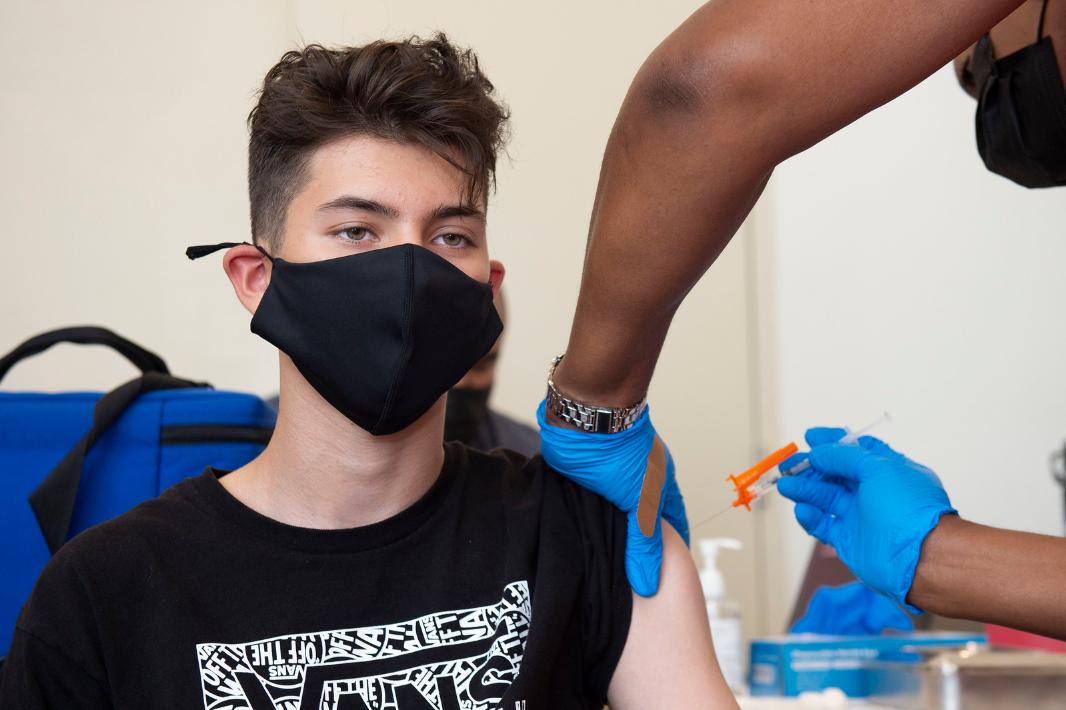 SACRAMENTO – Out Senator Scott Wiener (D-San Francisco) introduced Senate Bill 866 this past week which allows young people 12 years and older to get vaccinated without parental consent.
SB 866, the Teens Choose Vaccines Act, applies to all vaccines approved by the U.S. Food and Drug Administration (FDA) that meet the recommendations of the Advisory Committee on Immunization Practices (ACIP) of the Centers for Disease Control and Prevention.
Young people 12 and over are already allowed to make critical decisions about their bodies without parental consent, including getting the human papillomavirus (HPV) and hepatitis B vaccines, accessing reproductive healthcare and mental healthcare, among other health services. SB 866 would simply build on existing law to expand youth access to vaccines.
"Giving young people the autonomy to receive life-saving vaccines, regardless of their parents' beliefs or work schedules, is essential for their physical and mental health," said Senator Wiener. "COVID-19 is a deadly virus for the unvaccinated, and it's unconscionable for teens to be blocked from the vaccine because a parent either refuses or cannot take their child to a vaccination site. So many teens want to be vaccinated so that they can lead a more normal life — participating in sports or band, traveling, going to friends' homes — but they're prevented from doing so due to their parents' political views or inability to find the time. Unvaccinated teens also make schools less safe and threaten our ability to keep schools open. In states like Alabama and South Carolina, teenagers are already allowed to get vaccinated without parental consent. Young Californians should also have the right to keep themselves healthy and safe."
With the persistence of the COVID-19 pandemic and the widespread availability of highly effective and safe vaccines to treat serious COVID-19 illness, it's more important than ever that young adults be able to access vaccines. Over a quarter of young people ages 12 and 17 — nearly a million young people — remain unvaccinated. These low vaccination rates can have dire consequences for teens; a recent study found that almost all teenagers who needed intensive care for COVID-19 were unvaccinated, and all who died were unvaccinated.
Under existing law, young people ages 12 and 17 cannot be vaccinated without parental consent, unless the vaccine is specifically to prevent a disease that is sexually transmitted. This serves as a significant barrier to teen health in California, particularly in situations where parents and children hold conflicting views about vaccines.
Parental consent requirements for vaccines are also a barrier in cases where a child is experiencing medical neglect, or simply because working or otherwise busy parents are not available to take their children to medical visits. Low-income children may experience longer waits to get vaccinated because their parents may work longer hours — often without paid time off — and can't take them to get vaccinated as soon as they are eligible.
Young people age 12 and 17 can also get birth control and abortions, as well as medical treatment for sexually transmitted infections, drug and alcohol-related disorders, injuries resulting from sexual assaults and intimate partner violence, and mental health disorders – all without parental consent. In addition, various states already allow minors to access vaccines without parental consent, including Alabama, South Carolina, Washington, DC, Oregon, and Rhode Island.
This problem has implications far beyond the COVID-19 pandemic. Measles, for example, spreads efficiently among unvaccinated youth, whose parents have sadly chosen to block them from receiving a potentially life-saving vaccine. Measles was, at one time, considered eliminated in the United States. But vaccine misinformation and hesitancy has allowed it to spread once again.
Allowing young people to get vaccinated is critical not only for physical health, but for mental health, too. The United States Department of Health and Human Services found that adolescents ages 12-17 are seven times more likely to experience a new or recurring mental health issue after getting sick with COVID-19. And studies have found that school closures over the past couple of years have led to negative impacts on teens' mental health, and academic achievement, and have widened class-based academic disparities.
While school closures may have been necessary earlier in the pandemic when vaccines weren't widely available, we now have the tools to keep students and teachers healthy and in the classroom.
Senator Wiener is a member of the California Legislature's Vaccine Work Group. SB 866 is sponsored by ProtectUS, Teens for Vaccines, GenUP (Generation UP), and MAX the Vax. Senator Richard Pan (D-Sacramento) is a joint author of SB 866. Assemblymember Buffy Wicks (D-Oakland) is principal co-author of SB 866, and it is also co-authored by Assemblymembers Evan Low (D-Campbell), Akilah Weber (D-La Mesa), Laura Friedman (D-Glendale), Phil Ting (D-San Francisco), Cecilia Aguiar-Curry (D-Winters), and Senator Josh Newman (D-Orange County).
"In my view, this change in California policy is so important because it's not only for COVID, it's for all vaccines that protect us," said Nyla, 7th grade student in San Francisco. "I can't think of a good reason why laws shouldn't let people my age choose to lower our risk of getting really sick. And vaccines not only make us safer, they keep our friends and family safe, too."
"We appreciate Senator Wiener hearing teen voices in California and around the country," said Crystal Strait, Board Chair, ProtectUS. "Teens have the right to protect themselves from preventable death and disability. Under existing California law, minors 12 and older may independently consent to treatment for infectious diseases. It's just common sense that they should be able to consent to vaccines that will prevent serious illness in the first place. This bill is a natural extension of existing laws in place to prevent the spread of infectious diseases such as COVID."
"Ensuring students have fair and equitable access to COVID-19 vaccines is critical if we are to recover from this global pandemic," said Alvin, a college first year and the Executive Director of GenUP. "Receiving the COVID-19 vaccine is a matter of physical safety, potentially even concerning life or death. We need our students to be both safe and healthy on school campuses. Allowing students to self-consent to the vaccine will ensure all students, regardless of familial circumstances, will have the autonomy to protect their physical health and wellbeing. Let's keep our students healthy!"
"As a pediatrician who has specialized in the care of adolescents and young adults in the Department of Pediatrics at UCSF Benioff Children's Hospital for over 40 years, I am pleased to be here to join with young people and Senator Wiener to support the Teens Choose Vaccine Act," said Dr. Charles Irwin. "The Teens Choose Vaccine Act is an additional critical step for improving the lives of adolescents by enabling them to make healthy choices around essential vaccines that all young people should be able to get during the second decade of life without any barriers. Adolescence is a time of learning to assume increased responsibility for health care decision making for the rest of their lives. Laws should enhance access to care and not create barriers to getting essentia carel."
"I have been a registered nurse working at UCSF Benioff Children's Hospital in Oakland for the last 35 years," said Wendy Bloom, pediatric nurse. "I work in an outpatient infusion center now where we care for many very vulnerable, immunocompromised patients. Some are that way due to genetic diseases that make them vulnerable like Sickle Cell Anemia and some get medications that suppress their immune systems. Those children have cancer, rheumatological, gastrointestinal, neurological or endocrinology diseases. We care for children post-bone marrow transplant.
She continued: "I have on more than one occasion spoken with teens in these circumstances that want to be vaccinated for COVID-19. Many can't even go to school due to their state of vulnerability. I have tried to convince their skeptical parents that vaccinating them is so important to protect them. The teens totally understand it and want to get it but without parental approval they have no choice but to remain unvaccinated. I had one teenager tell me she really wanted it but felt helpless to convince her parent to allow it. Her dad could not be moved. Senator Wiener's bill is critical to help these teens."
"We know how important vaccines are for protecting the health of teens and their families and communities," said San Francisco Director of Health, Dr. Grant Colfax. "Our San Francisco teens have some of the highest COVID-19 vaccination rates in the state and nation with more than 90% fully vaccinated, and they are now getting boosted. This age group has been a critical part of our response to ending the pandemic. This legislation would help increase vaccination rates among young people 12 years and older across California."
"Teenagers are as essential to ending this pandemic as any other member of their community, and we're hearing loud and clear that they want to be part of the solution," said Assemblymember Wicks. "At this critical moment in our collective efforts to curb COVID, it's unacceptable for this lifesaving vaccine to be excluded from the decisions California teens are already empowered to make about their bodies, their health, and their future. I'm proud to co-author this bill that will right that wrong."
California readies 3,000 miles of network infrastructure
Newsom announced that California is one step closer to delivering affordable high-speed internet service to communities throughout the state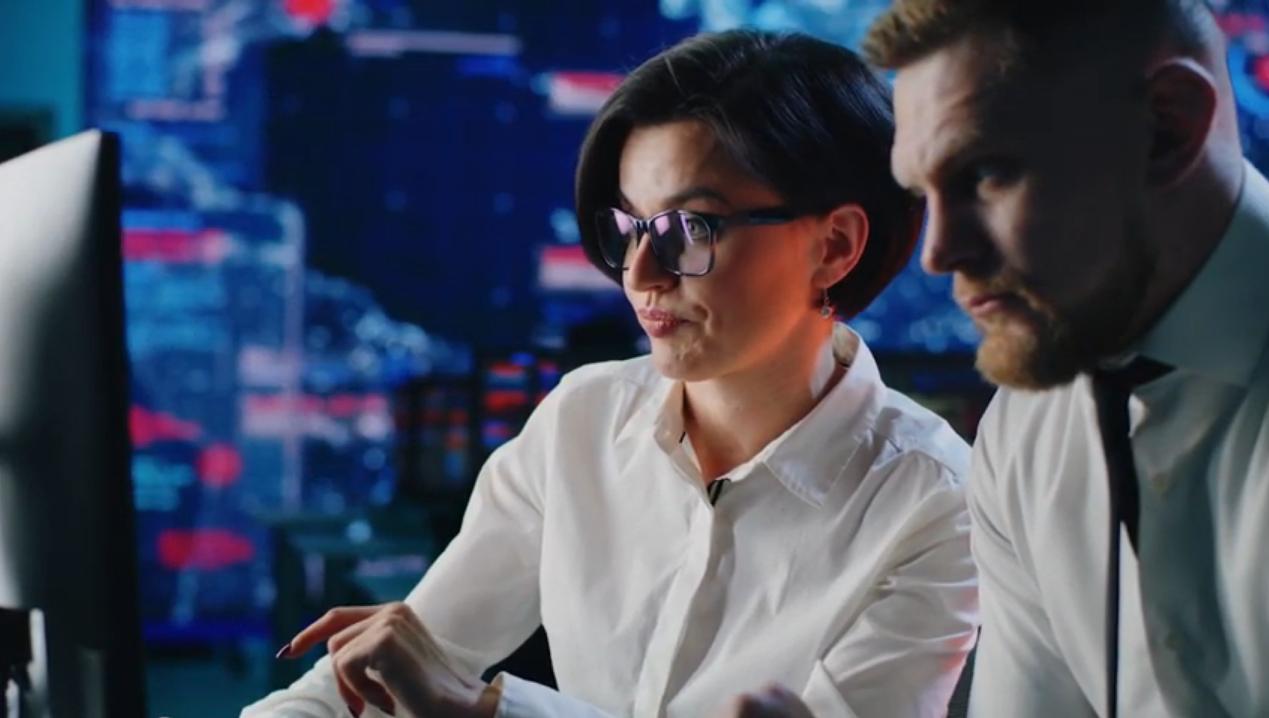 SACRAMENTO – Governor Gavin Newsom announced that California is one step closer to delivering affordable high-speed internet service to communities throughout the state on Friday, awarding new contracts that will supply the materials necessary for building 3,000 miles of broadband infrastructure.
The California Department of Technology, as part of the state's Middle-Mile Broadband Initiative, awarded contracts to two vendors totaling nearly $225 million that will allow the state to purchase enough optical fiber and materials to construct 3,000 miles of the network.
"Delivering broadband to all is essential to California's success," said Governor Newsom. "Access to high speed internet can mean the difference between launching a successful career and being without work. Once constructed, this network will be the largest in the world – and our action today will make the promise of broadband for all a reality."
California is strengthening broadband connections to improve access to education, health services and employment opportunities throughout the state. The Middle-Mile Broadband Initiative is the first step to creating an open-access, middle-mile network that will build infrastructure to bring high-speed broadband service to unserved and underserved communities, regardless of technology used, on equal economic and service terms.
675,000 underserved Californians would gain access to high-speed internet across the state with new broadband network

The action today is one part of a comprehensive and long-term approach to tackling the broadband infrastructure deficiencies still impacting rural and low-income communities, bringing the state closer to achieving affordable, high-speed broadband internet service for all communities. Construction on the middle-mile network is expected to be completed by December 2026.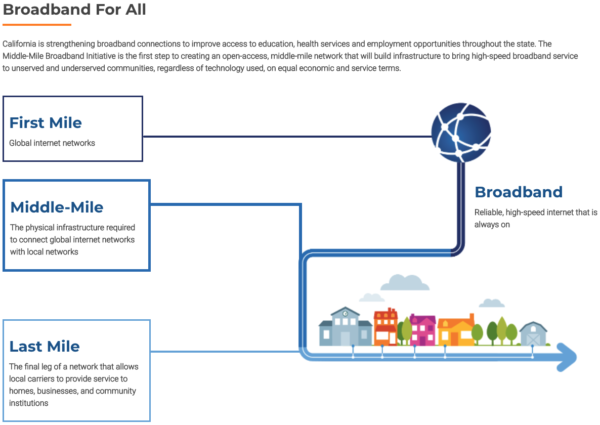 Middle-mile network refers to high-capacity fiber lines that carry large amounts of data at higher speeds over longer distances between local networks. It is the physical infrastructure required to connect global internet networks with local networks and is an essential component of the state's Broadband for All efforts.

Supply chain issues and nationwide broadband projects have created competition to secure necessary materials. The state's Invitation For Bid (IFB) was a proactive step to ensure supplies will be available at a pre-negotiated price when they are needed. The state has the ability to add an indefinite amount of materials as needed to complete construction over the next four years.

As a result of the competitive process, the state is guaranteed to have conduit, vaults, optical fiber and construction hardware readily available for the next four years as construction begins in earnest.

Government Operations Secretary Amy Tong said purchasing the material for the network is a critical first step to make sure California has the supplies it needs for construction of the middle-mile network in the coming years.

"This fiber will be the backbone of the middle-mile network, which will bring access to unserved and underserved Californians so they can participate equally in digital society," Tong said.

Russ Nichols, acting director of the California Department of Technology and chair of the Middle Mile Advisory Committee, said the projects will begin soon.

"With this milestone in place, we can continue our planning with Caltrans to begin installing the fiber as soon as possible," Nichols said.

Last year, the Governor signed historic legislation allocating $6 billion for achieving Broadband for All, including $3.25 billion for the middle-mile network and this year's revised budget proposes an additional $1.1 billion to support the project as it moves into construction.

The 2021 legislation included:
$3.25 billion to build, operate and maintain an open access, state-owned middle-mile network.
$2 billion to set up last-mile broadband connections that will connect homes and businesses with local networks. The legislation expedites project deployment and enables Tribes and local governments to access this funding.
$750 million for a loan loss reserve fund to bolster the ability of local governments and nonprofits to secure financing for broadband infrastructure.
Creation of a broadband czar position at the California Department of Technology, and a broadband advisory committee with representatives from across state government and members appointed by the Legislature.
In 2020, the state mobilized companies, business leaders and philanthropists through public-private partnerships to facilitate distance learning at school districts in need across the state. The effort helped connect students lacking high-speed internet or an appropriate computing device at home with donated mobile hotspots, laptops, Chromebooks, tablets and other devices.
Newsom gets second booster dose, urges eligible Californians to get theirs
California's vaccination strategy has saved tens of thousands of lives and prevented even more cases and hospitalizations
BAKERSFIELD – Amid rising COVID-19 cases across the country, and following the U.S. Food and Drug Administration's emergency authorization of a booster dose for healthy 5- to 11-year-olds, Governor Gavin Newsom today received his second Moderna booster at a clinic in Bakersfield, and encouraged all eligible Californians to get boosted to keep their immunity strong against COVID-19.
The second booster dose of the Pfizer-BioNTech or the Moderna vaccine is available to all Californians 50 and older, as well as those who are immunocompromised or received the Johnson & Johnson vaccine.
"Vaccines have saved tens of thousands of lives in California, and with COVID-19 still prevalent, we can't afford to let our guard down," said Newsom. "The best protection against serious illness and hospitalization is getting vaccinated and boosted. I encourage all eligible Californians to get your second booster – for you, for your family, for your friends, for your community."
Under the Newsom Administration's SMARTER Plan, the state maintains operational readiness to continue the fight against COVID-19 and respond quickly, including the ability to administer 200,000 vaccinations and 500,000 tests per day. The California Blueprint includes another $2.4 billion for COVID response, which ensures California will be on the best possible footing against future waves.
According to a study analyzing California's pandemic response, COVID-19 vaccines prevented an estimated 1.5 million coronavirus infections, nearly 73,000 hospitalizations, and almost 20,000 deaths in California.
The Governor received his booster shot at Clinica Sierra Vista, one of hundreds of health clinic locations around the state where people can receive their free vaccine and booster. The Governor was joined today by California Health and Human Services Secretary Dr. Mark Ghaly and community and local leaders who have supported vaccine equity efforts in the region. To date, Clinica Sierra Vista has administered nearly 100,000 COVID-19 vaccination doses.
"Vaccines remain the best protection against hospitalization and death from COVID-19. Our state, like much of the nation, is beginning to see an increase in COVID-19 transmission. Fortunately, thanks to California's robust vaccination efforts, we are seeing relatively low hospitalization rates," said Dr. Mark Ghaly, California Health and Human Services Secretary. "This underscores the efficacy and importance of staying up to date on your COVID-19 vaccines. Californians age 50 and over are encouraged to get their additional booster dose to keep their immunity strong and strengthen their protection against COVID-19."
According to the California Department of Public Health, the statewide test positivity rate is 5 percent as of Tuesday, about double the positivity rate a month prior, with some regions seeing positivity rates as high as 9 percent. Unvaccinated people are 4.8 times more likely to get COVID-19 than fully vaccinated individuals who are boosted. Unvaccinated people are also 6.5 times more likely to be hospitalized than boosted individuals, and 7.8 times more likely to die than boosted individuals.
California's response to COVID-19 has led the nation with the lowest COVID death rate among the country's most populous states. More than 8 in 10 Californians have received at least one dose of the vaccine and more than 15.5 million Californians have received their first booster dose, representing 59.1 percent of those eligible for a booster. Additionally, 22 percent of eligible Californians have received their second booster dose.
The state's Vaccinate ALL 58 campaign continues to focus on driving vaccine efforts in lower-income and non-English speaking communities with cultural competency and in-language outreach and education. Its community-based organization network, in partnership with philanthropy, is now standing at over 700 organizations and supports outreach and appointment assistance efforts.
Clinica Sierra Vista is a comprehensive health care organization serving the primary medical, dental, and behavioral health needs of about 200,000 people in Kern and Fresno counties. With the continued support of federal, state, and local governments, they have been able to reach out to thousands of new patients, offering comprehensive programs tailored to the needs of those they serve over a vast geographical region in the heartland of California.
Newsom highlights state & local action to combat drought
At a Los Angeles County Water Recycling Facility, Newsom called on Californians to take immediate action to avoid a crisis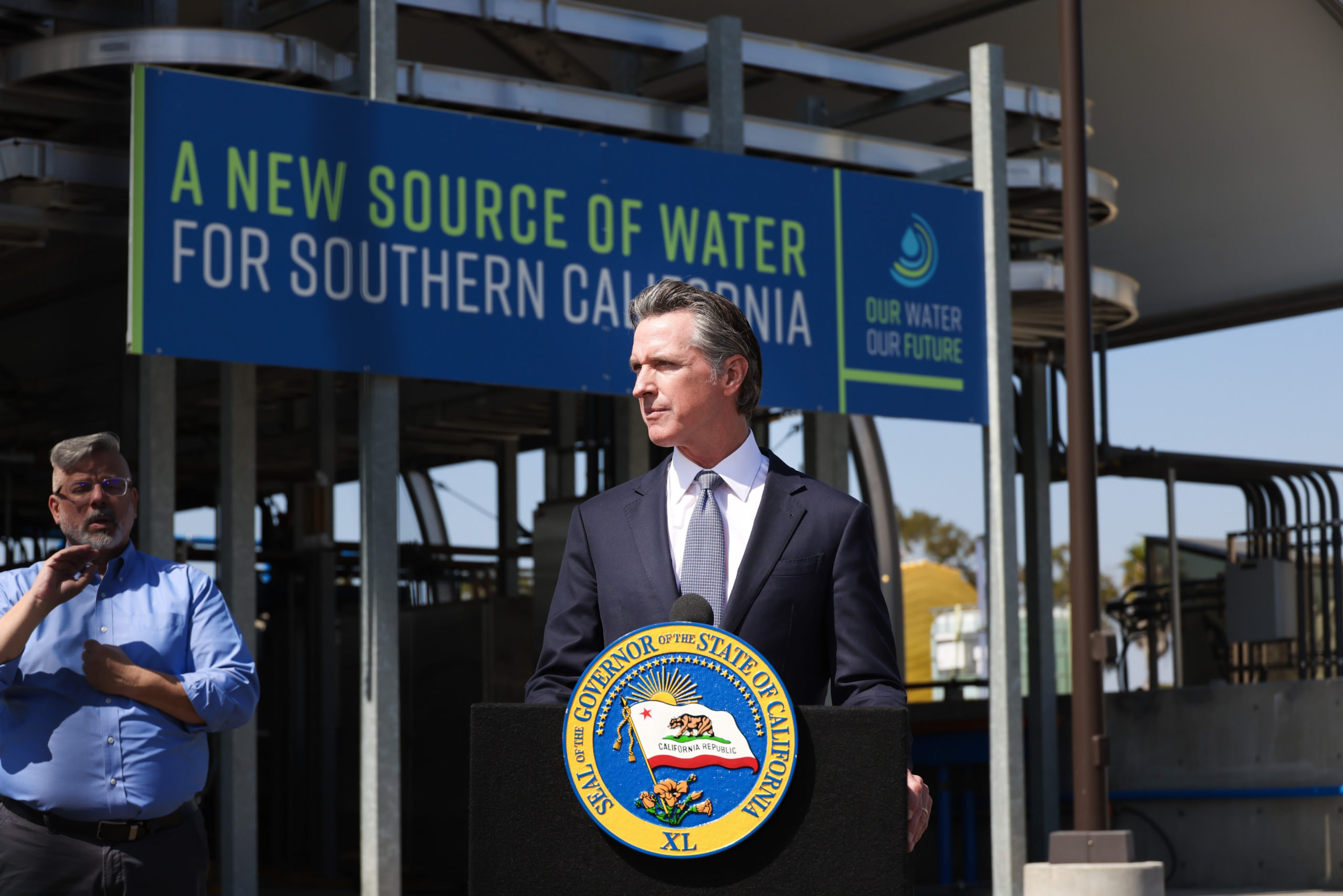 CARSON – Governor Gavin Newsom visited a Metropolitan Water District of Southern California water recycling facility Tuesday to discuss the administration's response to the ongoing megadrought affecting the western United States.
January through March were the driest first three months in the state's recorded history, the state's largest reservoirs are currently at half of their historical averages, and the state's snowpack is just 17 percent of average. Governor Newsom called on local water agencies and Californians to step up and take action to conserve water.
"California will need to use every tool in its toolbox to safeguard our communities, businesses and ecosystems from the severe, climate-driven drought being felt throughout the West," said Newsom. "The state is taking urgent action to tackle drought impacts, drive water savings, and empower local water agencies to step up conservation measures across the state. All of us must take aggressive action to meet these challenges head-on while we work to build a climate-resilient water system."
Governor Newsom has taken swift action to combat the drought conditions, including extending the drought emergency statewide last October and in March, issuing an executive order calling on water agencies to implement, at a minimum, Level 2 of their drought contingency plans to achieve water use reductions in response to a supply shortage of up to 20 percent.
In addition, under proposed emergency regulations by the State Water Resources Control Board (SWRCB), the local agencies that have not yet adopted conservation plans, covering just 8 percent of the state's population, will be compelled to take steps to achieve water use reduction with steps like limiting outdoor water use.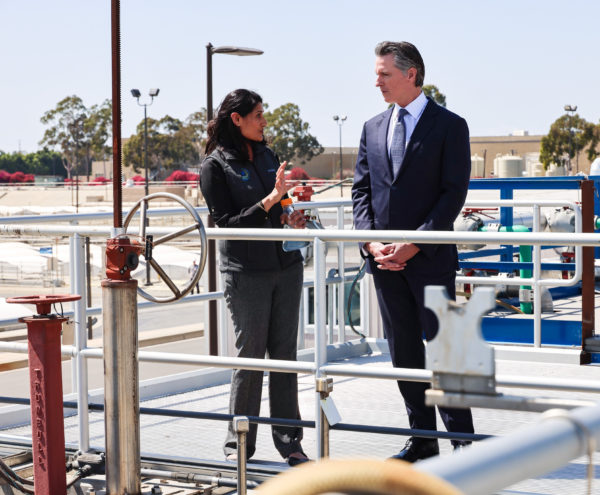 The Governor's March order was based on lessons learned from the last drought including that conservation actions are most impactful when imposed at the local level, based on regional needs and behaviors, and can be an effective means to achieve statewide conservation goals.
 
In response to the Governor's direction, many local water agencies, including the Metropolitan Water District of Southern California (MWD), have taken aggressive action to combat the drought. While an overwhelming majority of the state's water agencies have drought plans at the ready, plans covering about 50 percent of California residents have not yet been activated at the level urged by the Governor.
 
On May 13, the SWRCB released draft regulations that will require all local water suppliers to implement Level 2 of their Water Shortage Contingency Plans, and compel those that have not developed their own plan to take the following steps:   
Limit outdoor water use to two days per week.
Ban watering during the hottest parts of the day.
Ban irrigating ornamental grass at business and commercial sites.
Enforce fines of up to $500 a day for districts and corporations not in compliance.
The draft regulations will be considered by SWRCB at their May 24 meeting and, if adopted and then approved by the Office of Administrative Law, will ensure all local plans are in effect by June 10. The SWRCB also will consider regulations banning the watering of decorative grass at business and institutions, which the Governor's March order directed the Board to consider.
The state is calling on Californians to take immediate action to avoid a crisis, including:
Limiting outdoor watering – on average, each time you water your yard equals about 240 flushes or 13 full laundry loads (for a washer that uses 30 gallons per load).
Taking shorter showers. Going to a 5 minute shower to save up to 12.5 gallons per shower when using a water-efficient shower head.
Taking showers instead of baths – a bath uses up to 2.5 times the amount of water as a shower.
Using a broom instead of a hose to clean outdoor areas to save 6 gallons of water every minute.
Washing full loads of clothes to save 15-45 gallons of water per load.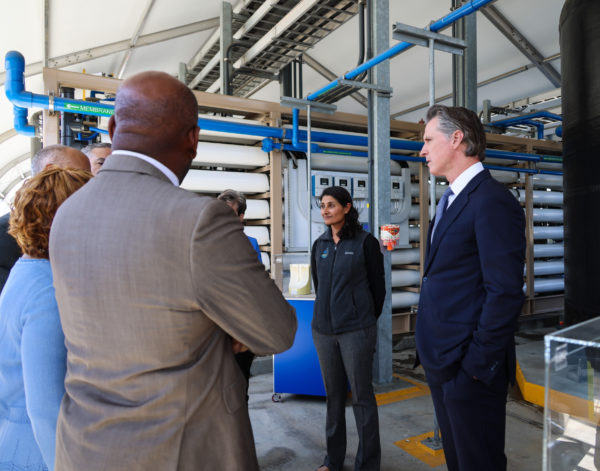 The Governor's California Blueprint proposed this year would invest an additional $2 billion for drought response, which includes $100 million in addition to a previous investment of $16 million this fiscal year for a statewide education and communications effort on drought. These investments build on the previous $5.2 billion three-year investment in the state's drought response and water resilience through the California Comeback Plan (2021).