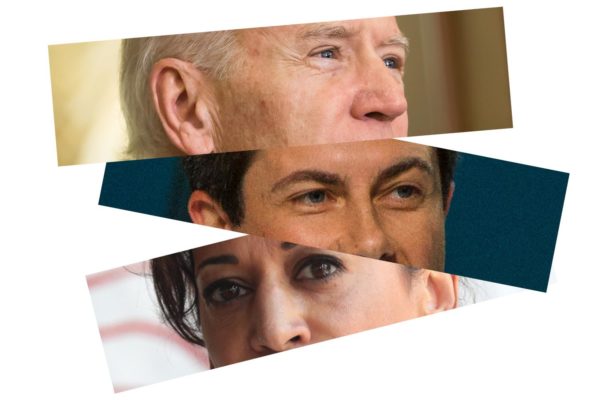 Many who read Special Counsel Robert Mueller's devastating 448-page investigation into Russian intervention in the 2016 elections and Donald Trump's criminal complicity found the report so compelling that calls for impeachment intensified and threatened Speaker Nancy Pelosi's edict to focus on domestic issues, not Trump, for the 2020 elections.
After Mueller's testimony before the House Judiciary and Intelligence committees on July 24, there's been an uptick in calls for impeachment, a constitutional recourse to deal with a rogue, lawless president as was described in the hearings. But at day's end, after an apparently robust private discussion among Democratic Caucus members, Pelosi still held firm. "Whatever decision we make in that regard [to initiating impeachment proceedings] would have to be done with our strongest possible hand, and we still have some outstanding matters in the courts," Pelosi told reporters.
That means the next focus of intense political attention will be July 30 and July 31 as the Democrats hold two more presidential debates and the country takes stock of the 20 candidates in light of the pressure for impeachment and the candidates' need to highlight other complicated issues of concern to voters throughout the country.
With the California primary moved up to Super Tuesday, March 3, 2020, some LGBTQ voters are already starting to settle on a candidate, while others are bundling and maxing out for multiple candidates. CalMatters reporter Ben Christopher has compiled data indicating that voters are contributing more to Sen. Kamala Harris and South Bend, Ind. Mayor Pete Buttigieg than former Vice President Joe Biden, who is in the third spot. That candidate pack comports with informal conversations with LGBTQ voters, some who mention Sen. Elizabeth "I have a plan for that" Warren as their second choice.
Meanwhile, Equality California is looking at voter interest, as well, sending out surveys to their 800,000 members and active email subscribers around the country, most residents of California. (To sign up for email alerts go to eqca.org.)
"As part of our endorsement process, we have been sending surveys to our members to gauge their interest in and enthusiasm for each of the top tier pro-equality candidates. In the coming months, we'll be asking each candidate to fill out a thorough questionnaire and participate in an interview with our PAC committee," Equality California Communications Director Samuel Garrett-Pate told the Los Angeles Blade.
But the debates will be the first dedicated opportunity for voters to watch the Democratic candidates explain their reaction to the Mueller report and hearings, which apparently is not the end of the story about what happened in 2016 and what Mueller suggested may happen again in 2020.
Mueller appeared old and halting during the Judiciary Committee hearing Wednesday morning, July 24. But he became more animated before the Intelligence Committee after Chair Adam Schiff framed Trump's campaign as an unpatriotic crass financial pursuit to benefit Trump, his family, his organization and his campaign staff in collusion with a foreign adversary.
Looking like he was barely capping a volcano, Schiff stopped just short of denouncing Trump as a traitor.
"Disloyalty to country. Those are strong words, but how else are we to describe a presidential campaign which did not inform the authorities of a foreign offer of dirt on their opponent, which did not publicly shun it, or turn it away, but which instead invited it, encouraged it, and made full use of it?" asked Schiff, a former federal prosecutor and a longtime LGBT ally representing West Hollywood and Silver Lake.
Schiff sat next to Ranking Member Rep. Devin Nunes, a rising Trump-Republican star who helped with the cover up when he was Chair of the Intelligence Committee, exposed by his "midnight ride" to the White House to concoct a plot about the investigation as a Russia hoax.
It was no hoax, no witchhunt, Mueller said. Nonetheless, Politico reported that Trump wants the Tulare, Calif., native to replace Dan Coates as Director of National Intelligence.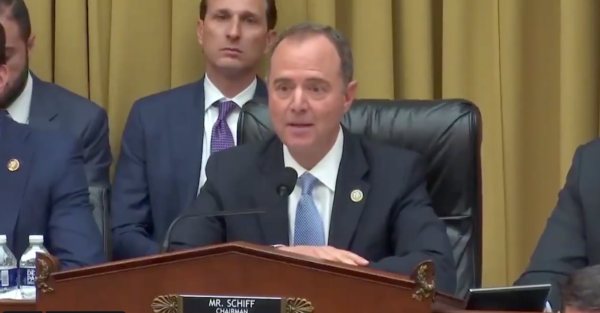 Schiff to Mueller: "I gather that you believe that knowingly accepting foreign assistance during a presidential election is an unethical things to do."
Mueller: "And a crime, given certain circumstances….
Schiff: "We can agree that it is also unpatriotic."
Mueller: "True."
Mueller let slip that the FBI is still investigating "different aspects" of counter-intelligence attempts to interfere with and compromise vulnerabilities in the 2020 elections by Russia and other countries.
"It wasn't a single attempt," Mueller told Texas Republican Rep. Will Hurd. "They're doing it as we sit here."
Mueller's report ends "with a scheme to cover up, obstruct and deceive every bit as systematic and pervasive as the Russian disinformation campaign itself, but far more pernicious since this rot came from within," Schiff said. "This is what is at stake. Our next election, and the one after that, for generations to come. Our democracy."
"I hope this is not the new normal," Mueller told Vermont Democrat Rep. Peter Welch at the end of the day. "But I fear it is."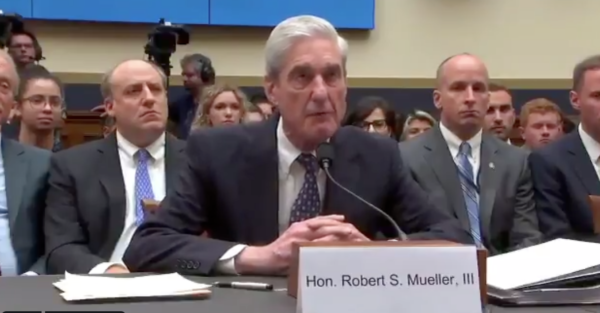 Given Trump's penchant for distraction, one wonders what will next shift the national narrative. But questions about Mueller's testimony and what some see as the constitutional remedy of impeachment will surely impact the debates, which are being held in Detroit, Mich., a Trump-won battleground state where the government still hasn't fixed Flint's dirty drinking water.
For the LGBTQ community, the stakes couldn't be higher with the House-passed Equality Act stalled by GOP Senate Majority Leader Mitch McConnell and continuous rollbacks of LGBT rights, established policies and rules and just flagrant insults to please Trump's evangelical base, such as the State Department's new Commission on Unalienable Rights, led by an anti-gay law professor.
Stonewall Democratic Club is hosting two debate watch parties, one in Studio City and the other in West Hollywood. (Check their Facebook page).  Kamala Nation is hosting a watch party at Beaches in West Hollywood on the second night.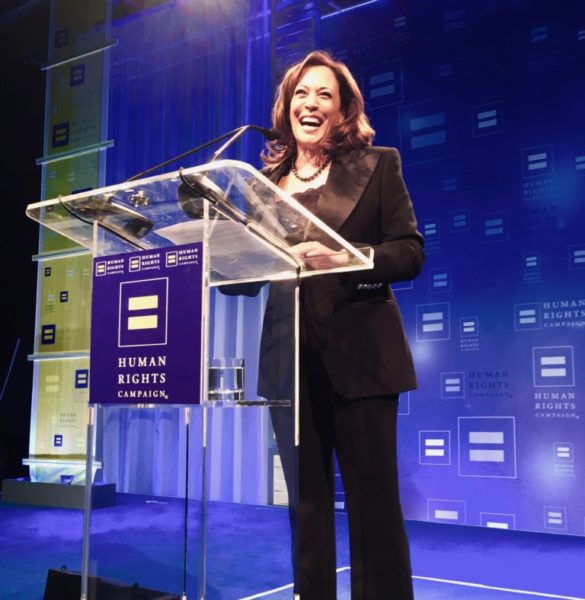 Sen. Kamala Harris at 2019 HRC/LA gala (Photo by Karen Ocamb)
Some Harris supporters are anxious to see if back-bencher Tulsi Gabbard, an Iraq war vet from Hawaii, will go after Harris as unfit to be commander-in-chief. On July 23, The Hill's Reid Wilson tweeted a prediction that Gabbard "is going to endorse Trump in the end." The Center for American Progress' Neera Tanden retweeted Reid, adding her own prediction: "Tulsi runs as third party Green candidate to help Trump win. I will take bets on this."
On Tuesday, July 30, most politicos will be watching for fireworks between friends Sens. Bernie Sanders (Vermont), who's been losing steam, and Elizabeth Warren (Massachusetts), who has been stealing his thunder. Sanders identifies as an independent Democratic Socialist and while Warren goes after big banks and big corporations, she identifies as a capitalist who cares about the little guy.
Also in this lineup are one-time Texas phenomenon Beto O'Rourke and Sen. Amy Klobuchar, a former Minnesota prosecutor who speaks knowingly about the opioid crisis. No matter how smart the rest might be, John Hickenlooper, Tim Ryan, John Delaney, Montana Gov. Steve Bullock appear as indistinguishable straight white guys.
LGBTQ voters will be keeping an eye on self-help guru Marianne Williamson for her latest explanation of how love can cure politics.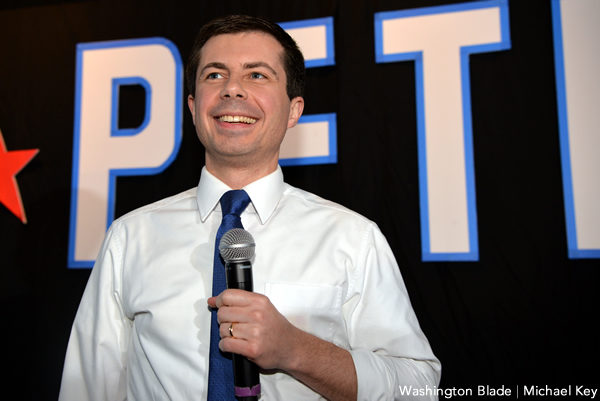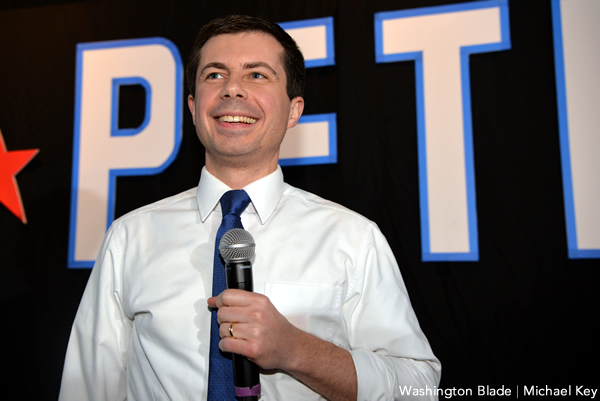 Mayor Pete Buttigieg (Washington Blade file photo by Michael Key)
But most of the attention will rest upon erudite out South Bend, Indiana Mayor Pete Buttigieg, who, along with his loving husband Chasten, have become moral role models for millions, LGBTQ and straight alike.
"That flag that was attached to my shoulder," on his military uniform, the Afghanistan vet told a packed crowd of 1,100 in Seattle, Washington July 23, the Olympian reported — "I'm pretty sure it stood for the idea that you can criticize your leaders without anybody telling you to go back to where you came from."
Keep an eye out for questions to Buttigieg about support from the African American community, which all candidates need to win the Democratic nomination. Buttigieg had issues with the Black community in South Bend, which he was honest about. Dr. Jason Johnson, Political Editor at The Root and frequent MSNBC commentator, gave Buttigieg no hope at all.
But then the mayor rolled out his 18-page "Douglas Plan"—named for black icon Fredrick Douglas— to "dismantle racist structures and systems" in the United States.
"We have lived in the shadow of systemic racism for too long," Buttigieg said in a statement, citing white nationalism, the widening economic gap between black and white workers, and bad disparities in health outcomes, according to the Washington Post. Those disparities, "should make us all wonder how the richest country on Earth can allow this to happen under our noses." Buttigieg compared his Douglass Plan to "the Marshall Plan that rebuilt Europe after World War II."
"I'm very impressed and I'm surprised," Johnson told Joy Reid on July 21.
But Warren, who has been well-received by African American women, talked about her plan on Juneteenth, "the annual and oldest known celebration commemorating the end of slavery in the United States. But Juneteenth isn't just about celebration. It's a necessary reminder that 154 years later, Black Americans still feel the weight of government-sponsored racism and discrimination on their shoulders, Warren wrote on Medium.  "Our country needs big, structural change to confront the tools of oppression Black Americans still face today…. Today on Juneteenth, and every day, we can — and must — do better. Black lives matter, Black citizens matter, Black families matter."
Interestingly, the radical lesbian origin of Black Lives Matter seems to have been lost. The movement was founded in 2013 by three radical Black organizers—LA-based lesbian Patrisse Cullors, Oakland-based lesbian Alicia Garza, and LA-based ally Opal Tometi—in reaction to the acquittal of Trevon Martin's killer. "As a network, we have always recognized the need to center the leadership of women and queer and trans people," they wrote.
So far, Buttigieg and Harris appear to be the only two candidates who consistently mention the Equality Act, the LGBTQ civil rights bill that would grant LGBTQ Americans first-class citizenship. Biden mentions marriage equality, his support of which forced the hand of President Obama apparently before he was willing to publicly announce his support.
Biden and Harris will be the stars on the second debate night, July 31, with many expecting a re-match between the two from the first DNC debate. Harris' very personal attack on Biden over race jettisoned the former California attorney general and San Francisco district attorney to the top tier and left Biden looking weak, shaken, hardly the man to take on bully Donald Trump. It gave his tepid supporters permission to voice their quiet disappointment in how long it took him to apologize to Professor Anita Hill for his treatment of her as chair of the Senate Judiciary Committee during the confirmation hearing for Clarence Thomas.
The re-match this time will be over their respective plans for criminal justice reform. Expect New Jersey Sen. Cory Booker to get in some shots here, too.
Former HUD Sec. Julián Castro may earn the spotlight challenging Trump's cruel immigration and asylum policies; New York Sen. Kirsten Gillibrand may make waves talking about Trump and his sex offender friend Jeffrey Epstein; Gov. Jay Inslee hopefully will get to talk about climate change but they are down the scale when it comes to fundraising to get to the next debates in September. Sen. Michael Bennet, New York Mayor Bill de Blasio and affable entrepreneur Andrew Yang need a moment to stand out.
CalMatters reporter Ben Christopher notes that "Californians have thrown more than $26 million at the two dozen candidates hoping to win the Democratic nomination and take on President Donald Trump," with Harris and Buttigieg accruing the most donations. Harris, Buttigieg, Biden, Sanders, and Warren "have taken home more than 71% of California's itemized donations in 2019."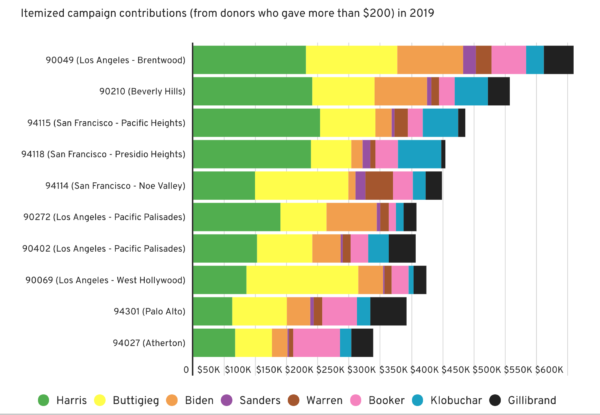 Christopher also created an interactive graph and map showing how much money was raised where by which candidate.
"Harris and Buttigieg both saw big infusions from the tonier neighborhoods of Los Angeles and the Bay Area, with Harris, the former district attorney of San Francisco, doing particularly well in her former city's mansion-festooned Pacific and Presidio Heights. Buttigieg had a strong showing in West Hollywood, which is high-income and also has a large LGBTQ community that might have particular enthusiasm for the first major Democratic candidate who is gay," he wrote. "The ten zip codes shown above account for nearly 18% of all of California's itemized donations this year so far."
Of particular interest in Christopher's analysis is his look at Trump funders in California.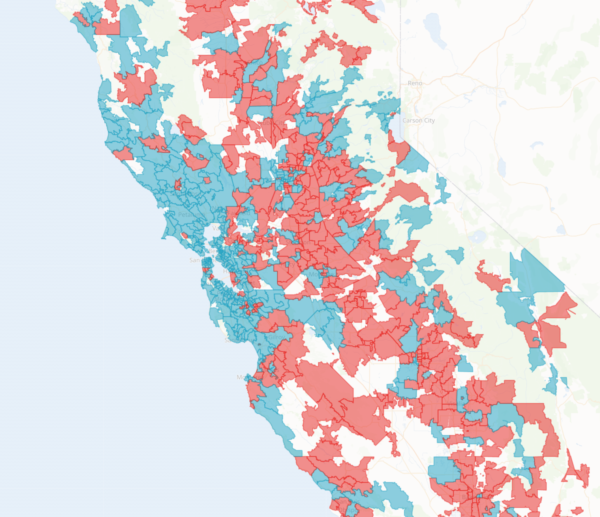 "This may come as surprise to the president, the national media and more than a few Californians, but there are plenty of Trump supporters in the 'Resistance State,' too. And since the beginning of the year, they've been spending a lot of money to keep the president in the White House. New campaign finance statistics show that President Donald Trump raised $3.2 million—more money from the California donor class than all of his Democratic challengers, but two," he writes, Harris with over $7.5 million since January 1 and Buttigieg with over $4.8 million—though money does not automatically translate to votes.
An important hitch: the Trump campaign "collected more from itemized small donors—those who gave in increments of less than $100 at a time—than anyone else in the field," Christopher writes, meaning he can keep coming back for more money and more voter engagement. "In total, Trump raised about 11% of all presidential campaign dollars in California this year," with a Quinnipiac University poll giving him a 35% job approval rating from California voters.
Trump, Christopher notes, "seems to have raised the most money in the conservative swaths of the state: the Central Valley, the suburban segments of southern California, the Inland Empire and the rural north."
Some of those districts are the red districts that Democrats flipped blue in 2018, the districts whose freshman representatives Pelosi wants to protect from taking an impeachment vote. Reps. Harley Rouda, Katie Porter and Mike Levin have already come out for impeachment. But state GOP activists are going after Katie Hill and Gil Cisneros, whose blue wave energized LGBTQ voters.
Expect there to be a ripple effect from the CNN debates since Congress leaves for its long August recess a days later and those representatives will be asked about impeachment, which candidate and what issues they like when they hold their own town hall meetings.
Summer will be sweltering this year.
Please note: this story has been corrected to indicate that Rep. Harley Rouda supports impeachment. 
Transgender activist in Pakistan fights for change
Jannat Ali attended 2018 HRC summit in D.C.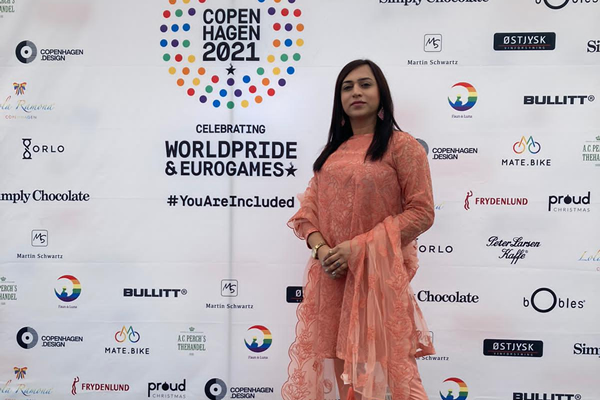 LAHORE, Pakistan — A pioneering transgender activist in Pakistan continues her fight for change in her country.
Jannat Ali—who describes herself as an "artivist"— is the executive director of Track T, a trans rights organization that is based in Lahore, the country's second largest city that is the capital of Punjab province.
Track T in December 2018 organized Pakistan's first-ever trans Pride march that drew nearly 500 people. A law that permits trans people to legally change the gender on their national ID cards and other official documents, allows them to vote and bans discrimination based on gender identity in employment, health care, education and on public transportation took effect earlier that year.
"That was an opportunity (for people) to celebrate their real true identities," Ali told the Los Angeles Blade on Aug. 19 during a telephone interview from Copenhagen, Denmark, where she was attending WorldPride 2021. "People were shaking hands because we did it so beautifully."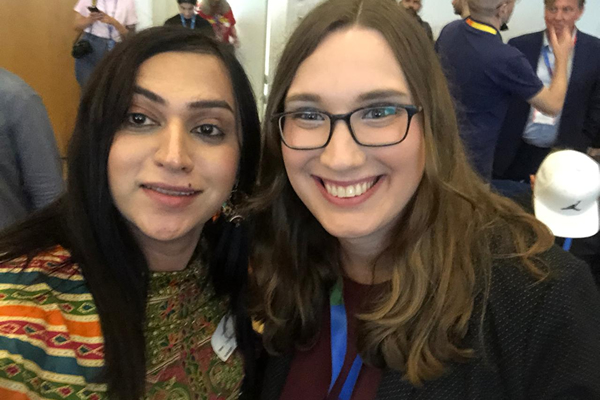 Ali in March launched "Journey with Jannat", an "inclusive infotainment show" with episodes on Instagram and YouTube. She is the first openly trans person to host her own program in Pakistan.
Ali in 2018 traveled to D.C. to participate in the Human Rights Campaign's annual Global Innovative Advocacy Summit. Track-T last year received a $5,000 HRC grant.
"They changed my life," Ali told the Blade, referring to HRC. "They helped me to fulfill my dreams in my life and make me be able to share my work."
Pakistan's Supreme Court in 2009 ruled in favor of recognizing trans people as a third gender on identity cards. The Pakistani government in July opened the country's first school for trans people.
Section 377 of Pakistan's colonial-era penal code that criminalizes consensual same-sex sexual relations remains in place. Ali told the Blade that implementation of the 2018 trans rights law— especially in the country's tribal areas along the border with Afghanistan and in rural Pakistan — remains a problem.
"The government doesn't (make it a) priority," she said. "It's a responsibility of other provinces to adopt or to amend it and present their bill in their own provinces."
Ali said violence based on gender identity remains prevalent in these areas.
Alisha, a trans activist who worked with Trans Action in Peshawar, a city in Khyber Pakhtunkwa province that borders Afghanistan, died in 2016 after a man who reportedly raped her shot her several times.
Activists said staff at a local hospital delayed treatment because she was trans. The province's then-governor ordered personnel to place Alisha in a private room, but she died a short time later.
"We are thankful to the governor," a local activist told the Blade after Alisha's death. "This was the first time that a government executive showed support."
Taliban regaining control of Afghanistan 'really sad'
Ali spoke with the Blade four days after the Taliban entered Kabul, the Afghan capital, and regained control of the country.
A Taliban judge in July said the group would once again execute gay men if it were to return to power in Afghanistan.
Some of the 50 Afghan human rights activists who Taylor Hirschberg, a researcher at the Columbia Mailman School of Public Health who is also a Hearst Foundation scholar, has been able to help leave the country are LGBTQ since. The Toronto-based Rainbow Railroad and Immigration Equality are among the other groups that have continued their efforts to evacuate LGBTQ Afghans since American troops completed their withdrawal from the country on Aug. 30.
"I was really worried," Ali told the Blade when asked about the plight of LGBTQ Afghans in Afghanistan after the Taliban regained control of the country. "I was really sad."
Ali this week said she is now "in touch" with LGBTQ Afghans who have fled to northern Pakistan.
Newsom expands drought emergency urges Californians to conserve water
California is experiencing its worst drought since the late 1800s. August 2021 was driest & hottest August on record since reporting began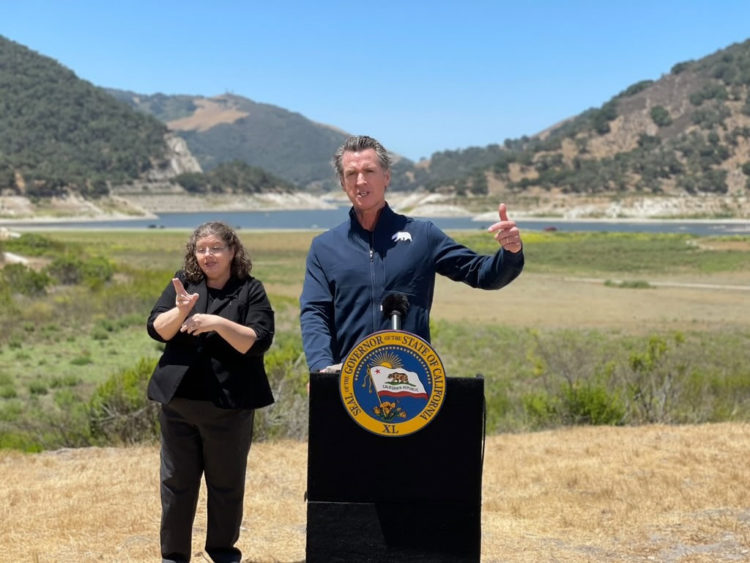 SACRAMENTO – Following the second driest year on record and with near record low storage in California's largest reservoirs, Governor Gavin Newsom today issued a proclamation extending the drought emergency statewide and further urging Californians to step up their water conservation efforts as the western U.S. faces a potential third dry year.
Bolstering conservation efforts, the proclamation enables the State Water Resources Control Board to ban wasteful water practices, including the use of potable water for washing sidewalks and driveways. The Governor issued an executive order in July calling on Californians to voluntarily reduce water use by 15 percent compared to 2020 to protect water reserves and complement local conservation mandates. The Governor's action today comes as the Board reports that in August, California reduced urban water use by 5 percent compared to 2020.
"As the western U.S. faces a potential third year of drought, it's critical that Californians across the state redouble our efforts to save water in every way possible," said Governor Newsom. "With historic investments and urgent action, the state is moving to protect our communities, businesses and ecosystems from the immediate impacts of the drought emergency while building long-term water resilience to help the state meet the challenge of climate change impacts making droughts more common and more severe."
The proclamation notes that the State Water Resources Control Board may adopt emergency regulations to prohibit wasting water, such as hosing down sidewalks or driveways, allowing drinking water to flood gutters or streets, or washing a car without a shut-off nozzle.
The proclamation adds the eight counties not previously included in the drought state of emergency: Imperial, Los Angeles, Orange, Riverside, San Bernardino, San Diego, San Francisco and Ventura. In addition, the proclamation requires local water suppliers to implement water shortage contingency plans that are responsive to local conditions and prepare for the possibility of a third dry year.
Expanding the Save Our Water initiative, a critical resource during the last drought, California has launched robust water conservation public education campaigns in partnership with stakeholders, including public water agencies. Statewide per capita residential water use declined 21 percent between 2013 and 2016 and as of 2020, the urban sector is using approximately 16 percent less on average statewide than in 2013. The Administration will continue to monitor the evolving drought conditions and evaluate all tools available to respond in real-time.
California is experiencing its worst drought since the late 1800s, as measured by both lack of precipitation and high temperatures. August 2021 was the driest and hottest August on record since reporting began and the water year that ended last month was the second driest on record. Today's proclamation authorizes the Governor's Office of Emergency Services to provide assistance and funding under the California Disaster Assistance Act to support the emergency response and delivery of drinking water and water for public health and safety.
The Governor's California Comeback Plan invests $5.2 billion over three years to support immediate drought response and long-term water resilience, including $815 million for emergency drought relief projects to secure and expand water supplies, drought contingency planning and multi-benefit land repurposing projects; support for drinking water and wastewater infrastructure, with a focus on small and disadvantaged communities; Sustainable Groundwater Management Act implementation to improve water supply security and quality; and projects to support wildlife and habitat restoration efforts, among other nature-based solutions.
A copy of today's proclamation can be found here.
More information on the state's response to the drought and informational resources available to the public are available at https://drought.ca.gov/.
Right-wing media blame trans-inclusive policy for Virginia sexual assault
[…] In reality, the Loudoun County Schools policy was not in effect when the reported sexual assault occurred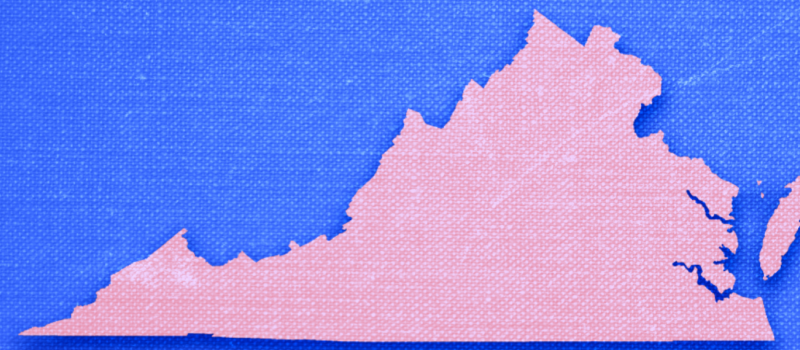 By Brennan Suen | WASHINGTON – Right-wing media have seized on a report of a sexual assault at a high school in Loudoun County, Virginia, to attack trans-inclusive bathrooms, often suggesting that a policy in the school district opened the door to predators in girls' bathrooms. In reality, the policy was not in effect when the reported sexual assault occurred, and it is always illegal to assault or harass someone.
On October 11, right-wing outlet The Daily Wire published a story about the reported assault and interviewed Scott Smith, the victim's father, who was arrested at a June 22 school board meeting after an altercation.
In the article, Smith seemed to acknowledge that the suspect might not have been affected by the district's trans-inclusive policy, which allows students to use facilities that align with their gender identity. He said, "The person that attacked our daughter is apparently bisexual and occasionally wears dresses because he likes them. So this kid is technically not what the school board was fighting about." However, he then seemed to blame the policy, saying, "The point is kids are using it as an advantage to get into the bathrooms."
However, the policy was passed by the school board on August 11 — months after May 28, when the assault was reported to have taken place, making it impossible for the suspect to have used the protections "as an advantage to get into the bathrooms."
The myth that trans-inclusive bathrooms allow predators to attack women has been repeatedly debunked; additionally, assaults and harassment are already illegal regardless of whether bathrooms allow trans people. In fact, the suspect was later charged in a second assault in Loudoun County that was reported to have taken place in "an empty classroom." The suspect has now been arrested and detained in juvenile detention.
The Washington Post has noted that authorities have not confirmed the gender identity of the suspect or that they were wearing a dress but identified as a boy. It also noted that "at the time of the alleged assault involving [Smith's] daughter, that rule was not in effect":
The parents she is representing have spoken out this week, often in interviews with conservative news outlets, to assert that the charged youth is "gender fluid" and that the assault took place in a girls bathroom. Those details have not been confirmed by authorities. The parents have also denounced a policy put in place by Loudoun's school board in August that lets students use bathrooms matching their gender identities. At the time of the alleged assault involving their daughter, that rule was not in effect.
Nevertheless, right-wing media have quickly spread the story, frequently citing the alleged gender identity of the suspect and the school's trans-inclusive policy — which they often falsely suggested was to blame for the reported assault.
For instance, the Heritage Foundation's outlet, The Daily Signal, published a report that quoted anti-trans advocate Lauren Adams, who said, "Assaults like these are the natural result of transgender bathroom policies, which allow boys to freely enter girls' spaces and erode boundaries."
In an op-ed in The Washington Times, columnist Robert Knight suggested Virginia may once again give us an "American Revolution," in part due to backlash over the case. Knight lied that the suspect "was allowed into the girl's room because of the idiotic transgender mandate."
The Daily Mail wrote, "Smith says the boy took advantage of the school's trans policies to get into the girls' bathrooms and assault her."
The New York Post also repeated this claim, writing: "Smith told the Daily Wire that his daughter was attacked at Stone Bridge High School on May 28 by a boy 'wearing in a skirt' who took advantage of transgender rules 'to get into the bathrooms.'"
Unfortunately, right-wing media have once again perpetuated the debunked bathroom predator myth and ignored the facts in order to attack trans people.
********************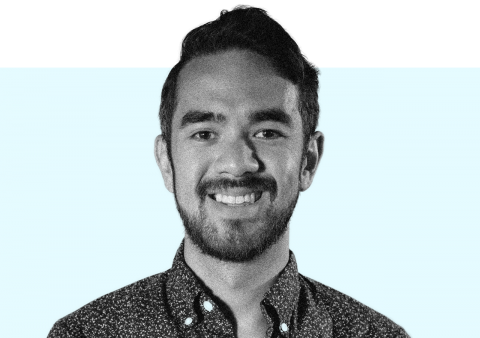 Brennan Suen is the LGBTQ program director at Media Matters, where he has worked since July 2015. He has a bachelor's degree from Northwestern University, and he formerly interned at the Human Rights Campaign and SKDKnickerbocker.
The preceding article was previously published by Media Matters for America and is republished by permission.