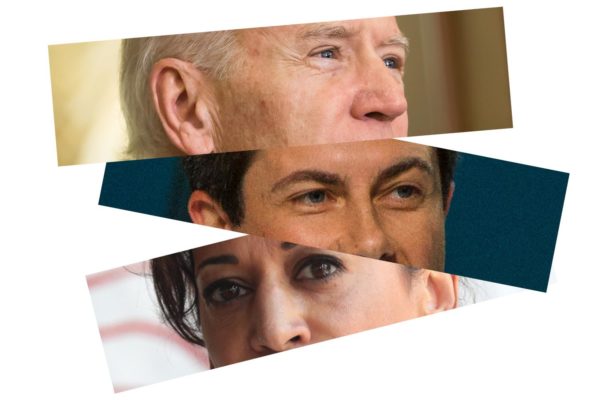 Many who read Special Counsel Robert Mueller's devastating 448-page investigation into Russian intervention in the 2016 elections and Donald Trump's criminal complicity found the report so compelling that calls for impeachment intensified and threatened Speaker Nancy Pelosi's edict to focus on domestic issues, not Trump, for the 2020 elections.
After Mueller's testimony before the House Judiciary and Intelligence committees on July 24, there's been an uptick in calls for impeachment, a constitutional recourse to deal with a rogue, lawless president as was described in the hearings. But at day's end, after an apparently robust private discussion among Democratic Caucus members, Pelosi still held firm. "Whatever decision we make in that regard [to initiating impeachment proceedings] would have to be done with our strongest possible hand, and we still have some outstanding matters in the courts," Pelosi told reporters.
That means the next focus of intense political attention will be July 30 and July 31 as the Democrats hold two more presidential debates and the country takes stock of the 20 candidates in light of the pressure for impeachment and the candidates' need to highlight other complicated issues of concern to voters throughout the country.
With the California primary moved up to Super Tuesday, March 3, 2020, some LGBTQ voters are already starting to settle on a candidate, while others are bundling and maxing out for multiple candidates. CalMatters reporter Ben Christopher has compiled data indicating that voters are contributing more to Sen. Kamala Harris and South Bend, Ind. Mayor Pete Buttigieg than former Vice President Joe Biden, who is in the third spot. That candidate pack comports with informal conversations with LGBTQ voters, some who mention Sen. Elizabeth "I have a plan for that" Warren as their second choice.
Meanwhile, Equality California is looking at voter interest, as well, sending out surveys to their 800,000 members and active email subscribers around the country, most residents of California. (To sign up for email alerts go to eqca.org.)
"As part of our endorsement process, we have been sending surveys to our members to gauge their interest in and enthusiasm for each of the top tier pro-equality candidates. In the coming months, we'll be asking each candidate to fill out a thorough questionnaire and participate in an interview with our PAC committee," Equality California Communications Director Samuel Garrett-Pate told the Los Angeles Blade.
But the debates will be the first dedicated opportunity for voters to watch the Democratic candidates explain their reaction to the Mueller report and hearings, which apparently is not the end of the story about what happened in 2016 and what Mueller suggested may happen again in 2020.
Mueller appeared old and halting during the Judiciary Committee hearing Wednesday morning, July 24. But he became more animated before the Intelligence Committee after Chair Adam Schiff framed Trump's campaign as an unpatriotic crass financial pursuit to benefit Trump, his family, his organization and his campaign staff in collusion with a foreign adversary.
Looking like he was barely capping a volcano, Schiff stopped just short of denouncing Trump as a traitor.
"Disloyalty to country. Those are strong words, but how else are we to describe a presidential campaign which did not inform the authorities of a foreign offer of dirt on their opponent, which did not publicly shun it, or turn it away, but which instead invited it, encouraged it, and made full use of it?" asked Schiff, a former federal prosecutor and a longtime LGBT ally representing West Hollywood and Silver Lake.
Schiff sat next to Ranking Member Rep. Devin Nunes, a rising Trump-Republican star who helped with the cover up when he was Chair of the Intelligence Committee, exposed by his "midnight ride" to the White House to concoct a plot about the investigation as a Russia hoax.
It was no hoax, no witchhunt, Mueller said. Nonetheless, Politico reported that Trump wants the Tulare, Calif., native to replace Dan Coates as Director of National Intelligence.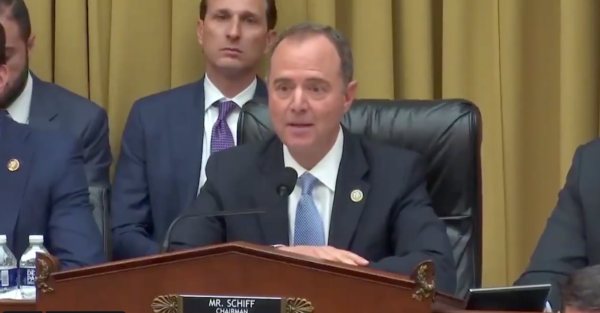 Schiff to Mueller: "I gather that you believe that knowingly accepting foreign assistance during a presidential election is an unethical things to do."
Mueller: "And a crime, given certain circumstances….
Schiff: "We can agree that it is also unpatriotic."
Mueller: "True."
Mueller let slip that the FBI is still investigating "different aspects" of counter-intelligence attempts to interfere with and compromise vulnerabilities in the 2020 elections by Russia and other countries.
"It wasn't a single attempt," Mueller told Texas Republican Rep. Will Hurd. "They're doing it as we sit here."
Mueller's report ends "with a scheme to cover up, obstruct and deceive every bit as systematic and pervasive as the Russian disinformation campaign itself, but far more pernicious since this rot came from within," Schiff said. "This is what is at stake. Our next election, and the one after that, for generations to come. Our democracy."
"I hope this is not the new normal," Mueller told Vermont Democrat Rep. Peter Welch at the end of the day. "But I fear it is."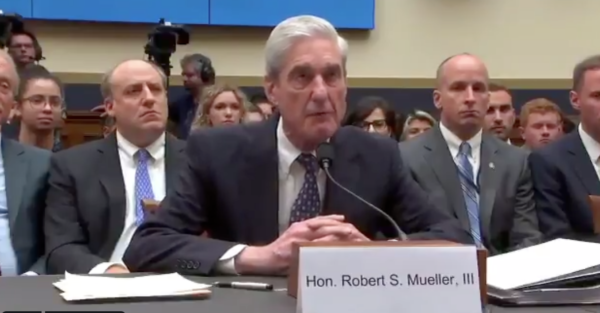 Given Trump's penchant for distraction, one wonders what will next shift the national narrative. But questions about Mueller's testimony and what some see as the constitutional remedy of impeachment will surely impact the debates, which are being held in Detroit, Mich., a Trump-won battleground state where the government still hasn't fixed Flint's dirty drinking water.
For the LGBTQ community, the stakes couldn't be higher with the House-passed Equality Act stalled by GOP Senate Majority Leader Mitch McConnell and continuous rollbacks of LGBT rights, established policies and rules and just flagrant insults to please Trump's evangelical base, such as the State Department's new Commission on Unalienable Rights, led by an anti-gay law professor.
Stonewall Democratic Club is hosting two debate watch parties, one in Studio City and the other in West Hollywood. (Check their Facebook page).  Kamala Nation is hosting a watch party at Beaches in West Hollywood on the second night.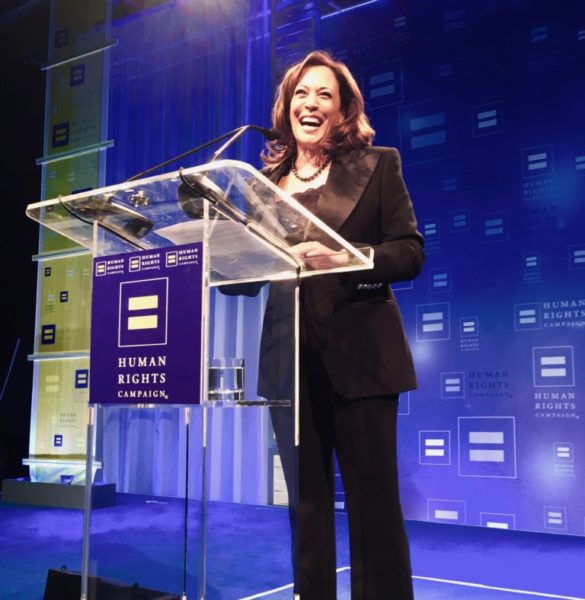 Sen. Kamala Harris at 2019 HRC/LA gala (Photo by Karen Ocamb)
Some Harris supporters are anxious to see if back-bencher Tulsi Gabbard, an Iraq war vet from Hawaii, will go after Harris as unfit to be commander-in-chief. On July 23, The Hill's Reid Wilson tweeted a prediction that Gabbard "is going to endorse Trump in the end." The Center for American Progress' Neera Tanden retweeted Reid, adding her own prediction: "Tulsi runs as third party Green candidate to help Trump win. I will take bets on this."
On Tuesday, July 30, most politicos will be watching for fireworks between friends Sens. Bernie Sanders (Vermont), who's been losing steam, and Elizabeth Warren (Massachusetts), who has been stealing his thunder. Sanders identifies as an independent Democratic Socialist and while Warren goes after big banks and big corporations, she identifies as a capitalist who cares about the little guy.
Also in this lineup are one-time Texas phenomenon Beto O'Rourke and Sen. Amy Klobuchar, a former Minnesota prosecutor who speaks knowingly about the opioid crisis. No matter how smart the rest might be, John Hickenlooper, Tim Ryan, John Delaney, Montana Gov. Steve Bullock appear as indistinguishable straight white guys.
LGBTQ voters will be keeping an eye on self-help guru Marianne Williamson for her latest explanation of how love can cure politics.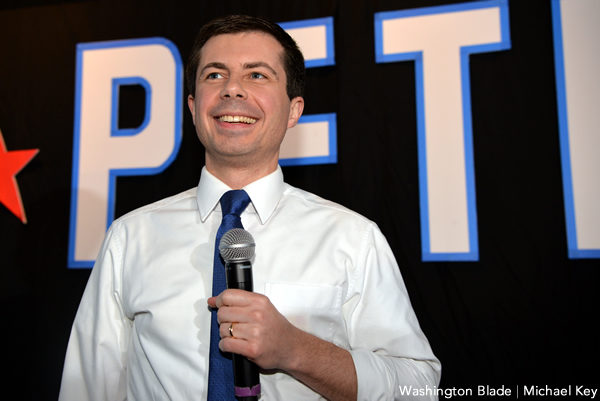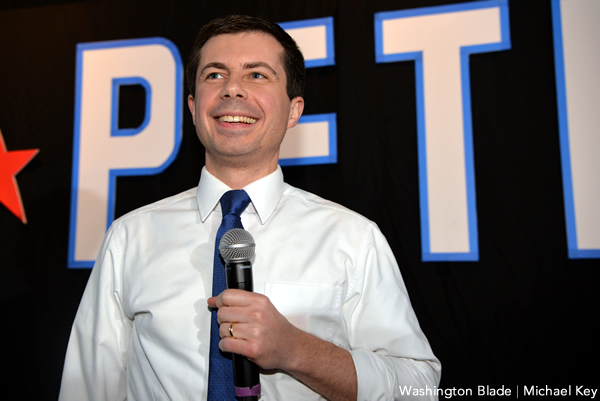 Mayor Pete Buttigieg (Washington Blade file photo by Michael Key)
But most of the attention will rest upon erudite out South Bend, Indiana Mayor Pete Buttigieg, who, along with his loving husband Chasten, have become moral role models for millions, LGBTQ and straight alike.
"That flag that was attached to my shoulder," on his military uniform, the Afghanistan vet told a packed crowd of 1,100 in Seattle, Washington July 23, the Olympian reported — "I'm pretty sure it stood for the idea that you can criticize your leaders without anybody telling you to go back to where you came from."
Keep an eye out for questions to Buttigieg about support from the African American community, which all candidates need to win the Democratic nomination. Buttigieg had issues with the Black community in South Bend, which he was honest about. Dr. Jason Johnson, Political Editor at The Root and frequent MSNBC commentator, gave Buttigieg no hope at all.
But then the mayor rolled out his 18-page "Douglas Plan"—named for black icon Fredrick Douglas— to "dismantle racist structures and systems" in the United States.
"We have lived in the shadow of systemic racism for too long," Buttigieg said in a statement, citing white nationalism, the widening economic gap between black and white workers, and bad disparities in health outcomes, according to the Washington Post. Those disparities, "should make us all wonder how the richest country on Earth can allow this to happen under our noses." Buttigieg compared his Douglass Plan to "the Marshall Plan that rebuilt Europe after World War II."
"I'm very impressed and I'm surprised," Johnson told Joy Reid on July 21.
But Warren, who has been well-received by African American women, talked about her plan on Juneteenth, "the annual and oldest known celebration commemorating the end of slavery in the United States. But Juneteenth isn't just about celebration. It's a necessary reminder that 154 years later, Black Americans still feel the weight of government-sponsored racism and discrimination on their shoulders, Warren wrote on Medium.  "Our country needs big, structural change to confront the tools of oppression Black Americans still face today…. Today on Juneteenth, and every day, we can — and must — do better. Black lives matter, Black citizens matter, Black families matter."
Interestingly, the radical lesbian origin of Black Lives Matter seems to have been lost. The movement was founded in 2013 by three radical Black organizers—LA-based lesbian Patrisse Cullors, Oakland-based lesbian Alicia Garza, and LA-based ally Opal Tometi—in reaction to the acquittal of Trevon Martin's killer. "As a network, we have always recognized the need to center the leadership of women and queer and trans people," they wrote.
So far, Buttigieg and Harris appear to be the only two candidates who consistently mention the Equality Act, the LGBTQ civil rights bill that would grant LGBTQ Americans first-class citizenship. Biden mentions marriage equality, his support of which forced the hand of President Obama apparently before he was willing to publicly announce his support.
Biden and Harris will be the stars on the second debate night, July 31, with many expecting a re-match between the two from the first DNC debate. Harris' very personal attack on Biden over race jettisoned the former California attorney general and San Francisco district attorney to the top tier and left Biden looking weak, shaken, hardly the man to take on bully Donald Trump. It gave his tepid supporters permission to voice their quiet disappointment in how long it took him to apologize to Professor Anita Hill for his treatment of her as chair of the Senate Judiciary Committee during the confirmation hearing for Clarence Thomas.
The re-match this time will be over their respective plans for criminal justice reform. Expect New Jersey Sen. Cory Booker to get in some shots here, too.
Former HUD Sec. Julián Castro may earn the spotlight challenging Trump's cruel immigration and asylum policies; New York Sen. Kirsten Gillibrand may make waves talking about Trump and his sex offender friend Jeffrey Epstein; Gov. Jay Inslee hopefully will get to talk about climate change but they are down the scale when it comes to fundraising to get to the next debates in September. Sen. Michael Bennet, New York Mayor Bill de Blasio and affable entrepreneur Andrew Yang need a moment to stand out.
CalMatters reporter Ben Christopher notes that "Californians have thrown more than $26 million at the two dozen candidates hoping to win the Democratic nomination and take on President Donald Trump," with Harris and Buttigieg accruing the most donations. Harris, Buttigieg, Biden, Sanders, and Warren "have taken home more than 71% of California's itemized donations in 2019."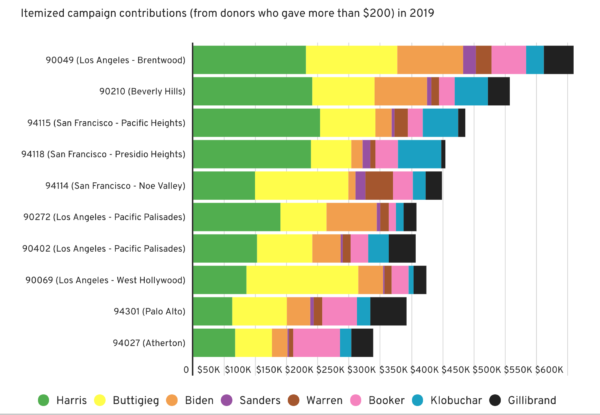 Christopher also created an interactive graph and map showing how much money was raised where by which candidate.
"Harris and Buttigieg both saw big infusions from the tonier neighborhoods of Los Angeles and the Bay Area, with Harris, the former district attorney of San Francisco, doing particularly well in her former city's mansion-festooned Pacific and Presidio Heights. Buttigieg had a strong showing in West Hollywood, which is high-income and also has a large LGBTQ community that might have particular enthusiasm for the first major Democratic candidate who is gay," he wrote. "The ten zip codes shown above account for nearly 18% of all of California's itemized donations this year so far."
Of particular interest in Christopher's analysis is his look at Trump funders in California.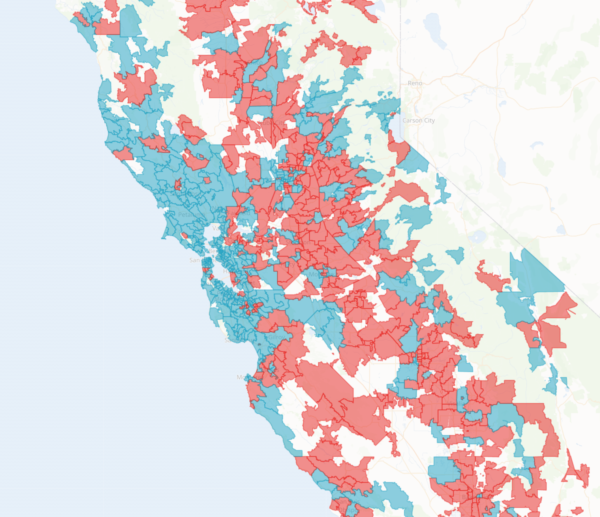 "This may come as surprise to the president, the national media and more than a few Californians, but there are plenty of Trump supporters in the 'Resistance State,' too. And since the beginning of the year, they've been spending a lot of money to keep the president in the White House. New campaign finance statistics show that President Donald Trump raised $3.2 million—more money from the California donor class than all of his Democratic challengers, but two," he writes, Harris with over $7.5 million since January 1 and Buttigieg with over $4.8 million—though money does not automatically translate to votes.
An important hitch: the Trump campaign "collected more from itemized small donors—those who gave in increments of less than $100 at a time—than anyone else in the field," Christopher writes, meaning he can keep coming back for more money and more voter engagement. "In total, Trump raised about 11% of all presidential campaign dollars in California this year," with a Quinnipiac University poll giving him a 35% job approval rating from California voters.
Trump, Christopher notes, "seems to have raised the most money in the conservative swaths of the state: the Central Valley, the suburban segments of southern California, the Inland Empire and the rural north."
Some of those districts are the red districts that Democrats flipped blue in 2018, the districts whose freshman representatives Pelosi wants to protect from taking an impeachment vote. Reps. Harley Rouda, Katie Porter and Mike Levin have already come out for impeachment. But state GOP activists are going after Katie Hill and Gil Cisneros, whose blue wave energized LGBTQ voters.
Expect there to be a ripple effect from the CNN debates since Congress leaves for its long August recess a days later and those representatives will be asked about impeachment, which candidate and what issues they like when they hold their own town hall meetings.
Summer will be sweltering this year.
Please note: this story has been corrected to indicate that Rep. Harley Rouda supports impeachment. 
California ends loitering for prostitution law
This repeals "loitering with intent to engage in prostitution" law, which results in profiling of sex workers particularly trans women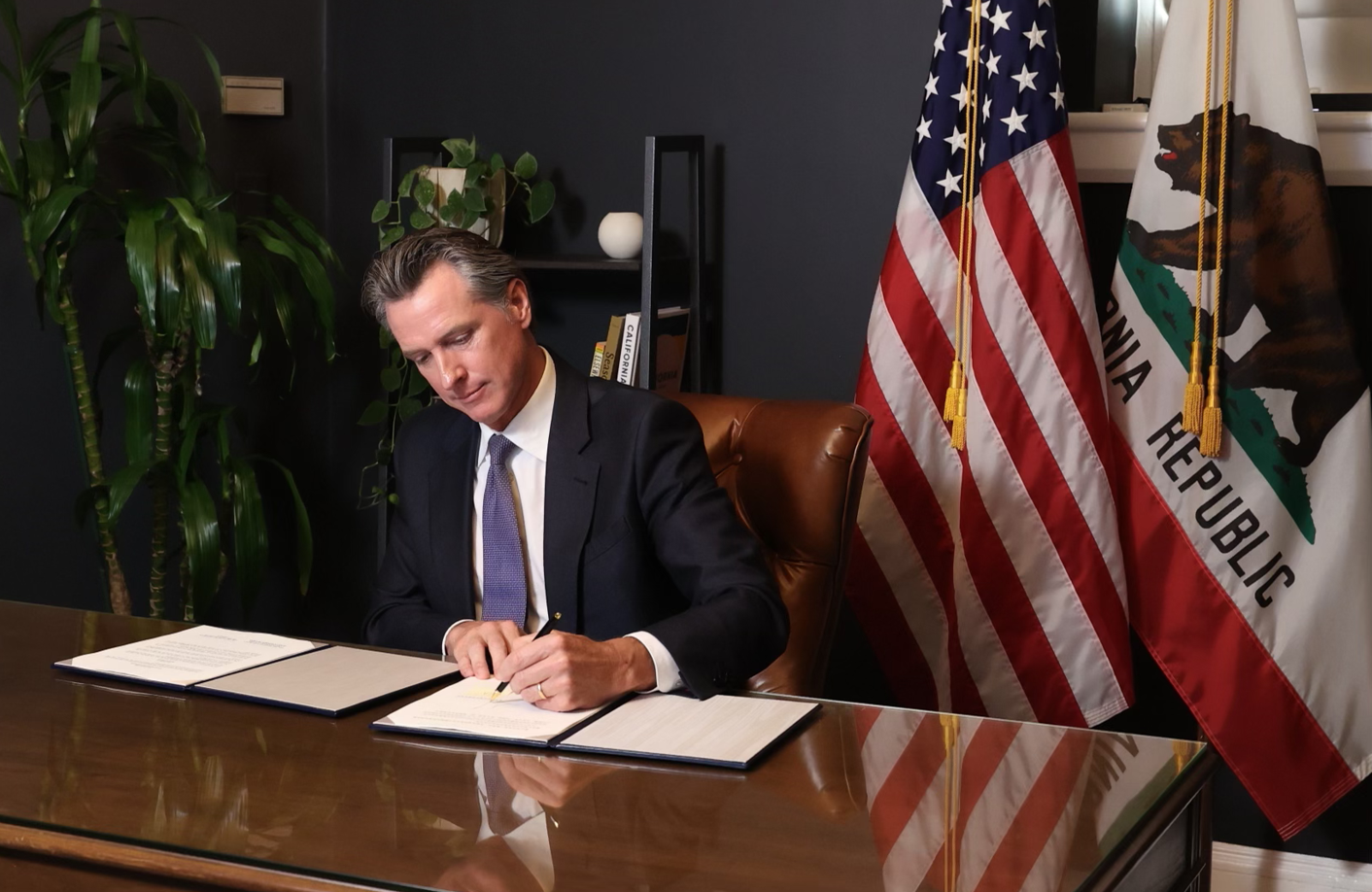 SACRAMENTO – Senate Bill 357, the Safer Streets for All Act, authored by Out state Senator Scott Wiener (D-San Francisco)'s was signed into law by Governor Gavin Newsom on Friday.
"As trans people are being criminalized across the country, Governor Gavin Newsom has once again shown that California stands with the LGBTQ community and communities of color," said Wiener. "Everyone – no matter their race, gender or how they make a living – deserves to feel safe on our streets. Thank you, especially, to our coalition of former and current sex workers and LGBTQ advocates who made this day a reality. Your leadership is inspiring."
SB 357 repeals a provision of California law criminalizing "loitering with the intent to engage in prostitution." This criminal provision — arrests for which are based on an officer's subjective perception of whether a person is "acting like" or "looks like" they intend to engage in sex work — results in the disproportionate criminalization of trans, Black and Brown women, and perpetuates violence toward sex workers.
SB 357 is sponsored by a large coalition made up of former and current sex workers, LGTBQ groups like Equality California and Transgender Gender-variant and Intersex Justice Project (TGIJP), and civil rights groups like the ACLU. The Coalition to Abolish Slavery and Trafficking (CAST LA) is supporting the legislation.
SB 357 does not decriminalize soliciting or engaging in sex work. Rather, it simply eliminates an loitering offense that leads to harmful treatment of people for simply "appearing" to be a sex worker.
This crime is so subjective and inherently profiling that it allows a police officer to arrest someone purely based on how they are dressed, whether they're wearing high heels and certain kinds of make-up, how they're wearing their hair, and the like. This criminal provision is inherently discriminatory and targets people not for any action but simply based on how they look. People who engage in sex work deserve to be treated with dignity and respect.
Criminalizing sex work does not make sex workers or communities safer. Most criminal penalties for sex workers, loitering laws included, do nothing to stop sex crimes against sex workers and human trafficking. In fact, loitering laws make it harder to identify trafficking victims; trafficking victims are often afraid to come forward in fear of being arrested or incarcerated.
In February of 2021, a similar piece of legislation to repeal this type of loitering ban became law in New York. SB 357 is part of the movement to end discrimination against and violence toward sex workers, especially the most targeted communities — trans, Black, and Brown people. SB 357 is co-sponsored by Positive Women's Network – USA, St. James Infirmary, SWOP LA, Trans [email protected] Coalition, Asian Pacific Islander Legal Outreach, Equality California and ACLU California Action.
Under current law, it is a crime to loiter in a public place with the "intent" to commit a sex work-related offense. But this law can be broadly interpreted, and thus allows for discriminatory application against the LGBTQ community and people of color.
Law enforcement can use a non-exhaustive list of circumstances to subjectively determine if someone "intends" to engage in sex work, including factors such as speaking with other pedestrians, being in an area where sex work has occurred before, wearing revealing clothing, or moving in a certain way.
Because current law regarding loitering is highly subjective and vague, law enforcement officers disproportionately profile and target Black and Brown transgender women by stopping and arresting people for discriminatory and inappropriate reasons.
This is how Black and Brown transgender women get arrested and cited for simply walking on the street. It also gives law enforcement the ability to more easily target and arrest sex workers.
People in the LGBTQ, Black, and Brown communities report high rates of police misconduct throughout the United States and are disproportionately affected by police violence.
Transgender people who have done street-based sex work are more than twice as likely to report physical assault by police officers and four times as likely to report sexual assault by police.
A Black person is 3.5 times more likely to be shot by police than a white person. These statistics are a daily reality that transgender, Black and Brown people face and lead to mistrust of law enforcement.
SB 357 will repeal a discriminatory law that makes it a crime to loiter with the intent to engage in sex work, given that it fails to prevent street-based sex work and disproportionately results in the criminalization of transgender people and communities of color.
"For far too long, California law has been used to profile, harass and arrest transgender and gender-nonconforming people simply for existing in public spaces," said Equality California Executive Director Tony Hoang. "We all deserve to live in public peacefully without fear of arrest. Thanks to Governor Newsom and Senator Wiener's leadership, California boldly stands on the side of justice. This law will make our communities safer for all Californians. We are immensely proud to be in this fight as part of a coalition that has been trans led since the beginning."
Proud Boys disrupting a California Pride drag show get pepper sprayed
"There was an altercation, obviously people are here & are upset about the bar having their Pride event," said the deputy police chief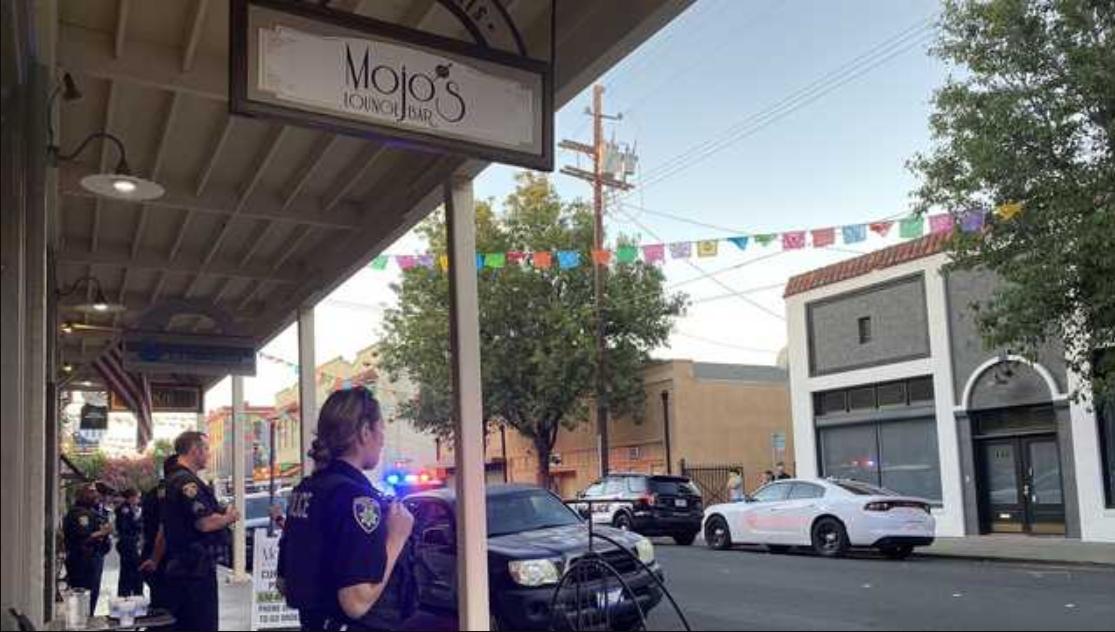 WOODLAND, Ca. – An end of Pride month drag show in this suburban city Northwest of Sacramento was disrupted by Proud Boys at the The Mojo Lounge bar and restaurant in the downtown business district.
As the group attempted to gain access to the establishment, a now viral video by local ABC10 television reporter Luke Cleary showed them and the near-by police officers getting pepper-sprayed by an unseen person inside the bar.
Screams of pain erupted along with one Proud Boy who can be heard shouting "fuck you paedophile motherfuckers," after being sprayed. Woodland police officers can also be seen retreating wiping their eyes from the effects of the irritant self-defensive spray weapon.
Roughly a dozen people have gathered on the opposite sidewalk shouting insults to patrons and police pic.twitter.com/aCB7LSmzCm

— Luke Cleary (@LukeCleary) July 1, 2022
Another reporter, Lee Anne Denyer from NBC News Sacramento affiliate KCRA 3 noted that the event, which was initially advertised as an an all-ages Drag Show by the bar was at first postponed and then scaled back.
Denyer posted video that showed the heavy law enforcement presence after the Proud Boys attempted to storm the restaurant demanding to know how many children were in attendance at the show.
Our story tonight: https://t.co/lRLMWp3PGR

— KCRA Lee Anne Denyer (@KCRALeeAnne) July 1, 2022
"There was kind of rumors that things were brewing on main street but there was obviously a presence by the Woodland Police Department so that made us feel more comfortable. Then it escalated, it escalated pretty quickly," Julie Ramos, who attended the event, told KCRA. "This really was a positive event and everyone was having a great time. So I think most people were angry but I would say resilient."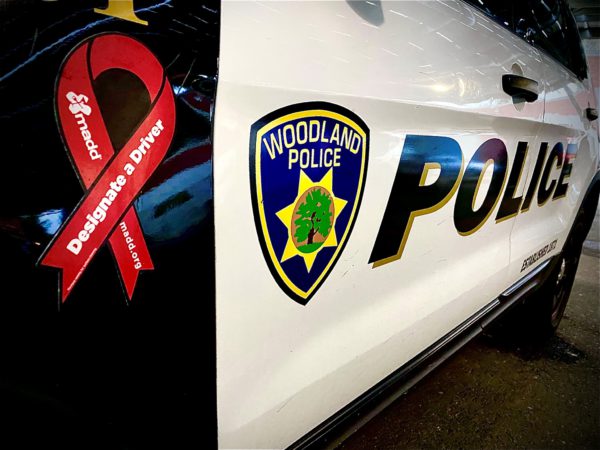 "There was an altercation, obviously people are here and are upset about the bar having their Pride event," Anthony Cucchi, the deputy chief of the Woodland Police Department told KCRA. "We tried to intervene as quickly as we could, it was a pretty chaotic scene. Our main priority was to get a safe scene and then make sure anybody that needed help got the help that they needed. We will work on the investigation."
White House announces 17 Presidential Medal of Freedom recipients
The nation's highest civilian honor, the Presidential Medal of Freedom will be presented to those named at the White House on July 7, 2022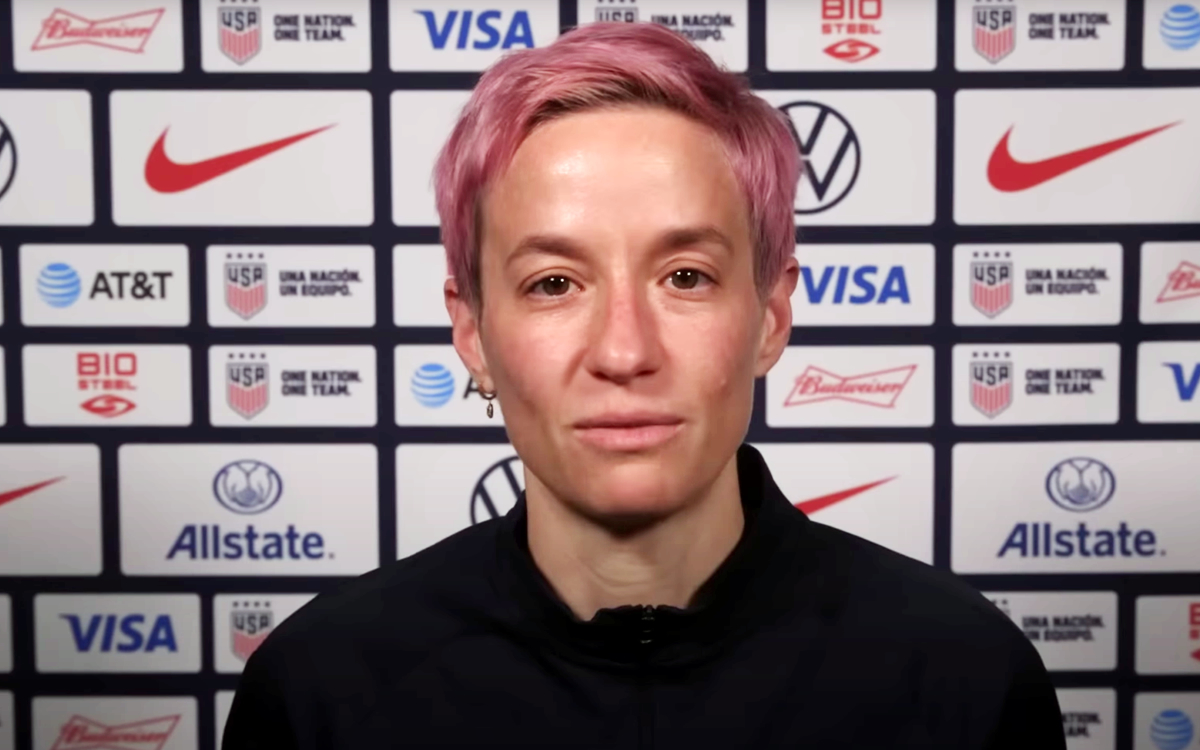 WASHINGTON – The White House today released President Joe Biden's selection of recipients for bestowing the nation's highest civilian honor, the Presidential Medal of Freedom. The awards will be presented at the White House on July 7, 2022.
Included among the seventeen honorees are Megan Rapinoe, the Out Olympic gold medalist and two-time Women's World Cup champion. She also captains OL Reign in the National Women's Soccer League. She is a prominent advocate for gender pay equality, racial justice, and LGBTQI+ rights.
Also selected by the president for a posthumous recognition was Richard Trumka, the powerful labor leader and longtime Democratic ally of the LGBTQ+ community who passed away last August. Trumka had led the AFL-CIO since 2009 and who throughout his career, was an outspoken advocate for LGBTQ+ Americans, social and economic justice.
The Presidential Medal of Freedom is the Nation's highest civilian honor, presented to individuals who have made exemplary contributions to the prosperity, values, or security of the United States, world peace, or other significant societal, public or private endeavors.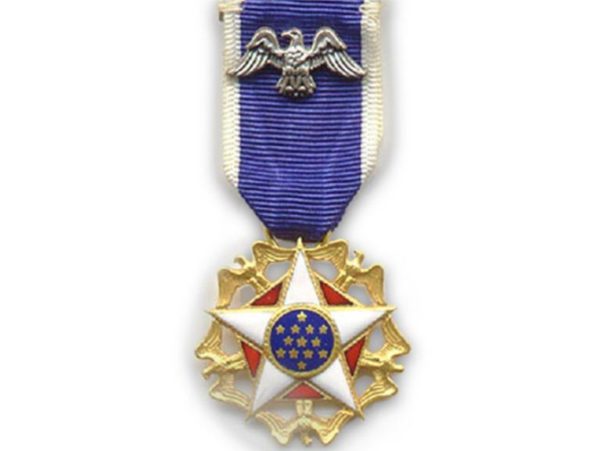 The following individuals will be awarded the Presidential Medal of Freedom:
Simone Biles
Simone Biles is the most decorated American gymnast in history, with a combined total of 32 Olympic and World Championship medals. Biles is also a prominent advocate for athletes' mental health and safety, children in the foster care system, and victims of sexual assault.

Sister Simone Campbell
Sister Simone Campbell is a member of the Sisters of Social Service and former Executive Director of NETWORK, a Catholic social justice organization. She is also a prominent advocate for economic justice, immigration reform, and healthcare policy.

Julieta García
Dr. Julieta García is the former president of The University of Texas at Brownsville, where she was named one of Time magazine's best college presidents. Dr. García was the first Hispanic woman to serve as a college president and dedicated her career to serving students from the Southwest Border region.

Gabrielle Giffords
Former Congresswoman Gabby Giffords was the youngest woman ever elected to the Arizona State Senate, serving first in the Arizona legislature and later in the U.S. Congress. A survivor of gun violence, she co-founded Giffords, a nonprofit organization dedicated to gun violence prevention.

Fred Gray
Fred Gray was one of the first black members of the Alabama State legislature since Reconstruction. As an attorney, he represented Rosa Parks, the NAACP, and Martin Luther King, who called him "the chief counsel for the protest movement."

Steve Jobs (posthumous)
Steve Jobs (d. 2011) was the co-founder, chief executive, and chair of Apple, Inc., CEO of Pixar and held a leading role at the Walt Disney Company. His vision, imagination and creativity led to inventions that have, and continue to, change the way the world communicates, as well as transforming the computer, music, film and wireless industries.

Father Alexander Karloutsos
Father Alexander Karloutsos is the former Vicar General of the Greek Orthodox Archdiocese of America. After over 50 years as a priest, providing counsel to several U.S. presidents, he was named by His All Holiness Ecumenical Patriarch Bartholomew as a Protopresbyter of the Ecumenical Patriarchate.

Khizr Khan
Khizr Khan is a Gold Star father and founder of the Constitution Literacy and National Unity Center. He is a prominent advocate for the rule of law and religious freedom and served on the United States Commission on International Religious Freedom under President Biden.

Sandra Lindsay
Sandra Lindsay is a New York critical care nurse who served on the front lines of the COVID-19 pandemic response. She was the first American to receive a COVID-19 vaccine outside of clinical trials and is a prominent advocate for vaccines and mental health for health care workers.

John McCain (posthumous)
John McCain (d. 2018) was a public servant who was awarded a Purple Heart with one gold star for his service in the U.S. Navy in Vietnam. He also served the people of Arizona for decades in the U.S. House of Representatives and U.S. Senate and was the Republican nominee for president in 2008.

Diane Nash
Diane Nash is a founding member of the Student Nonviolent Coordinating Committee who organized some of the most important civil rights campaigns of the 20th century. Nash worked closely with Martin Luther King, who described her as the "driving spirit in the nonviolent assault on segregation at lunch counters."
Megan Rapinoe
Megan Rapinoe is an Olympic gold medalist and two-time Women's World Cup champion. She also captains OL Reign in the National Women's Soccer League. She is a prominent advocate for gender pay equality, racial justice, and LGBTQI+ rights.

Alan Simpson
Alan Simpson served as a U.S. Senator from Wyoming for 18 years. During his public service, he has been a prominent advocate on issues including campaign finance reform, responsible governance, and marriage equality.
Richard Trumka (posthumous)
Richard Trumka (d. 2021) was president of the 12.5-million-member AFL-CIO for more than a decade, president of the United Mine Workers, and secretary-treasurer of the AFL-CIO. Throughout his career, he was an outspoken advocate for social and economic justice.

Wilma Vaught
Brigadier General Wilma Vaught is one of the most decorated women in the history of the U.S. military, repeatedly breaking gender barriers as she rose through the ranks. When she retired in 1985, she was one of only seven women generals in the Armed Forces.

Denzel Washington
Denzel Washington is an actor, director, and producer who has won two Academy Awards, a Tony Award, two Golden Globes, and the 2016 Cecil B. DeMille Lifetime Achievement Award. He has also served as National Spokesman for the Boys & Girls Clubs of America for over 25 years.

Raúl Yzaguirre
Raúl Yzaguirre is a civil rights advocate who served as CEO and president of National Council of La Raza for thirty years. He also served as U.S. Ambassador to the Dominican Republic under President Barack Obama.