Lara, 17 other state insurance commissioners oppose HHS rescinding trans ACA coverage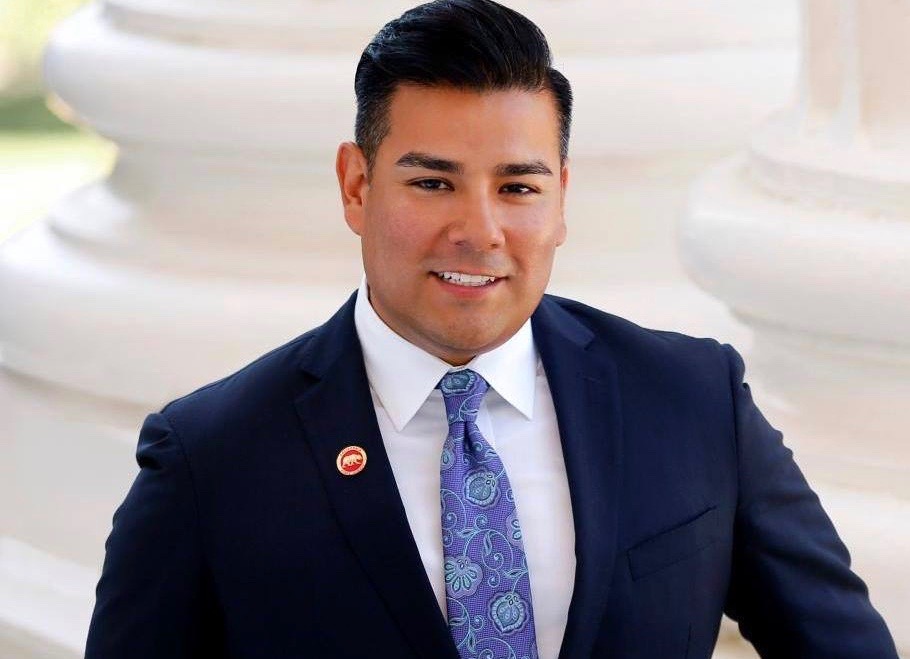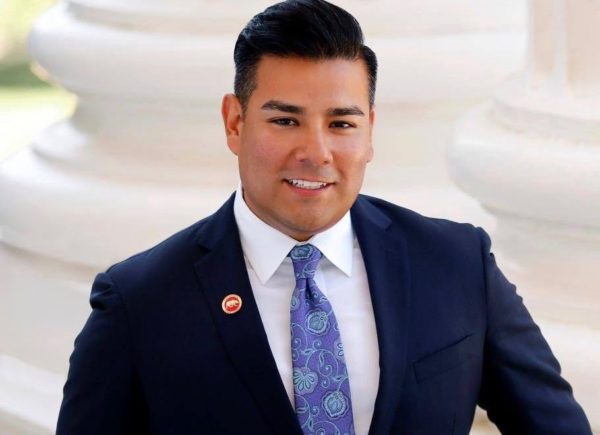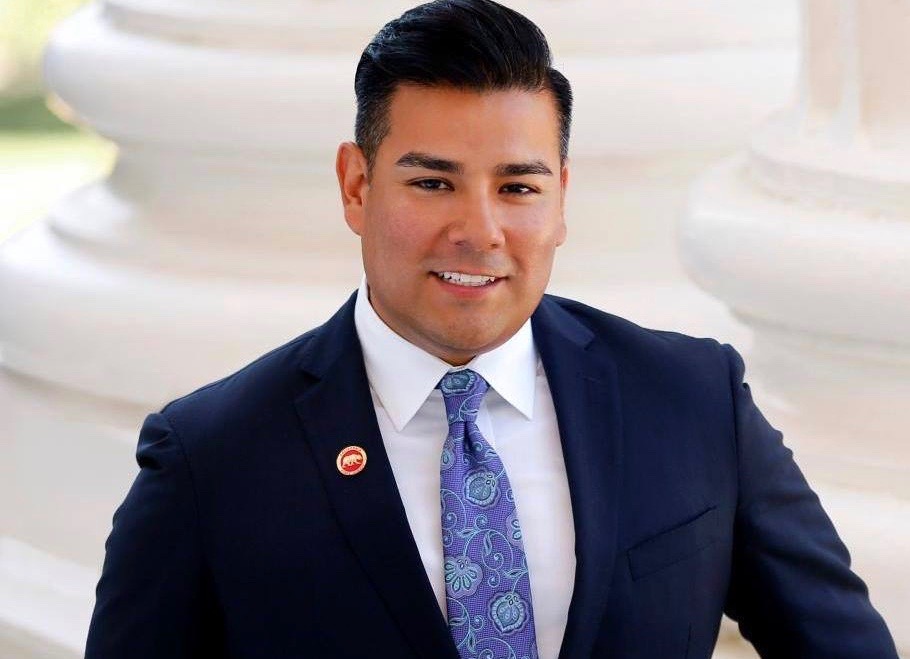 California Insurance Commissioner Ricardo Lara and insurance commissioners from 17 other states that serve as "the primary regulators of insurance markets in the United States" submitted a letter to Health and Human Services Sec. Alex Azar asking that the Trump-Pence administration abandon proposed rules changes to Section 1557 of the Affordable Care Act that would essentially give health insurance companies and healthcare providers a license to discriminate against transgender people.
The rule change, the commissioners write, would "undermine the civil rights protections for millions of consumers, generate confusion and an uneven playing field for regulated entities, and negatively affect state insurance markets."
Specifically, HHS's rule change would "eliminate explicit nondiscrimination protections on sex, including gender identity and sex stereotyping," wrote the commissioners in their second letter of opposition. In 2016, commissioners from California, Connecticut, Colorado, Delaware, District of Columbia, New Jersey, Illinois, New York, Michigan, Oregon, Minnesota, Pennsylvania, Nevada, Rhode Island, New Mexico, Vermont, Washington, Wisconsin wrote that these protections "are critical to state insurance markets and the consumers we serve."
Last May, when the rule change was first "surreptitiously" dropped on the Friday before Memorial Day, the Washington Blade noted that Roger Severino, director of the HHS Office of Civil Rights, formerly from the Heritage Foundation, is known to be "hostile to transgender rights" as a supporter of North Carolina's anti-trans House Bill 2. Severino wrote in a statement that the department is "committed to full enforcement of civil rights laws before, during and after any rulemaking." But Severino added: "We are also committed to the elimination of regulations that contradict law or raise the costs of healthcare without achieving intended results."
"A look at the language of the 204-page proposed regulation reveals it would eliminate 'gender identity' the definition of sex under Section 1557 of Obamacare, and incorporate laws allowing health care providers to decline to perform abortion into the non-discrimination regulation. The regulation also seeks to roll back protections for individuals seeking health care with limited English proficiency," the Blade's Chris Johnson wrote before the propose change was formerly introduced on June 14. That triggered a 60-day public comment period.
Public comment on the proposed rule change ends on Aug. 12.
"The current rule's provisions were not justified by need, were overly burdensome compared to the benefit provided, and created inconsistent requirements for HHS funded health programs or activities as compared to HHS funded human services programs or activities," the rule says, with HHS adding in a statement announcing the proposed rule change that the change would "save U.S. taxpayers $3.6 billion over the course of five years."
Lara and the other 17 state insurance commissioners say the protections are important and conform to state and local laws banning discrimination based on gender identity or transgender status.
"Transgender people should have equal access to the same health insurance and care as every other insured American. This includes health care related to gender transition, which for years has been recognized by the medical community as medically effective and necessary for many individuals, as well as routine tests and treatment that have sometimes been denied to transgender individuals based on their association with a specific gender (such as pap smears and prostrate cancer screenings). Consumer protection is a core part of our mission and responsibility as regulators, and includes ensuring that no person, transgender or not, is treated unfairly or is subject to discrimination," the commissioners write in their Aug. 5 letter.
Besides, "the vast majority of regulated entities" are already in compliance with Section 1557 so the change would only sow confusion, add regulatory burdens and are "inconsistent with several federal court rulings" supporting the protections. They also find the fiscal and regulatory impact "of ensuring nondiscriminatory treatment of insurance claims, including claims for medical care related to gender transition, are negligible," the commissioners write. "In fact, we have found that these historic protections have been nothing short of life changing for people who, prior to the enactment of the Affordable Care Act, were often denied the care that their doctors deemed medically necessary or denied access to insurance altogether."
The commissioners are "deeply concerned" about the impact and "urge you to abandon the proposed rule's changes regarding the unfair treatment of transgender consumers."
"California law and the Affordable Care Act prohibit health insurance policies that discriminate against people based on their gender identity," Lara, California's first statewide LGBT elected leader, said in a press release.  "The Trump administration should withdraw this proposed rule, which will lead to confusion and discrimination. Everyone should have access to medically necessary health care—we should focus on expanding coverage, not limiting it."
The release cites the 2015 U.S. Transgender Survey, noting that "23% of transgender people reported that in the past year, they avoided going to the doctor when sick or injured out of fear of discrimination and 33% of transgender people who did see a health care provider in the past year were harassed, denied care, or even assaulted."
"As the Trump Administration continues its attacks on the LGBTQ community," Lara says, "I want transgender Californians to know that we will continue to protect them from discrimination and health insurers to know that we are reviewing their policies closely to make sure they comply with all applicable California laws and regulations."
If you want to oppose this policy change, the Human Rights Campaign helps you provide a comment.
Photo of California Insurance Commissioner Ricardo Lara courtesy Lara's Facebook page.
LA County first case of Omicron Variant, Biden lays out federal response
The White House also released President Biden's statement that detailed his administration's winter plan to combat COVID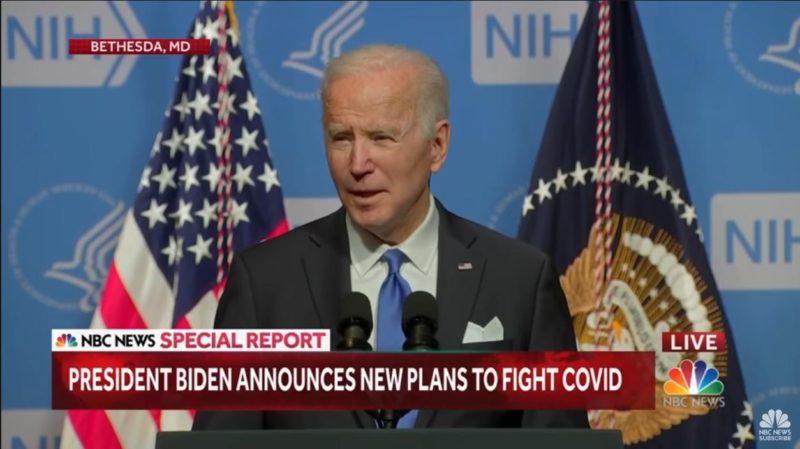 LOS ANGELES – The Los Angeles County Department of Public Health received confirmation of its first case of COVID-19 with mutations consistent with the new Omicron variant, Dr. Barbara Ferrer, Director of Public Health said Thursday.
The individual returned to Los Angeles County after travel to South Africa via London on 11/22/2021. This infection is most likely travel-related according to a statement from Public Health.
The individual, who is a fully vaccinated adult and a Los Angeles County resident, is self-isolating, and their symptoms are improving without medical care. A small number of close contacts in Los Angeles have been identified and, to date, all have tested negative and have no symptoms.
"While we can't know for certain the impact of Omicron at this time, the good news is that we already know how to reduce transmission and slow spread using both pharmaceutical and non-pharmaceutical interventions," Ferrer said. "I encourage everyone to take the steps that we know offer protection, including getting vaccinated or boosted, tested if you feel sick or are a close contact, and wearing your mask indoors and at large mega events."
Public Health also announced that beginning Friday, international travelers arriving at the LAX international terminal will be offered free rapid COVID-19 tests and information on federal recommendations for quarantining and testing. 
The White House also released President Biden's statement that detailed his administration's winter plan to combat COVID with testing and vaccines and without lockdowns.
During a speech at the National Institutes of Health Bethesda, Maryland, the President addressed his plans for a winter campaign to fight COVID-19.
"I plan to announce — my plan that I'm announcing today pulls no punches in the fight against COVID-19.  And it's a plan that I think should unite us. I know COVID-19 has been very divisive in this country.  It's become a political issue, which is a sad, sad commentary.  It shouldn't be, but it has been," Biden told the assembled audience of reporters, scientists, and NIH personnel.
 
"Now as we move into the winter and face the challenge of this new variant, this is a moment we can put this divisiveness behind us, I hope. […] The plan I'm announcing today is a plan our scientists and COVID teams have recommended," the president said.
 
"And while my existing federal vaccination requirements are being reviewed by the courts, this plan does not expand or add to those mandates — a plan that all Americans, hopefully, can rally around."
Biden then addressed the news of the Omicron variant's presence in the nation.
"We know there'd be ca- — we knew there'd be cases of this — of Omicron here in the United States, and it's here.  But we have the best tools — the best vaccines in the world and the best medicine and the best scientists in the world," he said.
 
"We're going to fight this variant with science and speed, not chaos and confusion, just like we beat back COVID-19 in the spring and more powerful variant — Delta variant in the summer and fall. As a result, we enter this winter from a position of strength compared to where America was last winter," he added. 
The President's full statement on the Winter Plan to fight COVID:
I know that Americans are exhausted from COVID-19 and want to know when it will end, and the new variant is adding to that unease. I get it.
I pledged to always be straight with the American people and tell you the truth. Here's the truth about the new omicron variant: While it is a cause for concern, it is not a cause for panic. Experts say that COVID-19 cases will continue to rise in the weeks ahead this winter, and that we will see more omicron cases here in the United States in the days, weeks and months ahead. Our best scientists and doctors are on the case and gathering data, but early indications are that our vaccines will provide a measure of protection against this strain. We have the tools to protect ourselves and battle this virus, and I'm laying out a plan to do just that this winter.
We are going to fight COVID-19 not with shutdowns or lockdowns – but with more widespread vaccinations, boosters, testing and more. We will beat it back with science and speed, not chaos and confusion – just as we did in the spring and again with the more powerful delta variant in the summer and fall.
There are six key actions in my plan for this winter.
Boosters, testing at the forefront
►All adults should get a booster shot six months after they got vaccinated (or two months after, if you were vaccinated with Johnson & Johnson). Right now, most adults in this country who are eligible for boosters still have not gotten their booster shot. We are expanding our nationwide booster campaign with more appointments, more hours – including nights and weekends – and more walk-ins. To spread the word, pharmacies will send millions of texts and emails to remind their customers. My administration will also contact the more than 60 million people on Medicare. And, to reach their 38 million members, we'll join town halls and events hosted by AARP, which is also offering seniors free rides to boosters.
►We are expanding our efforts to vaccinate children ages 5 and up and keep our schools open. To replace the mass vaccination sites for adults we had earlier in the year with a more comfortable setting for families and children, we will launch hundreds of new family vaccination clinics to make it easier for children, parents and whole families to get vaccinated in one place. These sites will be at community health centers and other trusted locations – and even some mobile sites to reach hard to reach communities.
Today, over 99% of schools are open, and we need to make sure we keep it that way this winter. While vaccinating our kids is critical to keeping our schools open, the Centers for Disease Control and Prevention is also reviewing new approaches to keep our children in school instead of quarantining at home.
►We are making free at-home tests available. Thanks to our actions, there are now at least eight at-home testing options available. Prices for these tests are decreasing. But it's not enough. My administration is requiring that health insurers cover the cost of at-home testing. If you are one of the 150 million Americans on private health insurance, at-home tests will be covered by your insurance. And, if you're not covered by private insurance, we will make free tests available for pickup at thousands of sites nationwide.
Medical initiatives part of plan, too
►We will increase "Surge Response Teams" – the doctors, nurses, and medical staff that go into communities with rising cases and help overburdened hospitals. Since summer, we have worked with Republican and Democratic governors to deploy Surge Response Teams in response to the delta variant. These teams worked in communities struggling with surges, and we'll more than double the number of teams this winter.
►We are increasing the availability of new medicines, including monoclonal antibody treatments that have been shown to reduce the risk of hospitalization. We also may soon have promising new antiviral pills that could help prevent hospitalization and death of people infected by COVID-19. If approved, we will ensure that these new medicines are available in the hardest-hit communities.
►In order to beat this pandemic at home, we have to beat this pandemic globally. COVID-19 and the delta and omicron variants have all emerged in other parts of the world before coming here. We must vaccinate the world and strengthen international travel rules for people coming into the U.S. We have already shipped for free 280 million vaccines – more vaccines to other countries than all other countries combined. We will accelerate the delivery of more vaccines – 200 million more doses in the next 100 days. And, all international travelers entering the U.S. must test within one day of departure. This tighter testing timeline will help slow the spread of the virus.
We've been doing everything we can to beat this virus. And, that's what we have to keep doing. We can and we must come together as a nation to fight this virus, to protect one another, to protect our economic recovery. We moved forward in the face of COVID-19 and the delta variant. And, we will move forward now at the start of winter and in the face of the omicron variant – together.
********************
Biden Announces Plan To Combat Omicron Covid Variant With 'Science and Speed':
Peacock will premiere HIV documentary on World AIDS Day
Drew, who was diagnosed with HIV in the late 1980's when he was only 23 years old, was not paid for his participation in the trial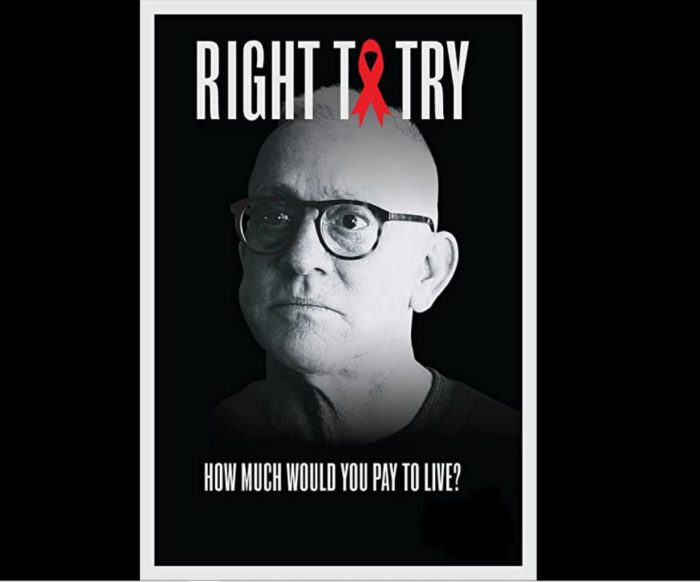 NEW YORK — NBCUniversal's streaming service Peacock will premiere the documentary short "Right to Try," which explores one man's search to cure his HIV, Wednesday on World AIDS Day.
The film, produced by Oscar-winning actress Octavia Spencer and directed by "The Late Late Show With James Corden" producer Zeberiah Newman, follows HIV survivor and activist Jeffrey Drew's participation in an experimental vaccine trial.
"We are thrilled our film 'Right to Try' will be seen on Peacock. Though Jeffrey Drew's heroic journey is singular, his story is universal," Spencer said in a statement, according to Variety. "This is an important film and with Peacock we have a wonderful partner to bring it to our audience."
Val Boreland, EVP of content acquisitions at NBCUniversal Television and Streaming, added: "It is an honor to share Drew's story with Peacock users and raise awareness around the important issue of HIV research. We know the impact of this documentary will be far-reaching."
The documentary shows the side effects that Drew experienced during the early days of the trial. The coronavirus pandemic interrupted the study, as the doctor spearheading the experimental vaccine started working on the COVID-19 vaccine.
Drew, who was diagnosed with HIV in the late 1980's when he was only 23 years old, was not paid for his participation in the trial that a major pharmaceutical company did not fund.
"There are people who are still getting infected and sick and dying," he told Variety in a June interview. "I would love to see a generation that doesn't have to think or worry about this anymore."
"Right to Try" won the Audience Award for Documentary Short last summer at Outfest, an LGBTQ+ film festival in Los Angeles.
Los Angeles observes World AIDS Day with star-studded concert
Gay Men's Chorus of Los Angeles and Juan Pablo di Pace will also be performing at the ceremony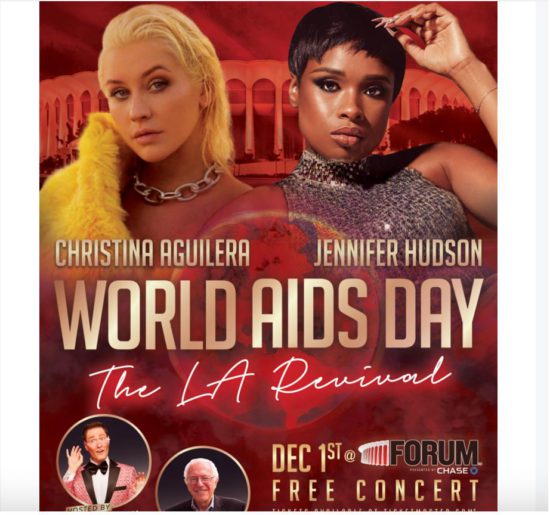 LOS ANGELES — As World AIDS Day is recognized around the globe, Los Angeles will mark the day with a free concert with a star-studded line-up at The Forum hosted by the AIDS Healthcare Foundation (AFA) and a ceremony at The Wall Las Memorias (TWLA) AIDS Monument in Lincoln Park Wednesday.
In a press release, the AFA said Grammy award winners Jennifer Hudson and Christina Aguilera are set to perform in front of a sold-out crowd. Emmy-nominated comedian Randy Rainbow will host the event, which will take place from 8:00 p.m. to 10:00 p.m.
In addition to the entertainment, the AFA will honor Vermont's U.S. Sen. Bernie Sanders with a Lifetime Achievement Award and a special video presentation. The award will be accepted by his wife Jane Sanders.
"This year marks two significant milestones in the decades-long fight against HIV and AIDS: first, for the first recognition by the CDC of the virus that led to what is now known as AIDS (40 years ago, in June 1981), and second, the launch of AHF (35 years ago)," the release reads.
TWLA's ceremony will reveal an expanded footprint of the surrounding landscape of the country's only publicly funded AIDS monument. The monument, created in 2004, will also add over 1,000 names of loved ones lost to AIDS to the 360-plus names already etched into it and unveil new artwork.
TWLM Founder Richard Zaldivar, Los Angeles City Councilman Gil Cedillo and County Board of Supervisors Chair Hilda Solis are all expected to attend the event, which will start at 6:15 p.m. at 3600 N. Mission Road. According to NBC 4 Los Angeles, organizers also hope Los Angeles Mayor Eric Garcetti will be in attendance.
Gay Men's Chorus of Los Angeles and Juan Pablo di Pace will also be performing at the ceremony.
World AIDS Day is observed every December 1 to raise awareness about AIDS and honor the people who have died of the disease. This year's theme is "End inequities. End AIDS and End Pandemics."