August 24, 2019 at 11:01 pm PDT | by Karen Ocamb
Straight Pride flops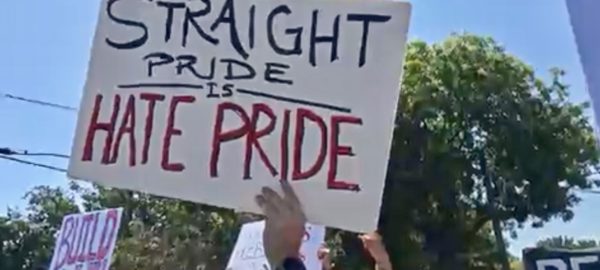 Modesto residents had every right to be concerned about the Straight Pride rally announced for their city on Aug. 24. Last month, a 19-year-old gunman fired an AK-47 style semiautomatic into the Gilroy Garlic Festival about an hour away from Modesto, killing three and wounding 13 others before turning the gun on himself. On Aug. 6, the FBI announced an investigation into domestic terrorism because the Gilroy mass shooter left a list of other potential targets. By then, there had been two more lone wolf mass shootings in El Paso, Texas and Dayton, Ohio. White supremacy seemed ubiquitous.
Some associated Straight Pride with white supremacy since the National Straight Pride Coalition website promotes heterosexuality, describes "Caucasians" as "the biological majority of the historical developers and founders of Western Civilization," and seeks to prevent "the current and future generations of all races and colors from being destroyed by the inherent malevolence of the Homosexual Movement toward our founding principles."
Additionally, Straight Pride founder Don Grundmann had joined the local chapter of the Proud Boys, designated a California hate group by the Southern Poverty Law Center, and he invited the boys to attend the rally. They declined. However, at least one supporter of the Family Research Council showed up.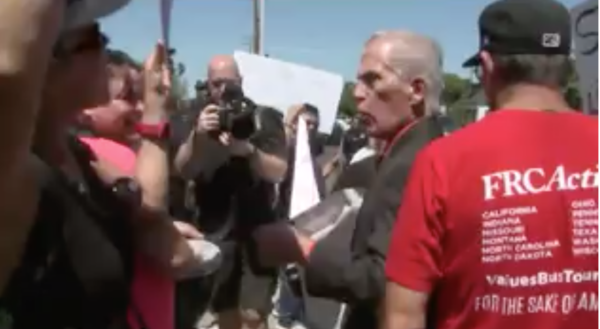 The Modesto police were more concerned about the militant anti-fascist group antifa showing up to fight with the anti-LGBTQ conservatives. The Proud Boys and antifa mixed it up last Saturday in Portland (again) but the police had prevented a major rumble. Afterwards, a Proud Boy leader was caught on tape admitting that they stage events in order to fight and force the city to waste money defending their right to free speech against their anti-fascist foes.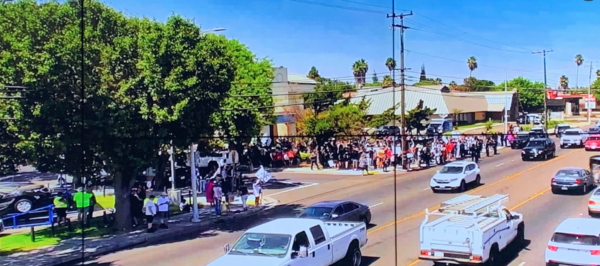 Photo of police surveillance via Twitter
The Modesto Police Department was braced for any eventuality, city spokesperson Thomas Reeves told the Los Angeles Blade. But Straight Pride supporters had the right to gather on a sidewalk and express their opinions after the city denied them a permit.
And that's what happened. Only Straight Pride was overwhelmed by counter-protesters chanting "No Hate, No Fear, Straight Pride is not welcome here!" There were a few scuffles, but the police presence was massive and intervened quickly. The crowd started filtering home by 2:50PM in the 93 degree heat.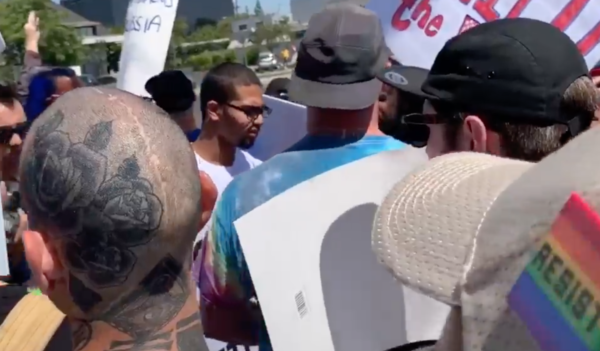 "The city recognizes that many sides of the demonstration today were able to express themselves in a peaceful manner.  We are proud of the work of our law enforcement team in keeping safe our residents and our facilities," Reeves told the Los Angeles Blade via email on Saturday.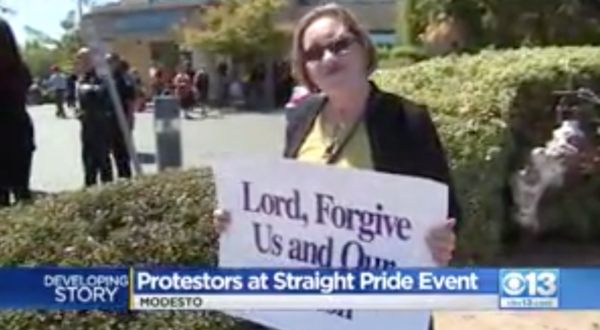 The Modesto Police Department estimated the crowd size at about 200 people but did not differentiate between Straight Pride supporters and counter-protesters. The reporter for FOX40, however, estimated that the counter-protesters were nearly 200 people while Grundmann and his Straight Pride co-organizer Mylinda Mason of the California Republican Assembly could only muster about a dozen supporters.
After the city denied his request to use the park's amphitheater, Grundmann pledged the rally would go on, but he didn't say where. The Modesto Bee found him and several other speakers addressing "a seated crowd at the Durrer Barn west of Modesto" at a private event.
At 12:10pm, the Bee posted that: "A man locking the gate at the Durrer Barn identified himself as an owner. He told a Bee reporter that "the event is over" and "the sheriff is on his way."
The meeting location had apparently been decided very early Saturday morning, with no advance warning to the owner.
From the Modesto Bee live blog:
"Update, 1:15 p.m.: Stanislaus County Supervisor Terry Withrow, a friend of the Durrer family, said the family had no idea that the event being held in its barn had to do with straight pride.
The Durrers were told it was a family event and they feel "hoodwinked," Withrow said. Once they learned what was happening, they shut it down.
Grundmann, however, maintains that the Stanislaus County Sheriff's Department had them close the venue down "for fear of protests and violence."
Tom Mason from Sacramento, who attended the morning event, thought there were about 40 or 50 people at the barn. He learned of the location through a phone call at 7 a.m., and said people entering were questioned and screened before being admitted."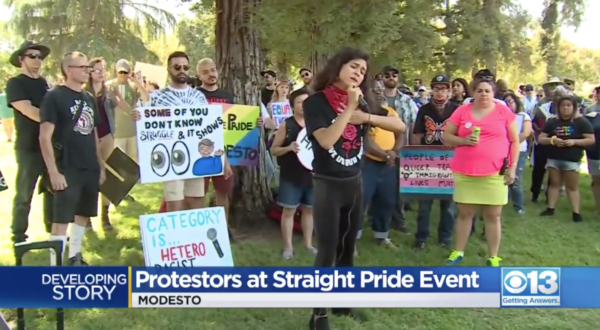 Meanwhile, counter-protesters showed up at Enslen Park, along with mounted police. The event featured several speakers, booths and dancing to build community empowerment. The Modesto Bee later estimated the crowd at about 250 people.
"I wanted to come out here and be peaceful and rally with a bunch of people of the rainbow colors and have a great day," said Michelle Riddle told the Sacramento CBS affiliate.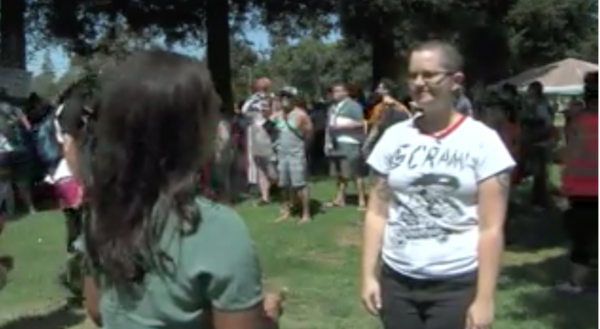 "We are rejecting this presence of hate, that we are rejecting the values that this Straight Pride Coalition represents like white nationalism and homophobia," Max Reed, a member of the Modesto Non-Violent Collective who helped organize the counter-protest, told Fox40."This community is standing together to reject this group and what they represent."
"When people want to come into your own backyard and spread a message that you don't agree with then you have a right to stand up against that too," Modesto NAACP member Wendi Burg told Fox 40.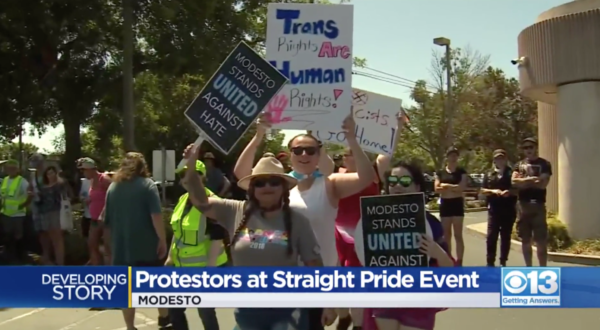 Around 12:40 p.m, Grandmann finally announced on his website where they were holding "our Parade"—the large Planned Parenthood parking lot on McHenry Avenue in Modesto. By 1:00pm the counter-protesters arrived at the parking lot from the park and the two sides converged.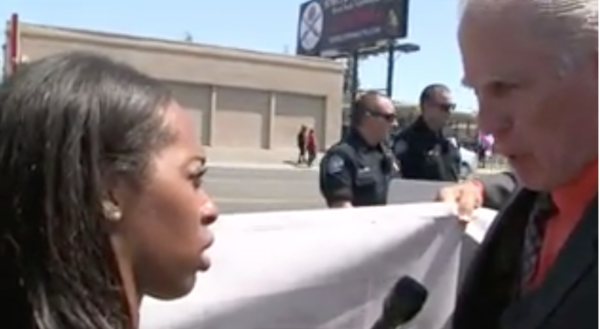 Grundmann seemed thrilled to be the center of attention. "Masculinity it's okay to be a man. femininity, it's okay to be a woman," Don Grundmann told the African American Fox40 reporter. "Masculinity, femininity, the natural family of man, woman children, babies, born and unborn western civilization, Caucasians and all people, all of those are basic foundations that are under attack."
By 2:50, the crowd started to dissipate, with Modesto Police declaring the streets clear by 3:16. "We would like to thank them for remaining peaceful, expressing themselves in a respectful manner while embracing our community's diversity," the department said in a tweet.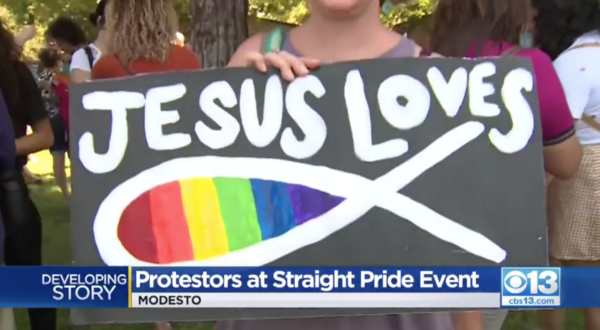 "This is not what Modesto is about," Reed said. "We're about inclusion and diversity and unity."
And for a few hours on Saturday, Aug. 24, 2019, ordinary citizens got to bravely stand up together to shout down the piddling ugly forces of homophobia and white supremacy.