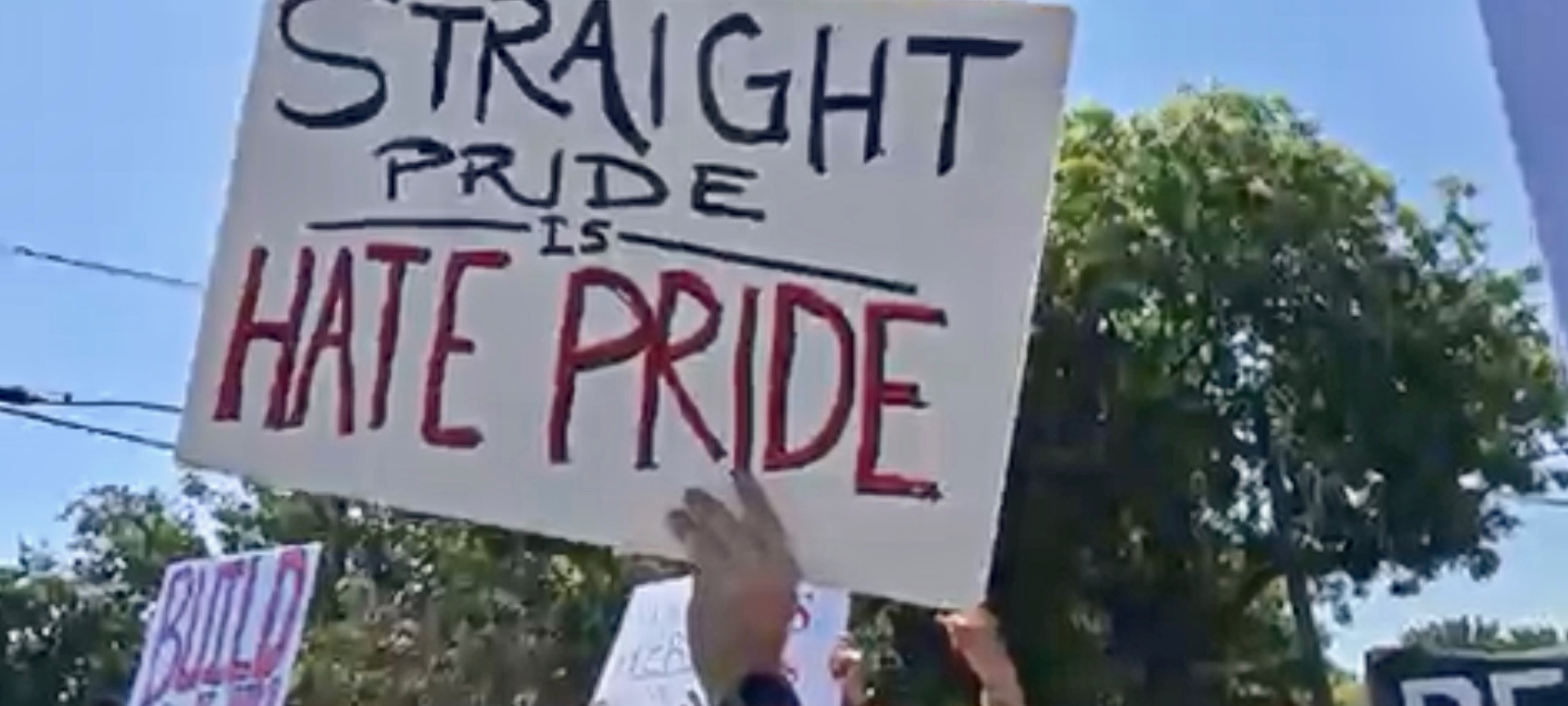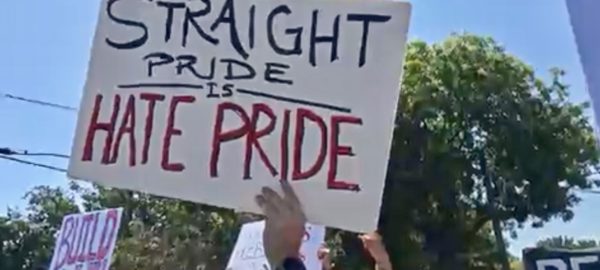 Modesto residents had every right to be concerned about the Straight Pride rally announced for their city on Aug. 24. Last month, a 19-year-old gunman fired an AK-47 style semiautomatic into the Gilroy Garlic Festival about an hour away from Modesto, killing three and wounding 13 others before turning the gun on himself. On Aug. 6, the FBI announced an investigation into domestic terrorism because the Gilroy mass shooter left a list of other potential targets. By then, there had been two more lone wolf mass shootings in El Paso, Texas and Dayton, Ohio. White supremacy seemed ubiquitous.
Some associated Straight Pride with white supremacy since the National Straight Pride Coalition website promotes heterosexuality, describes "Caucasians" as "the biological majority of the historical developers and founders of Western Civilization," and seeks to prevent "the current and future generations of all races and colors from being destroyed by the inherent malevolence of the Homosexual Movement toward our founding principles."
Additionally, Straight Pride founder Don Grundmann had joined the local chapter of the Proud Boys, designated a California hate group by the Southern Poverty Law Center, and he invited the boys to attend the rally. They declined. However, at least one supporter of the Family Research Council showed up.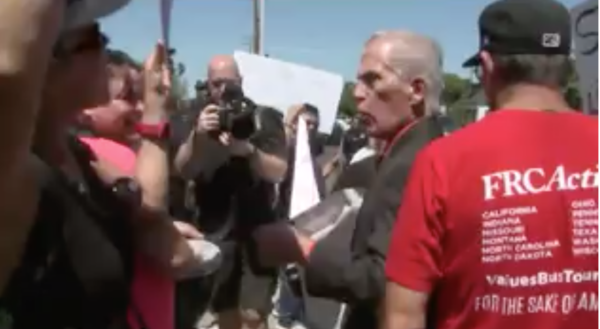 The Modesto police were more concerned about the militant anti-fascist group antifa showing up to fight with the anti-LGBTQ conservatives. The Proud Boys and antifa mixed it up last Saturday in Portland (again) but the police had prevented a major rumble. Afterwards, a Proud Boy leader was caught on tape admitting that they stage events in order to fight and force the city to waste money defending their right to free speech against their anti-fascist foes.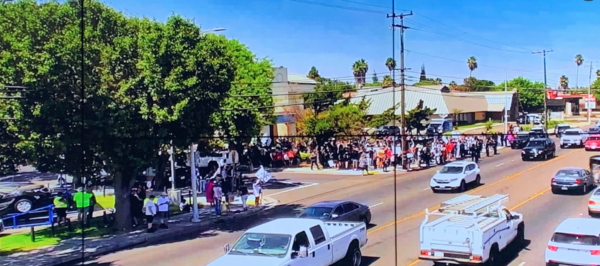 Photo of police surveillance via Twitter
The Modesto Police Department was braced for any eventuality, city spokesperson Thomas Reeves told the Los Angeles Blade. But Straight Pride supporters had the right to gather on a sidewalk and express their opinions after the city denied them a permit.
And that's what happened. Only Straight Pride was overwhelmed by counter-protesters chanting "No Hate, No Fear, Straight Pride is not welcome here!" There were a few scuffles, but the police presence was massive and intervened quickly. The crowd started filtering home by 2:50PM in the 93 degree heat.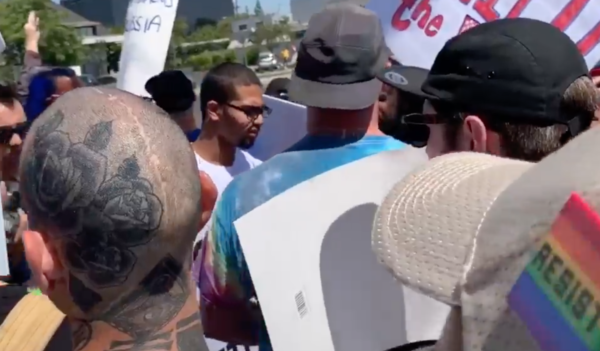 "The city recognizes that many sides of the demonstration today were able to express themselves in a peaceful manner.  We are proud of the work of our law enforcement team in keeping safe our residents and our facilities," Reeves told the Los Angeles Blade via email on Saturday.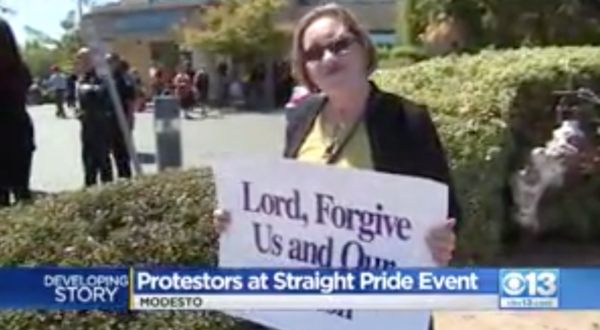 The Modesto Police Department estimated the crowd size at about 200 people but did not differentiate between Straight Pride supporters and counter-protesters. The reporter for FOX40, however, estimated that the counter-protesters were nearly 200 people while Grundmann and his Straight Pride co-organizer Mylinda Mason of the California Republican Assembly could only muster about a dozen supporters.
After the city denied his request to use the park's amphitheater, Grundmann pledged the rally would go on, but he didn't say where. The Modesto Bee found him and several other speakers addressing "a seated crowd at the Durrer Barn west of Modesto" at a private event.
At 12:10pm, the Bee posted that: "A man locking the gate at the Durrer Barn identified himself as an owner. He told a Bee reporter that "the event is over" and "the sheriff is on his way."
The meeting location had apparently been decided very early Saturday morning, with no advance warning to the owner.
From the Modesto Bee live blog:
"Update, 1:15 p.m.: Stanislaus County Supervisor Terry Withrow, a friend of the Durrer family, said the family had no idea that the event being held in its barn had to do with straight pride.
The Durrers were told it was a family event and they feel "hoodwinked," Withrow said. Once they learned what was happening, they shut it down.
Grundmann, however, maintains that the Stanislaus County Sheriff's Department had them close the venue down "for fear of protests and violence."
Tom Mason from Sacramento, who attended the morning event, thought there were about 40 or 50 people at the barn. He learned of the location through a phone call at 7 a.m., and said people entering were questioned and screened before being admitted."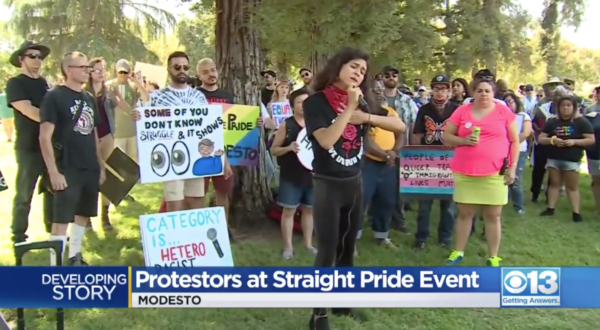 Meanwhile, counter-protesters showed up at Enslen Park, along with mounted police. The event featured several speakers, booths and dancing to build community empowerment. The Modesto Bee later estimated the crowd at about 250 people.
"I wanted to come out here and be peaceful and rally with a bunch of people of the rainbow colors and have a great day," said Michelle Riddle told the Sacramento CBS affiliate.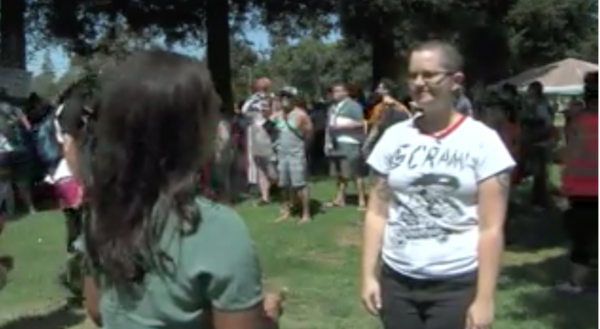 "We are rejecting this presence of hate, that we are rejecting the values that this Straight Pride Coalition represents like white nationalism and homophobia," Max Reed, a member of the Modesto Non-Violent Collective who helped organize the counter-protest, told Fox40."This community is standing together to reject this group and what they represent."
"When people want to come into your own backyard and spread a message that you don't agree with then you have a right to stand up against that too," Modesto NAACP member Wendi Burg told Fox 40.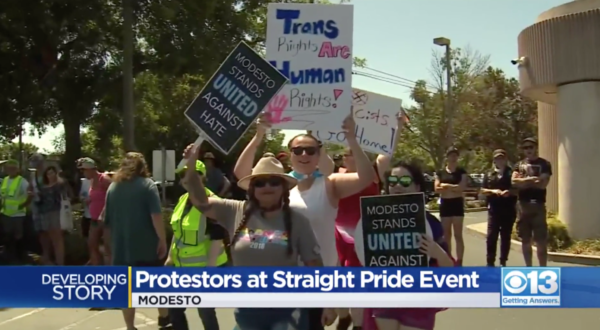 Around 12:40 p.m, Grandmann finally announced on his website where they were holding "our Parade"—the large Planned Parenthood parking lot on McHenry Avenue in Modesto. By 1:00pm the counter-protesters arrived at the parking lot from the park and the two sides converged.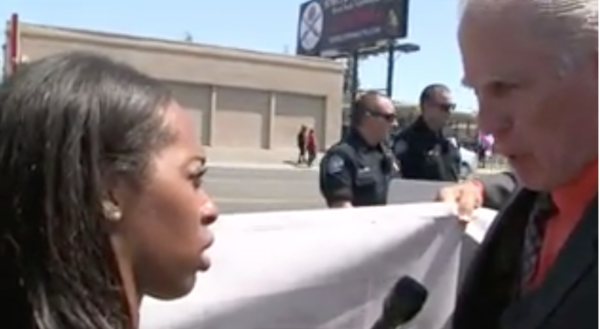 Grundmann seemed thrilled to be the center of attention. "Masculinity it's okay to be a man. femininity, it's okay to be a woman," Don Grundmann told the African American Fox40 reporter. "Masculinity, femininity, the natural family of man, woman children, babies, born and unborn western civilization, Caucasians and all people, all of those are basic foundations that are under attack."
By 2:50, the crowd started to dissipate, with Modesto Police declaring the streets clear by 3:16. "We would like to thank them for remaining peaceful, expressing themselves in a respectful manner while embracing our community's diversity," the department said in a tweet.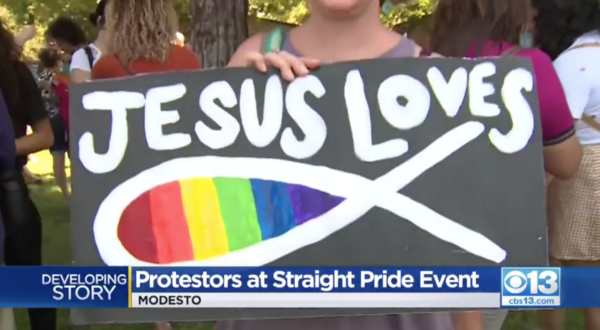 "This is not what Modesto is about," Reed said. "We're about inclusion and diversity and unity."
And for a few hours on Saturday, Aug. 24, 2019, ordinary citizens got to bravely stand up together to shout down the piddling ugly forces of homophobia and white supremacy.
VP Harris and Second Gentleman join Pride walk to rally at Freedom Plaza
The Capital Pride Alliance, the organization which produces the annual event organized the intersectional LGBTQ+ walk and celebration.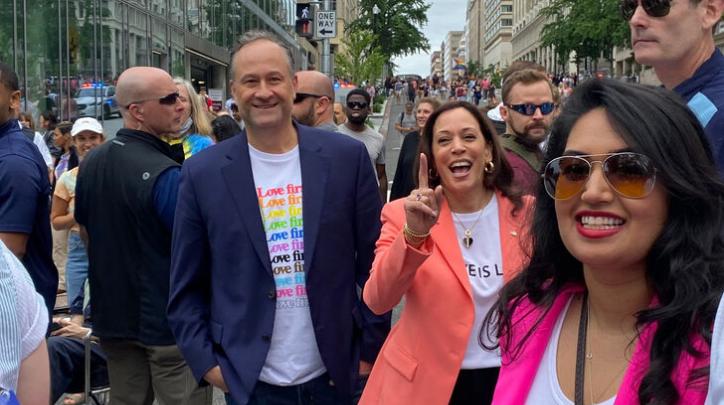 WASHINGTON – To the shock of on-lookers who then burst into cheers Saturday afternoon, Vice-President Kamala Harris and her husband, the Second Gentleman Douglas Emhoff, joined in walking with the Pride marchers on 13th Street NW in the District by the Warner Theatre headed to Freedom Plaza.
Accompanying the Vice-President, White House Pool reporter Eugene Daniels noted the Vice President and second gentleman walked with crowd down 13th and stopped at the Pennsylvania Avenue and E Street NW intersection at the corner of the Freedom Plaza where she talked to the crowd for a bit. Daniels could not hear much but reported that she did say:
"We still have so much to do. We celebrate all the accomplishments. Finally marriage is the law of the land. We need to make sure that our transgender community are all protected."
"There is so much more work to do and I know we are committed."
The crowd chanted her name over and over. She stayed for about ten minutes waving and talking.
The Capital Pride Alliance, the organization which produces the annual event in the nation's capital, because of the pandemic as the District was reopening, had set-up and organized the intersectional Pride Walk and Rally at Freedom Plaza, LGBTQ+ walk and celebration.
At around 12:30, the march departed down P Street NW and traveled to Logan Circle and then headed south on 13th Street to Freedom Plaza. The march ended at Freedom Plaza where a 1:30 p.m. rally was held and where D.C. Mayor Muriel Bowser was one of those who spoke.
Vice President Kamala Harris and Second Gentlemen Douglas Emhoff march in Capital Pride Walk & Rally today. #pride pic.twitter.com/2e3Jyaa7yi

— Washington Blade (@WashBlade) June 12, 2021
Orlando marks the fifth anniversary of the Pulse massacre
"I echo our mayor to say to the survivors and family members of Pulse: it's okay to not be okay. This was a tragedy."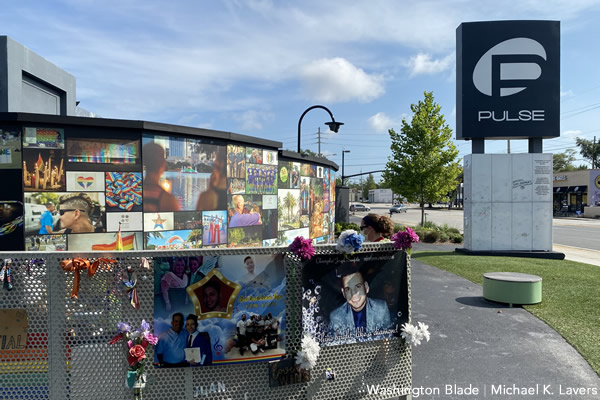 ORLANDO, FL – On that morning five summers ago this date, survivors gathered, stunned and grieving over the horror that had been visited upon them and others frantically calling phones that would never be answered again while a community took stock of the mass murder that had claimed the lives of forty-nine innocents. June, 12, 2016 joined a litany of dates of death and suffering in American history this time impacting the LGBTQ community and beyond.
Saturday, survivors and community leaders gather in Orlando, Florida to commemorate and honor those 49 American lives lost in that act of senseless gun violence.
"Orlando was called to action on June 12, 2016. Our city was asked to find in ourselves the strength to respond with empathy when faced with an unthinkable act of violence. We are still working every day to honor the 49 angels and every person impacted by the Pulse tragedy with action. Together, we continue to make Orlando a more inclusive, welcoming and equitable community for all," Orlando Mayor Buddy Dyer said. ""Orlando United" was our call to action five years ago, but it is up to us all to ensure that this isn't simply a slogan that we bring out annually as we mark the time that's passed since the tragedy. Instead, it must be part of our core commitment to real change."
"We're still very much in the healing phase and trying to find our way," Pulse owner Barbara Poma told the Blade on Tuesday during a telephone interview.
The massacre at the time was the deadliest mass shooting in modern U.S. history. Nearly half of the victims were LGBTQ Puerto Ricans. The massacre also sparked renewed calls for gun control.
Poma told the Blade that she expects construction will begin on a "Survivor's Walk" at the site by the end of the year. A museum — which she described as an "education center" that will "talk about the history of the LGBT community and its struggles and stripes for the last century or so … about why safe spaces were important to this community" and what happened at Pulse and the global response to it — will be built a third of a mile away.
"We really feel it is important to never forget what happened at Pulse and to tell the story of that," said Poma.
Poma noted the onePULSE Foundation of which she is the executive director met with representatives of the 9/11 Tribute Museum and the Oklahoma City National Memorial and Museum to discuss the memorial. Poma when she spoke with the Blade acknowledged the plans have been criticized.
"This kind of opposition is not unique to these kind of projects," she said. "It's just important to know that really what we're trying to do is make sure what happened is never forgotten and those lives were never forgotten," added Poma.
In a rare bipartisan move, a bill that designates the former Pulse nightclub a national memorial was passed by unanimous consent in the U.S. Senate this past Wednesday.
"The tragedy at Pulse rocked our community and served as a reminder of the work we have to do to uproot hate and bigotry. We're proud of the bipartisan coalition of Florida Congressional leaders for leading the effort to recognize this hallowed ground as a national memorial site.," Brandon J. Wolf, the Development Officer and Media Relations Manager for LGBTQ advocacy group Equality Florida and a Pulse survivor told the Blade. "Our visibility matters. May the 49 lives stolen never be forgotten. And may we always honor them with action."
Wolf was inside the club at the time of the shooting and lost his two best friends, Juan Ramon Guerrero and Christopher Andrew (Drew) Leinonen, who were among the 49 murdered during the rampage. Wolf had managed to escape but the event has forever left him scarred.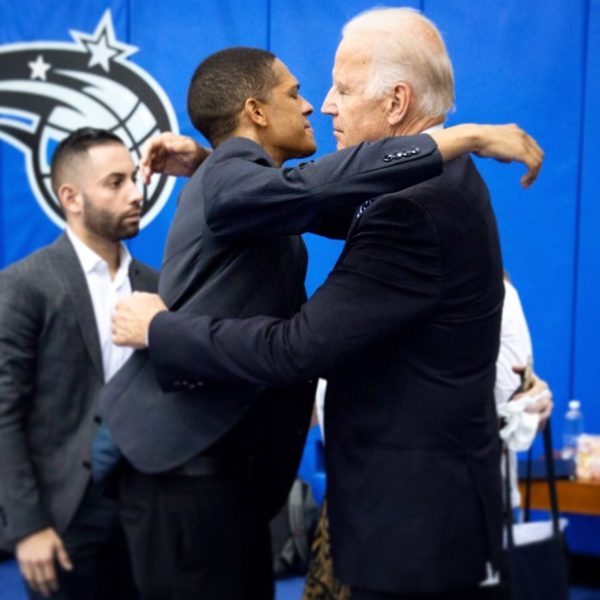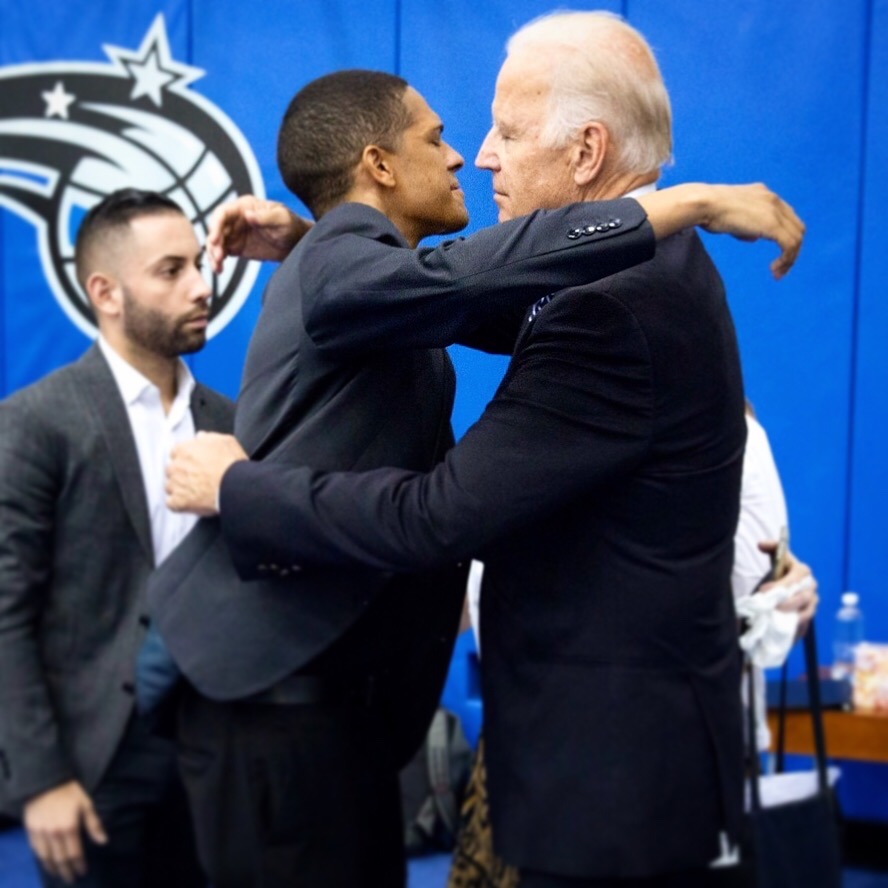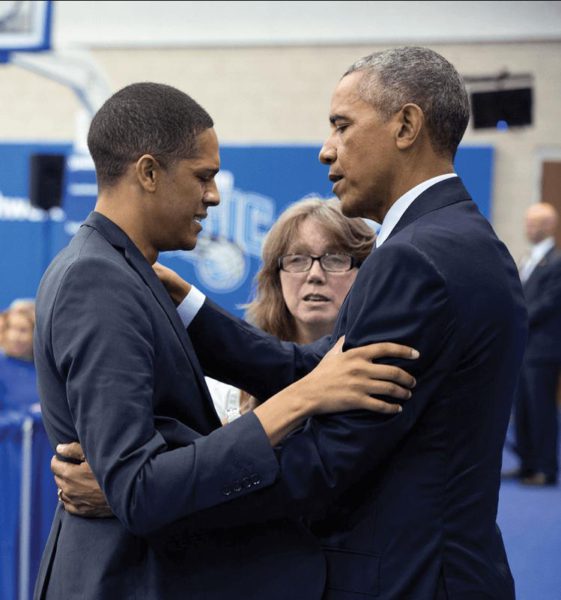 Since that terrible night Wolf has been a force for advocacy in gun control and LGBTQ equality rights and is a nationally recognized leader in those endeavors to include by President Joe Biden.
"Pulse is hallowed ground and what happened on June 12, 2016 must never be forgotten. " Wolf added.
"I echo our mayor to say to the survivors and family members of Pulse: it's okay to not be okay. This was a tragedy. The nation may have watched and grieved with us, but the pain that you may be feeling is personal. I want you to know that we embrace you with love, not as symbols but as yourselves. If you are struggling, there is help available, and I encourage you to reach out," said U.S. House Representative Val Demings (D-FL)
"It can be hard to find the words, because the truth is that no words can make this right for the survivors and families of those we lost. That's why five years ago we promised to 'honor them with action,' not just with words. As we move forward from this anniversary, it is my prayer that all of us will recommit ourselves to that mission, to ensure that every Pulse survivor—and every American—can live in a nation where each person is safe to go out to a nightclub or any other place, where our LGBTQ community is protected, where the highest-quality mental health support is available to those who need it, and where we treat gun violence as the threat that it is to our loved ones. I know that we can do better, and as we commemorate this sorrowful anniversary, I believe that we must do better."
In Washington, California U.S. Senator Alex Padilla, co-sponsor of legislation to make Pulse a National Memorial reflected,
"It is my hope that this memorial will serve as an enduring reminder of the pain and loss felt in Orlando five years ago and as a testament to the resilience and strength of the LGBTQ+ community. It is also an important reminder of the need recommit ourselves to end the senseless cycle of gun violence that has touched too many families across the country and taken too many of our loved ones," Padilla told the Blade in an emailed statement.
"It's an epidemic that has claimed far too many LGBTQ+ lives, particularly in Black and Latino communities. We will never let the memory of the victims of the Pulse Nightclub mass shooting fade away– and this memorial is an important part of their enduring legacy," he added.
Join the The Dru Project in front of the mural at the Student Union for a vigil for the 49 people lives lost during the Pulse shooting 5 years ago. Starting at 11 AM on Sunday. Bring flowers, love, and memories to share. pic.twitter.com/exIX8msvj0

— UCF LGBTQ Services (@UCF_LGBTQ) June 11, 2021
The White House on Saturday released a statement from President Biden who had traveled and met with survivors and the families of the victims 5 days after the massacre while he was the vice-president of the United States under President Barack Obama.
"Five years ago today in Orlando in the middle of Pride Month, our nation suffered the deadliest attack affecting the LGBTQ+ community in American history, and at the time, the deadliest mass shooting by a single gunman.

Within minutes, the Pulse nightclub that had long been a place of acceptance and joy turned into a place of unspeakable pain and loss. Forty-nine people were there celebrating Latin night were murdered, even more injured, and countless others scarred forever – the victims were family members, partners and friends, veterans and students, young, Black, Asian and Latino – our fellow Americans.

A few days later, I traveled with President Obama to pay respects to them and their families, to thank the brave first responders and the community who found strength and compassion in each other, and to pledge that what happened would not be forgotten.

Over the years, I have stayed in touch with families of the victims and with the survivors who have turned their pain into purpose, and who remind us that we must do more than remember victims of gun violence and all of the survivors, family members, and friends left behind; we must act.

In the coming days, I will sign a bill designating Pulse Nightclub as a national memorial, enshrining in law what has been true since that terrible day five years ago: Pulse Nightclub is hallowed ground.

But there is more we must do to address the public health epidemic of gun violence in all of its forms – mass shootings and daily acts of gun violence that don't make national headlines.

It is long past time we close the loopholes that allow gun buyers to bypass background checks in this country, and the Senate should start by passing the three House-passed bills which would do exactly that. It is long past time we ban assault weapons and high capacity magazines, establish extreme risk protection orders, also known as "red flag" laws, and eliminate gun manufacturers' immunity from liability.

We must also acknowledge gun violence's particular impact on LGBTQ+ communities across our nation. We must drive out hate and inequities that contribute to the epidemic of violence and murder against transgender women – especially transgender women of color. We must create a world in which our LGBTQ+ young people are loved, accepted, and feel safe in living their truth. And the Senate must swiftly pass the Equality Act, legislation that will ensure LGBTQ+ Americans finally have equal protection under law.

In the memory of all of those lost at the Pulse nightclub five years ago, let us continue the work to be a nation at our best – one that recognizes and protects the dignity and safety of every American."
Additional reporting by Michael K. Lavers
Wal-Mart founder's family sets up $1M fund for LGBTQ groups in Arkansas
"Our state is in a moment of reflection where each of us must send a message of acceptance to the LGBTQ community- 'you belong here.'"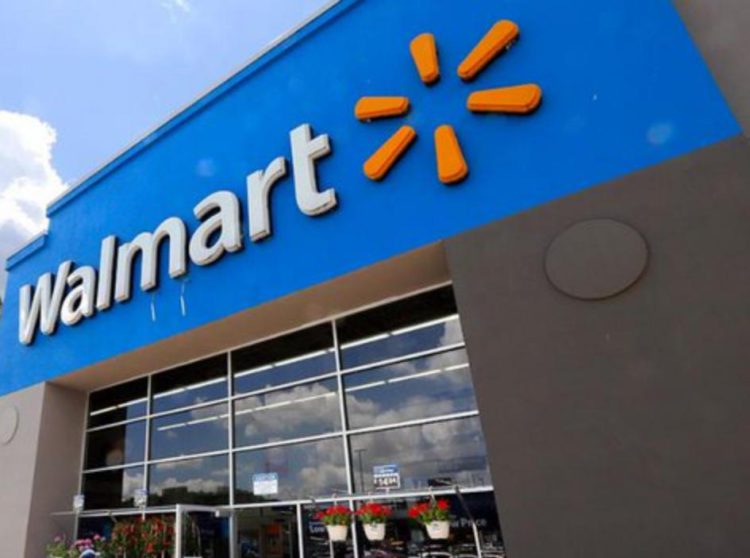 BENTONVILLE, AR. – In an announcement made Thursday by the Alice L. Walton Foundation, named for the daughter of Wal-Mart founder Sam and his wife Helen Walton, family members working through the foundation are launching a $1 million fund for groups assisting LGBTQ people in the retail giant's home state of Arkansas.
"Organizations from across our state are leading the efforts needed to build a sense of community," said Alice Walton. "Let's support this important work that ensures everyone in Arkansas can live their lives with equity and dignity."
The $1 million fund will distribute grants of $25,000 and above for Arkansas-based organizations that provide critical services to the LGBTQ community. National entities with a local presence, established in-state partnerships and strong community relationships will also qualify.
"Our state is in a moment of reflection where each of us must send a message of acceptance to the LGBTQ community that says – 'you belong here,'" said Olivia and Tom Walton in a statement. "It is also a time for action by recognizing LGBTQ Arkansans face growing challenges that need community-driven solutions."
"This fund will allow LGBTQ-serving nonprofits in our state to expand their impact on communities and help Arkansans pull together to build a more welcoming and supportive environment for us all," said Heather Larkin, president of Arkansas Community Foundation.
The initiative was launched following a legislative session in Arkansas that was marked by new laws restricting the rights of transgender people. The state is being sued over one of those measures, which bans gender confirming treatments for transgender youth. Unless blocked by a federal judge, the ban will take effect July 28, The Associated Press reported.
Reacting to the announcement Adrienne Collins from Central Arkansas Pride said,
"There are many organizations eager to stand up for a more inclusive, accepting environment for all who live in and visit our state. We are committed to showing up every day to ensure Arkansas' LGBTQ community has the support needed to thrive."
The grant selection committee will include leadership and representation from the LGBTQ community. Organizations interested in learning more about the fund can visit arcf.org/lgbtq.