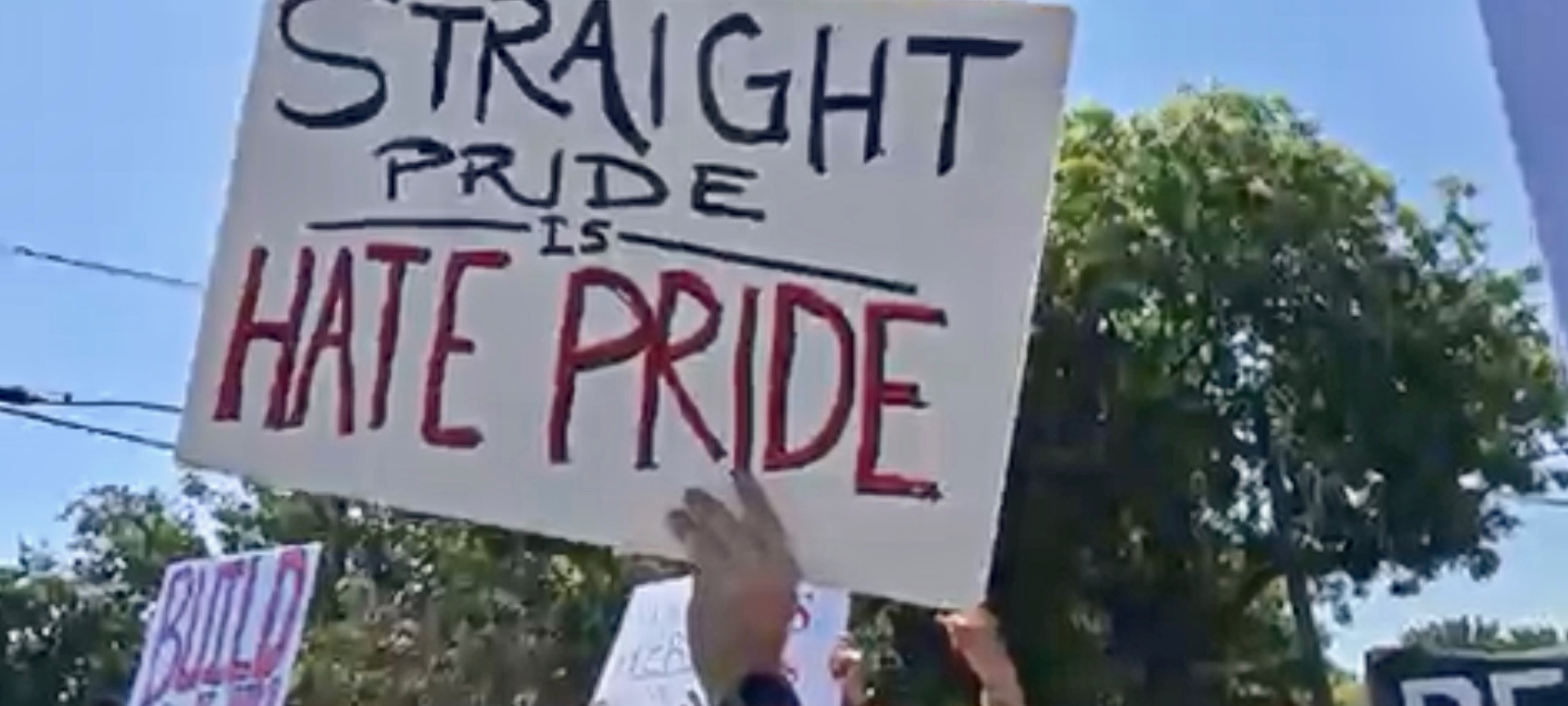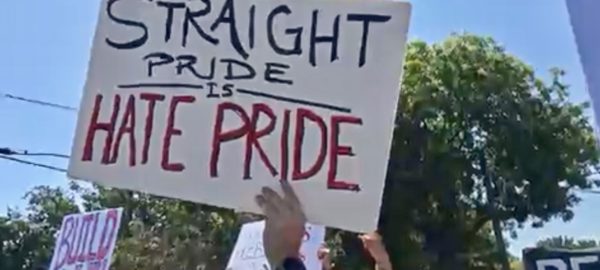 Modesto residents had every right to be concerned about the Straight Pride rally announced for their city on Aug. 24. Last month, a 19-year-old gunman fired an AK-47 style semiautomatic into the Gilroy Garlic Festival about an hour away from Modesto, killing three and wounding 13 others before turning the gun on himself. On Aug. 6, the FBI announced an investigation into domestic terrorism because the Gilroy mass shooter left a list of other potential targets. By then, there had been two more lone wolf mass shootings in El Paso, Texas and Dayton, Ohio. White supremacy seemed ubiquitous.
Some associated Straight Pride with white supremacy since the National Straight Pride Coalition website promotes heterosexuality, describes "Caucasians" as "the biological majority of the historical developers and founders of Western Civilization," and seeks to prevent "the current and future generations of all races and colors from being destroyed by the inherent malevolence of the Homosexual Movement toward our founding principles."
Additionally, Straight Pride founder Don Grundmann had joined the local chapter of the Proud Boys, designated a California hate group by the Southern Poverty Law Center, and he invited the boys to attend the rally. They declined. However, at least one supporter of the Family Research Council showed up.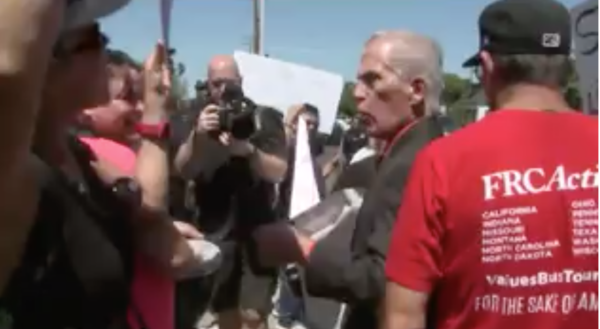 The Modesto police were more concerned about the militant anti-fascist group antifa showing up to fight with the anti-LGBTQ conservatives. The Proud Boys and antifa mixed it up last Saturday in Portland (again) but the police had prevented a major rumble. Afterwards, a Proud Boy leader was caught on tape admitting that they stage events in order to fight and force the city to waste money defending their right to free speech against their anti-fascist foes.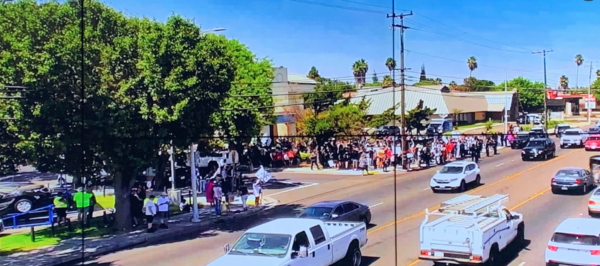 Photo of police surveillance via Twitter
The Modesto Police Department was braced for any eventuality, city spokesperson Thomas Reeves told the Los Angeles Blade. But Straight Pride supporters had the right to gather on a sidewalk and express their opinions after the city denied them a permit.
And that's what happened. Only Straight Pride was overwhelmed by counter-protesters chanting "No Hate, No Fear, Straight Pride is not welcome here!" There were a few scuffles, but the police presence was massive and intervened quickly. The crowd started filtering home by 2:50PM in the 93 degree heat.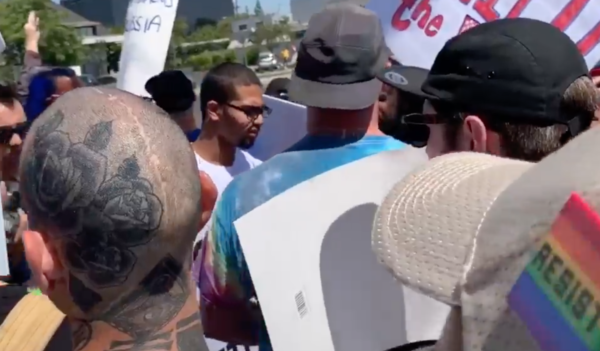 "The city recognizes that many sides of the demonstration today were able to express themselves in a peaceful manner.  We are proud of the work of our law enforcement team in keeping safe our residents and our facilities," Reeves told the Los Angeles Blade via email on Saturday.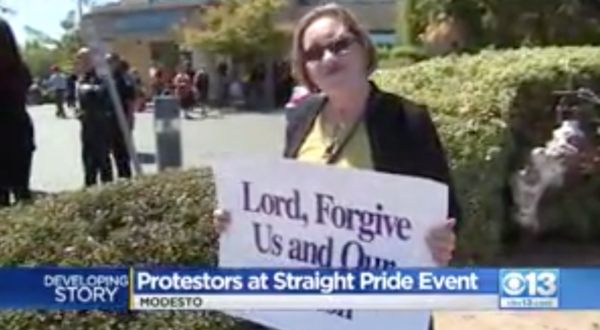 The Modesto Police Department estimated the crowd size at about 200 people but did not differentiate between Straight Pride supporters and counter-protesters. The reporter for FOX40, however, estimated that the counter-protesters were nearly 200 people while Grundmann and his Straight Pride co-organizer Mylinda Mason of the California Republican Assembly could only muster about a dozen supporters.
After the city denied his request to use the park's amphitheater, Grundmann pledged the rally would go on, but he didn't say where. The Modesto Bee found him and several other speakers addressing "a seated crowd at the Durrer Barn west of Modesto" at a private event.
At 12:10pm, the Bee posted that: "A man locking the gate at the Durrer Barn identified himself as an owner. He told a Bee reporter that "the event is over" and "the sheriff is on his way."
The meeting location had apparently been decided very early Saturday morning, with no advance warning to the owner.
From the Modesto Bee live blog:
"Update, 1:15 p.m.: Stanislaus County Supervisor Terry Withrow, a friend of the Durrer family, said the family had no idea that the event being held in its barn had to do with straight pride.
The Durrers were told it was a family event and they feel "hoodwinked," Withrow said. Once they learned what was happening, they shut it down.
Grundmann, however, maintains that the Stanislaus County Sheriff's Department had them close the venue down "for fear of protests and violence."
Tom Mason from Sacramento, who attended the morning event, thought there were about 40 or 50 people at the barn. He learned of the location through a phone call at 7 a.m., and said people entering were questioned and screened before being admitted."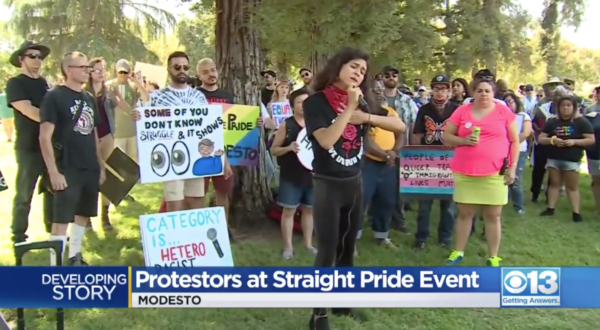 Meanwhile, counter-protesters showed up at Enslen Park, along with mounted police. The event featured several speakers, booths and dancing to build community empowerment. The Modesto Bee later estimated the crowd at about 250 people.
"I wanted to come out here and be peaceful and rally with a bunch of people of the rainbow colors and have a great day," said Michelle Riddle told the Sacramento CBS affiliate.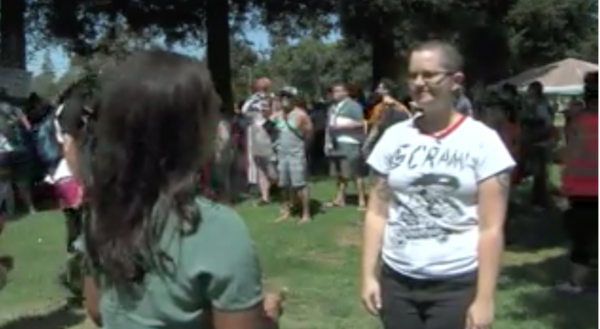 "We are rejecting this presence of hate, that we are rejecting the values that this Straight Pride Coalition represents like white nationalism and homophobia," Max Reed, a member of the Modesto Non-Violent Collective who helped organize the counter-protest, told Fox40."This community is standing together to reject this group and what they represent."
"When people want to come into your own backyard and spread a message that you don't agree with then you have a right to stand up against that too," Modesto NAACP member Wendi Burg told Fox 40.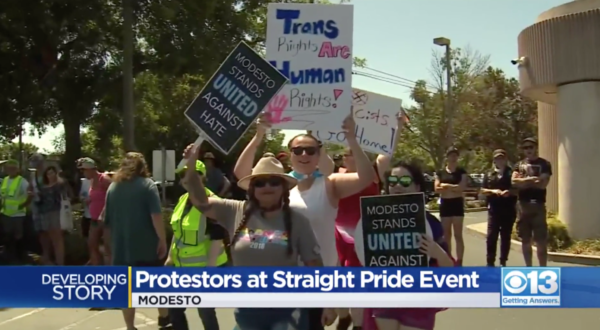 Around 12:40 p.m, Grandmann finally announced on his website where they were holding "our Parade"—the large Planned Parenthood parking lot on McHenry Avenue in Modesto. By 1:00pm the counter-protesters arrived at the parking lot from the park and the two sides converged.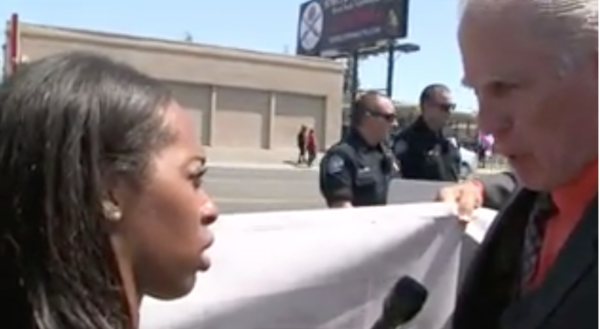 Grundmann seemed thrilled to be the center of attention. "Masculinity it's okay to be a man. femininity, it's okay to be a woman," Don Grundmann told the African American Fox40 reporter. "Masculinity, femininity, the natural family of man, woman children, babies, born and unborn western civilization, Caucasians and all people, all of those are basic foundations that are under attack."
By 2:50, the crowd started to dissipate, with Modesto Police declaring the streets clear by 3:16. "We would like to thank them for remaining peaceful, expressing themselves in a respectful manner while embracing our community's diversity," the department said in a tweet.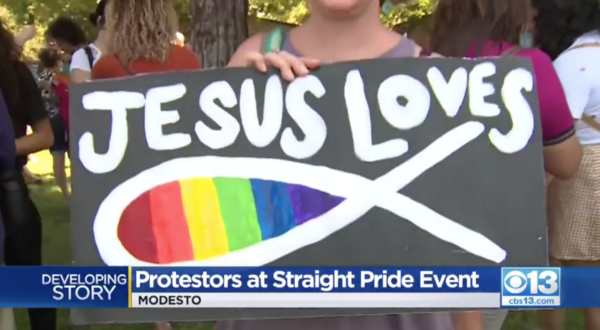 "This is not what Modesto is about," Reed said. "We're about inclusion and diversity and unity."
And for a few hours on Saturday, Aug. 24, 2019, ordinary citizens got to bravely stand up together to shout down the piddling ugly forces of homophobia and white supremacy.
White House, Don't Say Gay law: "This is discrimination, plain and simple"
"State officials who claim to champion liberty are limiting the freedom of their fellow Americans simply to be themselves"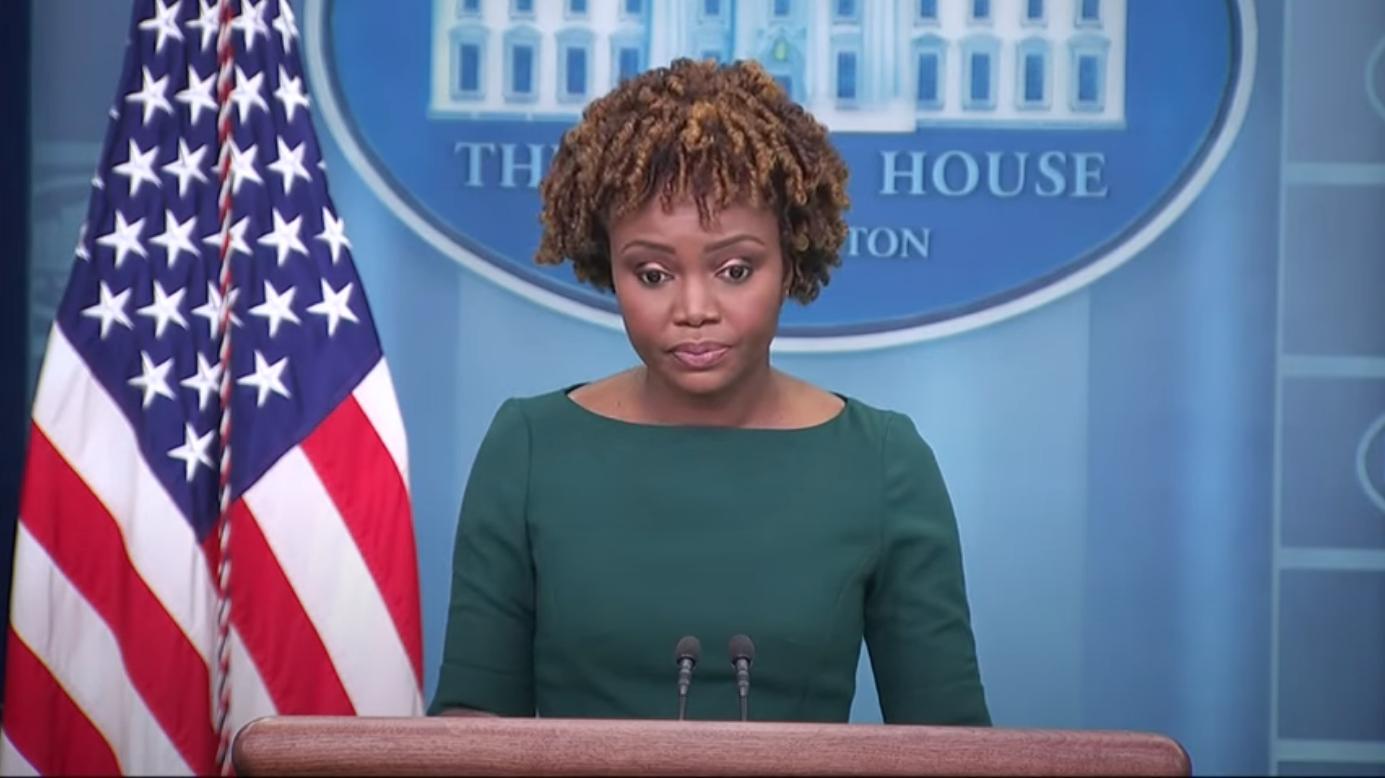 WASHINGTON – The White House Press Secretary Karine Jean-Pierre released a statement Friday as Florida's notorious 'Don't Say Gay' law took effect, saying "[…] state officials who claim to champion liberty are limiting the freedom of their fellow Americans simply to be themselves."
President Biden also tweeted about the law prior to leaving for Camp David to spend the July 4th holiday weekend, calling the law "the latest attempt by Republicans in state houses to target LGBTQI+ students, teachers, and families."
Florida's "Don't Say Gay" law takes effect today – the latest attempt by Republicans in state houses to target LGBTQI+ students, teachers, and families.

Legislators shouldn't be in the business of censoring educators, and @usedgov will do all in its power to protect students.

— President Biden (@POTUS) July 1, 2022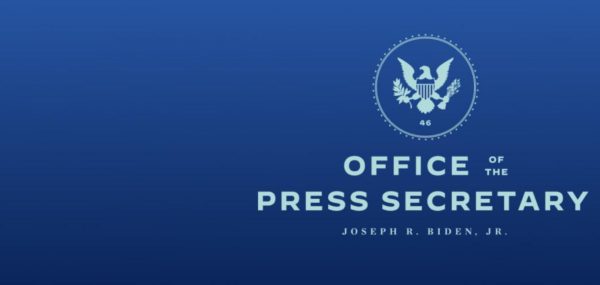 In her statement, Jean-Pierre said:
"Today, some of Florida's most vulnerable students and families are more fearful and less free. As the state's shameful "Don't Say Gay" law takes effect, state officials who claim to champion liberty are limiting the freedom of their fellow Americans simply to be themselves.
"Already, there have been reports that "Safe Space" stickers are being taken down from classrooms. Teachers are being instructed not to wear rainbow clothing. LGBTQI+ teachers are being told to take down family photos of their husbands and wives—cherished family photos like the ones on my own desk.
"This is not an issue of "parents' rights." This is discrimination, plain and simple. It's part of a disturbing and dangerous nationwide trend of right-wing politicians cynically targeting LGBTQI+ students, educators, and individuals to score political points.
"It encourages bullying and threatens students' mental health, physical safety, and well-being. It censors dedicated teachers and educators who want to do the right thing and support their students. And it must stop.
"President Biden has been very clear that every student deserves to feel safe and welcome in the classroom.
"The Department of Education will be monitoring this law, and any student or parent who believes they are experiencing discrimination is encouraged to file a complaint with the Department's Office for Civil Rights.
"Our Administration will continue to fight for dignity and opportunity for every student and family—in Florida and around the country."
Florida county's school policy critics say "essentially targets LGBTQ+ kids"
"Sending out a parent notification could be seen as placing a target on a student's back," said Lauren Kelly-Manders, a Tallahassee resident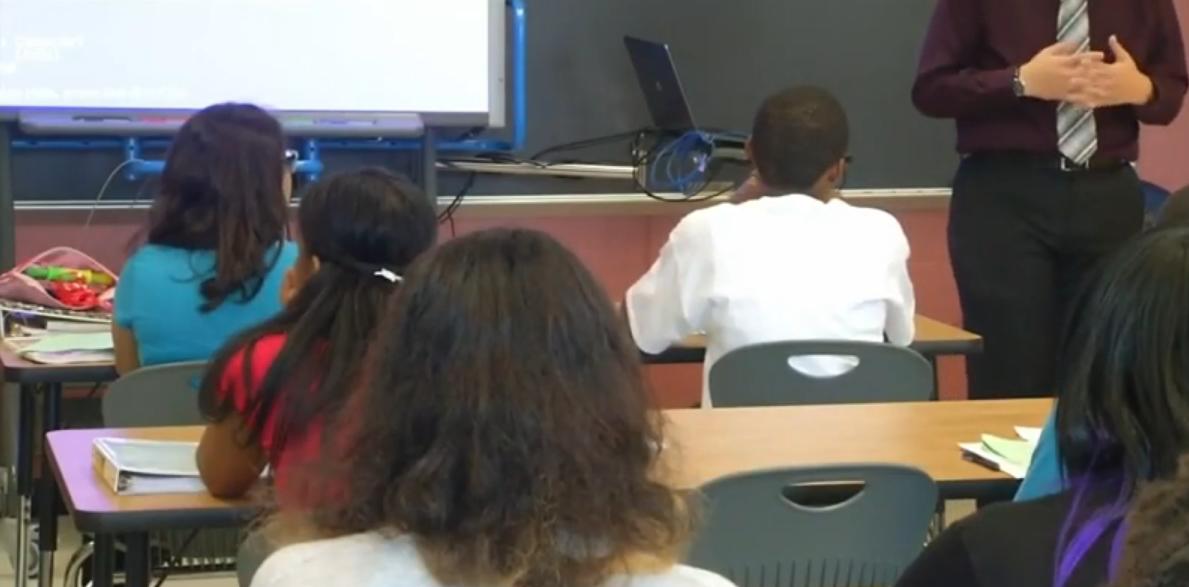 TALLAHASSEE – The Leon County School Board this week unanimously approved its "LGBTQ Inclusive School Guide" after a rancorous and at times heated debate Tuesday. At the heart of the new policy are guidelines that critics charge will harm LGBTQ+ youth in the school system.
The Tallahassee Democrat newspaper reported what drew the most debate was a provision that a school will notify parents — by form — if a student who is "open about their gender identity" is in a physical education class or on an overnight trip. 
Some teachers and students during the Tuesday night meeting said the policy will "out" LGBTQ+ students — revealing their sexual orientation or gender identity without their permission. 
While the policy language does explicitly say a student's sexual orientation, gender identity or expression "should not be shared with others without their input and permission,"  advocacy groups and activists claim that in "real world" application the policy's danger to Outing LGBTQ+ kids remains regardless.
Los Angeles-based writer and actor Benjamin Siemon took to Twitter angrily noting that the policy "essentially paints these children as sex offenders that require warnings."
This school board in FL voted that if an LGBTQ child is in a P.E. class or attending an overnight trip that ALL the parents in their class will receive a notification about it, which essentially paints these children as sex offenders that require warnings. https://t.co/g1bE4df2bS

— Benjamin Siemon (@BenjaminJS) June 30, 2022
Supporters of the school board's new policy included the Leon County chapter of Mom's for Liberty, a national far-right anti-LGBTQ+ activist group which has sought to ban LGBTQ+ books and curriculum nationwide. But the sticking point for the group is the provision doesn't go far enough.
According to the Tallahassee Democrat, Sharyn Kerwin, head of the Leon County chapter of Mom's for Liberty and who also served on the advisory committee to the School board as it crafted the new policy, told board members and the audience Tuesday: "Any attempt to withhold information from a parent or try to influence a child in a knowing way is against Florida law."
Kerwin and other parents argued that the Parental Rights in Education bill, HB 1557, colloquially referred to as the "Don't Say Gay" law requires school administrators to notify parents and many in the audience Tuesday citing biblical verses maintained discussions about sexual orientation have no place in schools.
Opponents charge that this policy will effectively weaponize bigotry and target LGBTQ+ kids, especially trans youth.
Critics of the notification policy say the district's language is equating "gender identity" with LGBTQ sexuality. They note that even someone who is "straight" expresses themselves via their clothing choices or appearance and can be "open about their gender identity," the Tallahassee Democrat noted.
"Sending out a parent notification could be seen as placing a target on a student's back," said Lauren Kelly-Manders, a Tallahassee resident. 
In the end, even with the policy approved, none were happy with the outcome as one side claiming not enough consideration was given to parental rights and opponents charging this will simply increase bullying of LGBTQ+ kids.
"Normally when we have something on the agenda, we have a group that's for, and a group that's against," school board Vice Chair Alva Striplin noted adding, "Well, tonight we had everyone against."
The school board voted to approve the guide unanimously 4-0.  According to the Tallahassee Democrat school board members will schedule another meeting to revisit the guide in six months to adjust the policy if needed. 
White House announces 17 Presidential Medal of Freedom recipients
The nation's highest civilian honor, the Presidential Medal of Freedom will be presented to those named at the White House on July 7, 2022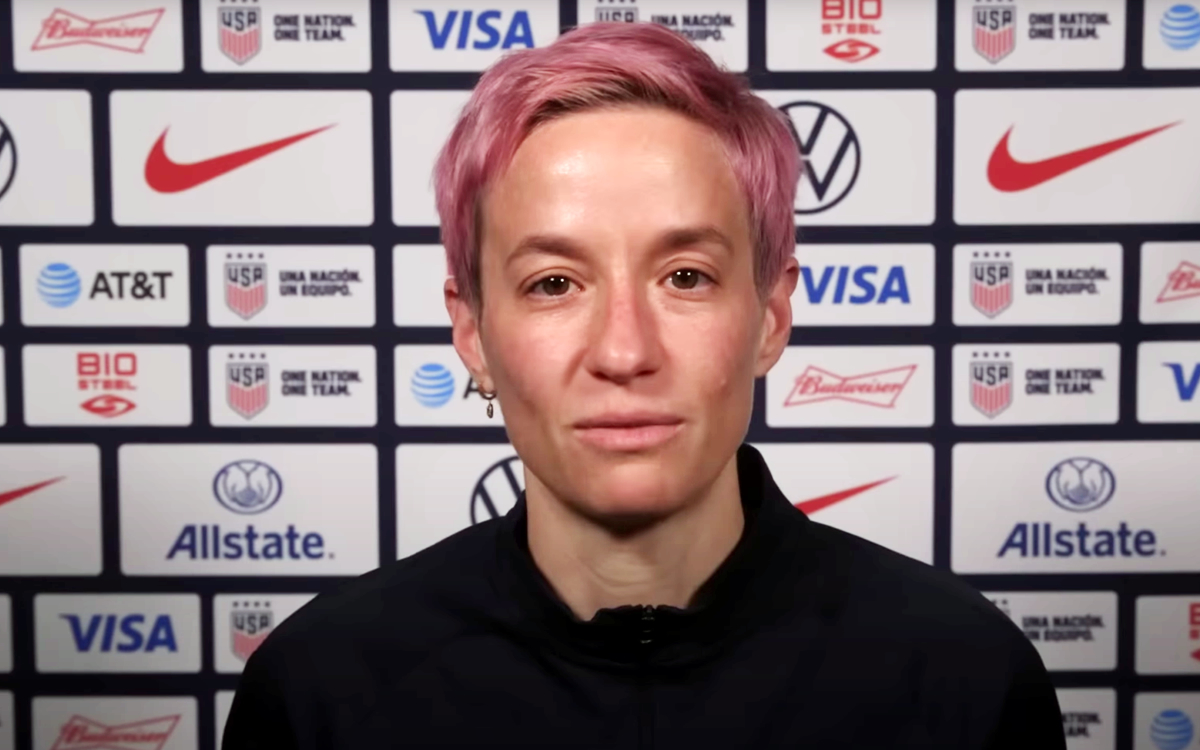 WASHINGTON – The White House today released President Joe Biden's selection of recipients for bestowing the nation's highest civilian honor, the Presidential Medal of Freedom. The awards will be presented at the White House on July 7, 2022.
Included among the seventeen honorees are Megan Rapinoe, the Out Olympic gold medalist and two-time Women's World Cup champion. She also captains OL Reign in the National Women's Soccer League. She is a prominent advocate for gender pay equality, racial justice, and LGBTQI+ rights.
Also selected by the president for a posthumous recognition was Richard Trumka, the powerful labor leader and longtime Democratic ally of the LGBTQ+ community who passed away last August. Trumka had led the AFL-CIO since 2009 and who throughout his career, was an outspoken advocate for LGBTQ+ Americans, social and economic justice.
The Presidential Medal of Freedom is the Nation's highest civilian honor, presented to individuals who have made exemplary contributions to the prosperity, values, or security of the United States, world peace, or other significant societal, public or private endeavors.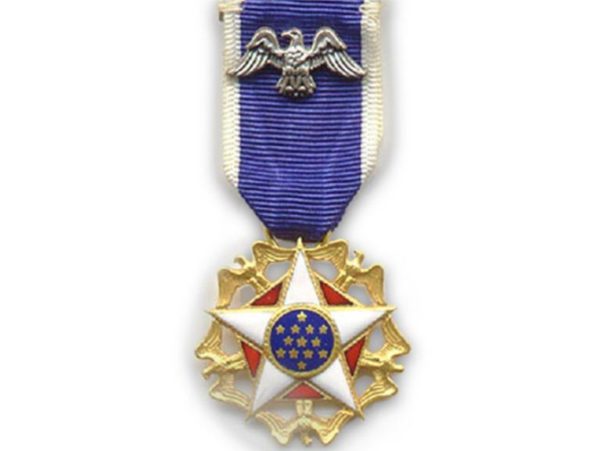 The following individuals will be awarded the Presidential Medal of Freedom:
Simone Biles
Simone Biles is the most decorated American gymnast in history, with a combined total of 32 Olympic and World Championship medals. Biles is also a prominent advocate for athletes' mental health and safety, children in the foster care system, and victims of sexual assault.

Sister Simone Campbell
Sister Simone Campbell is a member of the Sisters of Social Service and former Executive Director of NETWORK, a Catholic social justice organization. She is also a prominent advocate for economic justice, immigration reform, and healthcare policy.

Julieta García
Dr. Julieta García is the former president of The University of Texas at Brownsville, where she was named one of Time magazine's best college presidents. Dr. García was the first Hispanic woman to serve as a college president and dedicated her career to serving students from the Southwest Border region.

Gabrielle Giffords
Former Congresswoman Gabby Giffords was the youngest woman ever elected to the Arizona State Senate, serving first in the Arizona legislature and later in the U.S. Congress. A survivor of gun violence, she co-founded Giffords, a nonprofit organization dedicated to gun violence prevention.

Fred Gray
Fred Gray was one of the first black members of the Alabama State legislature since Reconstruction. As an attorney, he represented Rosa Parks, the NAACP, and Martin Luther King, who called him "the chief counsel for the protest movement."

Steve Jobs (posthumous)
Steve Jobs (d. 2011) was the co-founder, chief executive, and chair of Apple, Inc., CEO of Pixar and held a leading role at the Walt Disney Company. His vision, imagination and creativity led to inventions that have, and continue to, change the way the world communicates, as well as transforming the computer, music, film and wireless industries.

Father Alexander Karloutsos
Father Alexander Karloutsos is the former Vicar General of the Greek Orthodox Archdiocese of America. After over 50 years as a priest, providing counsel to several U.S. presidents, he was named by His All Holiness Ecumenical Patriarch Bartholomew as a Protopresbyter of the Ecumenical Patriarchate.

Khizr Khan
Khizr Khan is a Gold Star father and founder of the Constitution Literacy and National Unity Center. He is a prominent advocate for the rule of law and religious freedom and served on the United States Commission on International Religious Freedom under President Biden.

Sandra Lindsay
Sandra Lindsay is a New York critical care nurse who served on the front lines of the COVID-19 pandemic response. She was the first American to receive a COVID-19 vaccine outside of clinical trials and is a prominent advocate for vaccines and mental health for health care workers.

John McCain (posthumous)
John McCain (d. 2018) was a public servant who was awarded a Purple Heart with one gold star for his service in the U.S. Navy in Vietnam. He also served the people of Arizona for decades in the U.S. House of Representatives and U.S. Senate and was the Republican nominee for president in 2008.

Diane Nash
Diane Nash is a founding member of the Student Nonviolent Coordinating Committee who organized some of the most important civil rights campaigns of the 20th century. Nash worked closely with Martin Luther King, who described her as the "driving spirit in the nonviolent assault on segregation at lunch counters."
Megan Rapinoe
Megan Rapinoe is an Olympic gold medalist and two-time Women's World Cup champion. She also captains OL Reign in the National Women's Soccer League. She is a prominent advocate for gender pay equality, racial justice, and LGBTQI+ rights.

Alan Simpson
Alan Simpson served as a U.S. Senator from Wyoming for 18 years. During his public service, he has been a prominent advocate on issues including campaign finance reform, responsible governance, and marriage equality.
Richard Trumka (posthumous)
Richard Trumka (d. 2021) was president of the 12.5-million-member AFL-CIO for more than a decade, president of the United Mine Workers, and secretary-treasurer of the AFL-CIO. Throughout his career, he was an outspoken advocate for social and economic justice.

Wilma Vaught
Brigadier General Wilma Vaught is one of the most decorated women in the history of the U.S. military, repeatedly breaking gender barriers as she rose through the ranks. When she retired in 1985, she was one of only seven women generals in the Armed Forces.

Denzel Washington
Denzel Washington is an actor, director, and producer who has won two Academy Awards, a Tony Award, two Golden Globes, and the 2016 Cecil B. DeMille Lifetime Achievement Award. He has also served as National Spokesman for the Boys & Girls Clubs of America for over 25 years.

Raúl Yzaguirre
Raúl Yzaguirre is a civil rights advocate who served as CEO and president of National Council of La Raza for thirty years. He also served as U.S. Ambassador to the Dominican Republic under President Barack Obama.