August 8, 2019 at 8:57 am PDT | by Karen Ocamb
'Straight Pride' is a dangerous sham with tentacles of hate (UPDATED)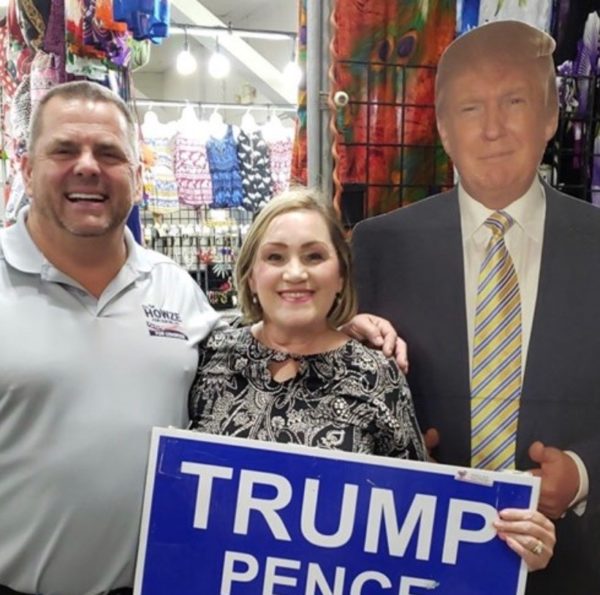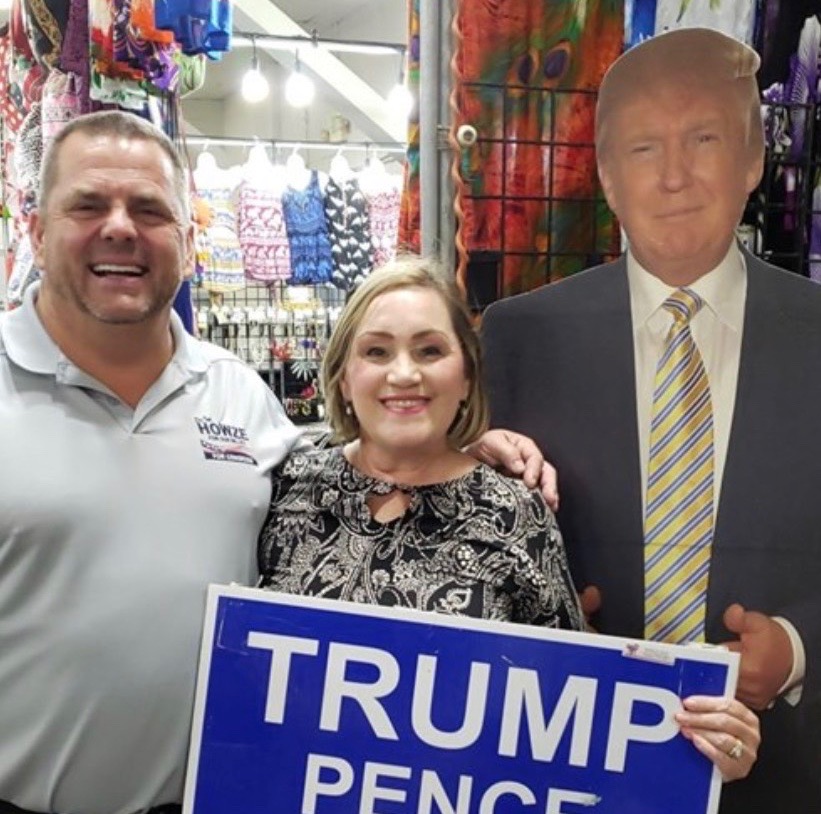 'Straight Pride' organizer Mylinda Mason with Republican candidate Ted Howze and cardboard Donald Trump. (Photo from Mason's social media)
The FBI announced on Aug. 6 that it is launching a domestic terrorism investigation into the mass shooting at the Gilroy Garlic Festival after investigators discovered a list of other potential targets. On July 28, a 19-year-old gunman used an AK-47 style semiautomatic weapon to kill three and wound 13 others before turning the gun on himself.
There is no evidence that this mass shooting triggered others but six days later, on Aug. 3, a 21-year-old opened fire on mostly Latino back-to-school shoppers at a Walmart in El Paso, Texas, killing 22 and injuring 26 people. The following day, a 24-year-old gunman in Dayton, Ohio, killed 9 people, including his sister, and wounded 27 more.
Authorities are still trying to determine the motive for the shooting in Gilroy but investigators discovered he was exploring violent ideologies.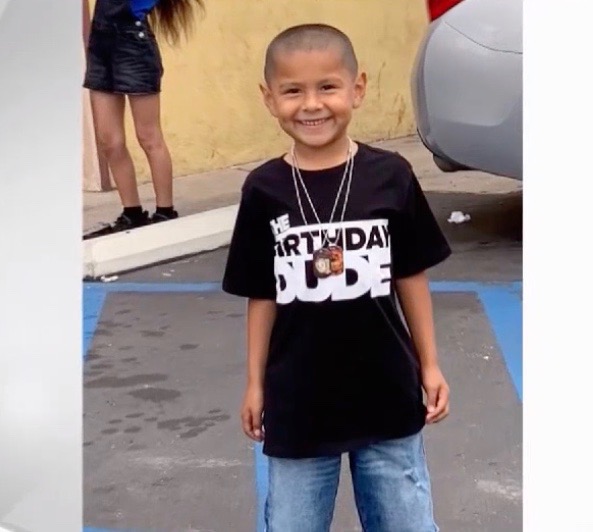 6 year old Steven Romero was shot in the back and died at the Gilroy Garlic Festival (Photo courtesy his father) 
"There's a whole cadre of extremists whose goal is really about bringing society to its knees. Violence is not just a means to promote an ideology. It's become an ideology itself," Brian Levin, director of California State University, San Bernardino's Center for the Study of Hate and Extremism, told USA Today.
Fredrick Brennan founded the Internet fringe message board 8chan where three mass shooters blamed for killing 74 people this year—including the Gilroy gunman—posted their screeds. He told NBC News that the new owner gives "constant nods and winks to the radical, neo-Nazi part of their user base" where they enjoy infamy. Hours after the El Paso attack, he said, administrators kept the tagline "Embrace infamy" on 8chan's front page.
The Southern Poverty Law Center has identified 83 hate groups in California.  But keeping track of lone wolf white supremacists and angry young white men radicalized on 8chan and other sites is beyond difficult.
Gilroy is about 54 miles from Modesto where San Jose-based Don Grundmann, head of the National Straight Pride Coalition, and Modesto resident Mylinda Mason, who "manages" the old Tea Party-ish California Republican Assembly for Stanislaus County, want to mount a "straight pride" rally on Aug. 24 in Graceada Park.
The organization's flyer, bordered with pink, says: "Join us to celebrate heterosexuality, masculinity, feminity, babies – born and unborn – western civilization, our wonderful country, Christianity — Celebrate Life!"
"Essentially it boils down to two religious views of the world," Grundmann told CBS13, the Sacramento affiliate. "One is Christianity, which is represented by heterosexuality, a culture of life, and its opponent is the LGBT movement, which is represented by an opposing religion and an opposing view of life."
"We've been getting letters, emails, comments, and phone calls all day about it," said Modesto City Council member Kristi Ah You. "I don't think we need to give a permit for anything that when you go to the page it talks about whiteness, it talks about western civilization, it talks about being Caucasian. That's all hate crime stuff to me, that's not okay."
Ah You said she supports free speech and first amendment rights, for which the "straight pride" organizers are asking. "I think if we ignored it and let the people do whatever they're going to do, I think maybe four or five people would show up."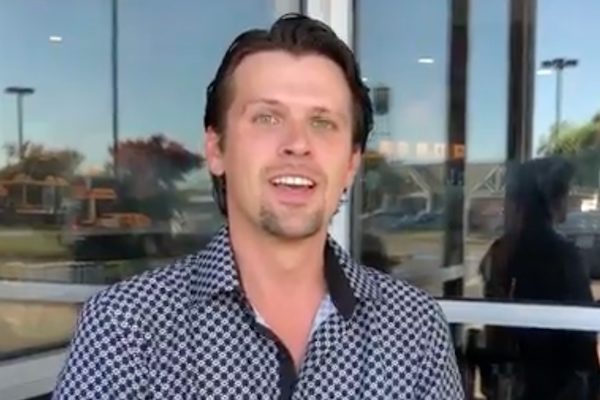 That was before Matthew Mason, 28, the adopted and estranged gay son of rally organizer Mylinda Mason, alerted the press.
"This isn't 'straight pride.' This is hate pride," said Matthew Mason told Fox40 in Modesto. "Dog whistling to white supremacy, that is immediately inciting violence. I am afraid of violence happening. I don't want anyone in my community to be hurt."
Mylinda Mason said the rally would be a peaceful gathering. "They're looking to amp it up into something that it's not," she told Fox40. "It's really going to be much more like on the purview of a church service really. It really is just celebrating our beautiful country." Everyone is welcome, even LGBTQ people, adding "the intolerance doesn't come from [their] side."
That's the cover. Hate mongers no longer need to be slathered in tattoos listening to angry heavy metal bands. As last year's Frontline/ProPublica series on the new American Nazis shows, the look now is often khaki pants and blue shirt to fit into the mainstream, until they can let down their guard and don masks as do both the national neo-Nazi group Atomwaffen Division, which apparently inspired Samuel Lincoln Woodward, 21, of Newport Beach to murder his former gay Jewish high school classmate Blaze Bernstein. The Orange County-based Rise Above Movement, a white supremacist group, saw four members arrested Oct. 2, 2018 on federal charges for allegedly traveling to Virginia with the intent to incite a riot at the deadly far-right rallies in Charlottesville.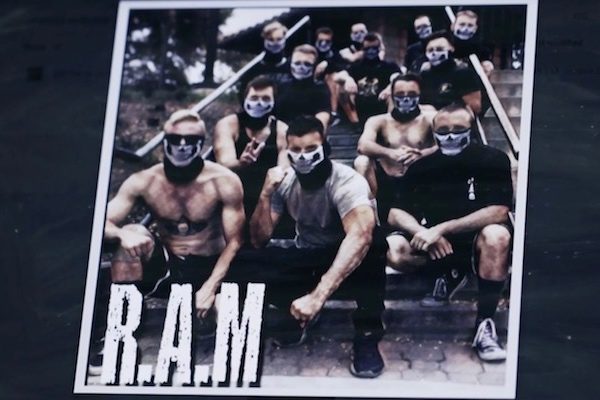 "Inspired by the writings of Hitler and the idea of 'white jihad,' members of groups like R.A.M. and Proud Boys don't need much provocation to become violent. Indeed, members of Atomwaffen Division have been charged in five killings over the past two years," former Nazi Christian Picciolini wrote in an op-ed in the Los Angeles Times.  "It is true that the leaders of such groups draw in disillusioned young men who believe the world has sidelined them. But just because their members look familiar to many Americans does not make them less dangerous. Their violence is part of a growing pattern of domestic terrorism and should not be excused as an adolescent blip."
While Mylinda Mason says the "straight pride" rally will be church-like, the National Straight Pride Coalition website opens with a note to "Dear Citizen" then reads: "The purpose of the California Straight Pride Coalition is to defend the children noted above. This is inclusive of preventing the current and future generations of all races and colors from being destroyed by the inherent malevolence of the Homosexual Movement toward our founding principles below."
One of those principles describes "Caucasians" as "the biological majority of the historical developers and founders of Western Civilization."
That's not a dog-whistle. That's a clarion call to anti-LGBTQ white supremacists everywhere, including hate group-inspired lone wolfs.
The fear increased when word went out that Grundmann had joined the local chapter of the Proud Boys, designated a California hate group by the Southern Poverty Law Center,  and invited the boys to attend the rally.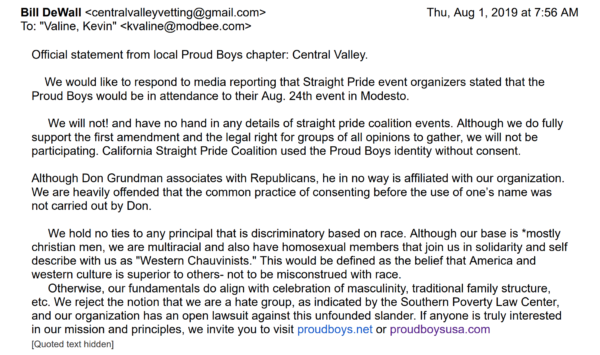 But the Proud Boys told the Modesto Bee they were not attending and were annoyed that Grundmann had used their name for publicity purposes without permission.
Modesto City Council members got an earful from "dozens of people" Aug. 7, the Modesto Bee reported. Grundmann was booed and got into a shouting match until Mayor Ted Brandvold restored order.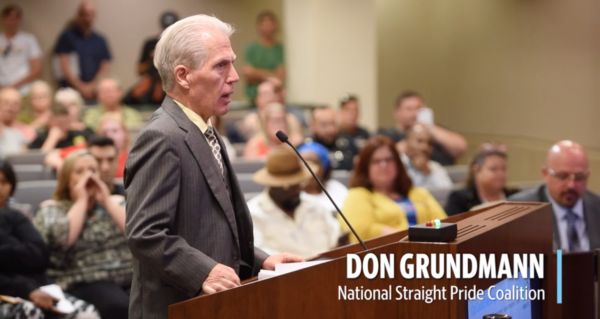 "And audience members howled, cheered and clapped when Grundmann called his group a 'peaceful, racist organization,' though he took that comment back, saying he had misspoke," the Bee reported.
City spokesperson Thomas Reeves told the Los Angeles Blade that the "straight pride" rally was not on the agenda and it is actually up to staff to approve the organization's application to reserve the Graceada Park amphitheater, Mancini Bowl, for Aug. 24, based on factors such as insurance compliance.
Reeves says the city is "very sensitive to everything that is happening across the country" and will "ensure the safety of our community," preparing for anything.
Reeves thinks the decision to grant the reservation is imminent.
(UPDATE FRIDAY 7:00PM) The application was denied for use of the park, according to the Modesto Bee, but staff proposed an alternate site—"the plaza by Modesto Center Plaza, the city's downtown convention, provided organizers submit an application by Tuesday, including proof of insurance." If the organizers do not make the Tuesday deadline, they could apply again for a later date. 
Nonetheless, many people are still afraid of what might happen if the application is granted.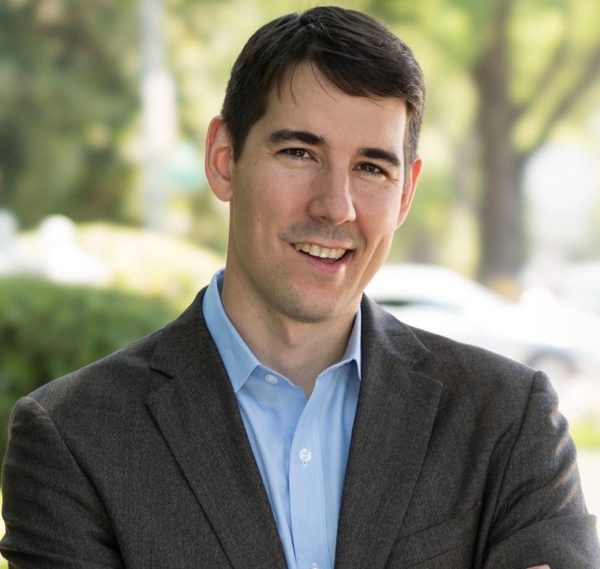 The message, Democratic Rep. Josh Harder tells the Los Angeles Blade, is "intended to send a signal of bigotry and hatred and discrimination against not just our LGBTQ community, but they also included in their manifesto things like looking for a return to so-called white civilization. And so I think it's very clear that this event is racist, bigoted, and has absolutely no place in the Central Valley.
"I'm very concerned," says Harder. "We've known for a long time that there are certainly folks who practice hate who live here just like they live anywhere else. One of the people, unfortunately, who was one of the organizers of Charlottesville, lives in Oakdale. And so I think we're very concerned about where could this lead to. I think what we've seen across our country in the last year or two is that hatred and bigotry often lead to violence."
However, he says, "the valley is one of the most diverse places on the planet. We are a majority minority area. We are a land of immigrants – that is our social and economic fabric. And so the racism and the anti-LGBTQ bigotry that this event represents, I believe is deeply counter to the values that we hold."
Harder's victory over his Republican opponent was a slim win and while the district may be bluish, it could also revert to red. The "straight pride" rally may help voters make that decision. Harder's Republican opponent is Dr. Ted Howze, a local veterinarian, who is strongly supported by the CRA'S Mylinda Mason – and local Proud Boy Travis Hewes.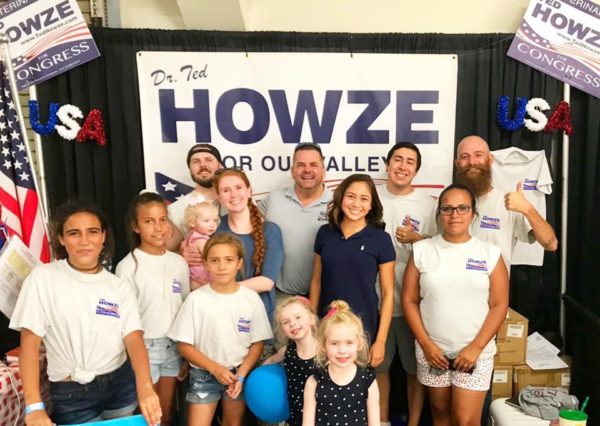 Dr. Ted Howze, center, with local Proud Boy Travis Hewes, far right with beard.
"While fully supporting the right of free speech and equal rights for all members of our community, I believe that events which solely focus on highlighting differences from one another are unnecessary and potentially damaging to community spirit," Howze told the Los Angeles Blade in an email. "I choose to focus on the things we all share in common and striving to improve the daily quality of life for Valley residents."
Asked about the photo of him with a Proud Boy campaign volunteer, Howze said "I've taken pictures with thousands of members of the local community and obviously don't know each individual's personal convictions. I detest racism, homophobia & xenophobia."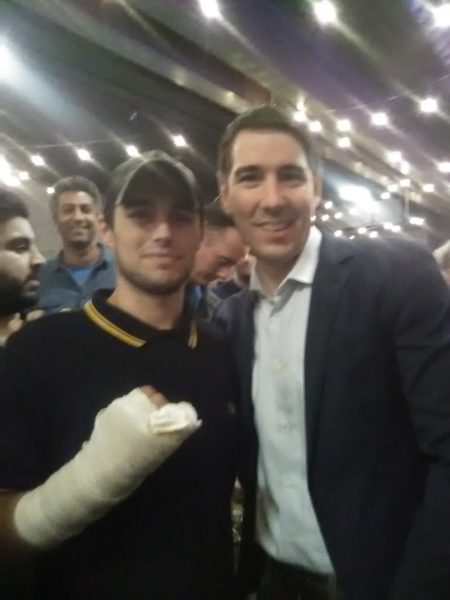 Josh Harder with a young man Ted Howze identifies as a Proud Boy (Photo via Howze)
Howze noted that Harder had also been recently criticized "for taking a picture with a 'Proud Boy' at his election night party. Hopefully the politics of condemnation doesn't rest on who politicians unknowingly have a picture taken with and personal views we are unaware of?"
Given the painful aftermath of the mass shootings in Gilmore, El Paso and Dayton, Howze's loyalty to Donald Trump and Mylinda Mason may have greater political ripple effects than dodging the complexities of hate associated with his supporter's "straight pride."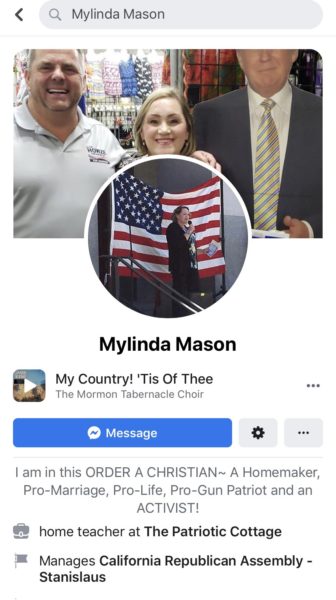 Additionally, no one has yet asked Mason's boss about what he thinks of her hate-inspiring crusade. She identifies herself as a "home teacher at The Patriotic Cottage,"  apparently America's most patriotic golf club" that supports a non-profit called Folds of Honor.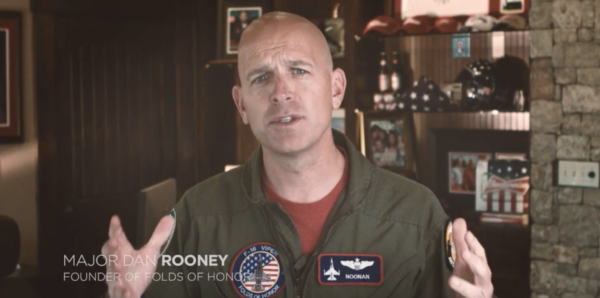 The charitable organization was founded by Top Gun pilot Major Dan Rooney who had an epiphany about the need to provide "educational scholarships to the children and spouses of military service men and women killed or disabled while serving our great nation. Of the one million-plus dependents adversely affected by deployments to Iraq and Afghanistan, over 87% do not qualify for federal scholarship assistance," according to the Folds of Honor website.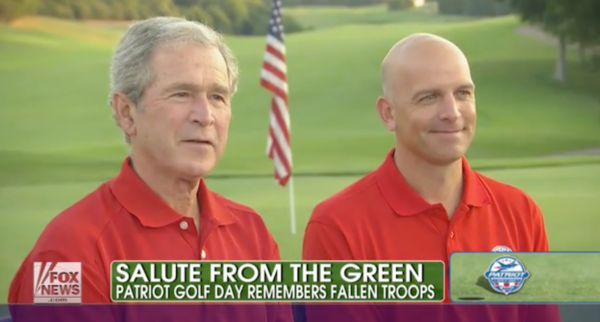 Rooney has hosted compassionate conservative President George W. Bush at his golf club to draw attention to the scholarship program. What will other compassionate conservative contributors think when they discover Folds of Honor employs a teacher who is an organizer of hate?