'Straight Pride' is a dangerous sham with tentacles of hate (UPDATED)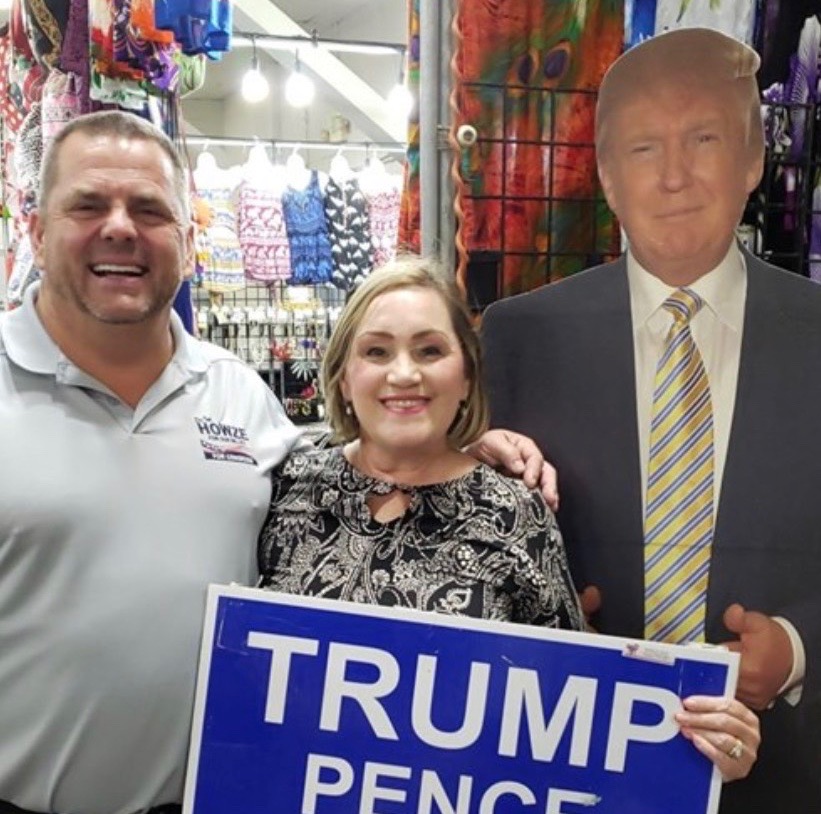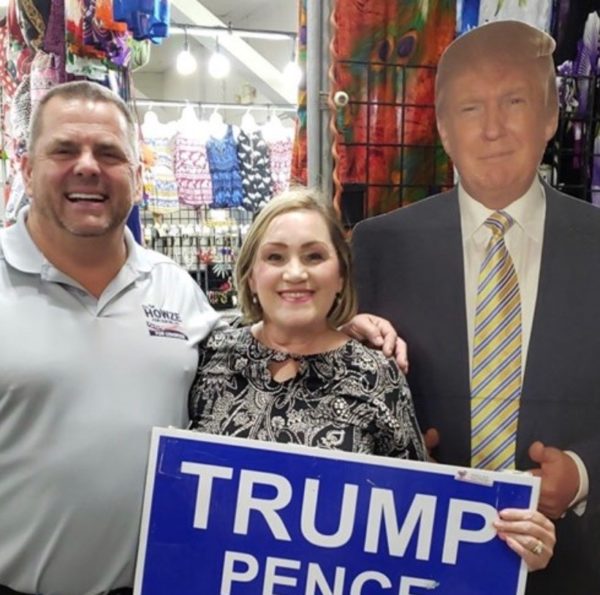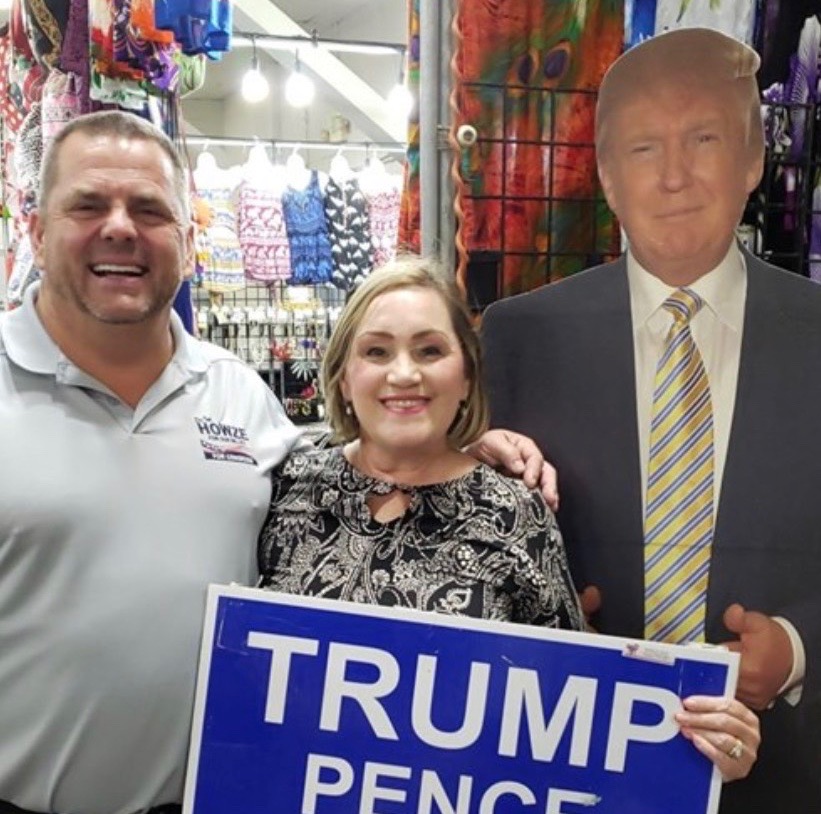 'Straight Pride' organizer Mylinda Mason with Republican candidate Ted Howze and cardboard Donald Trump. (Photo from Mason's social media)
The FBI announced on Aug. 6 that it is launching a domestic terrorism investigation into the mass shooting at the Gilroy Garlic Festival after investigators discovered a list of other potential targets. On July 28, a 19-year-old gunman used an AK-47 style semiautomatic weapon to kill three and wound 13 others before turning the gun on himself.
There is no evidence that this mass shooting triggered others but six days later, on Aug. 3, a 21-year-old opened fire on mostly Latino back-to-school shoppers at a Walmart in El Paso, Texas, killing 22 and injuring 26 people. The following day, a 24-year-old gunman in Dayton, Ohio, killed 9 people, including his sister, and wounded 27 more.
Authorities are still trying to determine the motive for the shooting in Gilroy but investigators discovered he was exploring violent ideologies.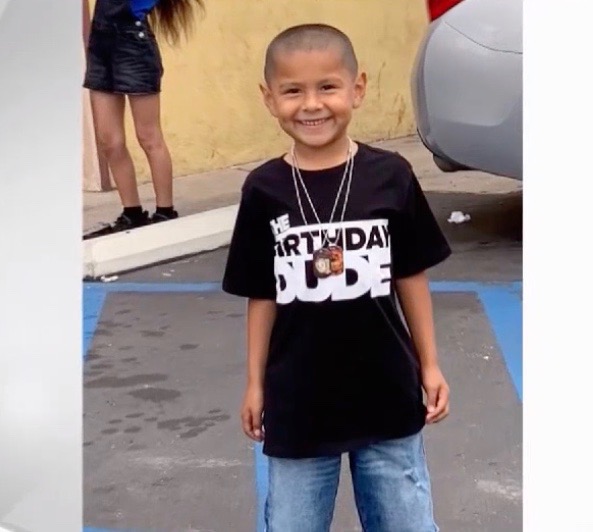 6 year old Steven Romero was shot in the back and died at the Gilroy Garlic Festival (Photo courtesy his father) 
"There's a whole cadre of extremists whose goal is really about bringing society to its knees. Violence is not just a means to promote an ideology. It's become an ideology itself," Brian Levin, director of California State University, San Bernardino's Center for the Study of Hate and Extremism, told USA Today.
Fredrick Brennan founded the Internet fringe message board 8chan where three mass shooters blamed for killing 74 people this year—including the Gilroy gunman—posted their screeds. He told NBC News that the new owner gives "constant nods and winks to the radical, neo-Nazi part of their user base" where they enjoy infamy. Hours after the El Paso attack, he said, administrators kept the tagline "Embrace infamy" on 8chan's front page.
The Southern Poverty Law Center has identified 83 hate groups in California.  But keeping track of lone wolf white supremacists and angry young white men radicalized on 8chan and other sites is beyond difficult.
Gilroy is about 54 miles from Modesto where San Jose-based Don Grundmann, head of the National Straight Pride Coalition, and Modesto resident Mylinda Mason, who "manages" the old Tea Party-ish California Republican Assembly for Stanislaus County, want to mount a "straight pride" rally on Aug. 24 in Graceada Park.
The organization's flyer, bordered with pink, says: "Join us to celebrate heterosexuality, masculinity, feminity, babies – born and unborn – western civilization, our wonderful country, Christianity — Celebrate Life!"
"Essentially it boils down to two religious views of the world," Grundmann told CBS13, the Sacramento affiliate. "One is Christianity, which is represented by heterosexuality, a culture of life, and its opponent is the LGBT movement, which is represented by an opposing religion and an opposing view of life."
"We've been getting letters, emails, comments, and phone calls all day about it," said Modesto City Council member Kristi Ah You. "I don't think we need to give a permit for anything that when you go to the page it talks about whiteness, it talks about western civilization, it talks about being Caucasian. That's all hate crime stuff to me, that's not okay."
Ah You said she supports free speech and first amendment rights, for which the "straight pride" organizers are asking. "I think if we ignored it and let the people do whatever they're going to do, I think maybe four or five people would show up."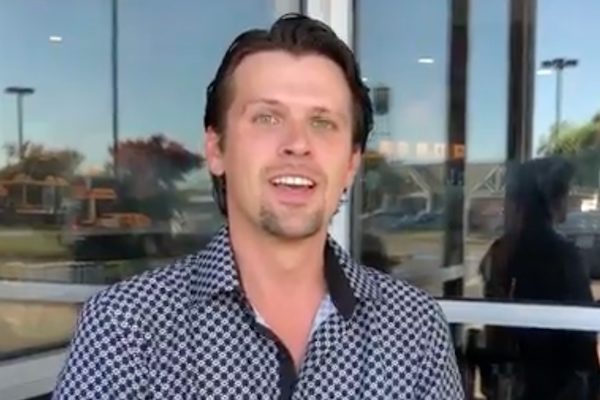 That was before Matthew Mason, 28, the adopted and estranged gay son of rally organizer Mylinda Mason, alerted the press.
"This isn't 'straight pride.' This is hate pride," said Matthew Mason told Fox40 in Modesto. "Dog whistling to white supremacy, that is immediately inciting violence. I am afraid of violence happening. I don't want anyone in my community to be hurt."
Mylinda Mason said the rally would be a peaceful gathering. "They're looking to amp it up into something that it's not," she told Fox40. "It's really going to be much more like on the purview of a church service really. It really is just celebrating our beautiful country." Everyone is welcome, even LGBTQ people, adding "the intolerance doesn't come from [their] side."
That's the cover. Hate mongers no longer need to be slathered in tattoos listening to angry heavy metal bands. As last year's Frontline/ProPublica series on the new American Nazis shows, the look now is often khaki pants and blue shirt to fit into the mainstream, until they can let down their guard and don masks as do both the national neo-Nazi group Atomwaffen Division, which apparently inspired Samuel Lincoln Woodward, 21, of Newport Beach to murder his former gay Jewish high school classmate Blaze Bernstein. The Orange County-based Rise Above Movement, a white supremacist group, saw four members arrested Oct. 2, 2018 on federal charges for allegedly traveling to Virginia with the intent to incite a riot at the deadly far-right rallies in Charlottesville.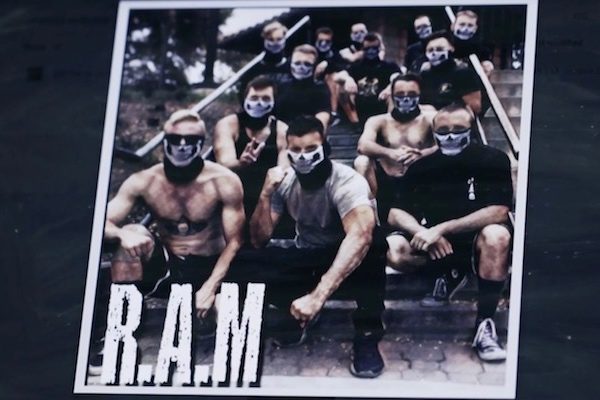 "Inspired by the writings of Hitler and the idea of 'white jihad,' members of groups like R.A.M. and Proud Boys don't need much provocation to become violent. Indeed, members of Atomwaffen Division have been charged in five killings over the past two years," former Nazi Christian Picciolini wrote in an op-ed in the Los Angeles Times.  "It is true that the leaders of such groups draw in disillusioned young men who believe the world has sidelined them. But just because their members look familiar to many Americans does not make them less dangerous. Their violence is part of a growing pattern of domestic terrorism and should not be excused as an adolescent blip."
While Mylinda Mason says the "straight pride" rally will be church-like, the National Straight Pride Coalition website opens with a note to "Dear Citizen" then reads: "The purpose of the California Straight Pride Coalition is to defend the children noted above. This is inclusive of preventing the current and future generations of all races and colors from being destroyed by the inherent malevolence of the Homosexual Movement toward our founding principles below."
One of those principles describes "Caucasians" as "the biological majority of the historical developers and founders of Western Civilization."
That's not a dog-whistle. That's a clarion call to anti-LGBTQ white supremacists everywhere, including hate group-inspired lone wolfs.
The fear increased when word went out that Grundmann had joined the local chapter of the Proud Boys, designated a California hate group by the Southern Poverty Law Center,  and invited the boys to attend the rally.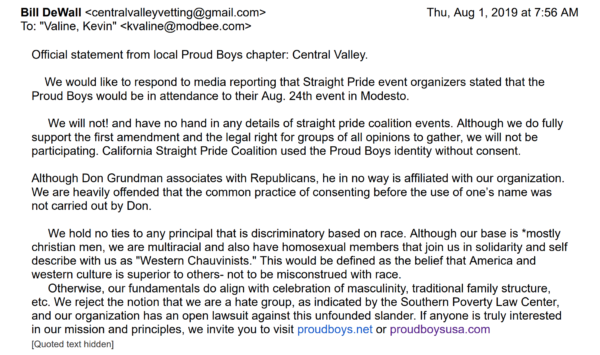 But the Proud Boys told the Modesto Bee they were not attending and were annoyed that Grundmann had used their name for publicity purposes without permission.
Modesto City Council members got an earful from "dozens of people" Aug. 7, the Modesto Bee reported. Grundmann was booed and got into a shouting match until Mayor Ted Brandvold restored order.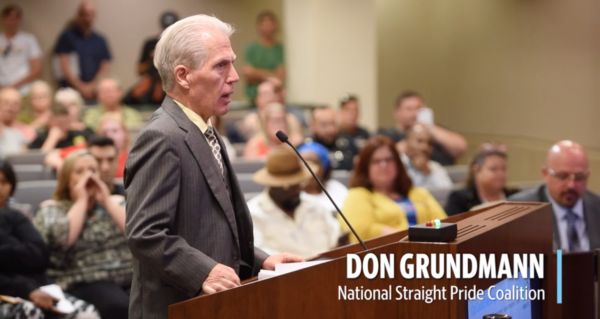 "And audience members howled, cheered and clapped when Grundmann called his group a 'peaceful, racist organization,' though he took that comment back, saying he had misspoke," the Bee reported.
City spokesperson Thomas Reeves told the Los Angeles Blade that the "straight pride" rally was not on the agenda and it is actually up to staff to approve the organization's application to reserve the Graceada Park amphitheater, Mancini Bowl, for Aug. 24, based on factors such as insurance compliance.
Reeves says the city is "very sensitive to everything that is happening across the country" and will "ensure the safety of our community," preparing for anything.
Reeves thinks the decision to grant the reservation is imminent.
(UPDATE FRIDAY 7:00PM) The application was denied for use of the park, according to the Modesto Bee, but staff proposed an alternate site—"the plaza by Modesto Center Plaza, the city's downtown convention, provided organizers submit an application by Tuesday, including proof of insurance." If the organizers do not make the Tuesday deadline, they could apply again for a later date. 
Nonetheless, many people are still afraid of what might happen if the application is granted.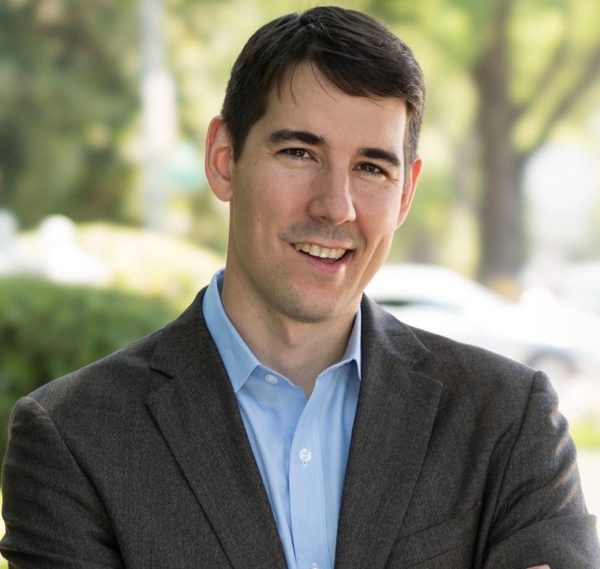 The message, Democratic Rep. Josh Harder tells the Los Angeles Blade, is "intended to send a signal of bigotry and hatred and discrimination against not just our LGBTQ community, but they also included in their manifesto things like looking for a return to so-called white civilization. And so I think it's very clear that this event is racist, bigoted, and has absolutely no place in the Central Valley.
"I'm very concerned," says Harder. "We've known for a long time that there are certainly folks who practice hate who live here just like they live anywhere else. One of the people, unfortunately, who was one of the organizers of Charlottesville, lives in Oakdale. And so I think we're very concerned about where could this lead to. I think what we've seen across our country in the last year or two is that hatred and bigotry often lead to violence."
However, he says, "the valley is one of the most diverse places on the planet. We are a majority minority area. We are a land of immigrants – that is our social and economic fabric. And so the racism and the anti-LGBTQ bigotry that this event represents, I believe is deeply counter to the values that we hold."
Harder's victory over his Republican opponent was a slim win and while the district may be bluish, it could also revert to red. The "straight pride" rally may help voters make that decision. Harder's Republican opponent is Dr. Ted Howze, a local veterinarian, who is strongly supported by the CRA'S Mylinda Mason – and local Proud Boy Travis Hewes.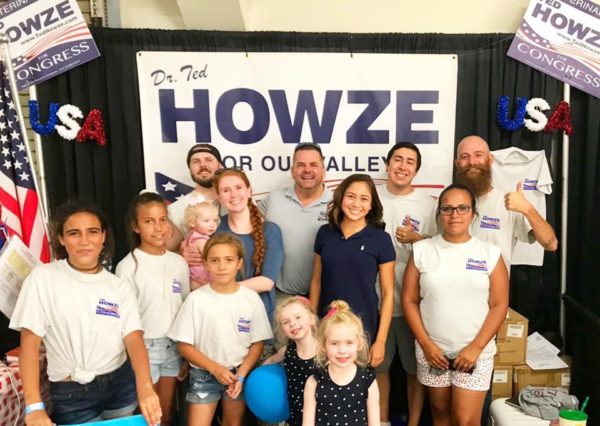 Dr. Ted Howze, center, with local Proud Boy Travis Hewes, far right with beard.
"While fully supporting the right of free speech and equal rights for all members of our community, I believe that events which solely focus on highlighting differences from one another are unnecessary and potentially damaging to community spirit," Howze told the Los Angeles Blade in an email. "I choose to focus on the things we all share in common and striving to improve the daily quality of life for Valley residents."
Asked about the photo of him with a Proud Boy campaign volunteer, Howze said "I've taken pictures with thousands of members of the local community and obviously don't know each individual's personal convictions. I detest racism, homophobia & xenophobia."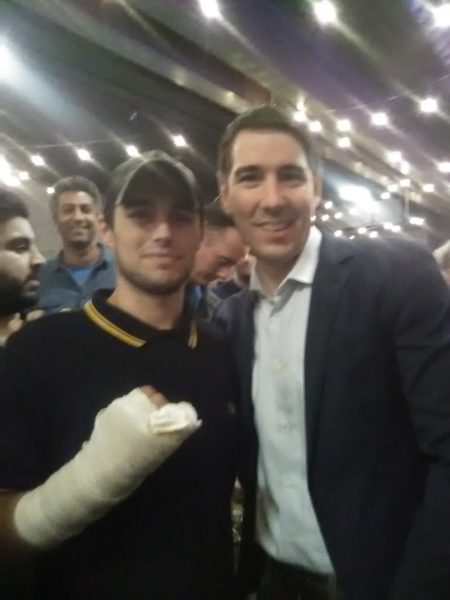 Josh Harder with a young man Ted Howze identifies as a Proud Boy (Photo via Howze)
Howze noted that Harder had also been recently criticized "for taking a picture with a 'Proud Boy' at his election night party. Hopefully the politics of condemnation doesn't rest on who politicians unknowingly have a picture taken with and personal views we are unaware of?"
Given the painful aftermath of the mass shootings in Gilmore, El Paso and Dayton, Howze's loyalty to Donald Trump and Mylinda Mason may have greater political ripple effects than dodging the complexities of hate associated with his supporter's "straight pride."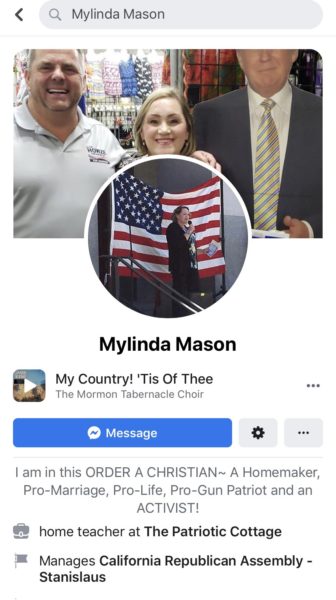 Additionally, no one has yet asked Mason's boss about what he thinks of her hate-inspiring crusade. She identifies herself as a "home teacher at The Patriotic Cottage,"  apparently America's most patriotic golf club" that supports a non-profit called Folds of Honor.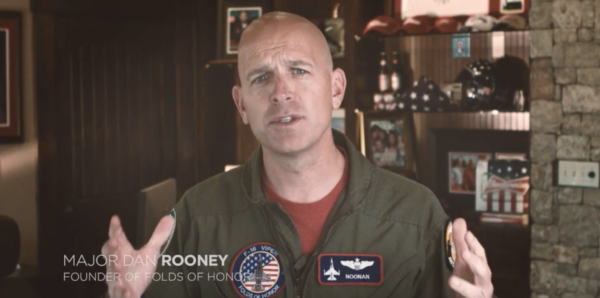 The charitable organization was founded by Top Gun pilot Major Dan Rooney who had an epiphany about the need to provide "educational scholarships to the children and spouses of military service men and women killed or disabled while serving our great nation. Of the one million-plus dependents adversely affected by deployments to Iraq and Afghanistan, over 87% do not qualify for federal scholarship assistance," according to the Folds of Honor website.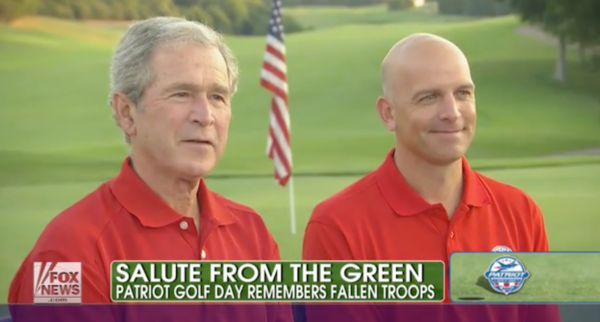 Rooney has hosted compassionate conservative President George W. Bush at his golf club to draw attention to the scholarship program. What will other compassionate conservative contributors think when they discover Folds of Honor employs a teacher who is an organizer of hate?
Newsom signs orders to roll back coronavirus restrictions next Tuesday
The Governor's Office established a timeline to continue winding down the various provisions of the 58 COVID-related executive orders.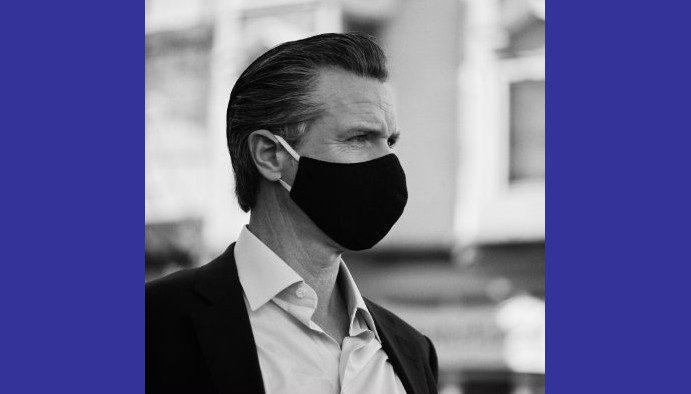 SACRAMENTO – Effective June 15, restrictions such as physical distancing, capacity limits and the county tier system will end as Governor Gavin Newsom signed a series of executive orders Friday marking a return to normalcy after nearly 15 months of the ongoing battle to protect the state's residents from the ravages of the coronavirus pandemic. Additionally, those Californians who are fully vaccinated won't be required to wear a mask — including indoors.
Newsom's actions also include terminating the Stay-at-Home Order that was implemented early in the pandemic to protect Californians and retiring the Blueprint for a Safer Economy.
"California is turning the page on this pandemic, thanks to swift action by the state and the work of Californians who followed public health guidelines and got vaccinated to protect themselves and their communities," said Newsom. "With nearly 40 million vaccines administered and among the lowest case rates in the nation, we are lifting the orders that impact Californians on a day-to-day basis while remaining vigilant to protect public health and safety as the pandemic persists."
The Governor's Office today established a timeline and process to continue winding down the various provisions of the 58 COVID-related executive orders, which suspended statutes and regulations to help the state and businesses continue operations during the pandemic.
To ensure that impacted individuals and entities have time to prepare for the changes, the provisions will sunset in phases, beginning later this month, in July and in September. For example, the suspension of certain licensing requirements for manufacturers to produce hand sanitizer will end on June 30, as shortages are no longer a concern. By the end of September, nearly 90 percent of the executive actions taken since March 2020 will have been lifted.
The California Department of Public Health on Friday released a new state public health officer order that goes into effect on June 15.
Dr. Tomás Aragón, California's public health officer, issued a new order that, among other things, puts in place new requirements for mask wearing that take effect Tuesday. The new rules say fully vaccinated people don't have to wear a mask in most places, either indoors our outdoors. But the state is still requiring people who have not been vaccinated to wear a mask in public places.
"We've met our metrics, we feel prepared," Dr. Mark Ghaly, California's Health and Human Services Agency secretary, told reporters on Friday. "Things in California, from a COVID transmission perspective, are going reasonably well."
These actions supports the full and safe reopening of the state, while maintaining focused public health requirements that address the risk posed by variants as some regions across the nation and world continue to experience high levels of transmission, Ghaly noted.
One City One Pride, LGBTQ Arts Festival Continues through June 30
All festival events are being presented on an online virtual platform to respond to the City's efforts to prioritize health & public safety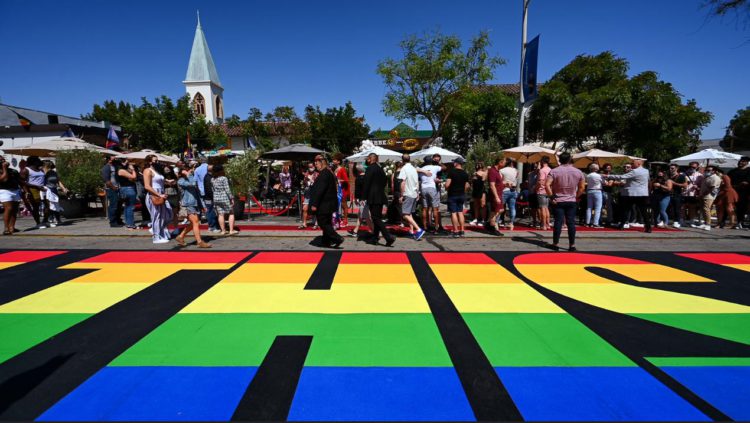 WEST HOLLYWOOD – The 2021 theme for One City One Pride is 'For the Record LGBTQ Stories' of the past that have often been hidden or undocumented. One must read between the lines to find stories hidden behind "beard" marriages, coded language, and erased or destroyed evidence. This year, One City One Pride looks at some of these previously hidden stories.
Due to the coronavirus crisis, all festival events are being presented on an online virtual platform to respond to the City of West Hollywood's efforts to prioritize health and public safety. A select few programs can also be experienced as self-guided solo walking tours or outdoor exhibitions.
More detailed information about the following City of West Hollywood One City One Pride LGBTQ Arts Festival events is available at www.weho.org/pride.
Forthcoming events of the 40-day festival include:
Pride Poets Poetry Hotline presented by West Hollywood City Poet Laureate Brian Sonia-Wallace & the Pride Poets from 10 a.m. to 10 p.m., Friday, June 11, 2021 to Sunday, June 13, 2021. Free. Call in to get a custom poem for you or a loved one based on the topic of your choice, written by one of the team of LGBTQ+ Pride Poets standing by at the remote Poetry Hotline from June 11-13, marathon-style from 10 a.m. to 10 a.m. Poems will be written on-the-spot and callers can choose to have copies of the poems emailed or mailed to them. Poetry hotline: call (202) 998-3510 to speak to a poet.
LGBTQ History in Comics — A virtual panel with readings from creators presented by Prism Comics. Launches Tuesday, June 15, 2021, at 6 p.m. Free. View the panel at: http://www.youtube.com/wehoarts and www.prismcomics.org. Join Prism Comics, moderator Justin Hall (No Straight Lines; Associate Professor of Comics, California College of The Arts) and a diverse, talented group of creators as they explore our queer past through comics. The panel and readings will remain online for viewing after the premiere date. More information is available at www.prismcomics.org.
Secret Lives, stories, music, and original writings by LGBTQ seniors watch party presented by NewStages, a program of Oasis Theater Company at 7 p.m. on the first four Tuesdays in June. Free. RSVP by calling (323) 860-5830 or by email at

[email protected]

. Secret Lives will explore the stories of remarkable seniors as well as many historical figures who had to keep secrets to maintain their careers, their families, and their place in society. Archived events available at www.weho.org/pride.
Additionally, these programs are available to view through June 30, 2021:
Dear Harvey: Stories of Harvey Milk byPatricia Loughrey. Extensively researched and beautifully constructed, this documentary-style ensemble play recounts the life and lasting impact of groundbreaking LGBTQ activist and politician Harvey Milk, as told by the people who knew him best … the real-world figures whose lives were forever altered by Milk's too-short career. This performance will be available to watch for the duration of One City One Pride through June 30, 2021 at https://www.youtube.com/watch?v=ShX27kXqwBg and there is a special welcome from Stuart Milk, the nephew of Harvey Milk.
John Elgin Woolf: Master of the Hollywood Regency (Trail and Short Film) presented by Friends of Residential Treasures: LA. Free. Experience online or as a self-guided walking tour. Take this self-guided architectural trail curated by filmmaker and journalist Matt Tyrnauer, or watch a short film exploring the interior of the Seiter House — an important early work that John Elgin Woolf designed for himself and his same-sex partner.
Love Note presented by Rogue Artists Ensemble. Free. No RSVP Needed. Experience online or as a self-guided experience at Plummer Park, located at 7377 Santa Monica Boulevard. Rogue Artists Ensemble's Love Note is a free, interactive, solo audio expedition of your heart, taking place in West Hollywood's Plummer Park, where audience members can activate sonic narrative experiences at eight unique stops throughout the park. Using only a cell phone and headphones, participants will discover and listen to stories about romance, compassion, and connection, leading to a secret phone line, where participants are invited to share their own love story that will become part of the project's archive. The community-contributed stories recorded during the run will be then woven back into the experience to create an ever-evolving tapestry of voices calling out for love and belonging. This experience is free and open to the public during park operating hours. The experience contains some mature themes and is not recommended for children. A travel map is available for download at the Rogue Artists Ensemble website for audience members to use for their story expedition in the park. Can't make it to Plummer Park? Visit the Rogue Artists Ensemble website at www.rogueartists.org/lovenote to create your own experience from the comfort of your home.
Meringue, a public art exhibition. Free. Outdoor exhibition on traffic median at Santa Monica Boulevard and N. Doheny Drive. Meringue is a temporary public art exhibition by LGBTQ artist Kim Kiduck. The translucency of Meringue lets sunlight in to glow naturally during the daytime, and at night transforms Meringue into a mixing chamber of various light combinations. The exhibition will be lit up in rainbow colors for the duration of the City's One City One Pride LGBTQ Arts Festival.
The City of West Hollywood's Human Rights Speakers Series presents: Breaking Fast. Free.
The City of West Hollywood's Human Rights Speaker Series and One City One Pride LBGTQ Arts Festival present Breaking Fast: Exploring the Intersection of Faith and Sexual Identity, an open panel discussion of the feature film, Breaking Fast, and its themes related to navigating the difficult conversations and real-life impacts of faith, sexual identity, and community. Archived event video available to view at https://www.youtube.com/watch?v=NmSvpTBPzkI.
Walking Amongst the Rubble: Undocuqueer Pride Queer Poetry Reading Series presented by Influx Collectiv. Free. More information and the online podcast is available at https://www.influxcollectiv.org/podcast.
Pride Publics: Words and Actions presented by ONE Archives Foundation. Free. ONE Archives Foundation presents "Pride Publics: Words and Actions," a multi-site outdoor exhibition that examines the intersection between pride and publicness and examines themes central to queer public life while highlighting trailblazers and their visions. With free and accessible outdoor installations plus a digital guide, this exhibition aims to give visibility to LGBTQ life in the public through the lens of history, community, and activism. More information is available at https://www.onearchives.org/pridepublics. This exhibition is organized by ONE Archives Foundation.
Montclair issues 1st Pride proclamation- LGBTQ residents say no thanks
Mayor Dutrey said that he felt that the council "was sabotaged" by those who refused to accept the proclamation was made in good faith.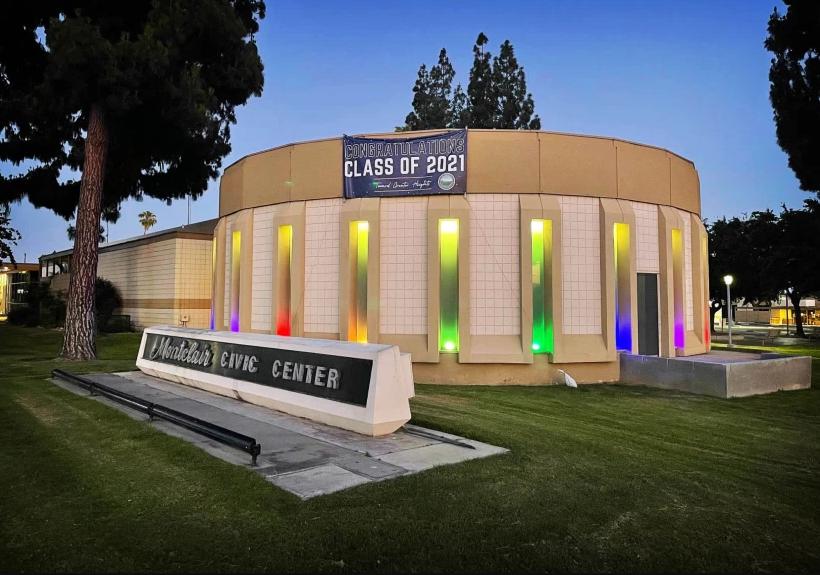 MONTCLAIR, CA. – For the first time ever the city council of this mid-size city in southwestern San Bernardino County declared June as Pride Month issuing a proclamation recognizing its LTBTQ+ community.
Along with the proclamation, the city lit up the outside of the building at the Civic Centre that houses the Council Chambers in rainbow-colored LED lights as part of its "celebration of diversity and support for the LGBTQ+ community."
Montclair's Mayor John Dutrey presented the proclamation to the Rev. Maggie Burbank of the Monte Vista Unitarian Universalist Congregation, a LGBTQ-affirming denomination and congregation. According to the San Gabriel Valley Tribune's journalist Steve Scauzillo, Burbank was a last minute substitute after gay, lesbian, bisexual, transgender and non-binary members from LGBTQ+ groups from in and around the city refused to accept it.
In the public comments portion of the proceeding, several residents spoke up about the issue.
At the center of the refusal is Montclair' City Councilman Benjamin Lopez, who had a long association and deep ties with the former Traditional Values Coalition, an Anaheim based conservative 'family values' group founded by the late Rev. Louis P. Sheldon- the group is listed by the Southern Poverty Law Center as an anti-LGBTQ hate group. Sheldon contended that there was a "homosexual agenda" to not only promote acceptance of gay rights, but to recruit children into homosexuality, as was also described in his obituary published May 29, 2020.
Scauzillo reported that Lopez, elected in November 2020, spoke on numerous occasions from 2003 to 2013 before the state Legislature and in media reports against gay rights, same-sex marriage, the teaching of contributions from gay, lesbian, bisexual and transgender Americans in California public schools, and protections for transgender individuals.
Thuan Nguyen, a long-time Montclair resident and doctoral student in sociology at USC who had asked for the city to recognize and celebrate LGBTQ Pride recognition at a previous meeting, said he struggled with the decision not to accept it. He asked Lopez to apologize for past statements and positions he took while working for the now defunct Traditional Values Coalition.
Mayor Dutrey told Scauzillo that he felt that the council "was sabotaged" by those who refused to accept the proclamation was made in good faith. "The whole purpose was not to be political but to recognize the LGBTQ community in Montclair. I was disappointed in the remarks that were made," he said.
Audio of the City Council session: